A simple approach to meltingly delicious cooked greens featuring spiced roasted sweet potato wedges and tender coconut milk braised greens with just a bit of heat.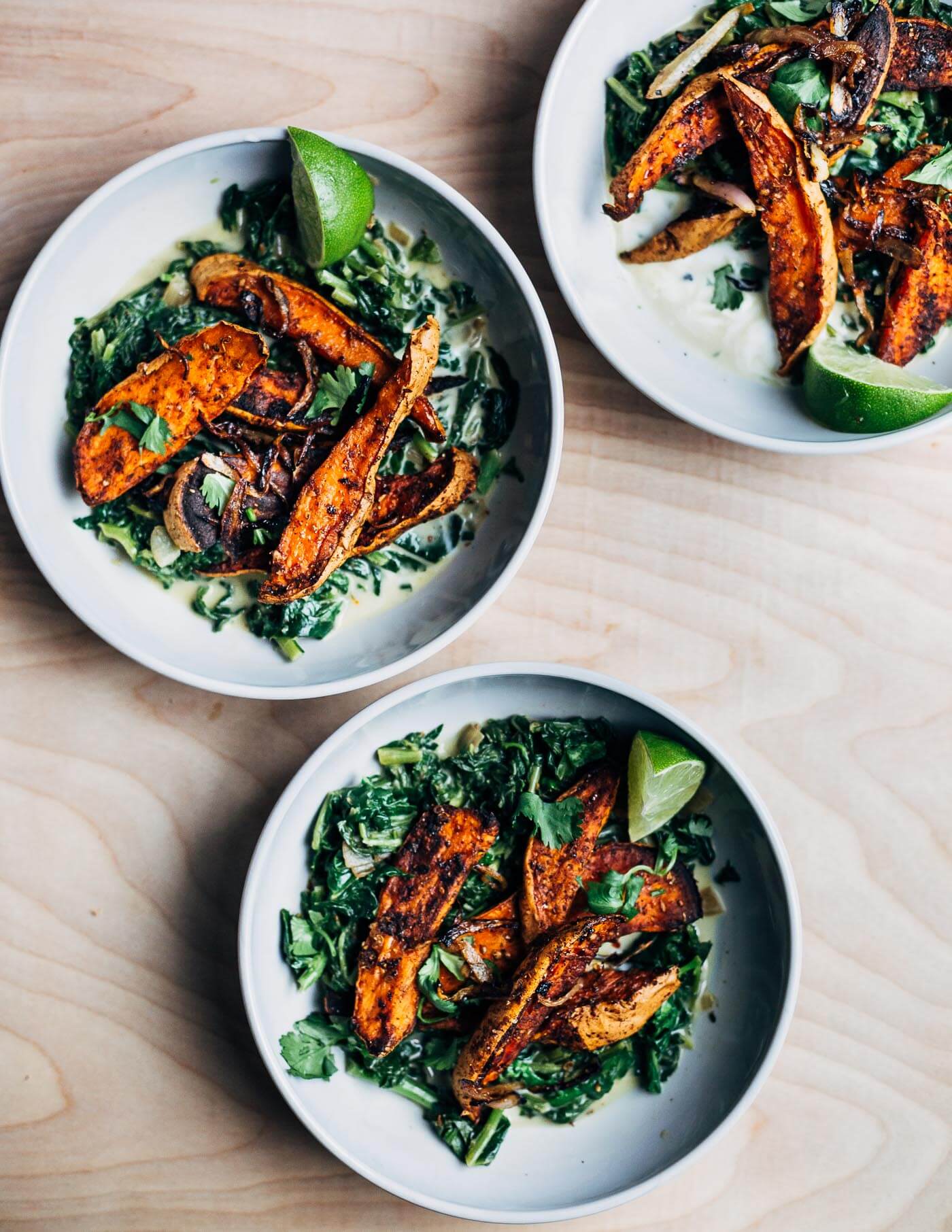 As far as greens go, I was raised without any kind of orthodoxy. In the early days of cooking for myself, I was happy with raw or sautéed greens. All the chewing made the act of eating greens feel extra healthy.
But of course, that's silly. Greens, like any other ingredient we eat, can and should be meltingly delicious and sating. And anyway, mouthwatering flavor dramatically improves the odds that everyone at the table will actually eat their greens.
Coconut Milk Braised Greens
What I'm saying is, you can and should make these tender, richly flavored greens with a hint of coconut milk and get on with enjoying your life. The greens are cooked with shallots, freshly ground cumin and coriander seed, enough red pepper flakes to bring some heat, and a mix of vegetable broth and creamy coconut milk. They cook down until they're incredibly supple and kind of melt into the coconut milk. Coconut milk braised greens are an excellent dish all on their own, but I added a few elements to make things hearty enough for a meal.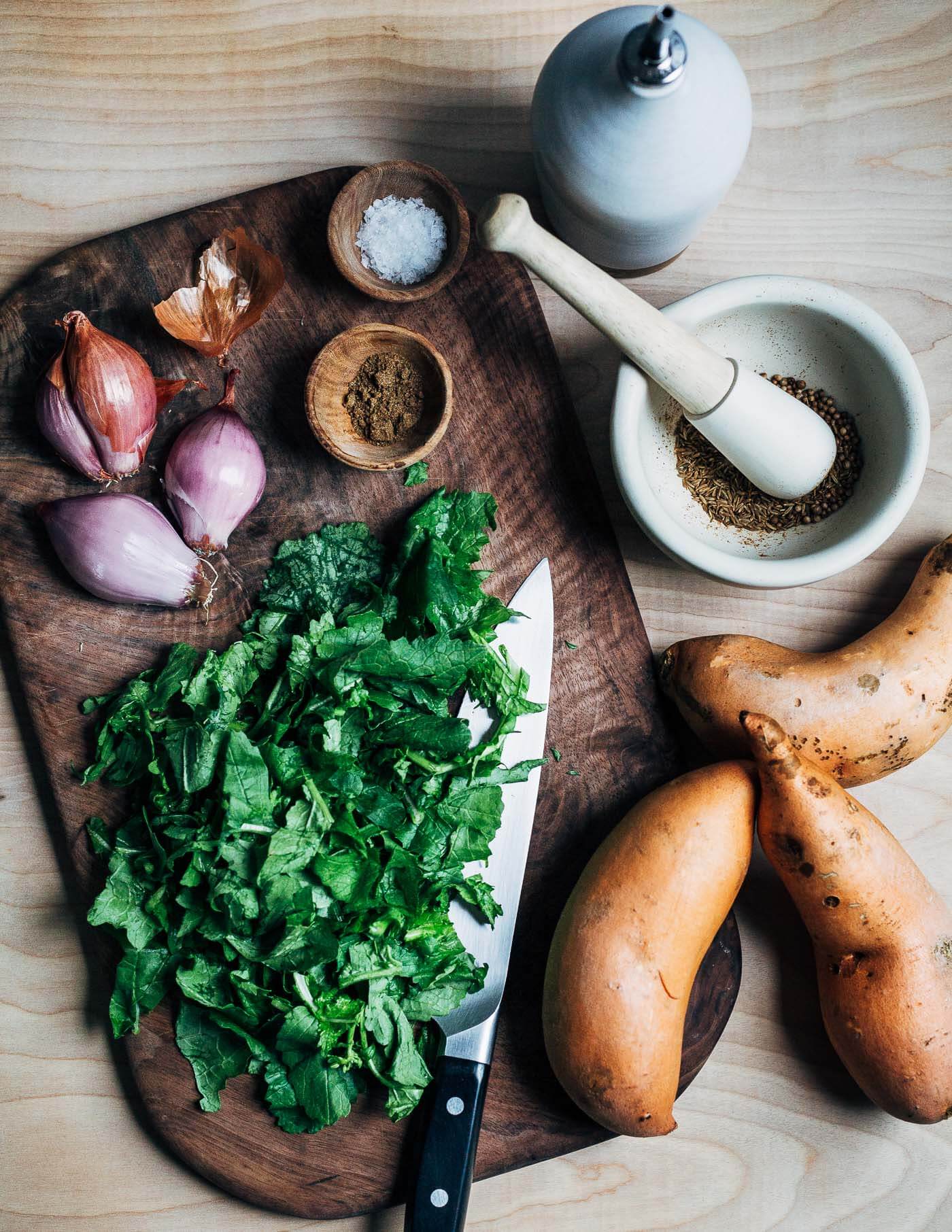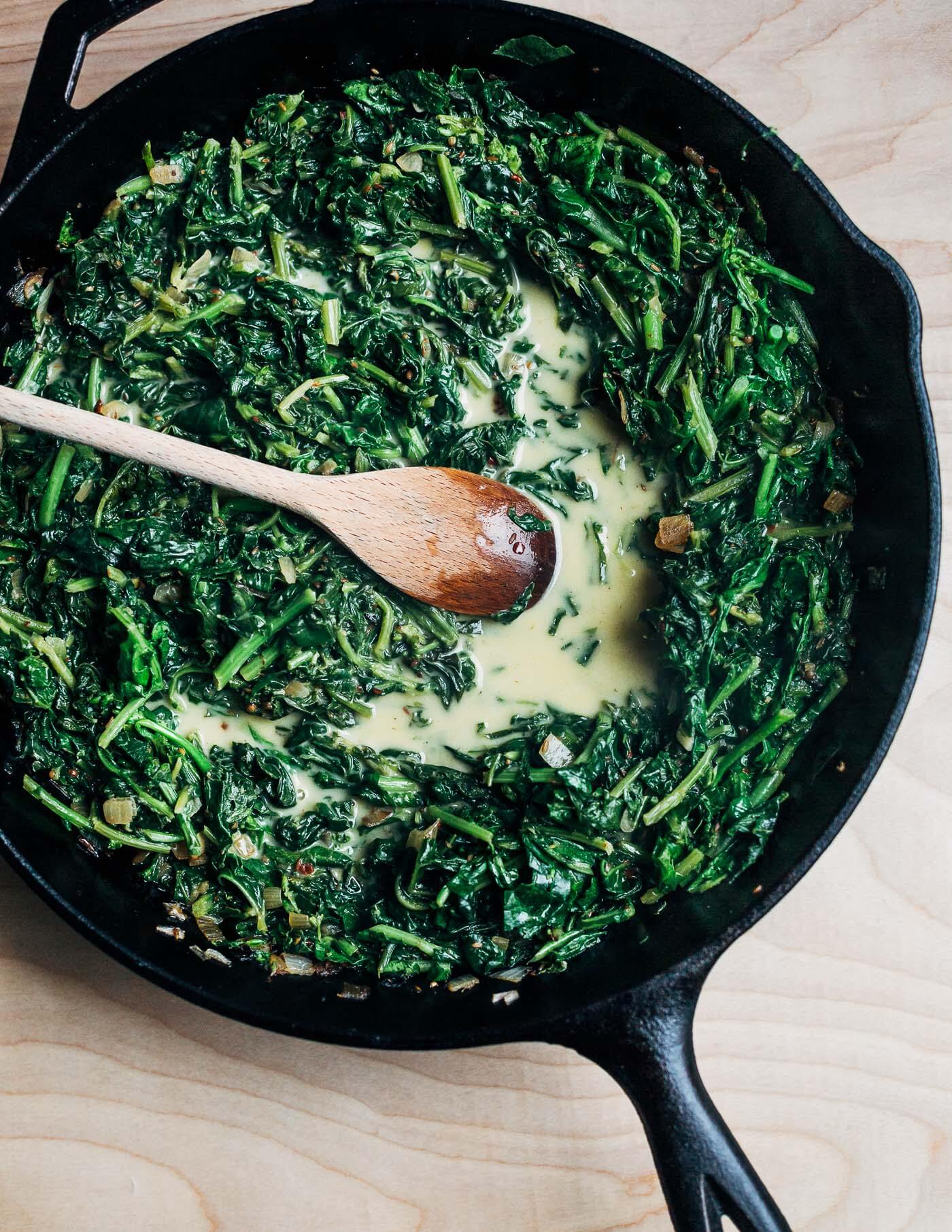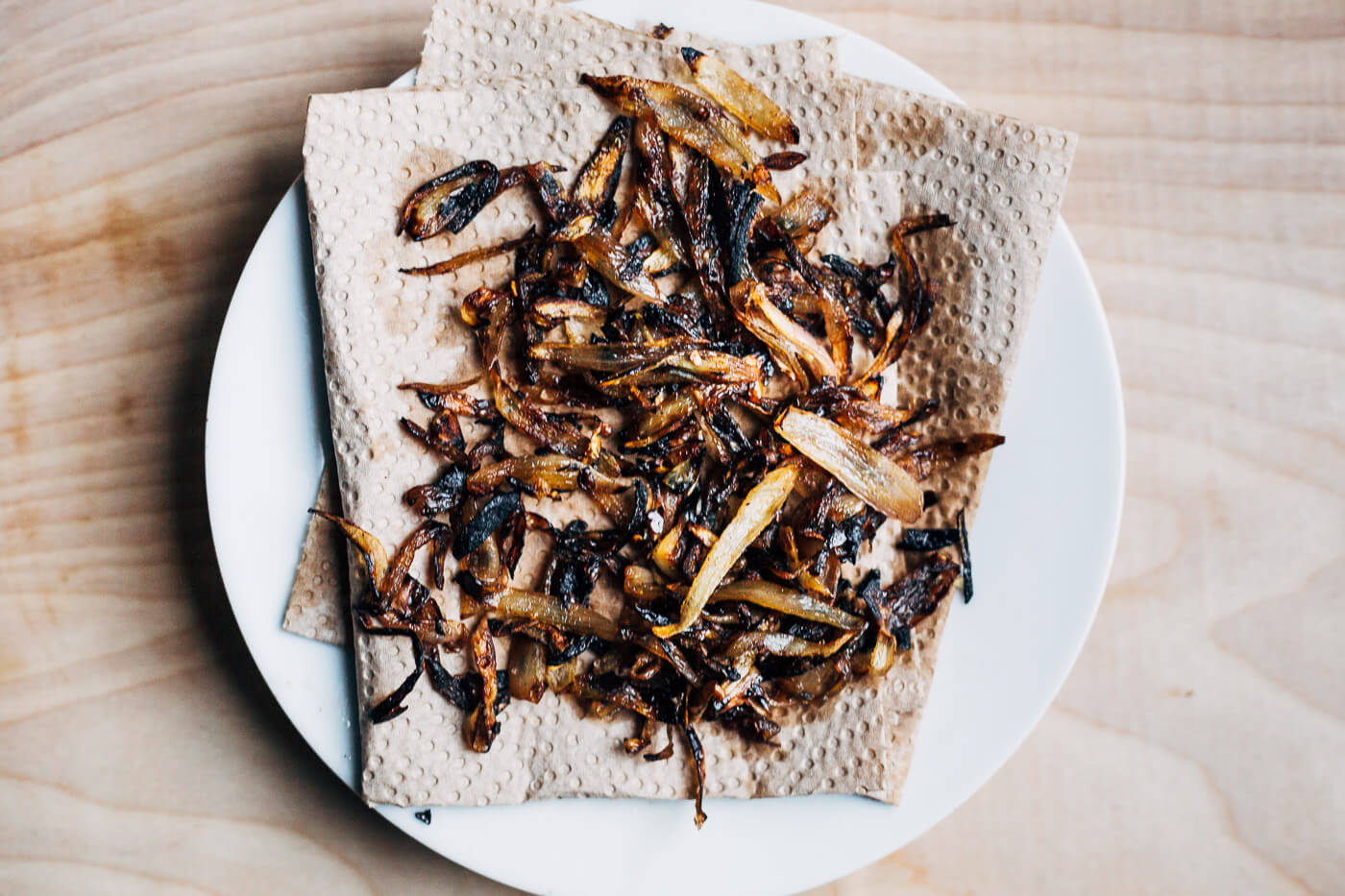 Sweet potato wedges tossed with cumin and coriander, garam masala, and a good bit of chili powder roast up with crisp edges and tender centers. While the sweet potatoes roast, you'll have time to prep and cook the greens. To top it all, I made a batch of crispy, salty shallots.
A bowl of these roasted sweet potato wedges with coconut milk braised greens is pretty hearty on its own, but you might want to add the protein of your choice alongside.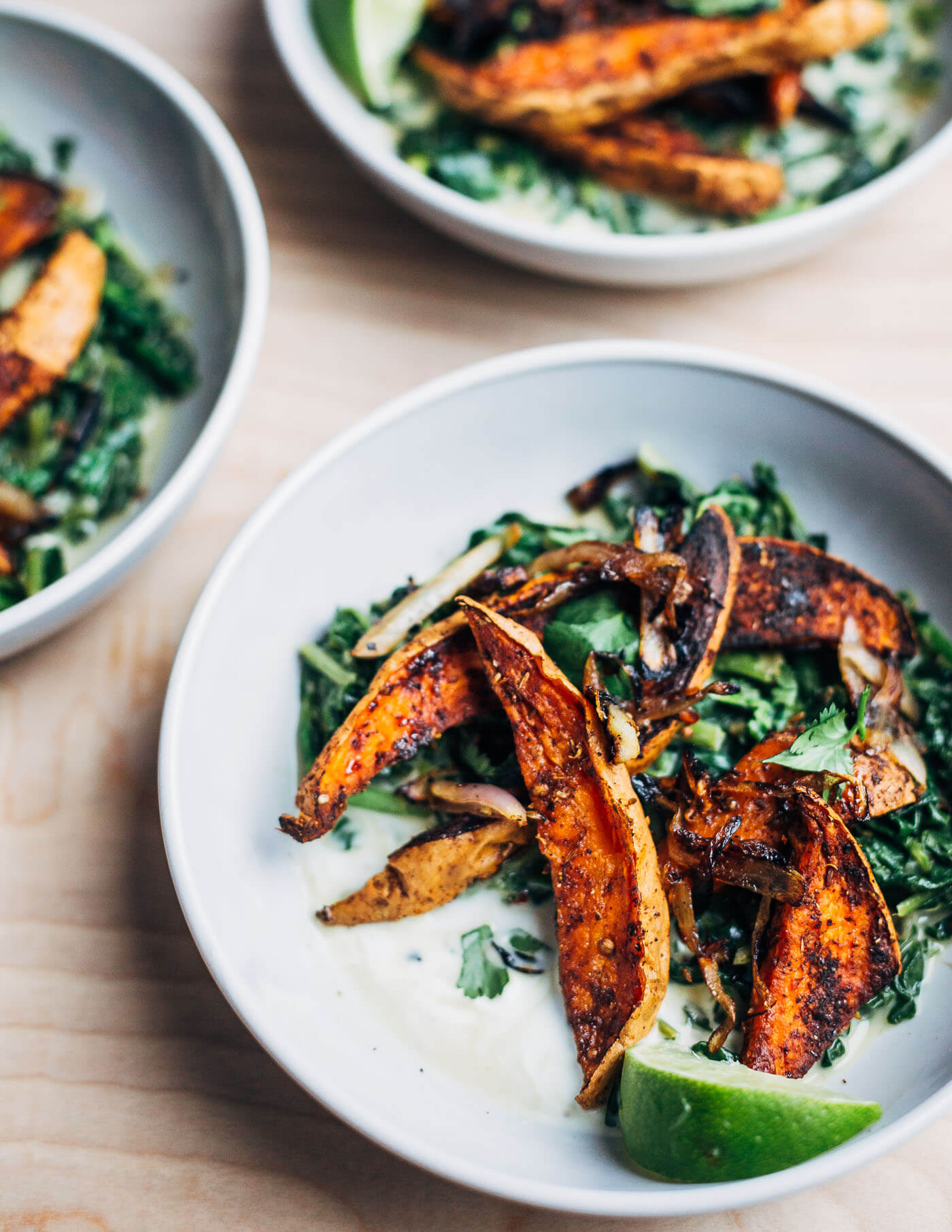 Use the Greens You Have on Hand!
Like a lot of recipes I've been posting lately, this recipe is made with greens from my garden, a mix of over-wintered turnip and radish greens, but you can use whatever greens you happen to have an abundance of. As we head into mid-spring, mustard, mizuna, or braising greens would be excellent. As would kale, beet greens, spinach, or collards. Each one of these will cook down a little differently – the spinach will shrink up significantly, while collards might take longer to cook.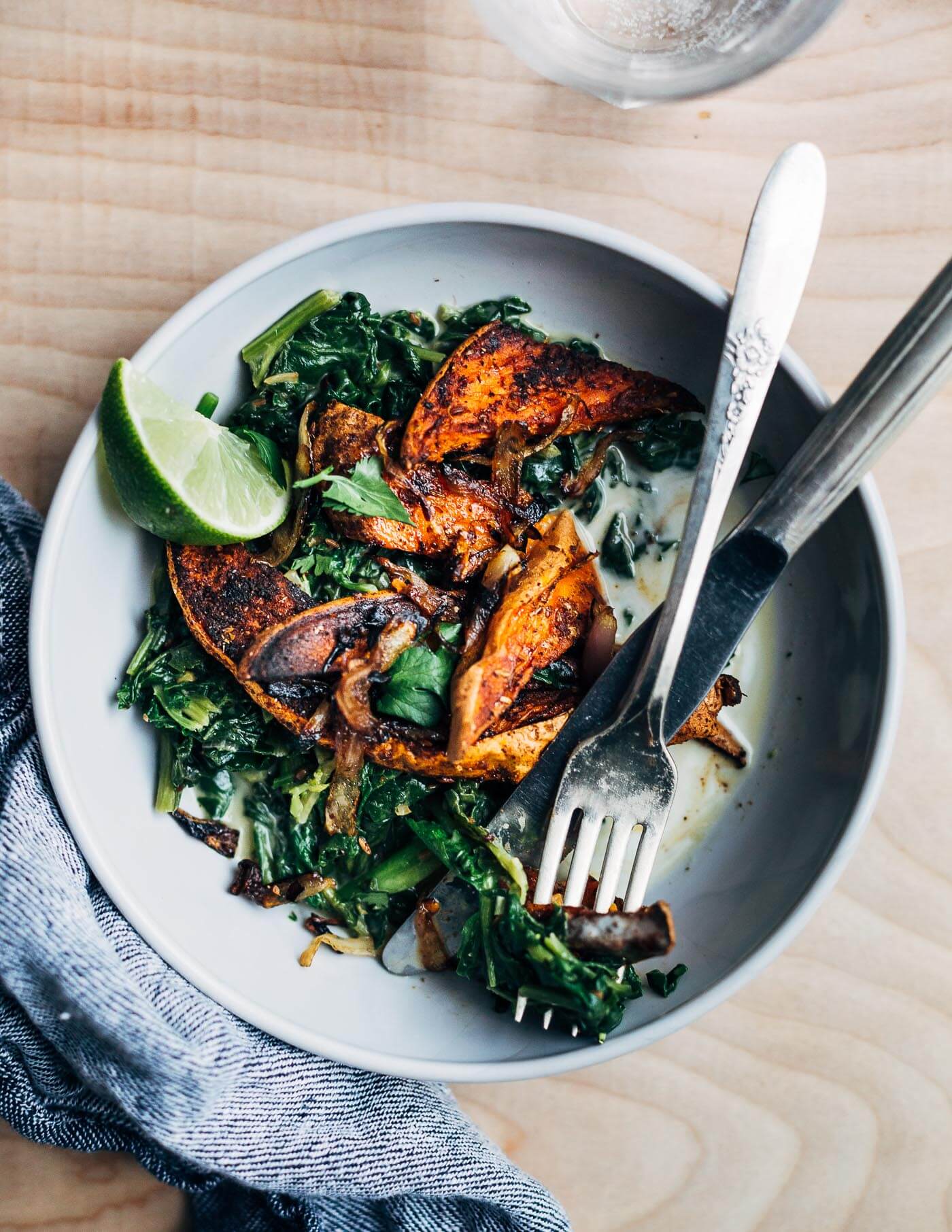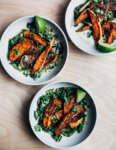 Roasted Sweet Potato Wedges with Coconut Milk Braised Greens and Crispy Shallots
A simple approach to meltingly delicious cooked greens featuring spiced roasted sweet potato wedges and tender coconut milk braised greens with just a bit of heat.
Keyword:
coconut milk briased greens
Ingredients
4

medium sweet potatoes

cut into long 3/4-inch thick wedges

6

tablespoons

extra virgin olive oil

divided

2

teaspoons

ground cumin seed

divided

2

teaspoons

ground coriander seed

divided

2

teaspoons

chili powder

1

teaspoon

garam masala

3/4

teaspoon

fine sea salt

divided, plus more to taste

4

medium shallots

2 sliced thin and 2 chopped

1/2

teaspoon

red pepper flakes

1 1/2

pounds

greens

fibrous stems removed and chopped

1

cup

vegetable broth

1/2

cup

canned coconut milk (use the creamiest part of the milk)

1

lime

cut into wedges

1/2

cup

minced cilantro
Instructions
Preheat the oven to 425 degrees F. In a mixing bowl, toss sweet potato wedges with 2 tablespoons olive oil, half the cumin, half the coriander, and chili powder, garam masala, and 1/2 teaspoon sea salt. Arrange on 1 - 2 rimmed baking sheets so the wedges have plenty of room. Roast 20 minutes, flip, and roast 10 - 20 minutes longer, or until wedges are crisp and fragrant.

Meanwhile, set a large cast iron skillet over a medium/medium-high flame. When the skillet is hot, add 2 tablespoons olive oil, and then the sliced shallots. Stirring often, sauté shallots until golden brown and crisp, about 10 minutes. Edge heat down as shallots start to sizzle. Toward the end of cook time, toss with a few pinches of sea salt and remove to a paper towel lined plate.

In the same skillet, over medium heat, add the remaining 2 tablespoons olive oil and the chopped shallots. Sauté 5 minutes. Fold in remaining cumin, coriander, and red pepper flakes and cook one minute. Then, start adding the greens, allowing each batch to cook down before adding more. When all the greens have been added, sprinkle with 1/4 teaspoon sea salt and stir in the broth. Set heat to medium-low, enough for a lively simmer, and cook greens 20 minutes. Fold in coconut milk and simmer 5 minutes more. Taste and add sea salt as needed.

Serve greens in small bowls with several spoonfuls of broth. Top with sweet potato wedges, crispy shallots, a lime wedge, and cilantro leaves.