A rustic strawberry cornmeal cake with fresh strawberries, cornmeal, and flecks of polenta.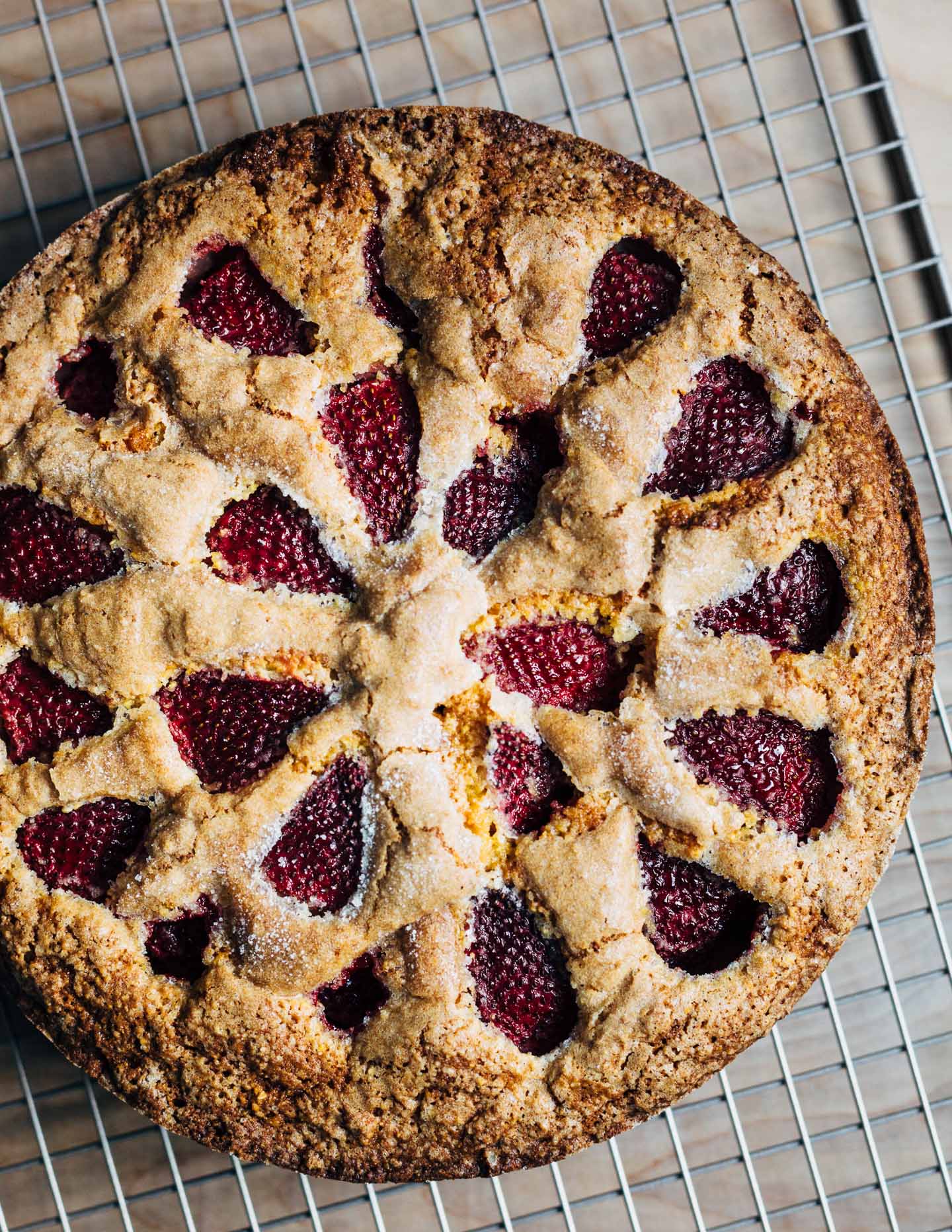 I've reached the full-blast choral music in my ear buds, wondering if I can create an office in my 18-inch by 4-foot closet part of the pandemic. Questioning if, with enough pillows, I could dampen the noise and tumult of 2 kids living in this little house.
Like a lot of us, I could just really use a break.
Here in Charlottesville, we have the outdoors, a river practically in our backyard, and plenty of ways to be in nature while also socially distant. I know that many, and especially those with kids, are struggling to live their lives crammed in a tiny apartment right now. By comparison, my space and the possibilities in my day are endless.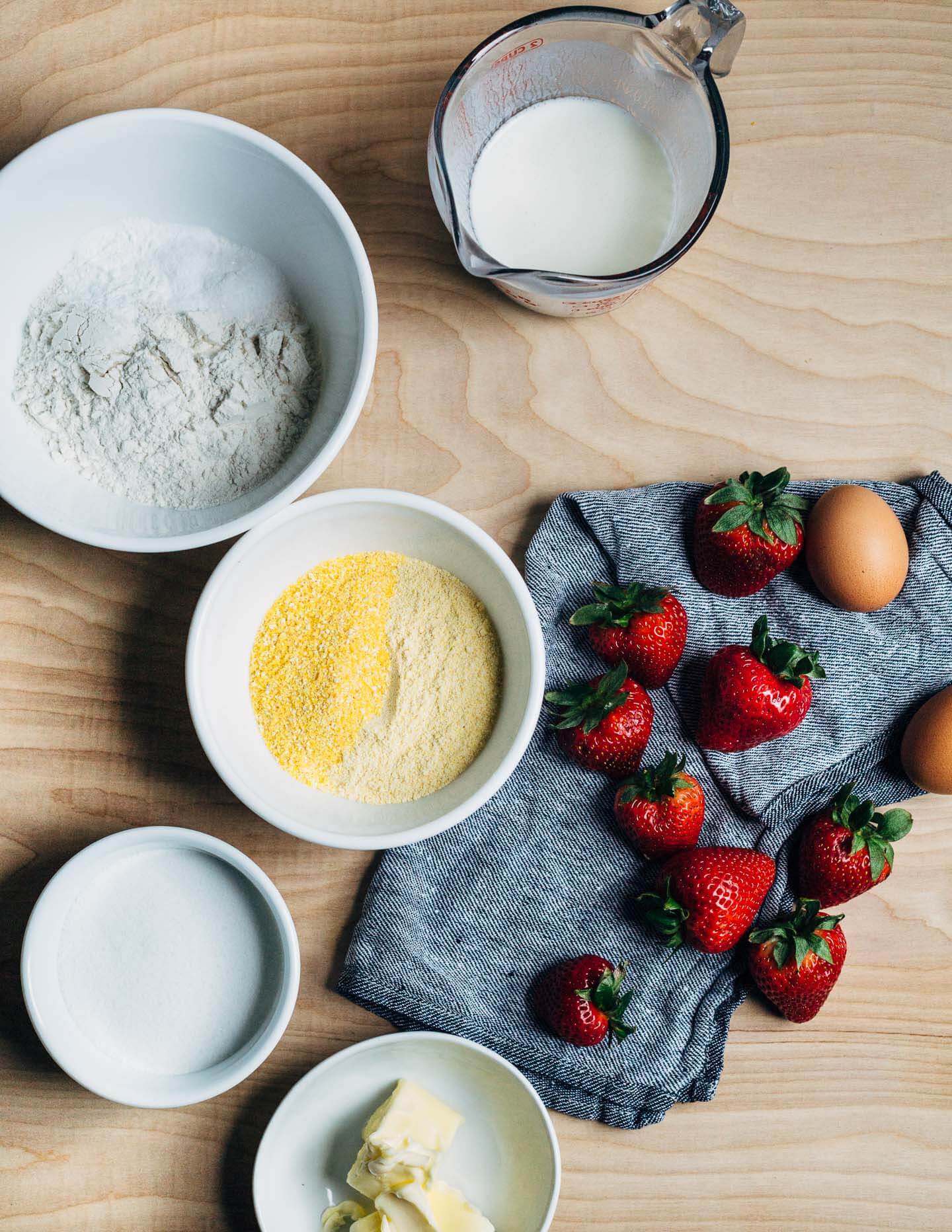 Celebrating Simply
So I'm trying to approach the scaled back Mother's Day we have planned for Sunday with a sense of gratitude for what we have: our small family, healthy and together. I don't need flowers or anything fancy. In fact, attempting more than the very basics on any given holiday right now seems to be a set up for failure.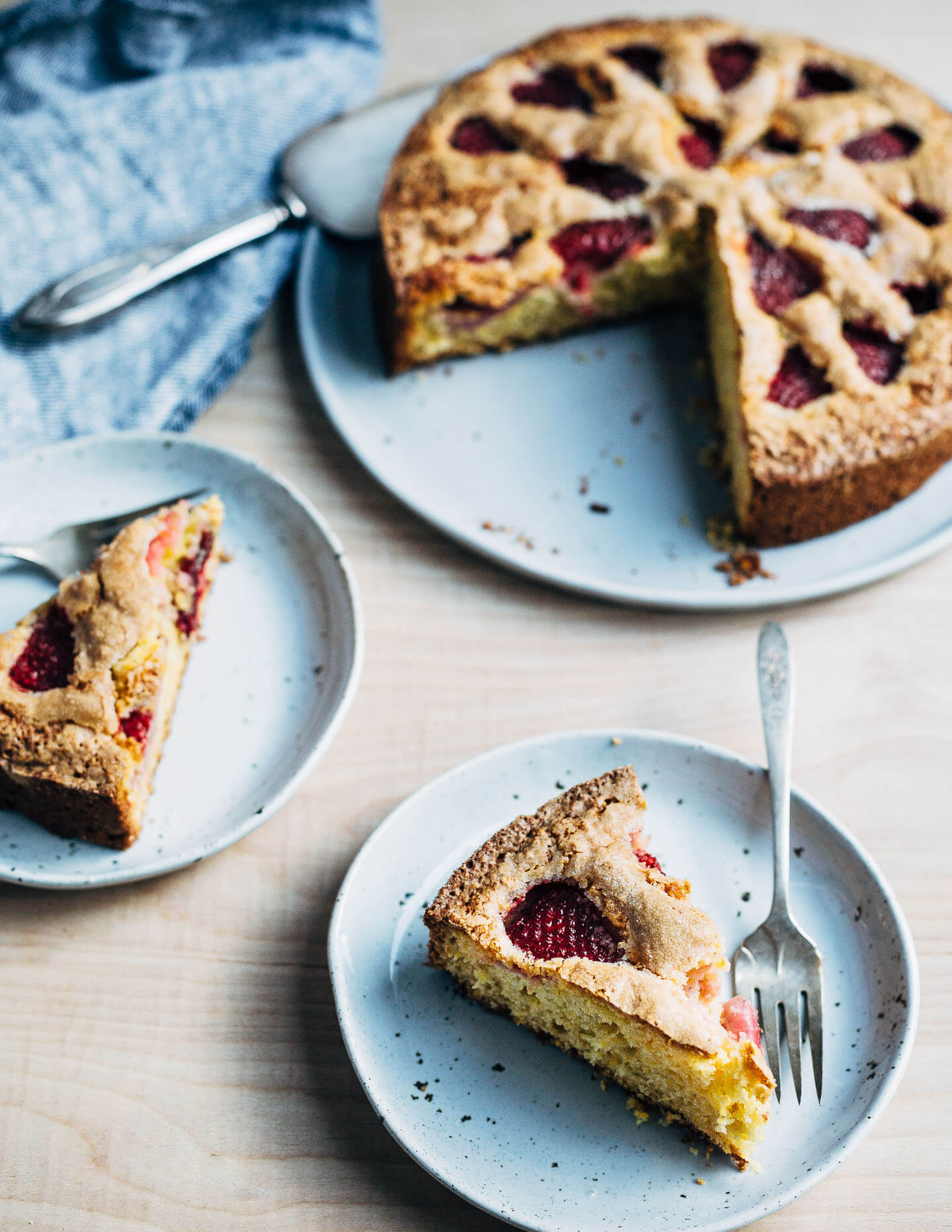 Strawberry Cornmeal Cake
This strawberry cornmeal cake is just the kind of rustic but very good cake you could bake up this weekend, if you're keeping things simple. Or any day, really. You just need a handful of strawberries, flour, cornmeal, and eggs. It calls for buttermilk, but you can use half yogurt and half milk or make fake buttermilk.
The strawberries are tucked into the top of the cake batter. As the cake bakes, the strawberry flavor concentrates; tender and juicy, but not at all soggy. Because I wanted a few crunchy bits, I used a mix of polenta and fine grind cornmeal flour. You could use both or either, though all polenta might be taking things too far. Going on and on about a cake's crumb is kind of my thing. In the interest of brevity, I'll say this: it's toothsome and buttery with a perfect amount of texture.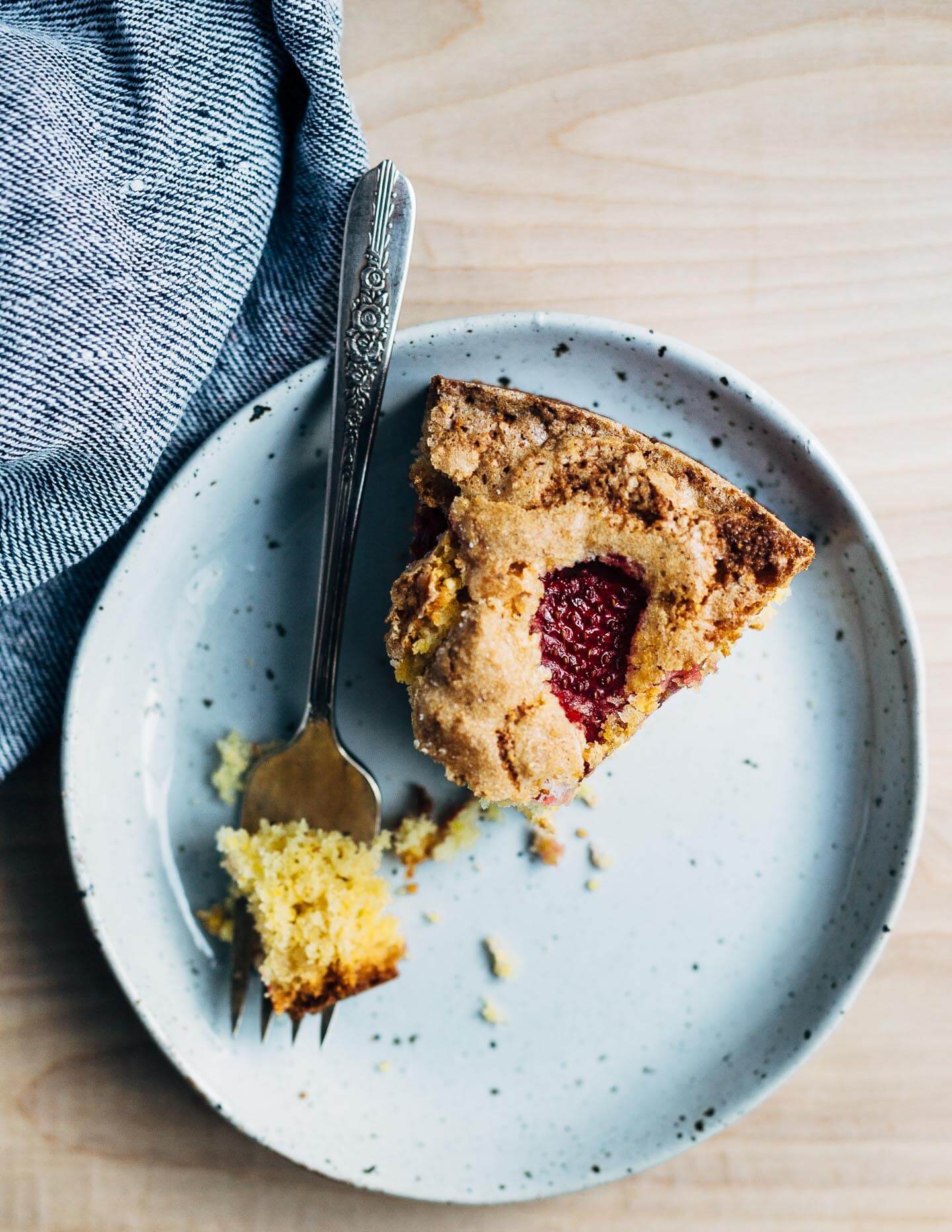 This simple cake was inspired by a slight more complex one: this all flour version with a buttery oat crumb topping.
Strawberry Cornmeal Cake
A rustic strawberry cornmeal cake with fresh strawberries, cornmeal, and flecks of polenta.
Keyword:
strawberry cornmeal cake
Ingredients
1

cup

hulled,

quartered or halved strawberries

1

cup

plus 2 tablespoon all-purpose flour

1/2

cup

cornmeal

1/2

cup

polenta (or use all cornmeal)

2

teaspoons

baking powder

1/2

teaspoon

baking soda

1/2

teaspoon

sea salt

6

tablespoons

unsalted butter,

room temperature

2/3

cup

cane sugar plus two tablespoons,

divided

Zest of 1 lemon

2

large eggs,

room temperature

1

teaspoon

vanilla extract

1/2

cup

buttermilk,

room temperature
Instructions
Preheat the oven to 350 degrees. Liberally butter and flour a 9-inch spring form or cake pan.

In a small bowl combine flour, cornmeal, baking powder, baking soda, and salt.

Using either a paddle attachment for a stand mixer, or a regular beater, cream butter until pale and fluffy, about 3 minutes. Add 2/3 cup sugar and lemon zest, and beat 3 minutes more, scraping down sides as needed. With mixer on low, add eggs one at a time. Add vanilla. Mix half in the flour mixture, all of the buttermilk, and the remaining flour. Mix just until combined. Spoon batter into prepared cake pan. Arrange strawberries on the top of the cake. Sprinkle with remaining two tablespoons of sugar.

Bake 55 - 65 minutes, or until a toothpick inserted in the center comes out with just a few crumbs attached. If cake isn't quite ready, continue baking at three minute intervals, checking with a toothpick each time – it's important not to over bake the cake.

Cool 15 minutes on a wire rack. Then release cake from the spring form pan or carefully flip onto a wire rack and then quickly flip back up so strawberries are facing up. Cool an hour or more before slicing and serving.

Cake will keep wrapped in the counter for 2 days.