This strawberry crumb cake has a toothsome whole wheat crumb and is topped with ripe strawberries, a perfectly salty-sweet crumb topping, and unsweetened whipped cream.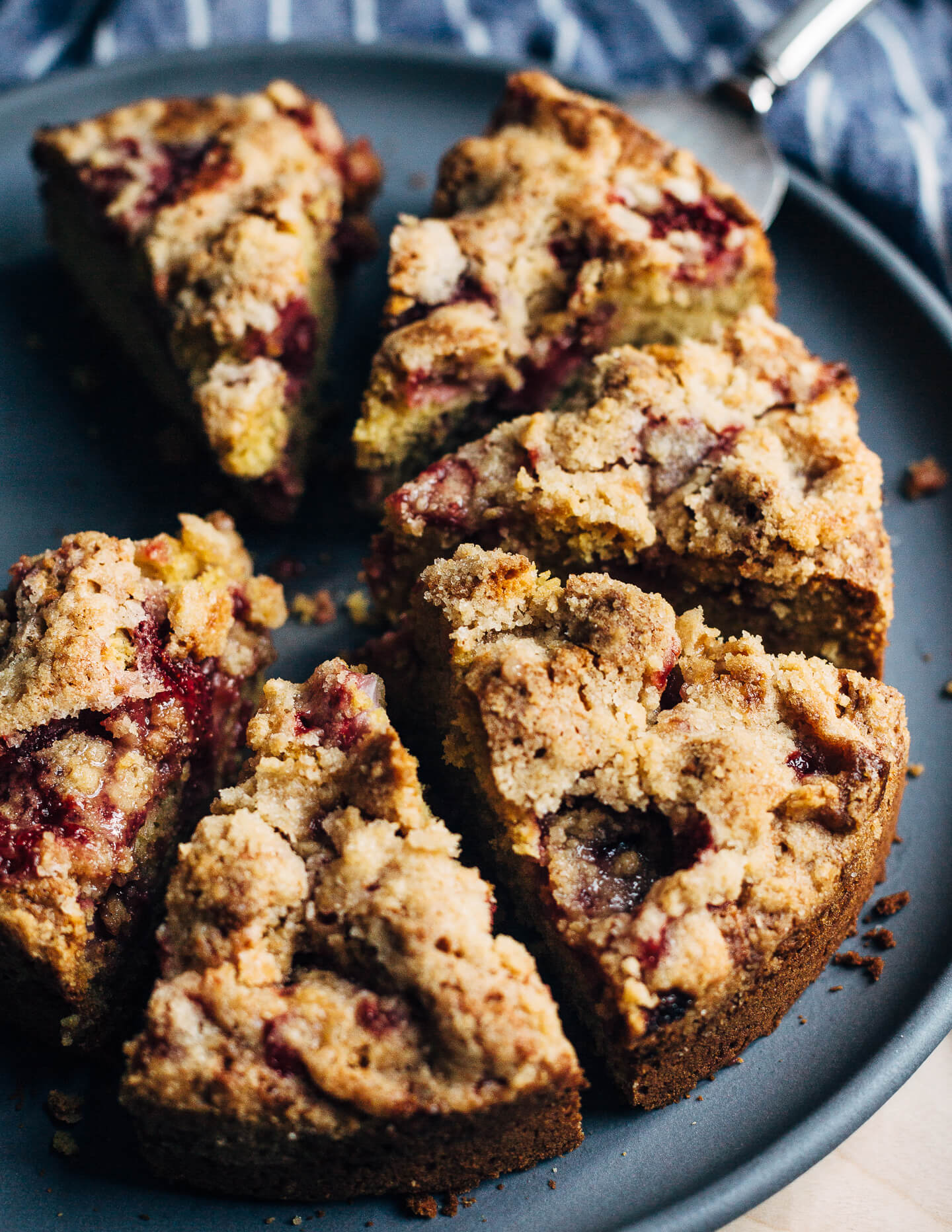 I have only foggy childhood memories of cookouts, so the only cookout desserts I recall are Jell-O based. Jell-O totally makes sense – it's cooling but not melty, sweet, and simple. But however appropriate it may be, it's not my thing. In my own search for the perfect cookout dessert, I've attempted strawberry shortcake for a crowd and made giant pies, but all that proved a bit complicated for last minute fetes.
From here on out, my cookout go-to will be this strawberry crumb cake.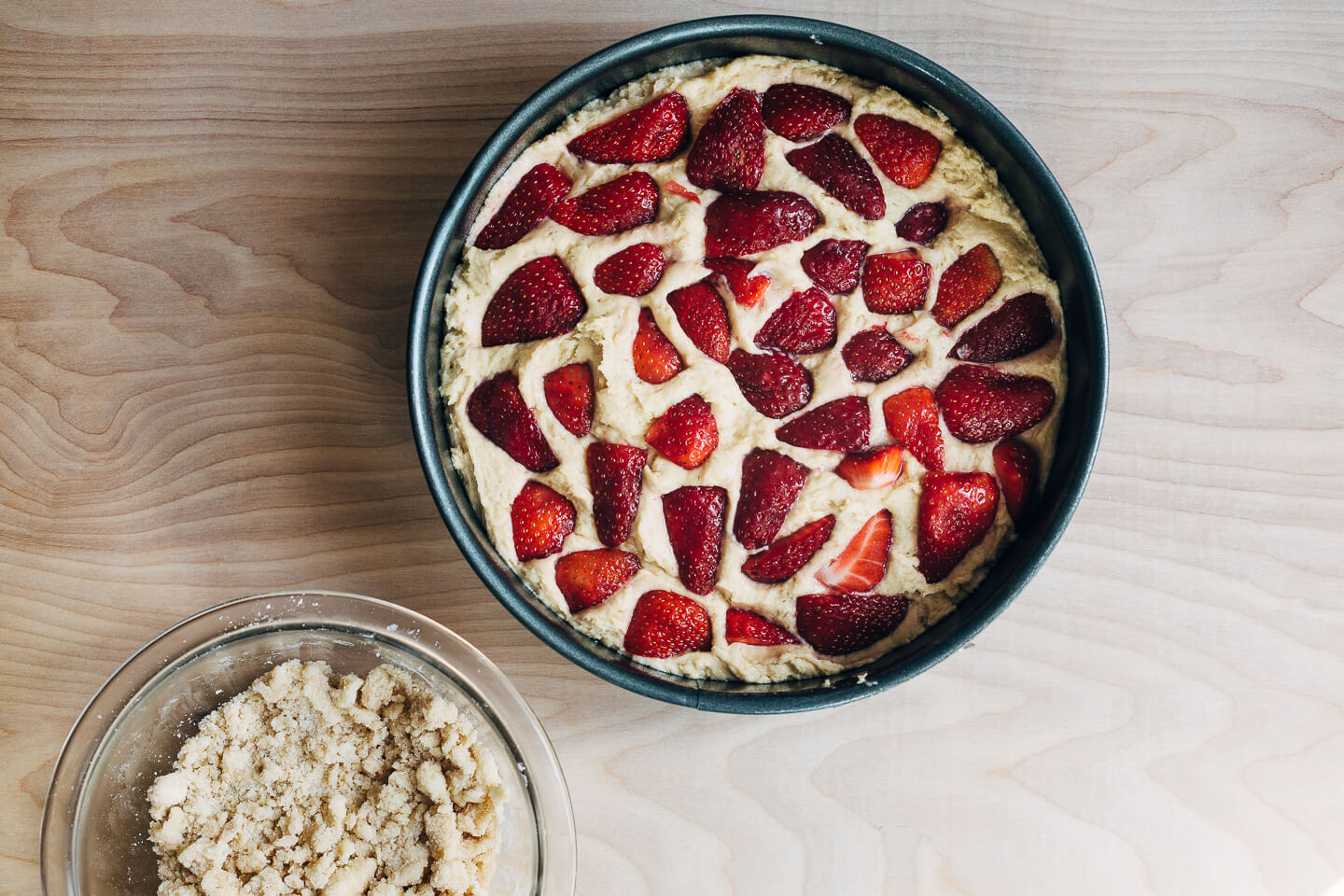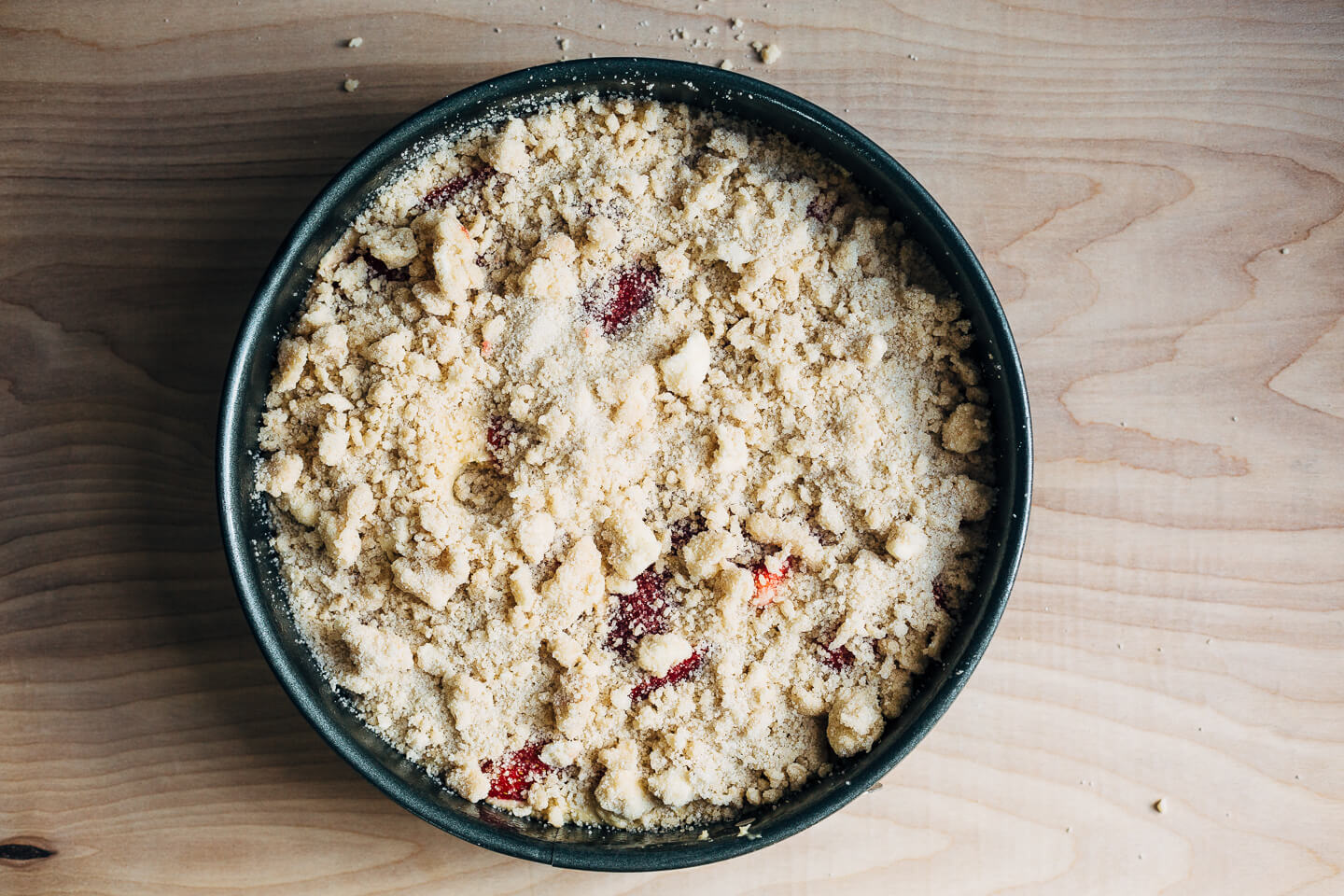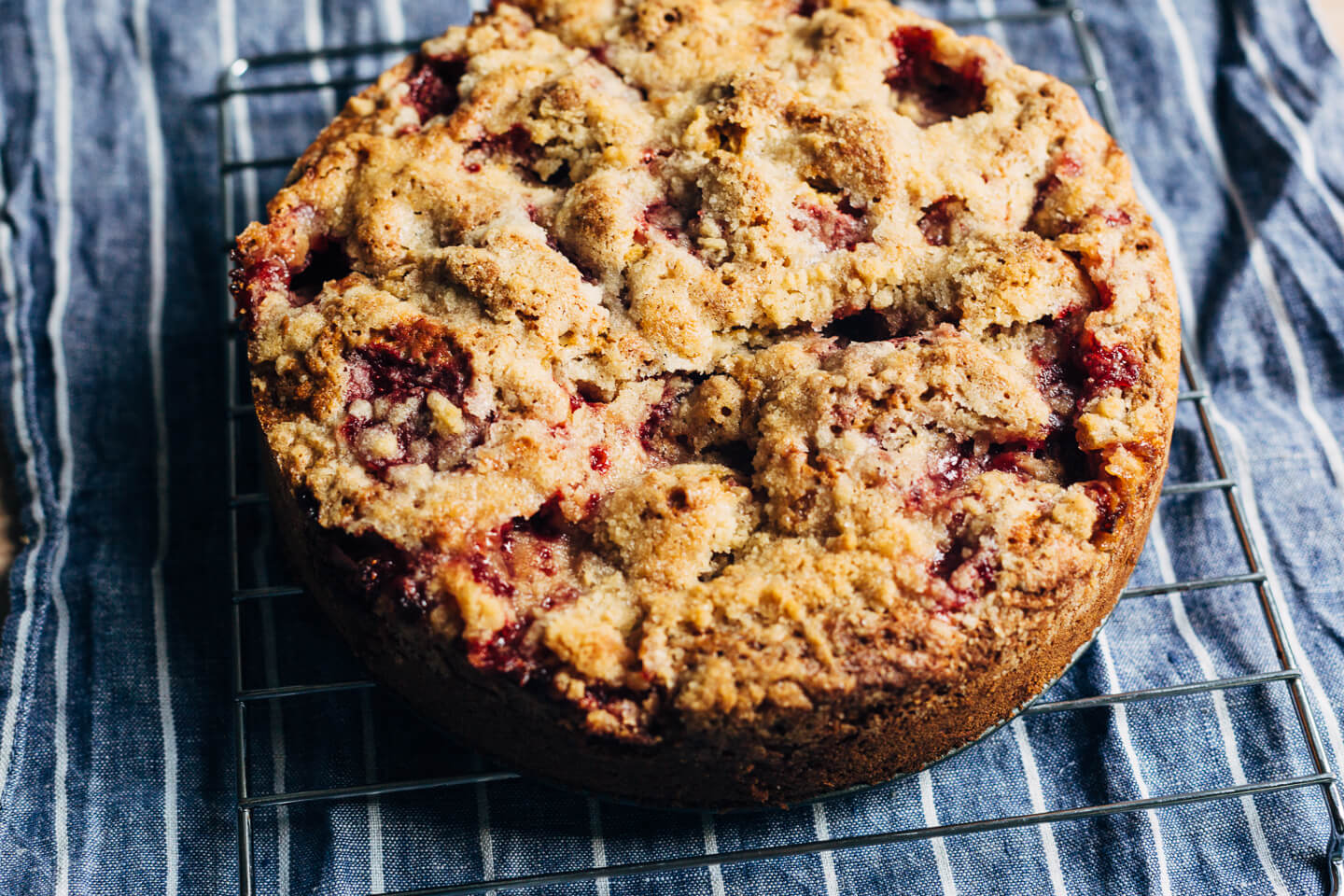 The share-ability of a single layer cake is ideal for summer gatherings. And this one is especially perfect since there's no fussing with frosting. Instead, the cake is topped with jammy strawberries and a sweet and crunchy crumb topping, and, ideally, a dollop of unsweetened whipped cream. The cake itself is wonderfully toothsome – buttery with wholesome undertones. I used whole wheat pastry flour, and that, along with the technicolor yolks of May eggs, give the cake a warm golden hue.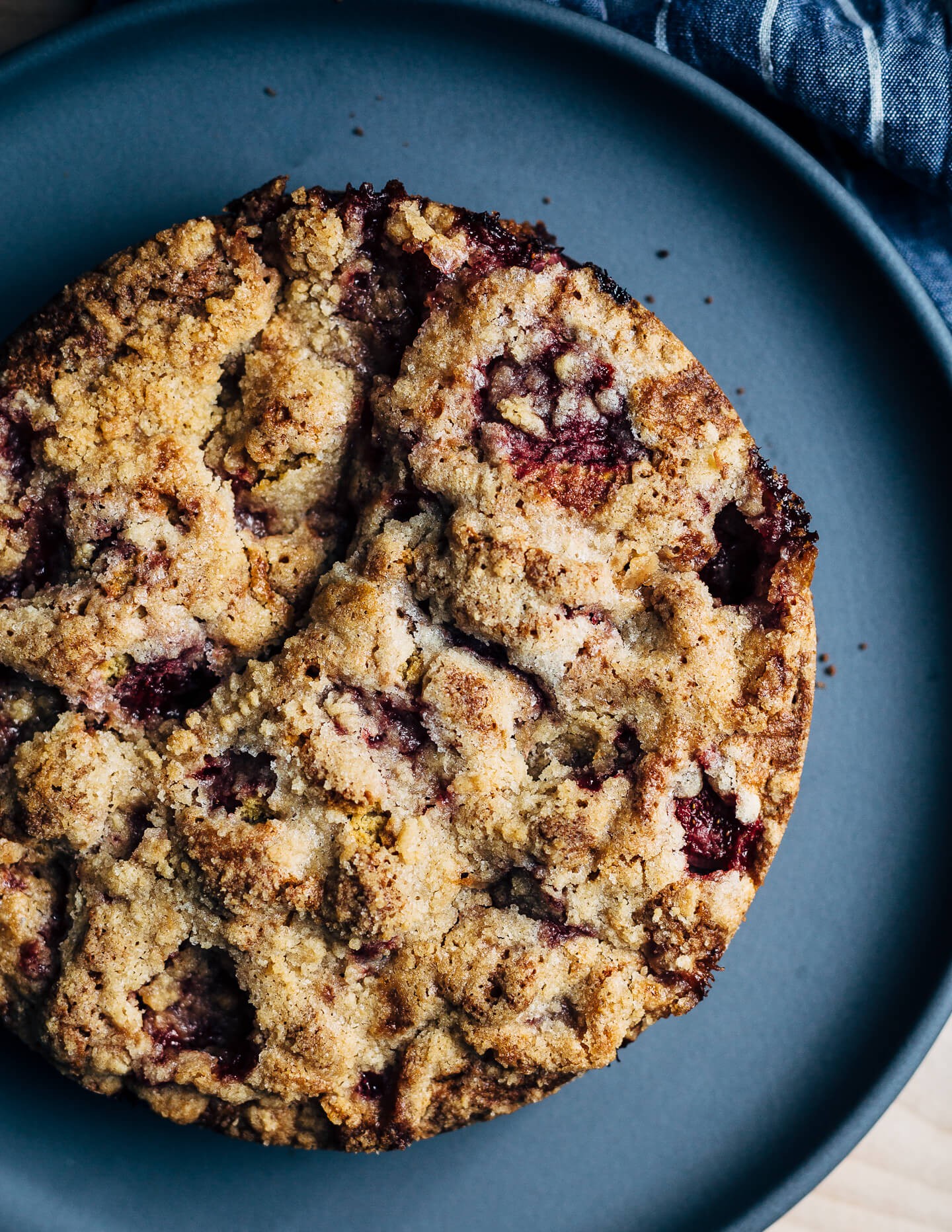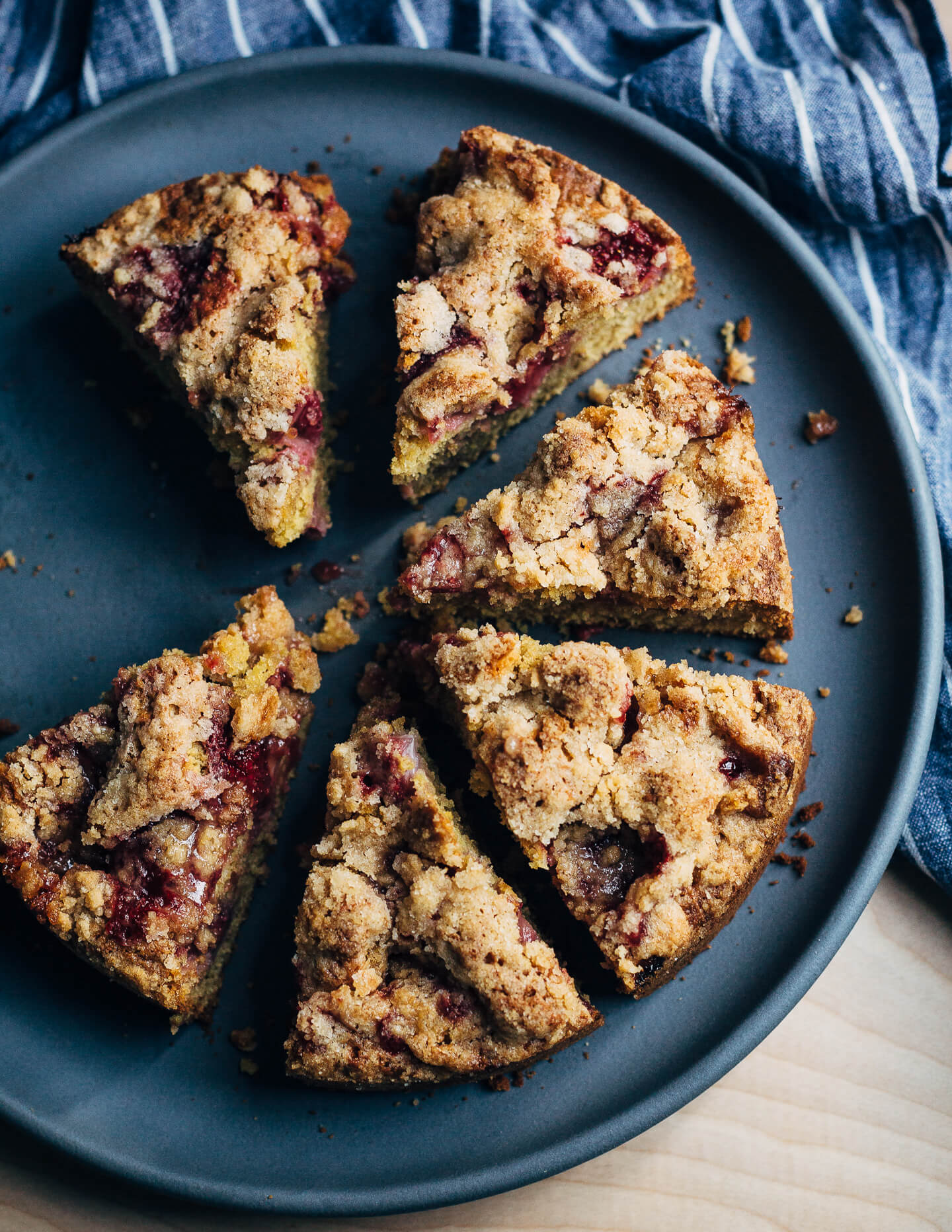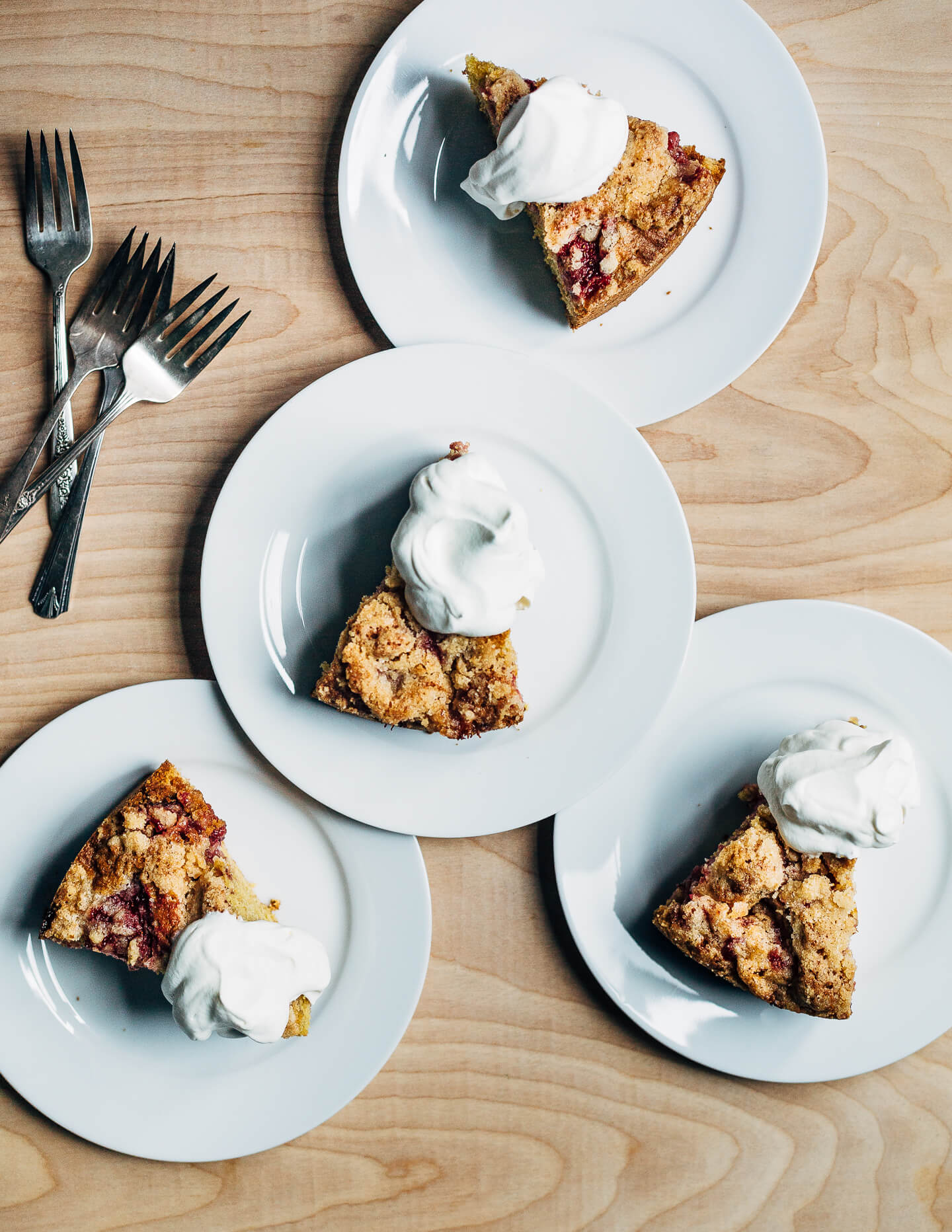 Cooked strawberries can be underwhelming, but surrounded by buttery crunch, they're perfectly jammy, while the strawberry bits along the edge crisp up and caramelize. In places, a berry will sink all the way down into the batter, making for a delightfully gooey bite. At first I wondered if that gooey bits were a flaw, but as everyone began fighting over the pieces with the gooiest bits, I realized they're actually the cake's superpower. That said, this cake walks a delicate line between tender and overly moist, so be sure to add just enough strawberries to cover the top, but feel free to pile on as many fresh strawberries as you'd like when serving the cake.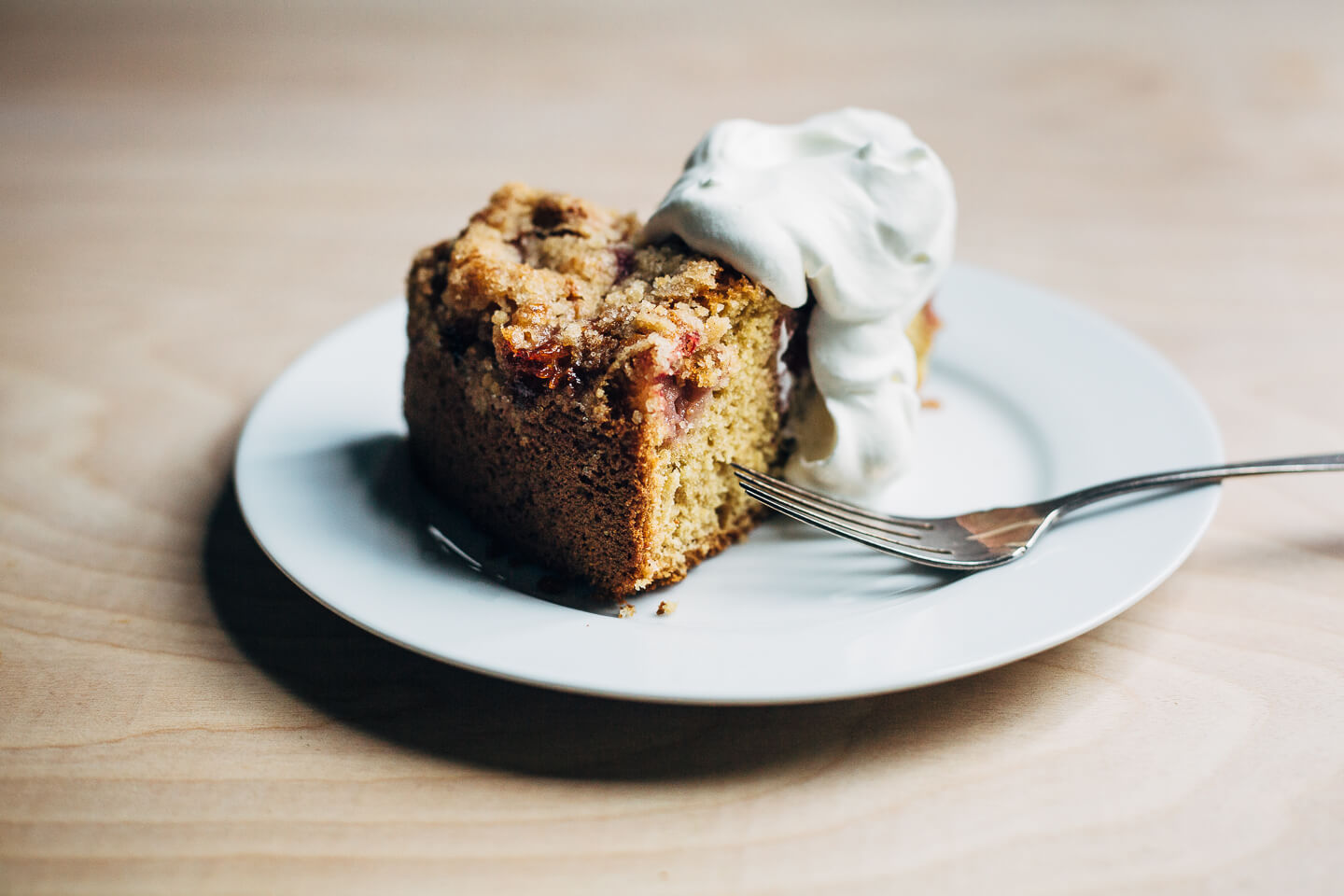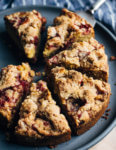 Strawberry Crumb Cake
This strawberry crumb cake has a toothsome whole wheat crumb and is topped with ripe strawberries, a perfectly salty-sweet crumb topping, and unsweetened whipped cream. Recipe adapted from this The New York Times recipe by Emily Weinstein. https://cooking.nytimes.com/recipes/1015511-blueberry-crumb-cake
Ingredients
Crumb Topping
1/2

cup

cane sugar

1/3

cup

whole wheat pastry flour

1/2

teaspoon

freshly grated nutmeg

1/4

teaspoon

sea salt

4

tablespoons

unsalted butter,

cold or room temperature (*see note)
Cake
1 1/2

cups

hulled,

quartered strawberries (from about 1 pint)

2

cups

plus 2 tablespoons whole wheat pastry flour

2

teaspoons

baking powder

1/2

teaspoon

baking soda

1/2

teaspoon

sea salt

6

tablespoons

unsalted butter,

room temperature

2/3

cup

cane sugar

zest of 1 lemon

2

large eggs,

room temperature

1

teaspoon

vanilla extract

1/2

cup

buttermilk

room temperature
Instructions
An hour ahead of time, set out butter, eggs, and buttermilk to come to room temperature.

Preheat oven to 350 degrees F. Butter a 9-inch spring form pan, line with parchment, and then butter the parchment.

Make the crumb topping in a small mixing bowl. Whisk to combine sugar, flour, nutmeg, and sea salt. Work the butter into mixture with fingertips just until it is well combined with a crumbly appearance. Set in fridge while you make the cake batter.

To make the batter, whisk to combine flour, baking powder, baking soda, and sea salt in a medium bowl.

In the bowl of a stand mixer fitted with the paddle attachment or with regular beaters, beat butter until pale and fluffy, about 2 minutes. Add sugar and lemon zest, and beat 3 minutes more, scraping down sides as needed. Add eggs one a time; beat for 1 minute each. Add vanilla extract. The mixture may appear curdled at this point – it won't affect the finished cake.

Switch mixer to low and add half the flour, followed by half the buttermilk. Add remaining flour and remaining buttermilk, and mix just until combined. Use a silicone spatula to fold in any remaining bits of flour. Spoon batter into prepared pan, even out the top with the spatula, and drop on the counter a couple times to get rid of any air bubbles.

Starting along the outer rim, arrange strawberry bits, allowing 1/4 - 1/2-inch of space around each. Top with chilled crumb topping.

Bake 50 - 60 minutes, or until a wooden skewer inserted in the center comes out with just a few crumbs attached. Keep in mind that the gooey strawberries will stick to the skewer.

Cool 15 minutes on a wire rack, run a pastry knife along the outer edge to dislodge any sticky strawberries, and carefully remove the springform. Cool 1 hour. Serve with a generous dollop of unsweetened whipped cream.
Recipe Notes
*For a more uniform and crackly topping like the one pictured, make the crumb layer with room temperature butter. For large, more distinct crumbs, use cold butter chopped into 1/4-inch pieces.
SaveSave
SaveSave