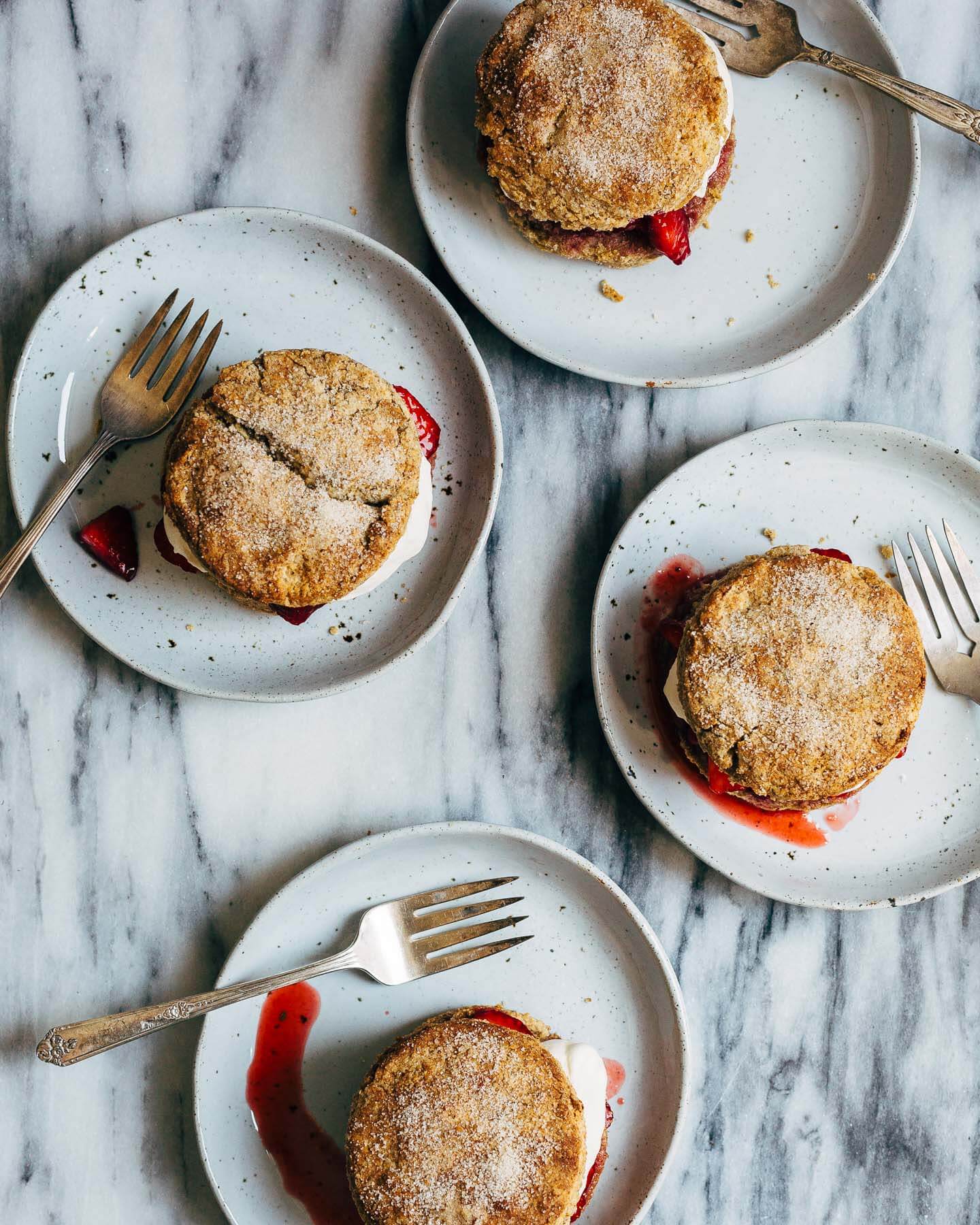 This rustic strawberry shortcake recipe features buttery rye and whole wheat biscuits, strawberries flecked with fresh thyme leaves, and tangy sweet buttermilk whipped cream. Jump to recipe.
At the playground this week, my littlest fell off the slide and hit her forehead. I jogged over and leaned in to kiss it. That's the wrong spot, she told me. I kissed her again, this time in the right spot, exaggerating the mmmmmmm-mwah sound. Immediately, she was better. It dawned on me recently that my days of kissing boo-boos are numbered. I try to remember each one, to savor these last moments of my baby's babyhood, even as she edges toward six. I can feel the years and moments accelerating. In a minute she'll be falling in love, driving, going away to college. But for now, for this sweet moment, I'm grateful her problems can be solved so simply.
I hope this Mother's Day you have the chance to wield your own motherly healing magic or touch your own forehead and celebrate a woman who did. Mother's Day is fraught for many, and whether you're remembering a mother or longing to become one yourself, I hope you find some grace amid the sappy commercials and bouquet-filled Instagram feeds.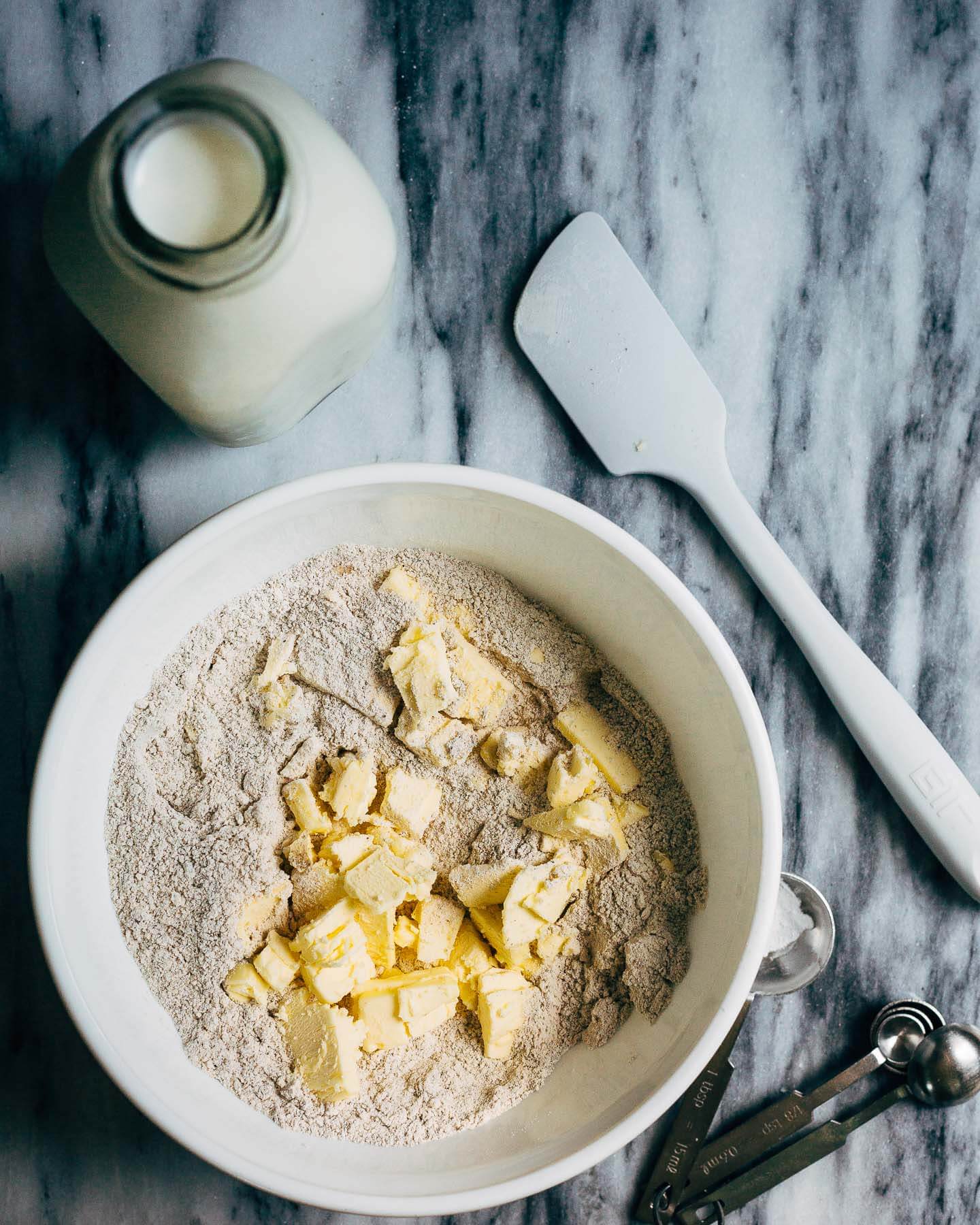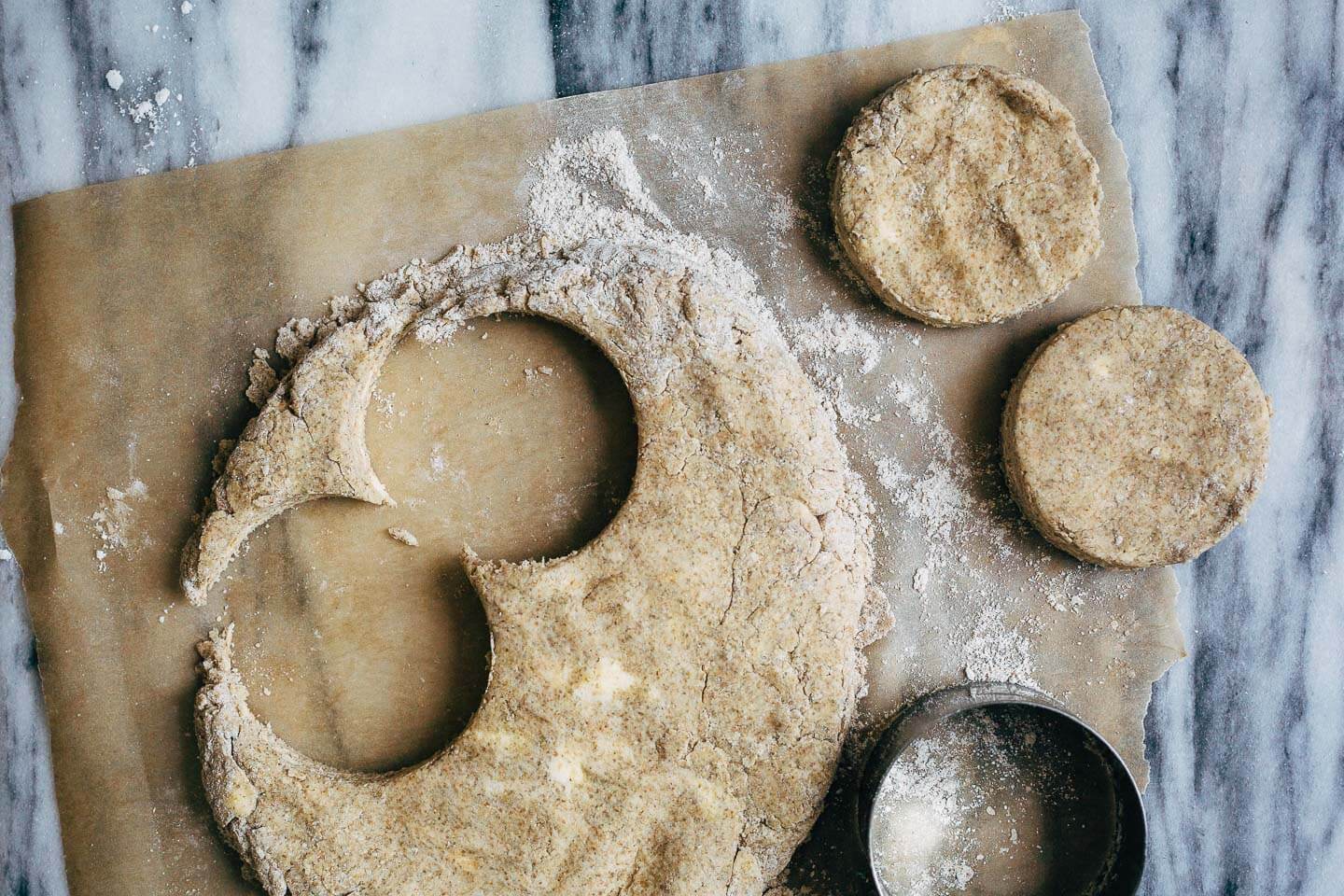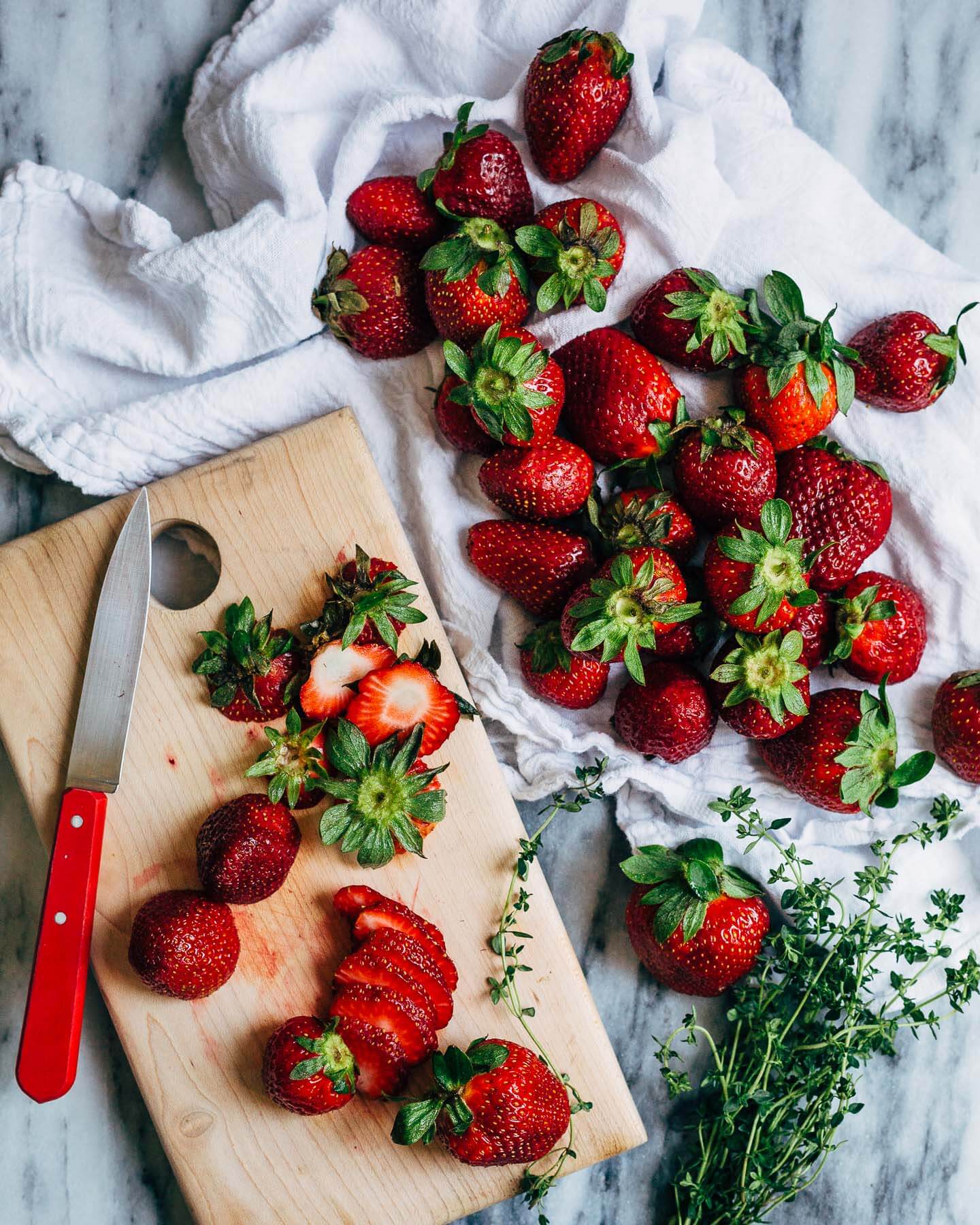 This strawberry shortcake is inspired by my mother's recipe. As a kid, I'd pick the berries right out of our strawberry patch while she'd bake up a batch of Bisquick biscuits and whip the cream, and later, we'd have the best dessert ever.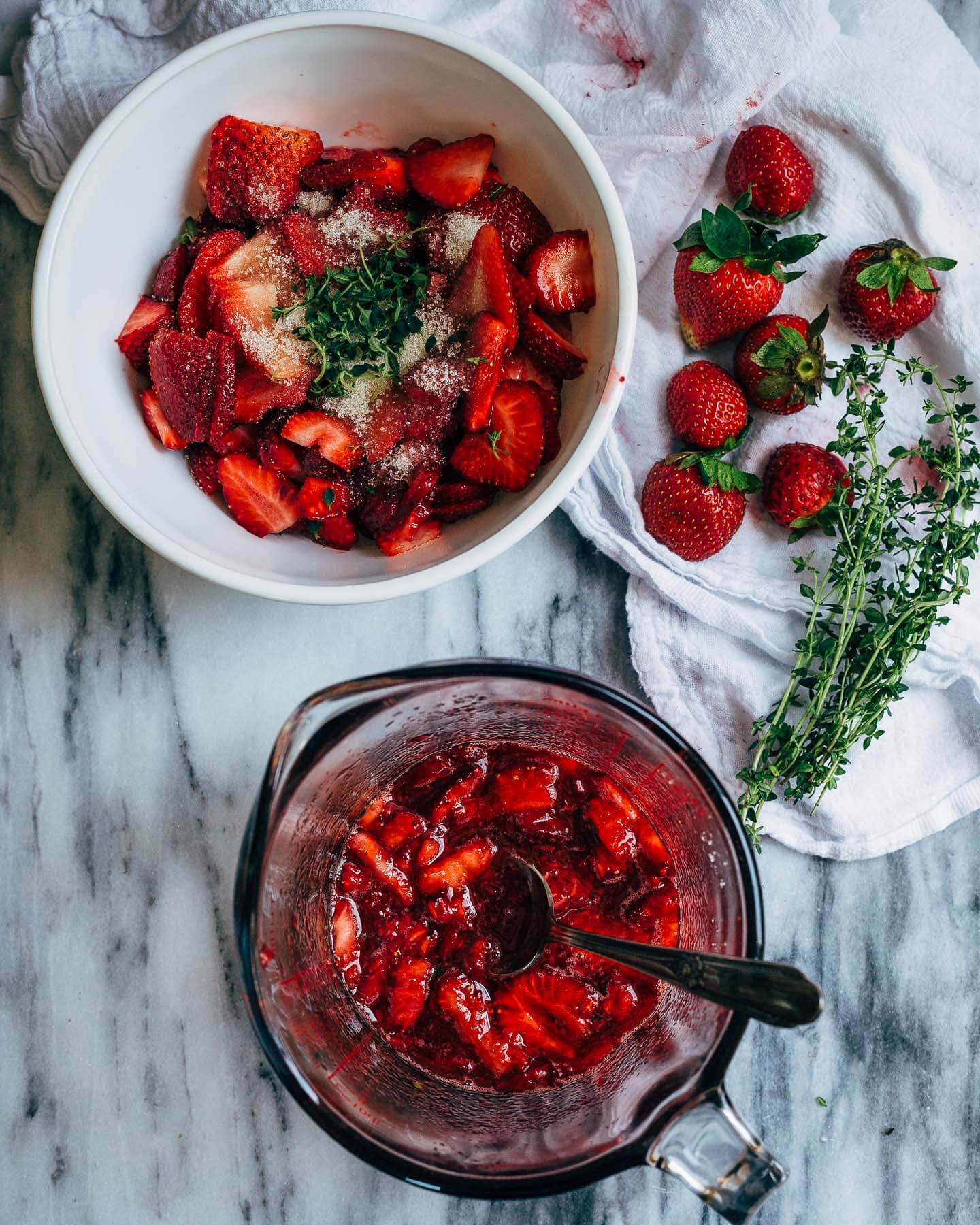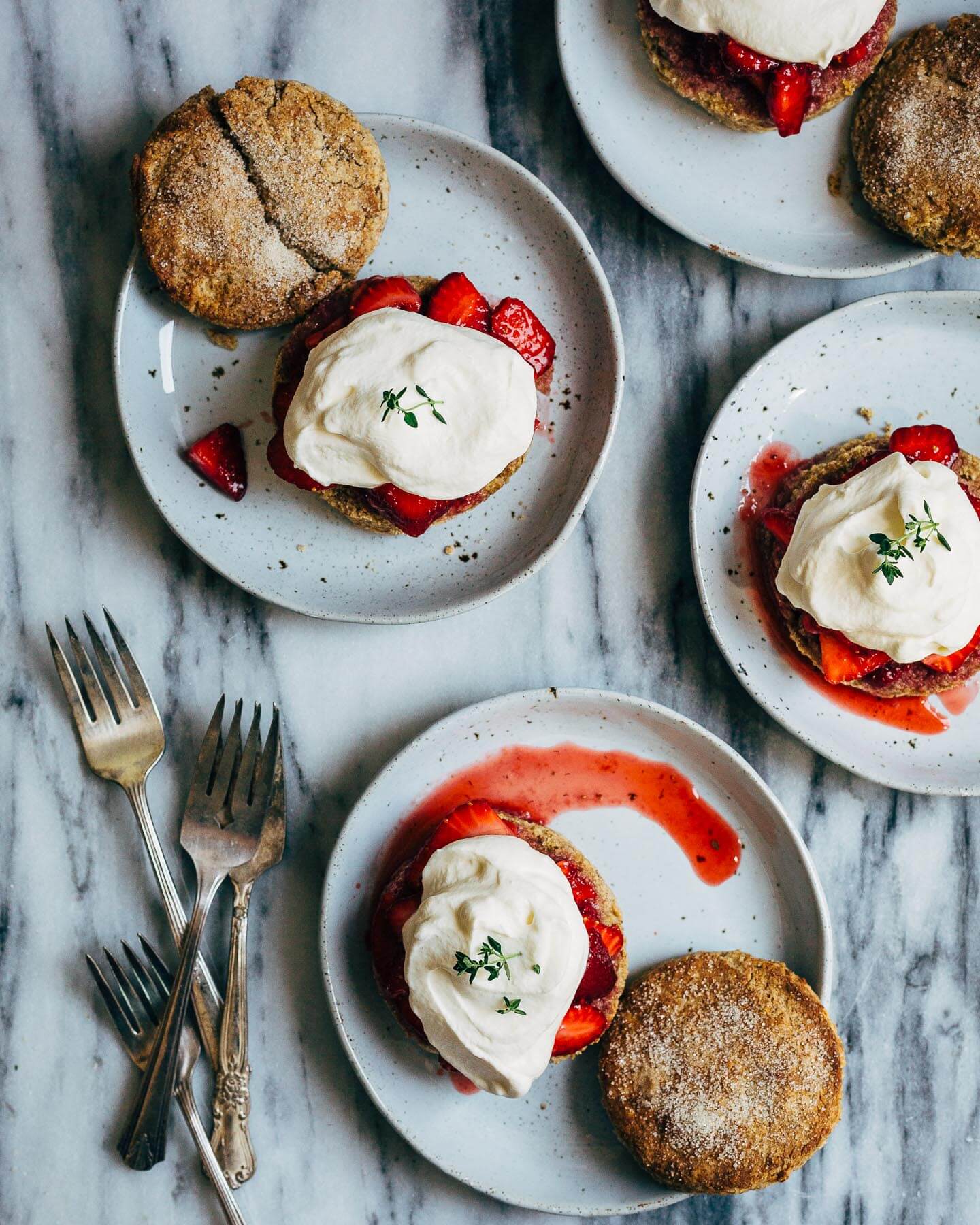 My strawberry shortcake diverges from tradition a bit. I've subbed classic white flour biscuits for nutty, textured ones made with whole wheat and rye flours. Thyme leaves lend an herbaceous pop to the strawberries, while the buttermilk whipped cream (my whipped cream of choice for summer fruit) is tangy and lends brightness to the sweet cream.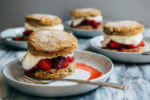 Rye and Whole Wheat Strawberry Shortcake
This rustic strawberry shortcake recipe features buttery rye and whole wheat biscuits, strawberries flecked with fresh thyme leaves, and tangy sweet buttermilk whipped cream.
Ingredients
Biscuits
1

cup

whole wheat pastry flour

1

cup

rye flour

1

tablespoon

baking powder

1/2

teaspoon

baking soda

3

tablespoons

turbinado sugar

, divided

1/2

teaspoon

sea salt

1

stick unsalted butter

, cold, thinly sliced

3 /4

cup

whole milk buttermilk

, cold, shaken
Strawberries
4

cups

hulled

, sliced strawberries (about 1 1/2 quarts)

1/4

cup

turbinado sugar

2

tablespoons

fresh thyme leaves

, plus 6 small sprigs for garnish
Buttermilk Whipped Cream
1

cup

heavy whipping cream

1/2

cup

whole milk buttermilk

2

tablespoons

turbinado sugar
Instructions
Start by making the biscuits. Preheat oven to 450 degrees F and set out a small rimmed baking sheet.

In a large mixing bowl, combine flours, baking powder and soda, 2 tablespoons sugar, and sea salt. Dot the butter over the surface, and quickly rub into flour with fingertips until it's incorporated well and in pea-sized chunks. Fold in the buttermilk, flipping the dough several times to incorporate.

Turn out onto a lightly floured sheet of parchment. Knead dough into an oval. Pat dough out into a rough rectangle. Cut biscuits with a 3-inch high-sided biscuit cutter and arrange on a small un-greased baking sheet. Gather dough up a second time and cut out remaining biscuits. Any dough gathered a third time will be overworked and will yield an inferior shape – so on the second pass, try to create a shape that will accommodate the most biscuits. Sprinkle biscuits with remaining sugar; press lightly into the surface.

Bake 12 - 15 minutes, or until biscuits are a rich golden hue and springy to the touch. Set aside to cool for 20 minutes. (Recipe makes 6 large biscuits.)

While biscuits cool, prep the strawberries. Toss 1 cup strawberries with half the sugar and macerate thoroughly with a fork. Toss with remaining berries, sugar, and thyme and set aside at room temperature.

To make the buttermilk whipped cream, beat cream with a whisk in your largest mixing bowl. When the cream forms soft peaks, fold in buttermilk and sugar, and whip until cream just passes soft peaks, it should be pillowy, but still holds its shape.

Carefully slice biscuits in half. Top the bottom half with strawberries, a generous dollop of cream, and a small sprig thyme. Top with biscuit top. Serve immediately.
Recipe Notes
Like all biscuits, these are best served just after baking, though leftovers will keep covered at room temperature for a day. To improve texture of day-old biscuits, warm before serving. 
Any berry can be used in place of the strawberries.