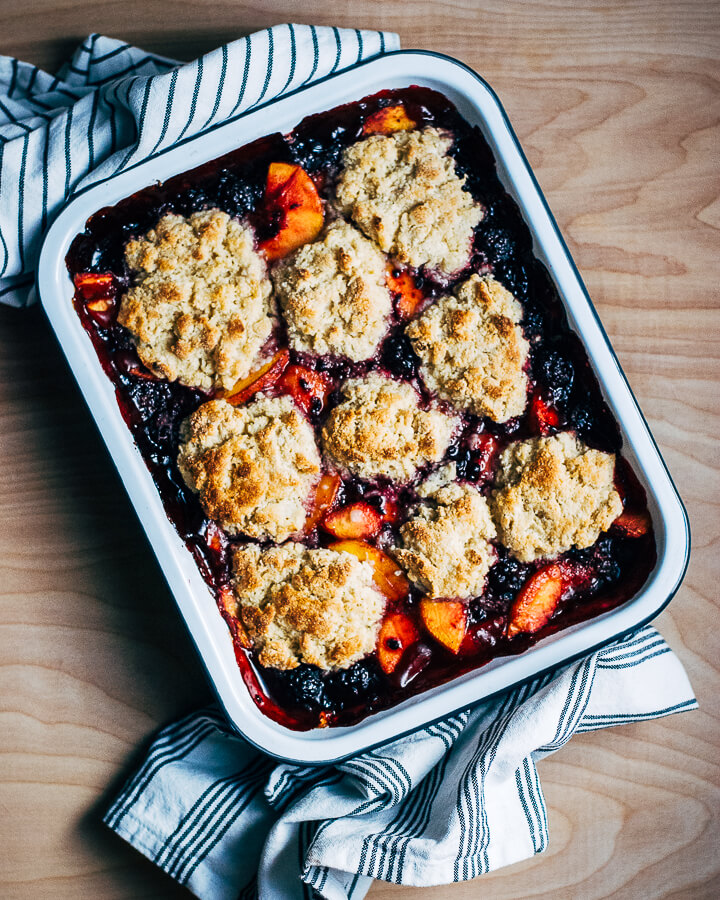 A summery blackberry peach cobbler recipe made with fresh ginger, amaranth buttermilk biscuits, and pillowy buttermilk whipped cream. Jump to recipe.
It shouldn't be this way, but my fridge ends up as the warehouse of all the projects I want to complete, those that I have put off too long, and remnants of past projects – jars half full of sauces, ketchups, salad dressings, pickles, syrups, and caramel – it's the debris of work and life all jammed up in that (thankfully huge) white box.
A few weeks back, I spotted a table of blackberries at the market. The late berry harvest was in – some of the last fruit of real deal summer – and I had to pick up a couple pints. But the fragile fruit wasn't even up to the short walk home, and already smushed ones had to be rescued as soon as I got home. Quick action was needed.
I had a hunch as to the kind of recipe I wanted to make, but still wasn't positive. (I really wanted to do something with buttermilk, but was stuck on ice cream which has a long turnaround time.) In the meantime, I tossed the fragile fruit with a half cup of sugar and a squeeze of lemon, shoved it into the repository doubling as a fridge, and forgot about it for a couple days.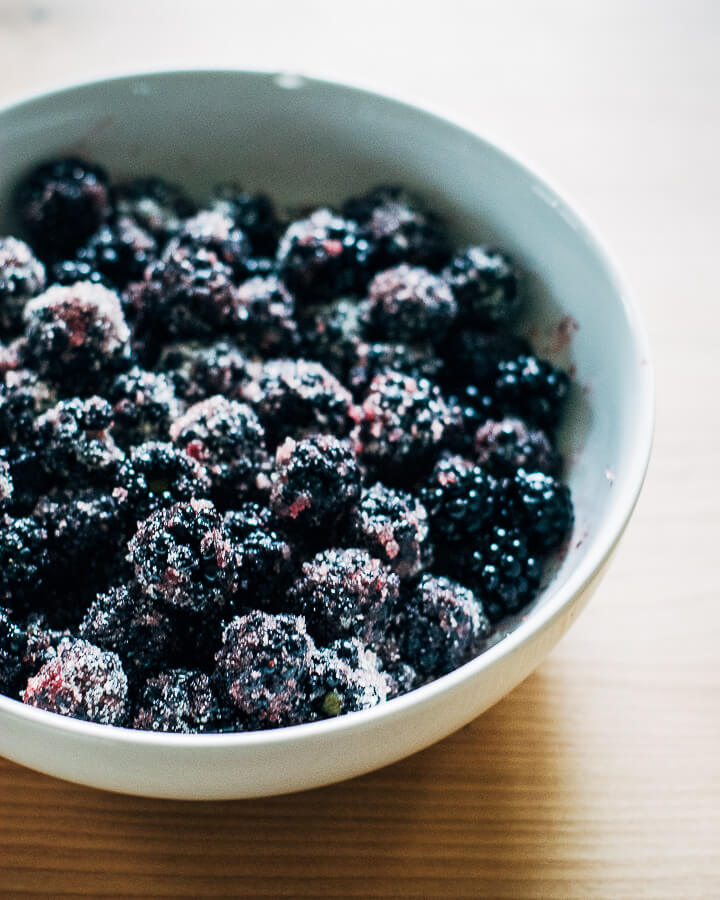 It was already late in the evening. Brian was working on some chicken we needed to get in the oven. But the blackberries had to be used – immediately. For fruit on the edge, shrubs are ideal, crisps too, but I already have a post about each and wanted something novel. I decided a cobbler would be perfect. I threw everything together and in less than a half hour, we had an epic dessert.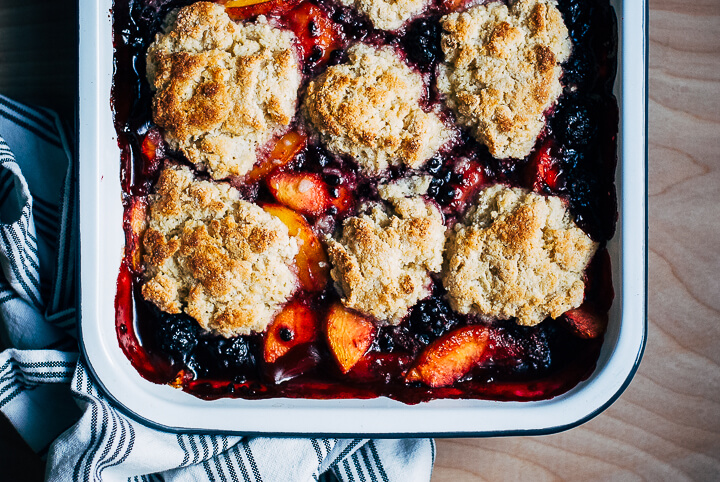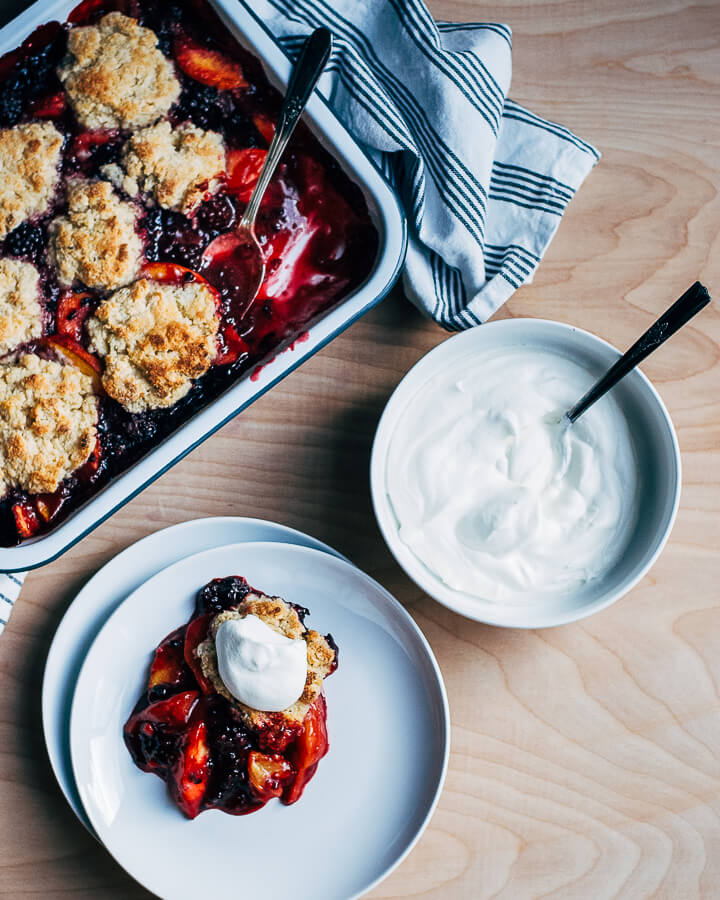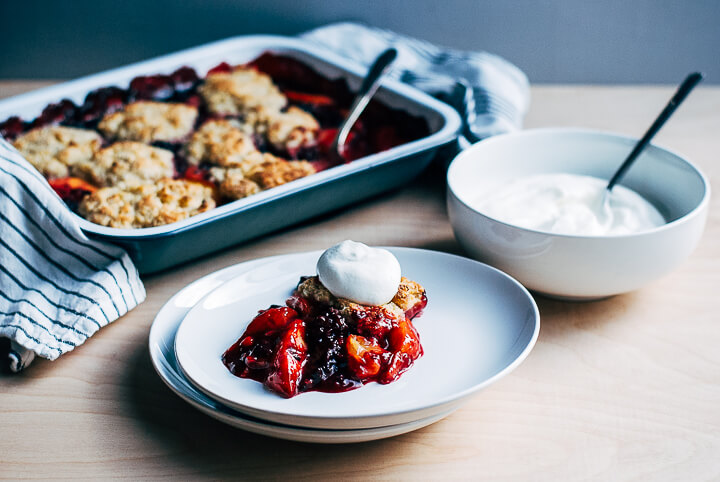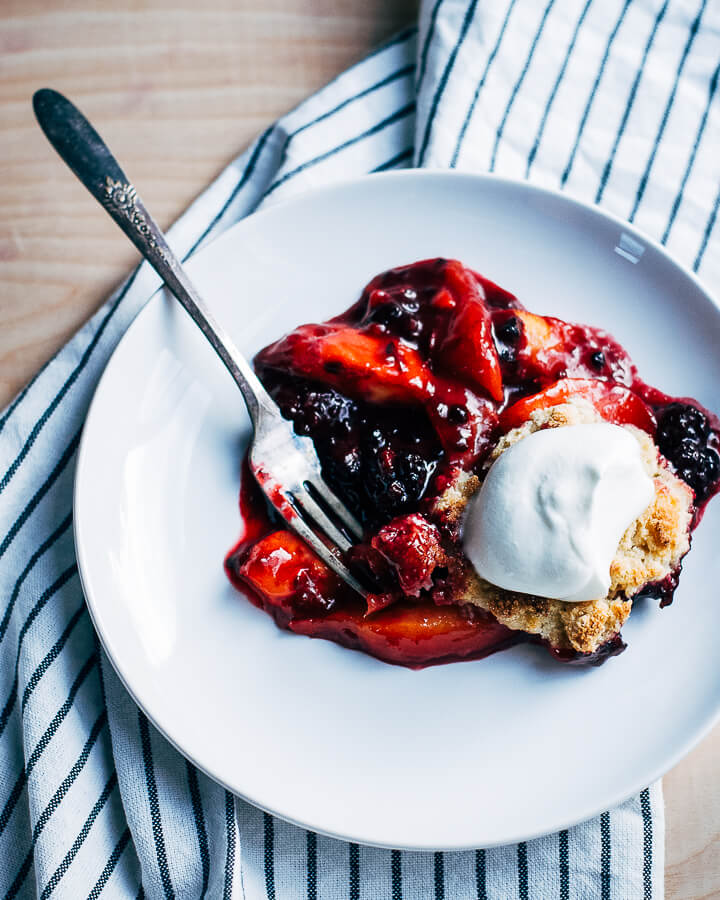 To start, the blackberries cook up wonderfully; all the bright beauty of fresh specimens remains, but alongside is a deeply concentrated syrup with a hint of spice from fresh ginger. Peaches are a lovely counterpoint. So they'd have a chance of standing up to the berries, I cut mine thick. And it was just as I'd hoped – tender, sweet hunks of peaches amid a sea of intensely-hued blackberries. For the biscuit topping, I combined faintly sweet amaranth flour (a method I picked up here) and added it to regular flour. They baked up beautifully.
Finally, I opted to combine heavy cream with buttermilk for my topping. People: this stuff is a revelation. Tangy, faintly sweet, totally creamy and pillowy – my life will now be divided into the time before I discovered buttermilk whipped cream and everything after.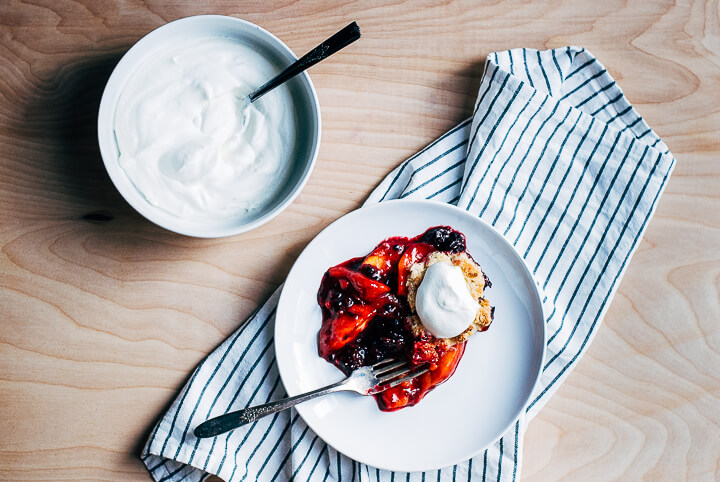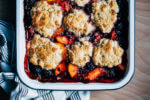 Blackberry Peach Cobbler with Buttermilk Whipped Cream
A summery blackberry peach cobbler recipe made with fresh ginger, amaranth buttermilk biscuits, and pillowy buttermilk whipped cream.
Makes
:
9
generous servings
Ingredients
For the Blackberry Peach Filling

3

cup

blackberries

3

cups

sliced peaches

(roughly 3/4-inch thick; 2 - 3 peaches)

3/4

cup

turbinado sugar

1

tablespoon

grated fresh ginger

1

tablespoon

freshly squeezed lemon juice

1/4

cup

unbleached all-purpose flour

1/4

teaspoon

ground cinnamon

1/4

teaspoon

sea salt


For the Buttermilk Biscuit Topping
3/4

cup

unbleached all-purpose flour

1/4

cup

amaranth flour

(sub sorghum, wheat, or all-purpose flour, or finely ground cornmeal)

3

tablespoons

turbinado sugar

1 1/2

teaspoons

baking powder

1/4

teaspoon

salt

3

tablespoons

unsalted butter

, cold

1/2

cup

buttermilk
For the Buttermilk Whipped Cream
1

cup

heavy whipping cream

1/2

cup

buttermilk

, well shaken

2

tablespoons

turbinado sugar
Instructions
Preheat the oven to 425 degrees F.

In a 2 - 3-quart ovenproof dish, gently fold the blackberries, sugar, ginger, lemon juice, flour, cinnamon, and sea salt together. Add peaches at the last minute.

Next, make the biscuit topping by combining the flours, 2 tablespoons sugar, baking powder, and sea salt. Grate in the butter and massage into flour with fingertips. Using a silicone spatula, fold in the buttermilk, stirring just until a sticky ball of dough forms. 

Using two spoons, top the fruit filling with approximately 9 2-inch dollops of biscuit dough. Sprinkle biscuit tops with remaining tablespoon of sugar.

Bake 20 - 25 minutes, or until biscuits are a light golden brown and the filling is bubbling vigorously. Cool for 15 minutes; serve with buttermilk whipped cream.

To make the buttermilk whipped cream, beat cream to very soft peaks in a large bowl (to avoid flying bits of cream). Switch mixer to medium, add sugar, and then gradually add buttermilk, maintaining soft peaks all the while.