A simple, summery cherry and peach cornmeal cobbler that pairs the sweetness of ripe summer stone fruits with a tender, faintly sweet, cornmeal biscuit topping. 
Before we all head out for travels, super long weekends, or just a nice holiday Wednesday off, I wanted to pop in and share this perfectly summery cherry and peach cornmeal cobbler. Cornmeal and stone fruit has long been one of my favorite combinations and this iteration does not disappoint.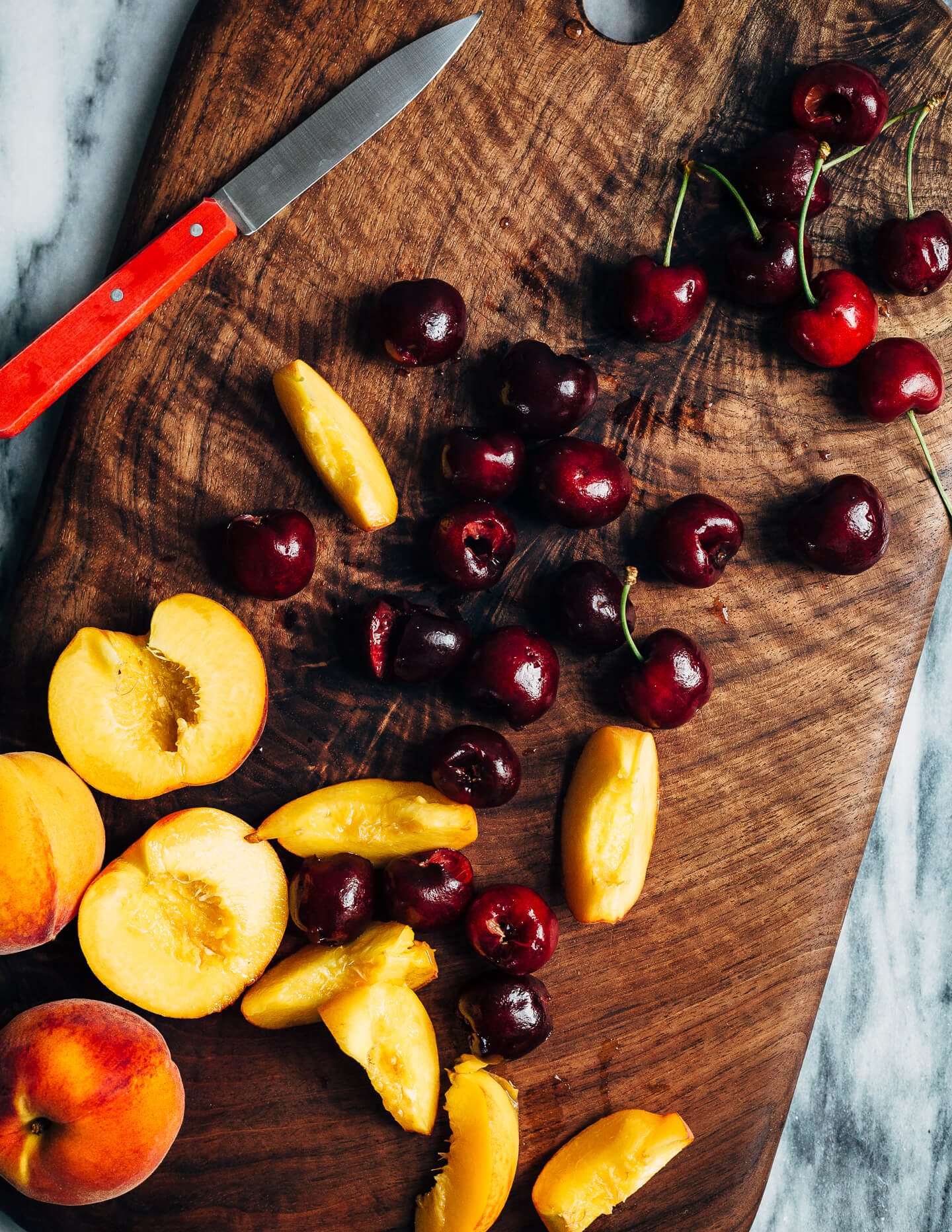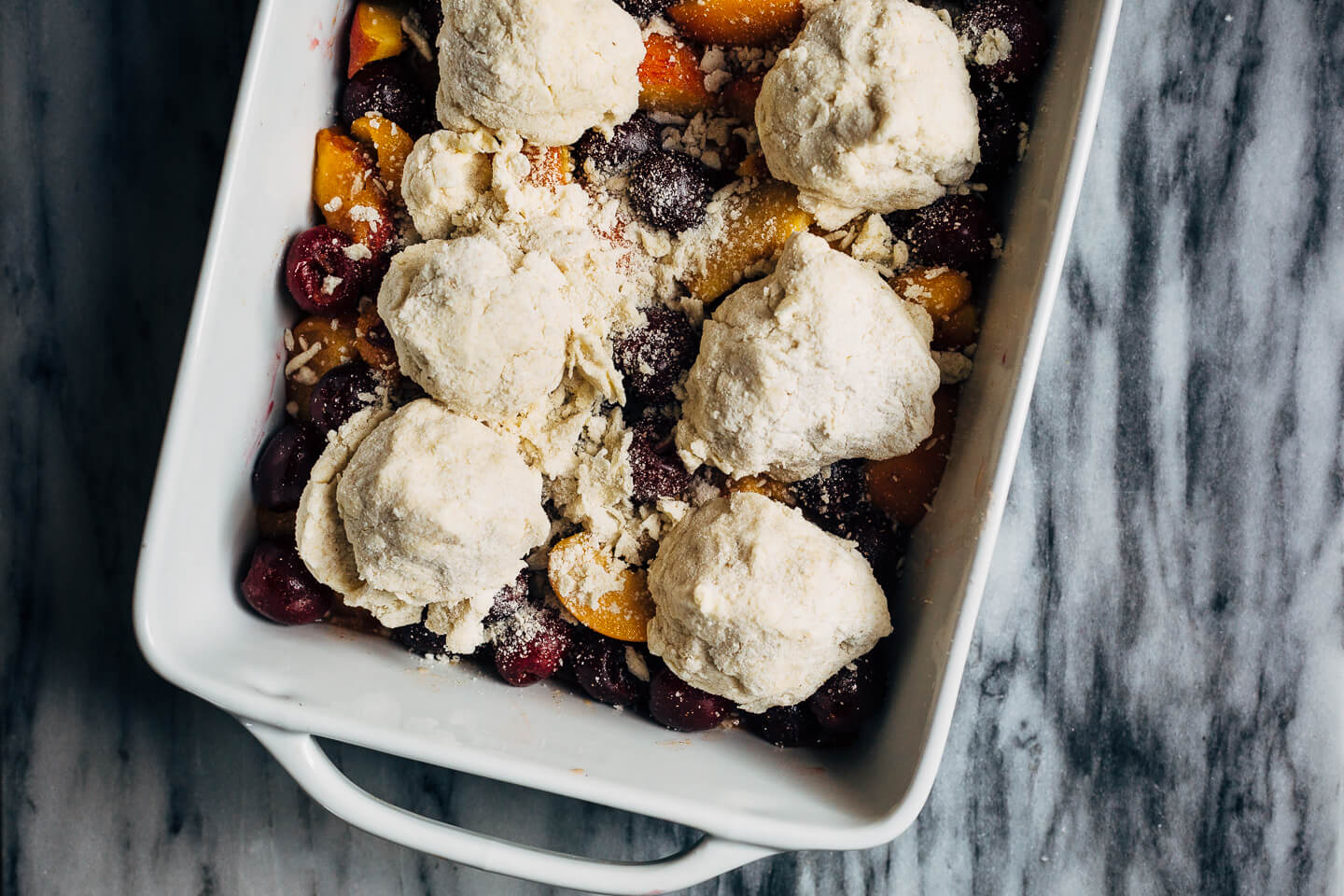 Things have been hectic this summer and I just haven't found the time or patience for pie. But cobbler? You can whip it up in minutes, bake it up (relatively) quickly, and then eat piping hot (if that's your wont). After trying an all-cherry version, I went with a mix of cherries and peaches for the filling, and liked the way peaches lent juiciness and rounded out the sweetness of the cherries. The topping takes the form of wonderfully tender cornmeal biscuits. They're pillowy and toothsome and just generally perfect. 
I love this dessert because it can be thrown together so simply, while delivering thoroughly sophisticated flavor. I recommend serving it with a scoop of the best vanilla ice cream you can find.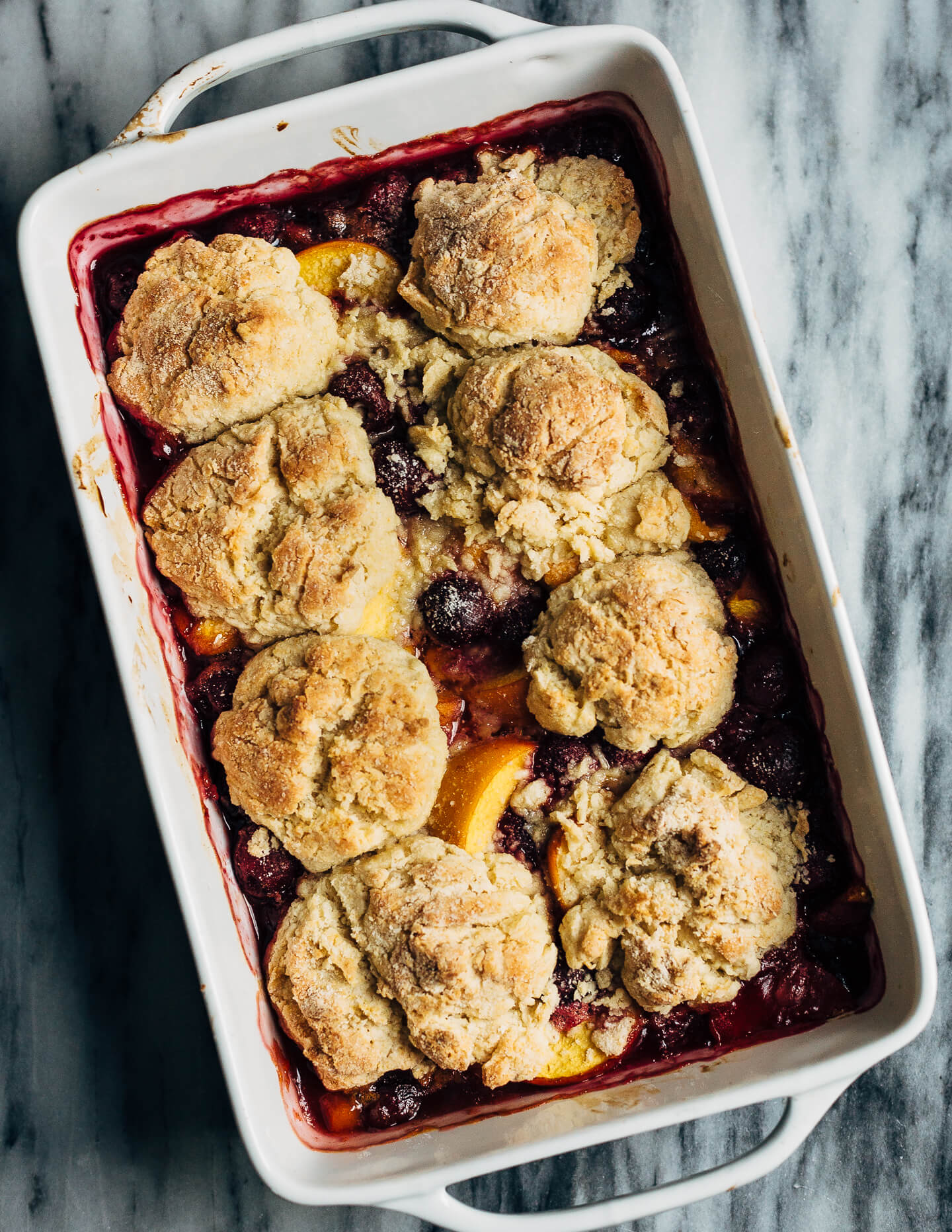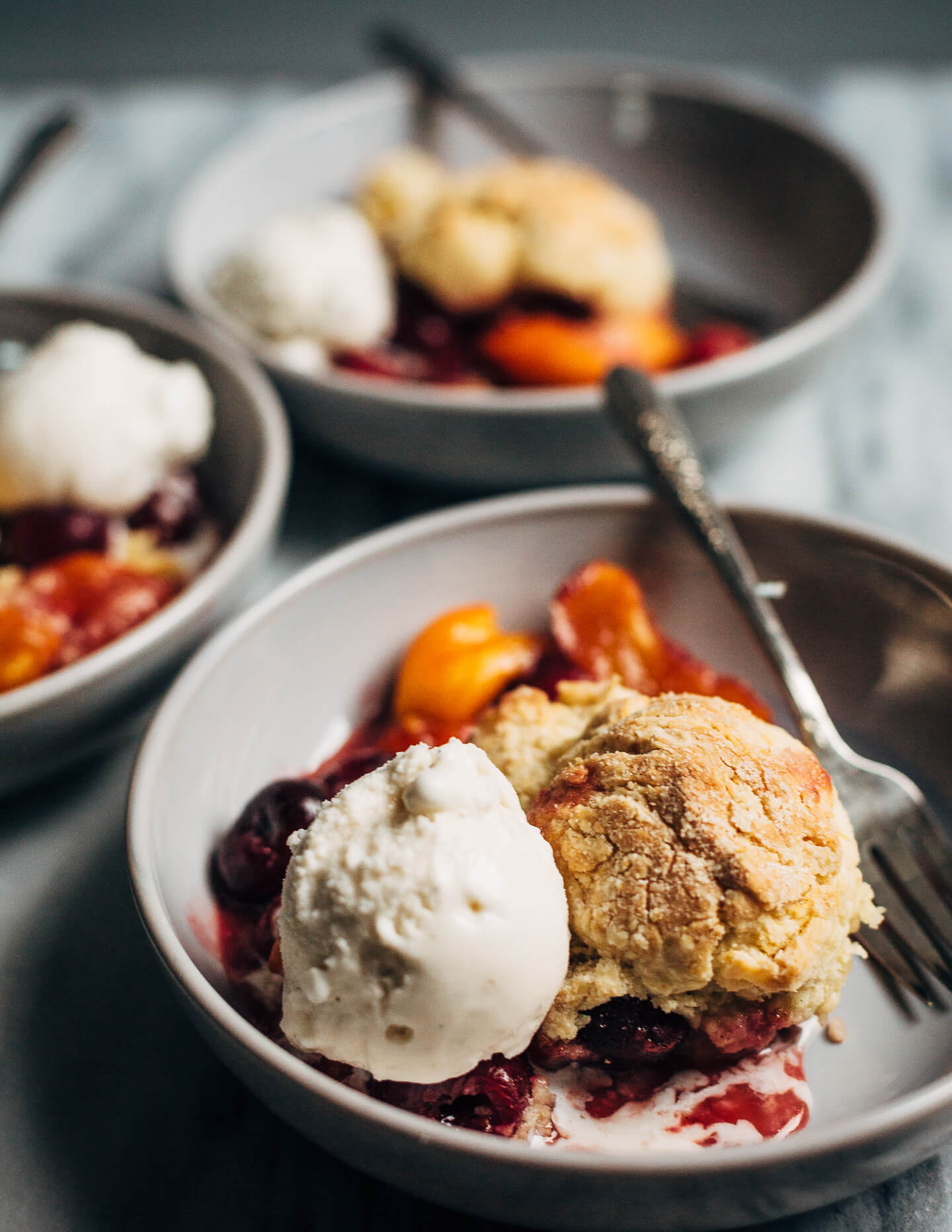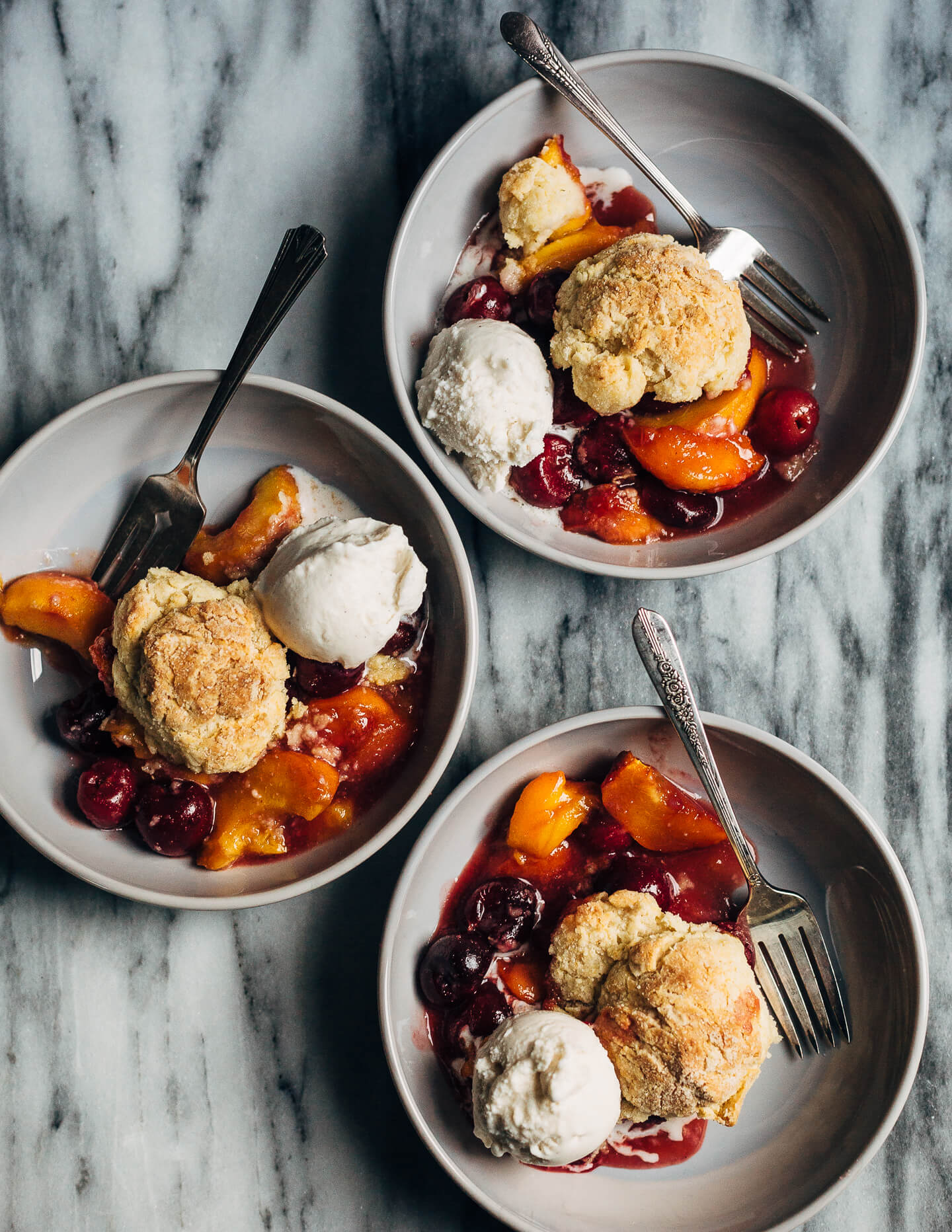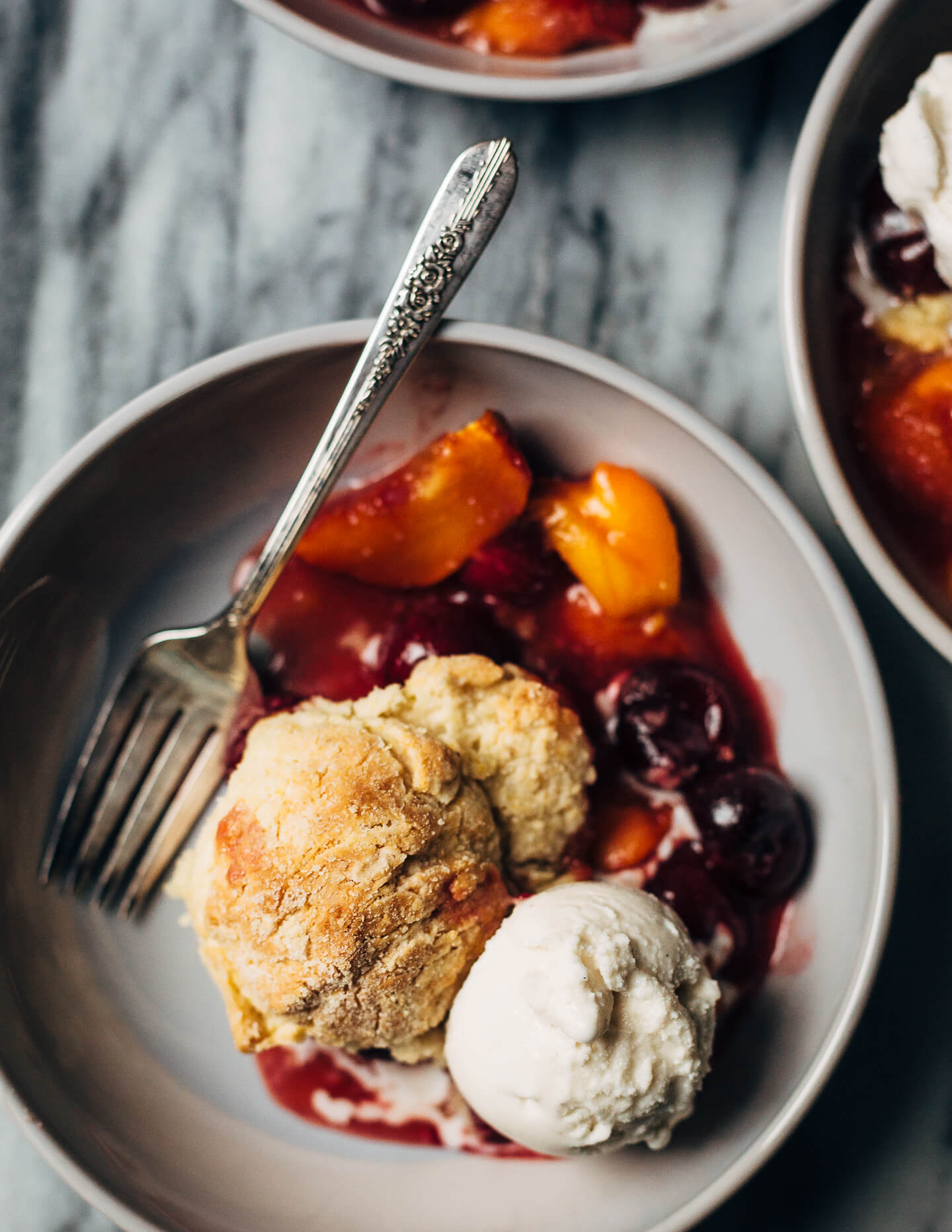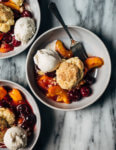 Cherry and Peach Cornmeal Cobbler
A summery cherry and peach cornmeal cobbler that pairs the sweetness of ripe summer stone fruits with a tender, faintly sweet, cornmeal biscuit topping.
Cornmeal biscuit topping very slightly adapted from this Melissa Clark recipe via The New York Times. Cobbler filling adapted from this Brooklyn Supper recipe.
This recipe features cherries and peaches, but feel free to sub in whatever stone fruit combination you have on hand.
Ingredients
Filling
3

heaping cups pitted Bing cherries

(about 1 quart cherries)

3

heaping cups sliced peaches or nectarines

(slices should be about 1/2-inch thick)

3/4

cup

turbinado or cane sugar

(use 2 tablespoons less if peaches are very sweet)

Zest of 1 lemon plus 1 tablespoon juice

2

tablespoons

corn starch

1

teaspoon

ground ginger

1/4

teaspoon

ground cinnamon

1/4

teaspoon

sea salt
Topping
1

cup

all-purpose flour,

plus more for dusting

2/3

cup

fine ground cornmeal

1/4

cup

cane sugar

4 1/2

teaspoons

baking powder

1/2

teaspoon

sea salt

6

tablespoons

unsalted butter,

cold

3/4

cup

plain whole milk yogurt,

cold
Instructions
Preheat oven to 350 degrees F. Butter a deep-sided 9 x 13-inch baking dish.

Combine filling ingredients in a large mixing bowl. Set aside while you prepare topping.

In a medium-sized bowl, whisk to combine flour, cornmeal, baking powder, and sea salt. Use a large hole grater to grate in butter. Rub into flour mixture with fingertips. Use a silicone spatula to fold in yogurt, mixing just until dough holds together. If dough is too wet, add a tablespoon or two more flour. Turn dough out onto a lightly floured surface and gather into a rough oval. Cut into 8 even pieces. Working quickly, form pieces into rough balls.

Spoon filling into prepared baking dish, leaving any watery juices behind. Top with biscuits; sprinkle filling all over with any crumbly bits left behind. Bake 40 - 45 minutes, or until biscuits are a light golden hue and the filling is bubbling vigorously.

For a more set filling, cool 1 hour. If you don't mind the fruit being a bit runny, serve right away. Either way, add a big scoop of vanilla ice cream.
SaveSave
SaveSave
SaveSave
SaveSave