A vibrant, bright green cream of asparagus soup recipe that comes together on the stovetop in about 30 minutes.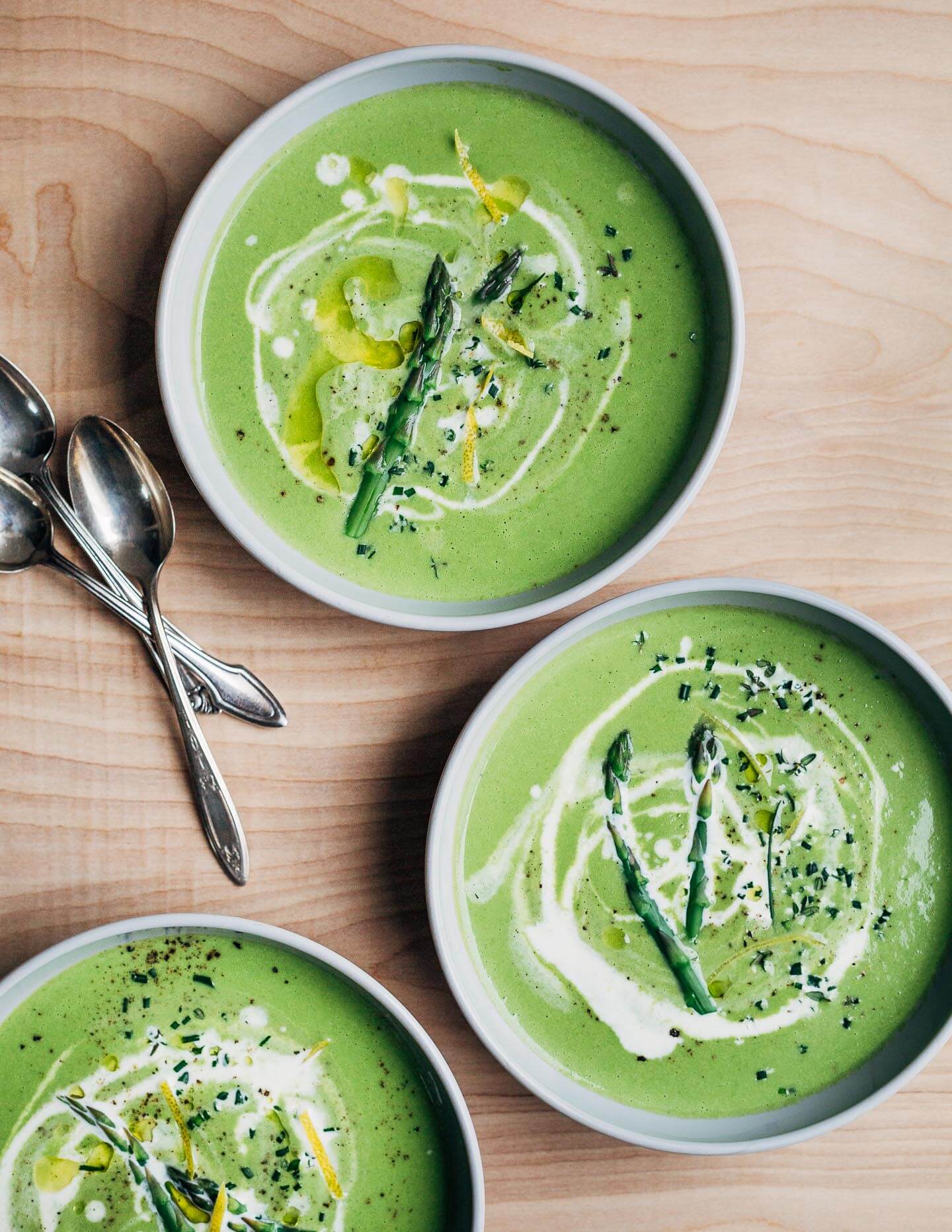 It's a little early in the season for pretty much everything, including asparagus, but I'm featuring it anyway because spring weather has me craving vibrant flavors.
Cream of Asparagus Soup: A Quick Stovetop Recipe
Most of the time, I like to stretch my cooking out by giving my soups plenty of time to simmer away as flavors meld. But the essence of this stovetop cream of asparagus soup recipe is all about preserving the bright green hue and delicate flavor of the asparagus. Because of this, the recipe comes together quickly and should be attended carefully to ensure you don't overcook the asparagus and wind up with an olive green rather than spring green soup.
Cleaning Asparagus
Asparagus tips often harbor little grains of sand, so be sure to clean them thoroughly. The simplest method is to rinse them completely and then fill the sink with cold water. Swish the spears under the water and then give any sand time to settle. Drain and rinse the sink, and repeat once more.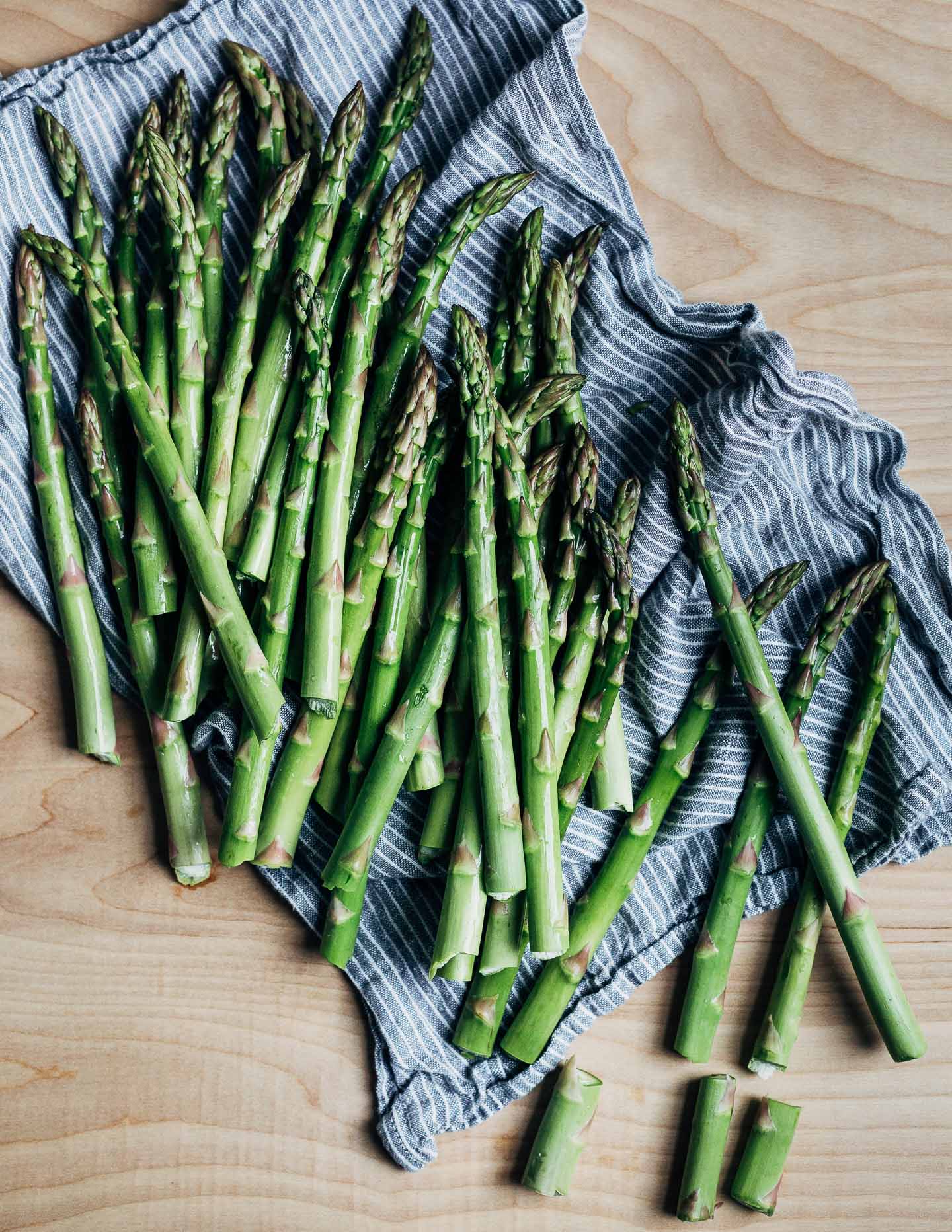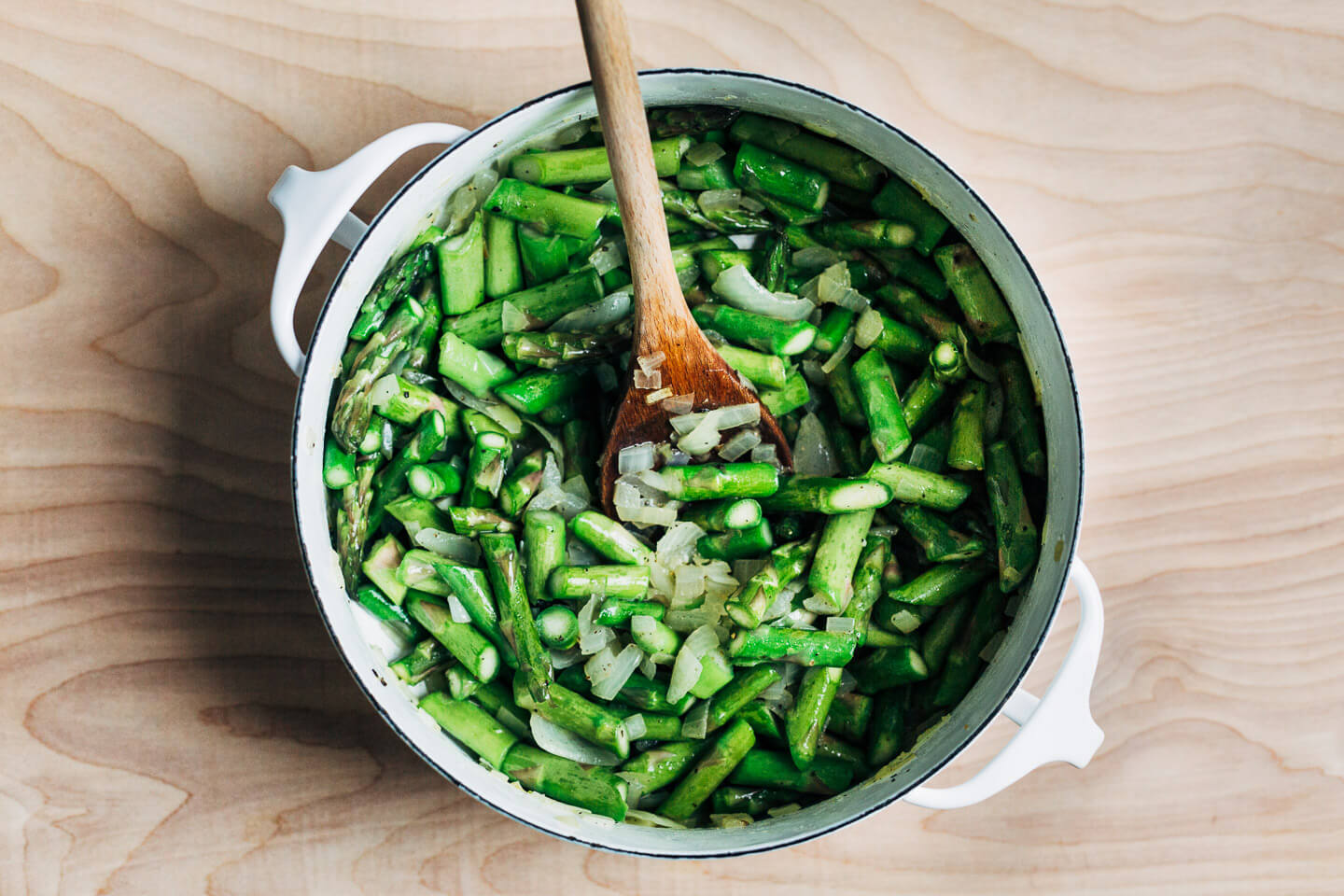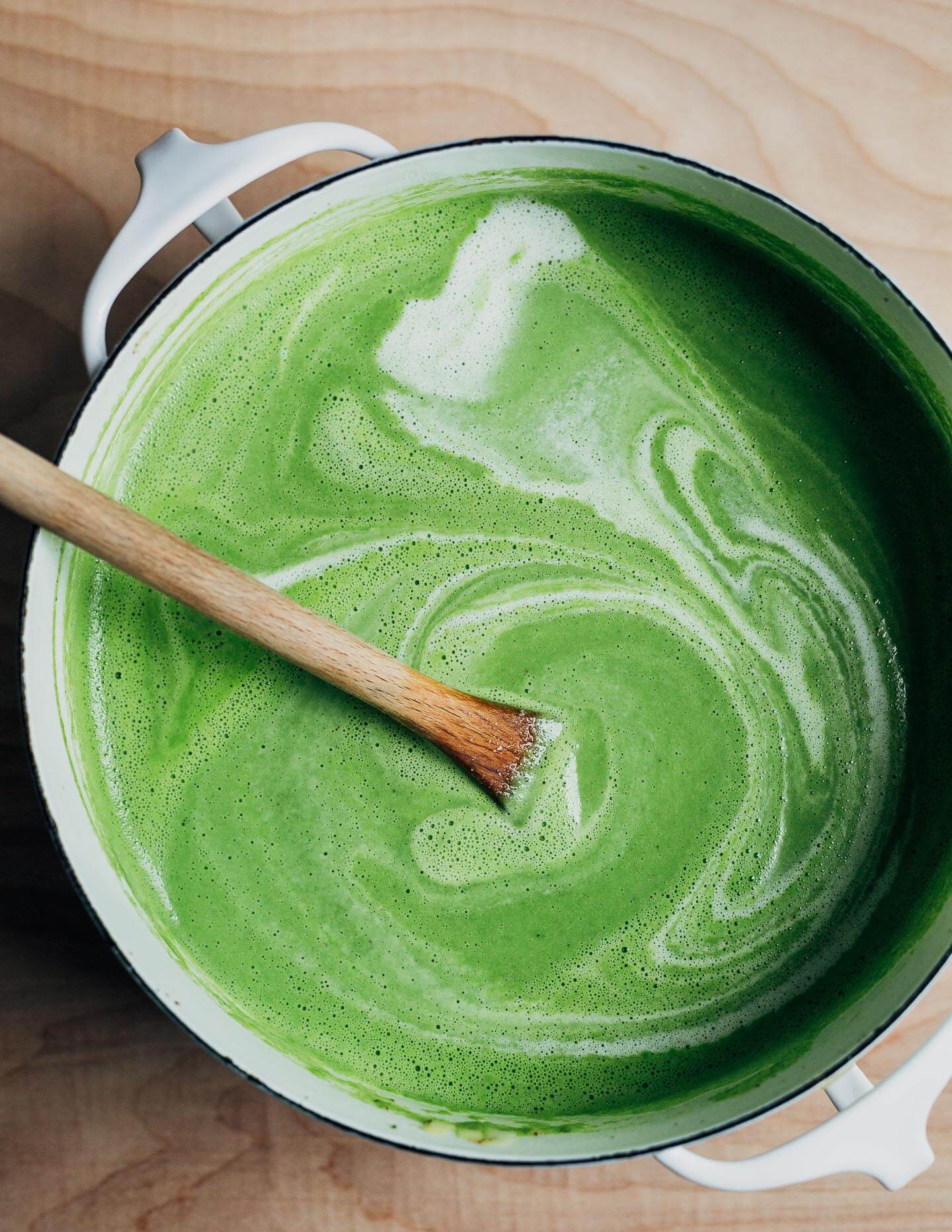 Ready in Four Simple Steps
The recipe starts with a dutch oven or soup pot and a generous amount of olive oil. Once the oil is hot and fragrant, you'll add the onions and cook them carefully for 7 minutes or so. The goal in cooking the onions is for them to be translucent and supple without browning at all.
Then, you'll add the chopped asparagus and cook until the spears have softened slightly. The next step is adding the broth and cooking the asparagus just until they are tender but retain their vibrant hue. All that's left is to puree, add cream, and serve. Along the way, you'll add sea salt, pepper, a couple handfuls of spinach, and a bit of lemon zest.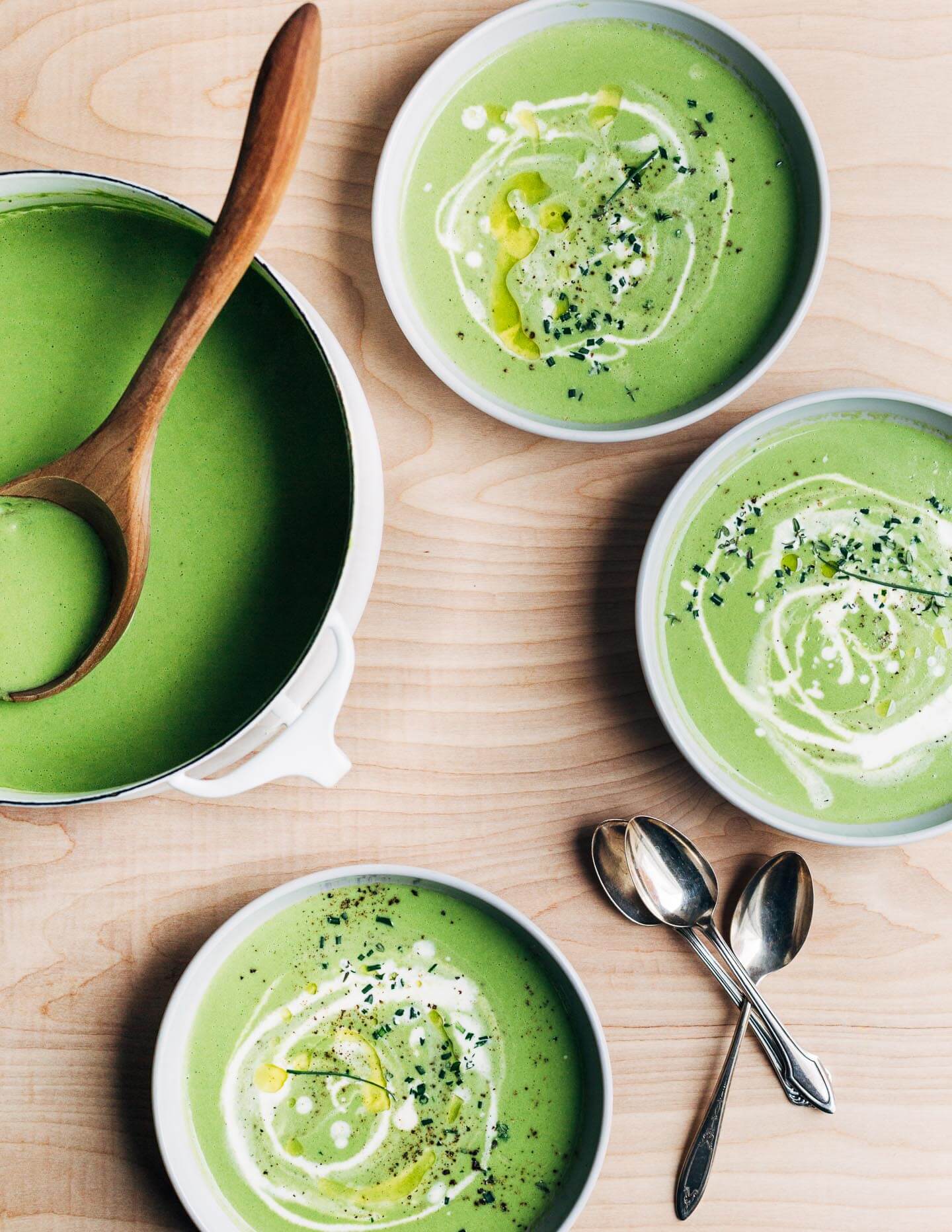 For the Best Puree, Use a Blender
A silky texture is an important part of this soup, so I recommend pureeing it with a blender as opposed to an immersion blender, if possible. The asparagus still has a little bite when heading into the puree stage and a traditional blender is the best way to break it down into a velvety soup. Of course, when pureeing a hot soup, use caution and puree in two batches if needed.
If desired, you can blanche some of the asparagus tips for garnish. I also add a swirl of cream, a drizzle of olive oil, and a mix of chives and thyme.
Once it's ready, serve right away or refrigerate and gently reheat.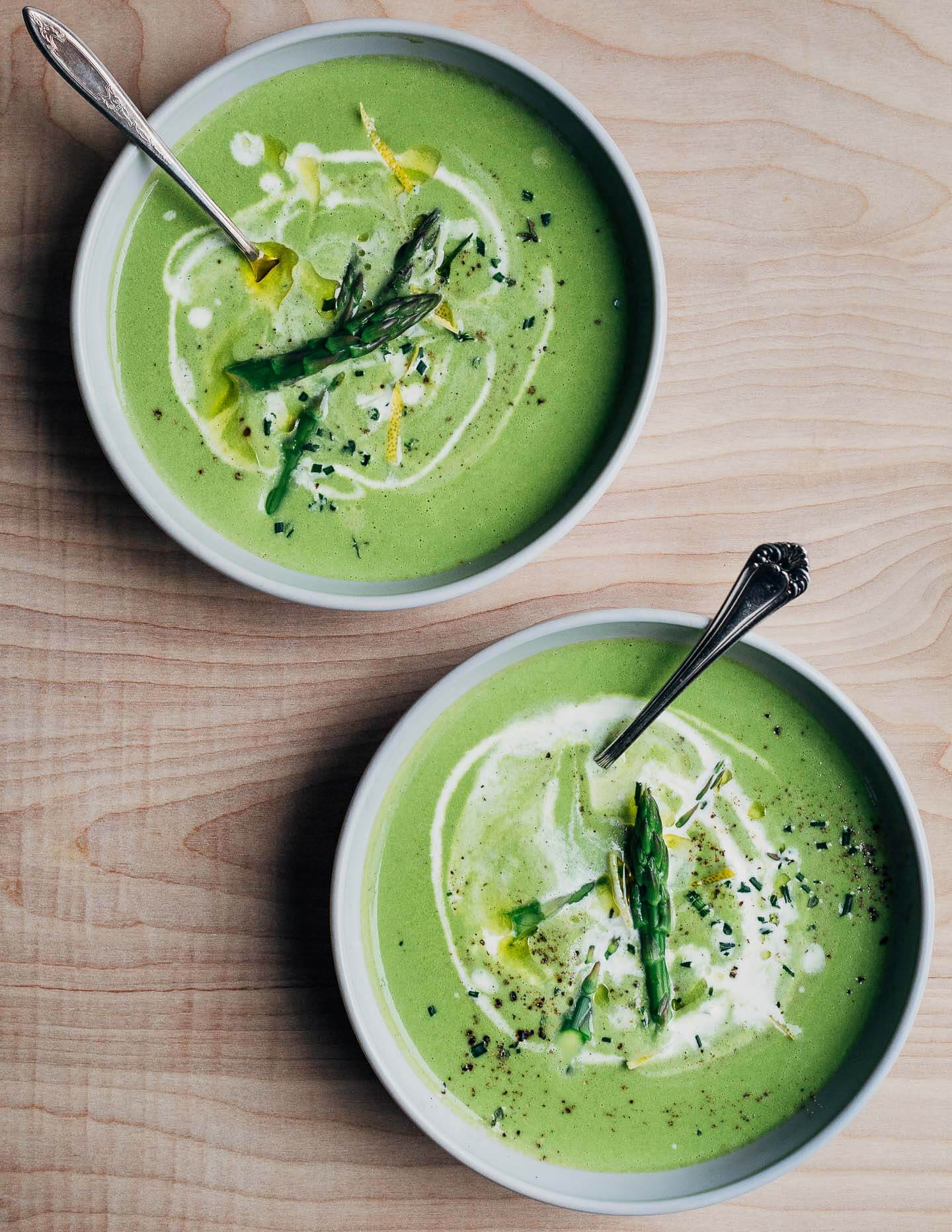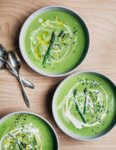 Cream of Asparagus Soup
A vibrant, bright green cream of asparagus soup recipe that comes together on the stovetop in about 30 minutes.
Keyword:
cream of asparagus soup
Ingredients
2

tablespoons

extra virgin olive oil,

plus more for servings

1

medium yellow onion,

diced

2

pounds

asparagus,

woody ends broken off and cut into 1-inch segments (if desired, reserve several asparagus tips for garnish)

2

cloves

garlic

smashed, peeled, and minced

1/2

teaspoon

fine sea salt,

plus more to taste

1/2

teaspoon

black pepper,

plus more to taste

4

cups

vegetable or chicken broth

1

cup

packed spinach leaves

1/2

cup

heavy cream,

plus more for servings

Zest of 1 lemon

2

tablespoons

minced fresh herbs such as chives,

parsley, dill, tarragon, or thyme
Instructions
Set a large Dutch oven or other deep, wide pot over medium heat. Add olive oil, and when hot, the onions. Saute, stirring often, about 7 minutes, or until onions are translucent and supple. Take care not to let the onions brown – edge heat lower if needed. Add the asparagus , garlic, sea salt, and pepper, and cook just until asparagus starts to soften slightly, about 3 minutes. Add the broth and bring mixture to a boil. Cook about 10 minutes, or just until asparagus is tender and has a little bite. When the cook time has just another minute to go, add the spinach and lemon zest. Remove soup from heat and carefully puree in a blender; puree in batches if needed.

Return soup to cooking pot and rewarm over low heat. Swirl in the cream, and add sea salt and pepper to taste.

If desired, while soup cooks, pour boiling water over the reserved asparagus tips to blanche. Let the water sit 30 seconds, then drain and immerse in ice water. Drain and set aside.

Ladle warm soup into bowls, and garnish with a drizzle each of cream and olive oil, fresh herbs, and a few twists of black pepper. Serve immediately.

Soup can be made ahead, refrigerated, and gently reheated over low heat.