A beautiful and zippy strawberry salad with chèvre crumbles, handfuls of fresh herbs, punchy red onion slivers, savory-sweet pepitas, lots of black pepper, and a perfectly emulsified balsamic vinaigrette.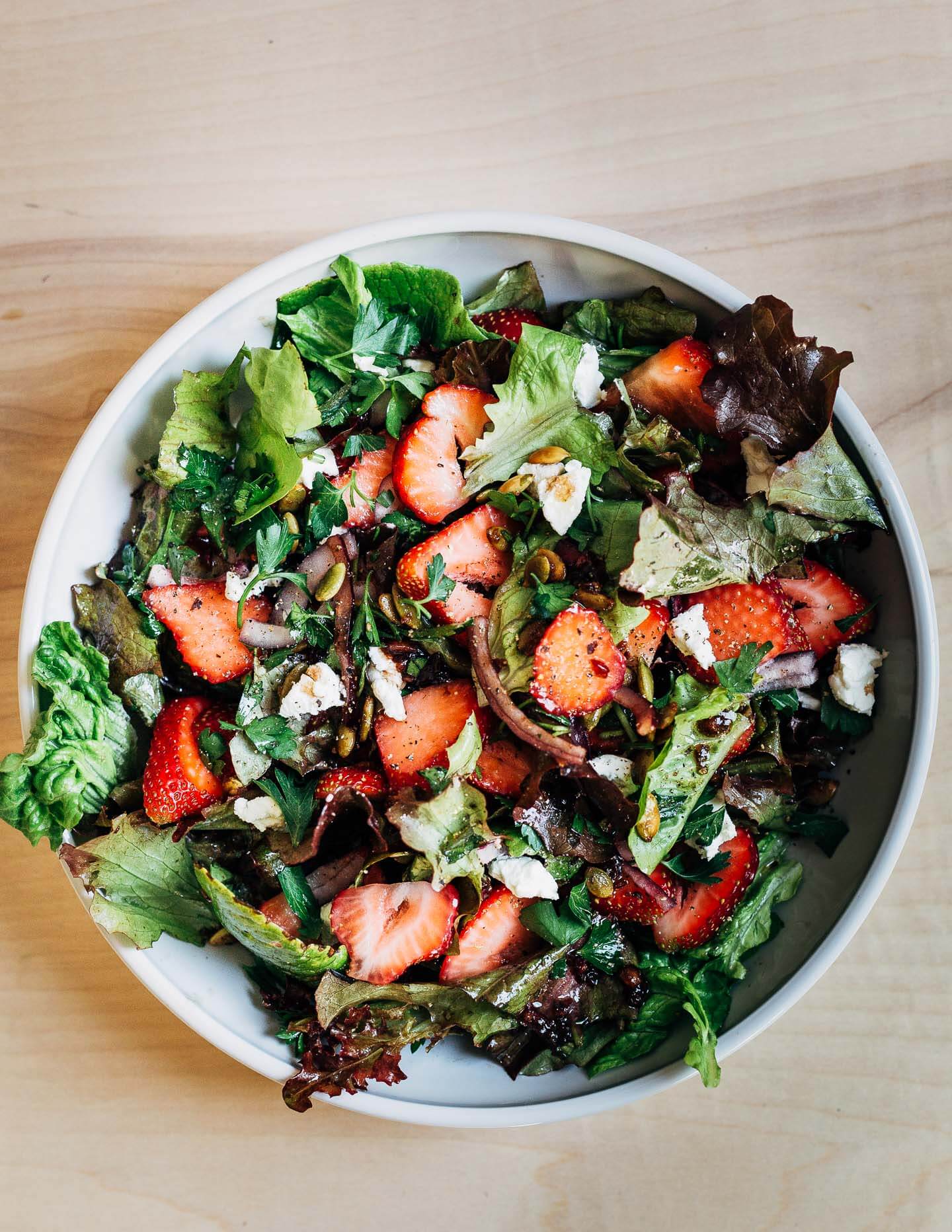 Late April marks the beginning of my salad days. Not the Shakesperian kind, but the stretch of days until the July heat sets in when we have fresh salad harvested from the garden nearly every day. The bibb, romaine, and red leaf I grew over the winter under row covers are ready now. And the little gem, arugula, and other varieties planted in mid-March are starting to grow quickly.
This bounty, coupled with a request from my family to change up my usually very minimal salad routine, has me stretching into new and delicious flavor combinations.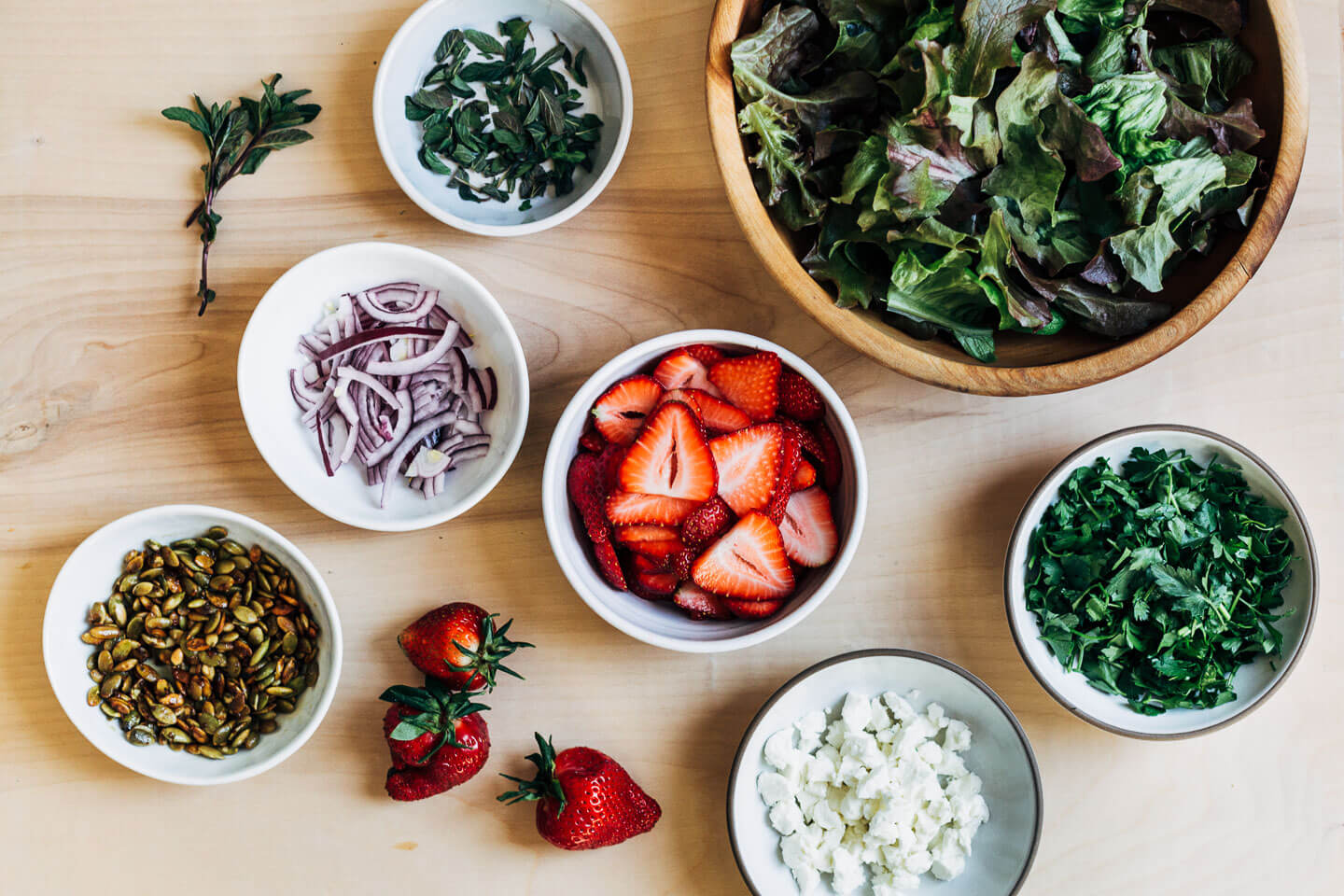 A Spring-Inspired Strawberry Salad
In keeping with the idea that what grows together, goes together, I bring you this strawberry salad with chèvre crumbles. It's the height of early spring eating with local strawberries, fresh mint and parsley, red onions, and chèvre crumbles tossed with the first big harvest of red leaf and romaine lettuces. It's finished with enough black pepper that your arm may ache from all the twists, and crunchy, salty-sweet toasted pepitas.
The Best Balsamic Vinaigrette
Delicate spring lettuces are susceptible to wilting under balsamic's acidity, so it's important to take the time to make a properly emulsified vinaigrette that will sit up on the leaves without penetrating them. This is best accomplished a few key ways. First, mince the red onions until they are nearly a paste and be sure to scoop any accumulated onion juice into your dressing bowl. Next I like to let the onions, vinegar, salt, and honey mingle 5 – 10 minutes before adding the olive oil. Lastly, add the olive oil in tiny drizzles, allowing it to become fully incorporated and emulsified before adding more. The approach here is a lot like making an aioli.
Salt can easily leach the flavor from strawberries, so the vinaigrette is the best vehicle for salting the salad. Dip a lettuce leaf into the vinaigrette and add just enough salt to make the flavors pop.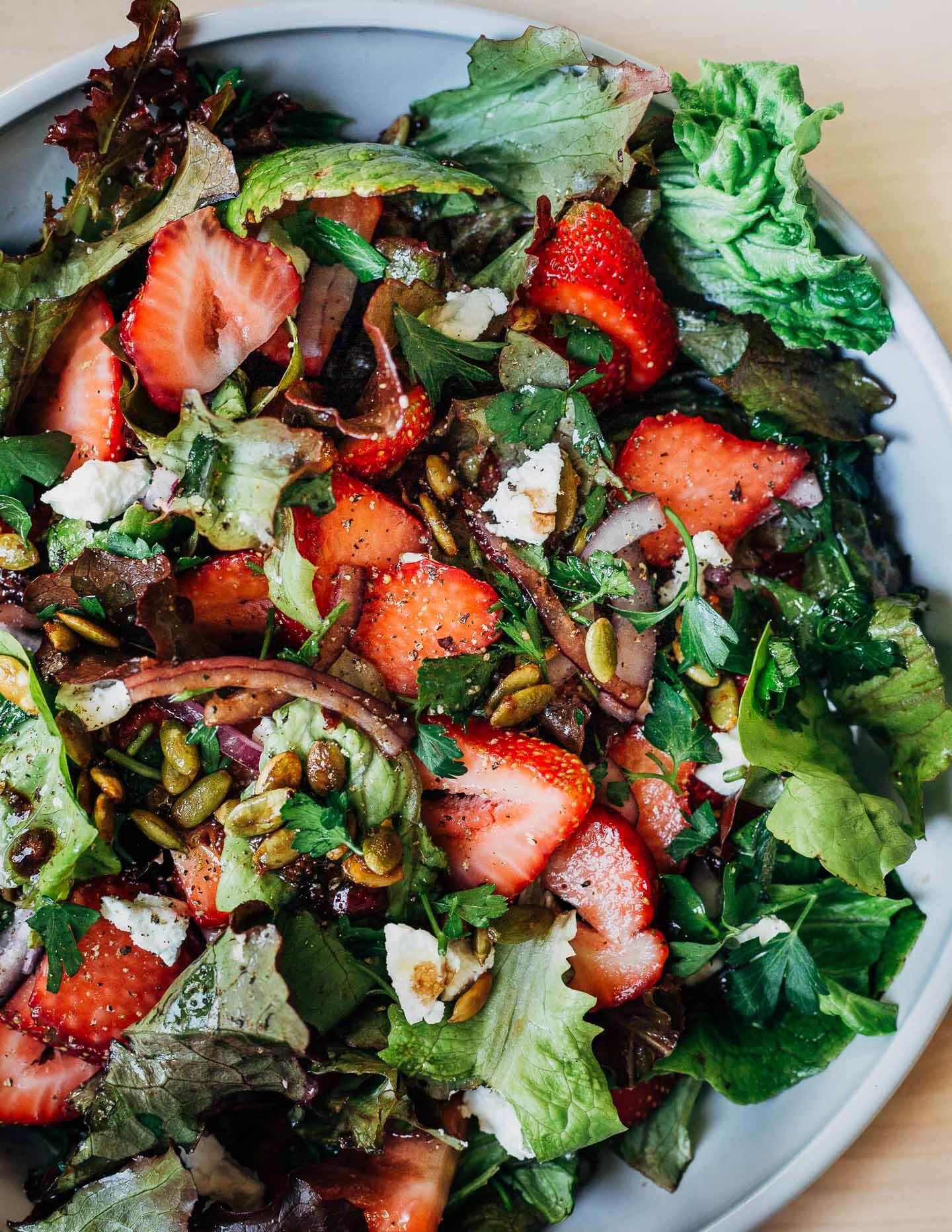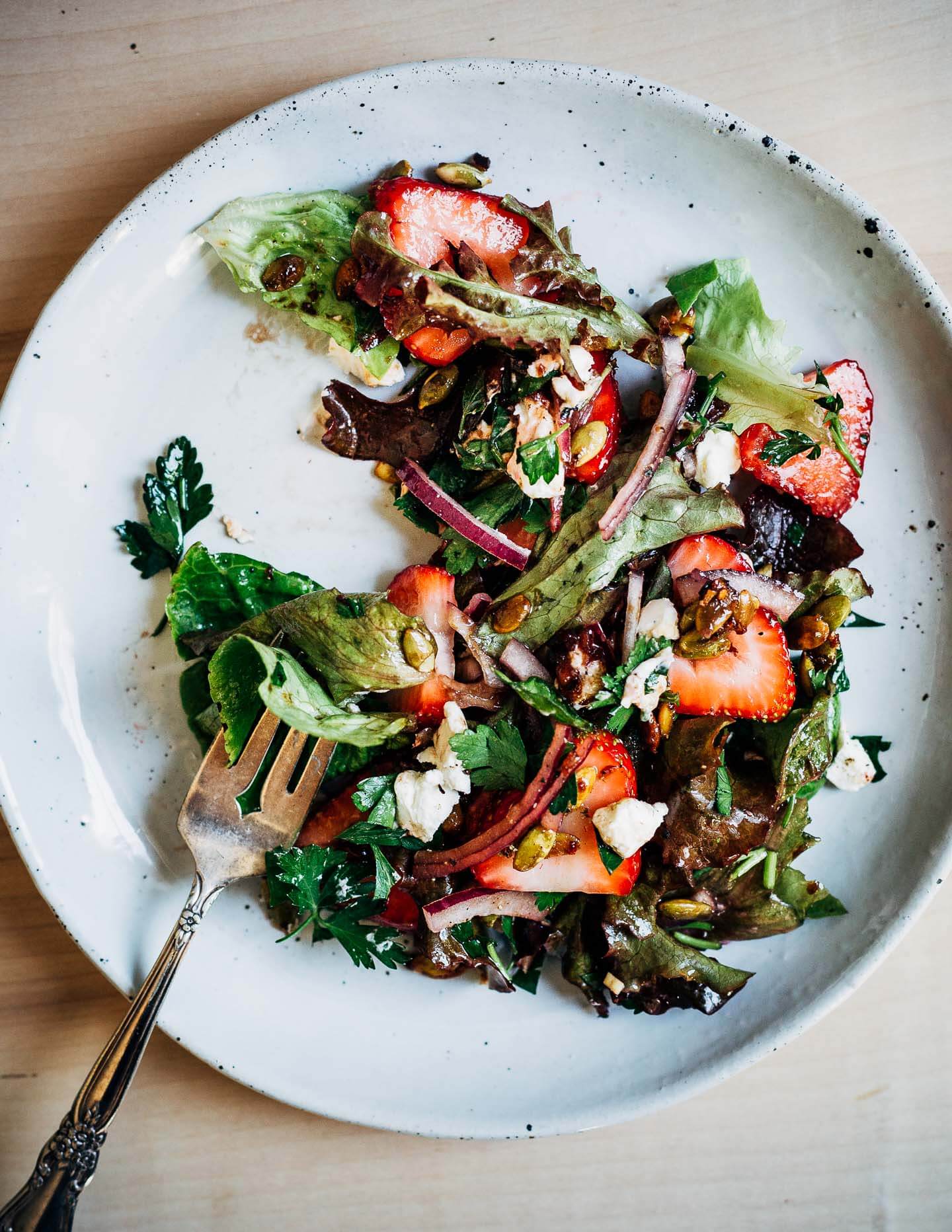 Getting the Elements Right
For best results, dress the elements separately with the leaves and herbs in one bowl and the red onions in another. When ready to serve, layer the elements, top with strawberries, a generous drizzle of vinaigrette, and lots of black pepper.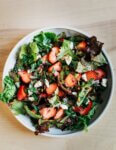 Herby Strawberry Salad with Chèvre
A beautiful and zippy strawberry salad with chèvre crumbles, handfuls of fresh herbs, punchy red onion slivers, savory-sweet pepitas, lots of black pepper, and a perfectly emulsified balsamic vinaigrette.
Keyword:
strawberry salad
Makes
:
4
generous servings
Ingredients
Vinaigrette
2

tablespoons

very finely minced red onion

2

tablespoons

aged balsamic vinegar

2

teaspoons

honey

1/4

teaspoon

salt,

plus more to taste

1/2

teaspoon

fresh ground black pepper

1/4

cup

extra virgin olive oil
Pepitas
1/3

cup

raw,

hulled pepitas (aka pumpkin seeds)

1

teaspoon

extra virgin olive oil

½

teaspoon

Aleppo pepper flakes

1/4

teaspoon

salt

1

teaspoon

honey
Salad
8

cups

red or green leaf,

or romaine lettuce, torn into bite size pieces

1/2

cup

parsley leaves,

rough chopped

2

tablespoons

mint leaves,

chopped

1/2

a red onion,

cut into paper thin slivers

1

quart

strawberries,

hulled and sliced 1/4-inch thick

1/2

cup

(4 ounces) crumbled chèvre
Instructions
First, start the vinaigrette. Mince the onions very finely, almost into a paste. Scrape the onions and any accumulated juices into a small mixing bowl. Add the balsamic, honey, salt, and pepper, and set aside for 5 - 10 minutes. Then, whisking vigorously, add the olive oil a very small drizzle at a time. Allow each oil addition to completely emulsify before adding more. As the mixture thickens, you can add the olive oil in more generous glugs.

To make the pepitas, set a small skillet over medium heat. Add the olive oil and pepitas. Once they start to sizzle and pop, add the honey, Aleppo pepper, and salt. Cook 1 - 2 minutes total, just until pepitas are golden and fragrant. Scrape into a shallow dish. Taste a seed or two and add salt as needed. Let pepitas cool undisturbed (they will cool into delicious little clumps).

To serve, toss the lettuce and herbs with several spoonfuls of vinaigrette. Add salt and pepper to taste. In another little bowl, toss the red onion slivers with vinaigrette and a pinch of salt.

Arrange the lettuce on a platter or in a shallow bowl. Layer the red onions, strawberries, pepitas, and chèvre. Drizzle with vinaigrette and gently toss. Taste and add more black pepper or a pinch of salt just before serving.

Once dressed, this salad should be eaten right away. If you'd like to have it a few nights in a row, prep the elements and combine them just before eating. The balsamic vinaigrette recipe can easily be doubled for nights of delicious salads.