This simple late-spring green salad is inspired by my garden and the first big burst of spring produce. It's made with a variety of delicate lettuces, jewel-toned radishes, and chives. The greens are topped with a perfectly balanced, classic vinaigrette made with sherry vinegar and fresh lemon.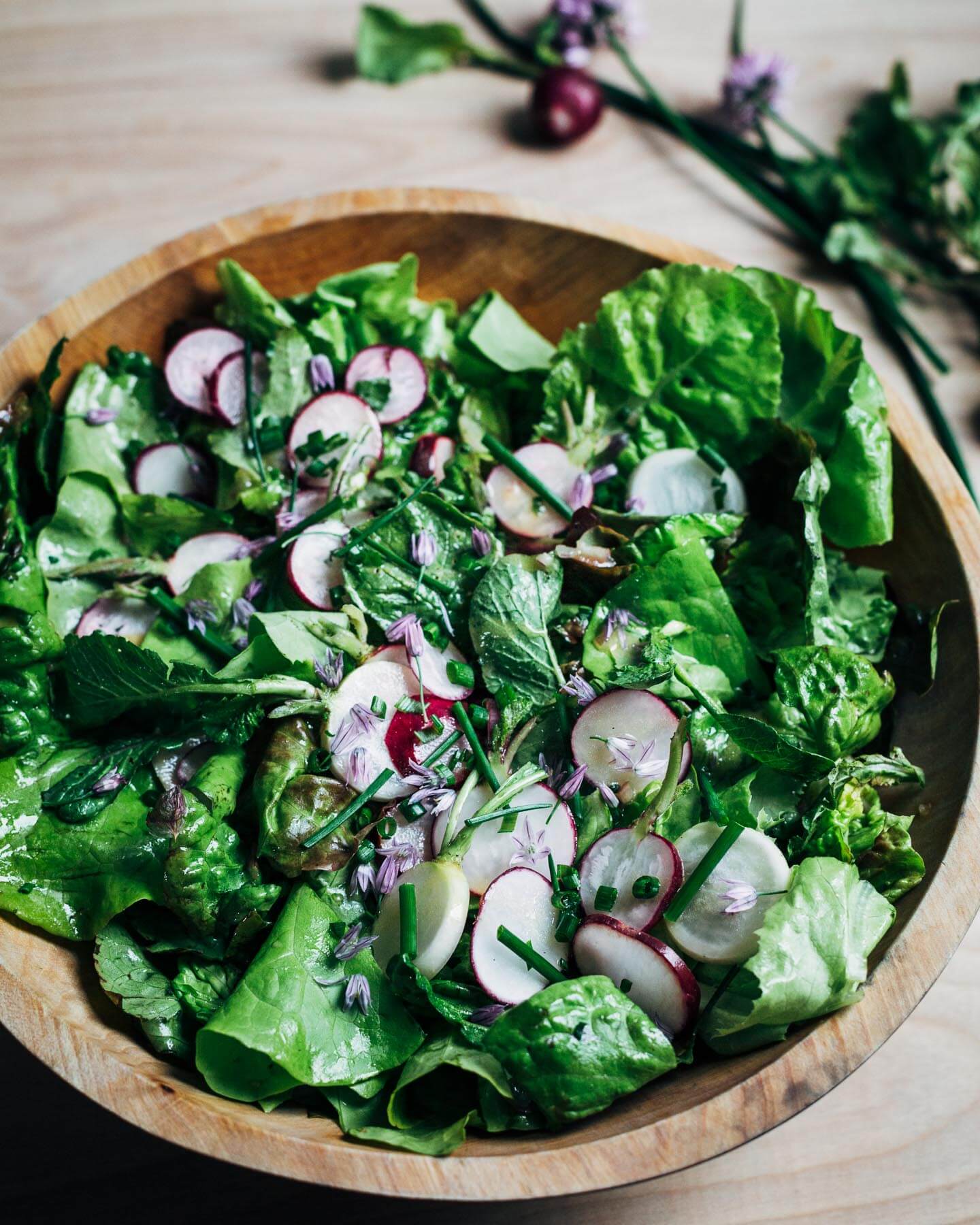 I've been talking about my garden a lot lately. When we first moved from Brooklyn (where I had a thriving balcony garden) to Charlottesville, I put two 2 x 4-foot raised beds in the backyard and felt like I was basically a farmer. Over the years, I've continued to expand my garden. I still have those two small beds, but also four 4 x 4-foot beds and like 25 tomatoes and peppers that I planted right in the ground. Hoops and agricultural fabric allow me to grow things year-round. And this year, I've had my most successful round of four-season gardening ever. The shift toward growing a lot of our food was gradual but now it's a whole thing. Suddenly, I'm a serious gardener.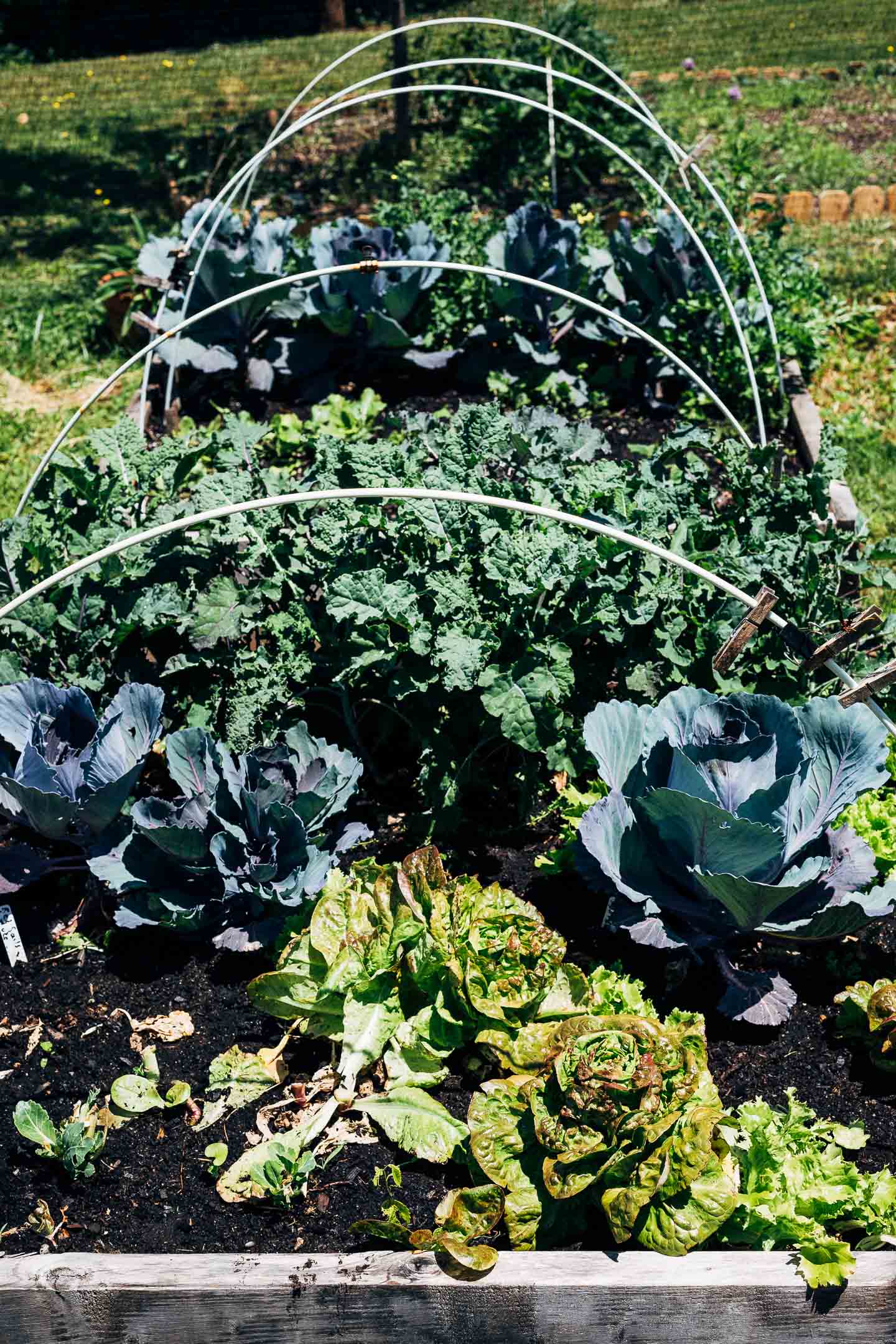 But I don't want you to feel like you can't make these recipes or access these ingredients because you don't have a green thumb or a space to grow in. Nearly all my recipes, including this one, can be made with ingredients from the grocery store or farmers' market. A few things, like chive blossoms, are easier to just grow than to buy (and they do well in pots too!), but other than that, you're good.
Over the weekend, I harvested as many greens as I could, both to make space for summer plants, but also because the weather's starting to turn hot and the greens – especially the overwintered ones – are starting to bolt in the Virginia heat.

 We're eating a lot of salad and it felt like a good time to share my go-to classic vinaigrette and some of the basics about making vinaigrettes so you can make your own perfect-every-time version.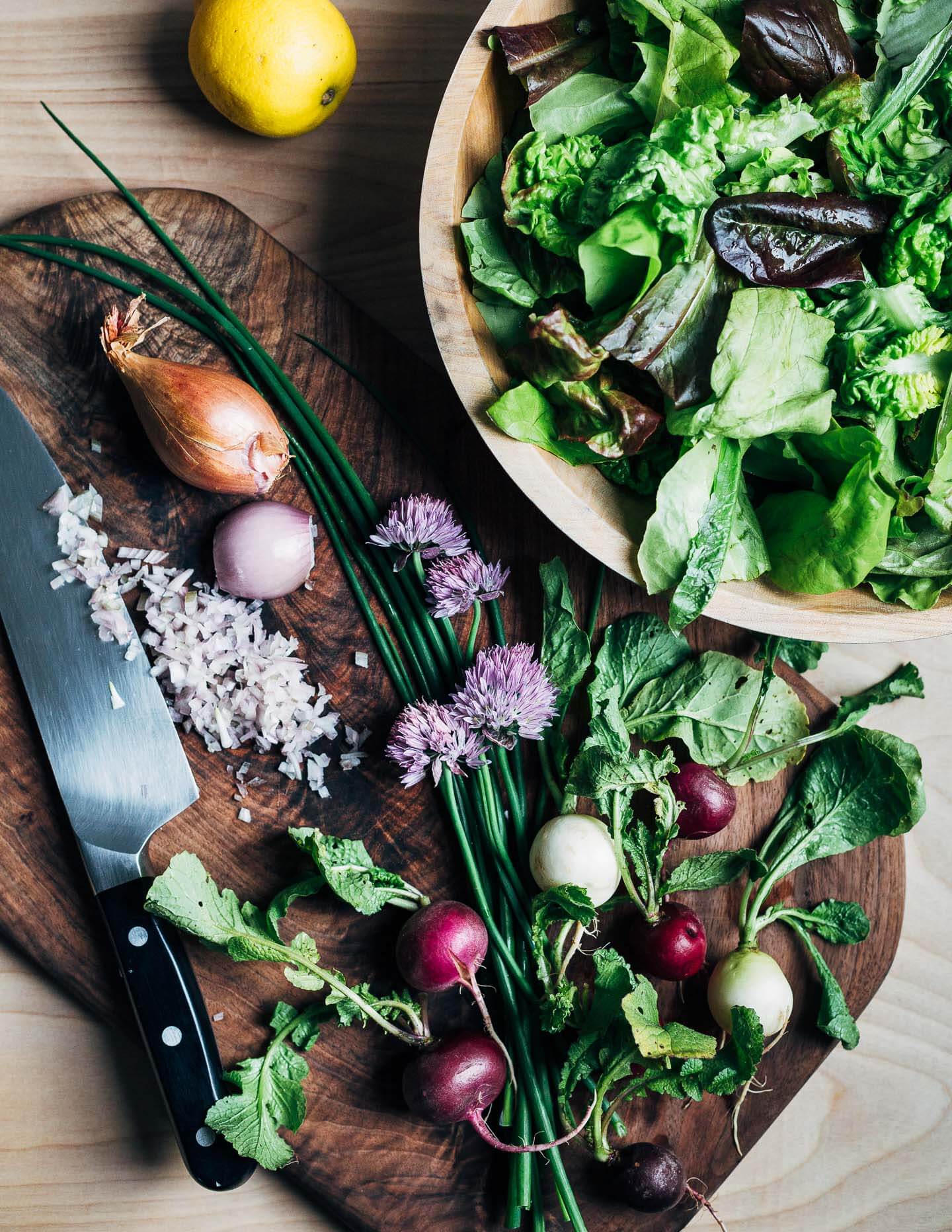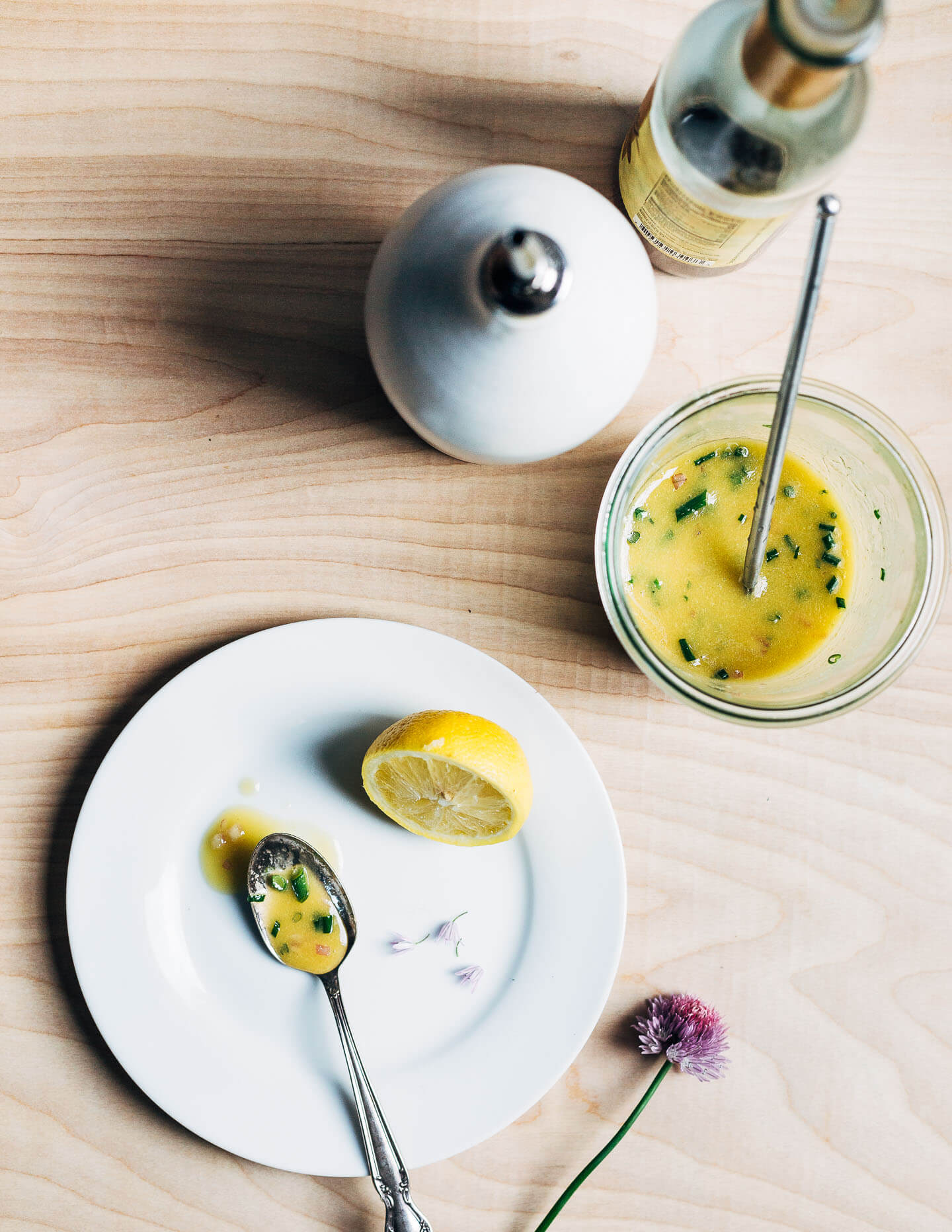 Here are some of the basics I've learned when making a vinaigrette:
Start with finely minced shallot or garlic
Shallots have a milder flavor and are good with more delicate leaves.
Garlic has a bit more bite and is good for robust or bitter lettuces and dark, leafy greens.
Toss the shallot or garlic with lemon juice and pinch of sea salt 5 – 15 minutes ahead of time to temper the bite of the alliums.
Know your ratios and acids
Some vinaigrettes use a 4-parts oil to 1-part acid ratio, or even 1 to 1, but my sweet spot is 1 to 3. This is a classic vinaigrette ratio for delicate lettuces and salads that I want to toss ahead of time. Vinaigrettes with a 1 to 3 ratio have a nice balance of acid and richness, along with the zip of Dijon and a touch of sweetness.
A more acidic mixture can tenderize bitter or tough lettuces and other ingredients, so once you have the basic recipe down, feel free to adjust to suit your greens.
Vinaigrettes can be made with a variety of acids. I regularly use sherry, red wine, and rice wine vinegars. I like to pair the vinegar with a bit of fresh lemon juice too. Lemon juice adds brightness and helps the emulsion process.
Emulsification matters
A nicely emulsified vinaigrette has a balance of acid and oil that sits on top of the leaves. If your mixture is too acidic or isn't mixed properly, the acid can penetrate the leaves and cause them to wilt.
Dijon mustard and honey really help to emulsify the vinaigrette.
I use a tiny whisk to make my dressing, and then keep leftovers in a jar and just shake to re-emulsify as needed.
Make ahead
Homemade vinaigrette keeps well for about three days, so I usually make a bigger batch for a few nights of salads.
If making a bigger batch, the olive oil in your leftover vinaigrette might solidify in the fridge overnight. If it does, set it on the counter to come to room temp while you make the rest of your dinner. Then give it a shake before serving.
Salt and seasoning
I use a pinch of fine sea salt in my vinaigrette and then toss the finished salad with another tiny pinch of flaky sea salt just before serving. This keeps the greens from wilting and makes sure the little salty flecks come through in each bite.
This vinaigrette is made with fresh chives and chive blossoms. Feel free to incorporate fresh herbs in yours. Tarragon is classic, but mint, basil, parsley, dill, and marjoram would all be delicious.
Likewise, spices like ground cumin or coriander, black pepper, and chili flakes can all be used to enhance or play up flavors.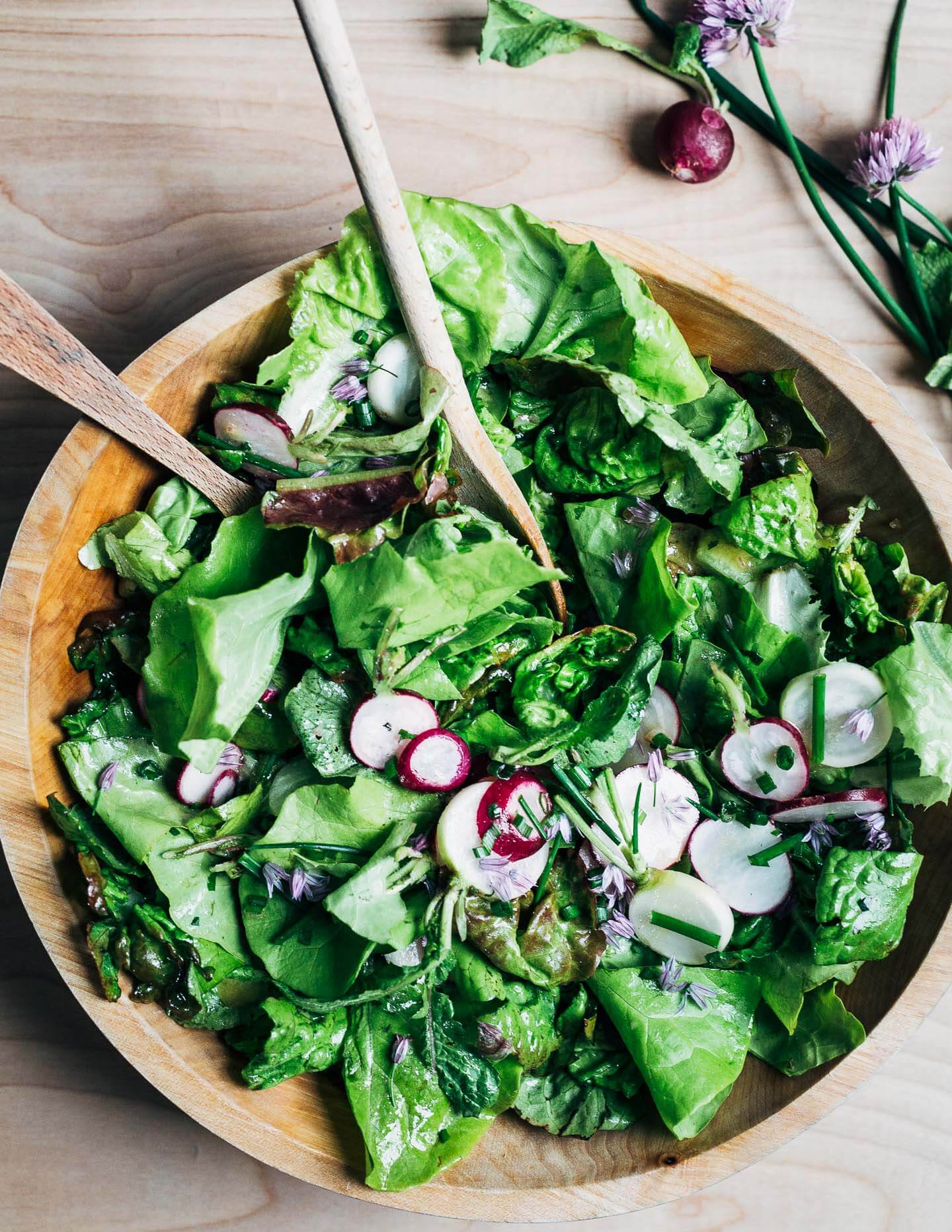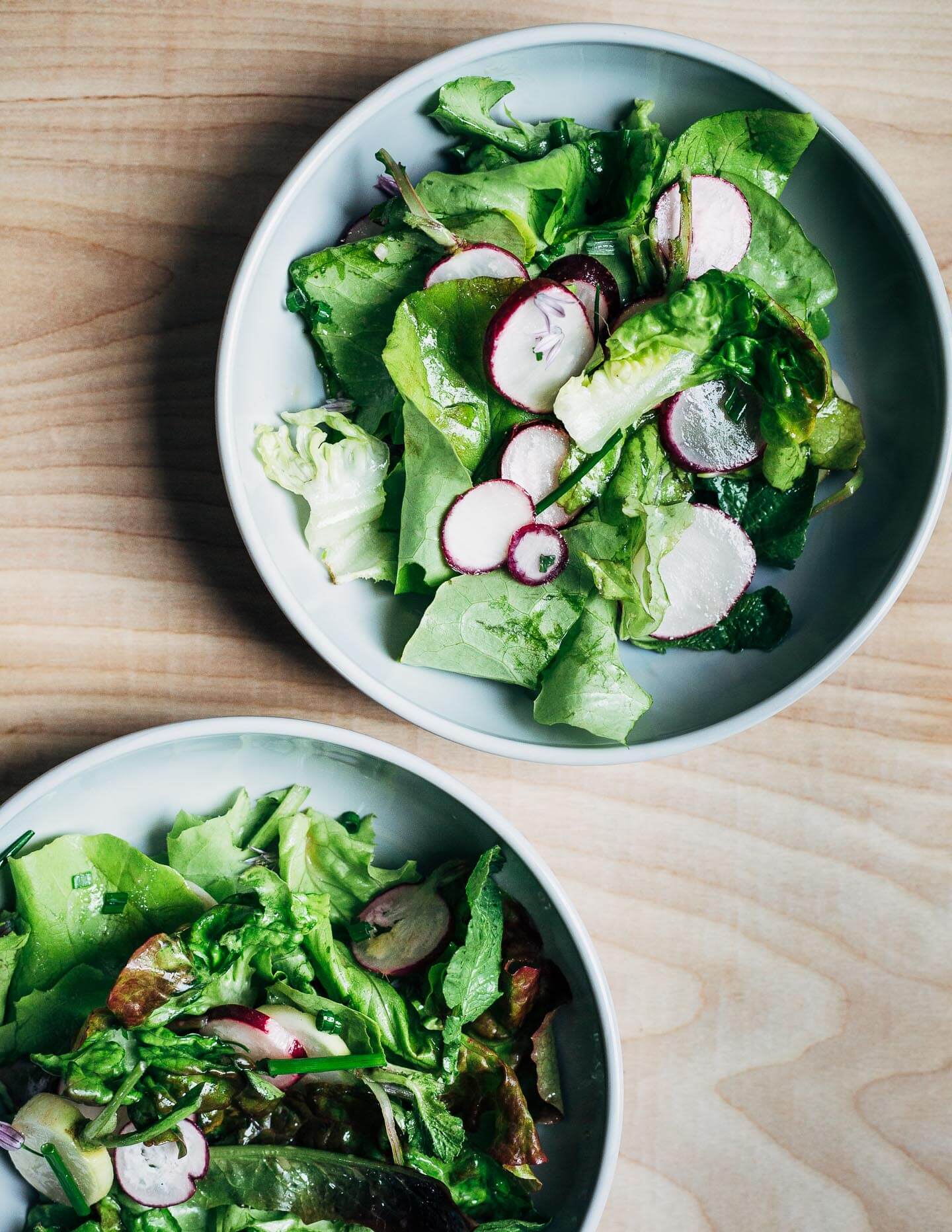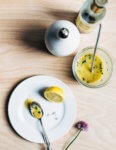 Classic Vinaigrette
A perfectly balanced, classic vinaigrette made with sherry vinegar and fresh lemon. It's perfect for even the most delicate leaves or a salad you want to dress ahead of time.
Keyword:
classic vinaigrette
Ingredients
2

tablespoons

finely minced shallot

(or sub garlic)

1

tablespoons

lemon juice

2

tablespoons

sherry vinegar

Pinch

fine sea salt

1

tablespoon

Dijon mustard

1

tablespoon

honey

½

cup

plus 1 tablespoon extra virgin olive oil

2

tablespoon

minced chives or tarragon
Instructions
Combine the shallots, lemon juice, vinegar, and sea salt in a pint jar or other 2-cup container with a lid. Set aside for 5 - 10 minutes. Whisk in the Dijon and honey until everything is well combined. Whisking constantly, drizzle in the olive oil. Fold in the chives.

Leftover vinaigrette will keep covered in the fridge for 3 days.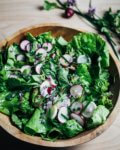 Green Salad with Sliced Radishes
This simple late-spring green salad is inspired by my garden and all the first big burst of seasonal produce. It's made with a variety of delicate lettuces, jewel-toned radishes, and chives.
Ingredients
8

small radishes,

sliced very thin

Sea salt

6

cups

lettuce leaves,

torn into bite-sized pieces

3 - 4

tablespoons

classic vinaigrette

(recipe above)

2

tablespoon

chives,

chopped

2

chive blossoms,

optional

Flaky sea salt and black pepper to taste
Instructions
Toss the radishes with a pinch of sea salt and set aside for 5 - 10 minutes.

In a large salad bowl, toss the greens with 2 tablespoons vinaigrette. Layer in the radishes and toss. Add more vinaigrette to taste. Garnish with chives, and if using, scatter the chive blossom petals. Finish with a pinch of flaky sea salt.