A vibrant root-to-leaf beet soup recipe that's swirled with crème fraîche and beet green pistou. Colorful, earthy, and wonderfully savory, this beet soup is an early spring delight.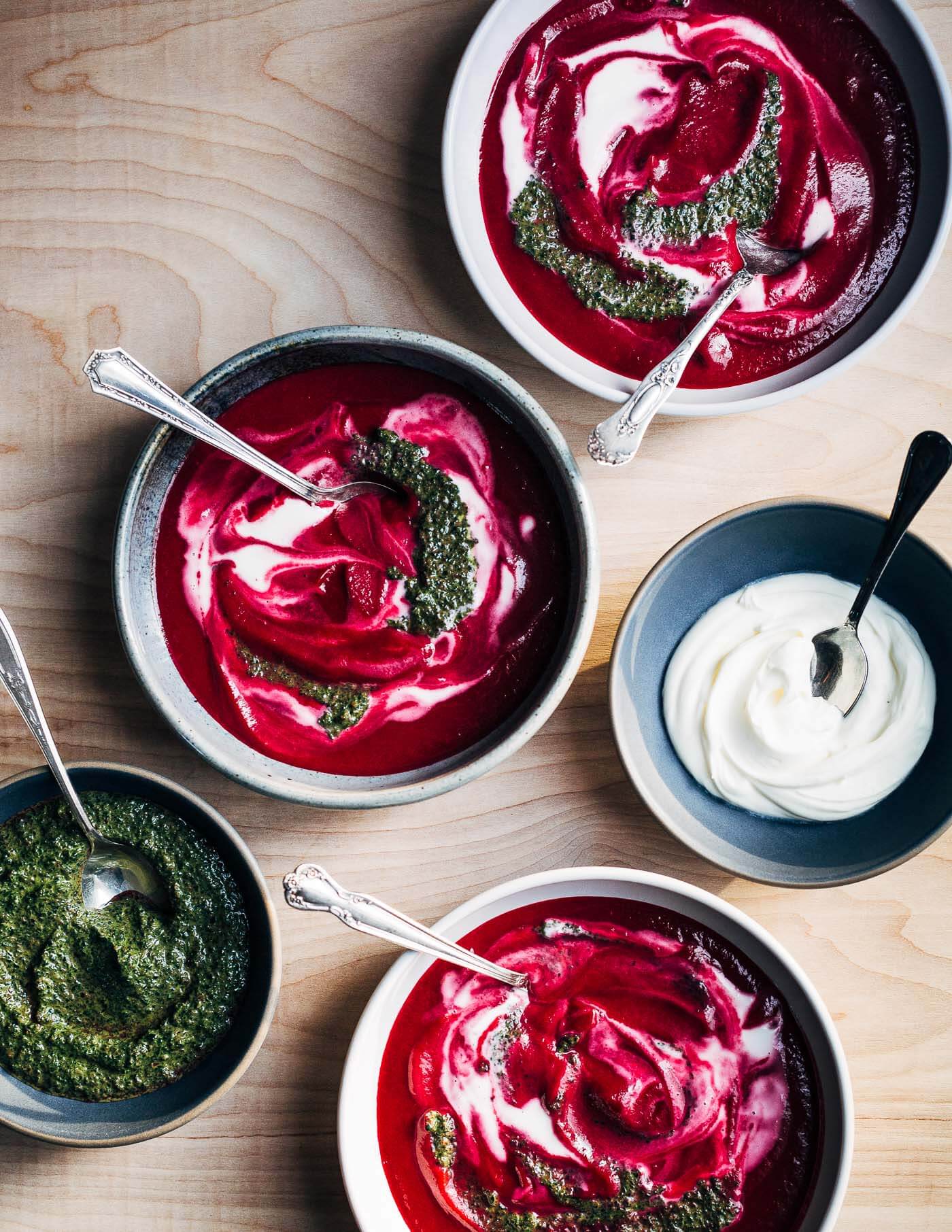 On Cooking Simply
For a while there – years really – I was under the impression that a serious food blog should feature very fancy ingredients. The rarest picks from the farmers market, spices you'd need to go to a specialty store to buy, a key ingredient that you'd need to make weeks in advance. I still fall prey to the occasional fancy thing from time to time, but a year of pandemic cooking has cured me of nearly all fanciness and now I just want the simplest recipes possible.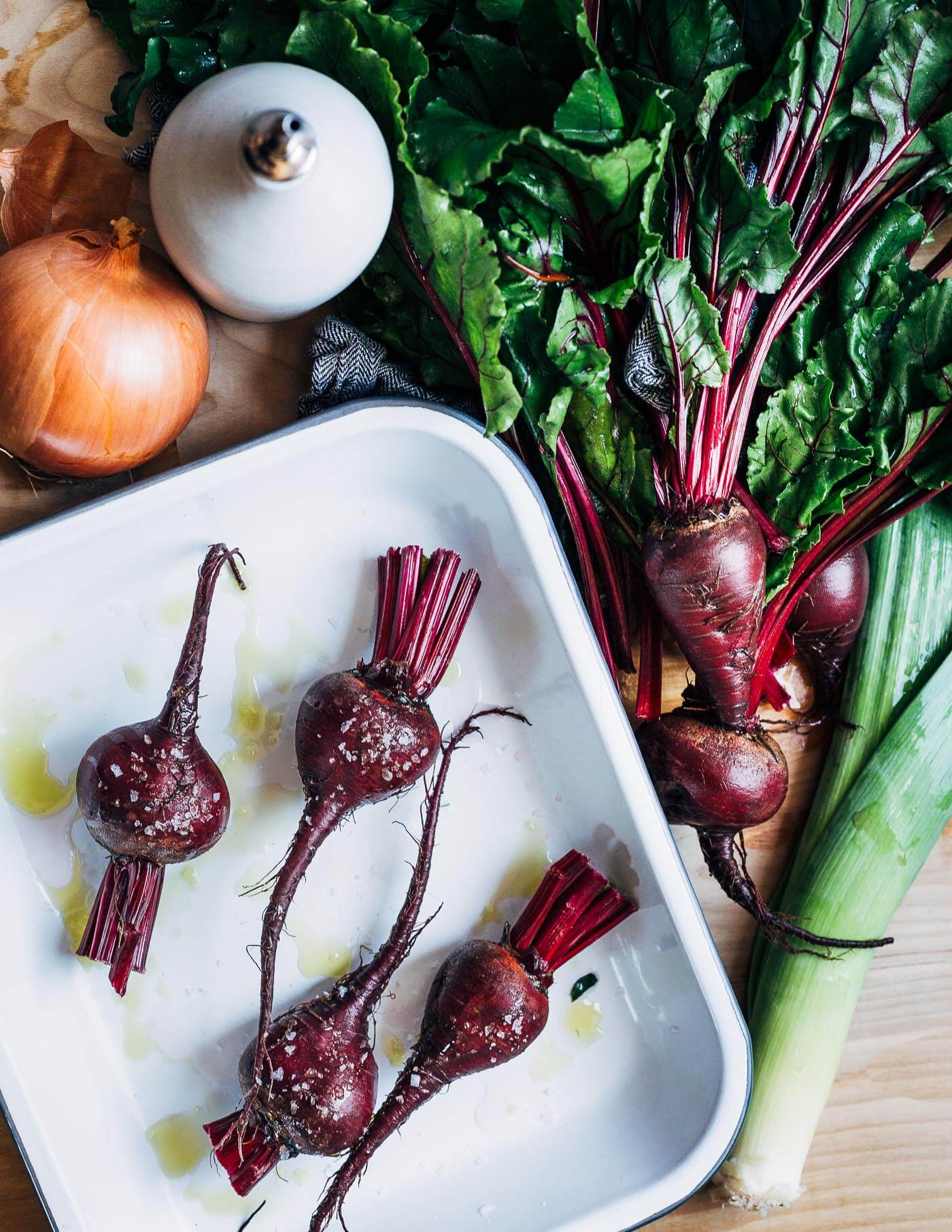 I think a lot about you, my reader, and what's in your pantry. Using up all the ingredients you have on hand and avoiding extra trips to the store feels important. If you've noticed my recipes are pared down lately or that they have a mile-long list of possible substitutions and variations, that's why. I create these recipes with care and test them to make sure they work, but I'm happy for them to be a jumping off point for you to make the most of the ingredients available to you.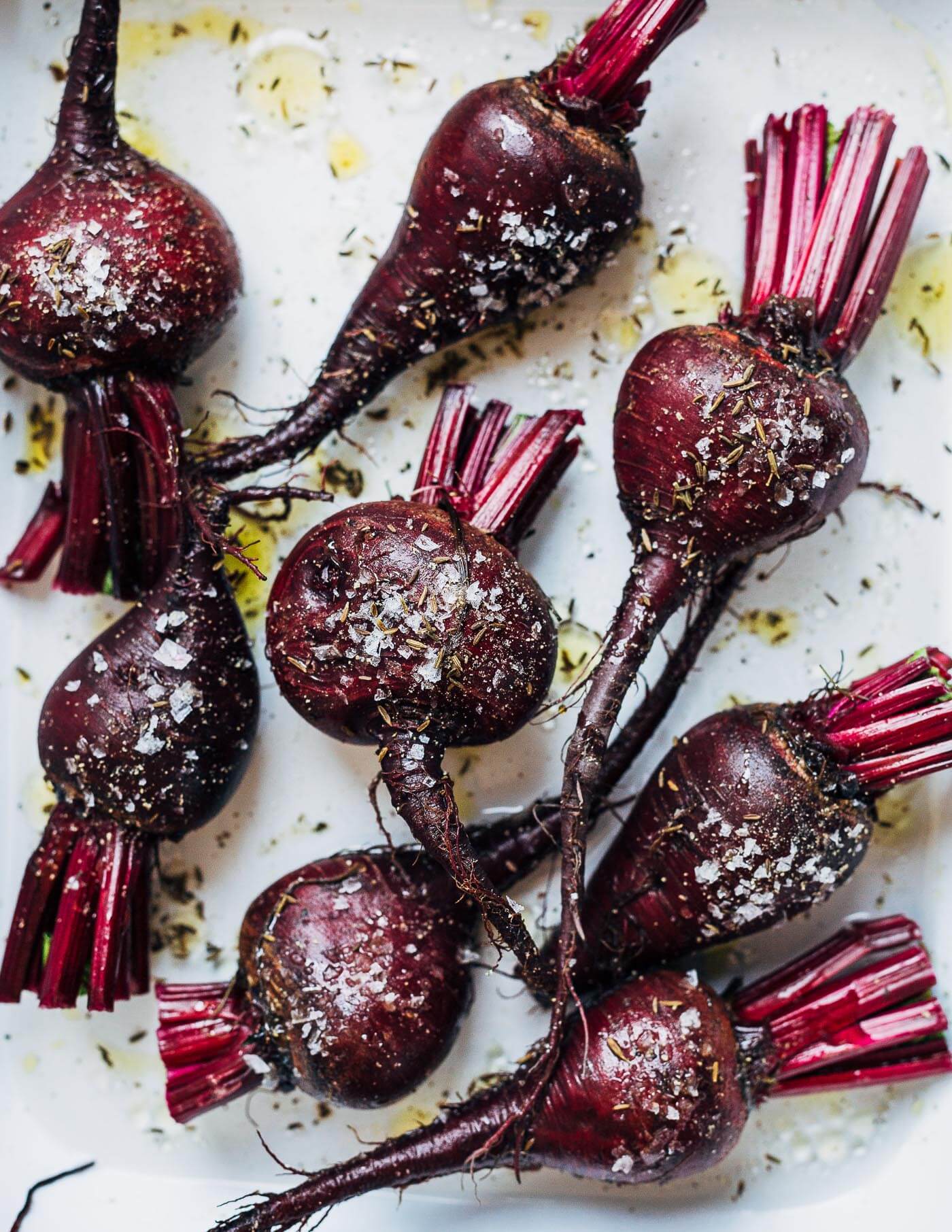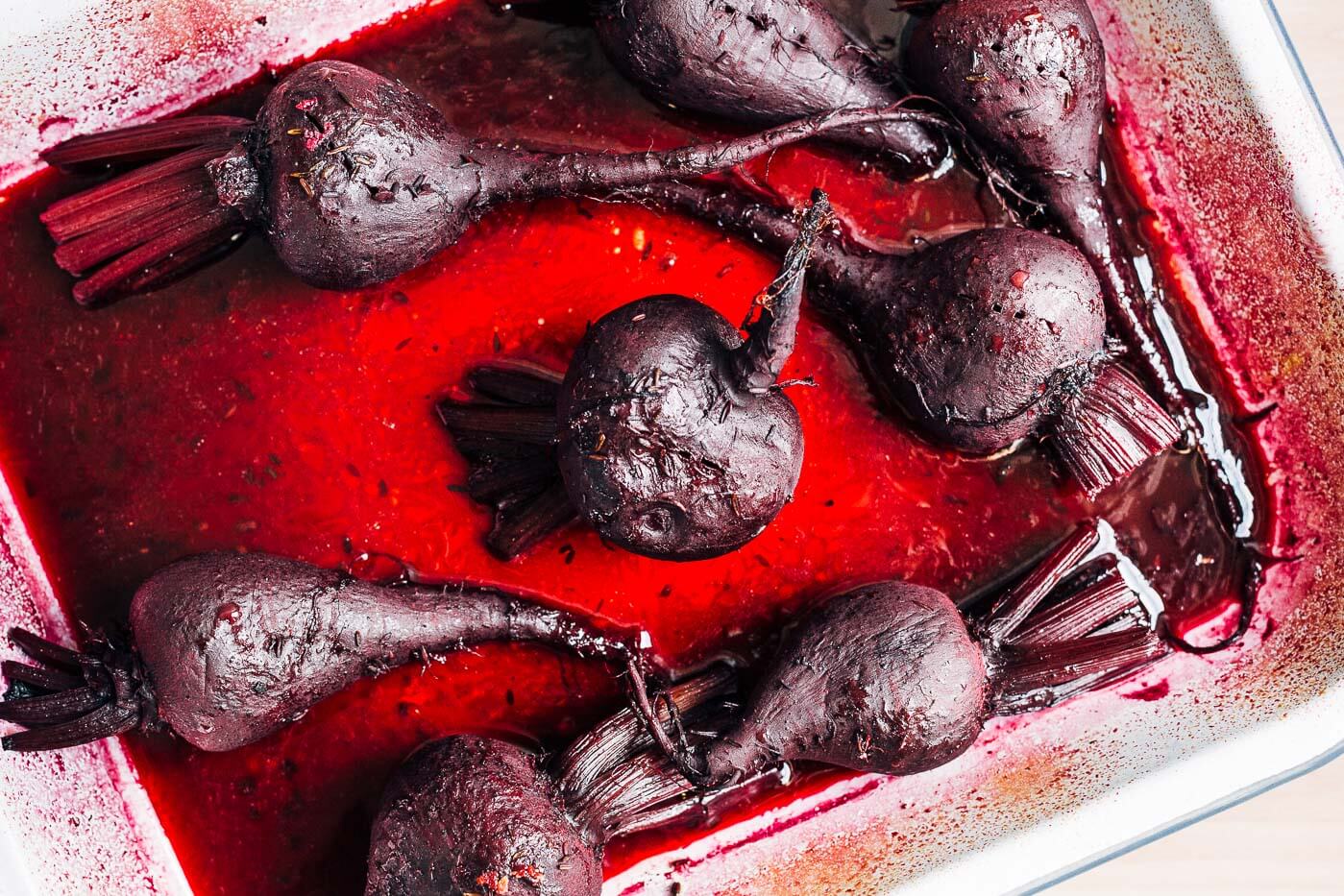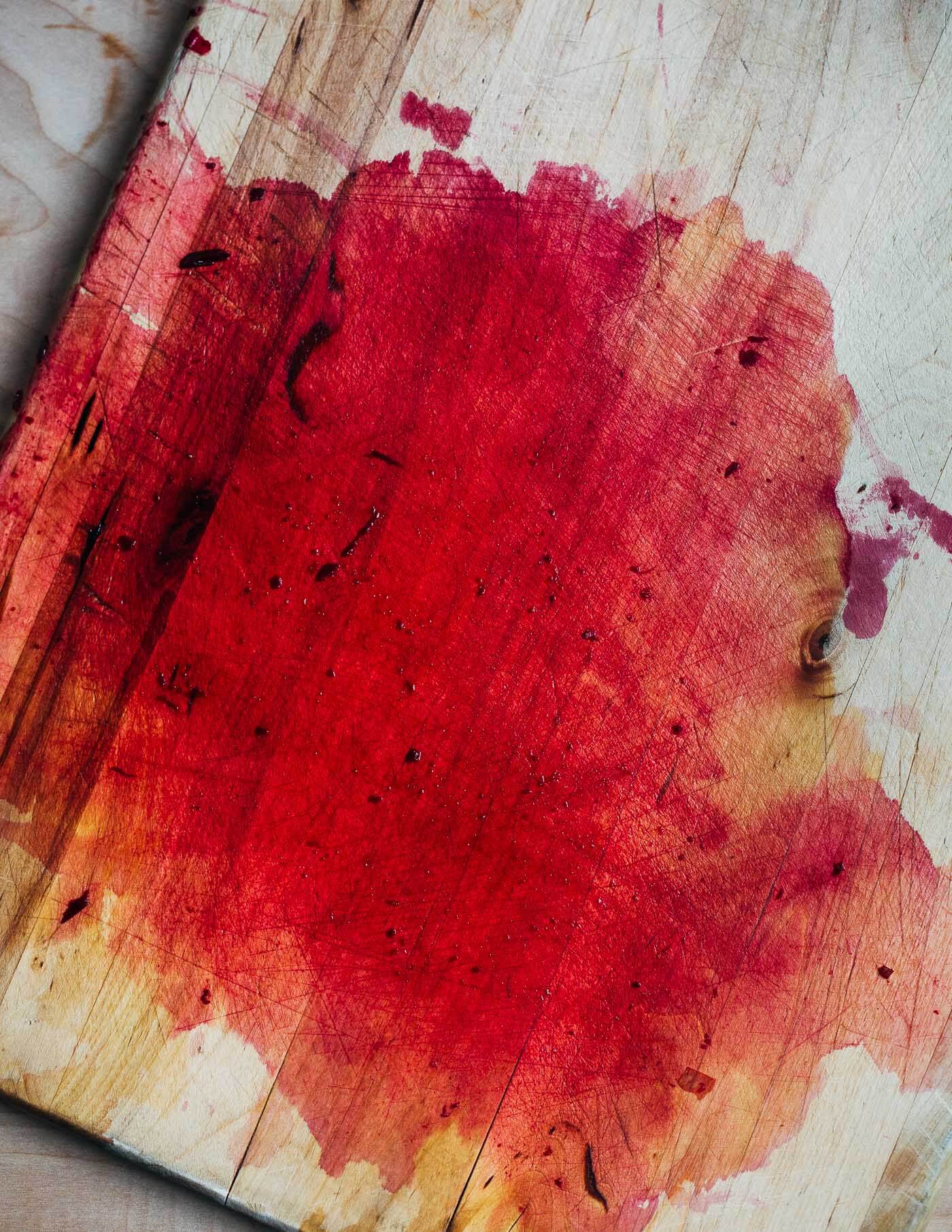 A Root-to-Leaf Beet Soup Recipe
With that in mind, this beet soup uses two bunches of beets root to leaf. It's kind of my dream recipe that way. I strive for all my recipes to make sense, with no extra fuss, and occasionally, I succeed.
You should know that this intensely-hued beet soup is thick and velvety. Made with just olive oil, yellow onions, leeks, broth, and beets, the flavor of the soup far exceeds the sum of its parts. If you like beets, you'll love this soup. It's deeply savory, just a little bit sweet, and has an edge of earthiness. If you kind of like beets, you might also like this soup. If you don't like beets, then I urge you to scroll past this recipe. It's subtle and delicious, but also very much of beets.
The beet green pistou is optional of course, but it makes lovely use of beet greens – you can swirl it into the soup, or slather it on bread or eggs, or all of that. The beet green pistou has the same earthy depth as the soup, but it also has that lemony beet green brightness. I like to think it tastes a lot like spring.
I know I said I didn't use fancy ingredients, but this soup does have a few dollops of creme fraiche. A cooling, tangy counterpart is a nice addition, but feel free to swap in dairy or vegan yogurt, or even diluted sour cream in a pinch.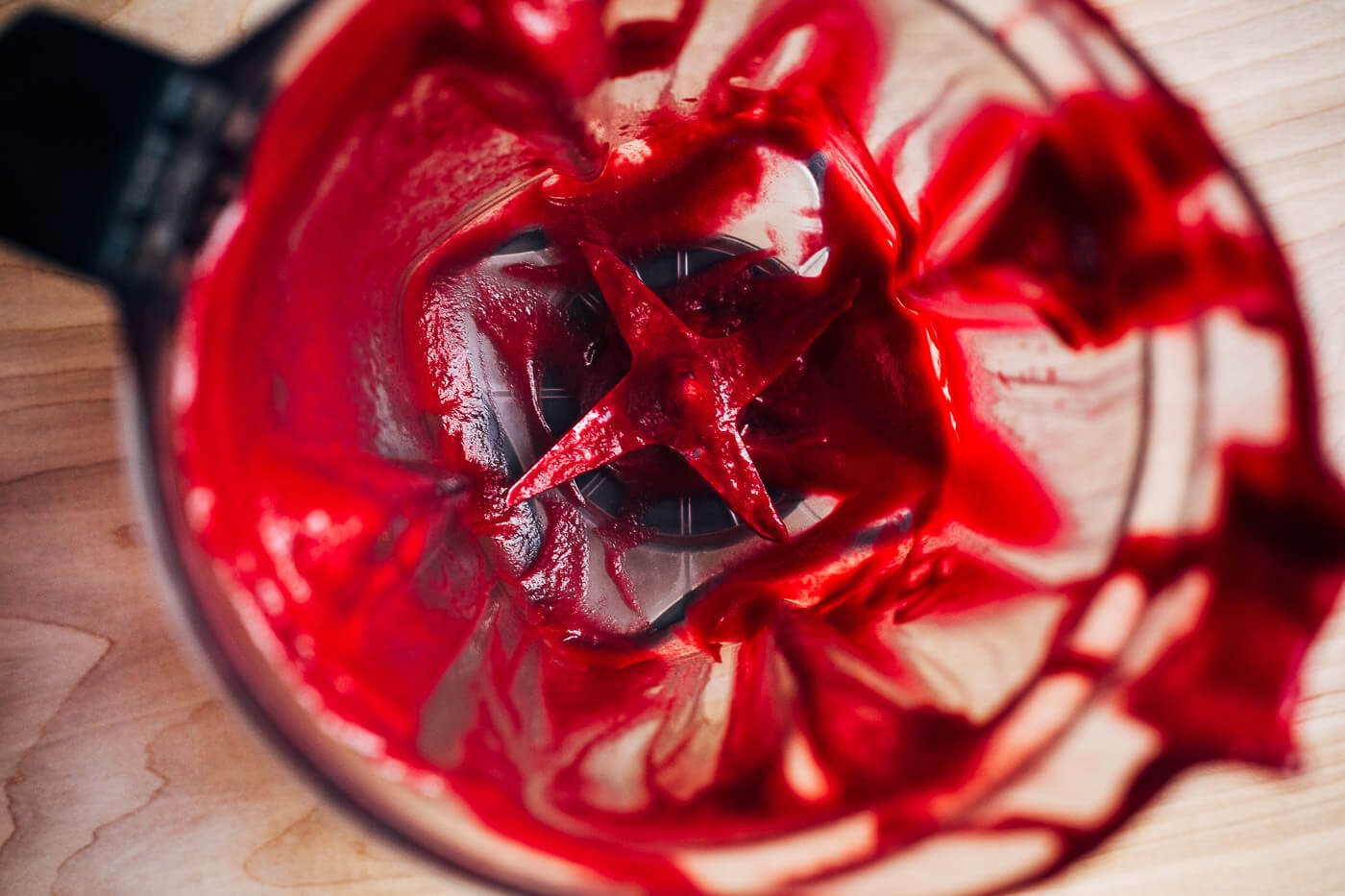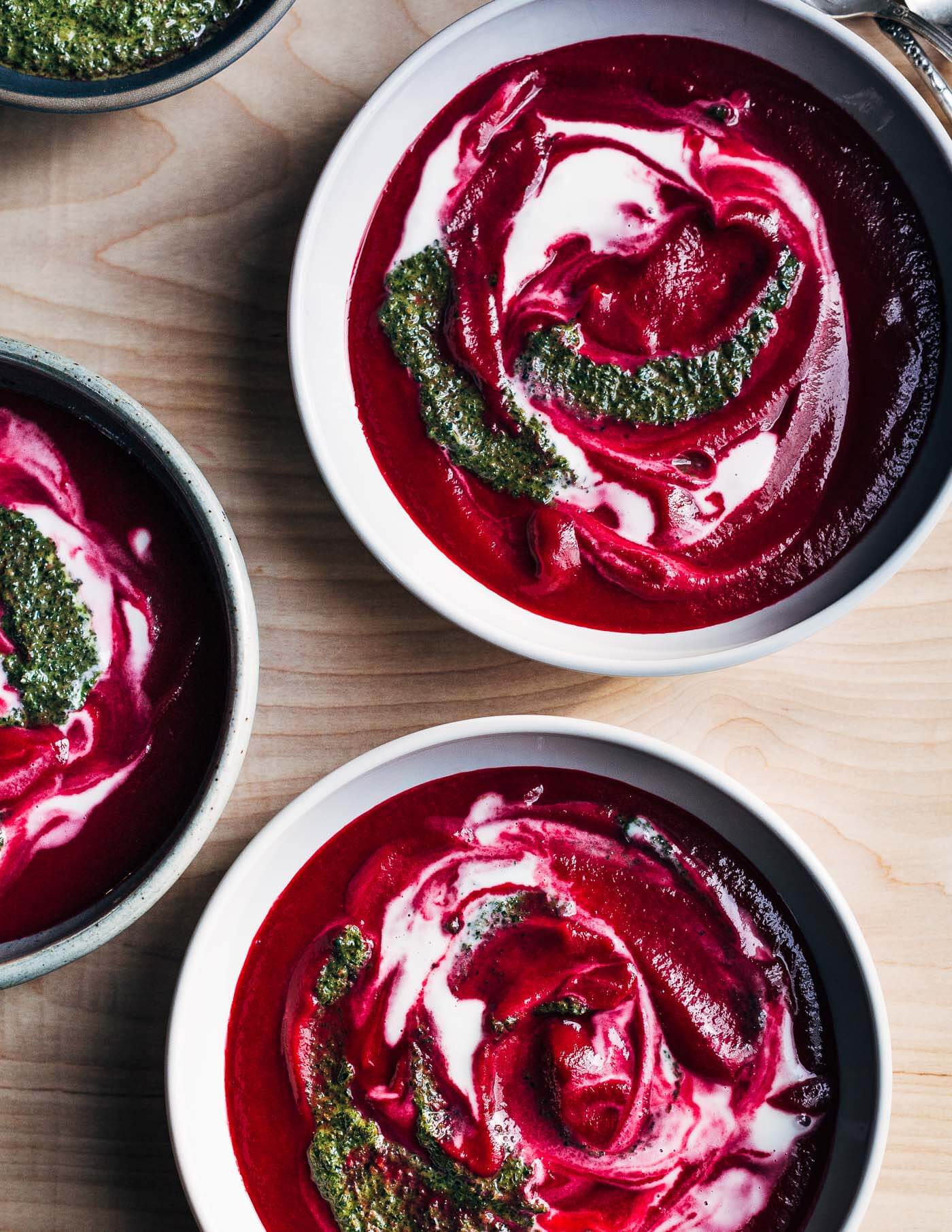 Notes on the Recipe
A couple notes: The beet green pistou can be a touch muddy because of the red stems and veins. If you want a pretty pop of green, add 1 – 2 cups of another dark leafy green or fresh herbs. Kale, collards, arugula, or parsley would all be great. Along these lines, you can use the beet stems if you'd like, but the resulting pistou will be gray-ish.
Two bunches of beet greens make a lot of pistou, so I used one bunch for the pistou and one in a salad. Feel free to double up on the pistou if you want to use all your greens.
Beet Soup with Beet Green Pistou
A vibrant root-to-leaf beet soup recipe that's swirled with crème fraîche and beet green pistou. Colorful, earthy, and wonderfully savory, this beet soup is an early spring delight. Storage beets, those without their greens, have denser flesh and a deeper sweetness.
For this recipe, fresh beets with their greens attached are best.
This recipe begins with oven-steamed beets. Covered in the oven, the sweetness of the beets concentrates, the beets also take up the olive oil, salt, and pepper for excellent flavor. Afterwards, the beet skin comes off easily under cold running water.
Ingredients
Soup
2

pounds

beets with their greens,

rinsed well

4

tablespoons

extra virgin olive oil,

divided

1

teaspoon

sea salt,

plus more as needed

1/2

teaspoon

black pepper

Water

1

large yellow onion,

diced

1

large leek,

rinsed very well

3 - 4

cups

rich vegetable broth,

store bought or homemade
Pistou
1

bunch beet greens,

red stems snapped off (about 4 cups chopped and packed)

1

cup

chopped kale greens,

collards, or herbs (or use an additional cup of beet greens)

2

cloves

garlic,

smashed, peeled, and minced

1/3

cup

extra virgin olive oil

1/2

teaspoon

sea salt
To serve
1/4

cup

crème fraîche or dairy or non-dairy yogurt
Instructions
Preheat oven to 400 degrees F.

Remove the beets greens and set aside. Arrange beets in a baking dish. Drizzle with 2 tablespoons olive oil, 1 teaspoon sea salt, and pepper. Fill baking dish with about 1/4-inch water. Cover tightly with foil. Roast beets 60 - 70 minutes or until beets are yielding to the touch and fork tender. Set aside to cool.

Under cold running water, break off the stem base and rub the skins off the beets. Rough chop the beets.

To prep the leeks, rinse very well. Peel back some of the outer layers of the leeks, if they're very sandy, peel back about 4 of the leek layers to expose the sandy part and swish vigorously in a sink filled with cold water. Repeat a few times and give the sand time to settle. Trim the root end and any dark green leaves, and rough chop the rest.

Set a 4-quart Dutch oven or pot over medium heat. When hot, add 2 tablespoons olive oil and then the onions and leeks. Add a pinch each sea salt and black pepper. Cook until onions are translucent, 7 - 10 minutes. Add the beets, sauté briefly, and then add 3 cups broth. Bring to a boil, then turn heat to medium-low for a gentle simmer. Cook 20 minutes, stirring occasionally.

Working carefully, puree the soup in a blender until very smooth.

Return puree to the pot and set over low heat. If desired, add up to one cup more broth to thin the soup. Take care, because the soup might bubble up and pop at this point. Stir often to release the heat or cover the soup. Add sea salt to taste.

While soup cooks, make the pistou. In the bowl of a food processor, pulse to reduce the greens and garlic. With food processor running, drizzle in olive oil. Add sea salt. Add more salt or olive oil to taste. Spoon pistou into a bowl.

To serve, ladle soup into bowls. Thin crème fraîche with a little bit of water and dollop onto the soup. Use the back of a spoon and make just a few swoops in the soup to swirl. Add a swoosh of pistou. Serve beet soup with extra crème fraîche and pistou on the side.