A weeknight recipe with showoff vibes, this creamy mushroom and greens gnocchi features umami-rich mushrooms, tender collard greens, and pillowy gnocchi in a velvety Parmesan and cream sauce.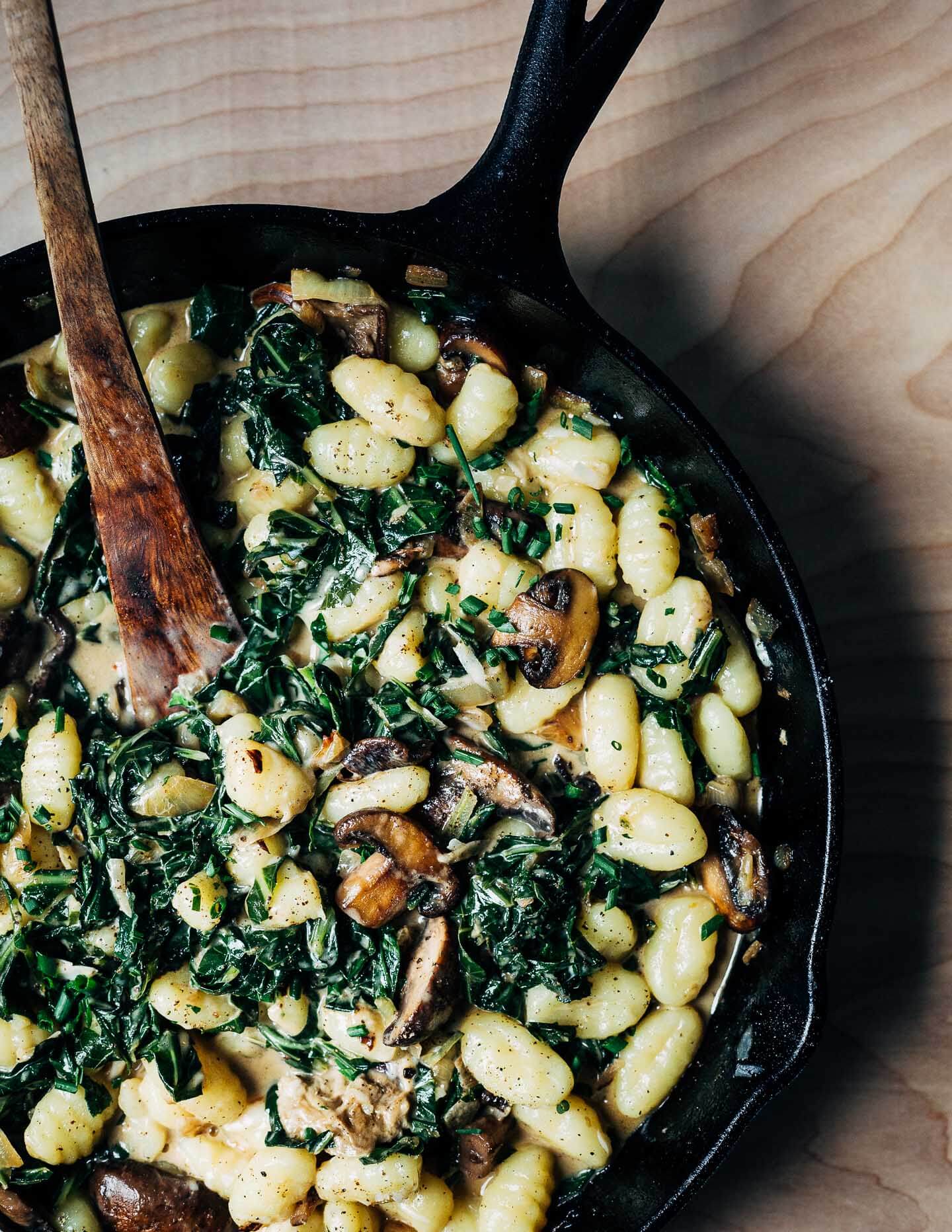 Comfort food can mean a lot of things. For me, it's a dish that's probably cheesy and carb-y, and also suited to the moment. This recipe for creamy mushroom and greens gnocchi is packed with tender collard greens, hitting my craving for anything green this time of year. But it's also got deeply flavorful pan-seared mushrooms, pillowy gnocchi with just the right amount of chew, and a creamy Parmesan sauce that's rich enough to take the edge off even the chilliest spring nights. Velvety and comforting, it's quick enough for your weeknight dinner rotation and fancy enough to serve for company.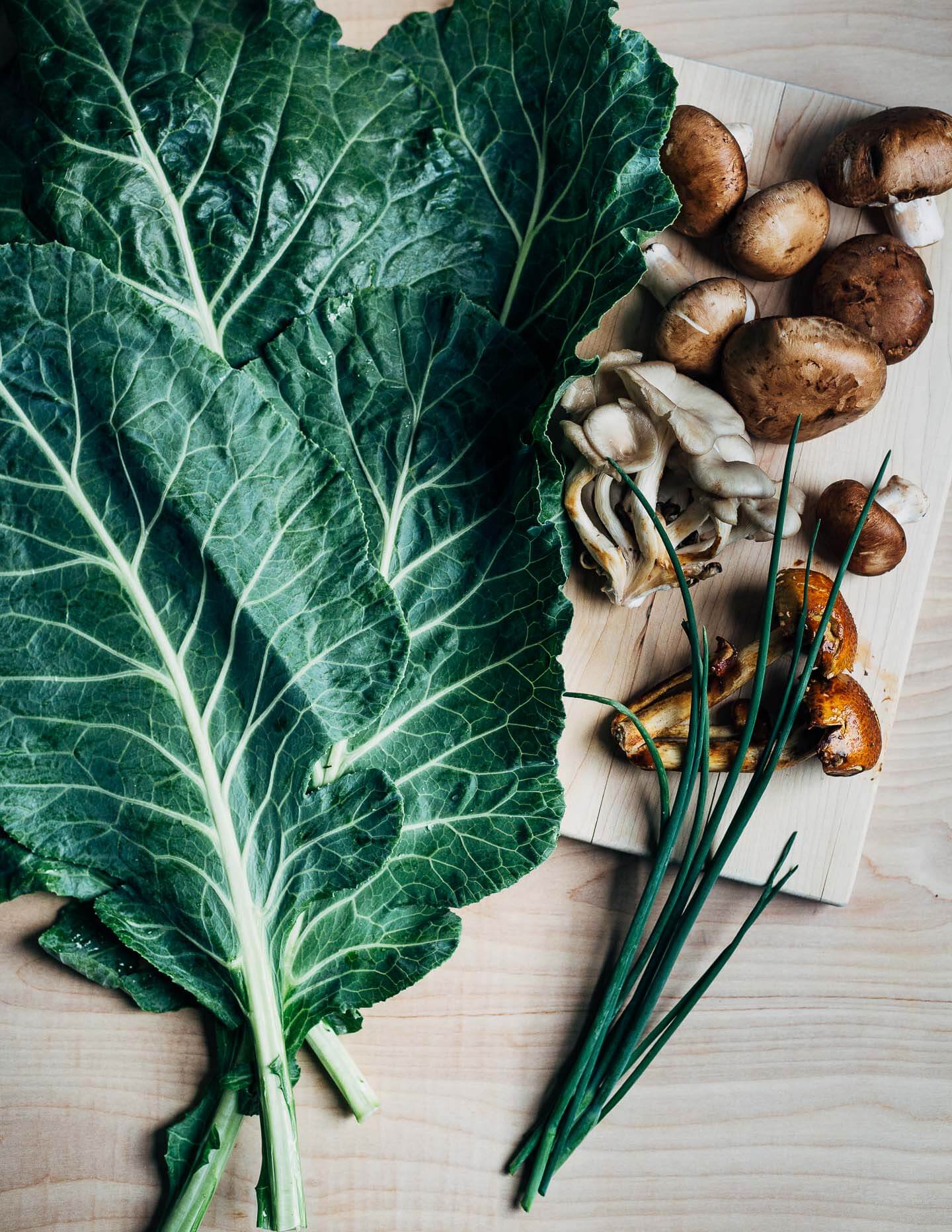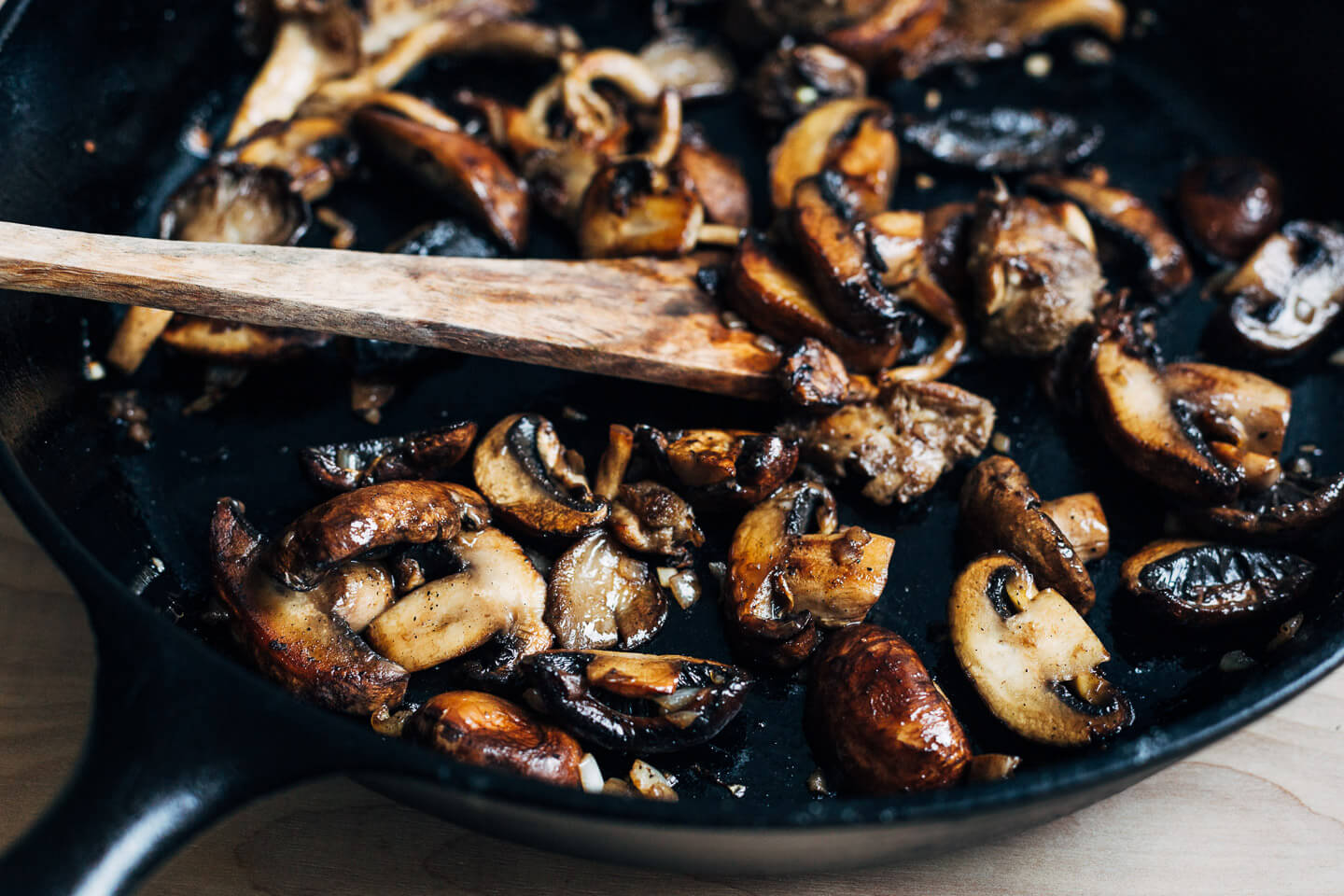 Mushroom and Green Gnocchi: Endlessly Adaptable
In keeping with the shifting season, this mushrooms and greens gnocchi recipe is also endlessly adaptable.
To start, it makes brilliant use of whatever type of greens you have on hand. Any of these greens would be delicious swaps or additions:
kale
turnip
mustard
chard
Besides making use of a wide variety of greens, this flexible gnocchi skillet accommodates other variations nicely, too:
broth or white wine
any hard, flavorful cheese (Parm, Asiago, Pecorino)
alliums of your choice (onions, shallots, garlic, leeks, or spring treats like ramps and green garlic)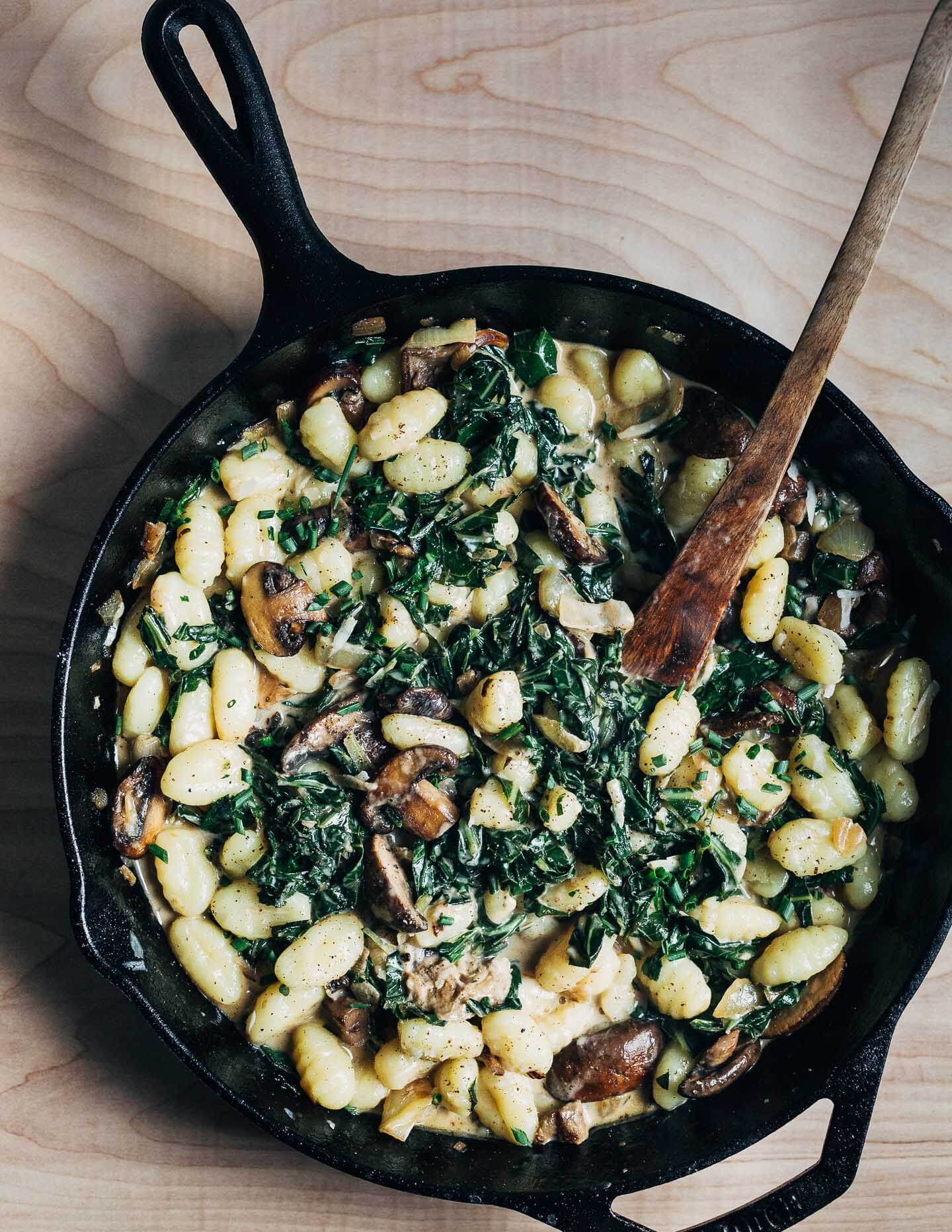 Perfecting Pan-Seared Mushrooms
This recipe also features super flavorful pan-seared mushrooms. Mushrooms with a nice sear – enough for crispy edges and umami depth – are a meaty counterpoint to the earthy, sweet greens and creamy cheese sauce.
Shortcut: Store-Bought Gnocchi
For the gnocchi themselves, I went with store bought, but if you'd like to make your own, I'm sure they'd make the dish even more delicious.
To cook the gnocchi, heat a large pot of salted water to a vigorous boil. Add the gnocchi gradually, taking care not to splash yourself, and making sure the water doesn't stop boiling as you go. If it does, put a lid on the pot for a minute or less to get the heat up quickly. Gnocchi cook quickly, so keep a close eye. You'll know they're done when they float up to the top. Use a slotted spoon to remove cooked gnocchi – no need for a colander.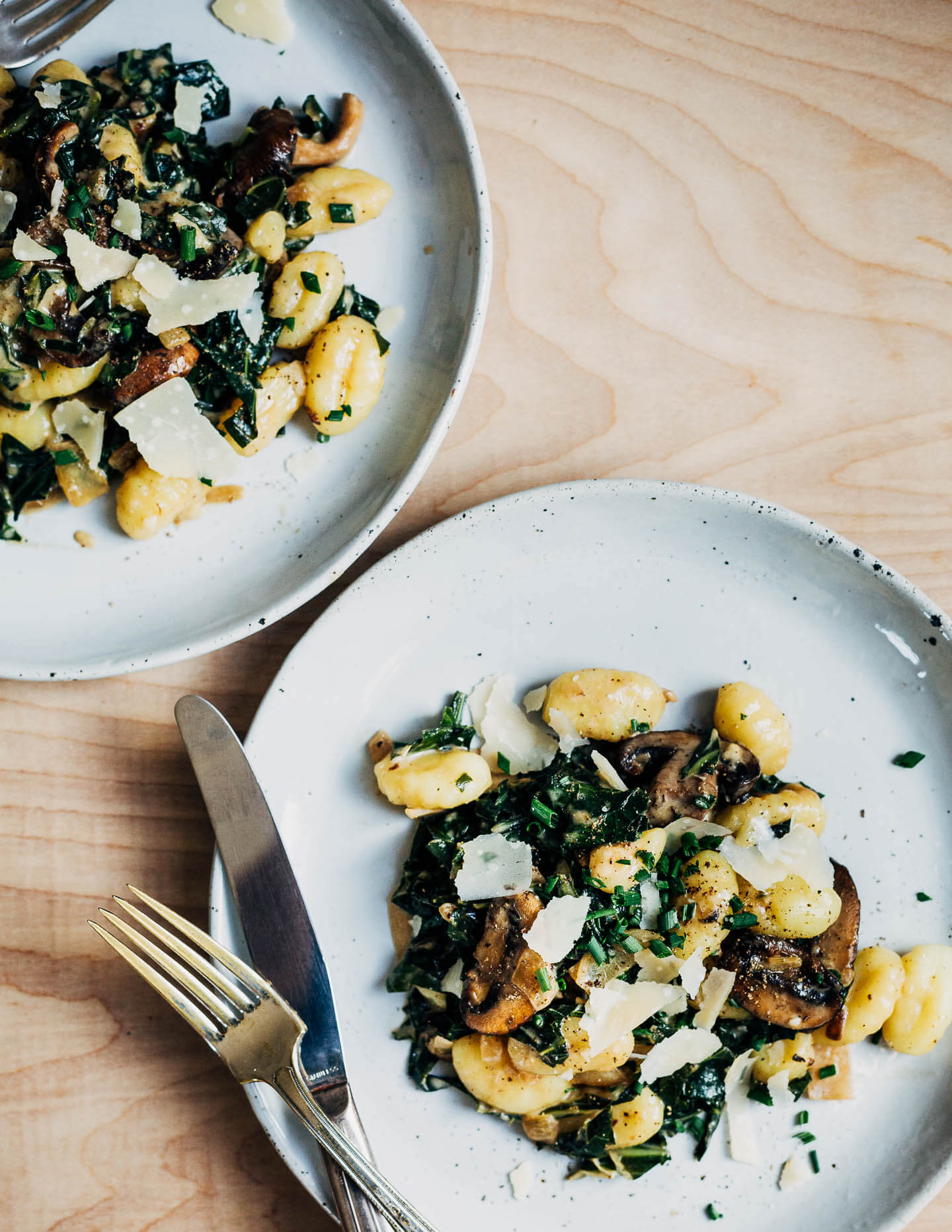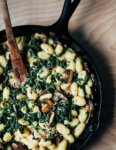 Creamy Mushroom and Greens Gnocchi
A weeknight recipe with showoff vibes, this creamy mushroom and greens gnocchi features umami-rich mushrooms, tender collard greens, and pillowy gnocchi in a velvety Parmesan and cream sauce. Be judicious with your salt as you cook this recipe – since all the elements cook down significantly, you'll have most control adding salt toward the end of cook time, not at the beginning.
Keyword:
mushroom and greens gnocchi
Makes
:
4
generous servings
Ingredients
5 - 6

tablespoons

olive oil,

divided

10

ounces

mushrooms,

wiped clean and cut into ½-inch thick slices

2

cloves

garlic,

smashed, peeled, and minced

Sea salt

Black pepper

1

yellow onion,

diced

½

teaspoon

red pepper flakes

1

bunch,

about 1 pound collard greens, stems removed and chopped

1

cup

vegetable or chicken broth,

or dry white wine

½

cup

heavy cream

½

cup

grated Parmesan,

or Asiago or Pecorino, plus more for serving

1

pound

gnocchi,

cooked to al dente in salted water

2

tablespoons

minced chives
Instructions
Set a 10-inch cast iron skillet or other wide, deep pan, over medium/medium-high heat (pan should be hot but not smoking). When hot, add 1 tablespoon olive oil and a third of the mushrooms (you don't want to crowd them!). Cook, undisturbed, for 3 - 5 minutes, or until mushrooms have a nice sear. Flip and cook 3 - 5 minutes more, until the edges are crisp and the mushrooms are tender. Set cooked mushrooms aside in a bowl, and repeat the cooking process for the remaining mushrooms. Edge heat down as needed while you cook and add more olive oil (3 or 4 tablespoons total) any time the skillet gets dry.

When cooking the last batch of mushrooms, sear both sides, then add all the cooked mushrooms, garlic, and ¼ teaspoon each sea salt and black pepper to the skillet. Cook about 2 minutes more. Scrape mushrooms and any juices out of the skillet and set aside.

Turn heat down to medium, and in the same skillet, add 2 tablespoons olive oil and the onion. Cook until the onion is translucent and tender, about 7 minutes. Add ¼ teaspoon each sea salt and pepper, and red pepper flakes and cook 1 minute more. Add the collard greens in batches. Once all the greens are in and have wilted, add the broth, turn heat to low and cook 10 minutes, stirring often.

Meanwhile, cook the gnocchi in salted water until al dente.

Fold cream in with the greens and add the mushrooms and parmesan. Fold in the gnocchi. Taste, and add sea salt or pepper as needed.

Serve gnocchi topped with a few grinds of black pepper, chives, and shaved Parmesan.

Any leftovers can be covered and reheated in a 350 degree oven until piping hot.