Make a batch of beet-pickled eggs! These eggs aren't just beautiful, they're suffused with a delicious sweet and sour brine that pops with every bite. Serve pickled eggs alongside the pickled beets and red onions, and top with a dollop of sour cream-horseradish sauce and fresh garden herbs.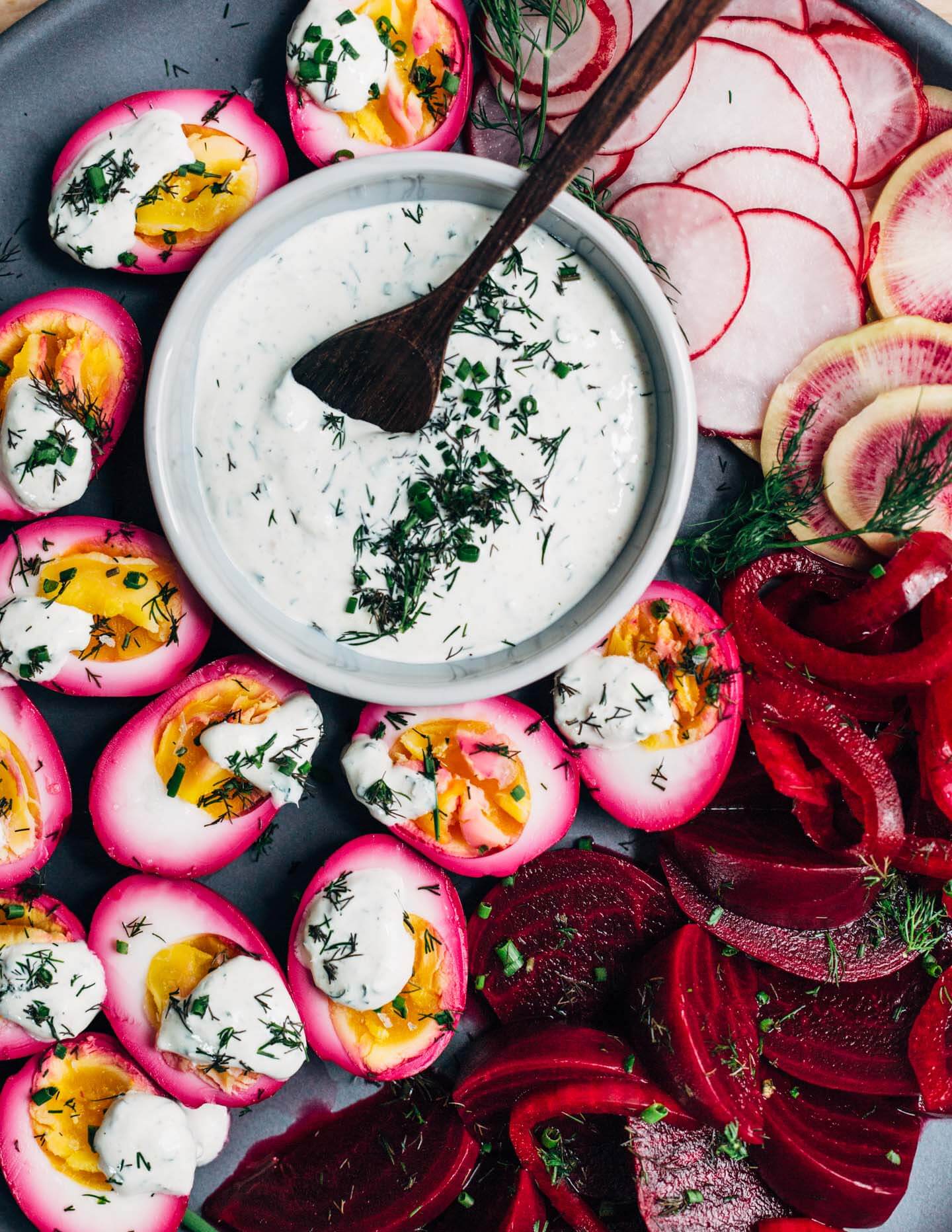 Despite the clear blue skies and sunshine, the buds and blossoms, and the buzzing of bees and bird songs as the natural world comes to life, it's been a tough week. Our littlest has her heels dug in, even over the tiniest things, and her chaos is rubbing off on the rest of us. At home and elsewhere, I feel like I'm walking on eggshells.
In these moments, I find it helps to make something beautiful.
Bold, Colorful Beets
My painting teacher used to say to us students that we were at our best when we were painting – elsewhere in life, we were just regular people, but, brush in hand, doing what we loved most, we could be extraordinary. I've since traded my brushes for a kitchen and a camera, but the wisdom of spending time doing what I do best still holds. And now, in my fridge, I have a trove of THESE BEETS.
Maximum pink is always the best remedy. Perhaps not for unruly seven year-olds, but I'm working that angle too.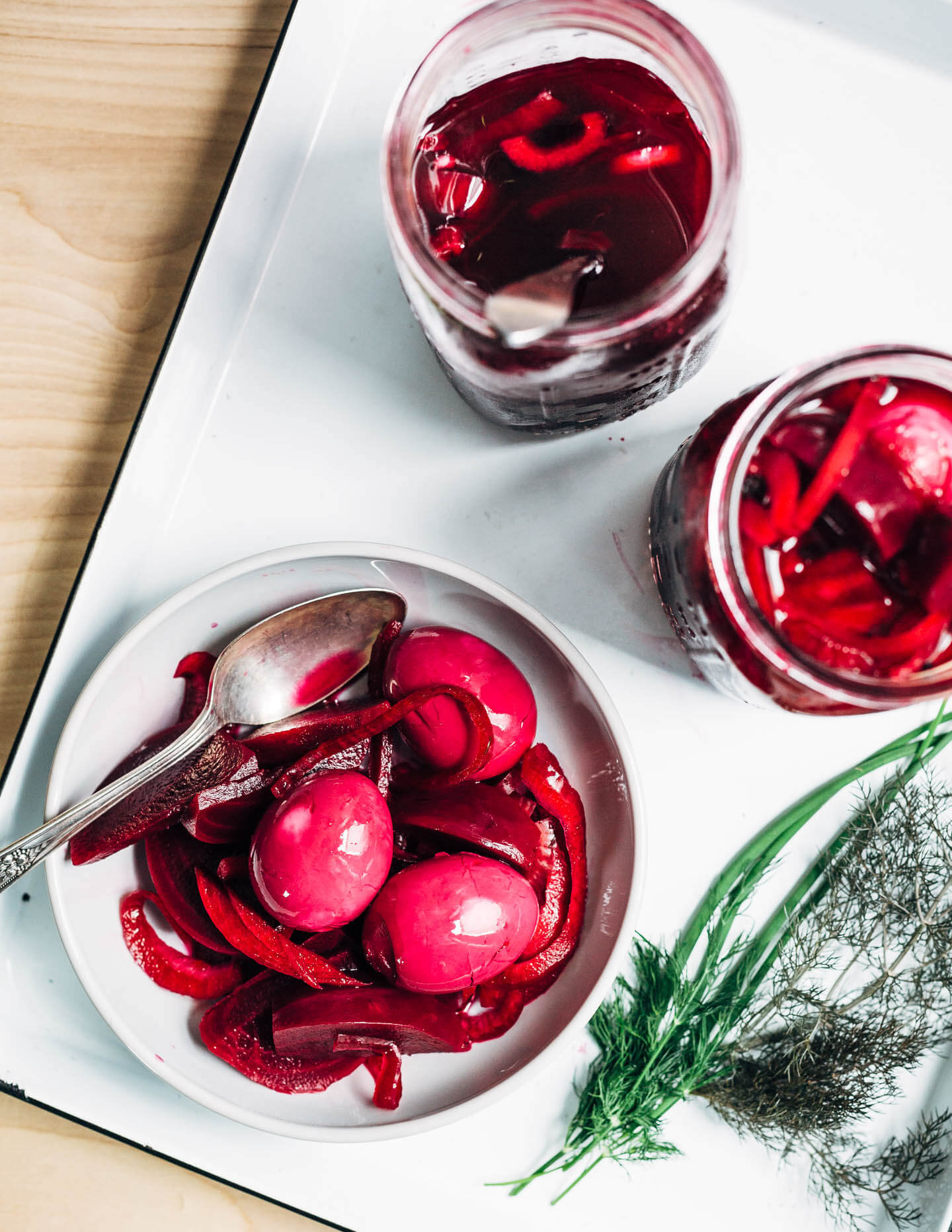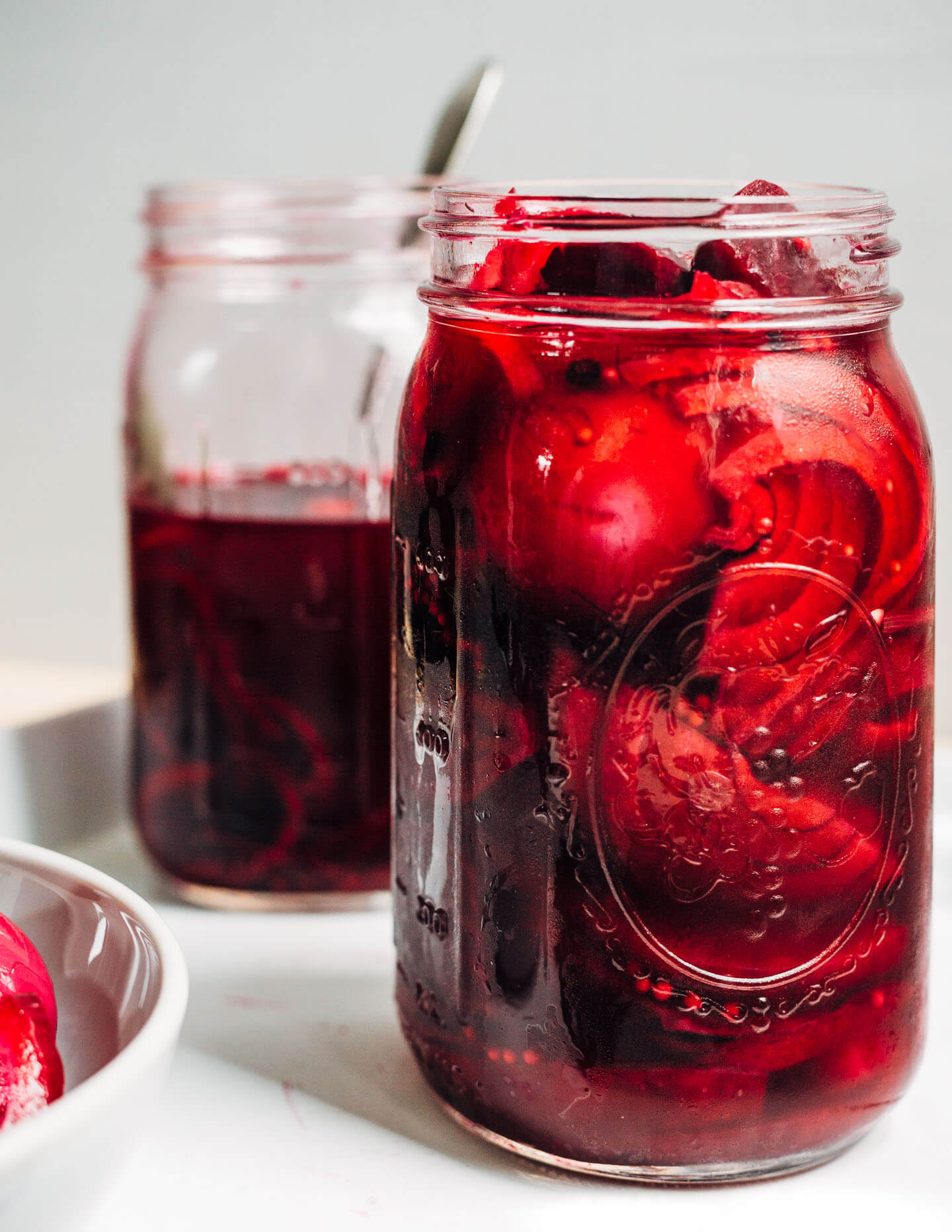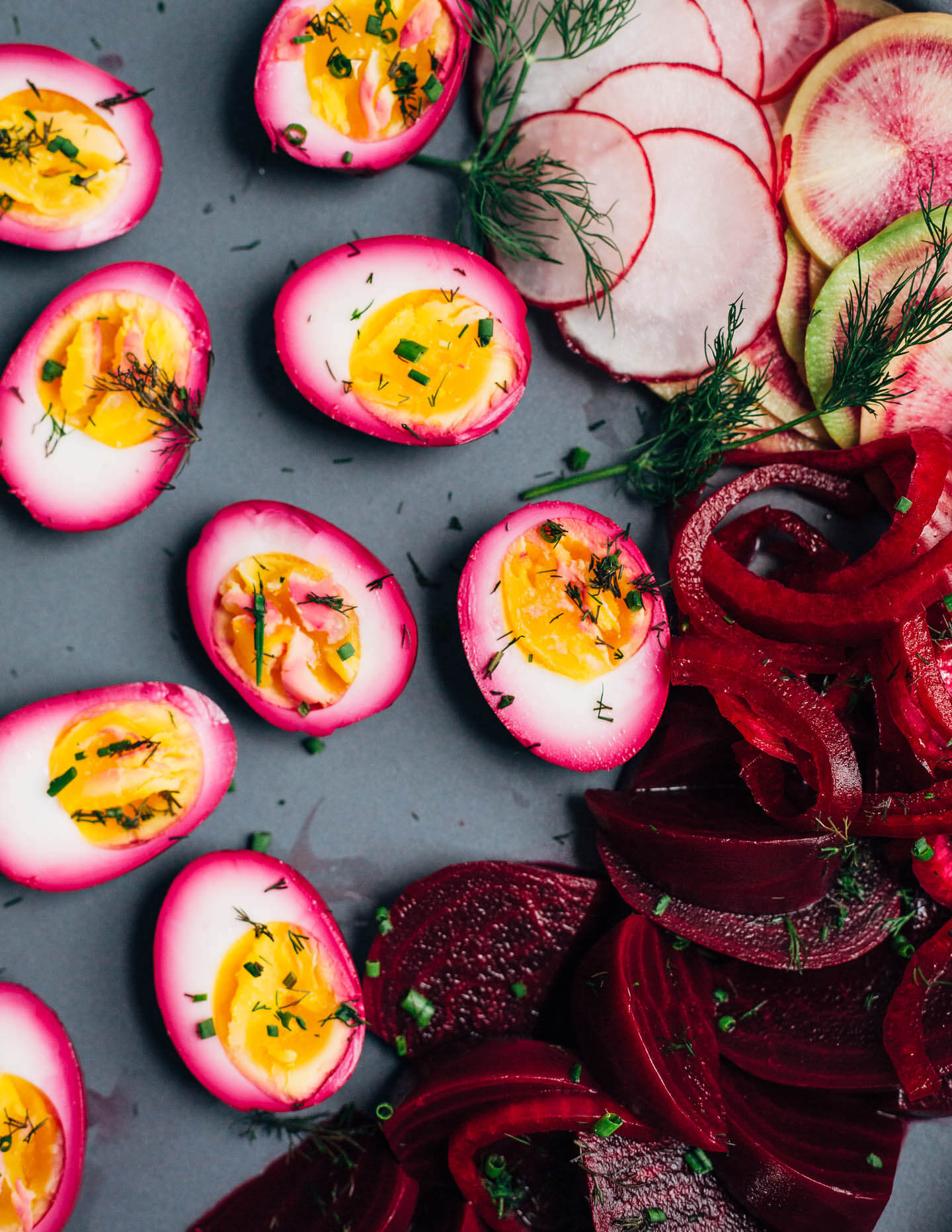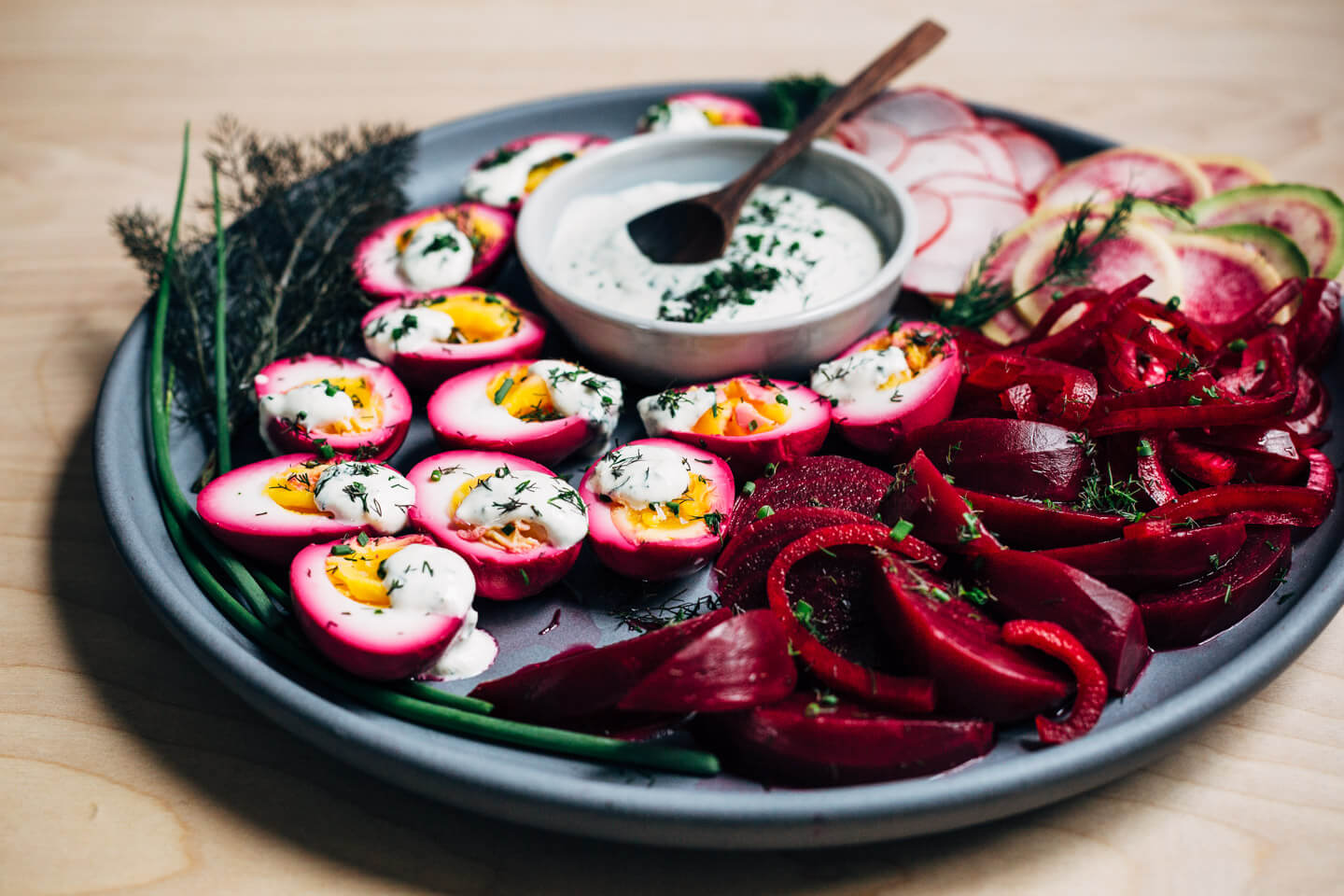 Beet-Pickled Eggs: Like a Salad in a Jar
Think of these beet-pickled eggs as the very best kind of salad in a jar. Settled into the brine, nestled up with beets, red onions, spices, and a few dill sprigs, the eggs take on just the right amount of flavor. Sour, sweet, and a tad earthy, beet-pickled eggs are my new favorite eggs.
A Pickled Egg Platter for Easter
Pickled eggs are great for entertaining. In fact, for an upcoming Easter gathering, I'm planning to serve beet-pickled eggs on a tray, tucked against pickled beets and onions alongside paper thin salted radish slices. To complement these elements, I whisked up a zippy sour cream sauce made with Dijon, horseradish, herbs, pepper, and sea salt. Dolloped on a beet-pickled egg, the effect is almost exactly like a pickled deviled egg, but with a lot less work.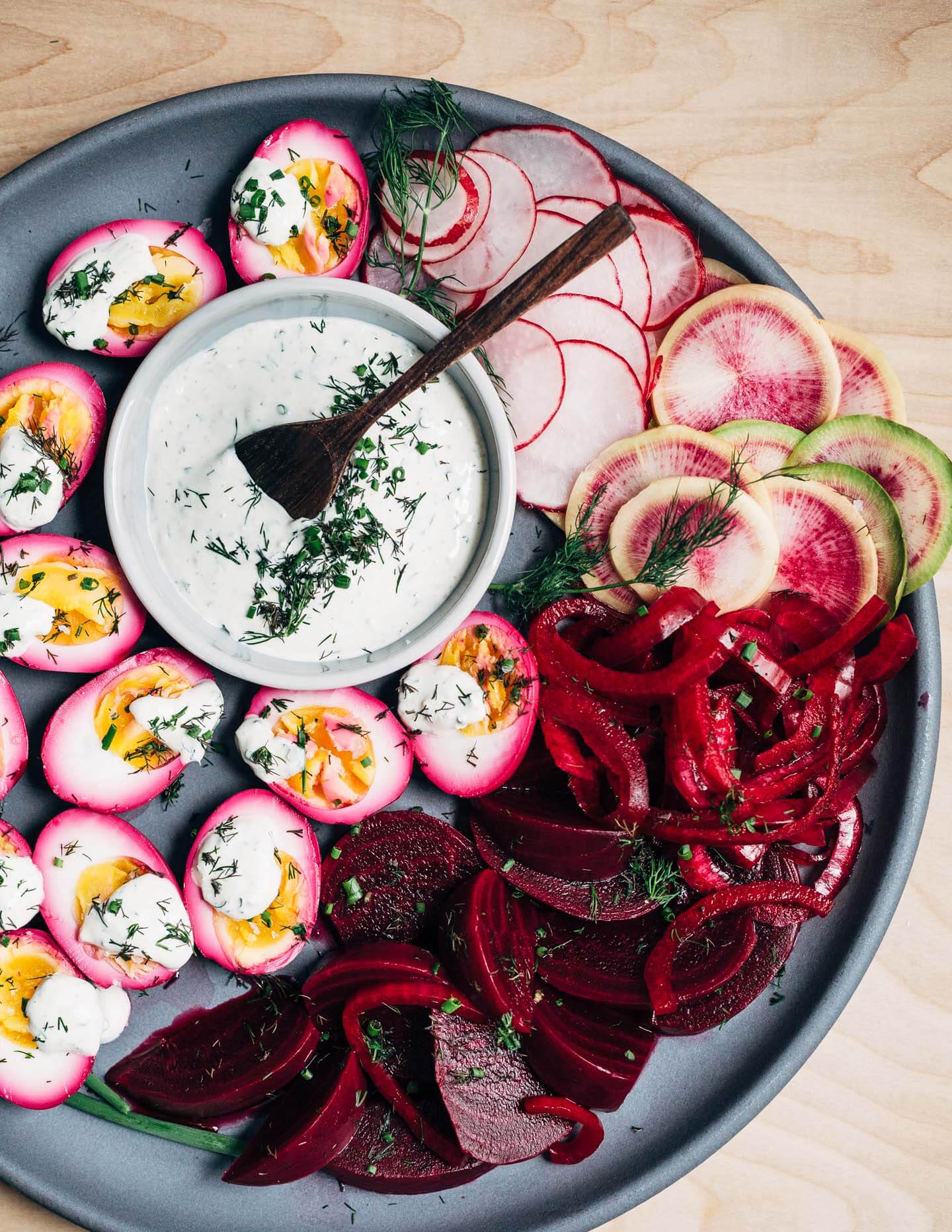 And while these pickled eggs are delightful for gatherings, they make a great salad, too. The eggs, beets, and onions, and even the sour cream sauce, are wonderful atop greens. And they make great sandwich fixings, too.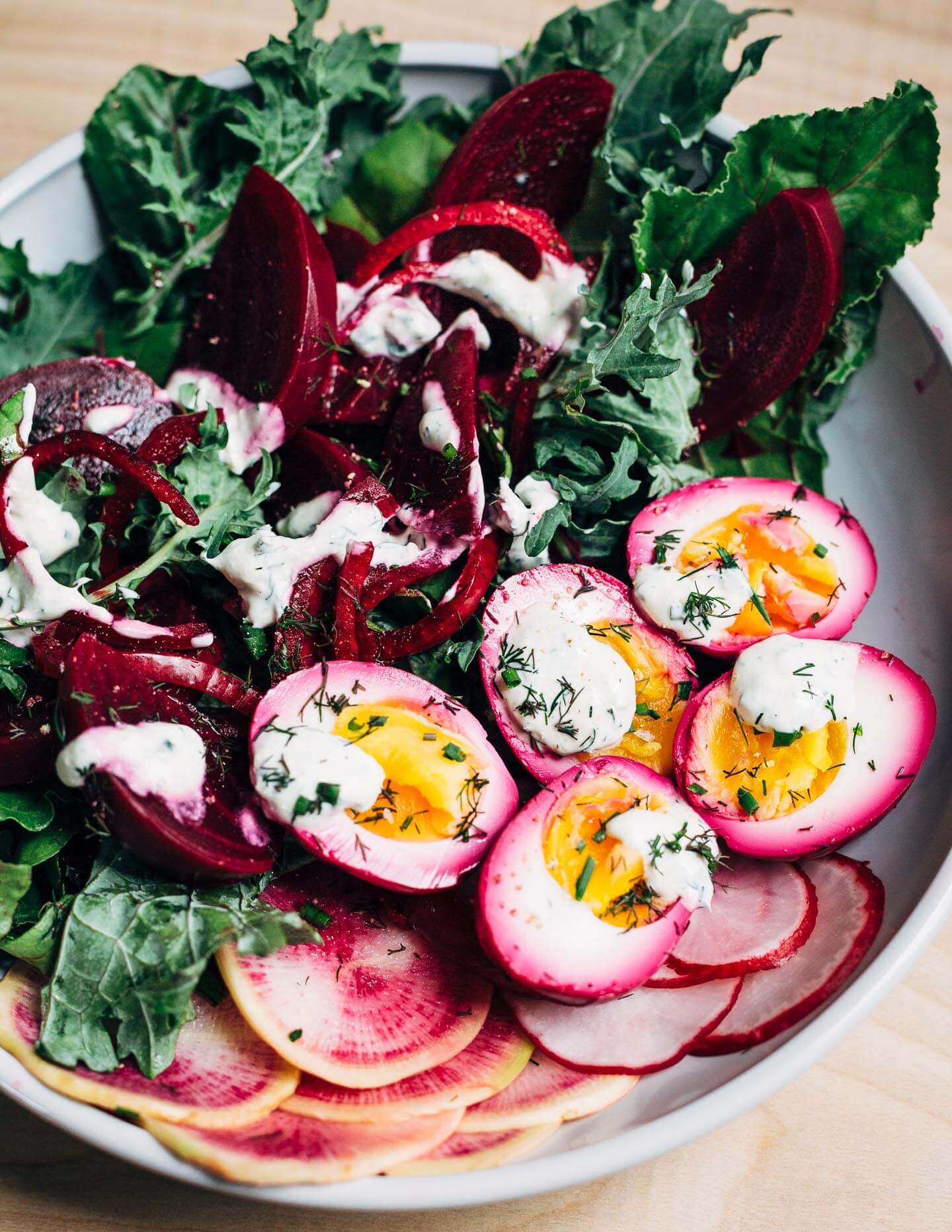 Make Ahead
Beet-pickled eggs can be a light, blushing pink or deep fuchsia, depending on the length of the pickle. I like the flavor best after about two days. To make ahead, prep the beets and brine a week or more ahead of time. Then, just add eggs to the brine two to three days ahead of time.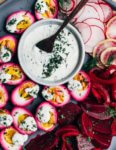 Beet-Pickled Eggs
Extremely pink beet-pickled eggs aren't just beautiful, they're suffused with a richly flavored sweet and sour brine that pops with every bite. Serve the eggs alongside the pickled beets and red onions, and top with a dollop of sour cream and horseradish sauce and fresh garden herbs.
This recipe comes together in just a few steps and then needs to chill overnight.
Most beet-pickled egg recipes call for standard hard boiled eggs, but here, I'll have to insist on steamed eggs. Steamed eggs are easier to cook perfectly without any of that sulphur stench, and are a dream to peel.
Lastly, this recipe is a great way to use leftover Easter eggs.
Ingredients
Beet-Pickled Eggs
6

large eggs

4

medium beets

(from 1 bunch beets), greens trimmed, peeled, and cut into 1-inch wedges

2

cups

apple cider vinegar

2

cups

water

1/4

cup

sugar

1

tablespoon

plus 1 teaspoon sea salt

1

tablespoon

yellow mustard seeds

1

tablespoon

black peppercorns

1

tablespoon

coriander seed

4

sprigs dill,

plus more for serving

2

tablespoons

minced herbs

(I used fennel, dill, and chives)

1

medium red onion,

peeled and sliced thin
Sauce
1/2

cup

sour cream

2

tablespoons

prepared horseradish

2

tablespoons

Dijon mustard

1/2

teaspoon

fresh ground pepper,

or to taste

1/2

teaspoon

sea salt,

plus more to taste

1

teaspoon

sherry vinegar
Instructions
Set a steamer basket over boiling water. Gently set eggs in basket, cover, and set a timer for 9 minutes. Meanwhile prepare a large bowl of ice water (the colder the water, the easier the eggs will peel, so be generous with the ice). When timer dings, run eggs briefly under cold water and then gently set in ice water. Chill eggs at least 30 minutes, then keep in fridge until ready to peel.

Meanwhile, in a large, non-reactive pot, combine beets, vinegar, water, sugar, spices, and salt. Bring to a boil, then turn down to a gentle simmer for 10 - 15 minutes, or just until beets are fork tender. Set mixture aside for 30 minutes to cool.

Set out 2 clean quart jars. In packing the jars, you'll want to keep the eggs from smooshing against the side, creating a white spot. Carefully layer red onions, cooked beets, eggs, and 2 sprigs dill in each jar, making sure eggs are surrounded by other vegetables. Carefully pour in brine to cover. Seal jars and refrigerate overnight, or up to a week. Note that the color will nearly saturate the eggs after 2 days.

Before serving, in a medium bowl, whisk with a fork to combine sour cream, horseradish, mustard, vinegar, pepper, and sea salt.

Serve eggs sliced in half (you'll want to clean the knife between slices) alongside pickled beets and red onions, dollop with horseradish sauce, and sprinkle with minced herbs and fresh ground pepper.