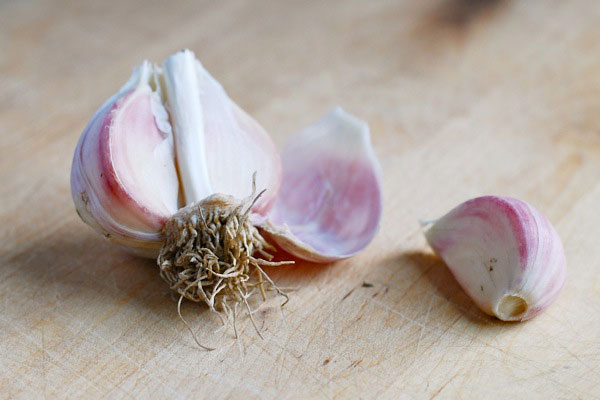 Garlic again? Yeah, totally. Late summer is when the good stuff comes into its own, and the fresh, bracing flavor makes everything from bruschetta to greens so much better.
Hardneck garlic, which is also the kind that scapes sprout from in the early summer, is named for the hard central core around which the largish cloves grow. Mature hardneck garlic will have a stiff stem and papery skin, but a few weeks before that, you can find immature garlic with a soft outer skin, and crisp cloves–this is definitely my favorite kind, and I love the mellow garlic flavor it adds even when used raw.
If you get your garlic at the supermarket, chances are it's the soft neck variety and comes from either California or Asia (here's how to tell). But if you frequent farmer's markets, you'll find the flavorful hardneck type in the late summer and fall, especially if you live in the north or west (softneck is more prevalent in the south). The best way to know exactly what you're getting is to talk to the farmer–ask them about their season and the varieties they have. Kept in a cool, dry place, hardneck garlic will likely keep for several months. In our hot, humid kitchen it goes much faster.
Fresh hardneck garlic packs a lot less heat than the softneck variety, so it's a great option for really garlicky dishes. One of my favorite preparations–just right for tossing in a summer grain salad or pasta dish–is slow-sauteed garlic. This mellows the bite, and plays up the fragrant, buttery intensity of the fresh garlic.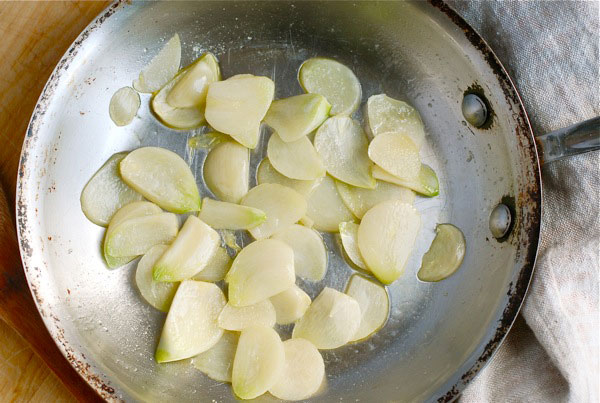 Slow-Sautéed Hardneck Garlic
1 bulb hardneck garlic (or 5 to 6 large cloves), skin removed and clove ends trimmed
1 tablespoon good olive oil
pinch of sea salt
Trim and slice the garlic cloves into 1/8″ thick slices.
Heat the olive oil over medium heat. Toss in the garlic slices so that they're coated with the warm oil. Cook over medium heat for 3 minutes, stir again, and turn heat to low. Cook over low heat, stirring occasionally, for 20 – 25 minutes, or until your desired texture is achieved. I like to pull the slices when they're cooked through, but still have a hint of crunch when you bite into them.
Remove from heat and toss in your favorite grain salad, or cool, mince, and add to salsa, relish, or panzanella.