A vibrant yellow gazpacho with a simple list of ingredients and huge, absolutely delicious peak summer flavor. Use the recipe as a jumping off point for gazpacho of any hue.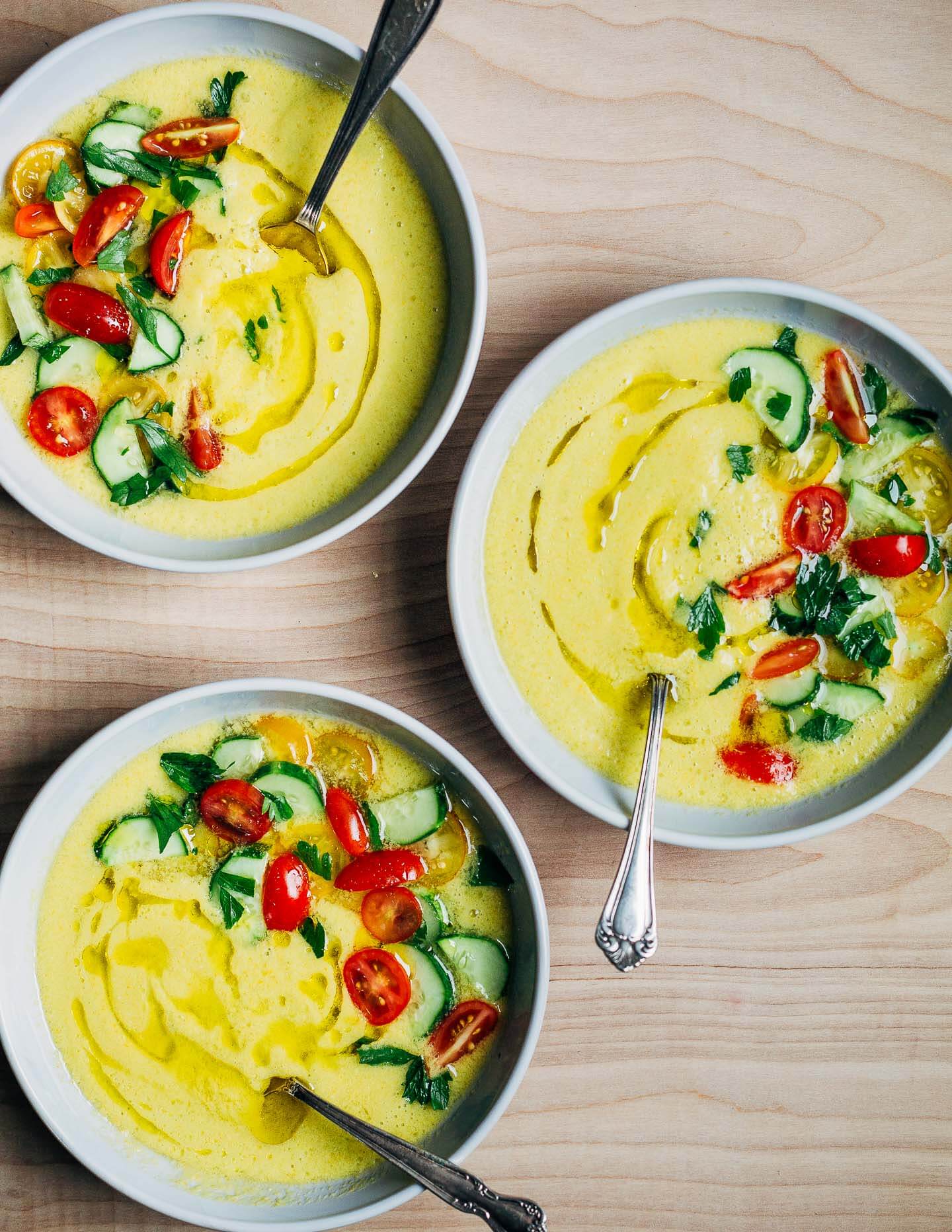 A Summer Goodbye
In this season of abundance, my family is undergoing a great loss. My siblings and I have been caring for our mom in the hospital over the past few weeks, and today, we are bringing her home for end of life hospice care.
She loves nothing more this time of year than a perfect tomato sandwich or BLT (for my mom, Wonder Bread is non-negotiable). But now that I have piles of tomatoes, she's unable to enjoy one. I am exhausted and so very sad, and all the while, my table and counters are covered in tomatoes that need to be cooked or canned. So, when I'm able, I'm putting up heaps of tomatoes, hoping they'll stay sweet and delicious through the winter, and that the sadness of these weeks won't be preserved as well.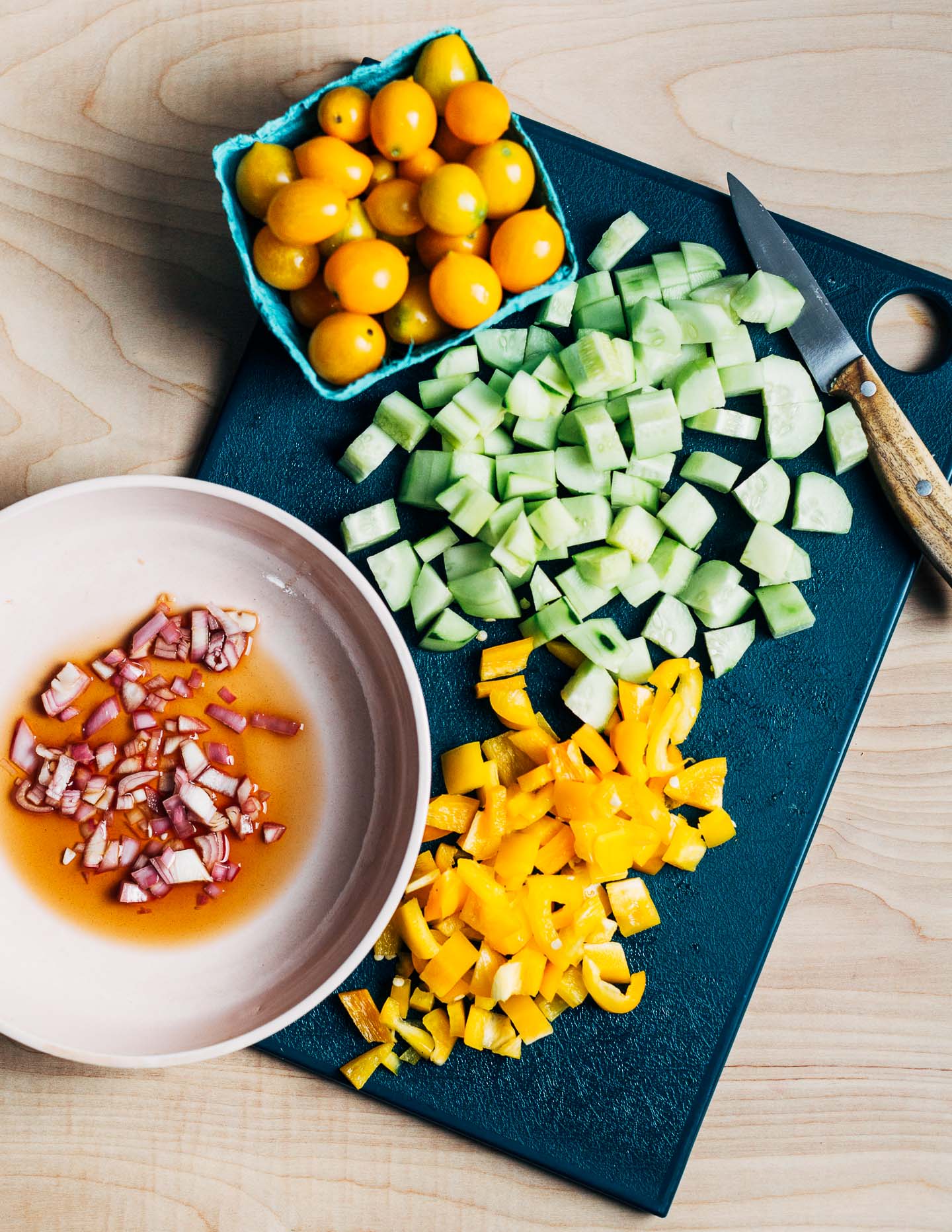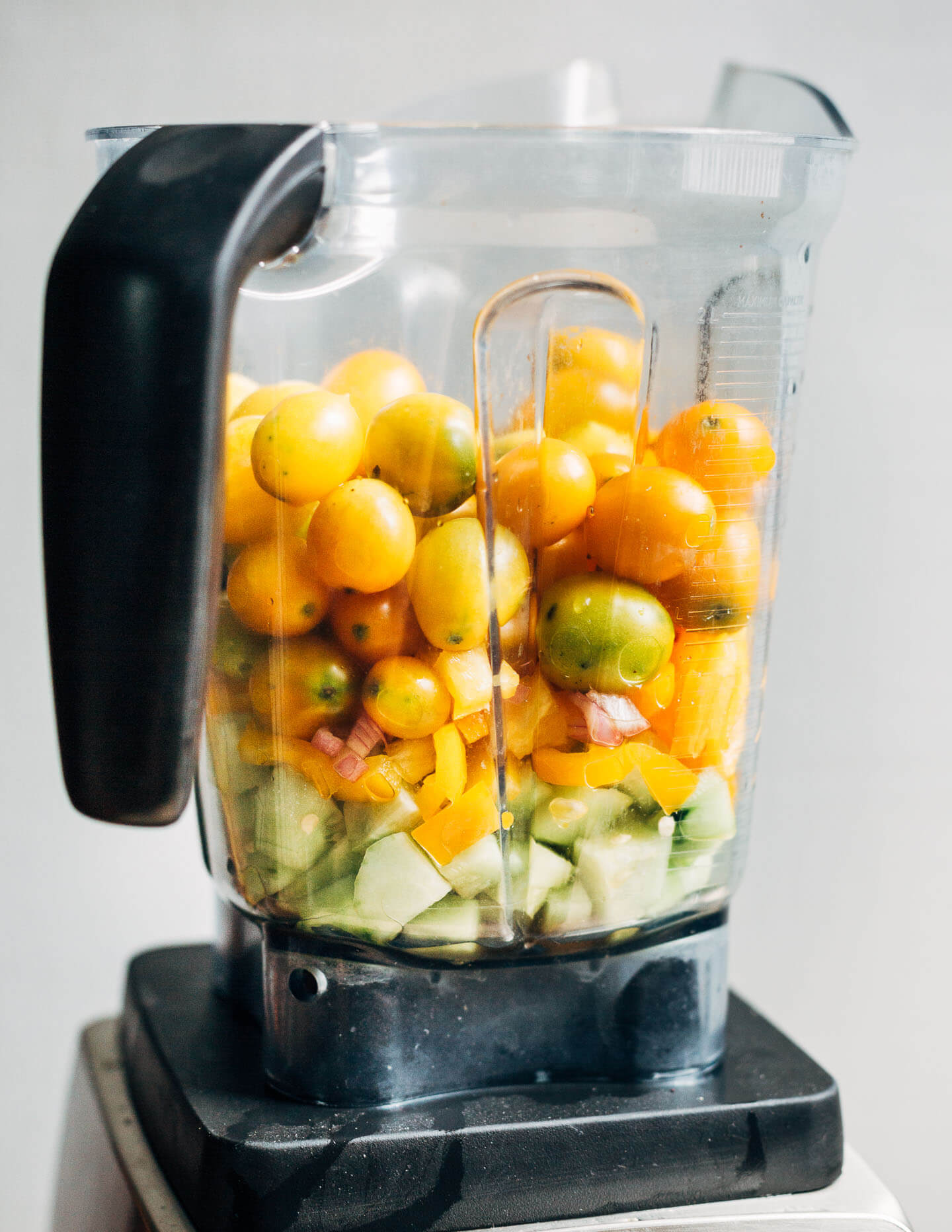 Yellow Gazpacho
I hope that peak summer finds you with far less sadness than I have, but just as many tomatoes. I conceived of this yellow gazpacho recipe as a way to use the bunches of yellow centiflor plum tomatoes that ripened all at once out in the garden. Tomatoes of any color can be swapped in, but take care to mix colors thoughtfully, since no one wants gray gazpacho.
My yellow gazpacho is made with just a handful of ingredients and results in something so simple and delicious; it's much more than the sum of its parts. It all comes together in 10 minutes, but you'll also want time for the soup to chill.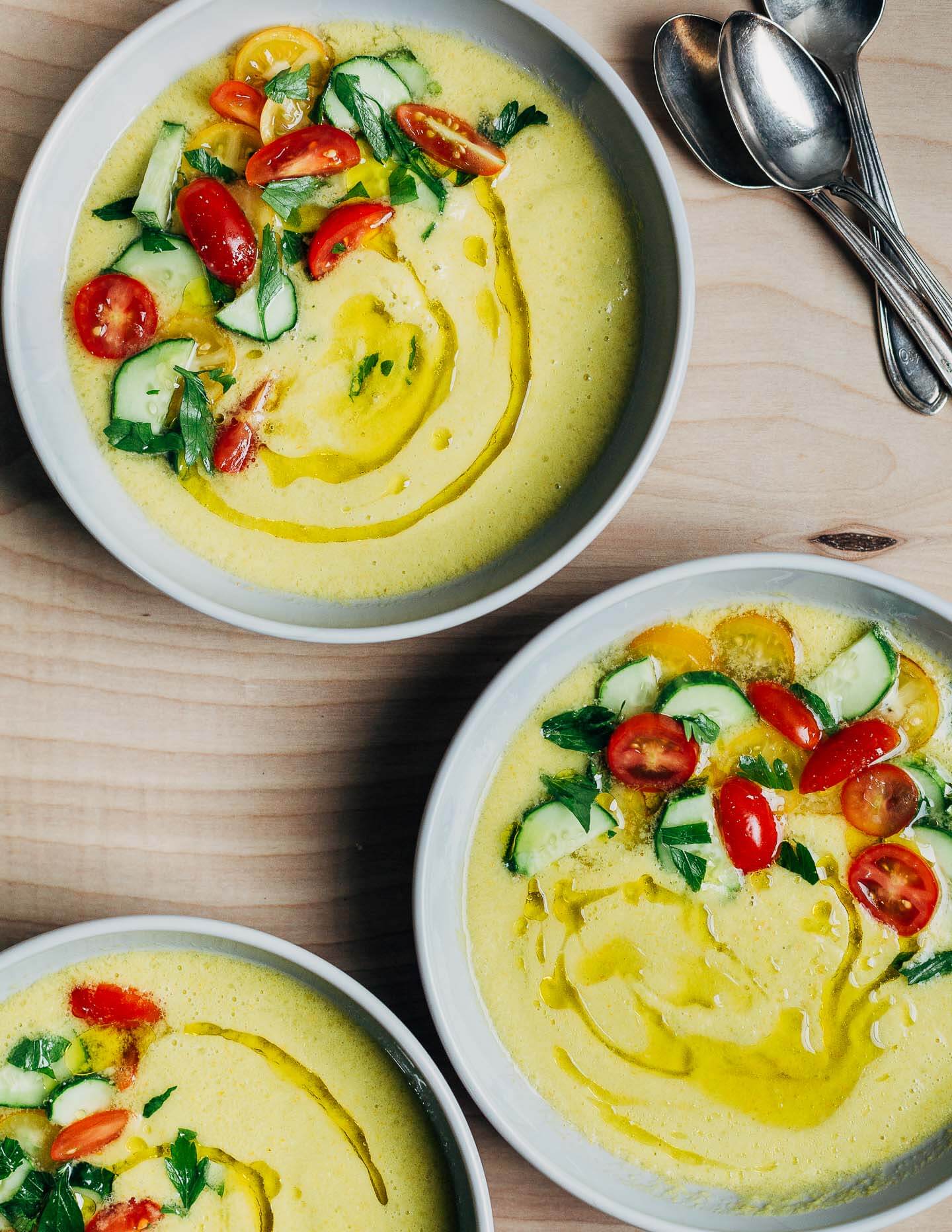 Step-By-Step
To start, I like to give the shallots and garlic a quick pickle with sherry vinegar and a pinch of sea salt. I just prep the alliums first and let them marinate while I prep everything else. If you're planning for red, orange, or yellow gazpacho, I recommend peeling the cucumbers. If making green gazpacho, perhaps with green zebra tomatoes, you have the option to peel or not. Along with about 2 1/2 pounds of tomatoes, you'll need 2 – 3 cucumbers, and a bell pepper – preferably one that coordinates with the desired gazpacho hue.
Next, you'll blend it all up until the soup is completely pureed, and with the blender on low, slowly drizzle in the olive oil, so the soup is nicely emulsified. To finish, taste and add vinegar or salt as needed, and chill thoroughly. That's it!
Olive Oil
A note: like lots of summer recipes, this recipe relies on olive oil for much of the flavor, so be sure you are using a good one. In this post, I talk a little bit about sourcing good olive oil. Two of my faves are Kirkland Organic Italian from Costco and Seka Hills Arbequina Olive Oil, which I order by the gallon.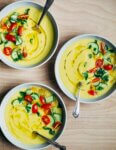 Yellow Gazpacho
A vibrant yellow gazpacho with a simple list of ingredients and huge, absolutely delicious peak summer flavor. Use the recipe as a jumping off point for gazpacho of any hue.
Ingredients
Gazpacho
¼

cup

minced shallot

1

clove garlic,

smashed, peeled, and minced

3

tablespoons

sherry vinegar

Pinch

sea salt,

plus ½ teaspoon, divided

2 ½

pounds

cored,

roughly chopped yellow tomatoes (tomatoes of any color can be substituted)

2

cups

peeled,

chopped cucumbers (about 3 - 4 small)

1

cup

seeded,

chopped yellow bell pepper (about 1 - 2 peppers)

⅓

cup

extra virgin olive oil
To Serve
Extra virgin olive oil for drizzling

1/4

cup

sliced cherry tomatoes

¼

cup

sliced cucumbers

2

tablespoons

minced parsley leaves
Instructions
In a small bowl, combine the shallot, garlic, vinegar, and a pinch of sea salt. Set aside while you prep the remaining ingredients.

In the pitcher of a blender, combine shallot and vinegar mixture, tomatoes, cucumbers, bell pepper, and ½ teaspoon sea salt. If the pitcher is overfilled, blend half the ingredients and then add the rest. Blend until mixture is completely smooth and velvety. With blender on low, drizzle in olive oil very slowly through the pour spout. The oil should be nicely emulsified – don't rush this step. Taste and add additional vinegar or sea salt as needed.

Chill gazpacho for at least an hour.

Ladle into bowls, drizzle with olive oil, and garnish with sliced tomatoes, cucumbers, and parsley.