Perfectly crisp roasted potato wedges are an ideal complement to spicy, herbaceous zhug (also known as zhoug, s'hoog, or sahawiq), the Yemeni condiment you'll want to put on everything.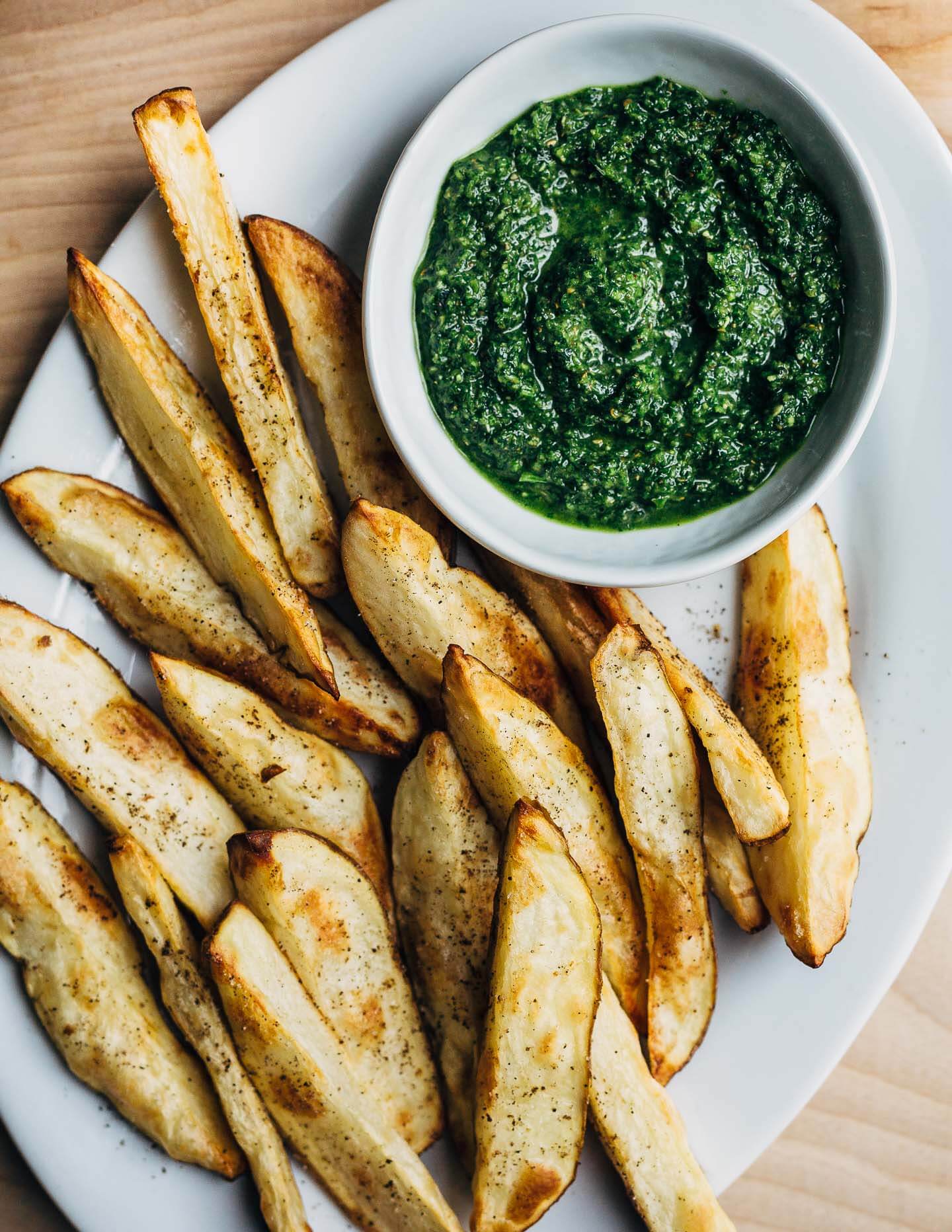 I'm on a constant mission to hone my dinner skills. This mission has professional overtones, sure, but it's also in the service of a daily need to get dinner on the table. One of my core dinner tenets is that a good sauce, relish, raita, or pesto makes nearly everything better. On weeks when I'm on my game, I make up one or two interesting condiments to liven up meals throughout the week.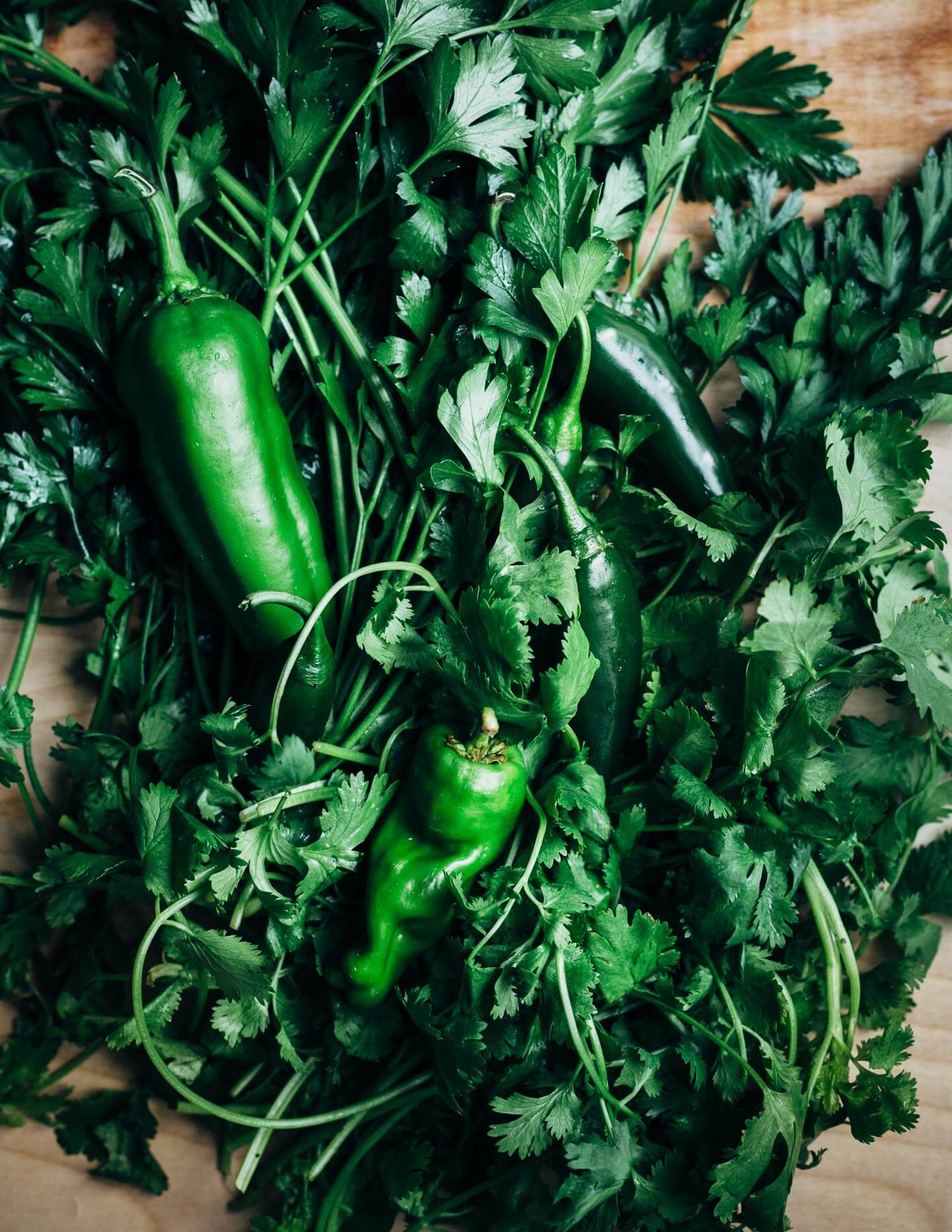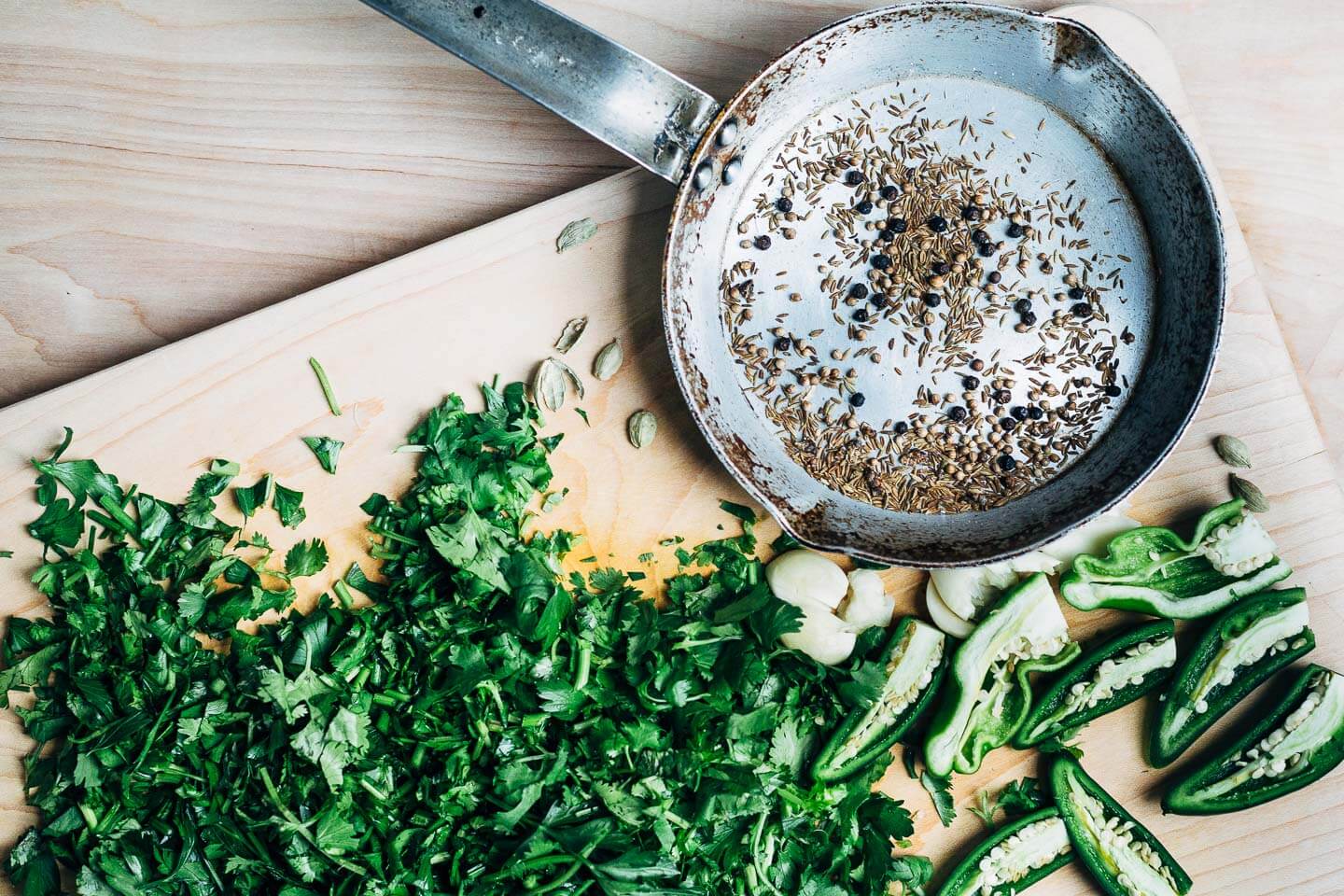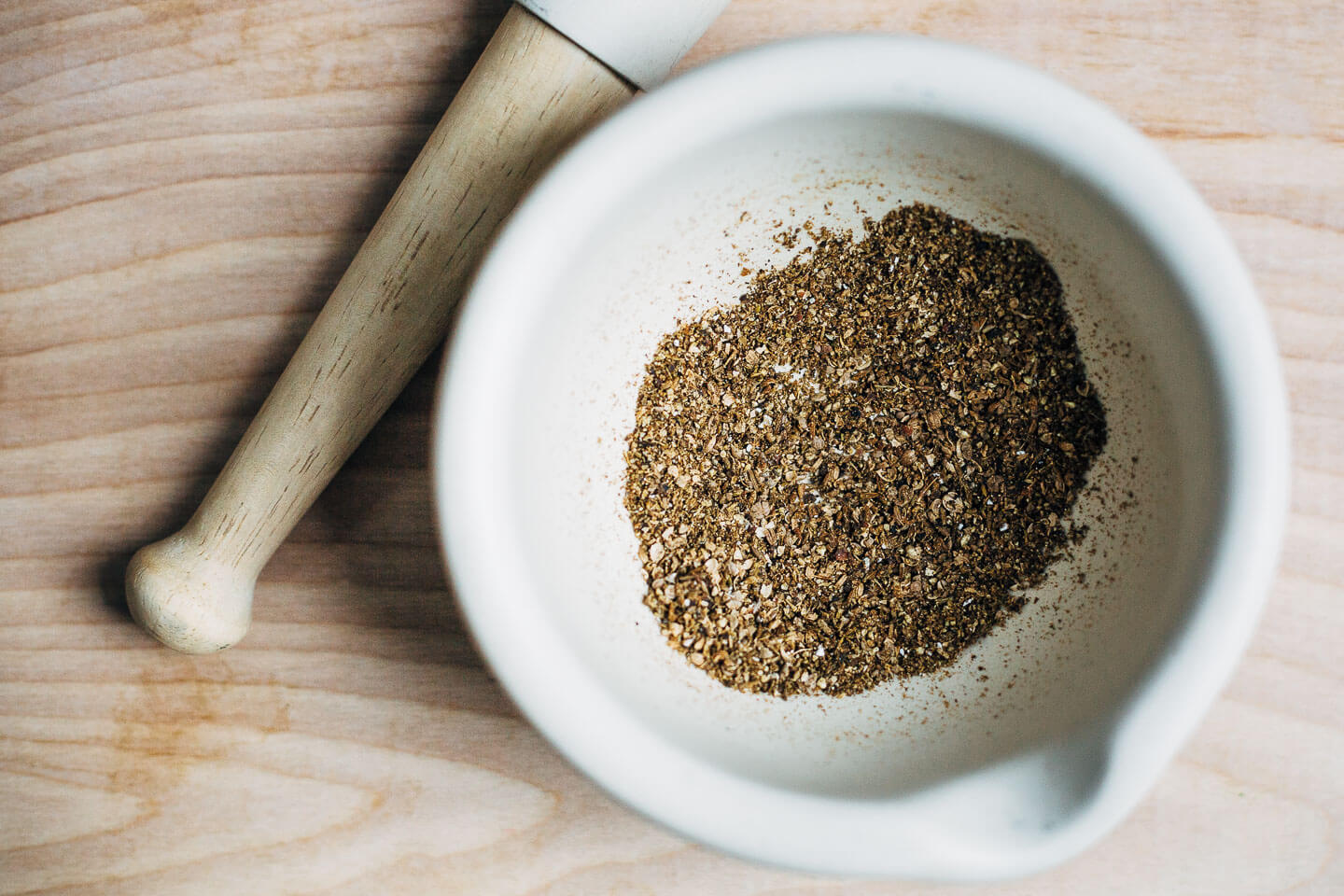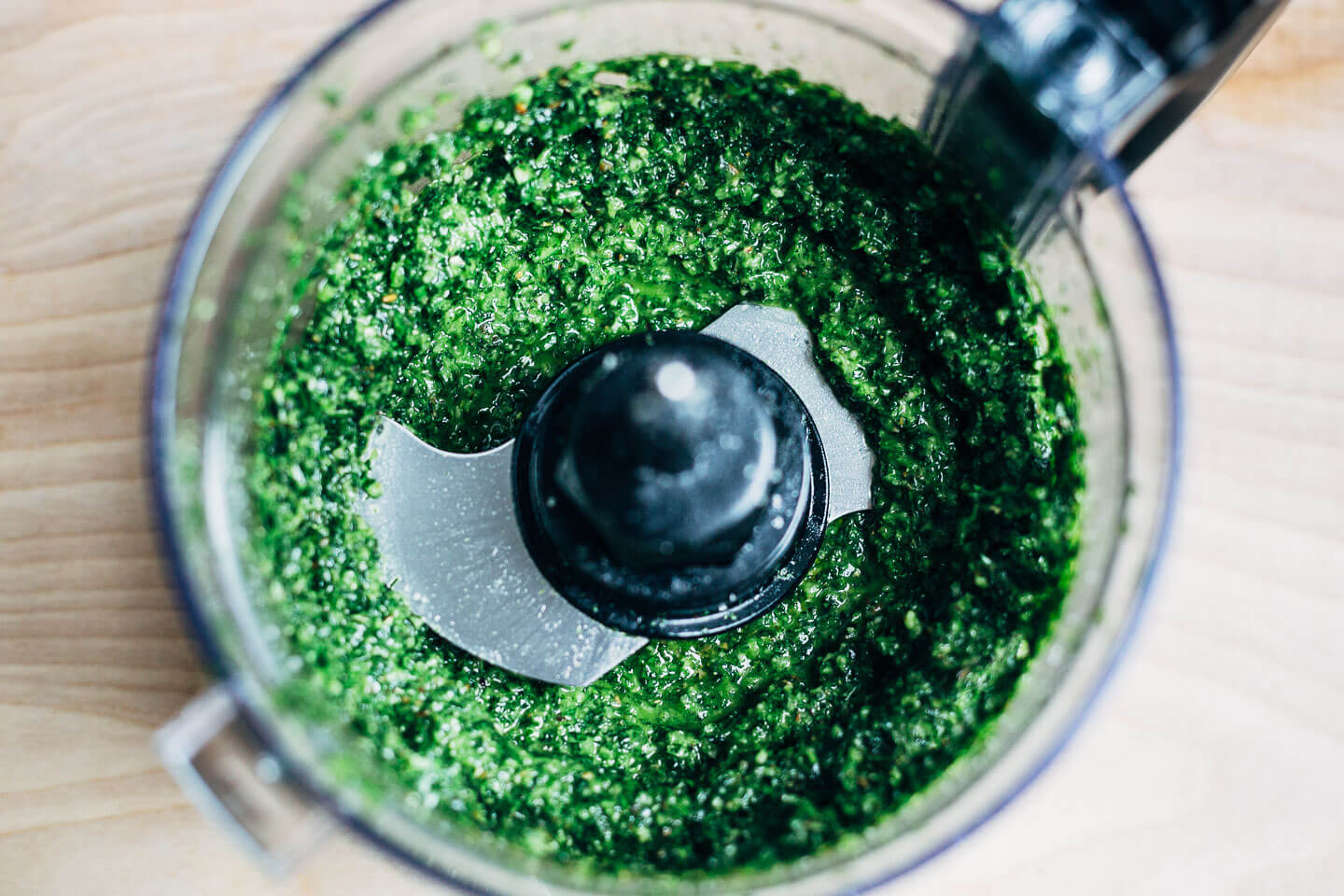 Zhug: Spicy and Delicious
Currently, my favorite dinnertime condiment is homemade zhug. Zhug (also known as zhoug, s'hoog, or sahawiq) is a spicy Yemeni condiment that's popular throughout the Middle East. It's made simply with a mix of toasted ground cardamom, cumin, and other spices, garlic, green or red chilies, and a mix of cilantro and parsley. Some recipes include lemon, but I prefer it without.
Like many, I first got hooked on pre-made Trader Joe's zhug (they call it zhoug) and discovered it was fantastic on everything. Zhug lends spicy depth to eggs, roasted vegetables, and grains. It can be dolloped into soups or swirled into yogurt for a quick cooling side. Now I prefer making it at home so I can control the heat and the exact mix of spices used. If you have a rough textured mortar and pestle, you can make it that way, but zhug is also great (and super fast!) to make in the food processor.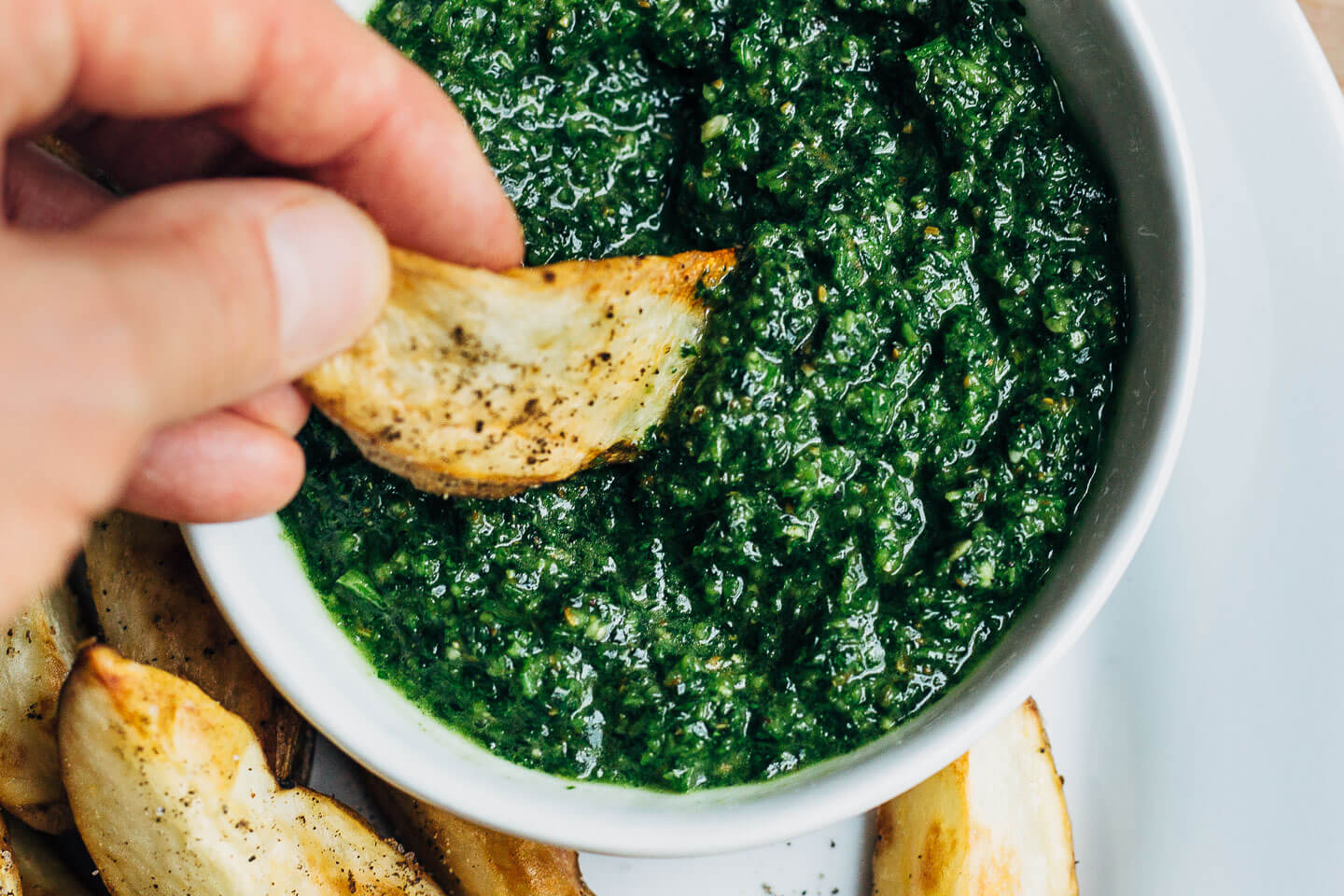 Crispy Potato Wedges: Perfect Every Time
Long ago, I posted about the perfect oven fry. These thick-cut wedges have a little more heft than oven fries, but rely on many of the same concepts to cook up perfectly crisp and golden.
Fist, you'll want to slice wedges as evenly as possible so they'll cook in about the same amount of time. The next essential step is to rinse sliced potatoes in cold water until it runs clean. Pat dry, then set skin side down on a tea towel and let dry completely for about 15 minutes. Toss potatoes with just a drizzle of oil, plus sea salt and pepper, then arrange skin side down on 1 or 2 baking sheets. Roast 20 minutes, flip, and roast 10 – 20 minutes more.
I've been working in this technique for about a year, and find that the extra steps of letting the rinsed potatoes dry and roasting with the skin side down to allow maximum air circulation around the potato flesh, make for the crispiest possible potatoes. And just as I recommended here, plenty and space and a methodical flip are essential.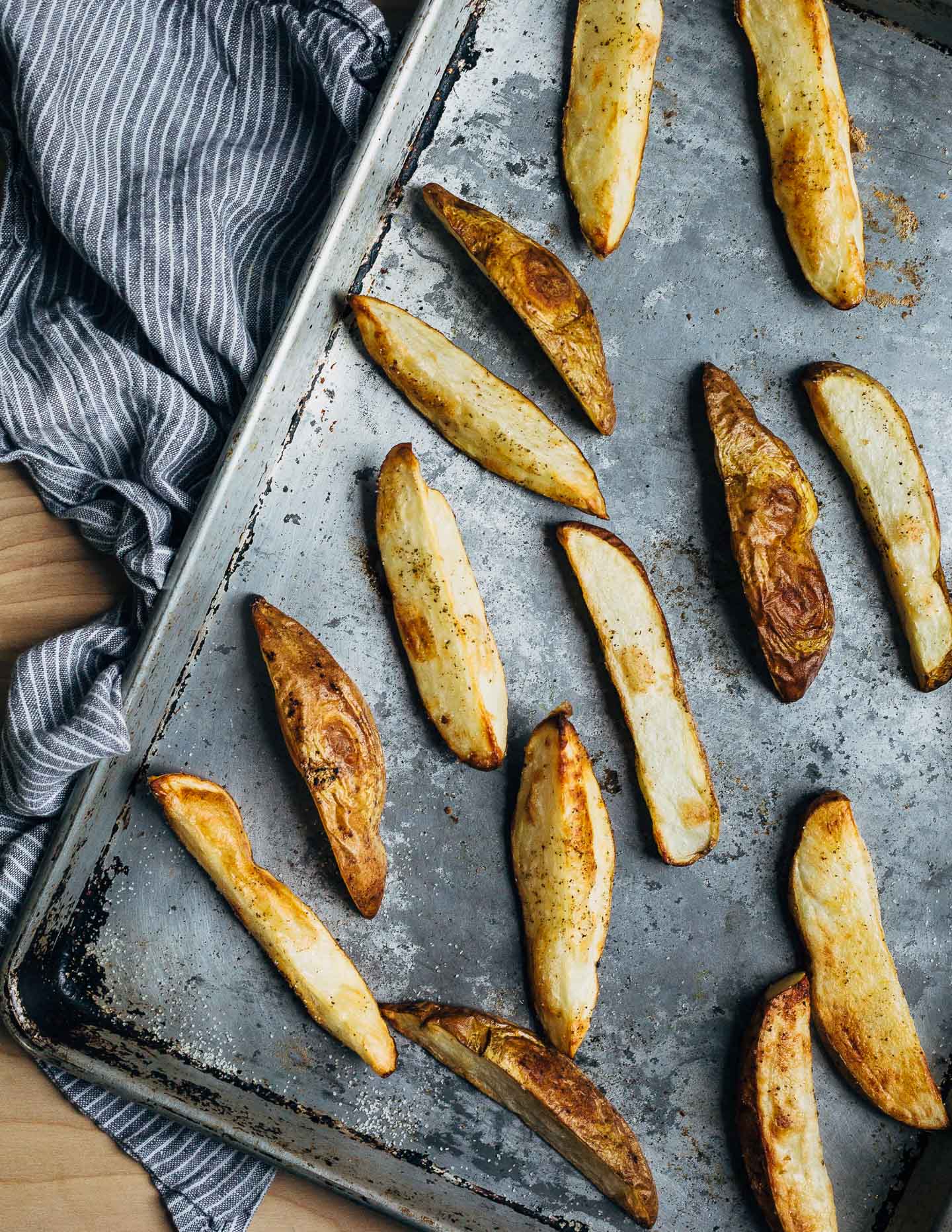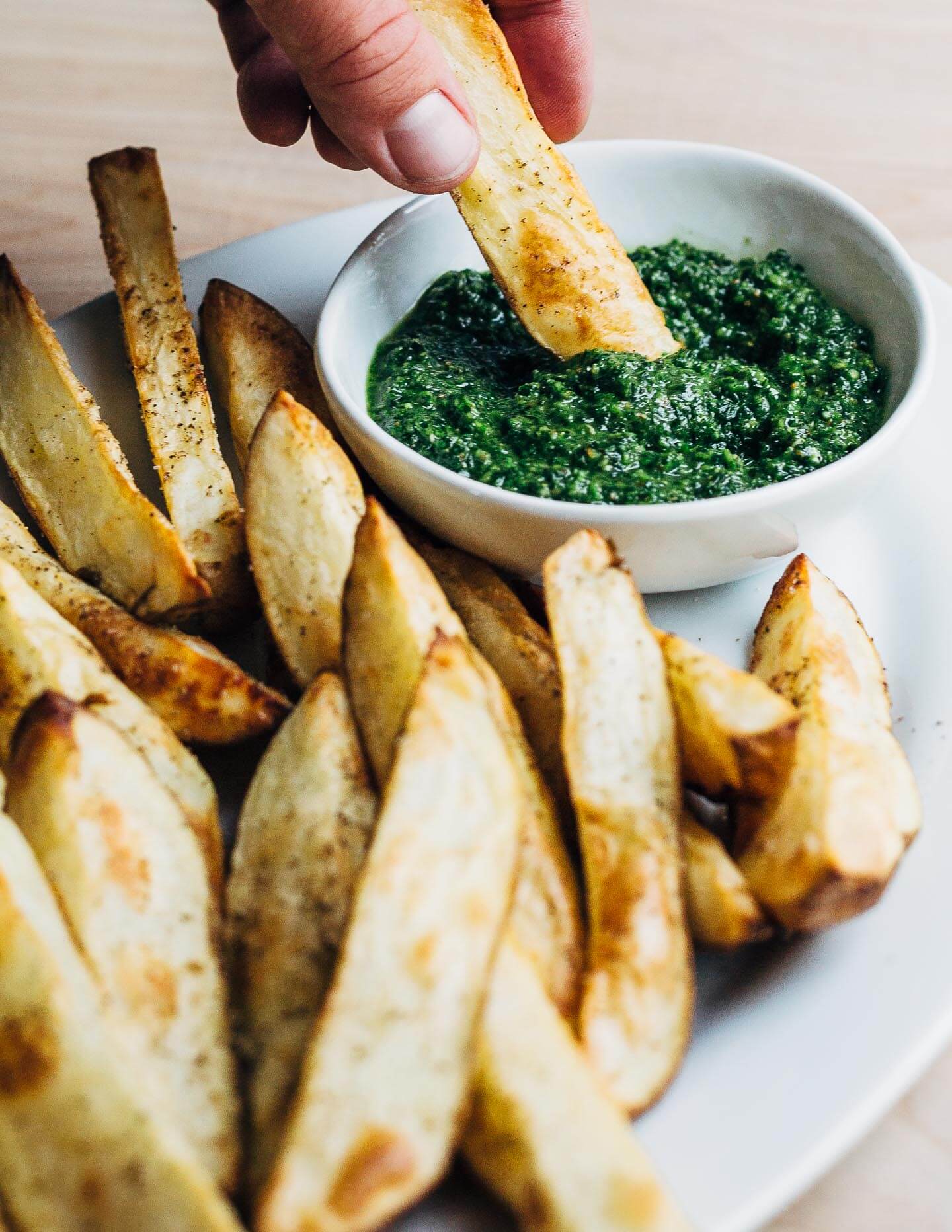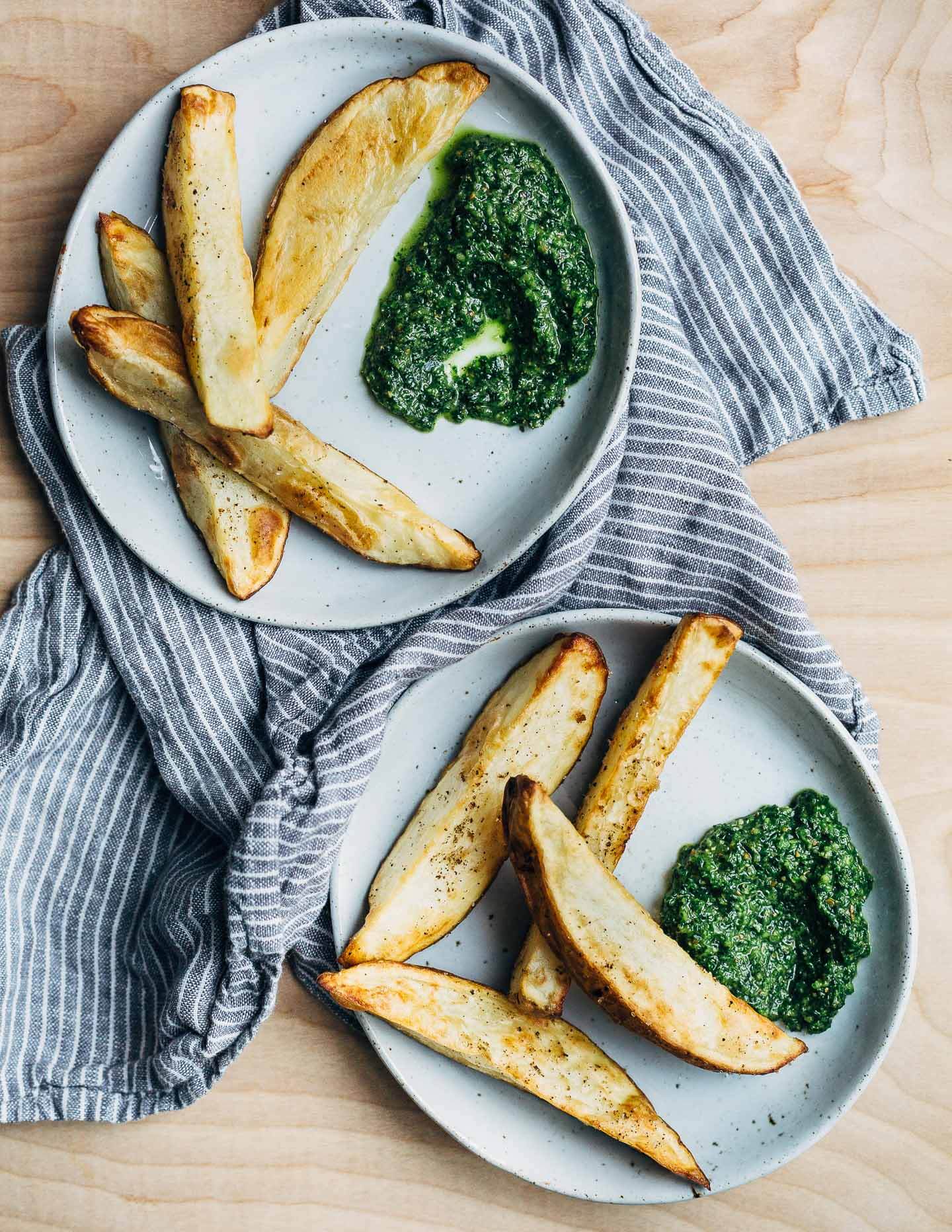 Don't miss a recipe! Follow Brooklyn Supper on Instagram, Facebook, and Pinterest.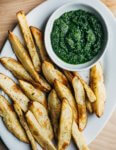 Zhug (Spicy Cilantro Sauce) with Crispy Roasted Potato Wedges
Perfectly crisp potato wedges are an ideal complement to spicy, herbaceous zhug, the Yemeni condiment you'll want to put on everything. For a complete meal, add the protein of your choice alongside.

Zhug should be quite spicy – I used 3 spicy and 1 mild chili here. Zhug will keep sealed in the fridge for about 3 days.
Ingredients
Potatoes
4

large russet potatoes,

scrubbed and cut into 1-inch wedges

1

tablespoon

heat tolerant oil like grapeseed or canola

1

teaspoon

fine sea salt

1/2

teaspoon

fresh ground pepper

1/2

teaspoon

garlic powder
Zhug
2

cardamom pods

or 1/4 teaspoon cardamom seeds

1/2

teaspoon

cumin seed

1/2

teaspoon

coriander seed

1/2

teaspoon

black peppercorns

1/2

bunch cilantro,

stems and all

1/2

bunch parsley,

stems and all

4

cloves

garlic,

smashed and peeled

2 - 4

hot green or red chilies

(I used a mix of mild Hatch and spicy Serrano chilies), seeds and pith removed

1

teaspoon

sea salt,

plus more to taste

1/2

cup

extra virgin olive oil
Instructions
Set potatoes in a medium bowl and rinse several times with cold water until water runs clear. Pat dry and arrange skin side down on a towel and air dry for 15 minutes. Dry the bowl and set aside.

Preheat oven to 425 degrees F.

In a small skillet, toast cadamom, cumin, coriander, and peppercorns just until fragrant, 3 - 4 minutes. Cool briefly, then grind in with a mortar and pestle or spice grinder.

In the bowl of a food processor, pulse to combine ground spices, herbs, garlic, 2 or 3 chilies, and sea salt. When mixture has a relish-like texture, switch food processor on and drizzle in olive oil. Taste, and pulse in additional chilies and sea salt to taste. (Keep in mind that the spiciness will mellow after a day.)

Once potatoes are dry, set them in the same bowl used for rinsing, and toss with oil, sea salt, and pepper. Arrange skin side down on 2 baking sheets, allowing plenty of room. Roast 20 minutes, flip wedges, and then roast 10 - 20 minutes longer. (Roast time can be longer with two baking sheets in the oven.) Pull when potatoes are golden and crisp, but not at all burnt.

Serve immediately with a big spoonful of zhug.