A quick and summery dinner recipe featuring savory zucchini noodles and cilantro pesto topped with broiled salmon.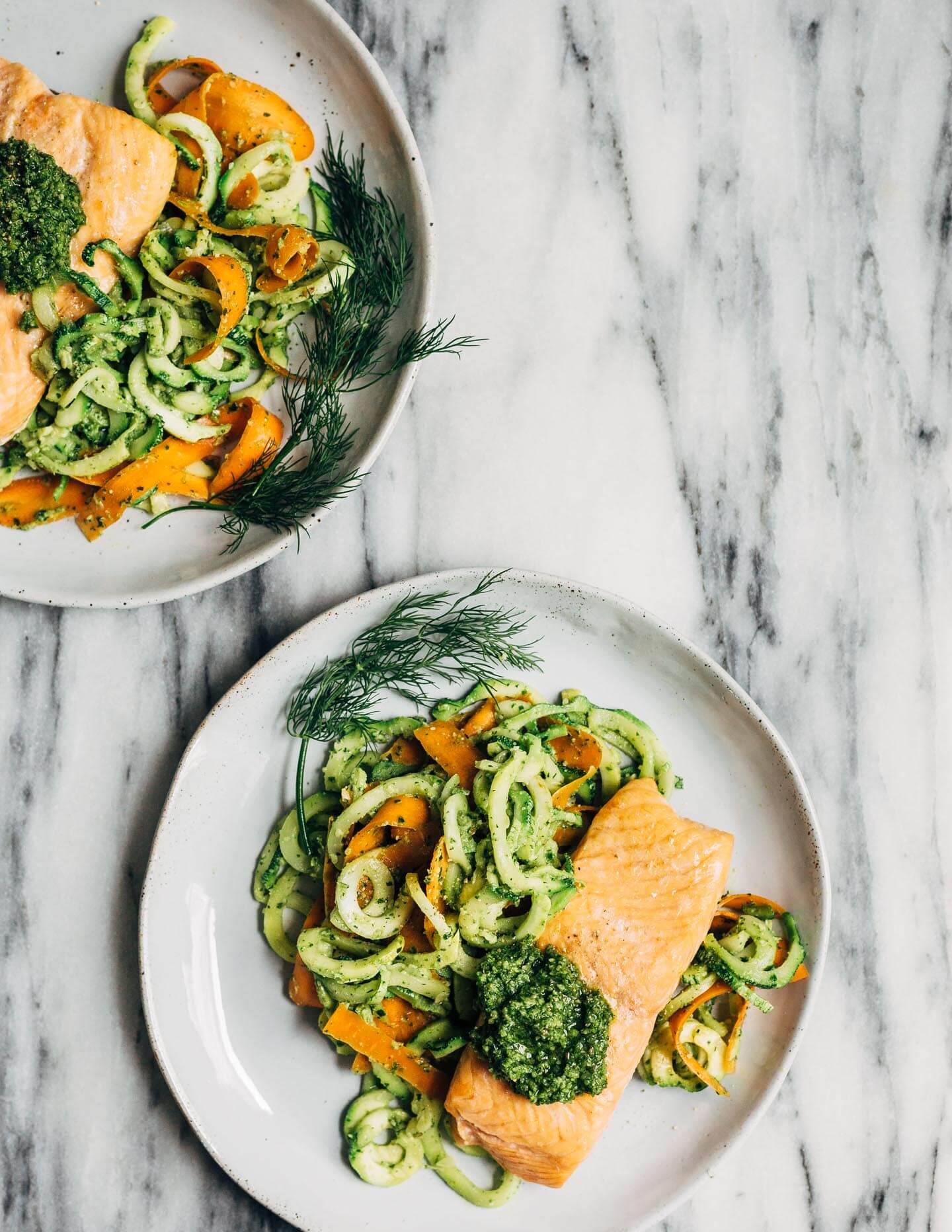 I have a single zucchini plant in the backyard. In April, I dropped the seeds in the ground with the mixture of wonderment and uncertainty that accompany any attempt to sprout life from a little seed.
Predictably, that small seed is now a massive 10 x 8-foot plant that's probably visible from space. So the zucchini are endless. We're making zoodles, breads, roasting, sautéing, and generally keeping up with it. If you're growing zucchini or a member of a CSA, chances are also you have a little too much of a good thing.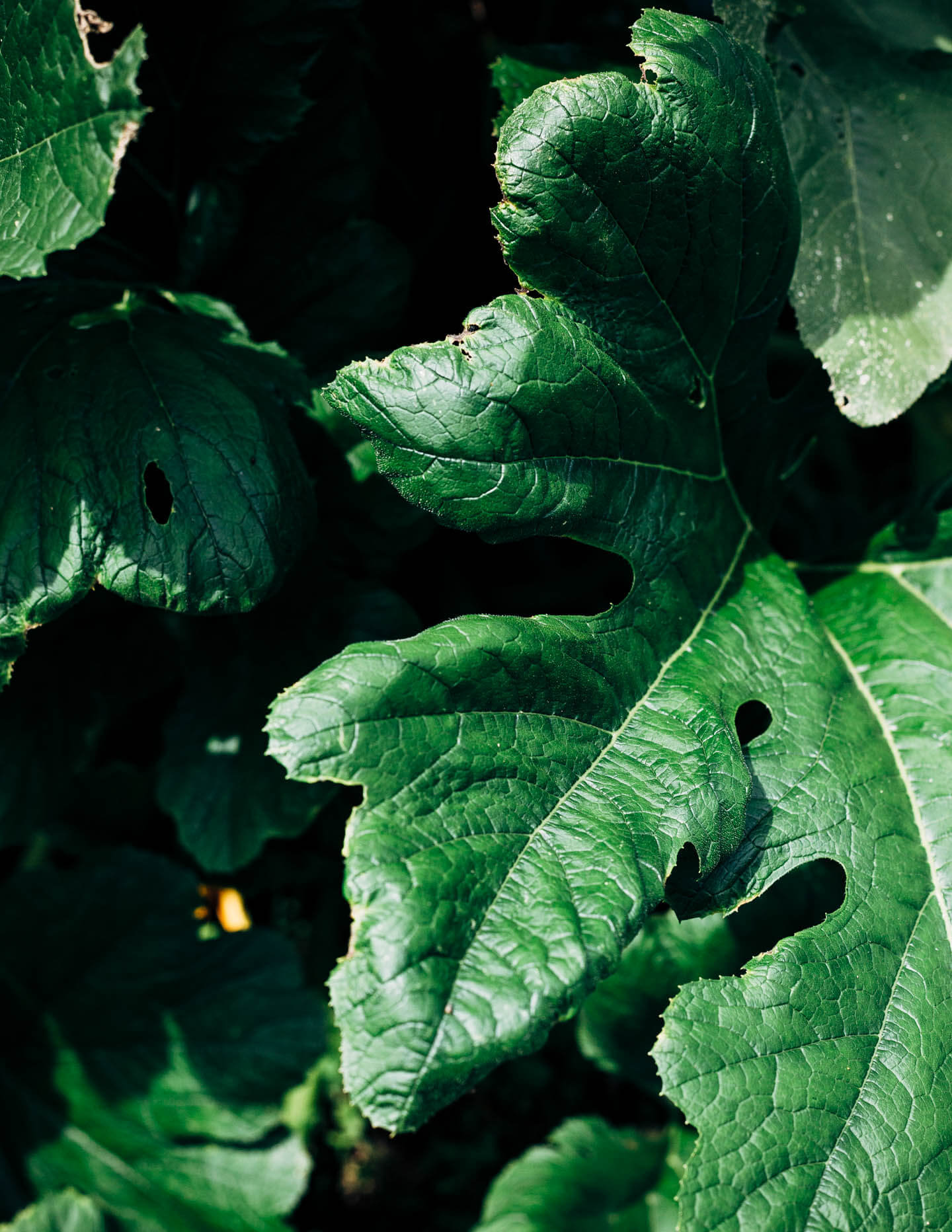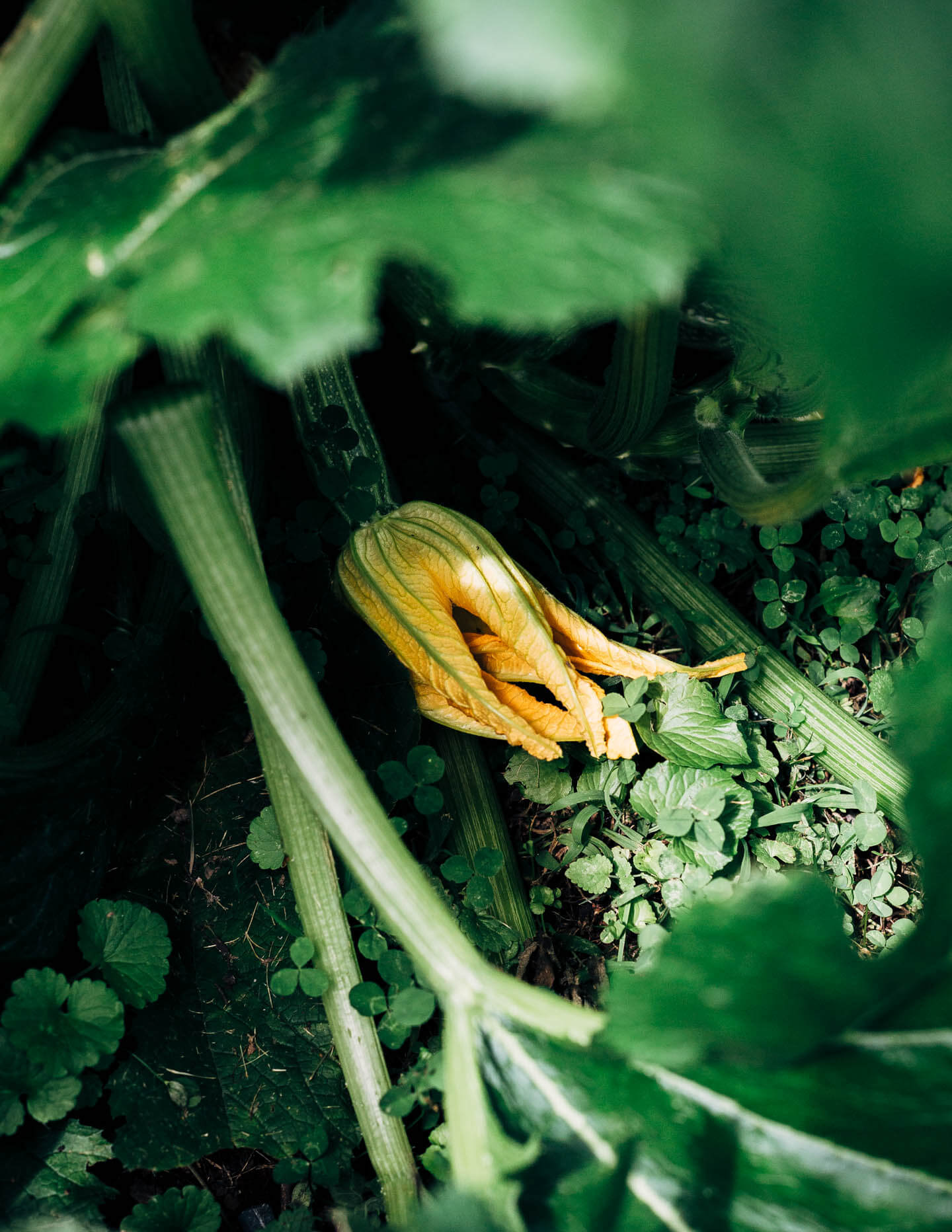 These zucchini noodles with cilantro pesto will only make a dent in the glut, but we have to try, right? And anyway, zucchini pesto noodles are just plain delicious. Here, they have a few carrot ribbons mixed in for color and are topped with broiled salmon, a simple fried squash blossom, and an extra dollop of pesto for good measure.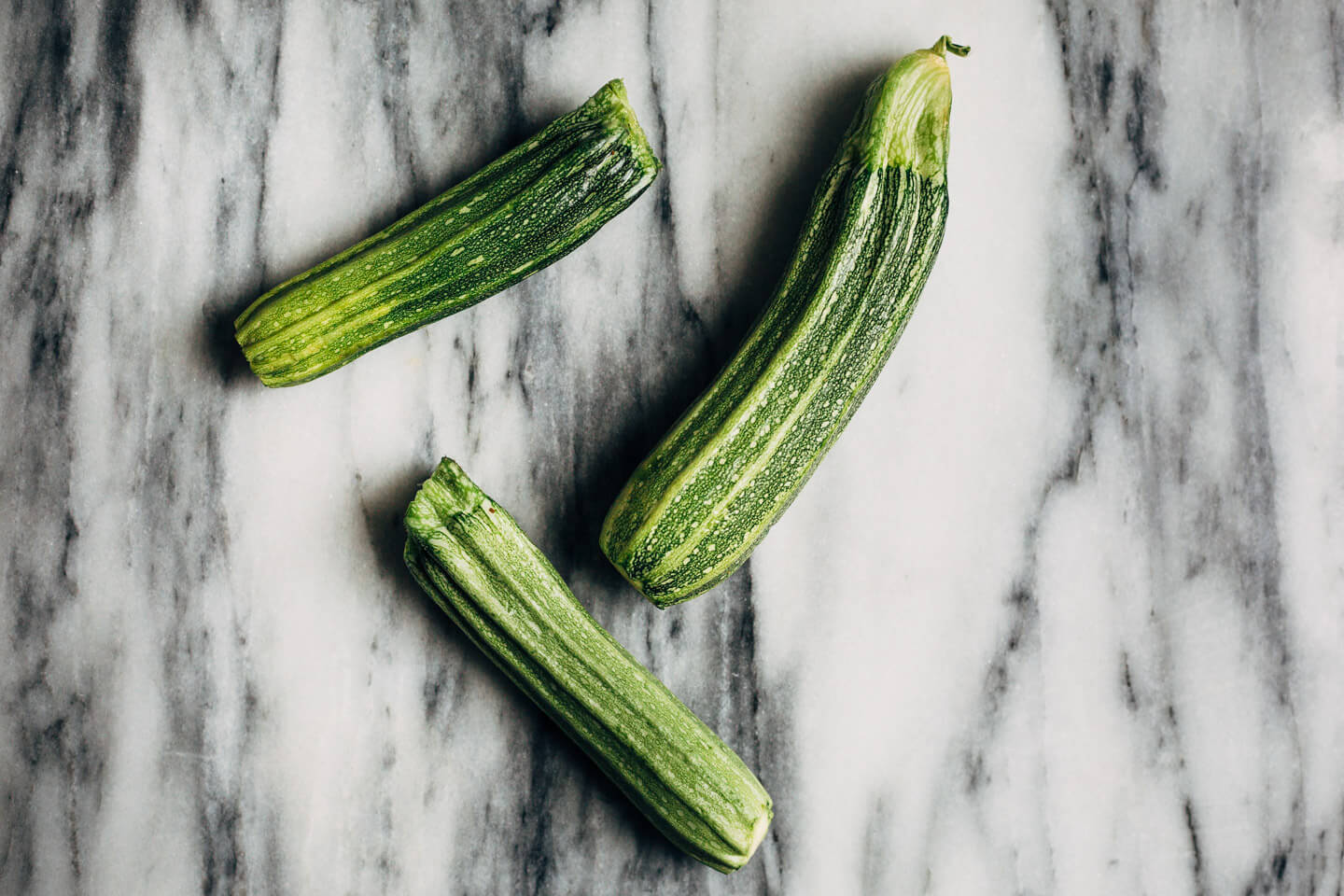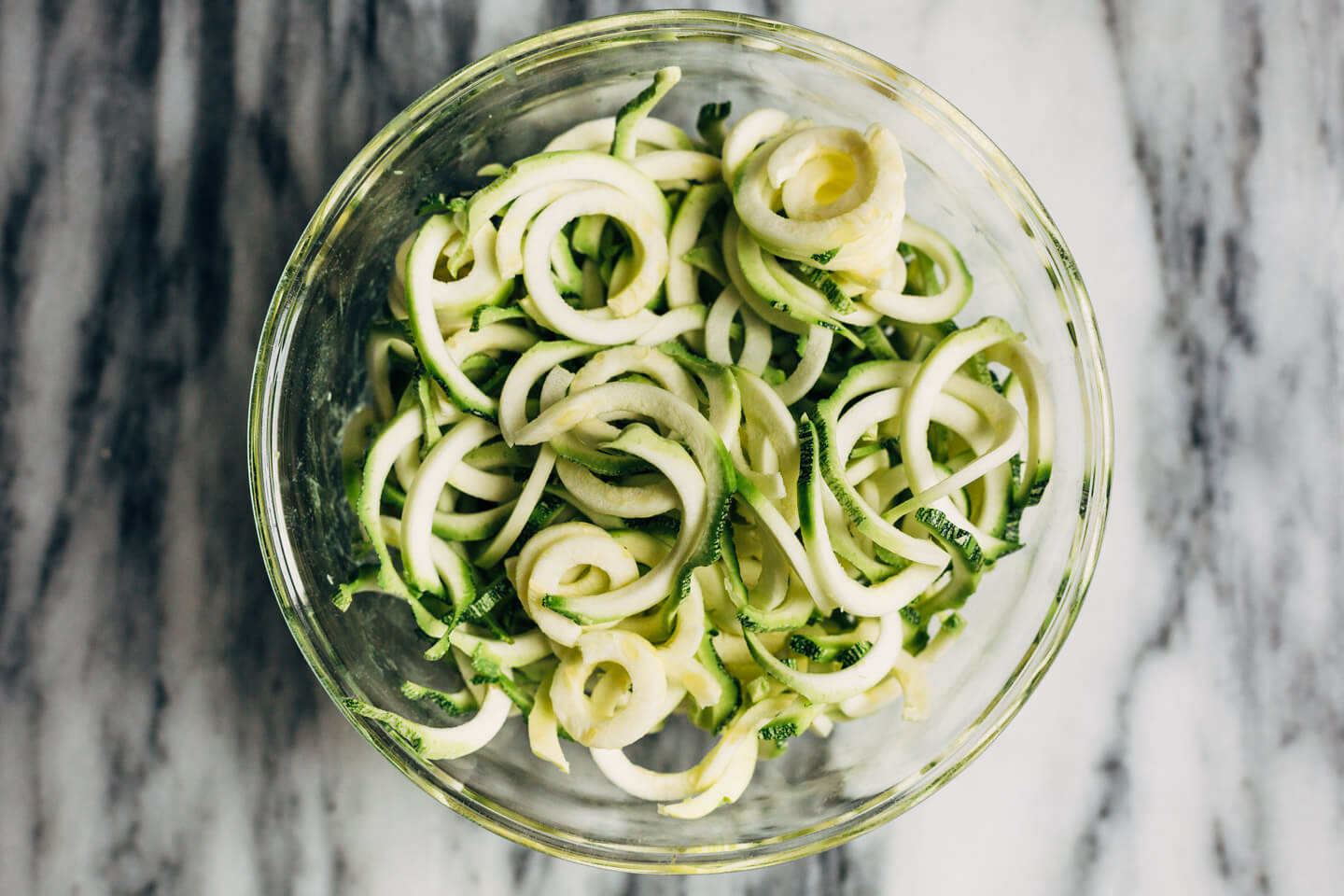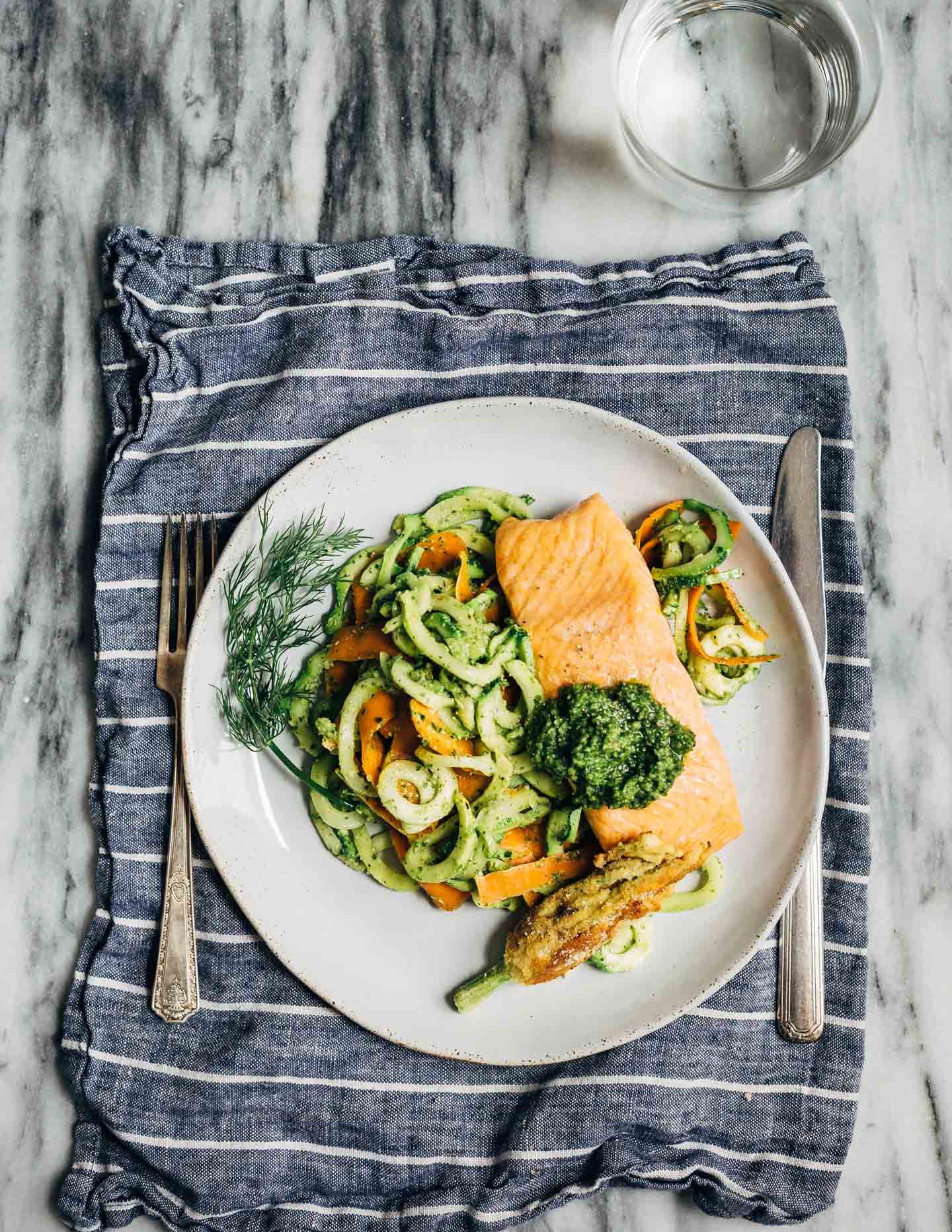 The pesto I've made here doesn't feature basil. Rather, it's made with a mix of cilantro and parsley with just a hint of dill. It's rich, deeply savory, and is delicious on zucchini noodle and salmon alike.
I sort of live for corny zucchini jokes, but the desperation in unloading zucchini is real. If you need a few more ideas, here's last year's newsletter featuring at least six good ways to use the stuff. By the way, you can sign up for the (mostly) weekly BkS newsletter in my right hand side bar.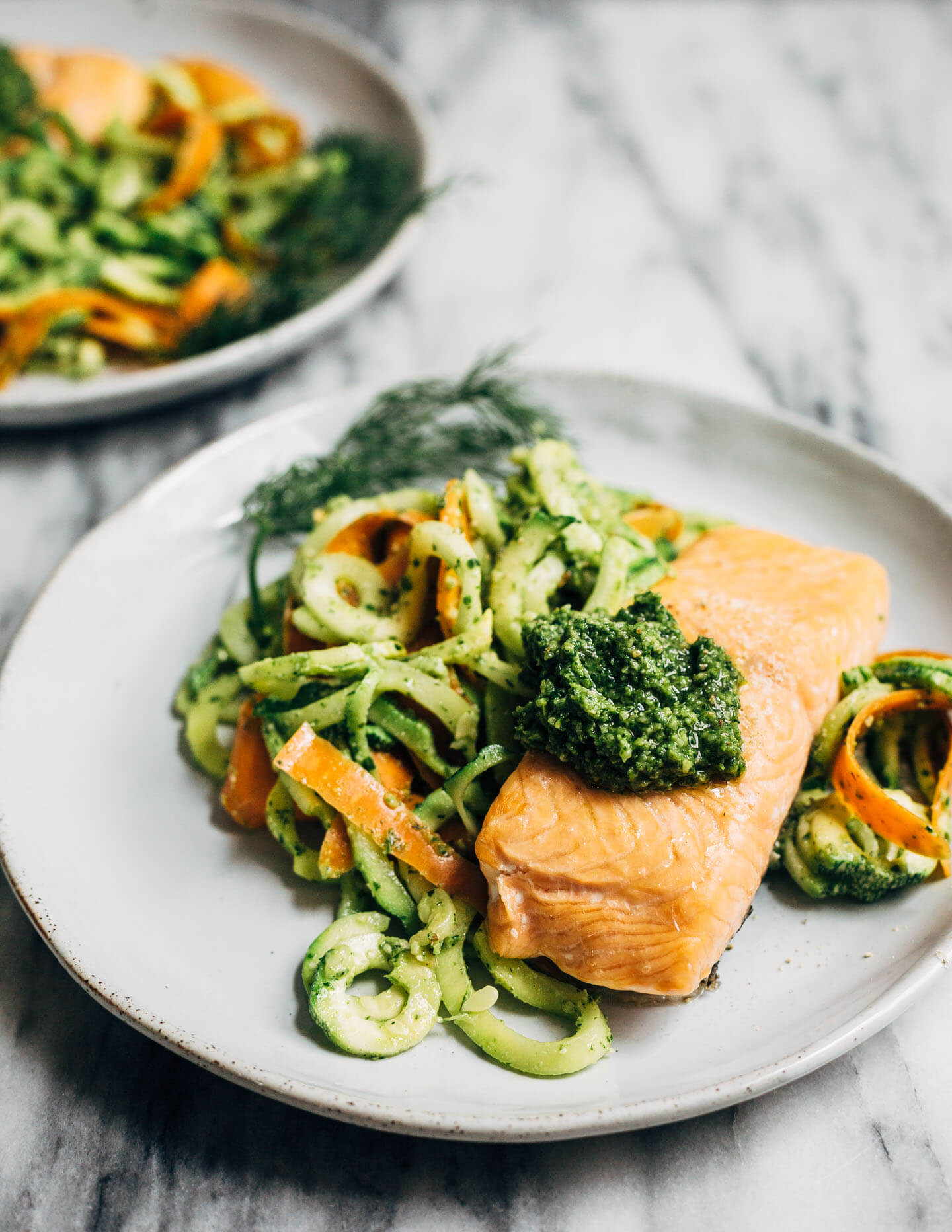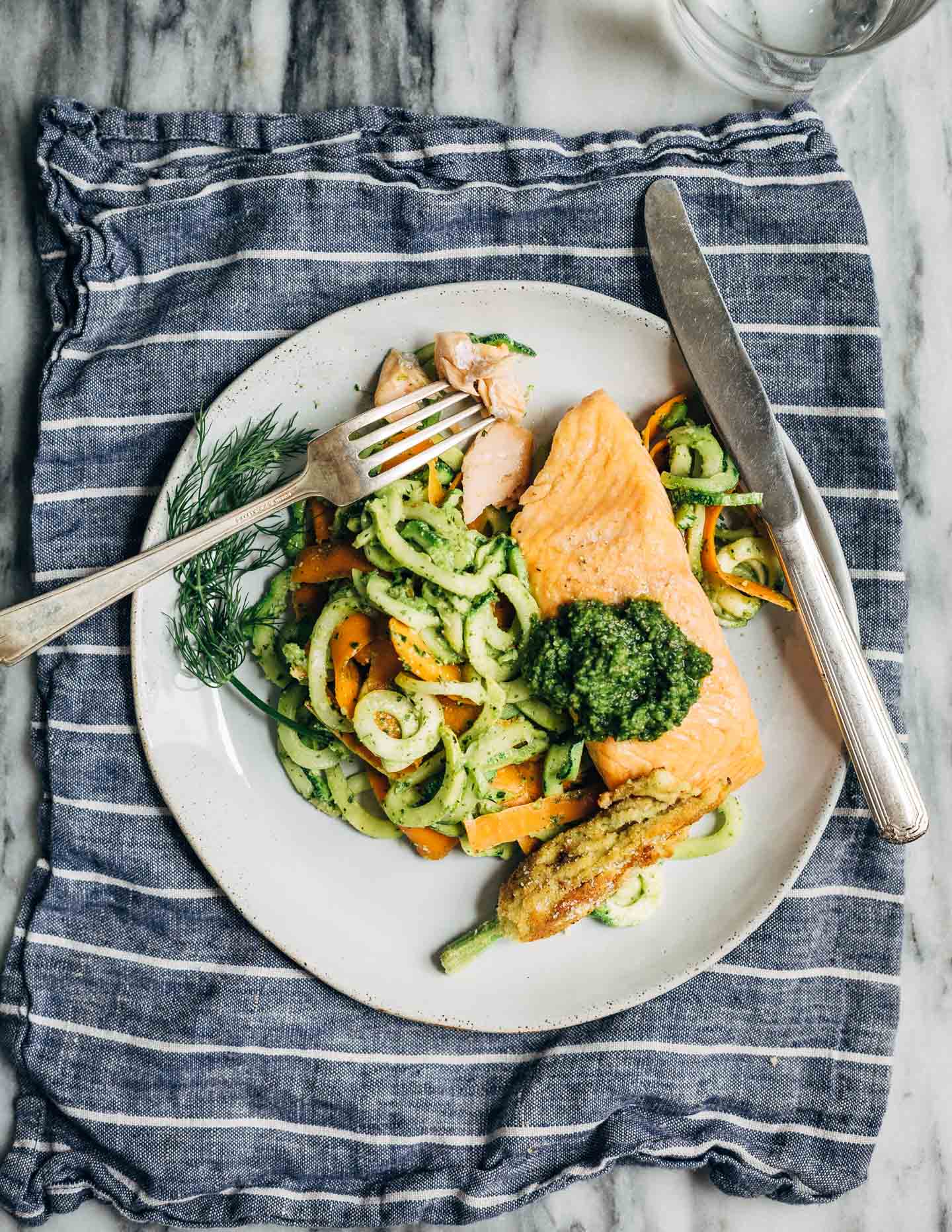 Don't miss a recipe! Follow Brooklyn Supper on Instagram, Facebook, and Pinterest.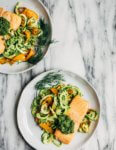 Zucchini Noodles with Cilantro Pesto and Salmon
A quick and summery dinner recipe featuring savory zucchini noodles and cilantro pesto topped with broiled salmon. 
Keyword:
salmon, zoodles, Zucchini noodles, zucchini pesto
Ingredients
Vegetables
1

large or 2 medium zucchini,

ends trimmed, spiralized

2

medium to large carrots,

scrubbed clean and peeled into ribbons with a y-handle peeler

Lemon juice

Sea salt
Pesto
1

cup

cilantro,

stems and all, chopped

1

cup

parsley,

stems and all, chopped

2

tablespoon

chopped dill

1/2

cup

pepitas,

preferably soaked at least 2 hours and drained

1

clove

garlic,

smashed and peeled

1

tablespoon

lemon zest and 2 tablespoons juice

1/2

teaspoon

sea salt

6

tablespoons

extra virgin olive oil
Salmon
4 5-

ounce

salmon fillets,

pin bones removed

2

tablespoons

olive oil

Sea salt

Pepper
Instructions
Prep zucchini noodles and carrot ribbons. Toss carrot ribbons with a squeeze of lemon juice and a couple pinches sea salt. Toss and set aside while you prep the other ingredients.

To make the pesto, in the bowl of a food processor, place herbs, pepitas, garlic, lemon zest and juice, and sea salt and pulse several times to combine. Scrape down sides and pulse several times more. With food processor running, drizzle in olive oil. Taste, and add sea salt, lemon, or additional olive oil to taste.

To cook noodles, add half the olive oil to a large skillet over medium/medium-high heat. Add half the zucchini noodles and sprinkle with sea salt. Cook just until noodles wilt slightly, 2 - 3 minutes. Remove to a large bowl. Repeat fro second batch. When noodles are cooked, add carrots and fold in 1/3 cup pesto. Add sea salt to taste.

Set broiler to high heat. Drizzle salmon with olive oil, and sprinkle generously with sea salt and pepper. Arrange salmon on a rimmed baking sheet. Slice under broiler and cook 8 - 10 minutes, or just until fish is opaque.

Plate noodles, set salmon on top, and finish with a dollop of pesto. Serve immediately.
Recipe Notes
This recipe os garnished with a zucchini blossom – I just dipped it in egg and coconut flour and fried it in olive oil. I'm hoping to share a more in-depth zucchini blossom recipe soon.