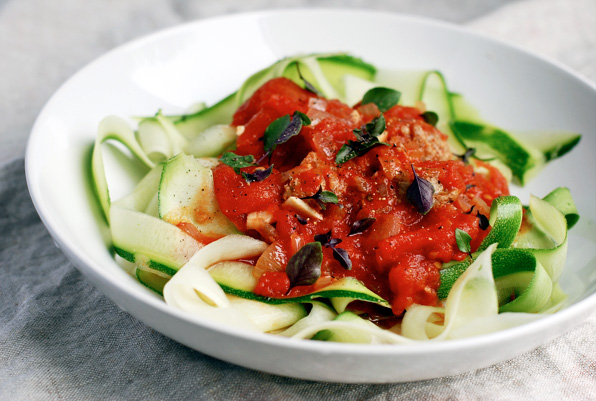 Yesterday I took the girls to the playground late in the day. Despite the persistent (and totally annoying) humidity we've had in NYC lately, I was struck by the long evening shadows and golden light. Could it be that fall is really coming? The breeze whipping a strand of frizzy hair into my face seemed to say it is.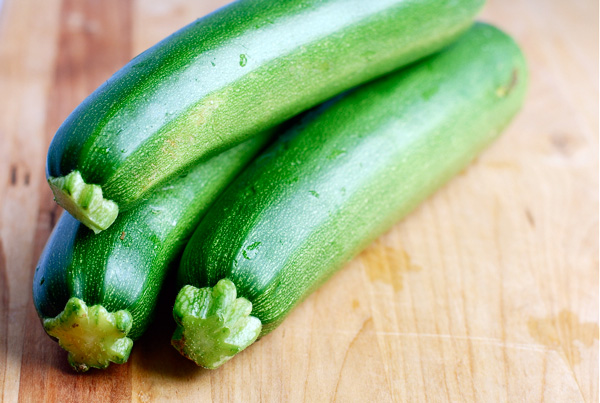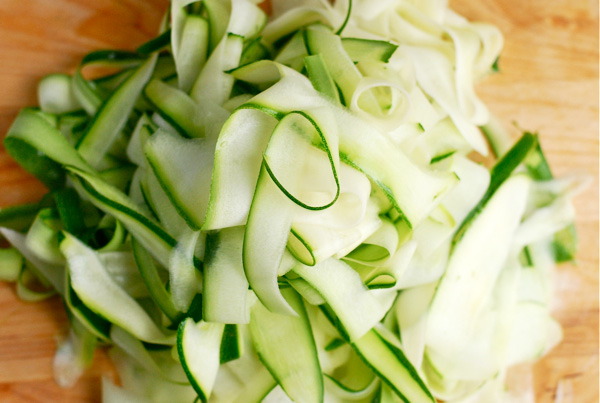 Although it's still sticky, the slightly cooler weather and the promise of fall means we can cook food – without fear of how hot it's making the place – again. But as I'm not quite ready for heavy foods, we had the best of both worlds with these zucchini noodles topped with tomato sauce and sausage.
Zucchini noodles are a trend I had been a little down on. They seemed healthy; maybe even too healthy? But they're actually fantastic. My new favorite noodles, even. At once meaty and light, you can eat as many as you want–they're vegetables after all. Added bonus: they use up a ton of zucchini. You're welcome.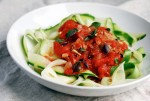 Tomato Sauce and Sausage over Zucchini Noodles
Simple, yet intensely flavorful sausage marinara is balanced beautifully by tender zucchini noodles.
Keyword:
Zucchini noodles
Ingredients
Sausage Marinara
1

pound

Italian pork sausage,

sliced into 1/2-inch wide coins

1

red onion,

minced

4

cloves

garlic,

smashed and minced

1

quart

whole peeled tomatoes

1/4

cup

minced fresh herbs such as basil or parsley

Drizzle balsamic vinegar or wine
Zucchini Noodles
3

- 4 large zucchini

1

- 2 tablespoons extra virgin olive oil

sea salt
Instructions
To make marinara, heat a wide, deep skillet over medium-high heat. Add sausage coins, and cook until they are browned nicely on both sides, 7 - 10 minutes. Remove sausage from skillet and set aside, pour off all but 2 tablespoons of the fat. With skillet still over medium-high heat, cook onion until translucent, add garlic, and cook 1 minute more. Pour in tomatoes, squeezing each whole tomato with your hand as you add it. Add sausage. Heat everything until bubbling vigorously and then turn heat to low.

Continue to cook over low heat, stirring occasionally, at least 30 minutes, but up to 2 hours for optimal thickness and flavor.

Just before serving, add minced herbs (saving just a few for garnish), add salt to taste, add the splash of vinegar or wine, and a few twists of fresh ground pepper.

To make the zucchini noodles, trim the top and bottom form the zucchini. Using a sharp vegetable peeler, mandoline, or julienne peeler, shave or slice the "noodles" from the zucchini up to the seeded core. You will have quite a bit of the seeded section of the zucchini left over, as well as a meaty part above and below — set them aside for another use.

Heat a large skillet over medium-high heat. Add 1 tablespoon olive oil. Place two large handfuls of the "noodles" in the skillet, sprinkle with a big pinch of sea salt, and sauté 2 - 3 minutes, removing zucchini just before they release their water. Cook remaining zucchini in batches. Cooking in batches will keep zucchini from getting too soggy or releasing too much water. You may need to add an additional drizzle of olive oil between batches.

To serve, place noodles in a large, wide bowl, and ladle several spoonfuls of sauce over top. Finish with a sprig of fresh herbs and a twist of pepper.