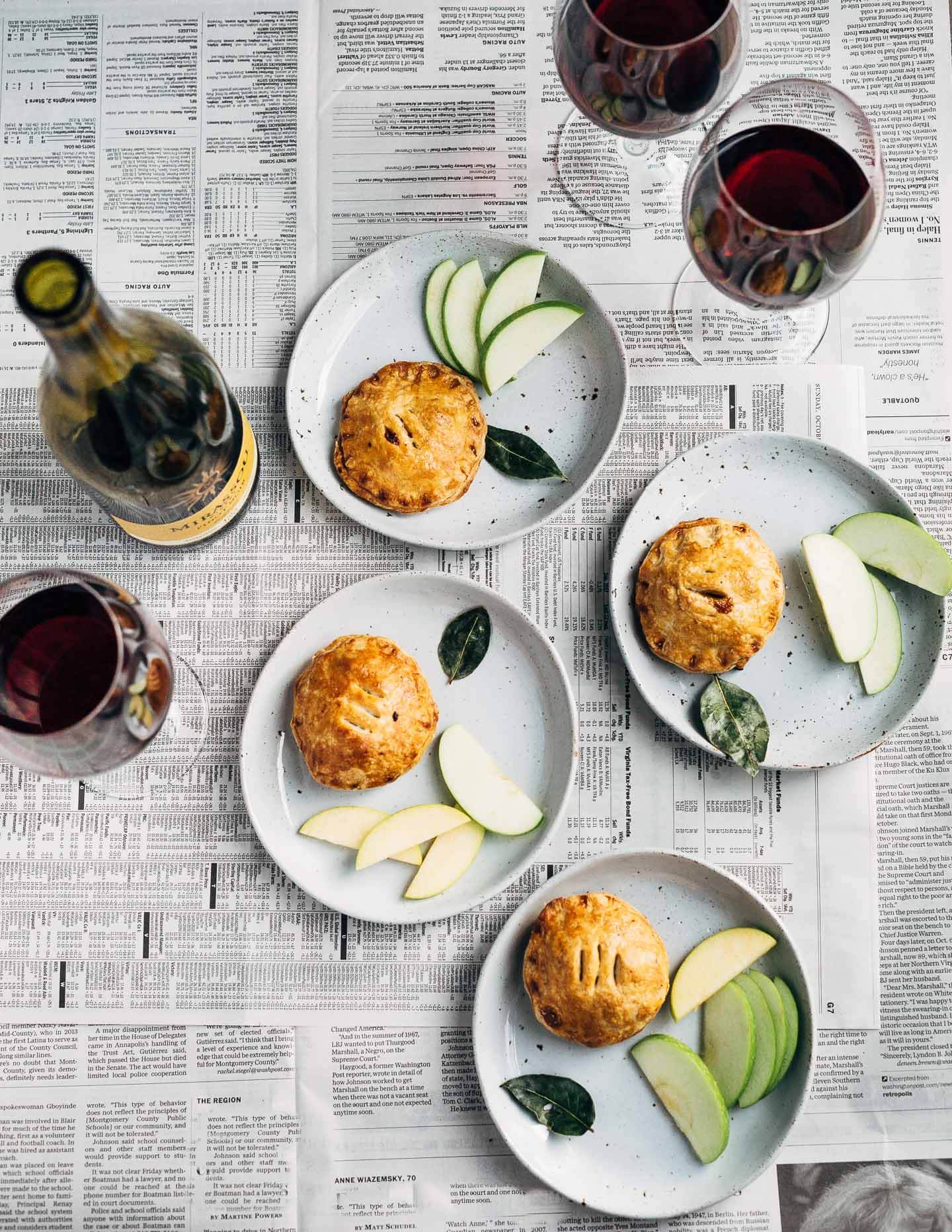 Making a batch of savory bacon, apple and cheddar hand pies and carving pumpkins with friends, in partnership with Mirassou Winery. Jump to recipe.
As we enter peak fall, all gusty winds, jackets, and piles of leaves, I'm clamoring to slow down the year's accelerating pace. So, I did the thing that always grounds me and gathered a few close friends for a candlelit evening of revelry. Specifically, a pumpkin carving party. Nothing crazy or competitive, just a relaxing evening of low-key creativity and good conversation.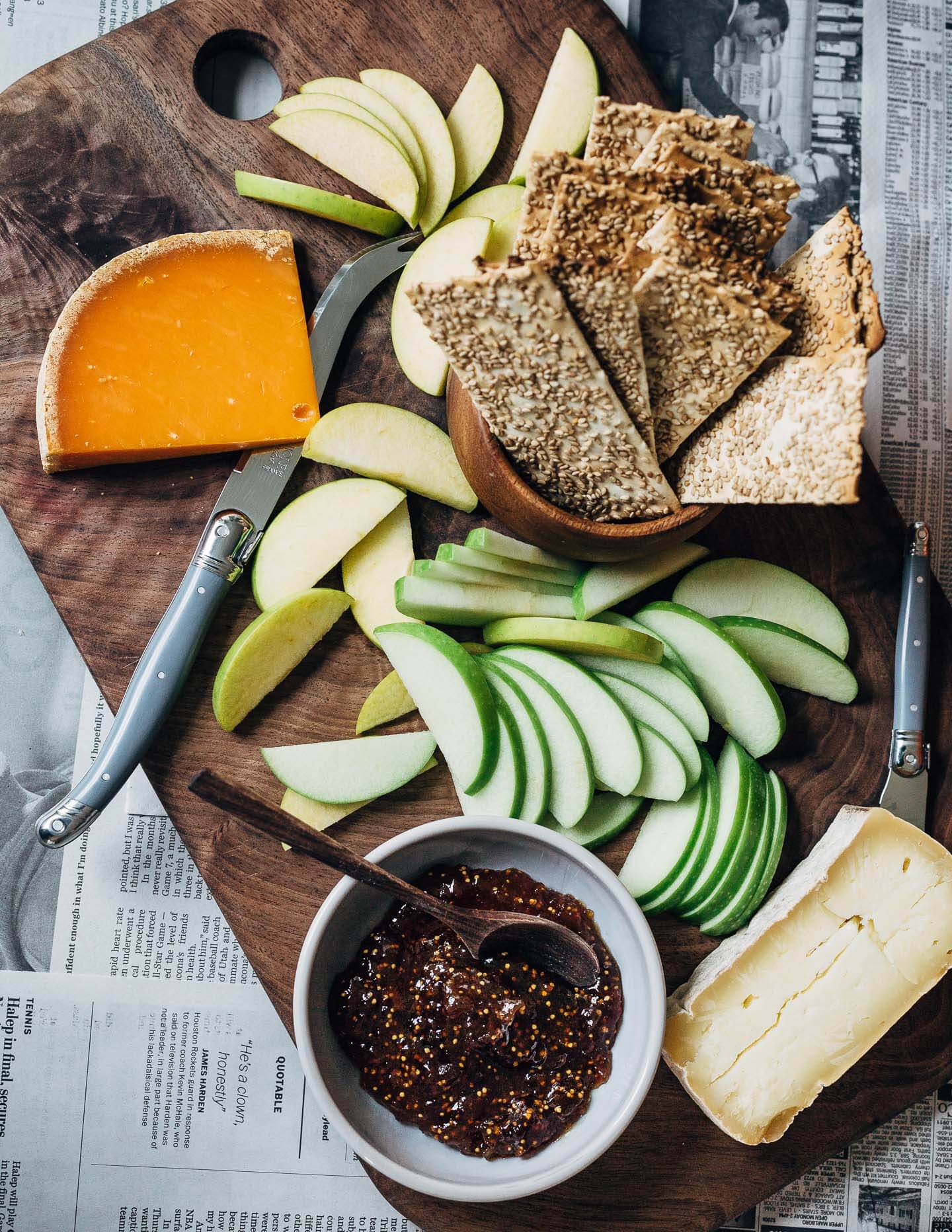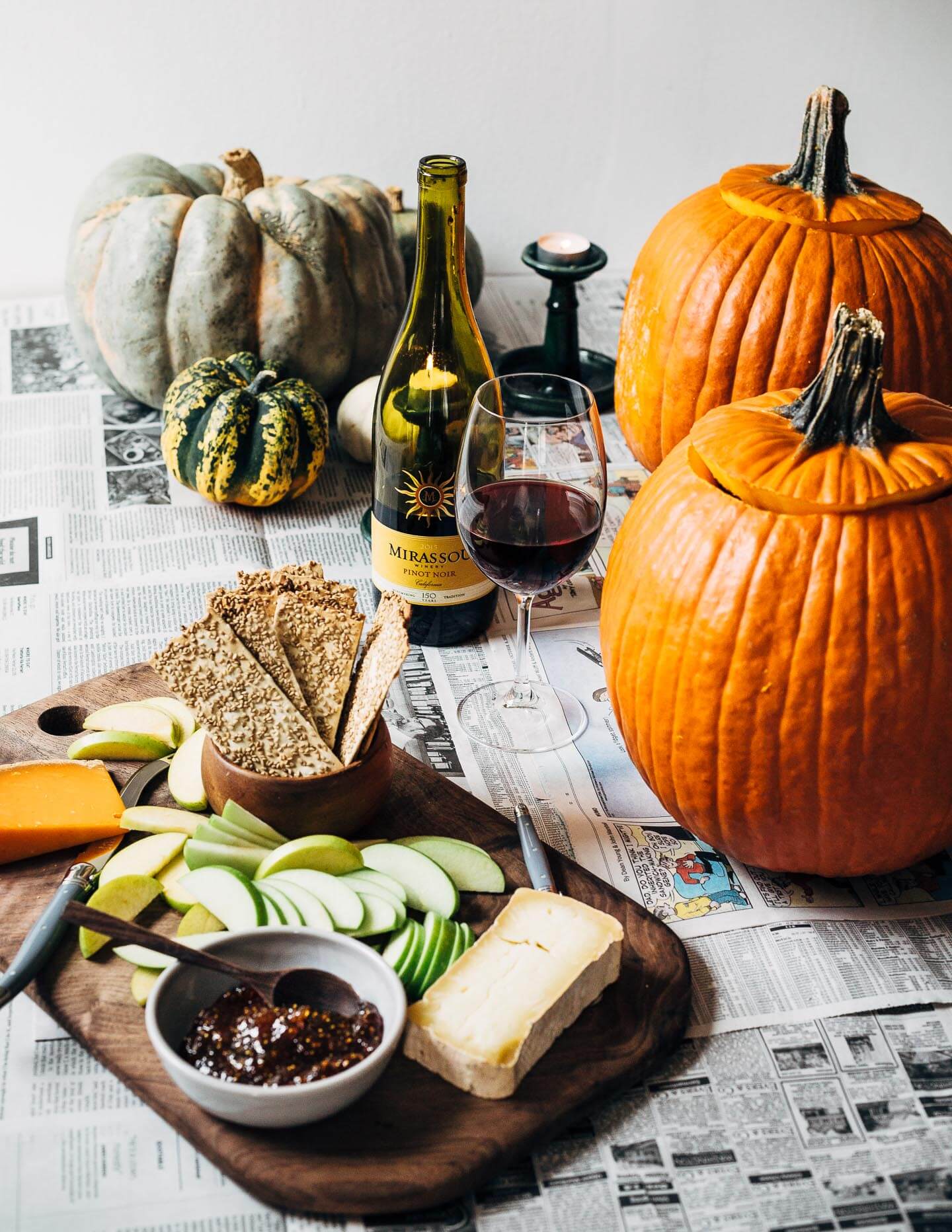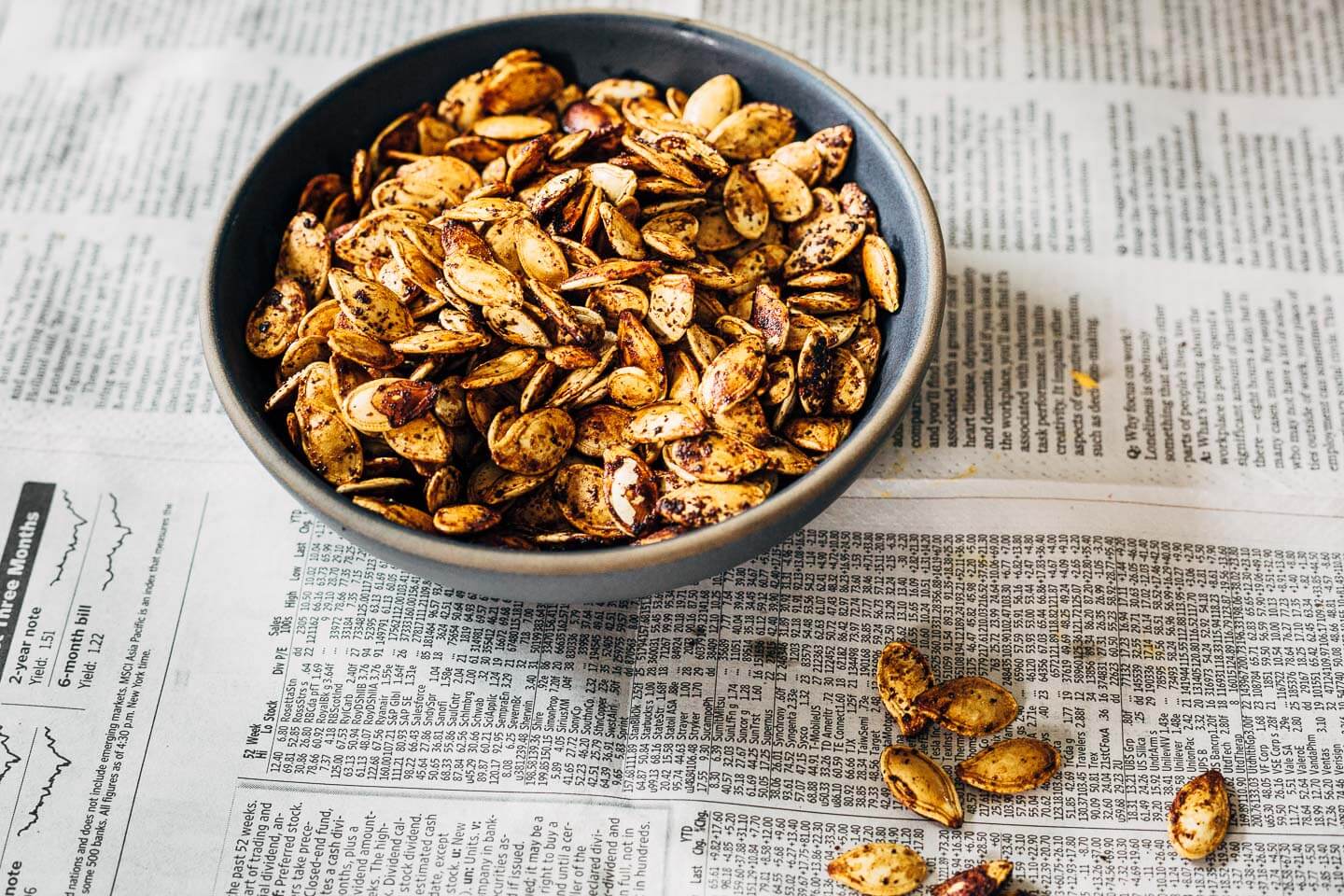 I picked up a selection of smallish pumpkins (and a few winter squash for good measure) and a couple of pumpkin carving kits. Before my guests arrived, I cut open the tops and scooped out the seeds, which I saved, roasted, and pulled from the oven just as people came in. Besides pumpkin seeds, I kept the snacks simple with an autumnal cheese board and tiny bacon, apple and cheddar hand pies with a golden sheen, flaky crust, and savory sweet filling.
I wanted to keep things (nearly) effortless and served Mirassou Winery Pinot Noir alongside my array of snacks. Because fall weather and red wine were meant to be together, but also because with its approachable flavor and pops of berry and oak, Mirassou's Pinot Noir complemented the mix of apple-y brightness, nutty cheddar, and the savory sweetness of caramelized onions and smoky bacon beautifully.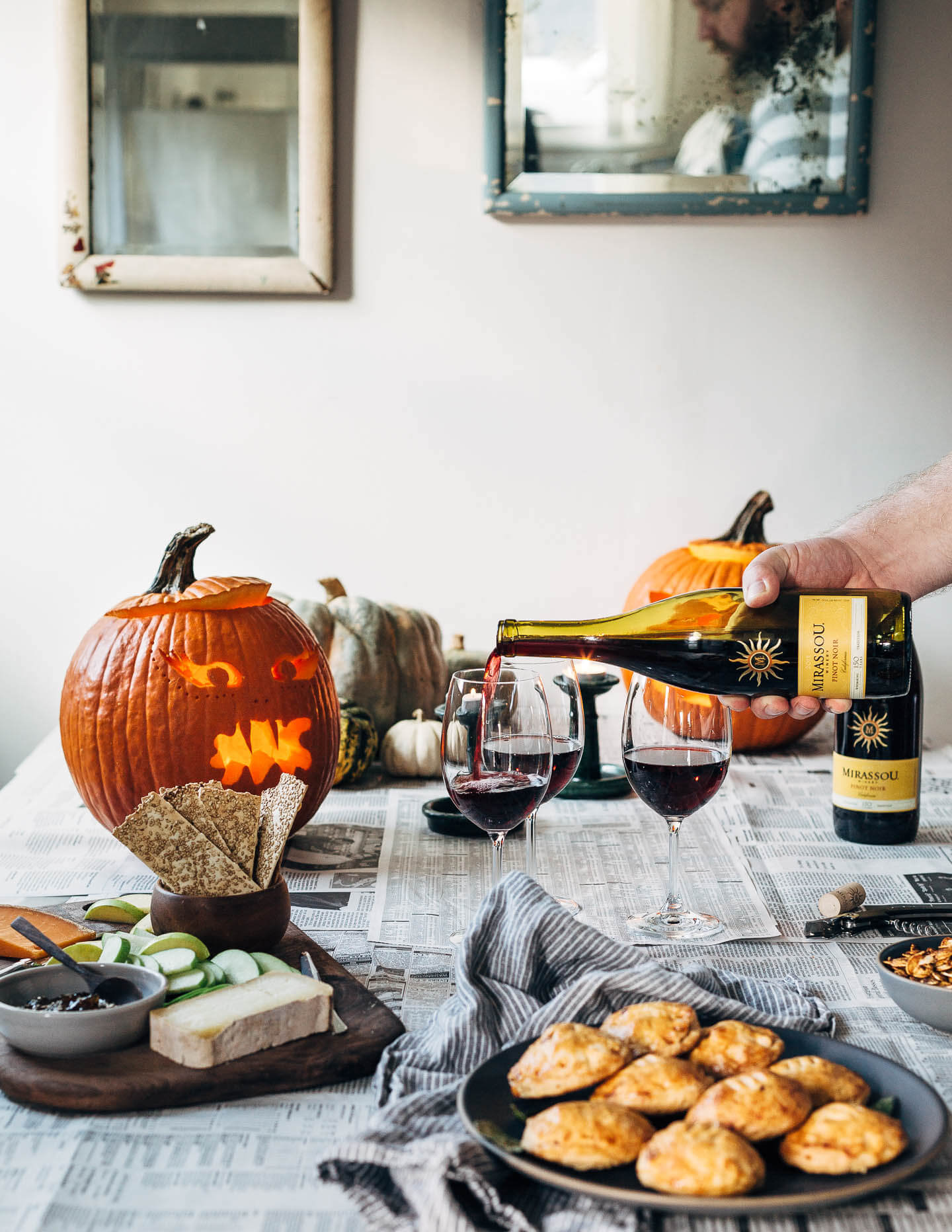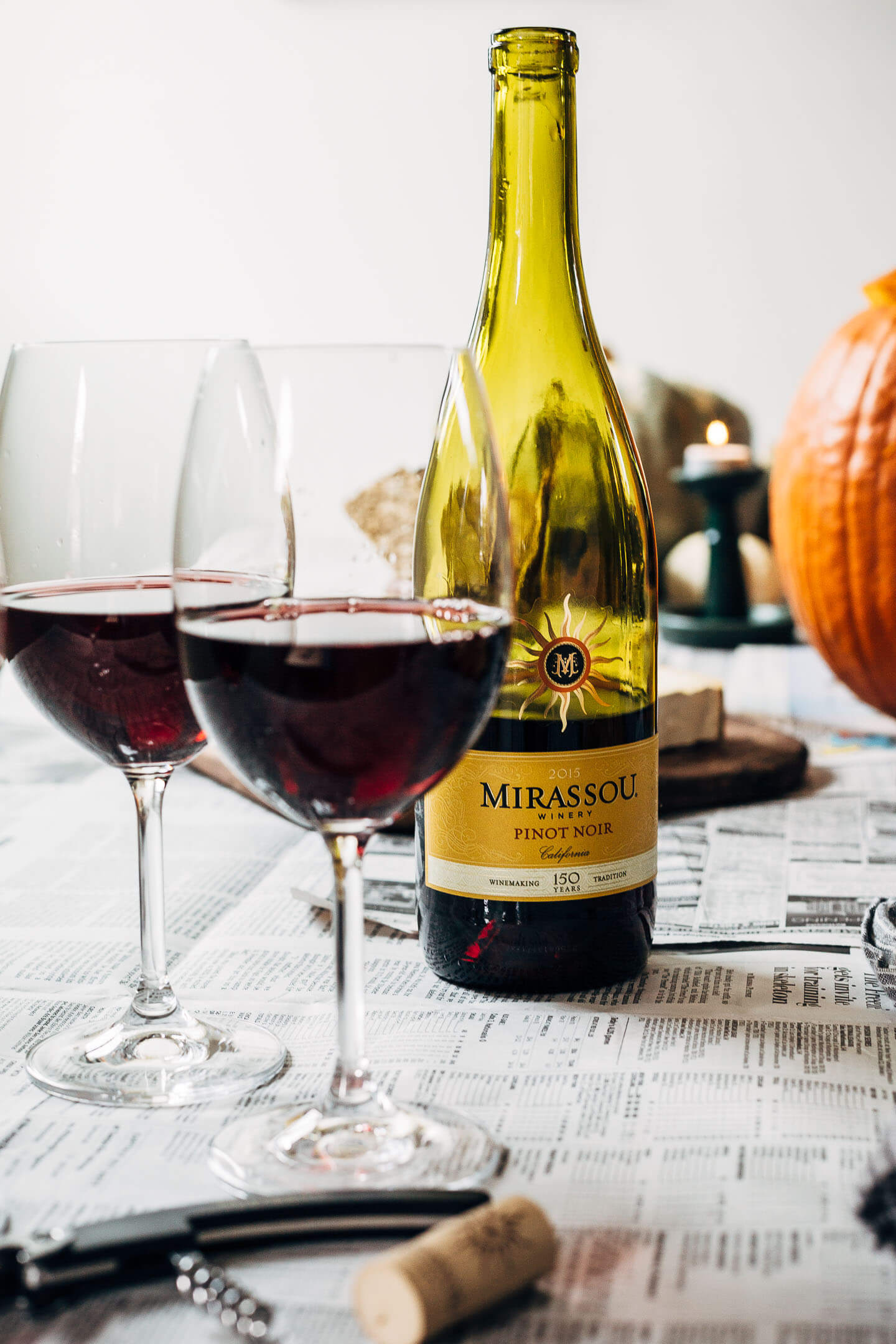 I've never had so much fun carving pumpkins and enjoyed the mix of creativity and friendship. From here on out, I'm adding a pumpkin carving party to my list of annual events.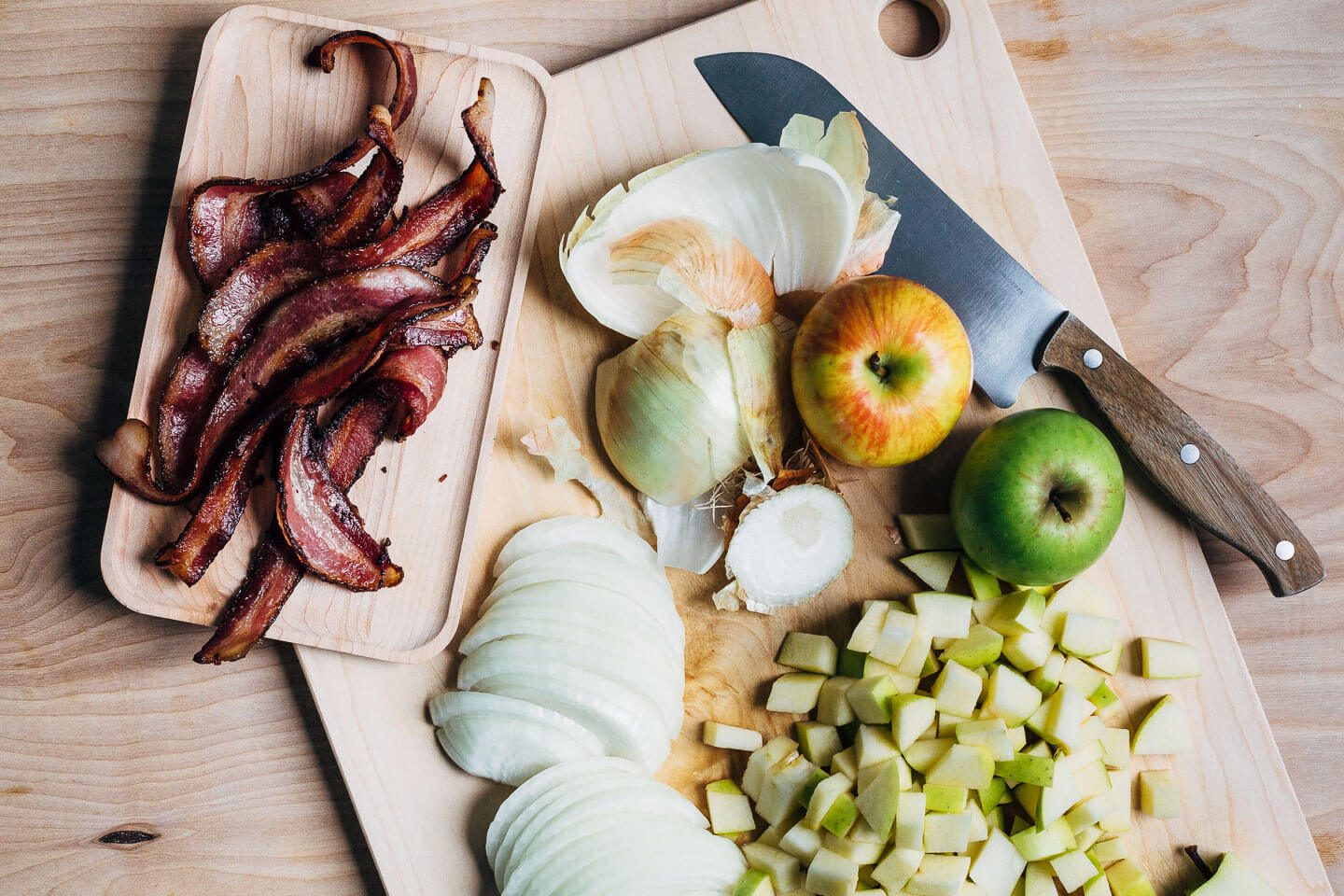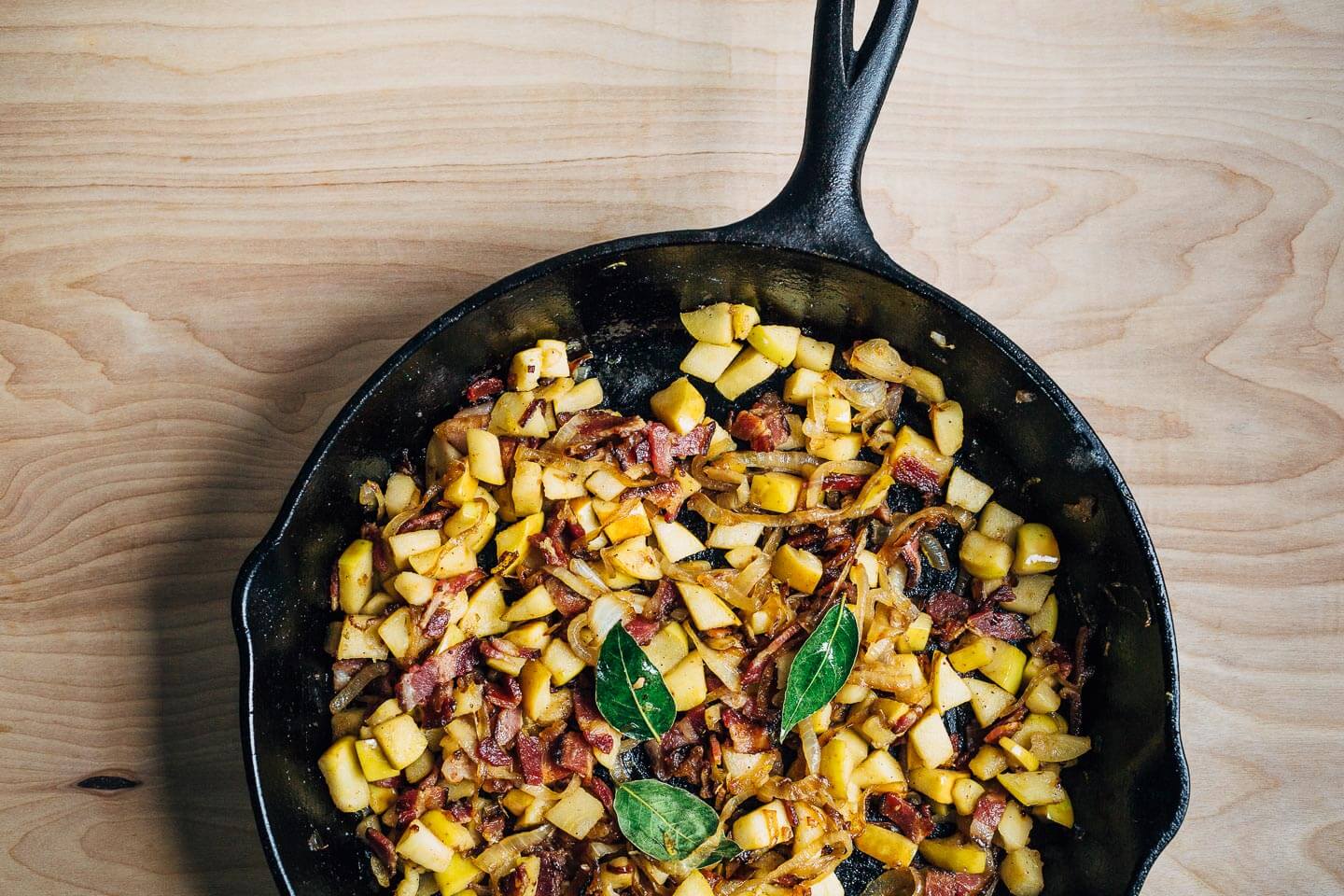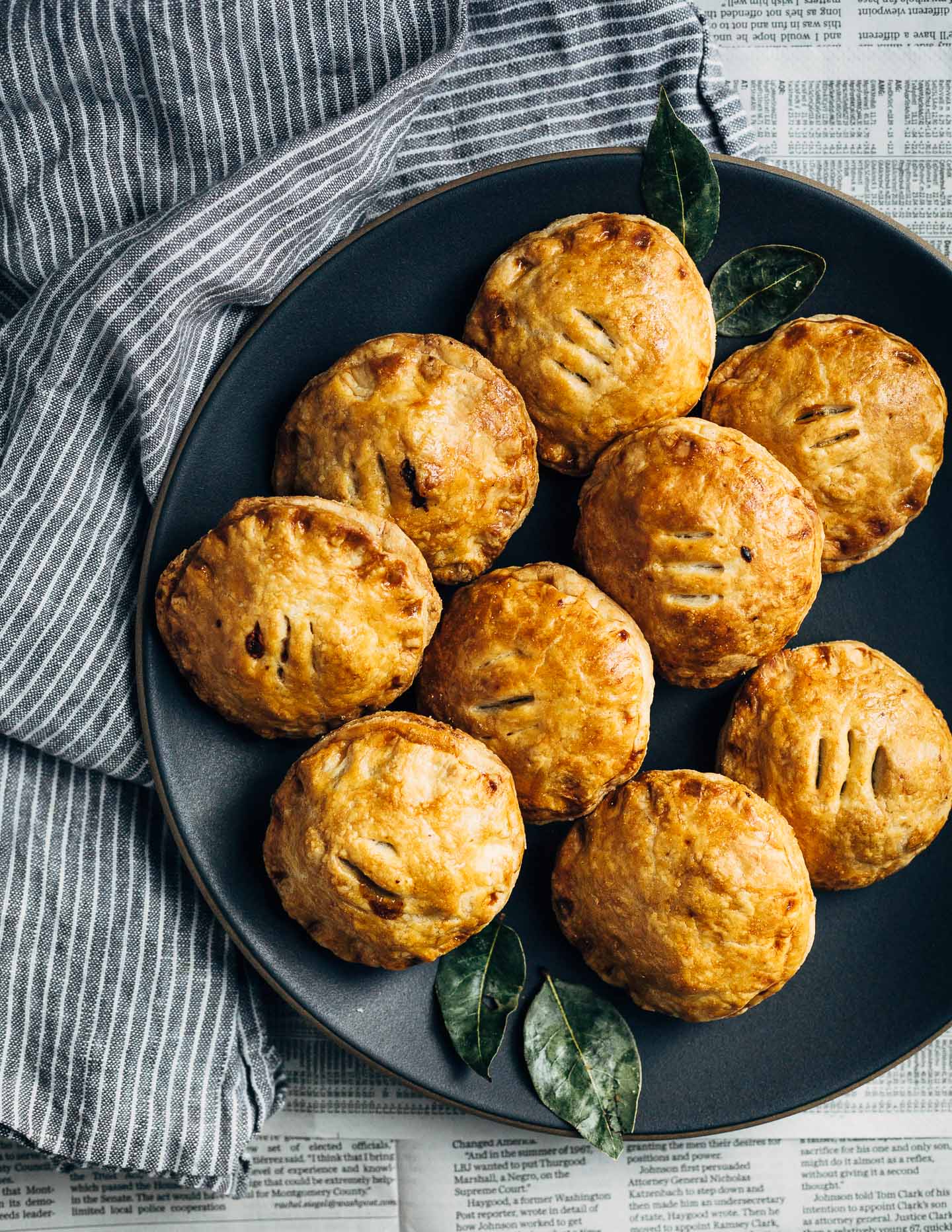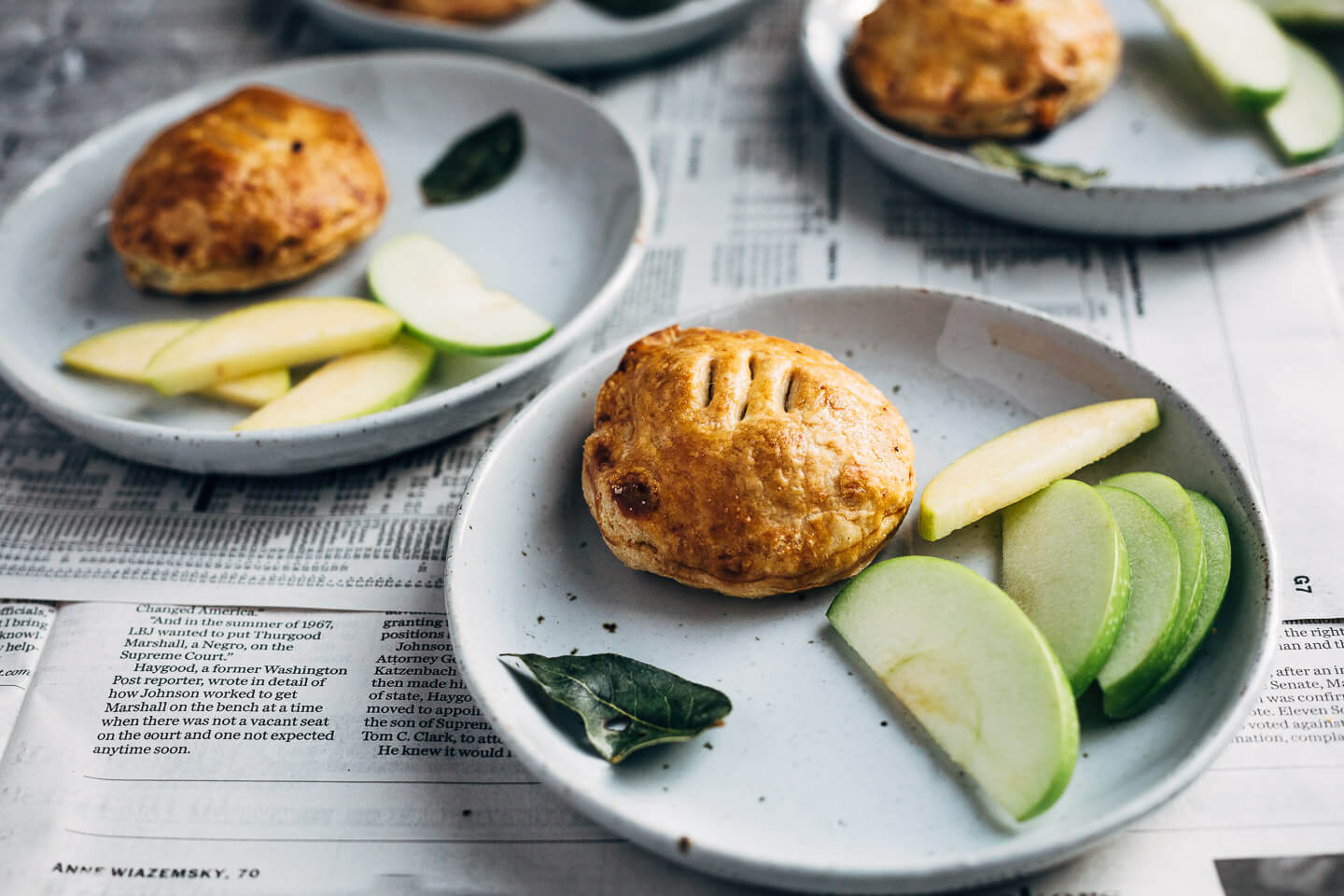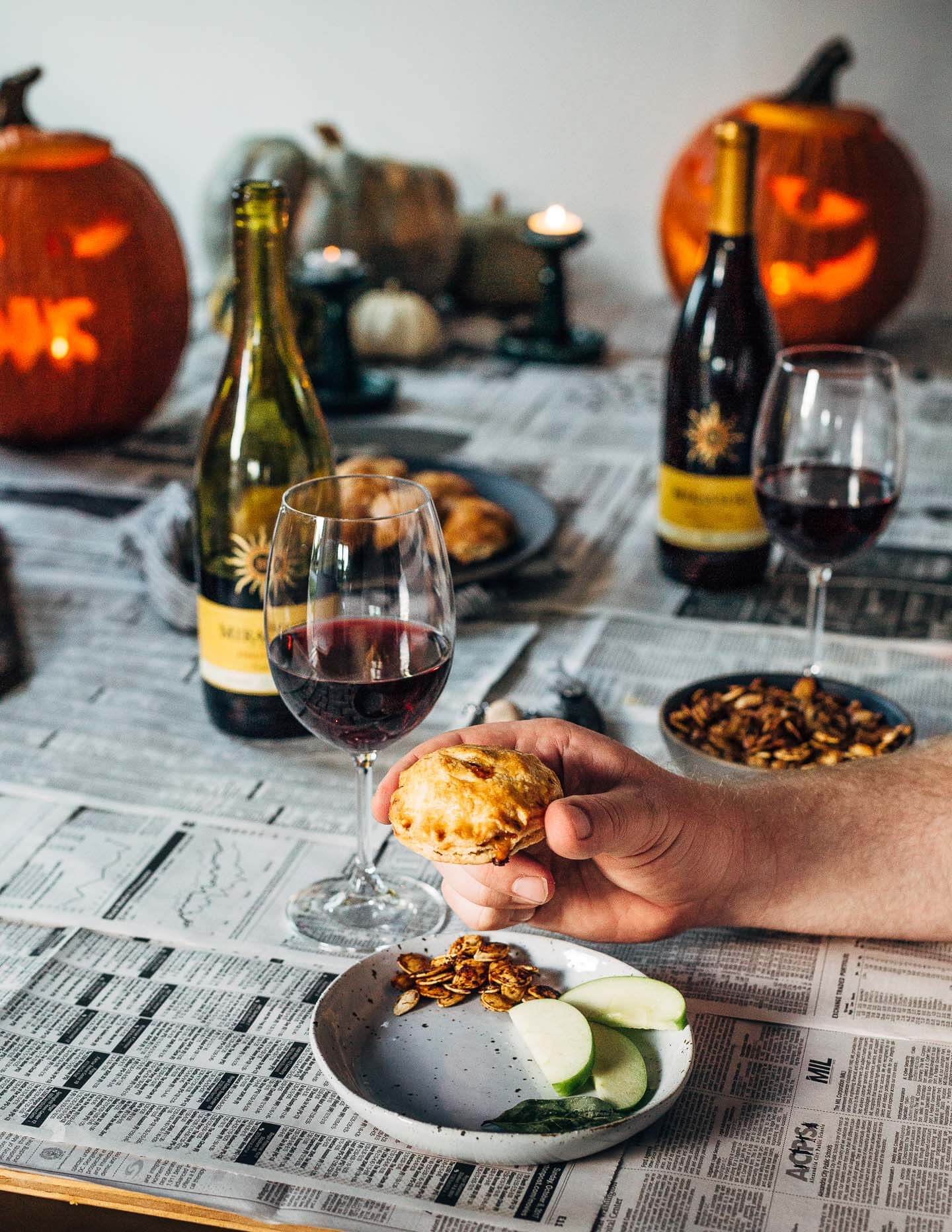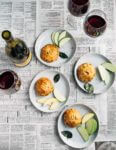 Savory Bacon, Apple and Cheddar Hand Pies
With caramelized onions, smoky bacon, meltingly delicious tart apples, and nutty bits of cheddar tucked into a tender, buttery pastry pocket, these apple and cheddar hand pies make for instant fall joy.
Because bacon makes up the flavor base of these hand pies, select a kind that's very flavorful, such as hickory-smoked bacon from your local butcher. Likewise, you'll want to select fresh, flavorful apples and a knockout aged cheddar.
These bacon, apple and cheddar hand pies are best served warm. To make the timing easier, you can make them ahead and rewarm them briefly, or prep pies a few hours ahead of time (all but the egg wash) and pop them in the fridge until you're ready to add egg wash, cut vents, bake, and serve.
Ingredients
6

strips thick-cut bacon

1

yellow onion

cut into thin half moon slices

6

fresh bay leaves

sea salt

fresh ground pepper

2

cups

diced apples

from about 2 medium apples

1

tablespoon

flour

2

ounces

cheddar

1

egg

lightly beaten
Instructions
In a large, deep-sided skillet, cook the bacon over medium heat, turning once, just until edges crisp. Remove bacon to a paper towel-lined plate. Pour off all but 2 tablespoons bacon fat (reserve the rest for another use). Add the onion and stir to coat in the grease. Add a pinch each sea salt and pepper. After 2 minutes, edge heat down to low. Continue to cook the onion, stirring occasionally, until it's golden brown and tastes sweet, about 20 minutes. Fold in the apples and cook 10 minutes more. Turn heat up to medium and add the flour. Cook 5 minutes, stirring often. Fold in cheese. Remove bay leaves; set aside for garnish. Remove pan from heat and set aside to cool.

Preheat oven to 425 degrees F. Line 2 baking sheets with parchment.

On a lightly floured sheet of parchment, roll out one of the chilled dough rounds into a large rectangle, about 1/8-inch thick. Use a 3-inch biscuit cutter to cut out 20 – 22 rounds. Gather and reroll any scraps up to 2 times.

Set a dough round on prepared baking sheet. Add 2 tablespoons filling in a tight ball in the center of the round. Top with another dough round, pressing down the edges on all sides. Flute edges. Repeat until you have 20 hand pies. Repeat steps for the second dough round, until you have a total of 20 – 22 hand pies arranged on baking sheets.

Working quickly, brush tops of pies with egg then use a sharp knife to cut 3 (½-inch) long vents in the top. Slide into the oven and bake 25 minutes or until pies are a rich golden hue and the filling is bubbling. Cool briefly, then serve.
SaveSave
SaveSave
SaveSave