A classic lattice-top lady apple pie suffused with citrus and freshly grated nutmeg. This wintery pie swaps conventional apples for tiny, sweet lady apples, also known as Pomme D'Api.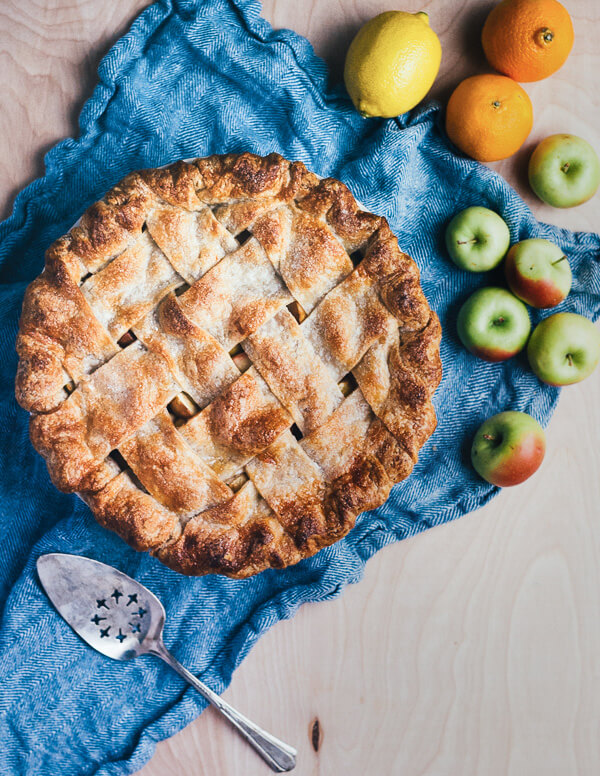 Holidays in years past have been epic affairs. Thanksgiving practically required a spreadsheet to organize, and Christmas needed Swiss precision as we rushed from this place to that. All that planning and coordinating made it hard to enjoy the holiday as it unfolded.
This year, Brian and I decided to make some changes. Our Thanksgiving featured only the four of us, Brian, me, and our two girls. In typical fashion, we sat down an hour later than we'd wanted to, but it didn't matter in the least. After dinner, we had pie, put our littlest to bed, while our older daughter got to stay up late to watch It's a Wonderful Life with us. We had to pause a lot and explain things that don't come up much in a seven year-old's life, like the difference between a building and loan and a bank, World War II, bank runs, the Charleston, and the nature of greed, but still, it was a lovely time. Right after that, our weekend spiraled out of control a little bit with sickness and the like, but nobody had to go to the hospital so we count that as a victory.
A Quiet Christmas
After such quiet, cozy times, it was kind of shocking to wake up late on Friday to a Twitter feed overflowing with calls to action to buy this and that. Right then, I decided I liked things better in my tiny bubble and have decided to stay here for the duration of the holiday.
We'll exchange small presents for Christmas, but beyond that, I'm shifting my focus to the real gift of the season – spending time with those I love. There are so many hollow sentiments batted at us this time of year, but beyond the hype, there's something special about time dedicated to family, dear friends, and great food.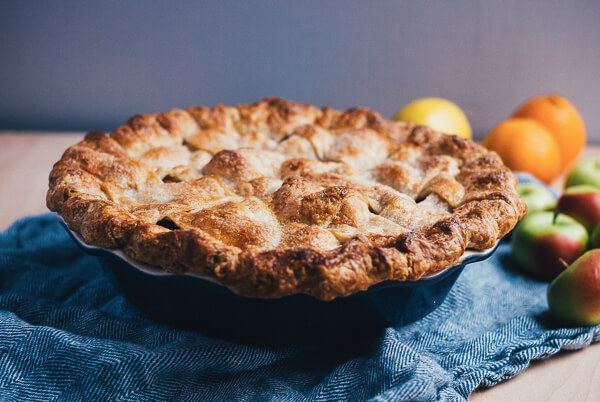 Holiday Pies
In our house, the holidays, or any special occasion, really, means pie. Brian prefers it over cake, and I'm happy to comply. This time around, I'm revisiting a classic apple pie recipe, and giving it just a few improvements.
To start, I used lady apples, also known as Pomme D'Api, a variety that pops up in markets between Thanksgiving and the end of the year. Lady apples look a lot like the intensely sour crab apples that dotted my backyard growing up, but the flavor is quietly sublime. Sweet, almost sugary, with a nice crisp finish, they're a little sweeter than the typical pie apple, but lent lots and lots of flavor to this simple pie. Complemented by generous amounts of lemon and clementine, and just a pinch of ground clove, this lovely wide-latticed lady apple pie is light, with pleasant hunks of apples, and just right for a quiet finish to a big holiday meal.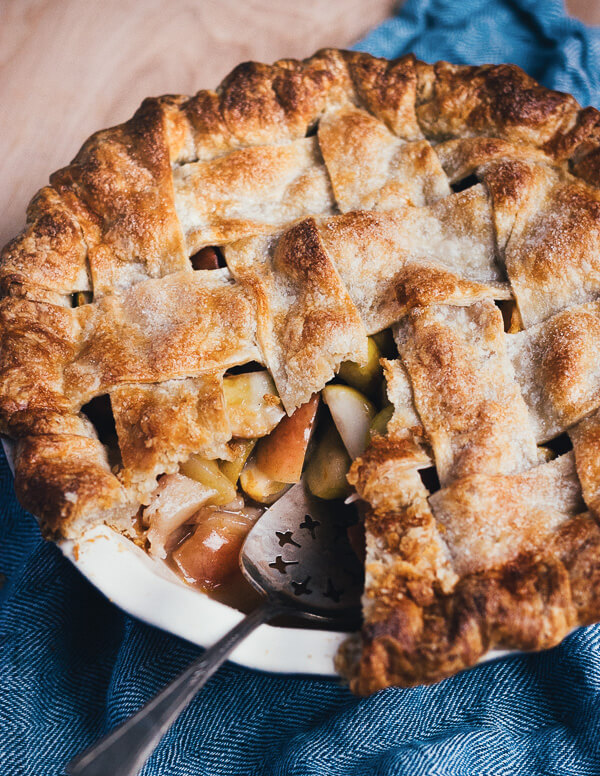 Notes on the Recipe
Unless it's a very special occasion, I never peel my apples. The resulting pie is the slightest bit more rustic, but I like the flavor. Do whichever feels right for you.
If you're new to homemade dough, find a more in depth discussion of technique here.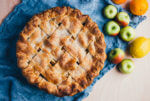 Lattice-Top Lady Apple Pie
A classic lattice-top lady apple pie suffused with citrus and freshly grated nutmeg. This wintery pie swaps conventional apples for tiny, sweet lady apples, also known as Pomme D'Api
Ingredients
Crust
2 1/2

cups

all-purpose flour

, plus more for dusting

2

tablespoons

sugar

1

teaspoon

sea salt

16

tablespoons

unsalted butter

, frozen for 20 minutes

2/3

cup

ice water
Filling
4

pounds

lady apples

, cored and quartered (peeling optional)

1/4

cup

all-purpose flour

zest of 1 lemon

, plus 1 tablespoon juice

zest of 1 clementine

, plus 1 tablespoon juice

1/2

cup

turbinado sugar

, plus more for top

1/4

teaspoon

ground cloves

1

tablespoon

butter

1

egg white

, lightly beaten
Instructions
To make the crust, combine flour, sea salt, and sugar in a large bowl and whisk with a fork. Grate in butter, using fingertips to blend into the flour until things are well blended and crumbly. Drizzle in the water and turn dough, using just enough for dough to hold together.

Turn out onto a lightly floured surface and gather into a shaggy ball. Divide dough in half, flatten each round into a disc, and wrap each tightly with plastic. Chill in the fridge for 30 minutes or up to 5 days.

Position oven rack in the center of oven and preheat to 425 degrees F. Slide a rimmed baking sheet in oven to preheat as well.

Prepare apples and toss with all the remaining ingredients except butter and egg whites. Set aside while you prepare dough.

On a lightly floured surface, roll one of the dough discs out into a 14-inch round. Press into a 9-inch pie pan, trimming all but a 1-inch overhang. Slide pie shell into the fridge while you roll out the top.

Roll the second disc into a 12 x 16-inch rectangle. With a sharp paring knife, cut 8 2-inch wide strips.

Spoon filling into chilled shell and dot with butter,

weave lattice

over the top (using 4 strips in each direction), crimp edges, brush all over with egg white, and sprinkle top generously with sugar. Set pie on preheated baking sheet and bake for 25 minutes. Turn heat down to 350 degrees F, rotate pie, and bake for another 30 – 35 minutes, or until crust is a deep golden brown and the filling is bubbling vigorously.

For the best filling set, cool pie for a full 4 hours before cutting into it. (Otherwise, the juices will run, but it'll still be great.)
SaveSave
SaveSave
SaveSave
SaveSave
SaveSave