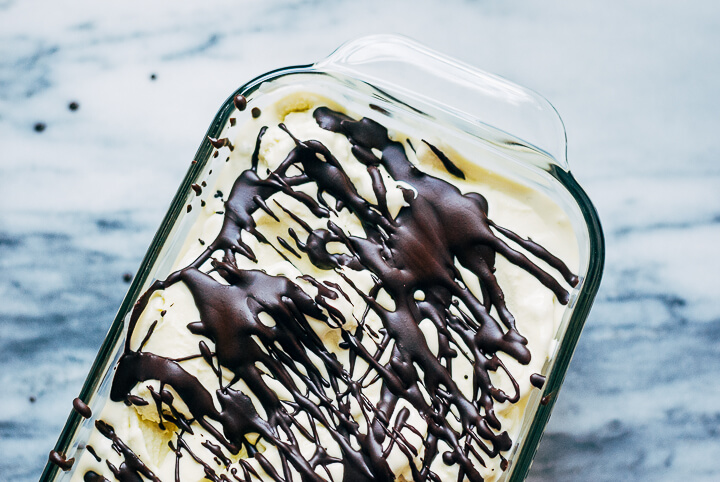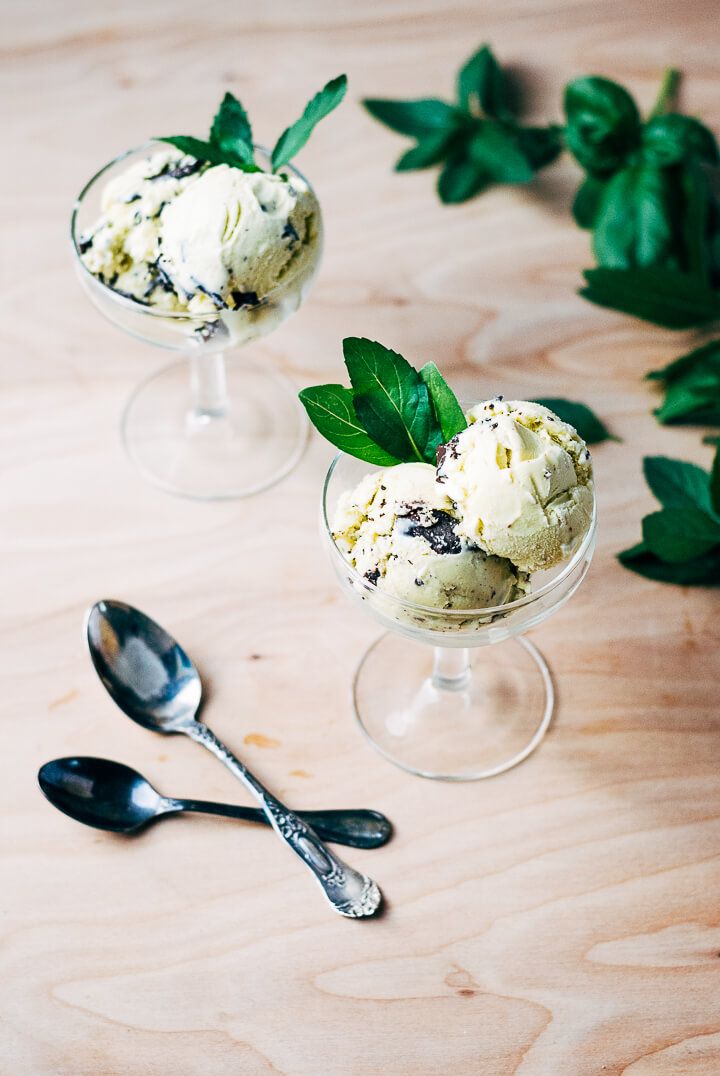 A cool and creamy homemade basil and mint chocolate chip ice cream recipe made with garden fresh mint and dark chocolate. Jump to recipe.
Almost daily now, small storms push over the mountains. Most miss town and head off to the northeast, but every few days, one hits. The slightest bit of rain bends the heavy peonies down to the ground so they rest on the grass or sidewalk. Petals of all shades are scattered across the neighborhood. The air is muggy and floral, but not yet too hot. The garden is vibrant and happy, with whatever pests that lay ahead still plotting their plan of attack from underground lairs.
In the same way a heavy October rain or a January snow jolts us us out of the humdrum and reminds us what a small part of the world we are, so too does the charged atmosphere of May. Sounds and palettes that will be commonplace by July are new and fresh. Dramatic clouds, crickets, dew, the magic of a warm evening – it's all intoxicating.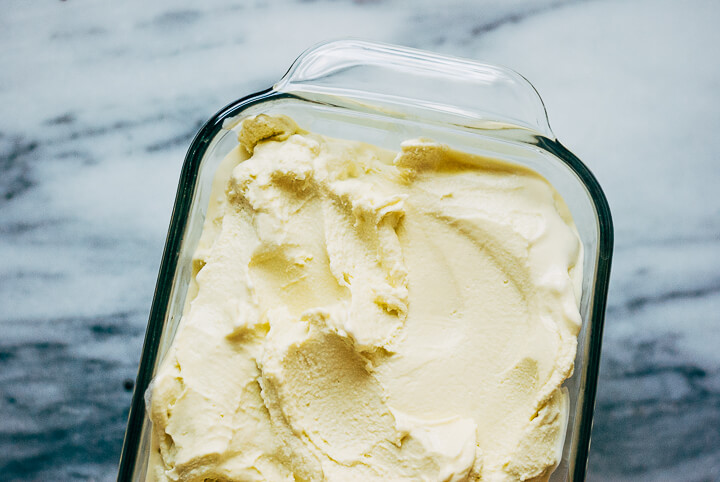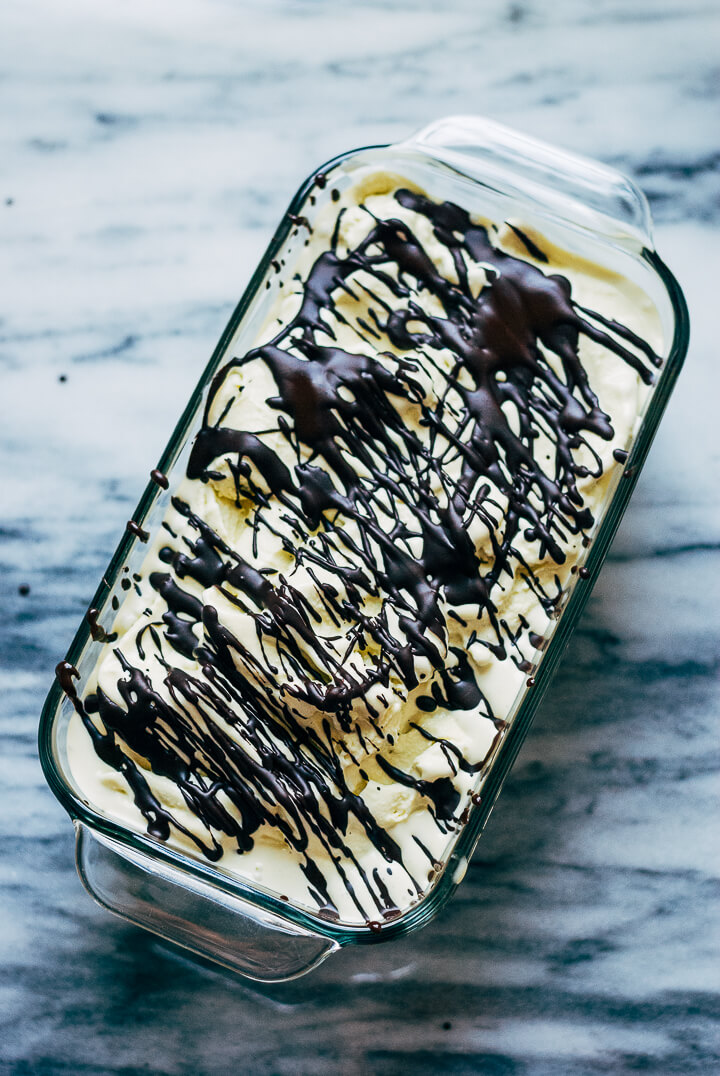 I've lived in Charlottesville three separate times, and the new and the familiar meet up in disarming ways. A single whiff might transport me to my first May here when I lived life with far more abandon. Another time, I'll be showing the girls shortcuts I barely remember or towering trees I've grown to love over the years. Among all the red brick and aging boxwoods, there are ghosts, too – mistakes, regrets, wrongs, long ago transgressions that pop in here and there. It's a jumble of young me and older me and lost me and mom me. Brian and I got into this stuff the other night – paths not taken, wrongs never righted – and he assured me that we all have a blooper reel of embarrassing moments that loop into our heads on sleepless nights or, for some reason, times of happiness. His words were reassuring; still, I'm positive my list is longer than most.
The electric air lately reminds me that something new is coming, too. Things breaking, being fixed and replaced, the transformation is constant. On a stormy evening earlier in the week, I walked out to my backyard garden to gather the mint and basil for this recipe. Consider it an attempt to harness all this spring vibrance in an aromatic, faintly green mint and basil ice cream covered in haphazard drizzles of bittersweet chocolate.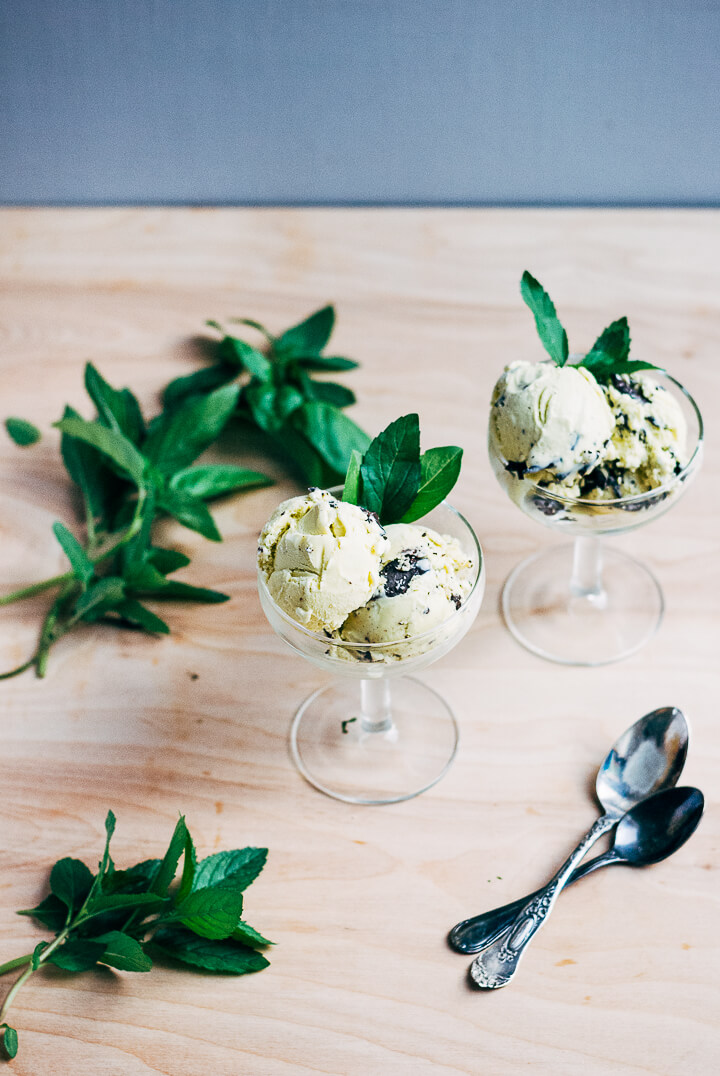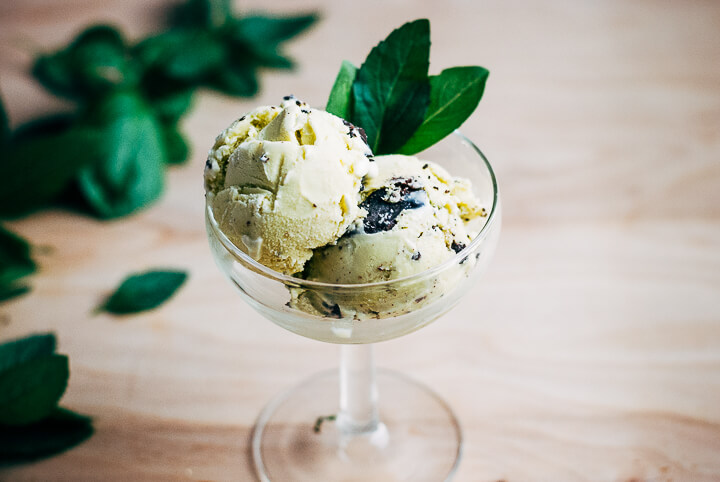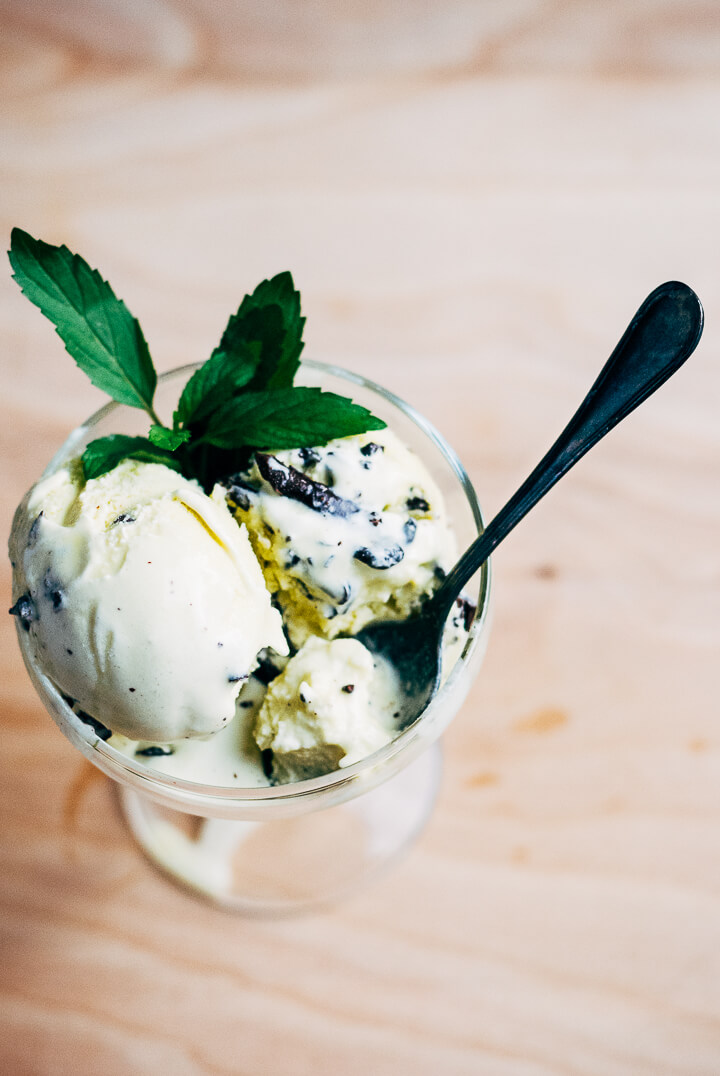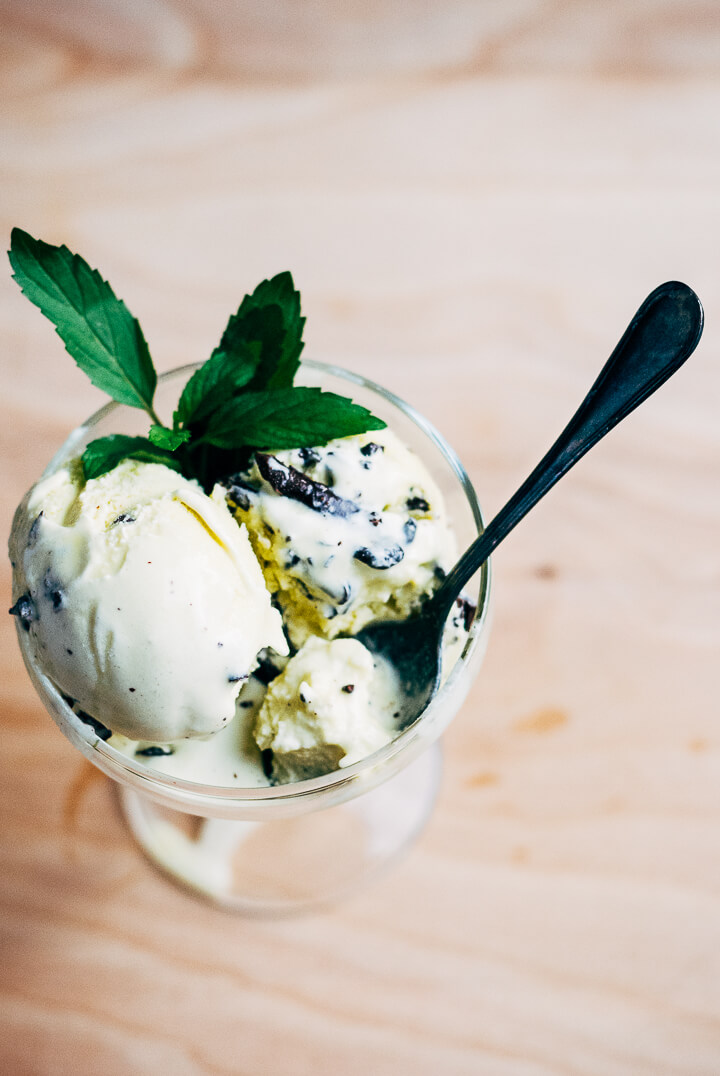 Update: This recipe uses a lot of mint – it took a huge bunch from my garden. To make this, you'll want to get a bunch or two from the farmer's market or, even better, from a garden patch. As for flavor, some have pointed out that peppermint is preferable to spearmint. Peppermint is what I had on hand and used, though now I'm intrigued enough to want to conduct a taste test. I'll keep you posted.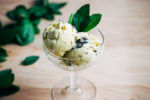 Basil and Mint Chocolate Chip Ice Cream
A cool and creamy homemade basil and mint chocolate chip ice cream recipe made with garden fresh mint and dark chocolate.
Ingredients
2

cups

heavy cream

, divided

1

cup

whole milk

3/4

cups

sugar

, divided

2

cups

packed fresh peppermint leaves**

1/4

cup

packed fresh basil leaves

2

pinches

sea salt

, divided

4

egg yolks

3

ounces

unsweetened chocolate*

, chopped (see note below)
Instructions
In a heavy bottomed saucepan, heat 1 cup cream, whole milk, 1/2 cup sugar, and mint and basil leaves over medium-low heat, stirring often. When mixture just begins to steam, remove from heat, cover, and set aside to steep for 1 hour.

Strain herb infusion with a mesh strainer, pressing leaves to release all possible liquid. Discard leaves. Reheat herb-infused cream over medium-low heat, just until small bubbles form along the sides and mixture begins to steam.

Place yolks in a medium bowl and whisk with 2 tablespoons sugar. To temper the yolks, whisking constantly, add 1/4 cup of the warm cream; still whisking, add another 1/4 cup, and then another. Add one cup total, then stir yolk mixture into the warm cream. Cook, stirring constantly, over medium-low heat for 5 minutes. Remove from heat. (If desired, strain mixture before chilling.) Stir in the remaining cup of cream.

Set mixture over and ice bath to chill quickly or cover and refrigerate overnight.

Process ice cream according to your ice cream maker's instructions.

Meanwhile, melt chocolate over a double boiler, stir in the remaining 2 tablespoons sugar plus a generous pinch of sea salt.

Drizzle melted chocolate over the bottom of a freezer-proof container. Add a layer of ice cream, followed by a layer of chocolate. Continue alternating layers. Cover container and freeze until cured, 4 - 5 hours or longer.

Serve with a sprig of fresh mint.
Recipe Notes
This recipe contrasts the sweet and herbaceous ice cream with intensely dark chocolate and a hint of salt. Feel free to omit the 2 tablespoons of sugar and use bittersweet chocolate instead.
Recipe adapted from David Lebovitz.