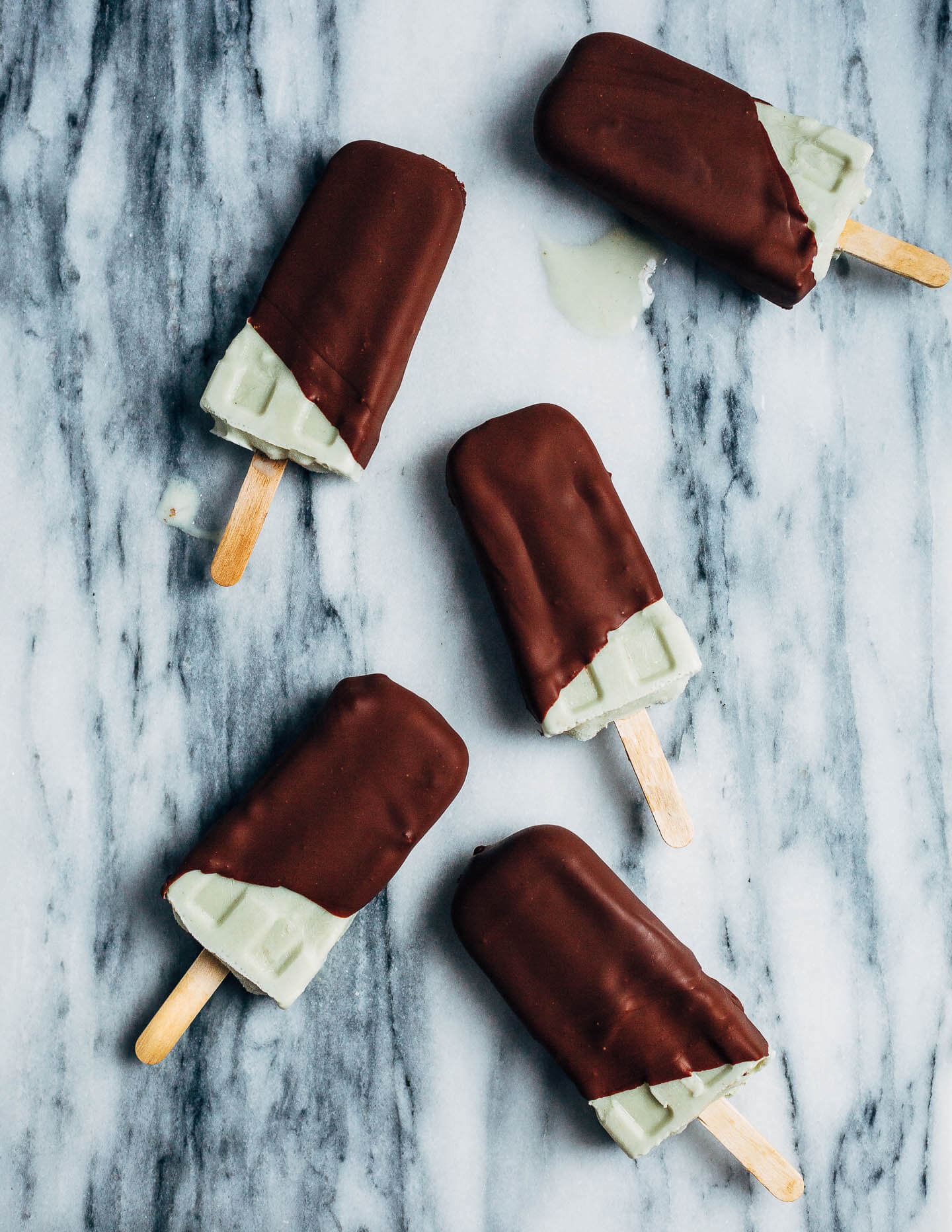 Creamy vegan mint chocolate dip popsicles infused with fresh garden mint, cardamom, and black pepper, and surrounded by a snappy dark chocolate shell. Jump to recipe.  
I missed Popsicle Week!
After two weeks of the kids being home with me, my work piled up leaving me no time for most of the things I like to do, like writing about popsicles. So instead of last week, I'm here today, catching you, I hope, right in the middle of a long, lazy holiday weekend. Our family has been making the most of summer with lots of swimming, grilling, and even a little chocolaty popsicle eating out on the stoop.
This recipe was inspired by one of my all-time favorite summer desserts – this garden basil and mint chip ice cream. For the popsicles, I changed things up just slightly, omitting the basil, switching dairy for coconut milk, adding a hint of fresh ground cardamom and black pepper, and a quick dip in dark chocolate magic shell. The chocolate shell lends a satisfying snap to each bite, melting into rich, velvety chocolate and creamy mint-infused frozen coconut.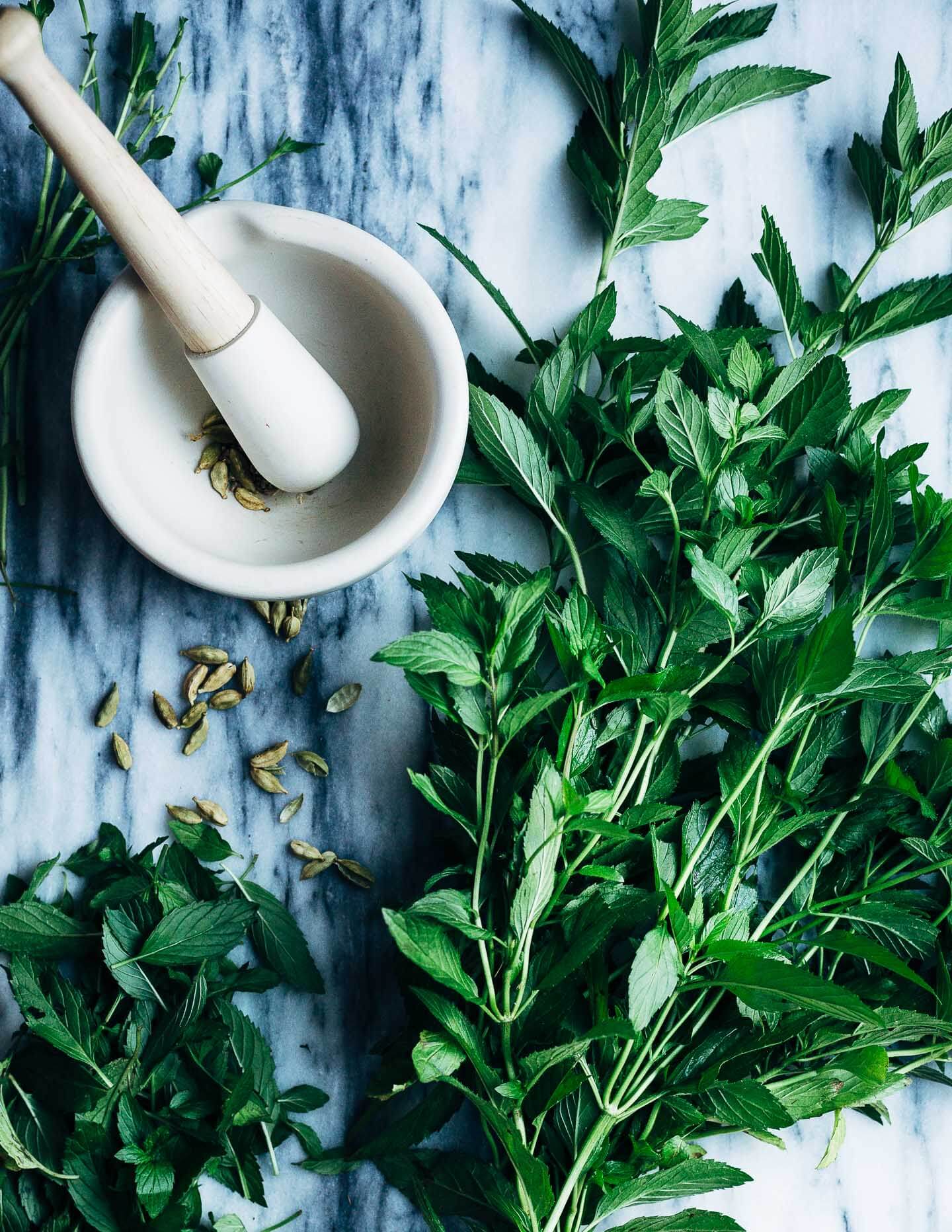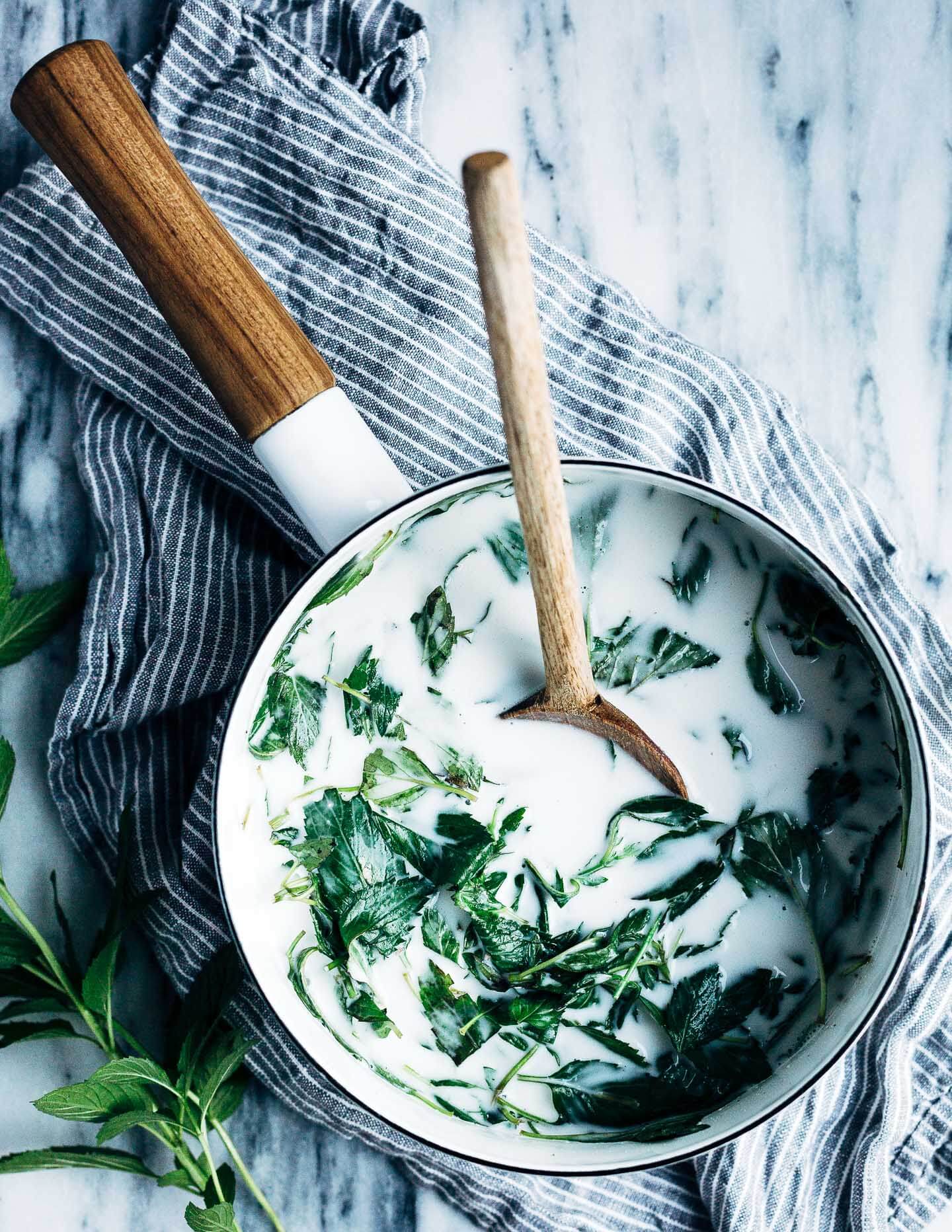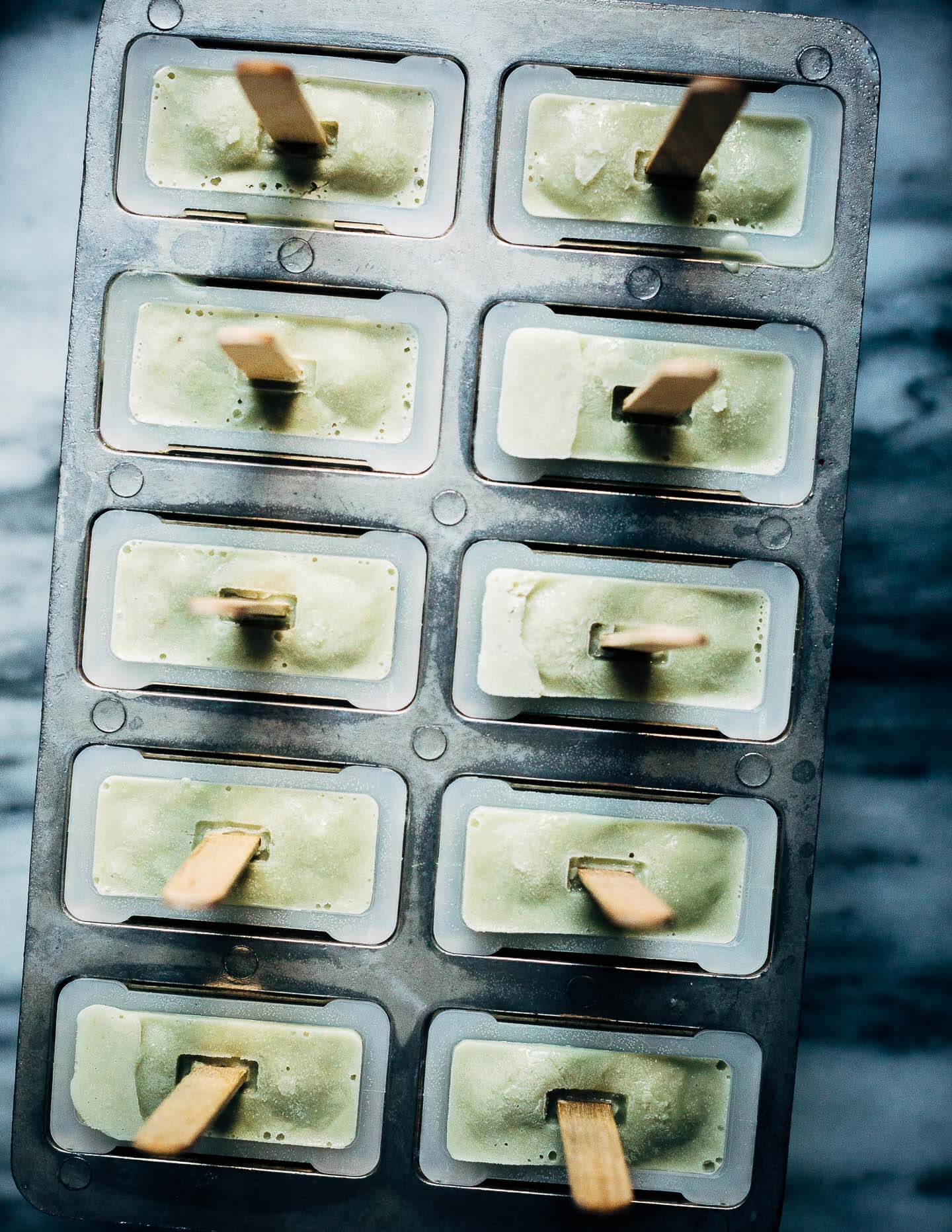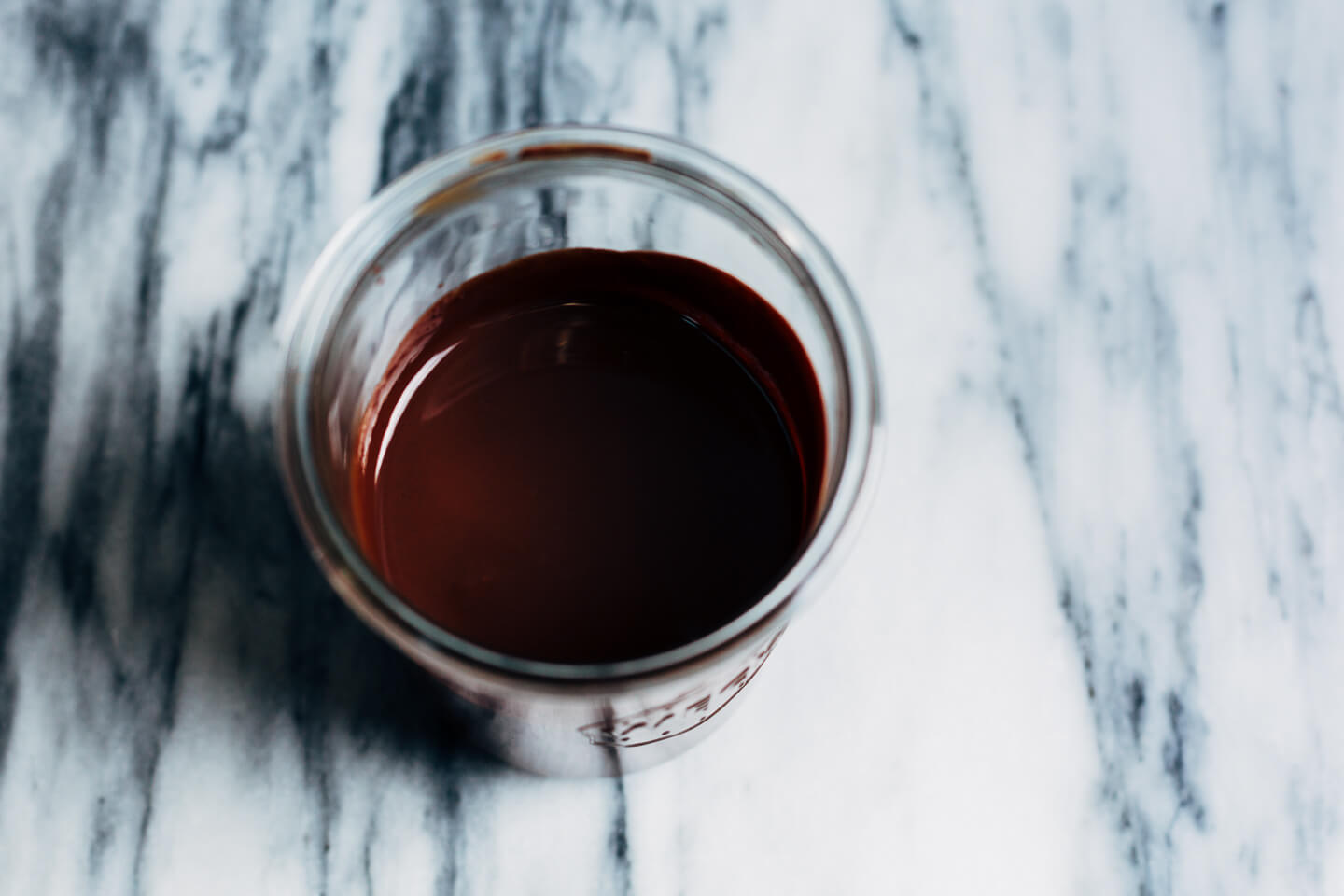 Way in the back of my cabinet, I keep a bottle of light corn syrup. I use it solely to lend sheen and flexibility to all manner of hard chocolate layers (things like cake layers and ganaches). Here, it gives the magic shell a snappy bite and velvety sheen. I make a point of cooking with whole food ingredients, but sometimes foods like corn syrup have their place. If it's not your thing, you can totally leave it out.
P.S. Thanks to Billy of Wit and Vinegar for being an amazing Popsicle Week host. Head over to the Popsicle Week page to check out allllllllll the popsicle goodness floating around the internet right now.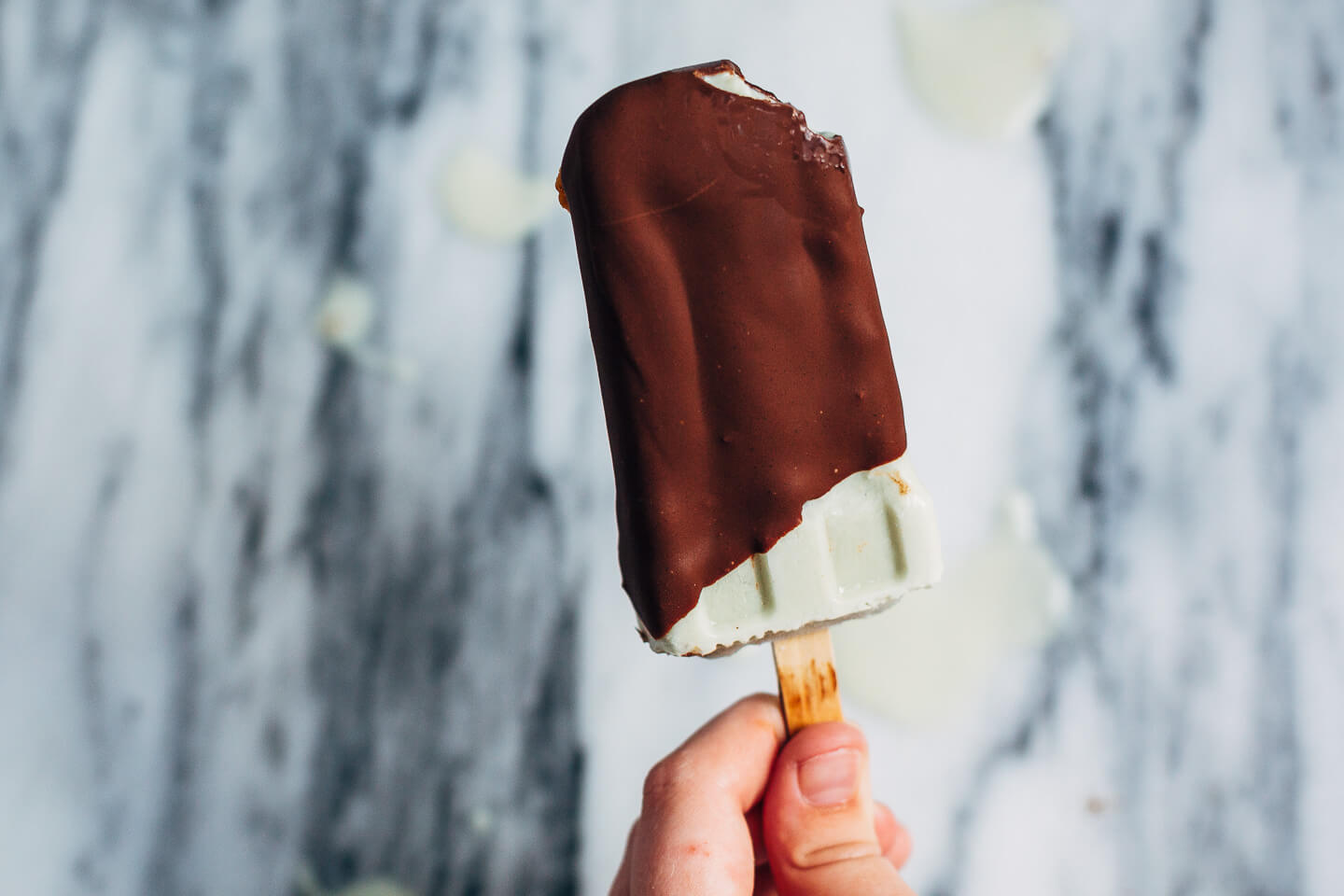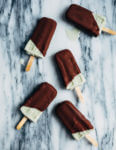 Spiced Vegan Mint Chocolate Dip Popsicles
Creamy vegan mint chocolate dip popsicles infused with fresh garden mint, cardamom, and black pepper, and surrounded by a snappy dark chocolate shell.
Leftover magic shell can be stored at room temperature and drizzled over ice cream when needed. If mixture hardens, set jar in a bowl of hot water and stir until liquid again.
Ingredients
Coconut Mint Popsicles
2

cans

(13.5-ounce) full fat coconut milk, shaken well

1

packed cup fresh mint leaves

(use spearmint for extra minty-ness)

1/2

cup

cane sugar

1/4

teaspoon

fresh ground cardamom seeds

1/4

teaspoon

fresh ground black pepper

pinch sea salt
Chocolate Magic Shell (adapted from Serious Eats)
6

ounces

bittersweet chocolate

(60 - 70-percent cacao), chopped

2/3

cup

coconut oil

(refined is preferable, but unrefined works well too)

1

tablespoon

light corn syrup (optional – see note above)
Instructions
To make popsicles, combine all ingredients in a medium saucepan and heat over medium heat. When mixture just starts to steam, remove from heat, cover, and steep 30 minutes.

Use a fine mesh strainer to strain out leaves, press firmly with a wooden spoon to extract all possible juices. Pour mixture into popsicle molds. Freeze 20 minutes, add popsicle sticks, then freeze solid (preferably overnight).

Set a heavy bottomed saucepan over medium heat. Stirring constantly, add two-thirds of the chocolate. Once chocolate has melted, stir in remaining chocolate, coconut oil, and corn syrup if using. Pour into a tall, narrow jar and cool to room temperature.

To unmold popsicles, find a container that your popsicle mold will fit in and fill with (just) warm water (you want the molds to be completely immersed, without getting any water inside or on top of the molds). Immerse mold in warm water for 20 - 30 seconds. Remove from water and unmold.

Dip popsicles in chocolate dip at an angle (or straight down), hold for 20 seconds while shell hardens, then set on a parchment lined tray in the freezer. Once refrozen, popsicles can be stored in a zip-top bag in the freezer.
Recipe Notes
Magic shell chocolate dip recipe adapted from Serious Eats. 
*Corn syrup optional – see note above. 
SaveSave
SaveSave
SaveSave
SaveSave
SaveSave
SaveSave
SaveSave