Crisp chicken piccata topped with a bright and buttery caper sauce and served alongside angel hair pasta and asparagus, created in partnership with Shenandoah Valley Organic.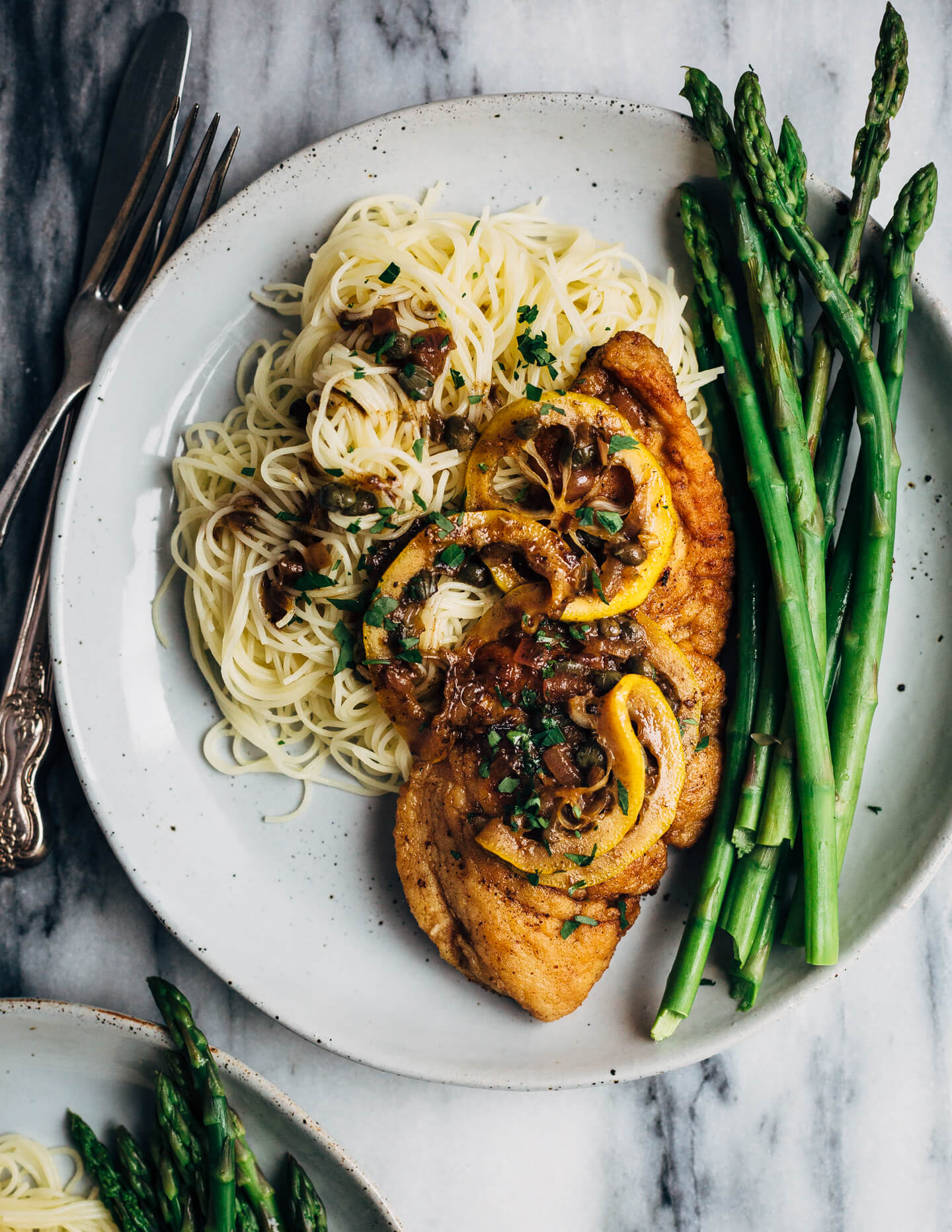 When we had our first daughter, Brian and I didn't really think it would change our approach to cooking. In the early years, it didn't. But eventually, with a second daughter, we found ourselves with less time but no less commitment to the family dinner, so family-friendly cooking took hold.
For years now, we've been eating a mix of simple, kid-friendly dishes we know the girls will enjoy (like tacos and pasta), and the occasionally challenging meal they might not (like spicy curries). Recently, though, my tastes changed. The old standbys bored my palate, and so I started making a much more diverse mix of dishes, all with an emphasis on big flavors. Dishes exactly like this chicken piccata.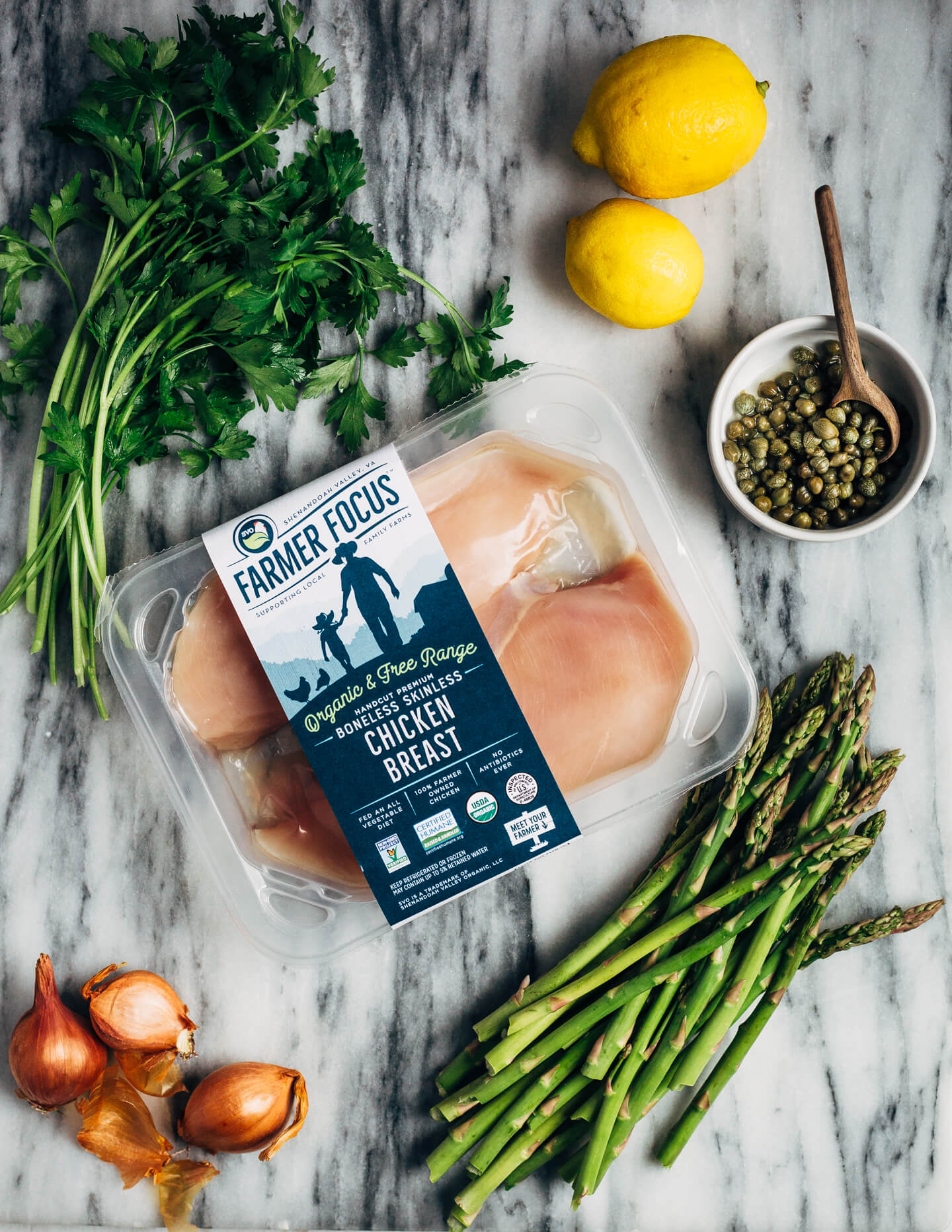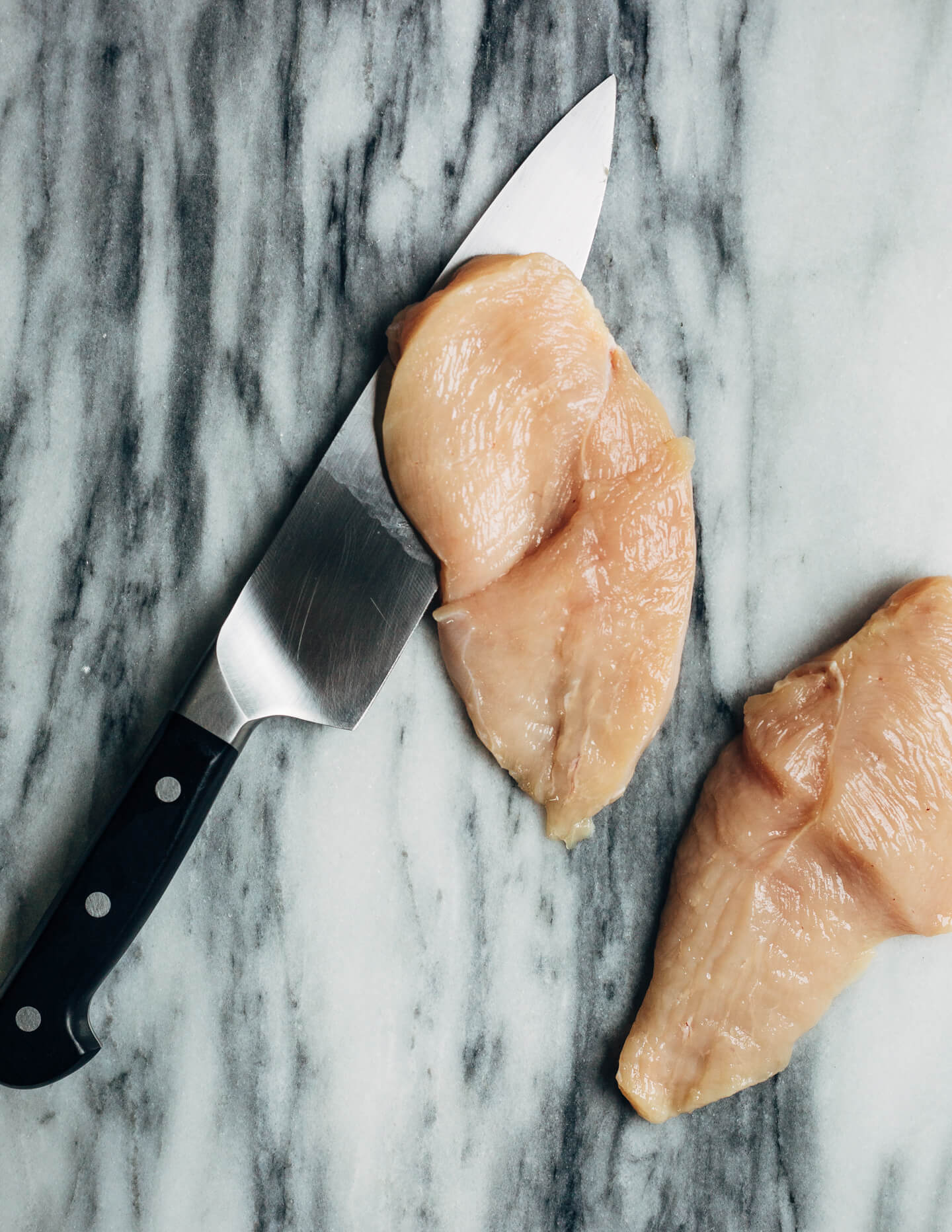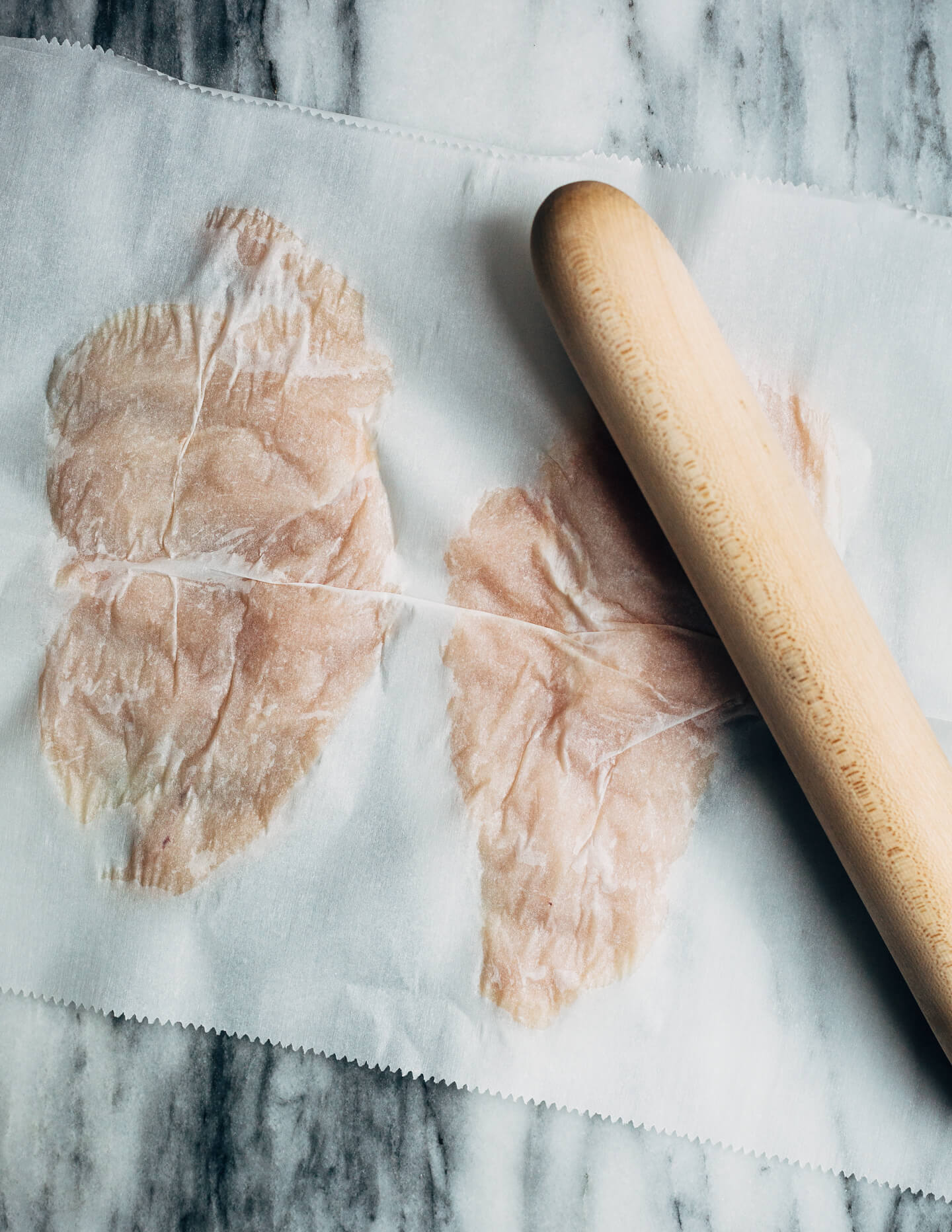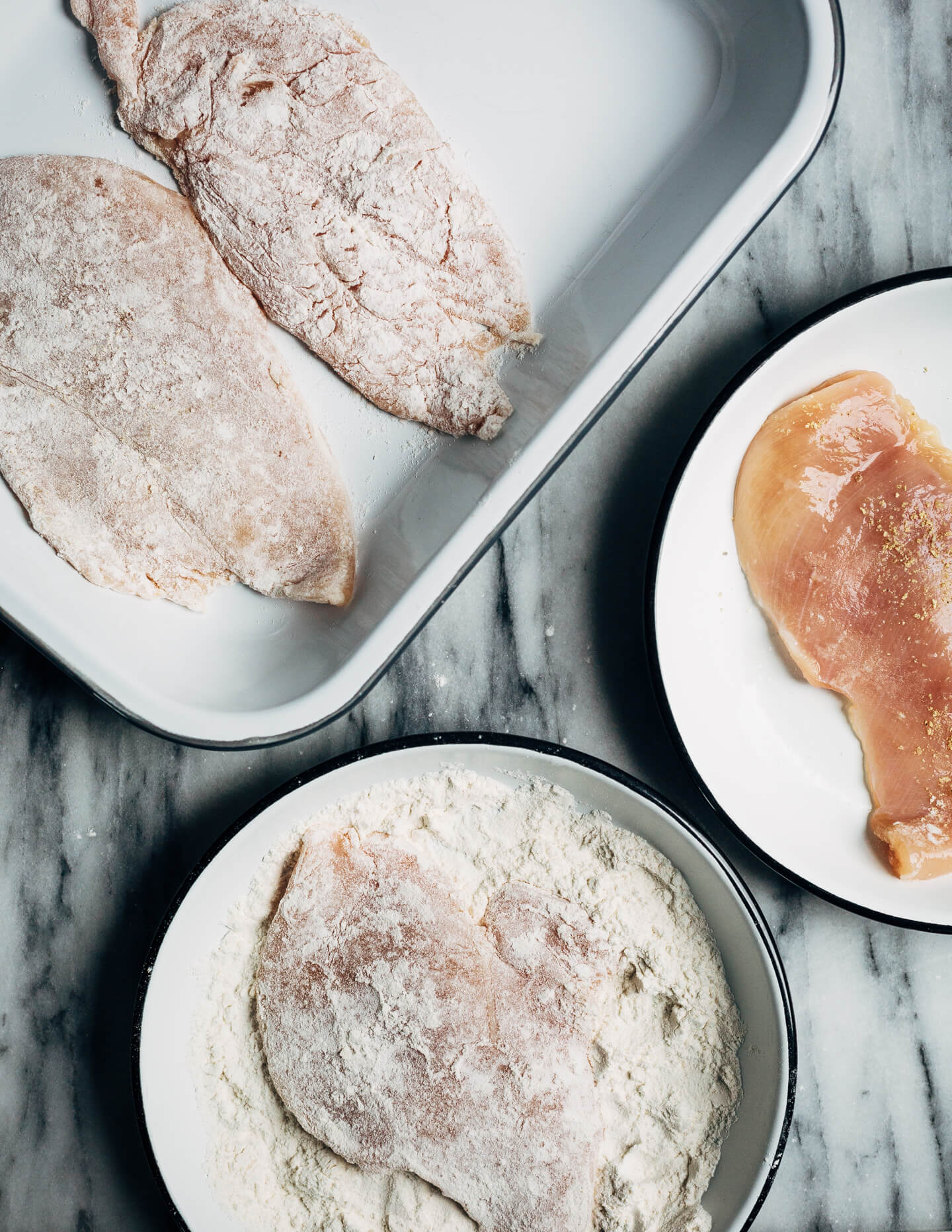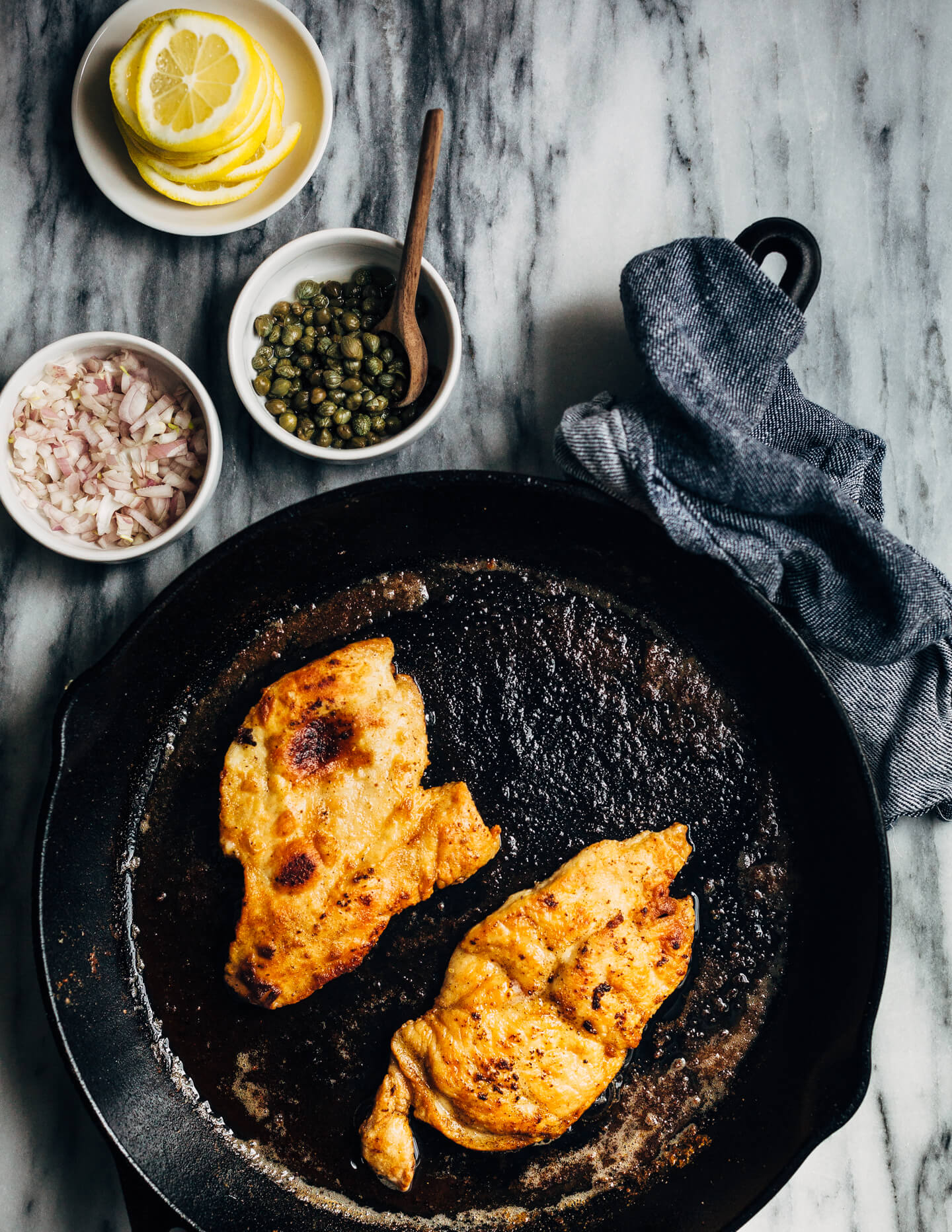 Predictably, the highlight of chicken piccata is the juicy, well-seasoned chicken, crispy and golden after a stint in a buttery skillet. The chicken is topped with a rich pan sauce that delivers wonderfully complex, concentrated flavors with notes of briny capers, punchy lemon rinds, and creamy butter. Knowledge that all this deliciousness comes together so quickly is enough to earn this chicken piccata a recurring slot on the weeknight menu.
Since this is a post about feeding my family, I should note that no matter what I'm making, I always try to put the best quality ingredients on the table. This consideration for quality is one of the things I love most about Shenandoah Valley Organic Chicken. Raised with care by farmer owners just over the mountains in the Shenandoah Valley, SVO chicken is among the freshest, most delicious chicken I've ever had.
It's a pleasure to set SVO chicken on the table and know that I'm not only nourishing my family, but also the larger community.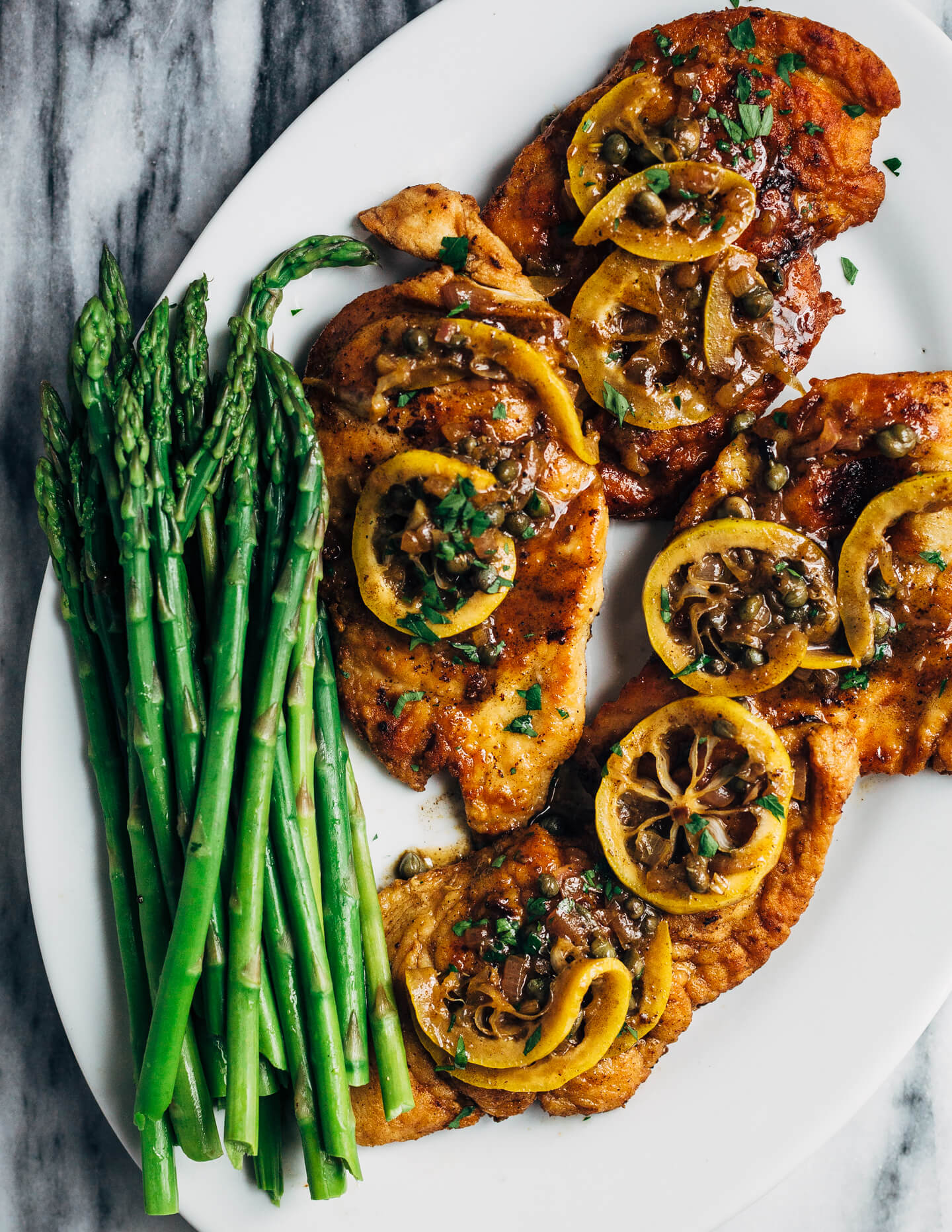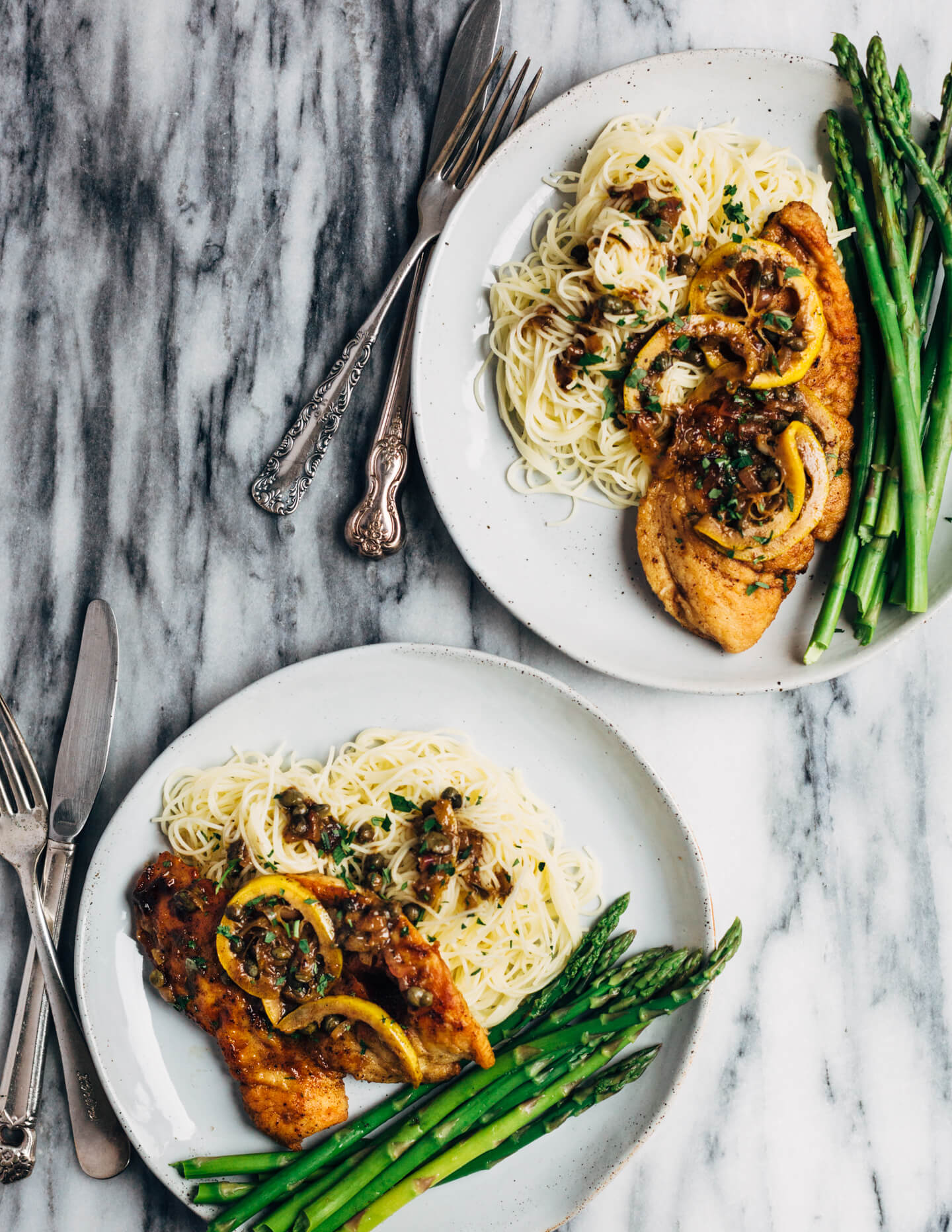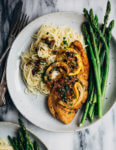 Chicken Piccata with Angel Hair Pasta and Asparagus
Weeknight-perfect chicken piccata topped with a bright and buttery caper sauce and served alongside angel hair pasta and asparagus.
Ingredients
Chicken
sea salt

fresh ground black pepper

1/2

cup

all-purpose flour

2

tablespoons

grapeseed oil

1

tablespoon

unsalted butter

1

tablespoon

minced parsley leaves

lemon slices
Sauce
1

large shallot

minced

3/4

cup

white wine

1

lemon

sliced into paper thin rounds with seeds removed

2

tablespoons

capers

drained

3

tablespoons

butter

sea salt to taste
To Serve
2

tablespoons

minced parsley
Instructions
Lay chicken breasts on a plastic cutting board. Set a folded paper towel under each to prevent slipping while you cut the chicken into culets. Place a hand on top of one of the breasts and with a large, sharp knife, slowly slice lengthwise down the center of the chicken. About halfway through, the chicken may start to wiggle, at this point, you can peel the top half back with your hand and continue slicing all the way through. Do the same for the second breast.

Working two or four at a time, cover the chicken with parchment or plastic, and pound with a meat tenderizer, rolling pin, or small pan, until the chicken is about 1/4-inch thick. Sprinkle both sides of the chicken generously with sea salt and pepper.

Dump flour into a shallow bowl and dredge chicken on both sides, shaking any excess flour off.

Set a large cast iron skillet over medium-high heat. Add grapeseed oil and butter, and stir. Add two chicken cutlets and cook until a rich golden brown, 2 - 3 minutes per side. If pan starts to smoke, edge heat closer to medium. Keep cooked chicken warm on wire rack in a 200 degree F oven.

If you haven't already, turn heat down to medium. If pan is dry, add a drizzle of grapeseed oil. Add shallots. Cook, stirring often, until shallots are golden, 2 - 3 minutes. Add capers, lemons, and white wine. Edge heat up to medium-high, and cook until mixture starts to thicken, about 4 minutes. Add butter and stir; cook, stirring occasionally, until mixture thickens considerably, about 4 minutes more. Add sea salt to taste. Remove from heat and spoon sauce into a small bowl.

Arrange cutlets on a platter. Drizzle with the pan sauce. Finish with parsley. Serve with al dente angel hair noodles and asparagus or greens.
SaveSaveSaveSave
SaveSave
SaveSaveSaveSaveSaveSave
SaveSave
SaveSave
SaveSave