Fall weather means it's the right time to turn on your oven and make this crisp-skinned, deeply flavorful chimichurri roasted chicken with schmaltzy Yukon gold potatoes. This post was created in partnership with Farmer Focus.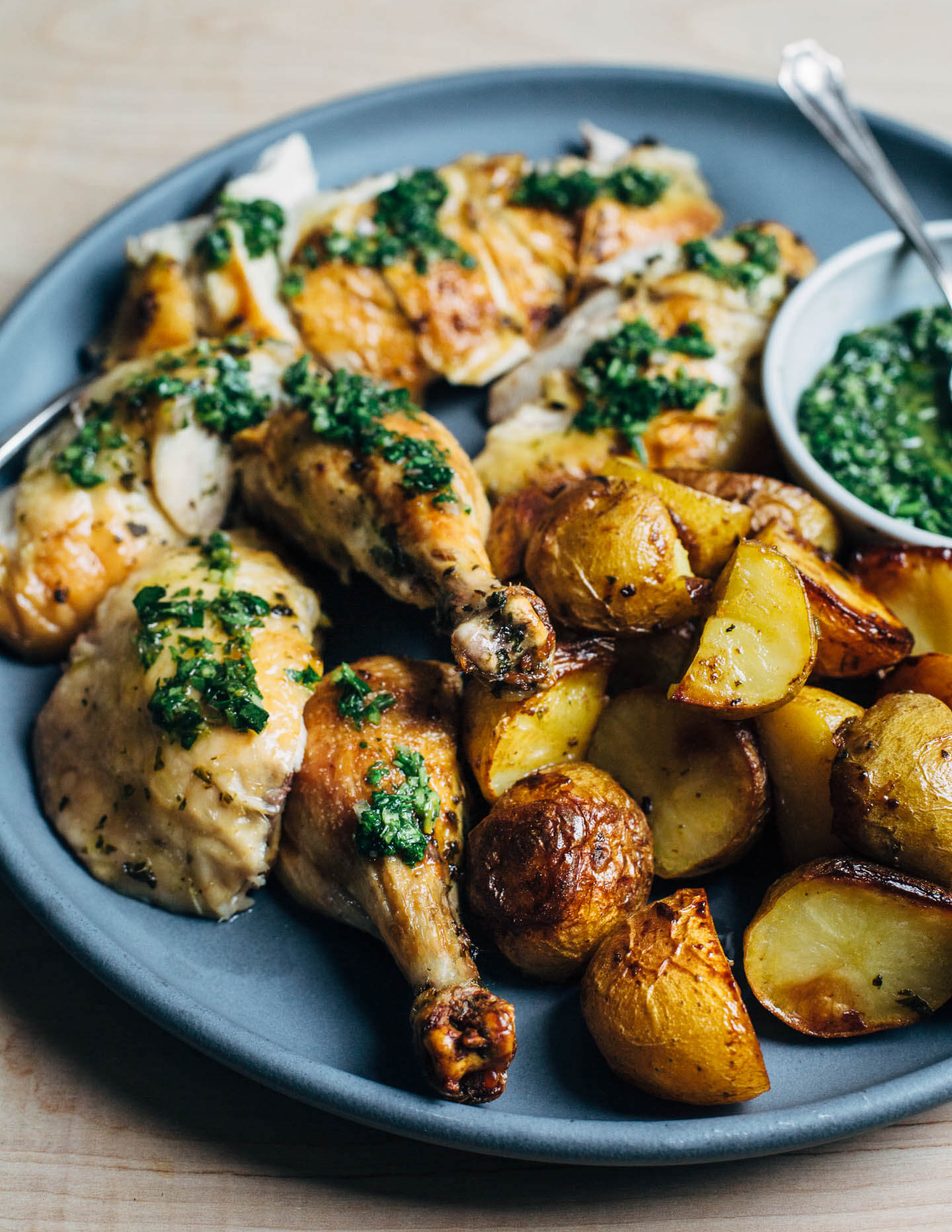 Shifting into Fall
As the season shifts, my habits are shifting too.
The kids are back in school and the fact that they actually leave the house in the morning and then come back in the afternoon has been so nice. I miss them while they are gone and find myself prioritizing our time together in a way I wasn't able to last year.
I'm shutting my laptop after 4pm, skipping all but the most pressing meetings, and making room for crowd-pleasing family meals that leave us chatting and lingering at the table just a little longer. One of our go-tos is roasted chicken, especially right now, as the pleasure of roasting something in the oven feels novel after a stretch of hot summer months.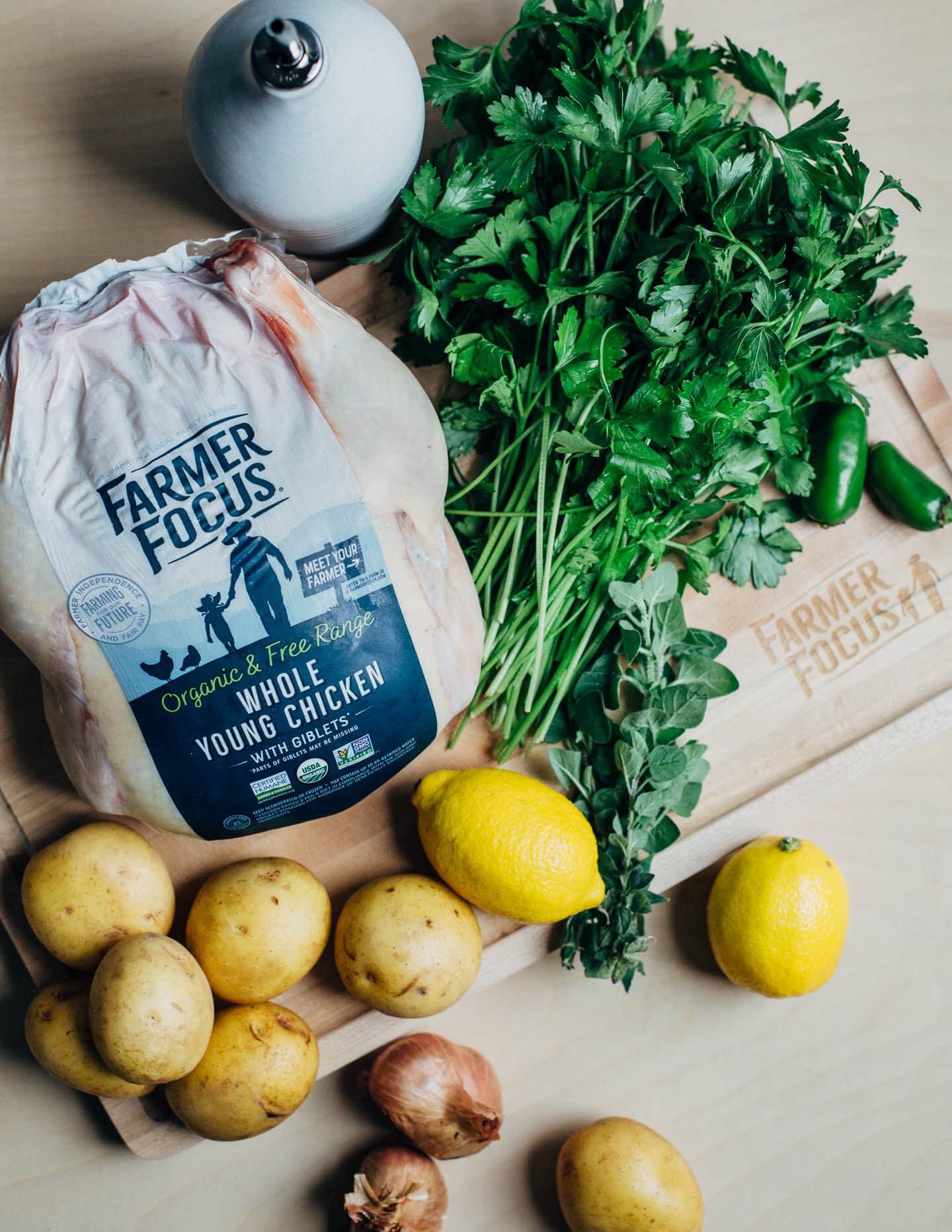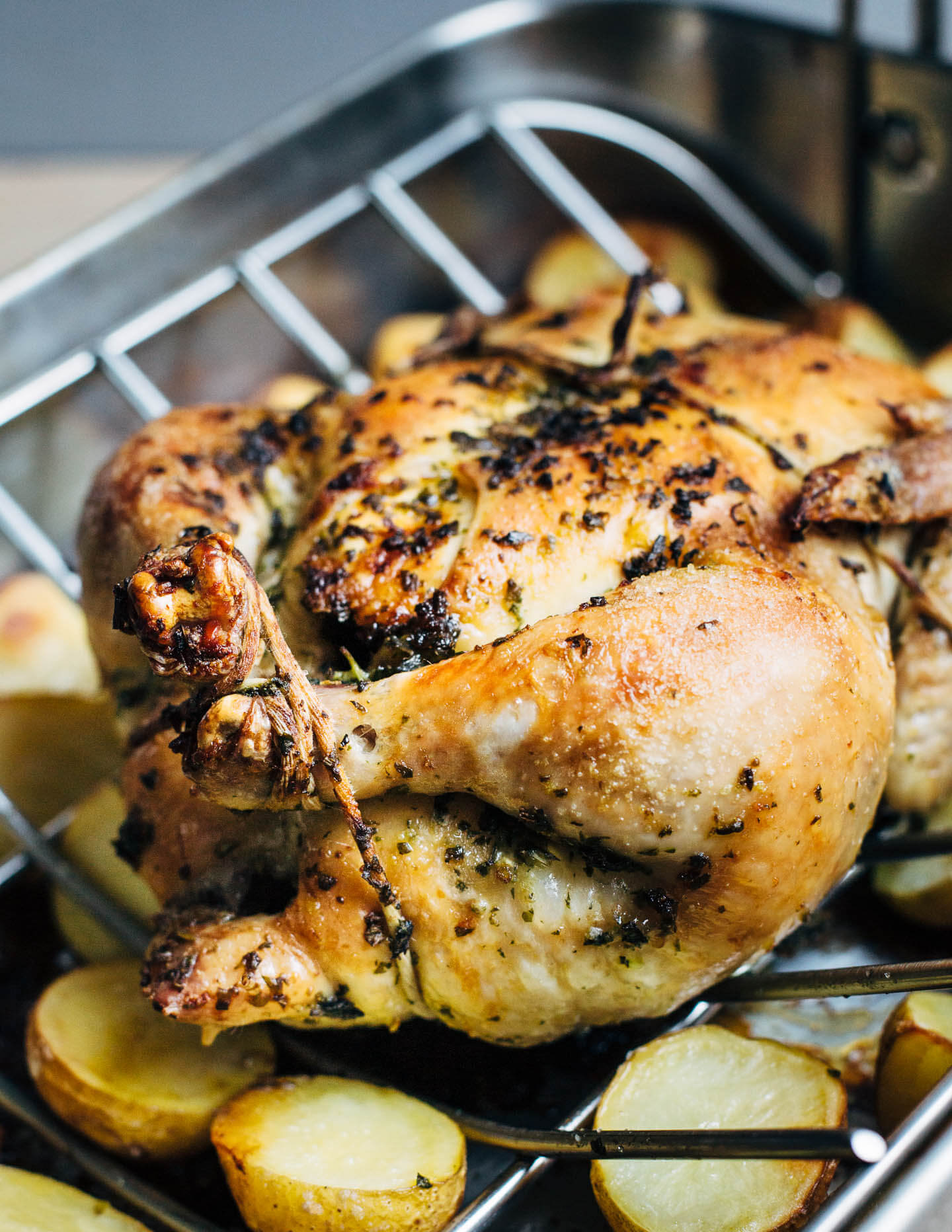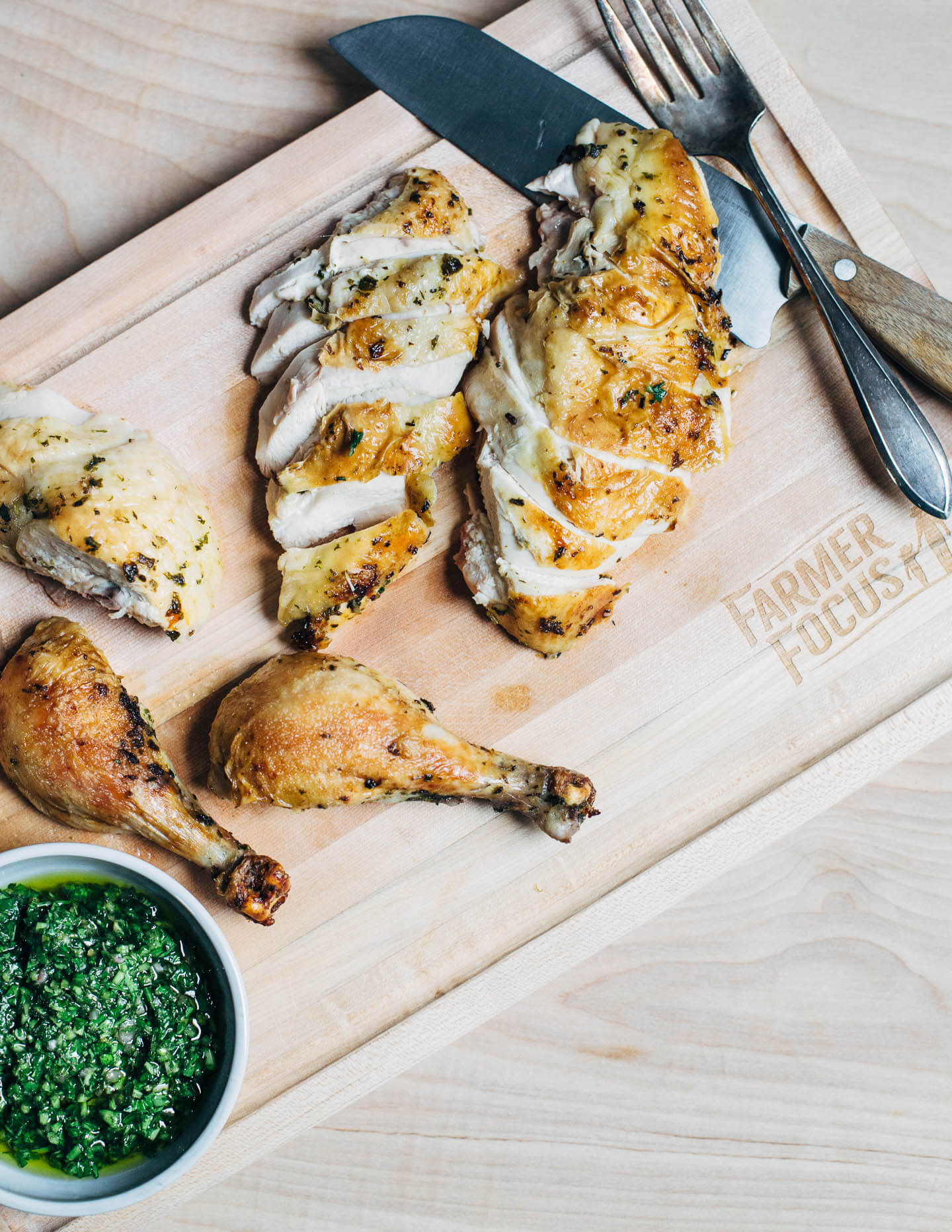 Chimichurri Roasted Chicken
And this chimichurri roast chicken is an absolute delight. Like all the best roasted chicken, it starts with a generous sprinkle of fine sea salt. I like to do this up to 2 days ahead to give the salt time to really permeate the chicken. Next, I set the chicken in a zip-top baggie, add 1/2 cup of chimichurri, and set it in the fridge to marinate overnight.
When it's time to roast the chicken, I tuck halved or quartered Yukon gold potatoes, tossed with a drizzle of olive oil and sea salt, all around the bottom of the pan. As the chimichurri chicken roasts, the potatoes crisp up in the delicious mix of schmaltz and herby, delicious chimichurri dripping off the chicken. I love the way these flavors come together – schmaltzy roasted potatoes are truly a thing of beauty.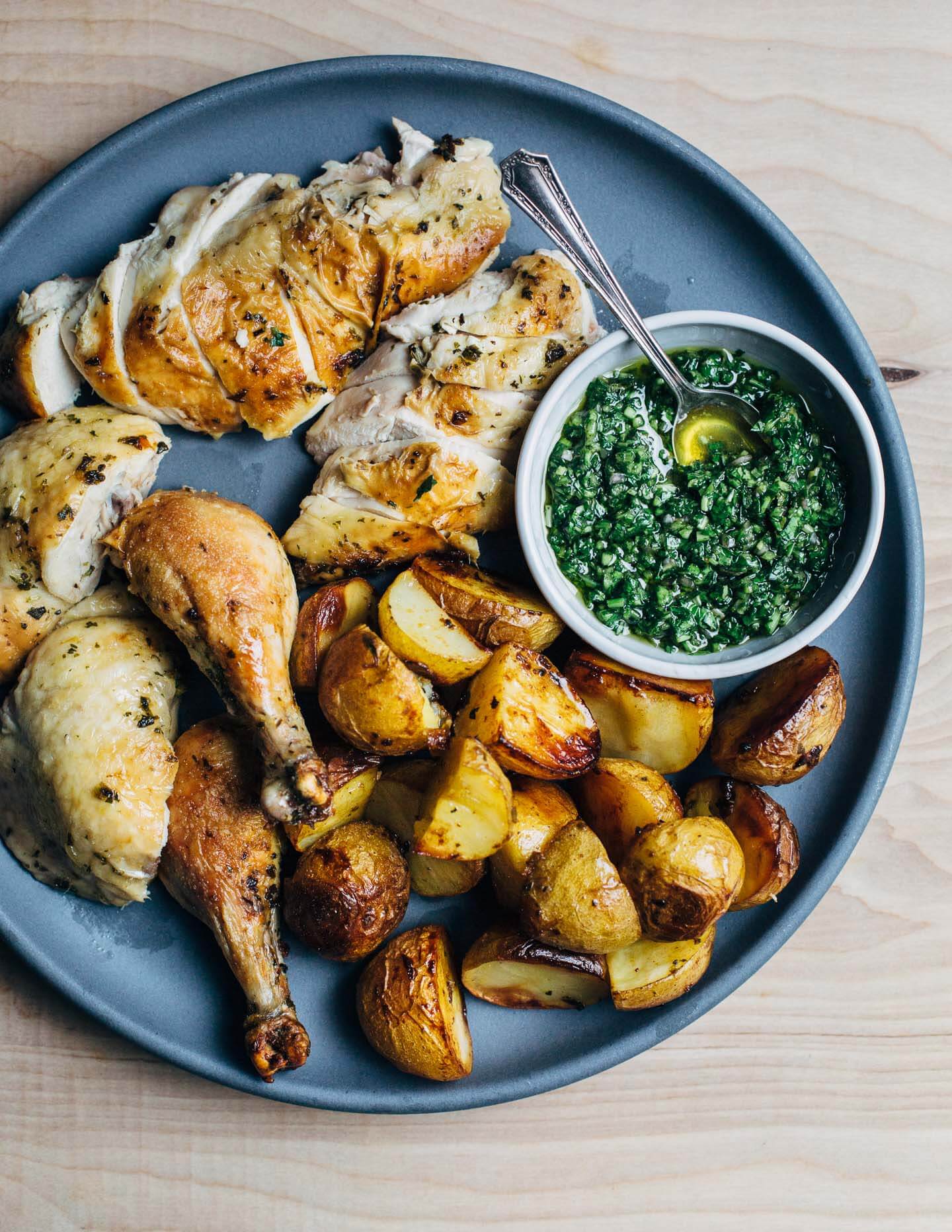 Farmer Focus: Getting the Details Right
Creative flavor profiles can bring a little excitement to a beloved standby, but for me, the essence of excellent roasted chicken starts with a fresh, certified organic Farmer Focus chicken. Great chicken is all in the details and Farmer Focus gets the details right. Farmer Focus chickens are raised in the Shenandoah Valley by small partner farmers who own their chickens and work with the Farmer Focus team to ensure all chicken is 100 percent organic and GMO-free. Farmer Focus and their partner farmers hold themselves to higher standards – all their chicken is certified humane and free-range. Best of all, you can always find out more about your chicken and where it was raised with their fully traceable Farm ID located on every package.
Farmer Focus is widely available. Find their chicken online or at major retailers like Costco, Kroger, Publix, and Lidl. Use their store locator to find a retailer near you.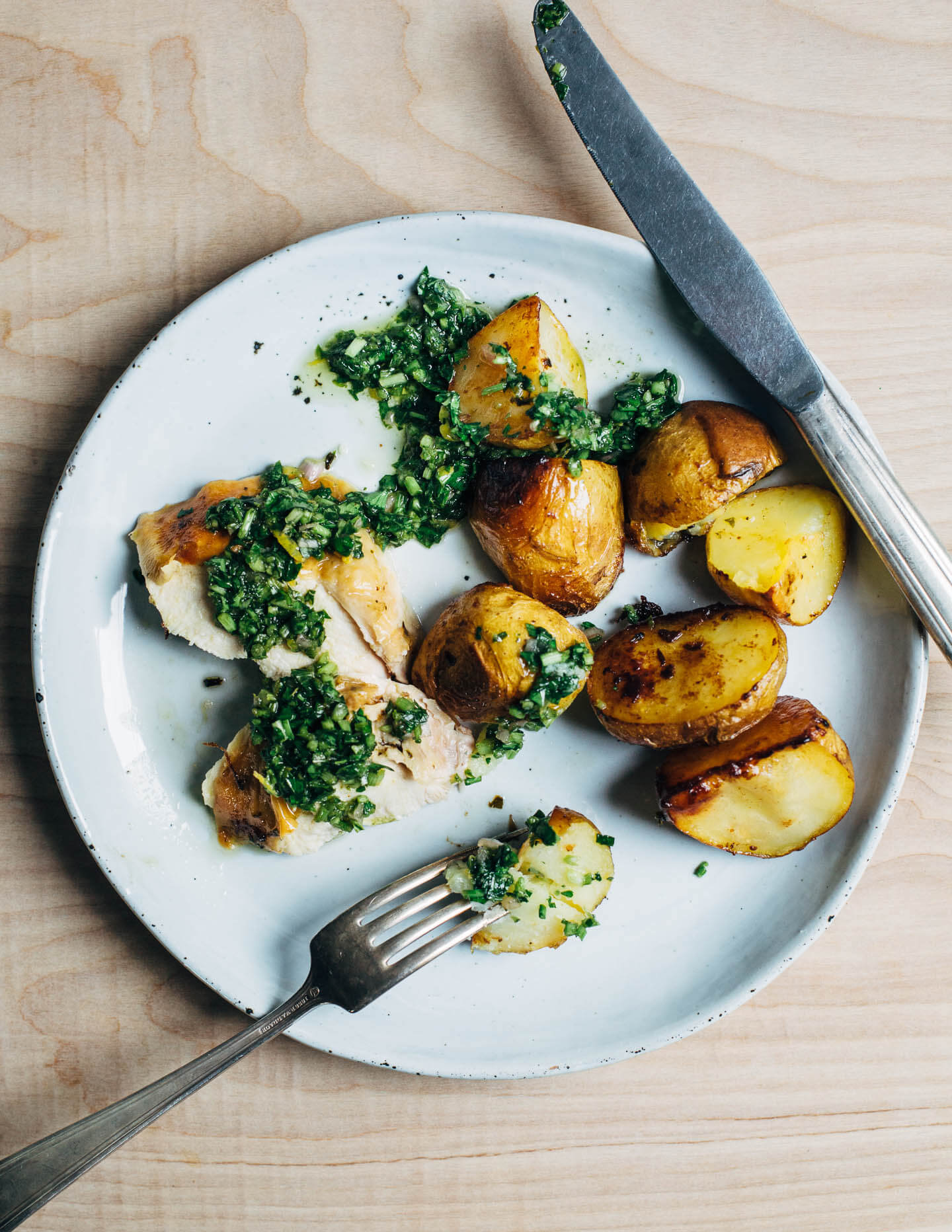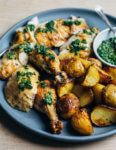 Chimichurri Roasted Chicken and Potatoes
Fall weather means it's the right time to turn on your oven and make this crisp-skinned, deeply flavorful chimichurri roasted chicken with schmaltzy Yukon Gold potatoes. This post was created in partnership with Farmer Focus.
Keyword:
chimichurri roasted chicken
Makes
:
4
generous servings
Ingredients
Chimichurri
2

tablespoons

finely minced shallot,

(from 1 - 2 shallots)

2

tablespoons

red wine vinegar

1/2

teaspoon

fine sea salt

Zest of 1 lemon

2

teaspoons

very finely minced or grated jalapeño

1

bunch parsley

(2 heaping cups), stems and all, very finely minced

1/4

cup

oregano leaves,

very finely minced

2/3

cup

extra virgin olive oil
Instructions
To make the chimichurri, combine the shallots, vinegar, sea salt, and zest in a small mixing bowl and set aside for 10 minutes. Using a fork, fold in the herbs, jalapeño, and the olive oil. Chimichurri will keep covered in the fridge for three days. Bring to room temperature before using or serving.

A day ahead of time (or 2 days, if you're able), rub the chicken all over with sea salt. Carefully set chicken in a zip-top baggie and add 1/2 cup chimichurri. Carefully tip and press the bag to distribute the chimichurri marinade all over. Set in the fridge overnight.

When ready to roast the chicken, preheat oven to 425 degrees F.

Truss the chicken and place in a roasting pan with a rack or form a makeshift rack by crumpling foil into a v-shape and setting chicken in a large, deep sided baking pan; find details on how to truss a whole chicken here. Set chicken out for 30 minutes to come to room temperature.

Toss the potato with olive oil and 1/2 teaspoon sea salt. Tuck potatoes all around the chicken.

Roast chicken breast side up, for 30 minutes. Check the chicken and make sure the skin or wings are not burning at all. Place a loose foil shield over any parts that are. Rotate the chicken and continue roasting for 15 - 25 minutes longer, or until the internal temperature of the chicken hits 165 degrees F. As it approaches the right temp, check the chicken every 5 minutes.

Rest chicken for 10 minutes, then carve and serve alongside potatoes and the remaining chimichurri.