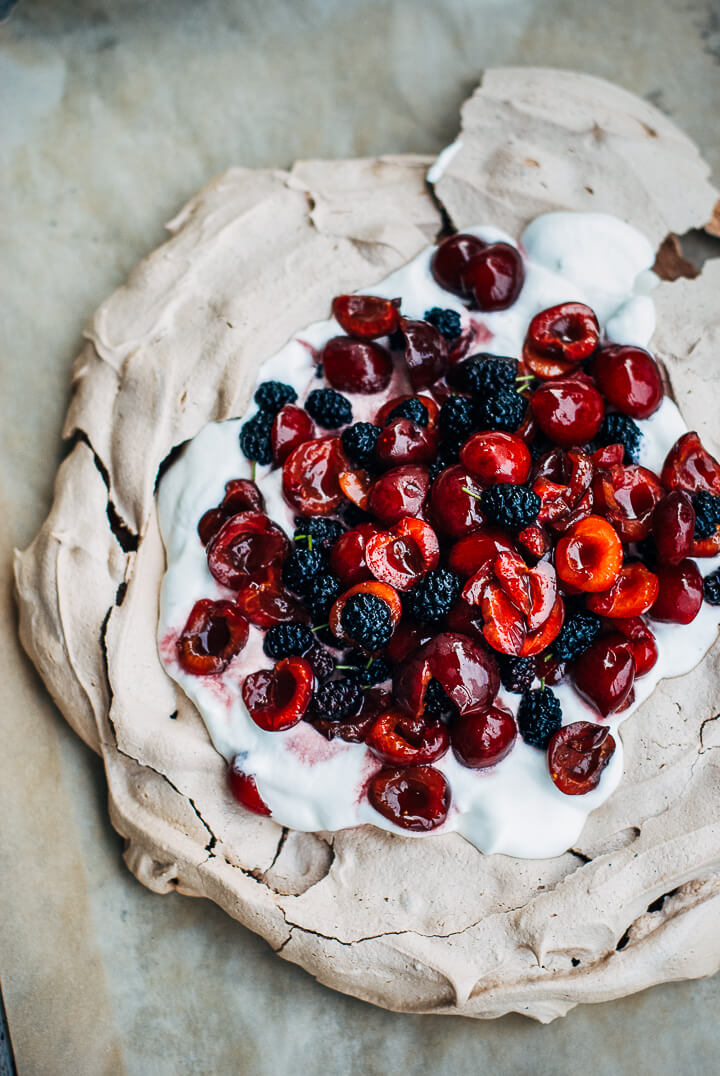 A celebratory gluten-free chocolate pavlova recipe topped with cherries, mulberries, and whipped cream. Jump to recipe.
Until last Thursday, I had exactly four trophies to show for my time on earth. Runner-up and then winner of the school speech contest in fourth and fifth grade, and two from the Enid's Apple Pie Contest, also runner-up and then winner, which I secured well into adulthood. But now, there's a shiny orange Le Creuset pepper mill in my collection; on it hangs a tag that says: Brooklyn Supper, Winner Editors' Choice, Most Delicious Food. You guys – we won!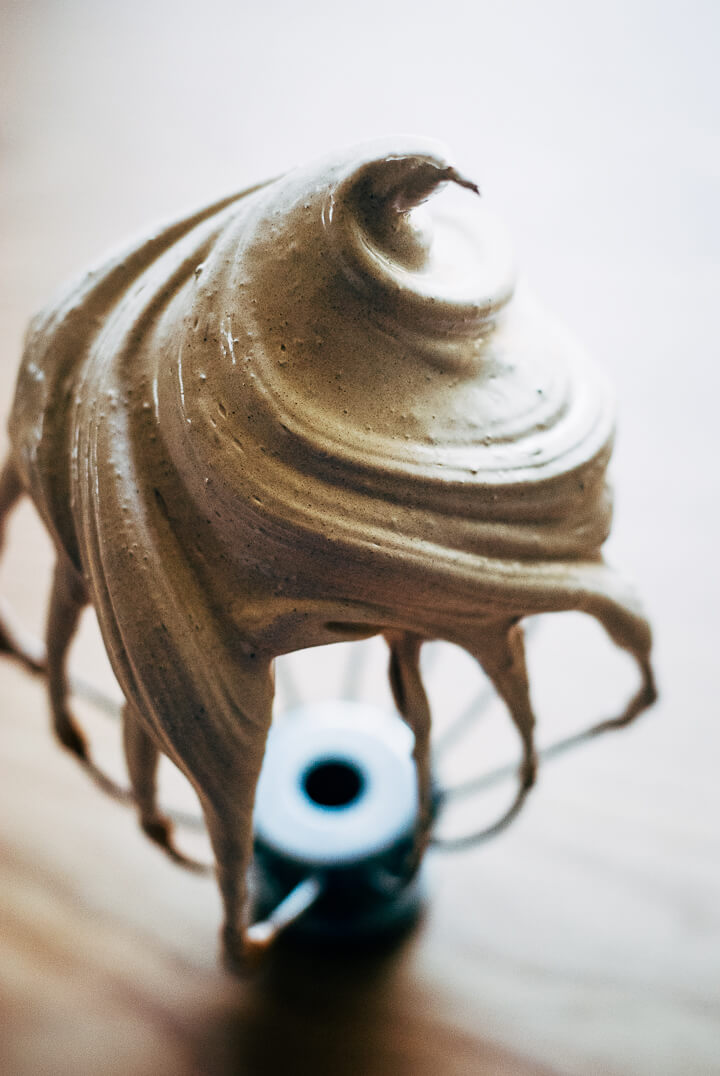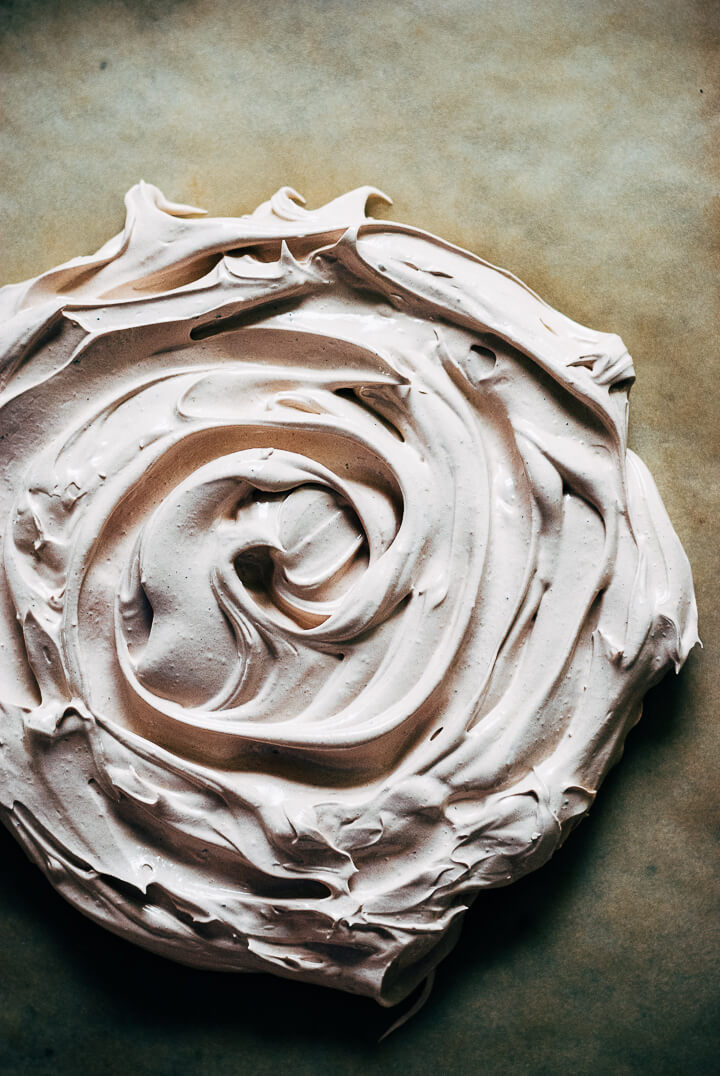 It's still hard to believe. I keep replaying the moment, wondering "Did that really happen?" But the little tag confirms that yes, we did actually win. It's deeply gratifying and I'm incredibly grateful for such a huge vote of confidence in me, my work, and all this delicious food. But the trip up to NYC was about much more than accolades. I got to meet dozens of my fellow bloggers, many of whom I've admired for years. I have lots of new friends and the feeling that I'm part of a vibrant community of talented, creative food types. I also was able to spend time with some of my very best friends in the world, catching up, celebrating, laughing, and reminiscing. It was all really cool.
This is a funny post to write. I'm beyond thrilled and happy, but have struggled for ways to properly convey to you, my readers, how thankful I am that you're here. When I mentioned that we needed to move out of our Brooklyn apartment, you wrote with offers of places we could rent; when I shared the bittersweet news that we were leaving Brooklyn, you offered nothing but support and love; when I shared a story about chance and change, you jumped in with tales of your own what-ifs and almosts. You've been with us through the good and the bad, both in life and photography, and I want to thank you. Without you, Brian and I wouldn't be here sharing stories, food, and snippets of our life. You guys are tops.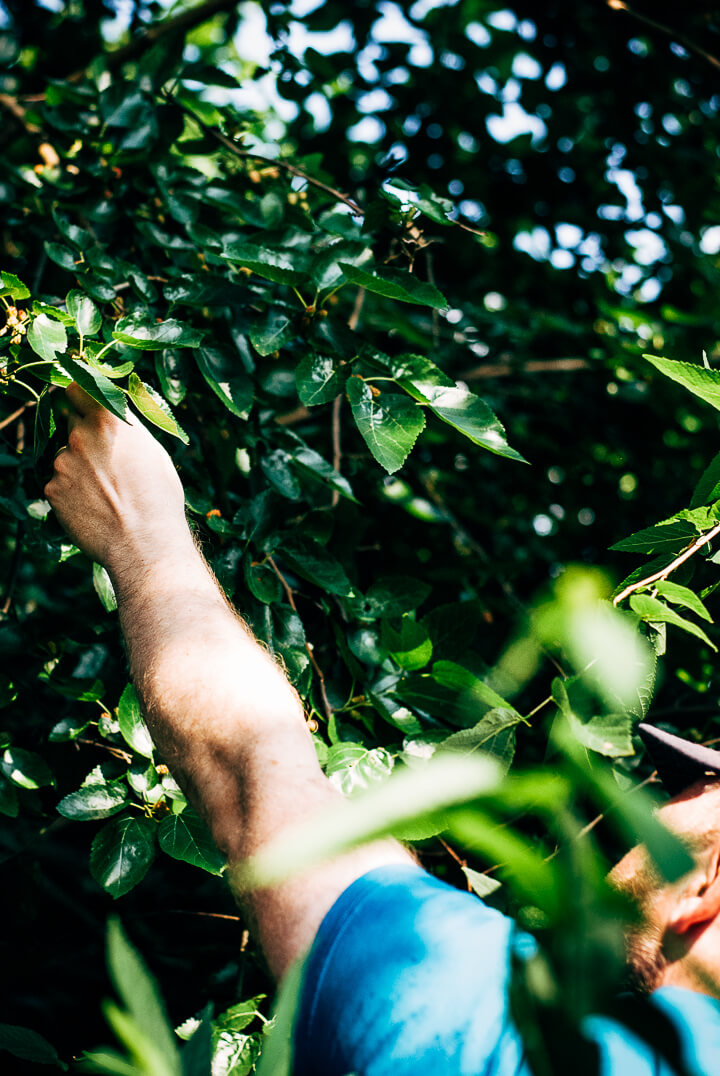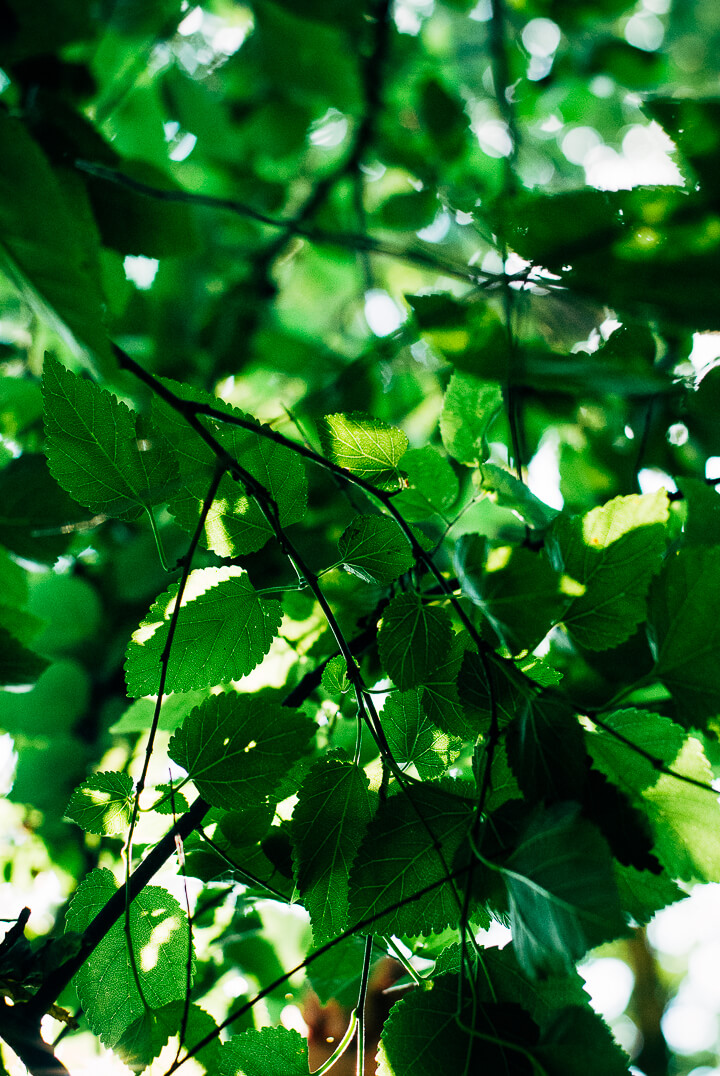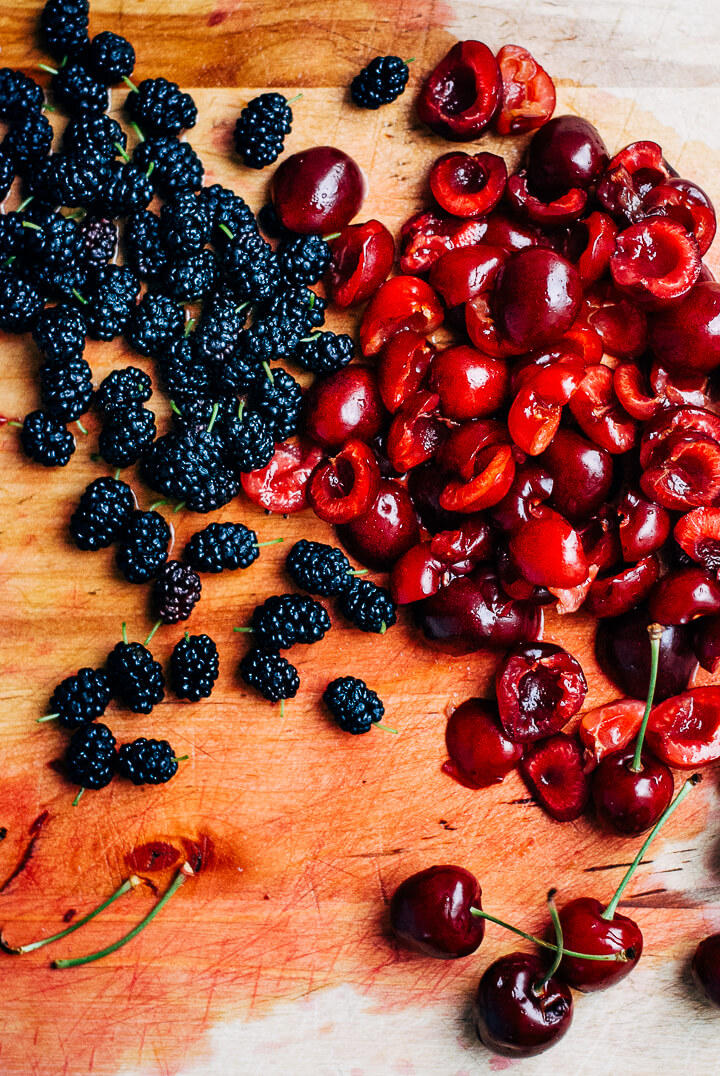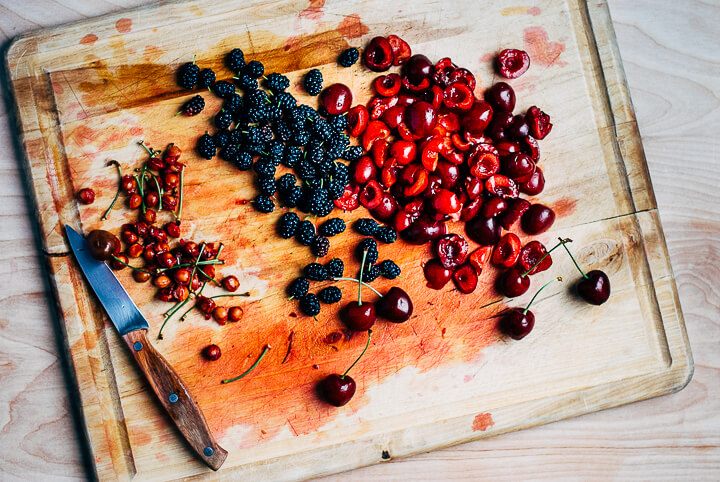 As it happens, a fruit covered chocolate pavlova pairs wonderfully with a glass of something dry and bubbly (really though, what doesn't?). It's airy and crisp on the outside, while the inside houses a deliciously chewy layer of chocolate meringue. Any sweet berry will do nicely on top, but here we used a mix of backyard mulberries and sweet cherries from the market – they lent a lovely, almost winey depth to the dessert, and the sweet tartness contrasted with the chocolate beautifully.
Baking a pavlova can be tricky, and cook times can vary from oven to oven. Start by cooking for 45 minutes, then check often. You'll want to cook the pavlova until the edges barely blush golden and the top is crisp but still has some spring. Once cooked, leave pavlova in the oven to cool with the door slightly ajar; this helps the chewy/gooey layer on the bottom to set up nicely. Pavlovas shatter easily, and may even collapse, so keep plenty of whipped cream and fruit on hand to mask any mishaps.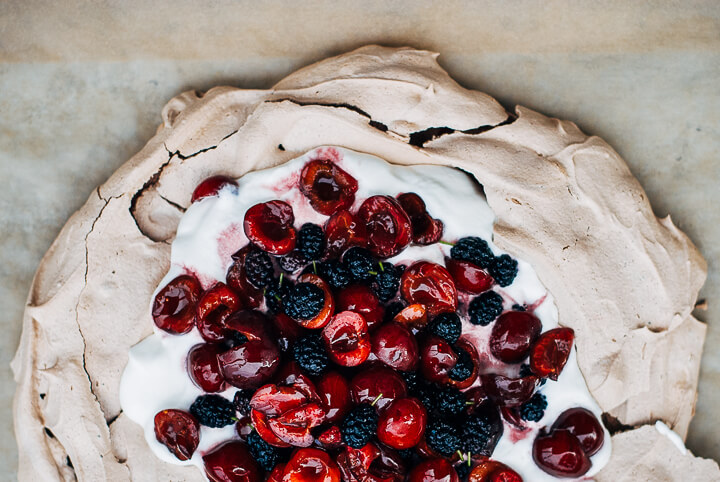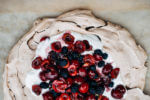 Chocolate Pavlova with Cherries and Mulberries
A celebratory gluten-free chocolate pavlova recipe topped with cherries, mulberries, and whipped cream.
Ingredients
4

large egg whites

, room temperature

1/3

teaspoon

cream of tartar

1

cup

superfine sugar

(you can pulse the sugar a few times in a coffee grinder)

1/2

teaspoon

finely ground coffee

1

tablespoon

cornstarch

2

tablespoons

cocoa powder

1

teaspoon

balsamic vinegar

2

cups

berries and cherries

(I used a mix of Bing cherries and mulberries)

1

tablespoon

plus 1 teaspoon sugar

, divided

1

cup

heavy cream
Instructions
Preheat oven to 325 degrees F. Line a baking sheet with parchment paper and set aside.

In a large, spotlessly clean bowl, beat egg whites on high speed for 3 - 4 minutes, until soft peaks form. Sprinkle in the cream of tartar and beat for 1 minute more.

Meanwhile, in a small bowl, use a fork to combine sugar, coffee, and cornstarch.

With beater still on high, slowly add sugar mixture, beating until the meringue is stiff, pliant, and has a nice sheen – for 4 - 5 minutes more. Finally, fold in the cocoa, followed by the balsamic.

Spoon onto prepared baking sheet and spread into an 8 - 10-inch circle, creating a few peaks and valleys as you do.

Gently slide pavlova into the oven, turn heat down to 300 degrees F, and bake for 45 - 50 minutes, or until the edges are the faintest golden, and the top is set but still has some spring. Turn off the heat, leave the oven door slightly ajar, and allow the pavlova to cool completely inside the oven. The cooked pavlova will keep well in an airtight container at room temperature for up to 3 days.

To serve, toss the fruit with 1 tablespoon sugar. Beat the cream to soft peaks, folding in 1 teaspoon of sugar right at the end. Pile the pavlova with whipped cream and top with berries. Slice, and serve immediately.