We're celebrating a decade of Brooklyn Supper with a summery avocado and tomato salad sprinkled with lime juice and fresh za'atar.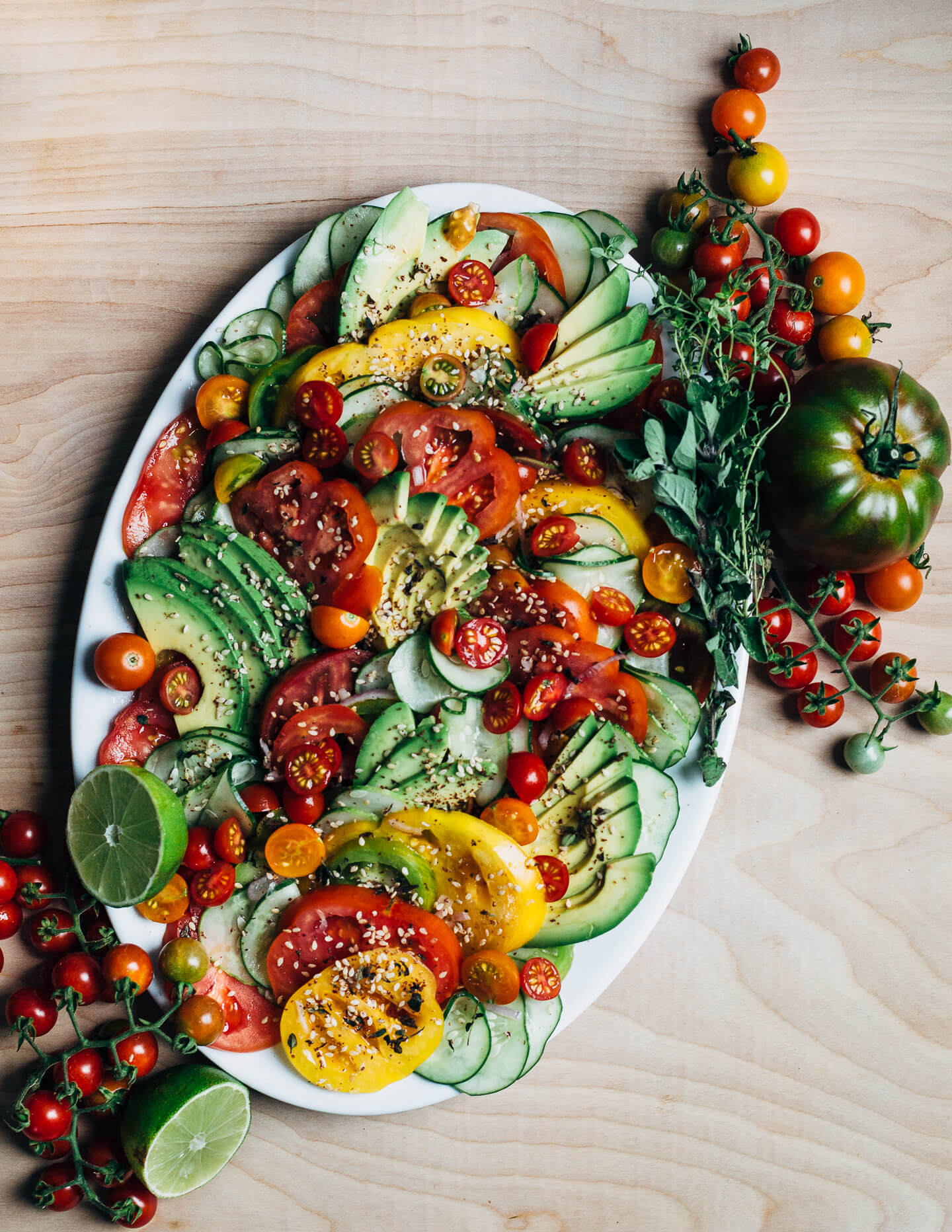 Back in June, this blog quietly turned 10. I'd planned to mark the occasion with a big celebration and lots of giveaways. But, as it often does, life got in the way.
When I started Brooklyn Supper, my first daughter was just a baby. I was lonely as a new stay-at-home mother and almost certainly suffering from postpartum depression. Though I was deeply in love with my daughter, I felt I'd lost my individuality to my new role as a mom. It was one of the hardest, happiest times of my life. So I came here, as an escape. In the blog, I found a voice I didn't know I had. I found community and a way forward, through all kinds of ups and downs.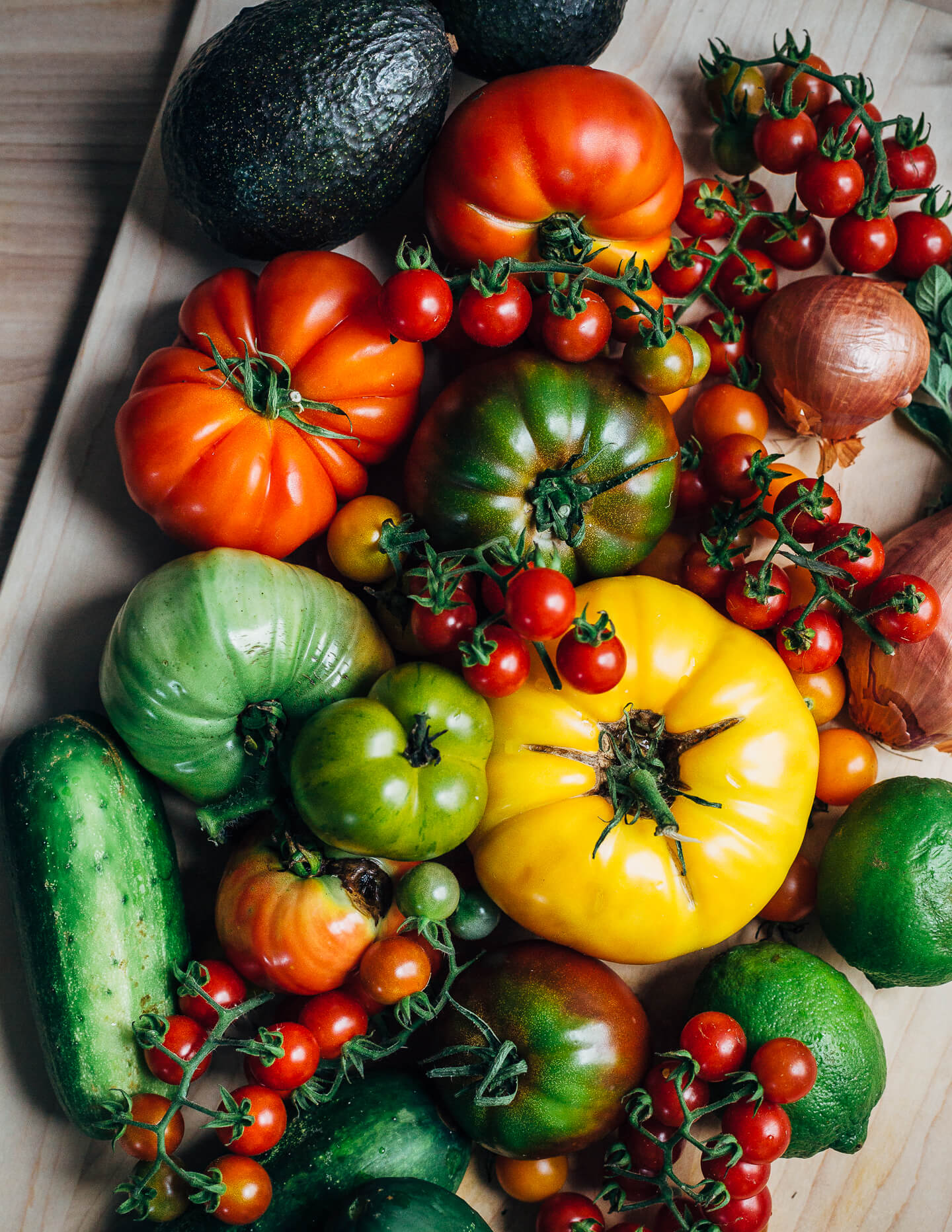 I should have a lot to say about blogging for an entire decade, but making grand revelations or offering up life-changing advice about photography or social media has never been my thing. After 10 years, I want to pop in and share something delicious that I think you'll love, just like I do every week.
But before we get to the recipe, I want to thank you. For being here all these years, for not batting an eye when the writer of a blog called Brooklyn Supper moved to Charlottesville, Virginia, and for the trust you put into me when you make this food. I never could have planned this accidental food career, but I'm glad things have worked out the way they have.
I like to catalog my anniversary posts every year – here they are: first, second, we skipped the third, fourth, fifth, sixth, seventh, eighth, and ninth. Let's do something big when we hit 11.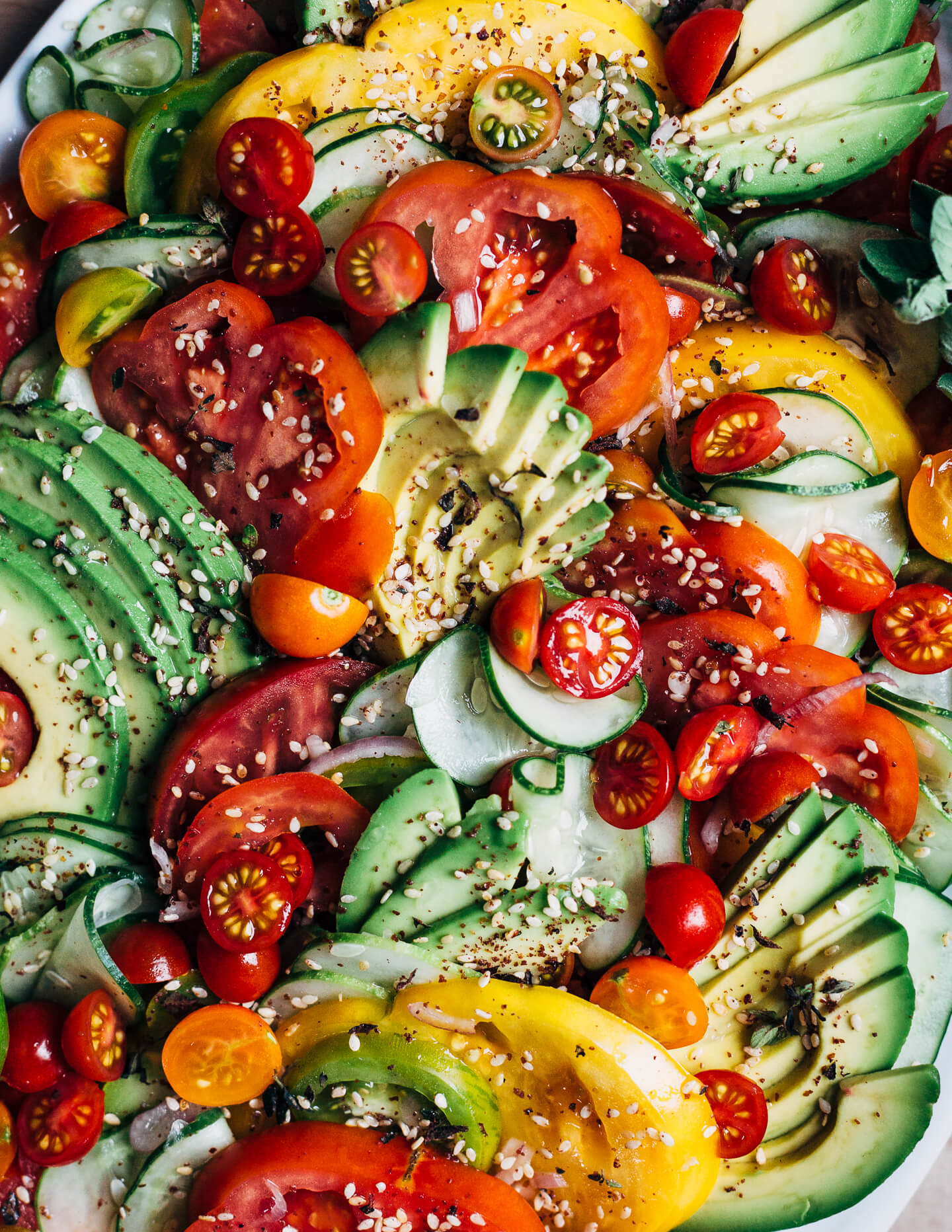 Chances are, you've encountered and even made an avocado and tomato salad recently. But I'd like to assert that this one's a little bit different. Drenched in lime and sprinkled with fresh za'atar, it's crunchy and bright and summery. Toasty sesame seeds and creamy avocado make a dynamic pairing, and perfectly sweet heirloom tomatoes are just right dressed up in lime juice and flaky sea salt. The final bit of goodness is a little spoonful of the best goat milk chèvre you can find. This tomato salad is delightfully effortless, with flavors and colors that pop. I'm going to hold fast to tomato season for as long as I can. If you're with me, this avocado and tomato salad is an excellent place to start.
The next day, the salad was perfect piled on a couple slices of toast slathered with mayo for a drippy but delicious knife and fork sandwich. (It's always a good idea to have a very solid leftover plan.)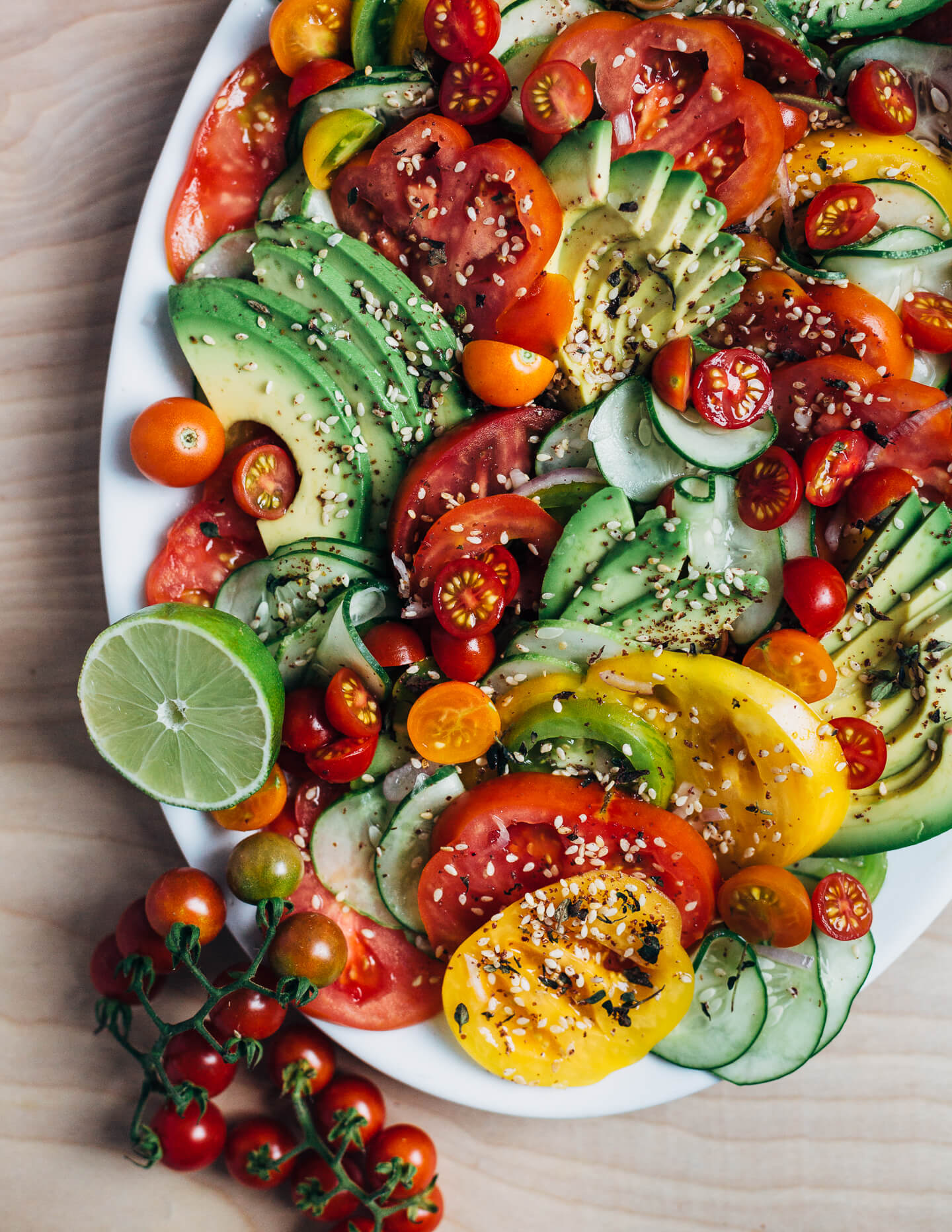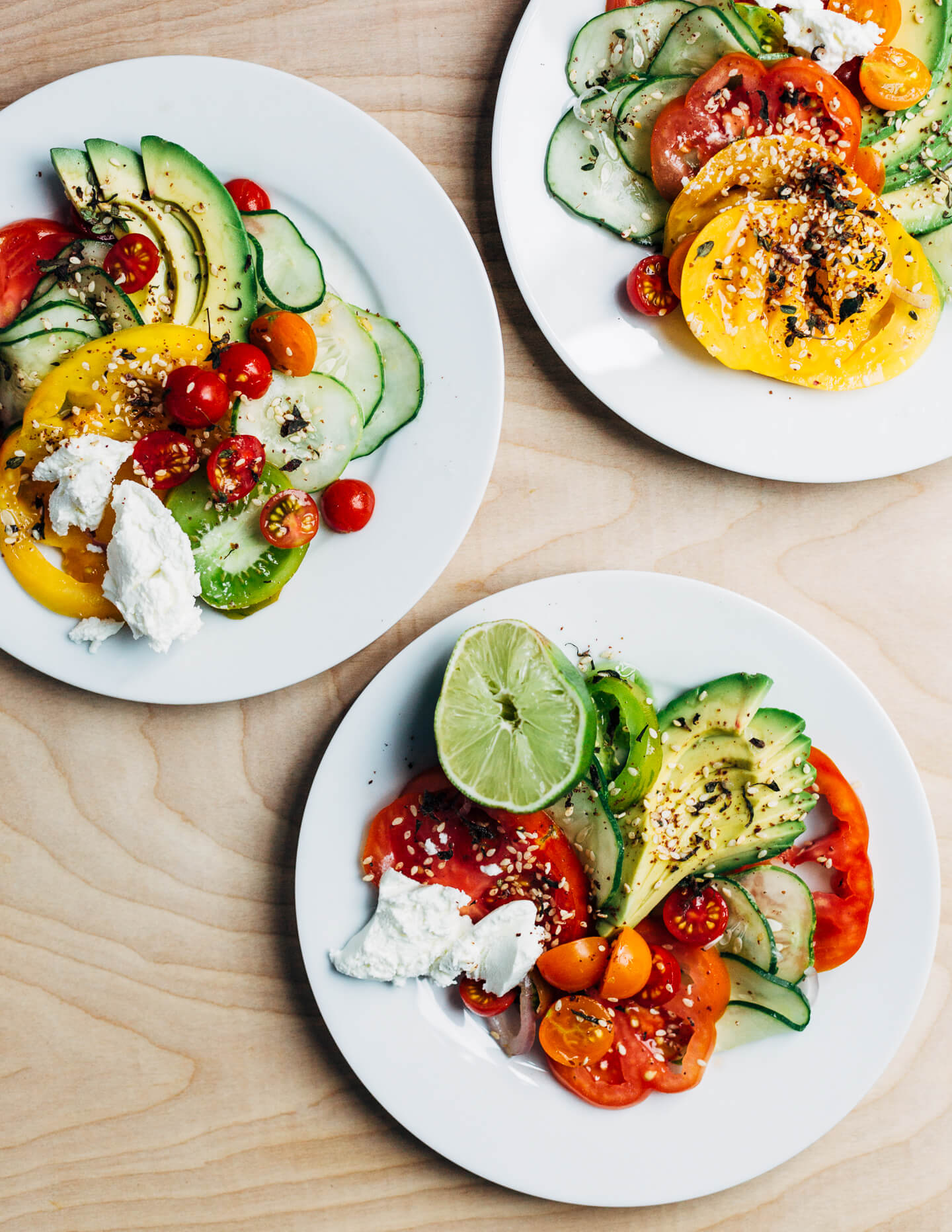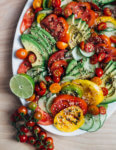 Avocado and Tomato Salad with Fresh Za'atar
A summery avocado and tomato salad sprinkled with lime juice and fresh za'atar. If you haven't made your own za'atar before, it's simpler than you think.
Along with fresh thyme and oregano, you'll need sumac, a tangy red-hued spice that can be found in the spice aisle at most markets or at specialty stores. Bright and savory, sumac is an excellent addition to your spice rack. Before making your za'atar, make sure your herbs are completely dry.
Lastly, the secret to avocados that don't brown is lots and lots of lime juice. Be sure to coat the avocados completely and they should stay vibrant.

Makes
:
4
generous servings
Ingredients
Za'atar
2

tablespoons

sesame seeds

1/2

teaspoon

sea salt,

plus more to taste

3

tablespoons

fresh thyme leaves

1

tablespoons

chopped fresh oregano leaves

2

teaspoons

ground sumac
Salad
2

medium cucumbers,

cut into 1/16-inch thick slices with a mandoline or a knife

1

medium shallot,

cut into 1/8-inch thick slivers

1/4

cup

fresh squeezed lime juice

(from about 2 limes), divided

sea salt

3

heirloom tomatoes,

sliced 1/4-inch thick

2

ripe avocados,

sliced 1/8-inch thick

1

cup

cherry tomatoes,

halved

2

tablespoons

olive oil

1/2

cup

goat milk chèvre

(*optional)
Instructions
To make the za'atar, toast sesame seeds in a small skillet over medium heat, stirring constantly. After about 4 minutes, seeds will become golden and fragrant. Remove seeds from skillet, toss with sea salt, and set aside to cool.

When seeds are completely cool, fold in herbs and sumac. Add sea salt to taste. Za'atar will keep in a sealed container at room temperature for 1 month.

To assemble the salad, toss cucumbers and shallot with 2 tablespoons lime juice and 1/4 teaspoon sea salt. Set aside for 15 minutes.

Arrange tomato slices on a large platter; sprinkle each tomato with a pinch of sea salt. Drain cukes and shallots, and tuck under and around tomatoes. Fan the avocados in segments and tuck throughout the salad. Drizzle remaining 2 tablespoons lime juice over salad, being sure to coat avocados completely. Next drizzle olive oil all over. Top off with several tablespoons fresh za'atar.

Serve immediately alongside chèvre, if using.