Celebrate the good life with this sparkling strawberry rosé sangria cocktail recipe.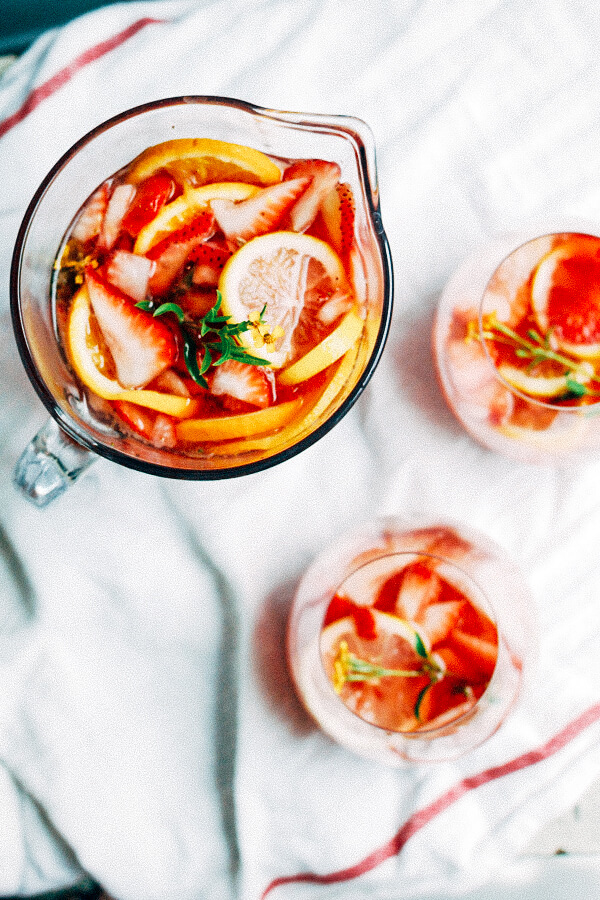 Let's talk about goals.
Last year, I boldly and publicly (on Twitter) proclaimed that my summer goal was to make sangria. This was before I realized that what I refer to as 'summer goals' everyone else in the world calls a summer bucket list. But the thing is, I want to live. Past September even, so I'm sticking with summer goals. So, sangria. The main thing standing in my way seemed to be the purchase of brandy. Now, you can make sangria anyway you chose, but I like mine with a slug of brandy. It keeps it from being too cloying. So, last summer came and went. And my singular summer goal? Unfulfilled.
Not this year. No sir. On Saturday, I managed to line everything up correctly so that I was able have on hand brandy, fruit, and rosé, and on Sunday I made my mundane but boozy dreams come true. And just in time, too. Today marks five years of Brooklyn Supper. Over the years, this space has changed our lives in so many ways (here's a look at Brooklyn Supper's first ever post, and our one, two, and four year anniversaries; we skipped three because this was happening). So, dear reader, we raise our glasses to you. (Brian doesn't like it when people use "dear reader" but I'm doing it anyway because he's not writing this post.) Thank you for being here and sharing in our lives. Your comments, emails, tweets, and messages over the years, and especially through this huge transition to life outside of NYC, have meant the world to us. Seriously. Now, go guzzle a pitcher of sangria, won't you?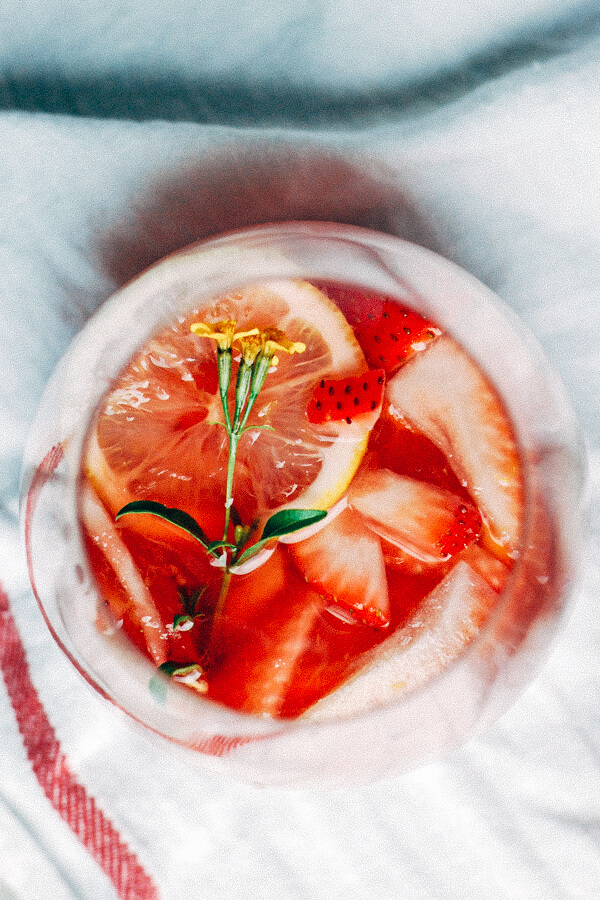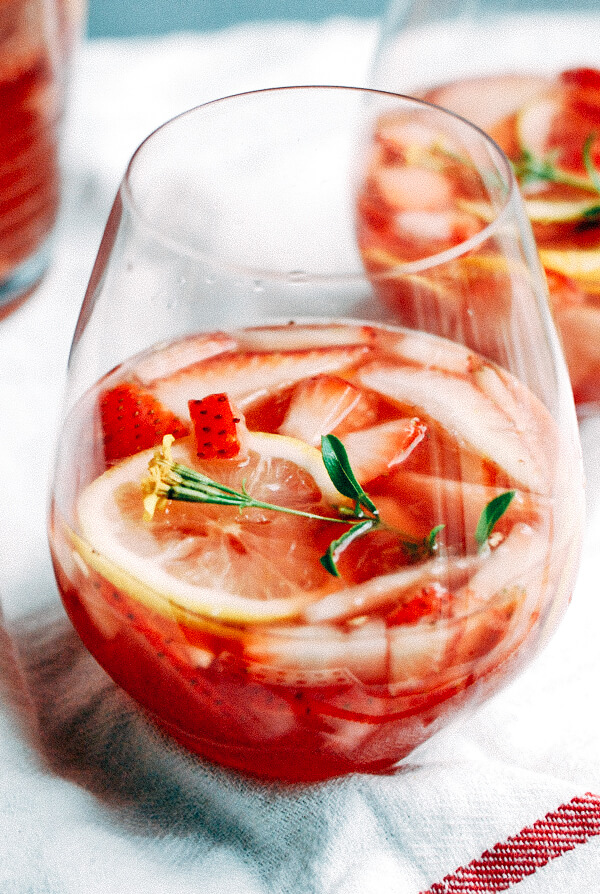 Sangria might be a little like barbecue, in that everybody has a way that they like to make it and everybody thinks their way is the only right way. I don't know if this is the right way, but it was definitely delicious so that seems like a really good start. A sparkling, dry rosé was a perfect partner to fresh strawberries, a juicy Valencia orange, and a lemon for good measure. Keep a tiny fork or spoon handy so you can scoop up all that boozy fruit when you're done.
And if boozy drinks aren't your thing, I think this recipe would also make for a spectacular lemonade.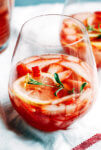 Sparkling Strawberry Rosé Sangria
Celebrate the good life with this sparkling strawberry rosé sangria cocktail recipe.
Ingredients
2

cups

strawberries,

hulled and sliced

1

Valencia orange,

sliced into thin rounds

1

lemon,

sliced into thin rounds

1

bottle dry,

sparkling rosé (750 mL)

1/4

cup

brandy

(we went with Cognac)

3

tablespoons

herbal simple syrup

(* see note)

lemon verbena sprigs for garnish,

optional

2

cup

sparkling water
Instructions
In a large pitcher, combine the strawberries and orange and lemon slices. Use the end of a wooden spoon to muddle the fruit a bit.

In a small glass combine the brandy and the simple syrup. Pour this and the bottle of rosé over the fruit. Chill for at least an hour, or longer if you have it. Just before serving, stir in the sparkling water.

Spoon some of the fruit into glasses, pour in the liquid, garnish, and serve.

Mission accomplished.
SaveSave