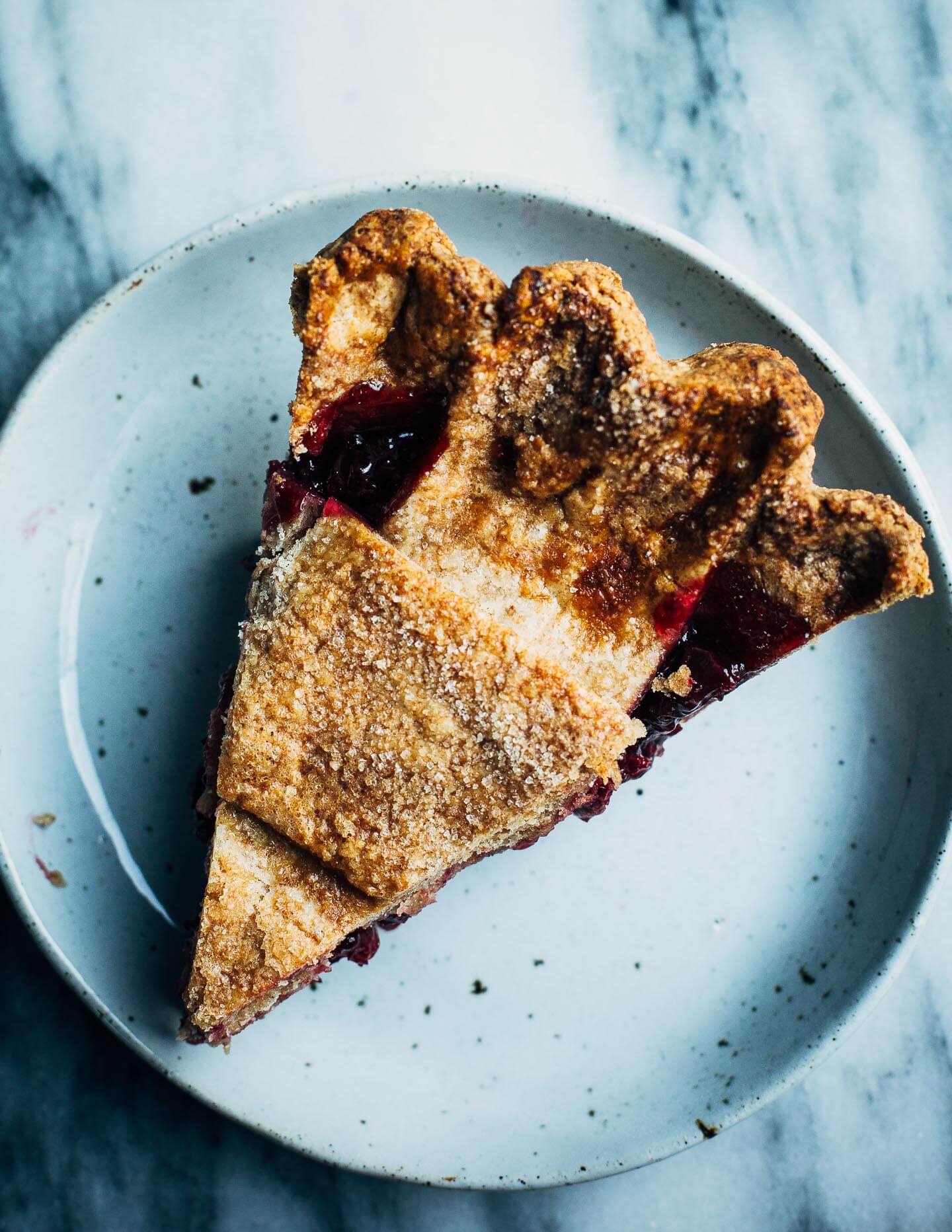 Celebrating nine years (!!!) of Brooklyn Supper with a classic lattice-top sour cherry pie baked up in a flaky, tender rye crust. Jump to recipe.
It's true, I already have a million cherry pie recipes on this blog. But Brooklyn Supper started with roast chicken and sour cherry pie, so I couldn't think of a more fitting way to celebrate nine years of showing up here to share stories, life stuff, and recipes with you nice people. 
When Brian and I began this blog, I was a stay-at-home mom and missed my old life working at a Chelsea art gallery and generally being young and free in NYC. Motherhood had been lonelier than I'd expected. In retrospect, I also see that I lost myself for a while there – my body and sense of self were abruptly transformed. The company of my sweet nearly one year-old daughter was wonderful, but not intellectually fulfilling. I had an art studio right in Williamsburg, but the demands of motherhood and my growing disillusionment with the art world meant I was there less and less. With all this swirling around, I decided I needed a hobby. And so, Brooklyn Supper was born. 
I don't know what drove me to keep showing up week after week in those early days. We had about six readers and at least four were family members. The only reasonable explanation is that I'd stumbled into my passion. It would be years before it dawned on me that this blogging thing was my calling. I just liked it and so I kept at it, even during hard times, while holding down three jobs, and leaving Brooklyn for Charlottesville. And all along the way, I've been incredibly grateful for the community of Brooklyn Supper readers. Your kindness and curiosity shine through in every comment and email. Thank you for being here.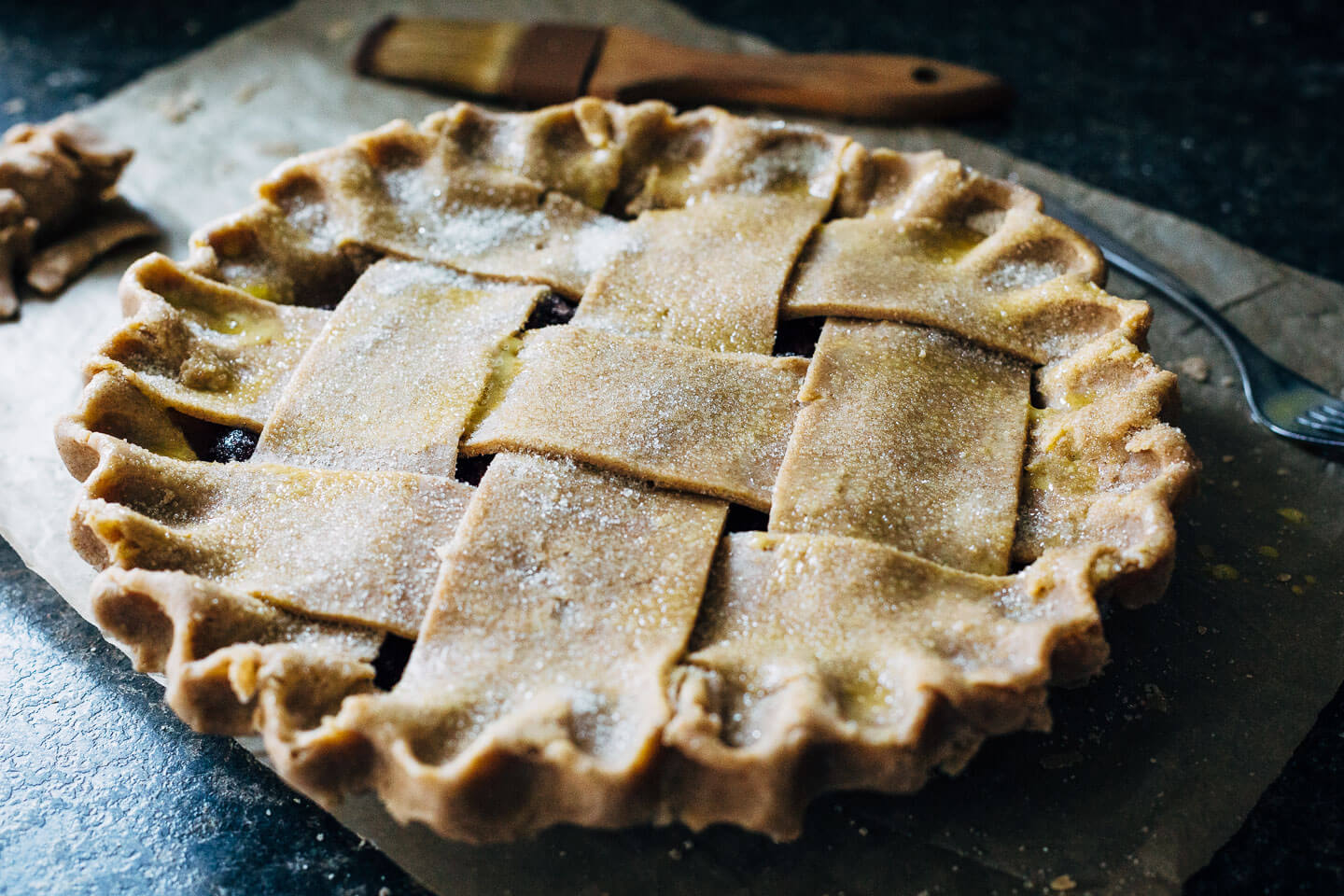 Here's what we were doing on our first, second, there's no third – we were busy that year, fourth, fifth, sixth, seventh, and eighth anniversaries. Things were very off-the-cuff and poorly photographed in the early days, but I share the links and maintain those archives as proof that we all start somewhere.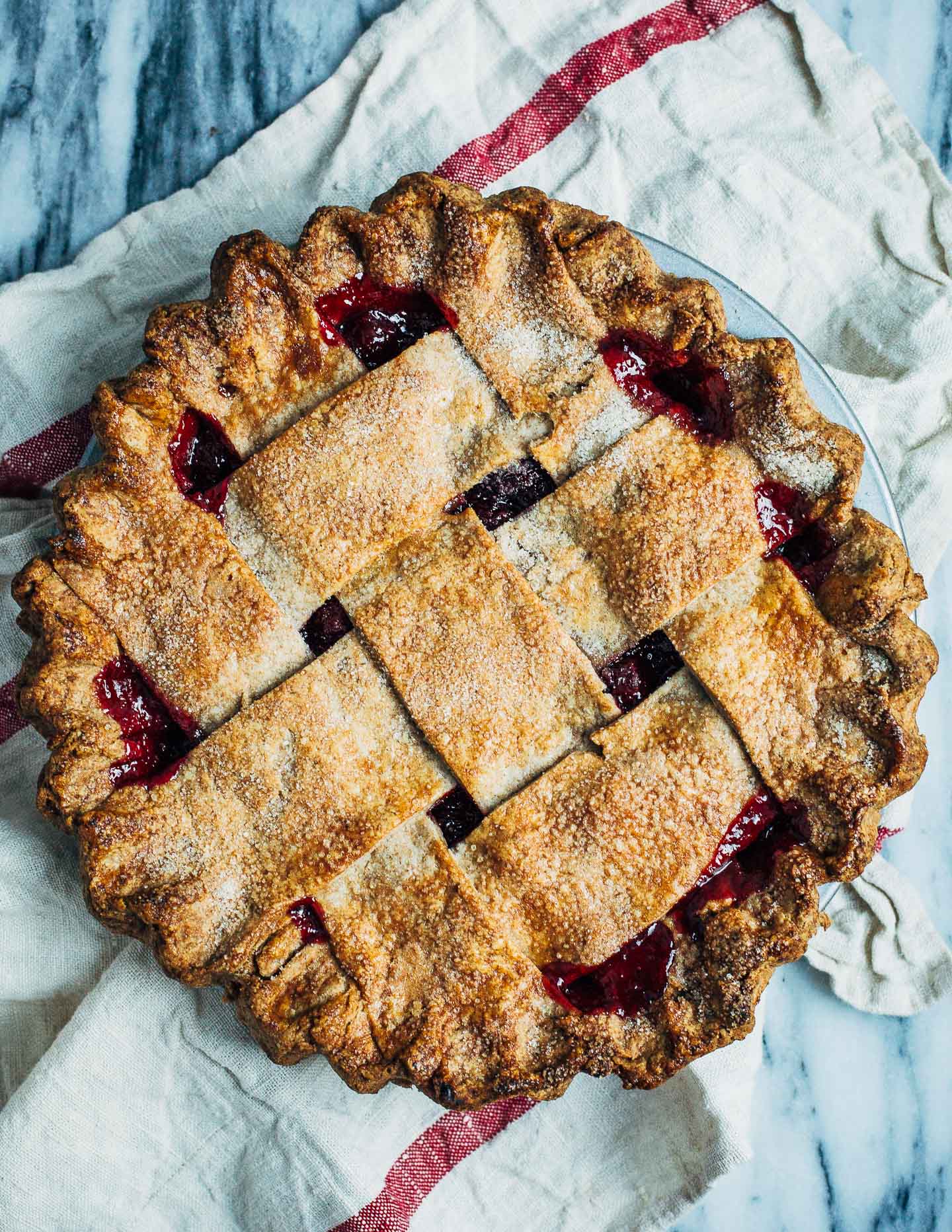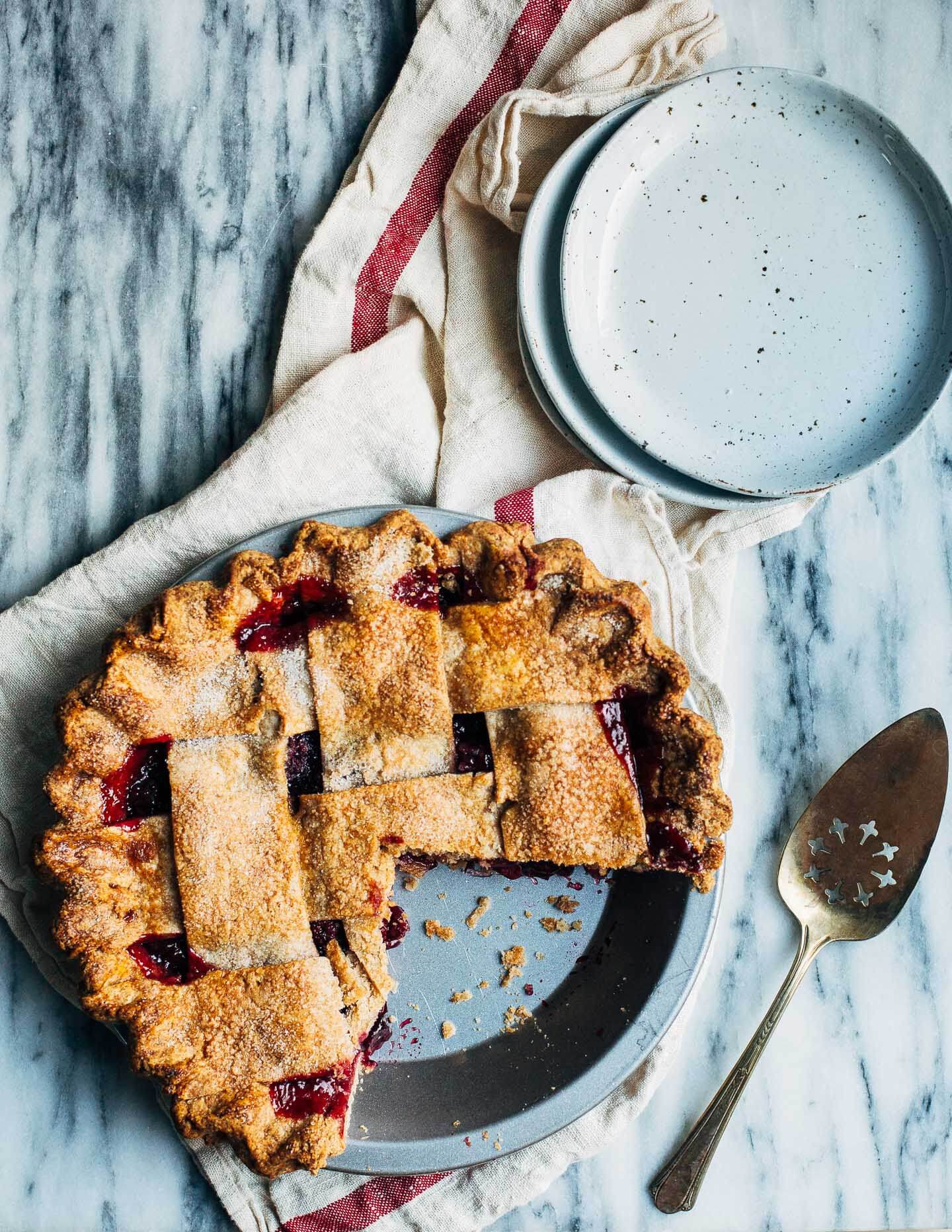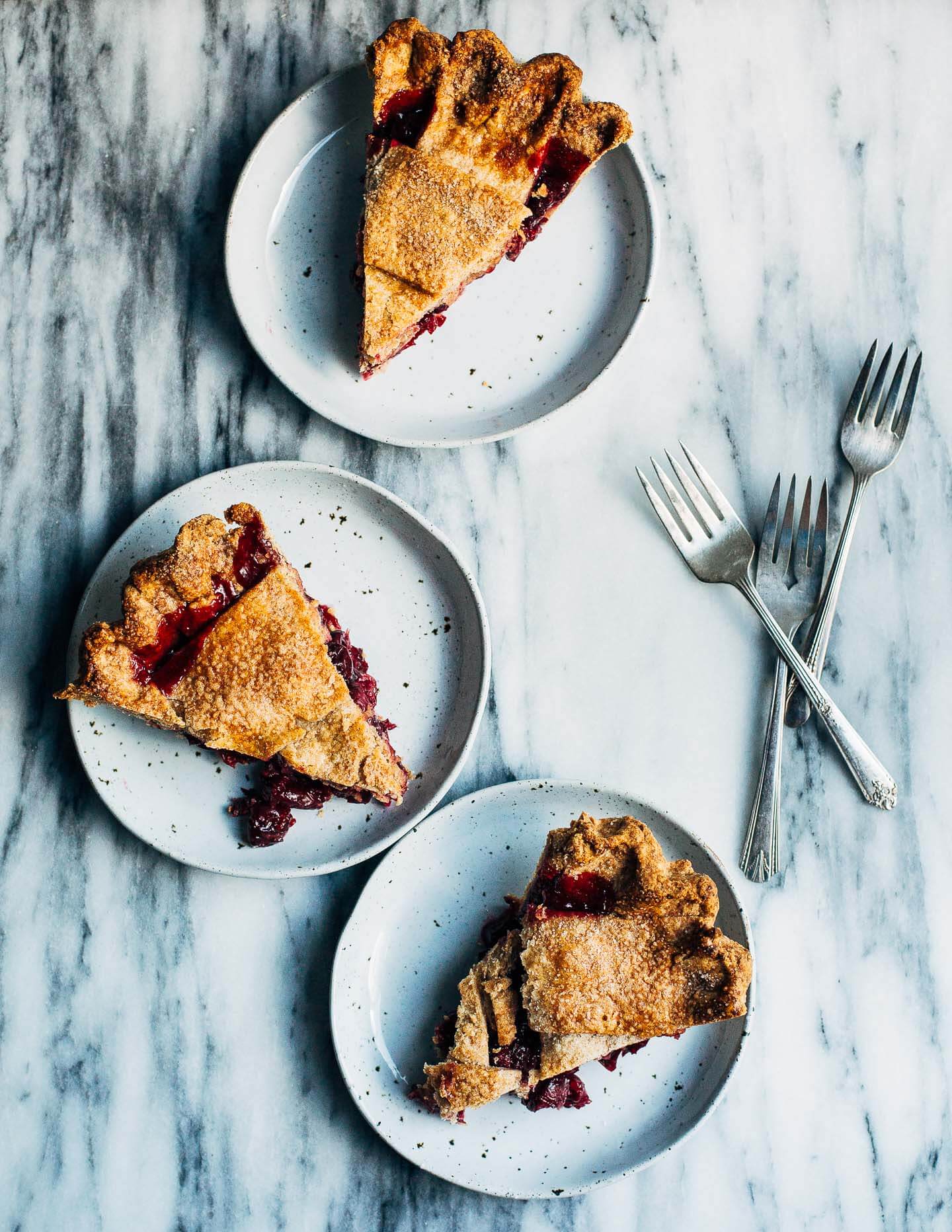 About this pie, it's a slight spin on my very favorite seasonal sweet – a classically bright sour cherry pie with a just a hint of nutmeg and clove baked up in a nutty rye lattice. I've been trying to opt for whole grains whenever possible while also holding firm to the idea that wholesome food oughtn't be a penance, and this crust is buttery and toothsome and tender, just as any good crust should be. Sour cherries are among the summer's most fleeting pleasures and are pretty perfect just as they are; as such, the filling's a very simple affair meant to showcase the fruit.
Lattice-Top Sour Cherry Pie with a Rye Crust
A classic lattice-top sour cherry pie with a flaky, tender rye crust.
Ingredients
Crust
2

cups

all-purpose flour

1/2

cup

dark rye flour

2

tablespoons

turbinado

or granulated sugar

1

teaspoon

sea salt

16

tablespoons

unsalted butter

(2 sticks), cold

2/3

cup

ice water
Filling
4

heaping cups pitted sour cherries

(from about 2 quarts)

1/2

cup

turbinado

or granulated sugar, plus 2 tablespoons for sprinkling

2

tablespoons

ground instant tapioca

, store-bought or ground in a coffee grinder

zest of 1 lemon

1/4

teaspoon

ground cloves

1/4

teaspoon

fresh grated nutmeg

pinch

sea salt

1

egg

, lightly beaten
Instructions
To make the crust, whisk to combine flours, sugar, and sea salt. Use a large hole grater to grate in cold butter and then rub into flour mixture with your fingertips just until well combined. Use a silicone spatula to fold in 1/2 cup ice water, and then drizzle in just a tablespoon at a time until the dough holds together in a shaggy ball.*

Turn out onto a lightly floured surface (preferably a sheet of parchment) and gather dough into a rough mound. Divide in two and press each half into a disc shape. Wrap tightly with plastic wrap and chill 30 minutes or up to 5 days.

To make the pie, preheat oven to 425 degrees F. Move the rack to the top third of the oven and slide in a large rimmed baking sheet to preheat as well.

In a large bowl, toss pitted** cherries with 1/2 cup sugar, ground tapioca, lemon zest, spices, and sea salt. Set aside at room temperature while you roll the crust.

On a lightly floured sheet of parchment, roll one of the chilled dough discs into a 12-inch circle. Press into a metal pie pan*** and trim all but 1-inch of the overhanging dough. Set pie pan in the freezer while you roll the lattice.

On the same surface, roll the second disc into a 10 x 15-inch rectangle. Use a sharp paring knife or pastry cutter to cut 6 (2-inch) wide strips. If needed, gather scraps and re-roll dough once (dough with become tough after that).

Working quickly, spoon filling into chilled pie shell. Lay 3 dough strips parallel across pie. Weave in remaining 3 strips in the other direction.**** Trim any excess dough, fold bottom crust up around the edge, and crimp. Brush top of crust with egg and sprinkle with remaining 2 tablespoons sugar.

Set pie on preheated baking sheet and slide into oven. Bake 15 minutes. Rotate pan, turn heat down to 350 degrees F, and bake for another 40 - 45 minutes, or until pie is golden brown and the filling is bubbling. (If edges begin to brown, tent with foil.)

For a nicely set filling, allow pie to cool completely – 3 hours or more.
Recipe Notes
*If you're new to homemade pie crusts note that whole grains can be especially hard to work with. I find a wetter dough is easier to work with, so add enough water that it holds together easily. Make sure your dough is well chilled. Roll dough out on parchment paper, using as much flour as you need to roll it out easily. If things get at all gooey, just pause and put dough back in the fridge to chill for 10 minutes.
**A good cherry pitter makes fast work of cherry pitting – this OXO one is the best I've used.
***Metal pie pans make the transition from fridge to oven easier and safer, since glass or ceramic pans may shatter when going from the cold fridge to the hot oven.  
****Lattice weaving tips here.
SaveSave
SaveSave
SaveSave
SaveSave