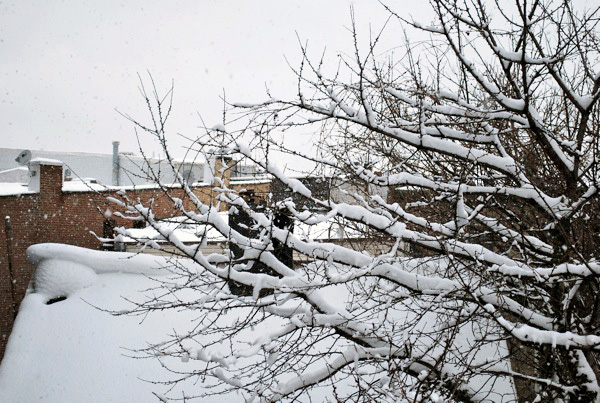 A classic cottage pie recipe made with flavorful parsley root and a host of hearty winter vegetables. Jump to recipe. 
Almost eight years ago, Brian and I moved into this apartment. We had our dog, and that was about it.
Those were the days when we could head out for a drink on a Tuesday night just for fun. We could stay out late and didn't mind waiting 45 minutes for a table. We remodeled the kitchen, painting over green and mauve tile with gusto. For a while my painting studio was in the apartment and we had stacks of old canvases shoved behind the bed. Then I got a studio, started a gallery job, we got engaged, and things started happening.
Pretty much immediately after our wedding I was pregnant, and then we had a baby. A year later, we started this blog. A year after that, there was fire downstairs and we had to live in a hotel for six long weeks. By the time we moved back here, the 2009 recession had hit hard and Brian was laid off. It felt like our lives had been turned upside-down.
I went back to work full time, landed a regular blogging gig with Babble, and got pregnant again. Brian started working full time and I quit my full time gig, we had our second daughter, our dog died, and I had a solo exhibition. And last year, thankfully free of any major family disasters, was filled with little triumphs, a wonderful, fun summer, and in the fall, sick kids and Sandy.
Through all this, we were here. Walking these worn floors, and looking out on our tiny rooftop garden. Planting seeds, for fun or food, painting walls, building walls, and moving furniture as our family expanded.
The garage across the street calls us if we forget to move our car. Our barista was the first to figure out I was pregnant when my order suddenly changed. Our deli accepts packages and plies our girls with bananas of varying degrees of ripeness. I know the blocks around this house in precise detail, each crevice stomped on in the day-to-day comings and goings of our family.
Why am I telling you all this? We're moving. Or we're supposed to anyway. With grand plans for the future of this apartment, our landlord has asked us to move in the next few months, and so we're preparing to take the leap. After so many versions of our life lived here on third floor of this drafty, leaning, rickety walk-up, I can't imagine my life anywhere else. I hate uncertainty (like, really), but I'm going to keep my chin up in the hopes that, wherever we land, there will be a dishwasher. Amen.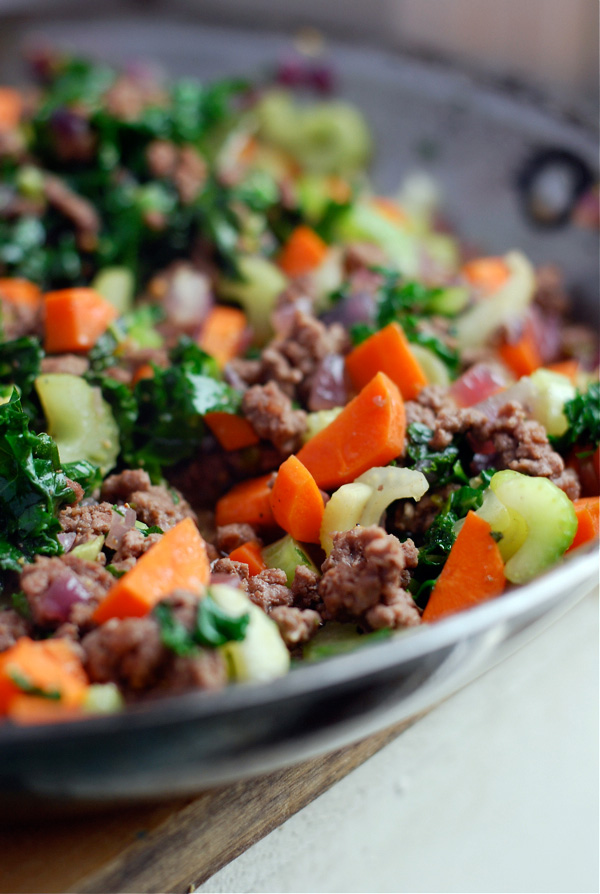 And what does all this have to do with cottage pie. Pretty much nothing, except I cooked it in my (though soon not to be) kitchen. And, cottage pie is supremely comforting, with aromatic and root vegetables suffused with rich grass-fed beef flavor. My version swaps out potatoes for nutrient-rich parsley root, and throws a bit of kale into the mix. Lest you think it's heathy, there's also a stick of butter and a pound of ground beef. But look, butter is totally in season, so it's cool.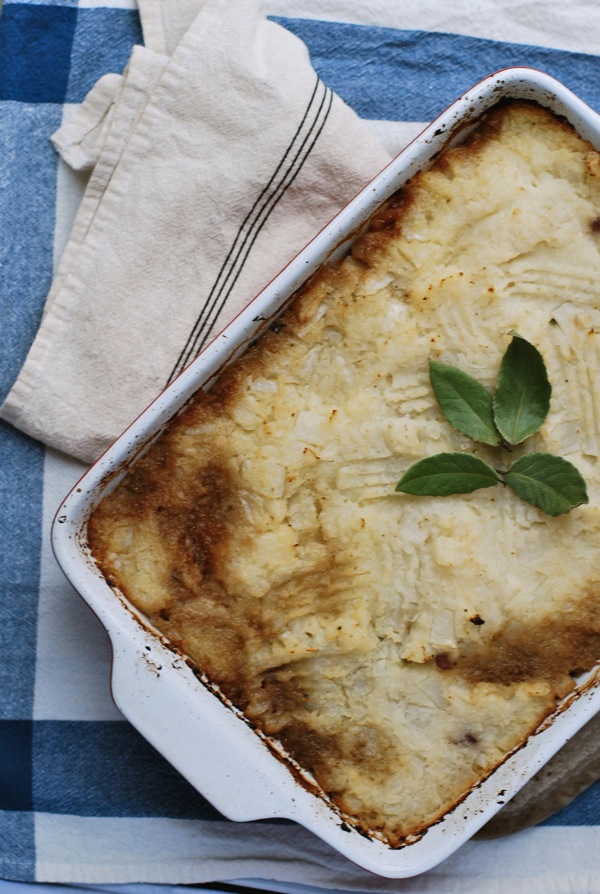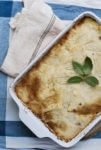 Cottage Pie with Parsley Root and Bay
A classic cottage pie recipe made with flavorful parsley root and a host of hearty winter vegetables.
Ingredients
1

very large parsley or celery root

(or 4 small to medium), or 3 large yukon gold potatoes, peeled and cut into uniform 1/2-inch chunks

8

tablespoons

unsalted butter

, divided

1 1/2

pounds

ground beef

1 1/2

red onions

, diced

4

carrots

, peeled and cut into half moons

5

stalks celery

, sliced

2

teaspoons

sea salt

, divided

2

teaspoons

Worcestershire sauce

1

teaspoon

yellow mustard seed

4

bay leaves

fresh ground black pepper to taste

6

large leaves kale

, cut into thin ribbons
Instructions
Preheat the oven to 400 degrees F. Grease a 9 x 13 x 3-inch casserole dish and set aside.

Place the parsley or celery root, or potatoes, in a large pot filled with cold, salted water. Bring to a boil and boil for 15 - 20 minutes, or until fork tender. Drain. Mash parsley root with 4 tablespoons butter and 1 teaspoon sea salt. Set aside.

Meanwhile, heat a large skillet over medium-high heat. Melt 4 tablespoons butter, and add red onion. Cook 10 minutes, or until onions are translucent and have taken on some sweetness. Next add ground beef and a teaspoon of sea salt, and cook 4 minutes. Add carrots, celery, Worcestershire sauce, mustard seed, bay leaves, and pepper, and cook over medium heat for 8 minutes. Add kale and cook 2 minutes more. Check salt levels and adjust as needed.

Spoon filling into prepared pan. Cover with vegetable mash; use the tines of a fork or a spoon to add texture to the surface. Bake 40 - 45 minutes, or until peaks have turned a rich golden brown and filling is bubbling vigorously.

Cool 10 minutes, slice, and serve.
SaveSaveSaveSaveSaveSave
SaveSave
SaveSave