Peach bourbon smash cocktails infused with fresh basil leaves are bright, lemony, and the perfect way to enjoy sweet summer peaches.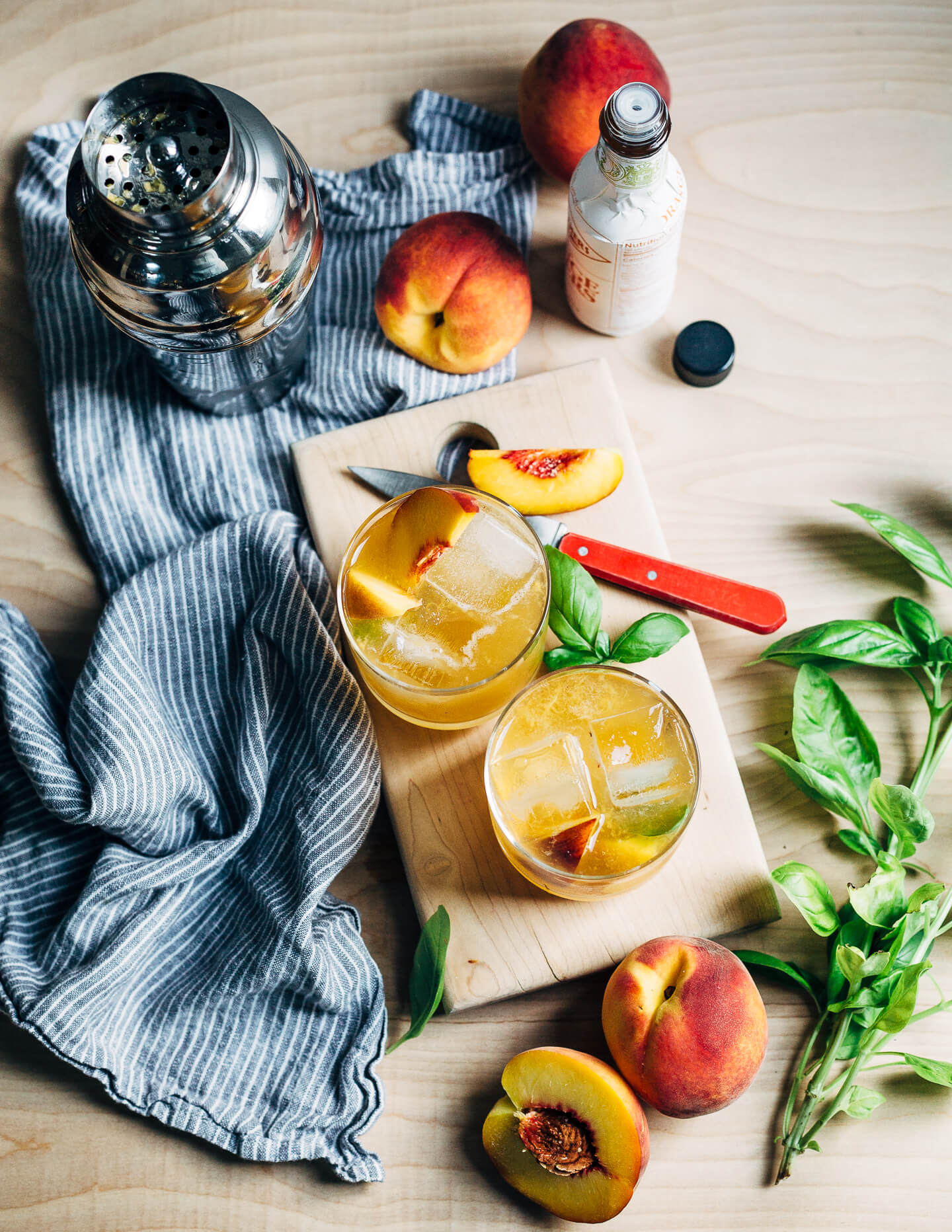 Birthday Season
Today is my birthday!
Late July is birthday season here at Brooklyn Supper headquarters – we have three birthdays in 13 days. Mine is the last of the bunch and I like it that way. After the kids have been properly fêted, I can settle in for my own brand of quiet celebration. I'll head to the market later today and buy fruit for a galette. We'll have a relaxed family dinner that features all my favorite summer ingredients. Over the weekend, we'll gather friends for cocktails and cake – but nothing fancy, just the folks I love and a really great cake.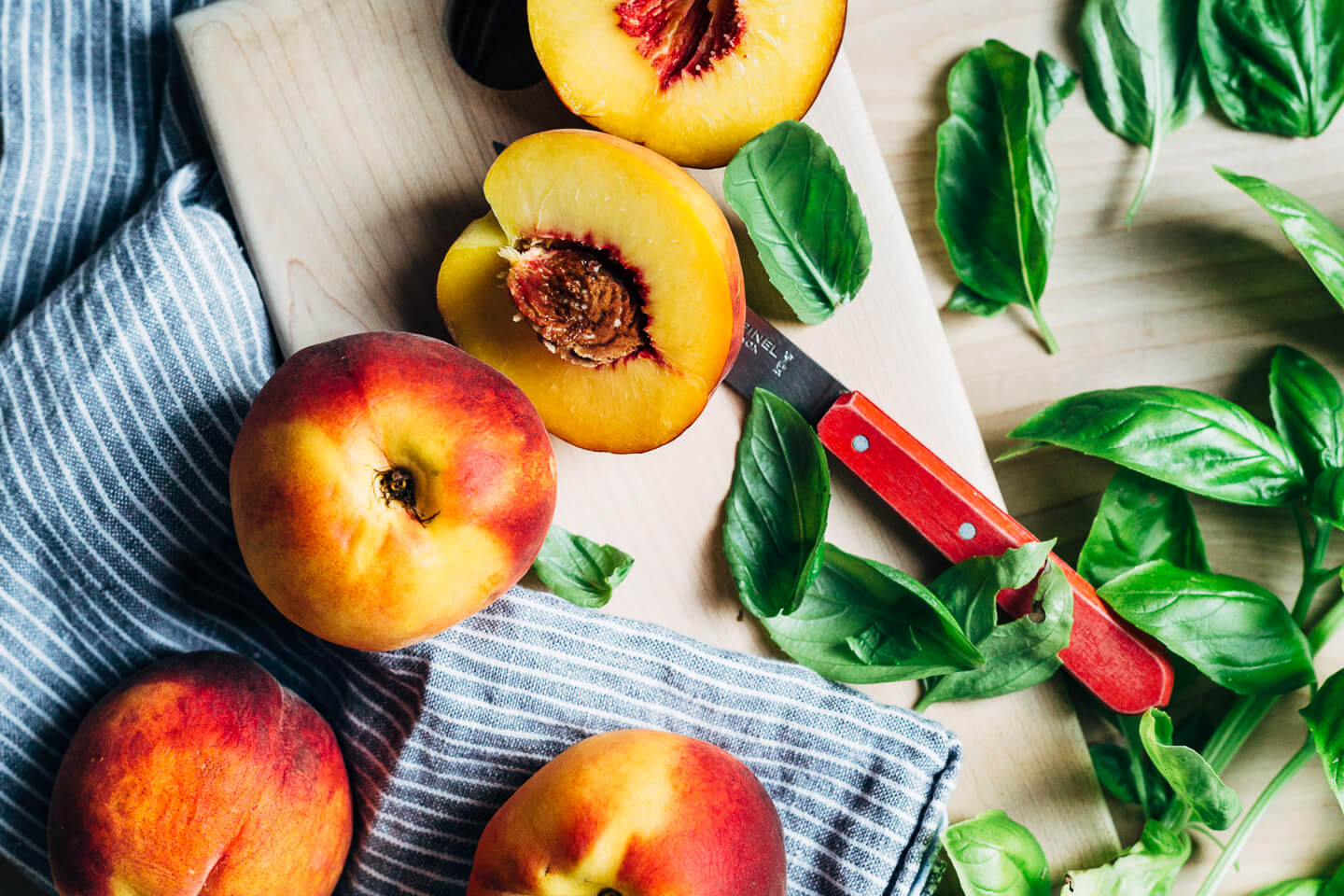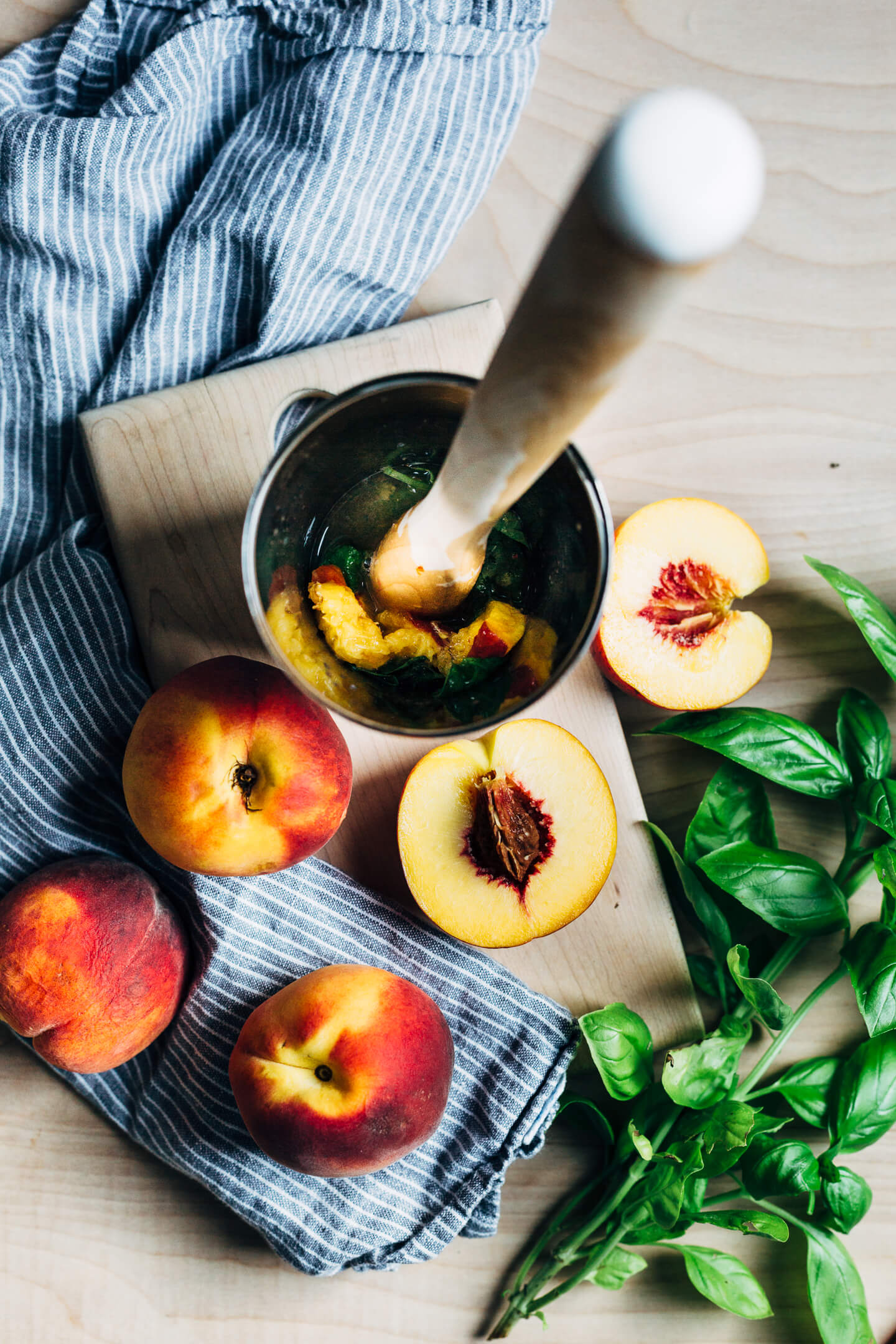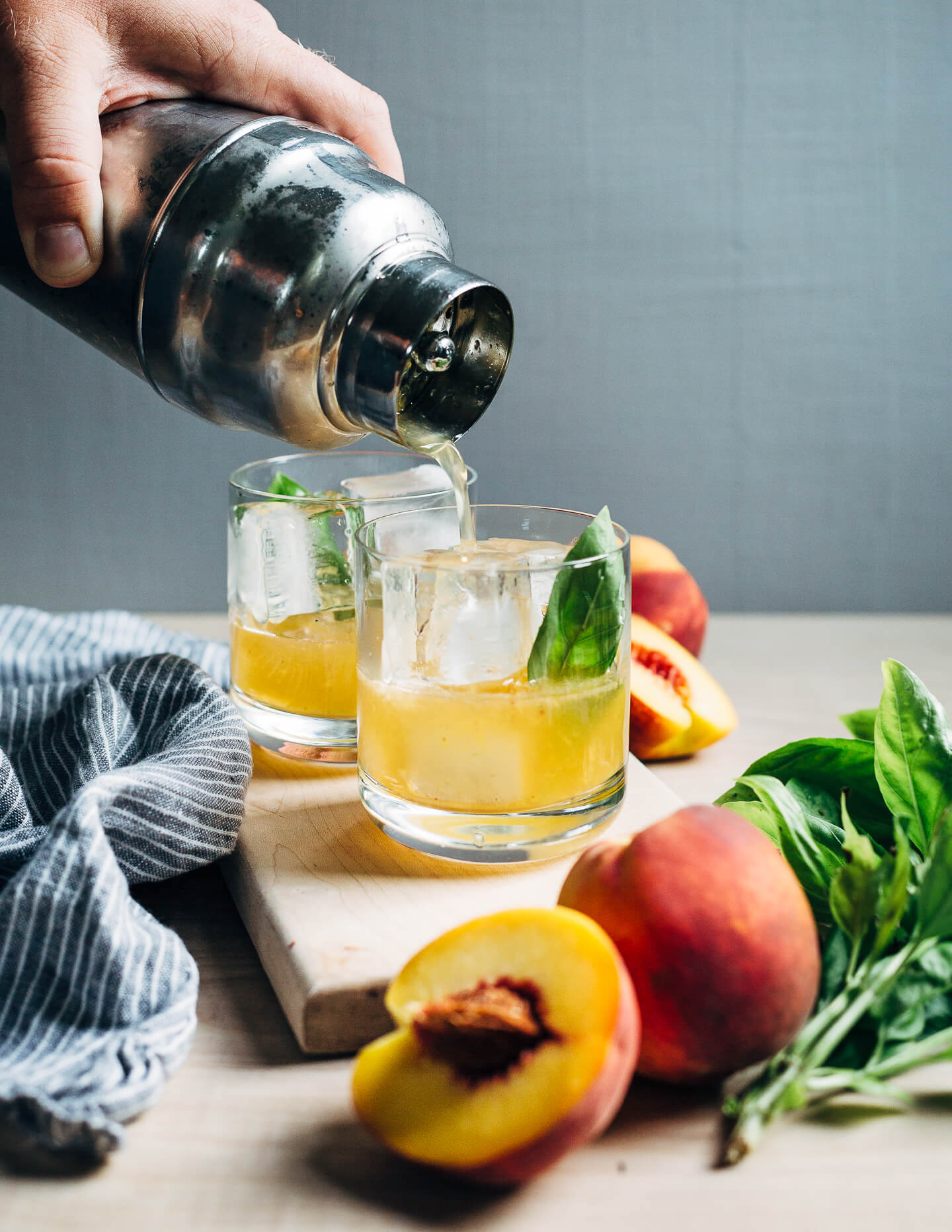 Peach Bourbon Smash: The Perfect Summer Cocktail
I'm also planning to make a few batches of these cocktails. Peach bourbon smash cocktails are exactly right for summer birthdays like mine. But I'd also love to have one in my hand on a southern summer evening like last night when cicadas bleat as endless lightening flickers across the sky. Bonus points for a proper screened porch or just a rickety wooden one.
Peach and bourbon are a tricky combo – the peach's buttery sweetness is easily overwhelmed by the bite of bourbon. To bridge the divide, I brought in the honeyed tang of Triple Sec and the sour punch of lemon. The resulting peach bourbon smash cocktail is effortless, of-the-moment, and deeply refreshing.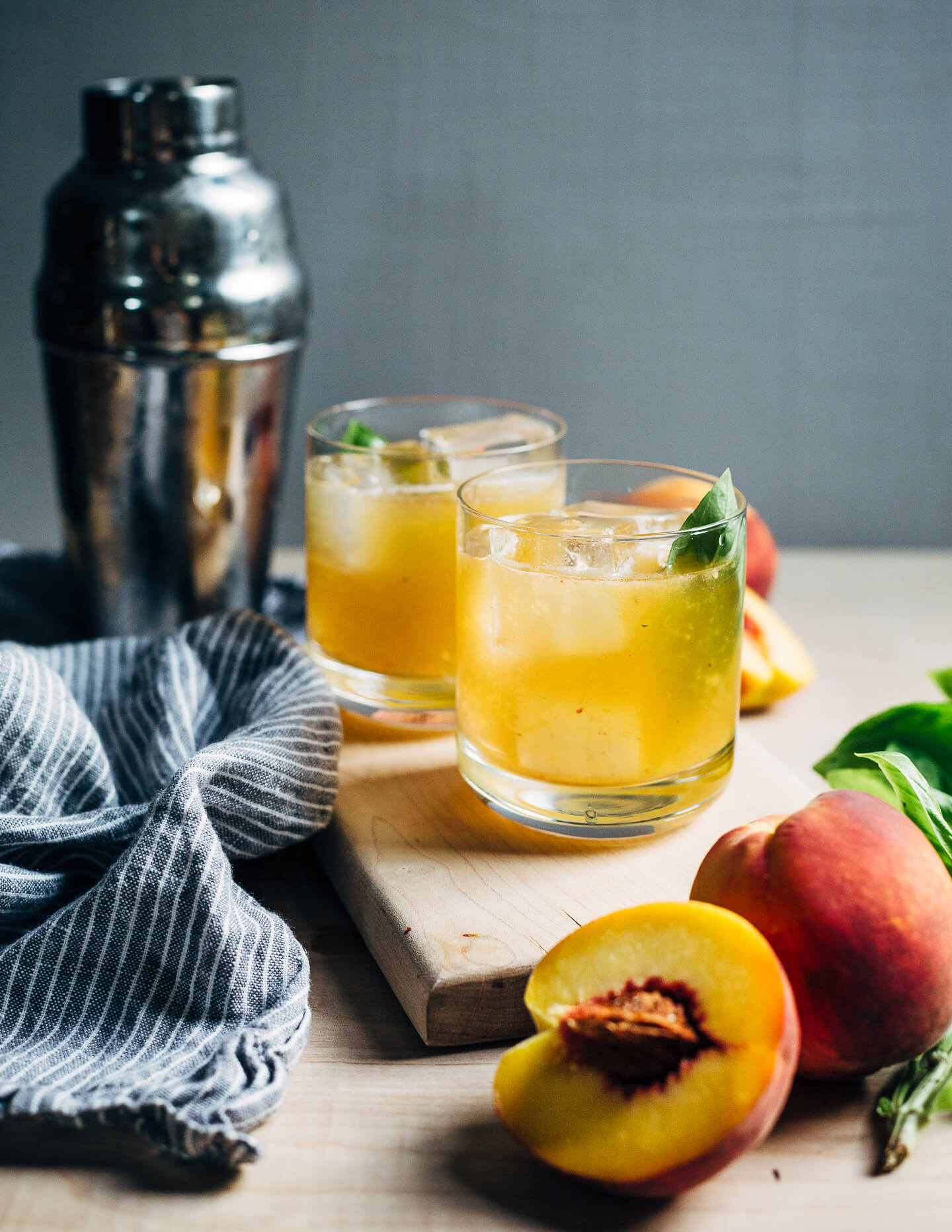 A Blog Birthday
I should also mention here that another birthday slipped quietly by last month – Brooklyn Supper turned 11 in June. These days, I'm feeler smarter and wiser, and after years of searching, feel like I've settled on what's next for me and this space. I'm planning some refinements here in the year ahead (and likely a name change that better suits my no-longer-in-Brooklyn life). I'll be honing my message and my voice, and I hope you'll stick around for what's next. Thanks for reading and cooking alongside me all these years. This space exists because of you and for that, I'm ever so grateful.
Read last year's anniversary post here.
Don't miss a recipe! Follow Brooklyn Supper on Instagram, Facebook, and Pinterest.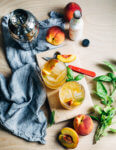 Bourbon Peach Smash Cocktails
Peach bourbon smash cocktails infused with fresh basil leaves are bright, lemony, and the perfect way to enjoy sweet summer peaches. 
Keyword:
peach bourbon smash
Ingredients
2

ounces

fresh squeezed lemon juice

1

medium peach,

pitted and sliced

4

basil leaves

2

ounces

Triple Sec

4

ounces

Bourbon

2

dashes Fee Brothers Orange Bitters

(*optional)
Instructions
Combine lemon juice, 8 peach slices, and basil leaves in a cocktail shaker. Muddle for 1 minute (use a muddler or just the back of a wooden spoon). Fill shaker with ice, and add Triple Sec and bourbon. Cover and shake vigorously for 2 minutes.

Strain into ice-filled Old Fashioned glasses; garnish each with a leaf of basil and 2 peach slices. Finish with a couple dashes orange butters.