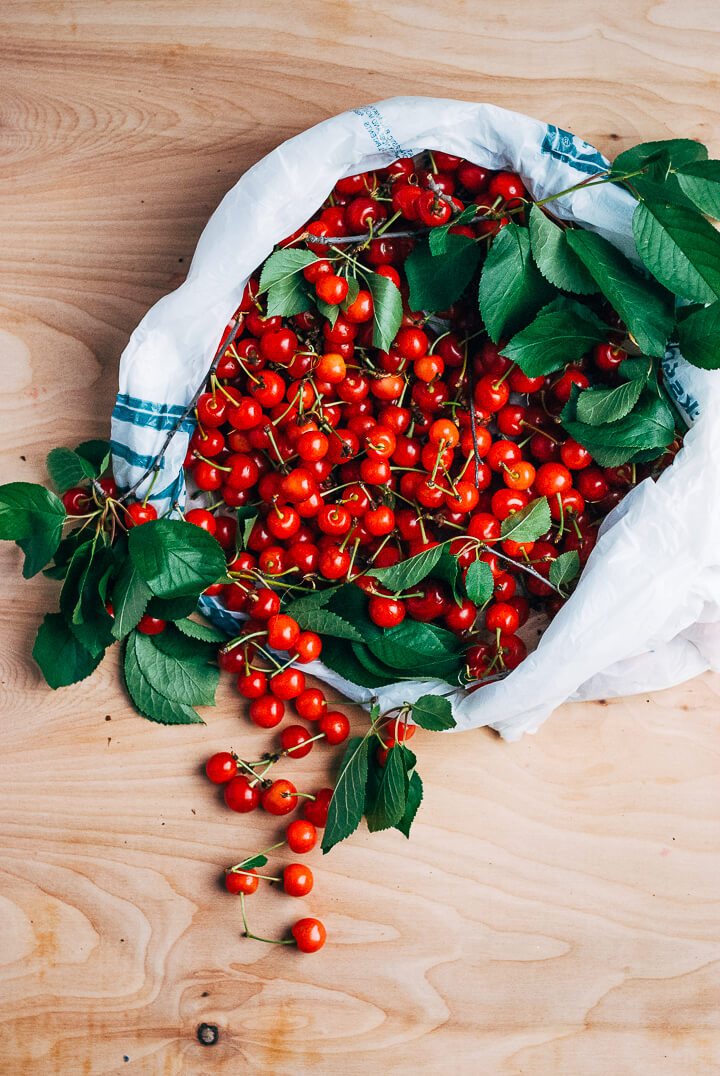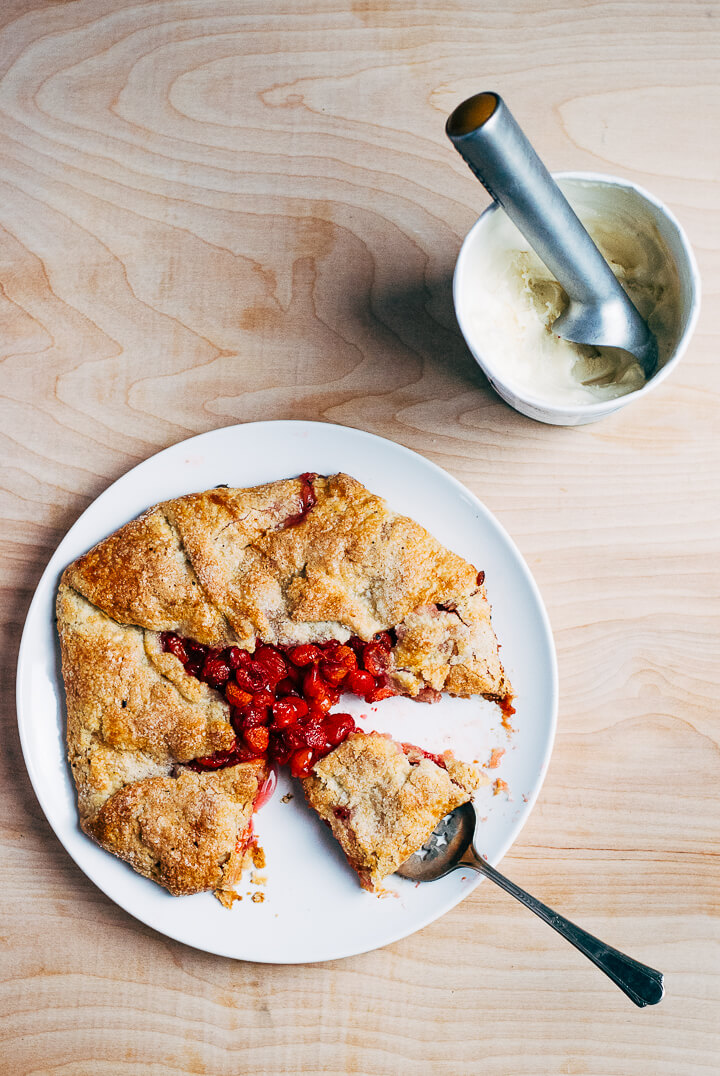 A simple, rustic sour cherry galette recipe that highlights the tart flavors of sour cherries beautifully. Jump to recipe.
Sour cherry season came a little early this year. May was incredibly warm – excellent cherry growing weather, I guess. I've yet to find a market source for sour cherries in Virginia, but it doesn't matter because I have friends with five sour cherry trees in their backyard. We had big plans to head over to their yard with the family to pick cherries and hang out, but our oldest came down with what turned out to be strep on Sunday, and my twee photo shoot dreams disappeared. So, just like last year, Brian headed out solo for the cherries, this time with a big bag of greens from our garden to trade.
(You're all so nice when I share details about the girls, so I want you to know that our oldest is doing much better already – well enough, even, to enjoy galette a la mode last night.)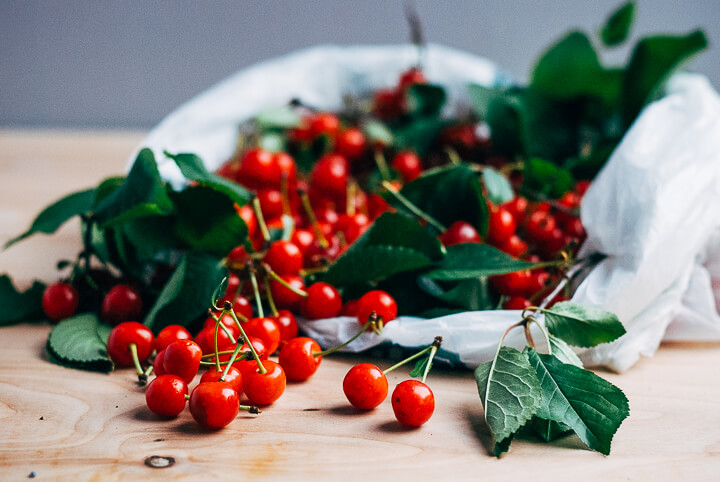 Sour cherry season is so brief and they're so delicate and special, I wanted to do them justice. A galette, which would showcase their saturated color and vivid taste, seemed like a good place to start. Mine has flaky dough – the kind that shatters with the fork's first strike – made with a mix of all-purpose and sweet sorghum flours. Inside, sour cherries come to the fore, with just enough sugar to temper the tartness and a little zest and cinnamon to round things out. I put it all together, folded it up, and finished with an egg white wash and a generous sprinkling of sugar. I slid the sour cherry galette into the oven, and baked it until the crust was a deep golden hue and the juices were bubbling. Once cool, the galette made for a lovely end to our family dinner.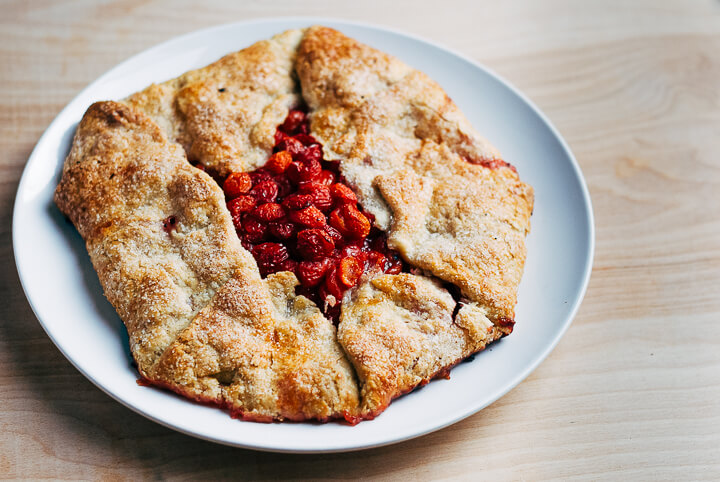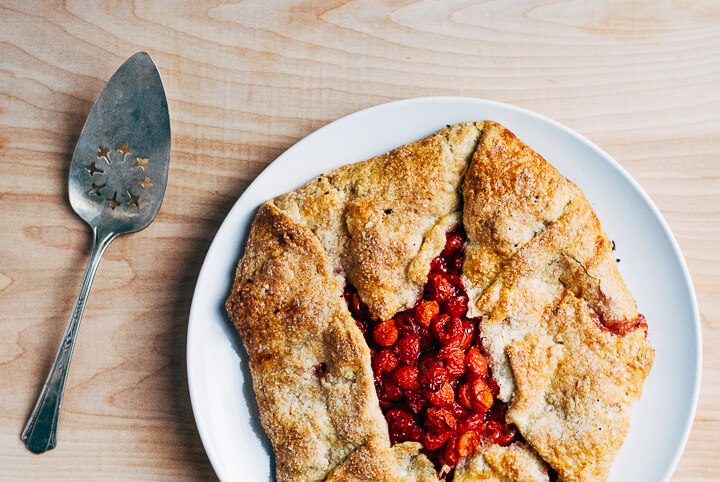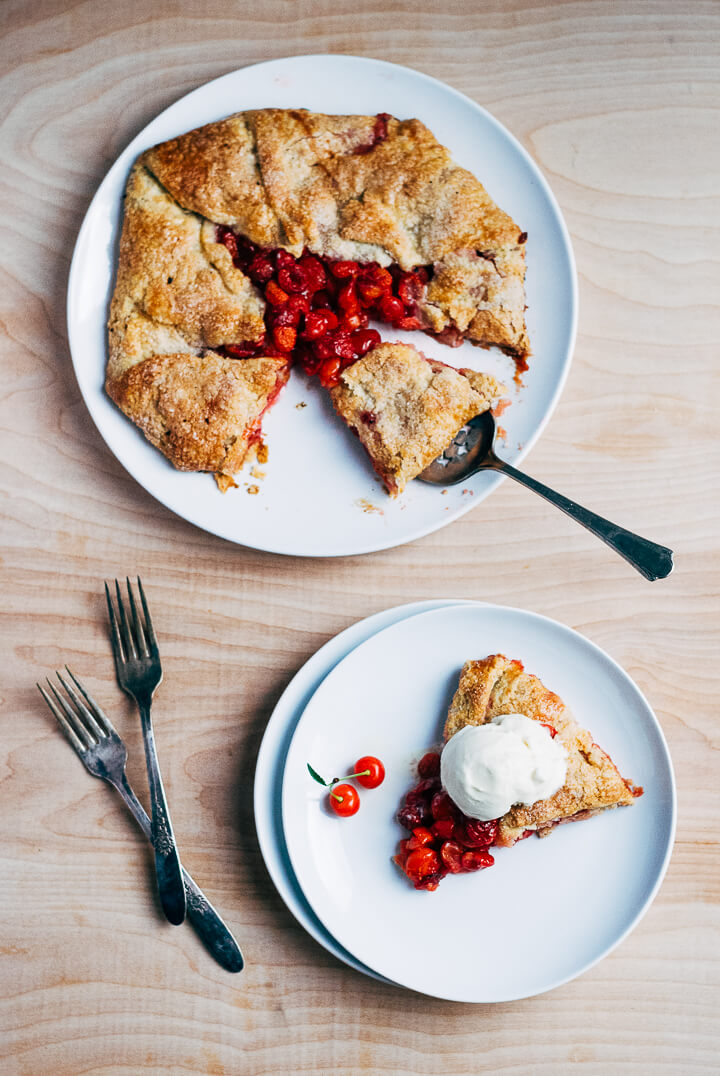 A scoop of vanilla ice cream is a wonderful complement, though the purist in me loves the sour cherry galette all by itself.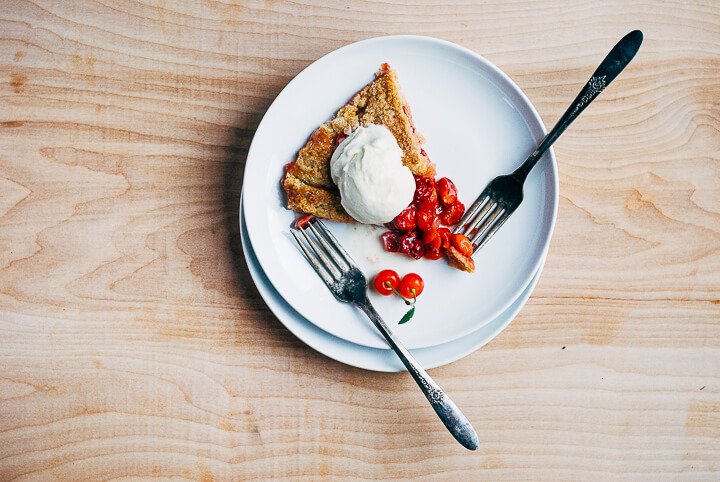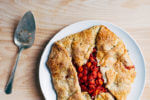 Sour Cherry Galette
A simple, rustic sour cherry galette recipe that highlights the tart flavors of sour cherries beautifully.
Ingredients
For the crust
1

cup

unbleached all-purpose flour

1/4

cup

sorghum flour

(sub all-purpose flour, if that's easier)

1

tablespoon

sugar

1/2

teaspoon

sea salt

8

tablespoons

cold butter

4 - 5

tablespoons

ice water
For the filling
3

heaping cups pitted sour cherries

(about 4 1/2 cups un-pitted)

1/2

cup

plus 2 tablespoons sugar

, divided

2

tablespoons

finely ground instant tapioca

(I use my coffee grinder for this)

grated zest of 1 lemon

1/4

teaspoon

sea salt

1/4

teaspoon

cinnamon

egg white

, lightly beaten
Instructions
In a medium-sized bowl, use a fork to whisk the flours, sugar, and sea salt together. Grate in the butter, using fingertips to massage butter into the flour mixture. When mixture is well combined and crumbly, drizzle in just enough water for it to hold together. (If you're new to homemade dough, add enough water to handle the dough easily – it will be fine.)

Mound dough into a disc, wrap tightly with plastic, and chill for an hour or longer.

Preheat oven to 450 degrees F. Line a rimmed baking sheet with parchment.

To prepare the filling, fold the pitted cherries, sugar, tapioca, lemon zest, sea salt, and cinnamon together. Set aside while you roll out the dough.

Take the cut parchment from the prepared baking sheet and dust very lightly with flour. On the parchment, roll out the dough into a rough 14-inch circle. Place parchment with dough round on the baking sheet.

Working very quickly, mound the filling in the center of the dough, doing your best to leave excess juices behind. (Paper towels can be used to sop up any running juices, if needed.) Fold the dough up in 4-inch sections and lightly press together. Brush with egg white, sprinkle with the remaining 2 tablespoons sugar, and slide into the oven. Immediately turn heat down to 425 degrees F and bake for 10 minutes. Rotate galette, turn heat to 375 degrees F and bake until galette is a deep golden brown and juices are bubbling, 20 - 25 minutes longer.

Cool for two hours before serving. Scoops of vanilla ice cream are optional.