A refreshing cucumber-watermelon salad that pairs spicy-sweet watermelon wedges with lime-infused cucumbers. Spicy and cooling, effortless and composed, this simple summer salad is a knockout. 
Our family has three late July birthdays. My own, which I had no control over, and my two daughters', which, as it turns out, I had (almost) no control over either. After one miserable summer pregnancy, I swore I'd never do THAT again. Then I did THAT again anyway. It turned out alright in the end, save the fact that the latter half of July is absolutely manic.
Today, I'm baking cake and wrapping presents, and reliving all the moments just before my sweet baby (who is now, impossibly, SEVEN) came into the world. Thoughts of summer and pregnancy always remind me of watermelon because once, very, very pregnant on a steamy summer day in Brooklyn, I ate an entire watermelon by myself and it was glorious.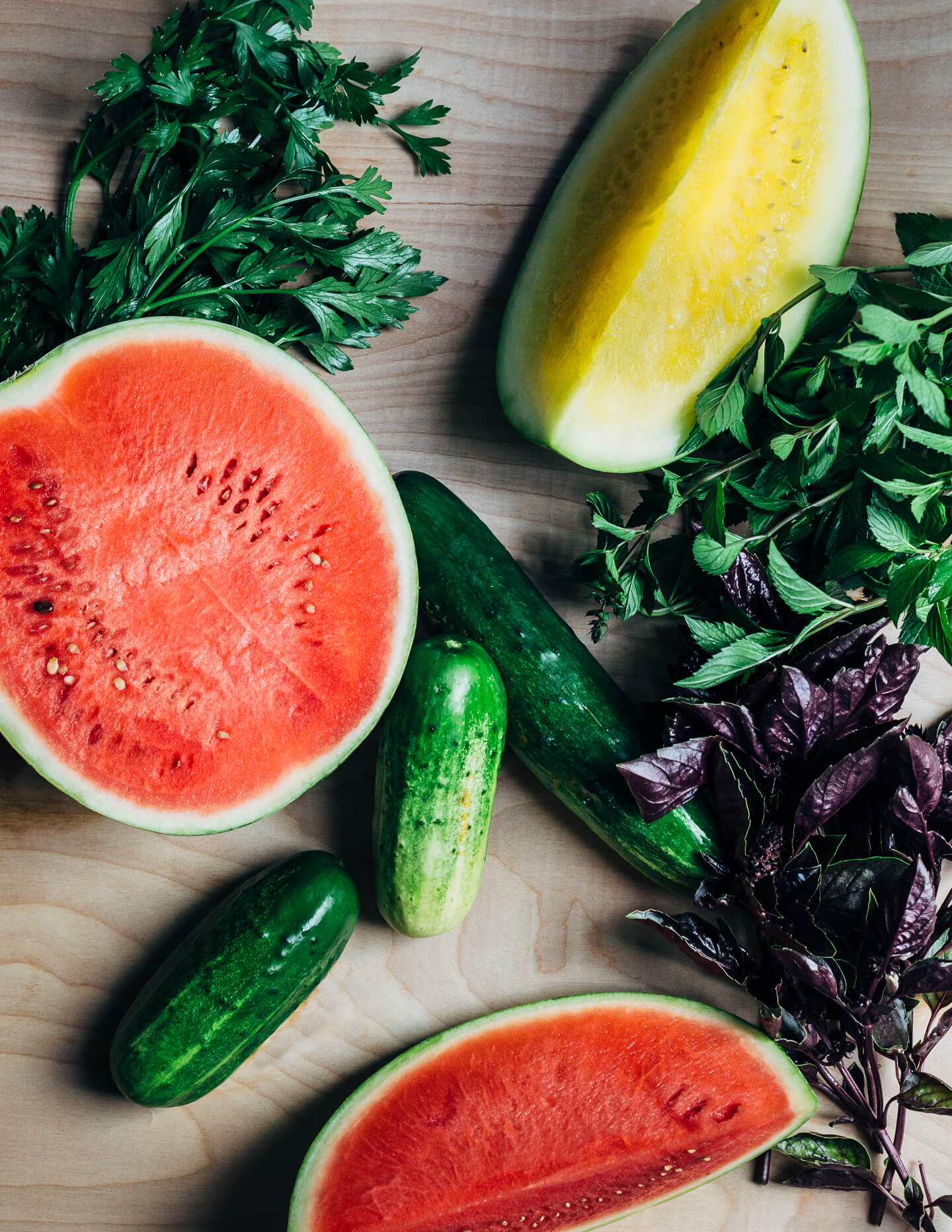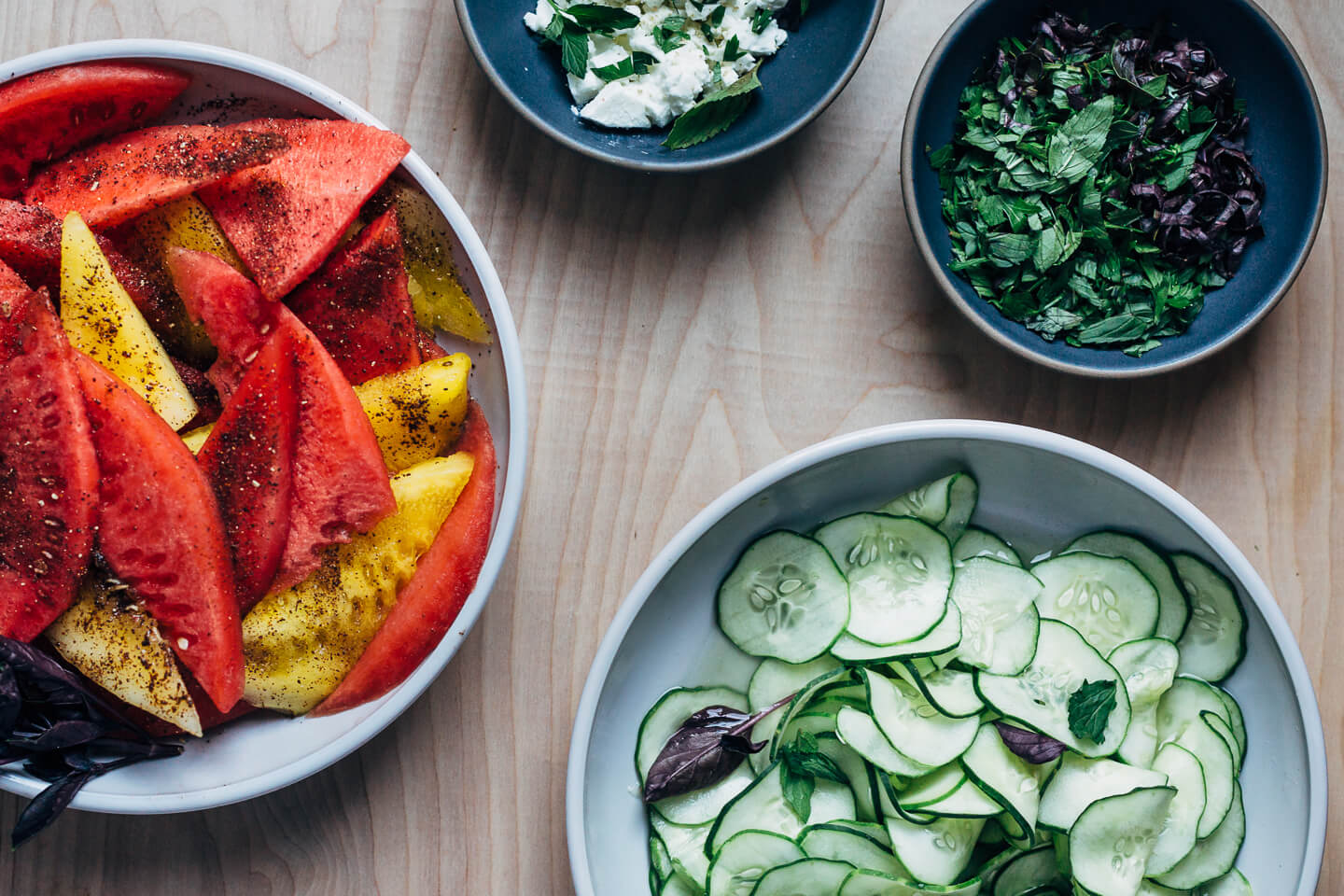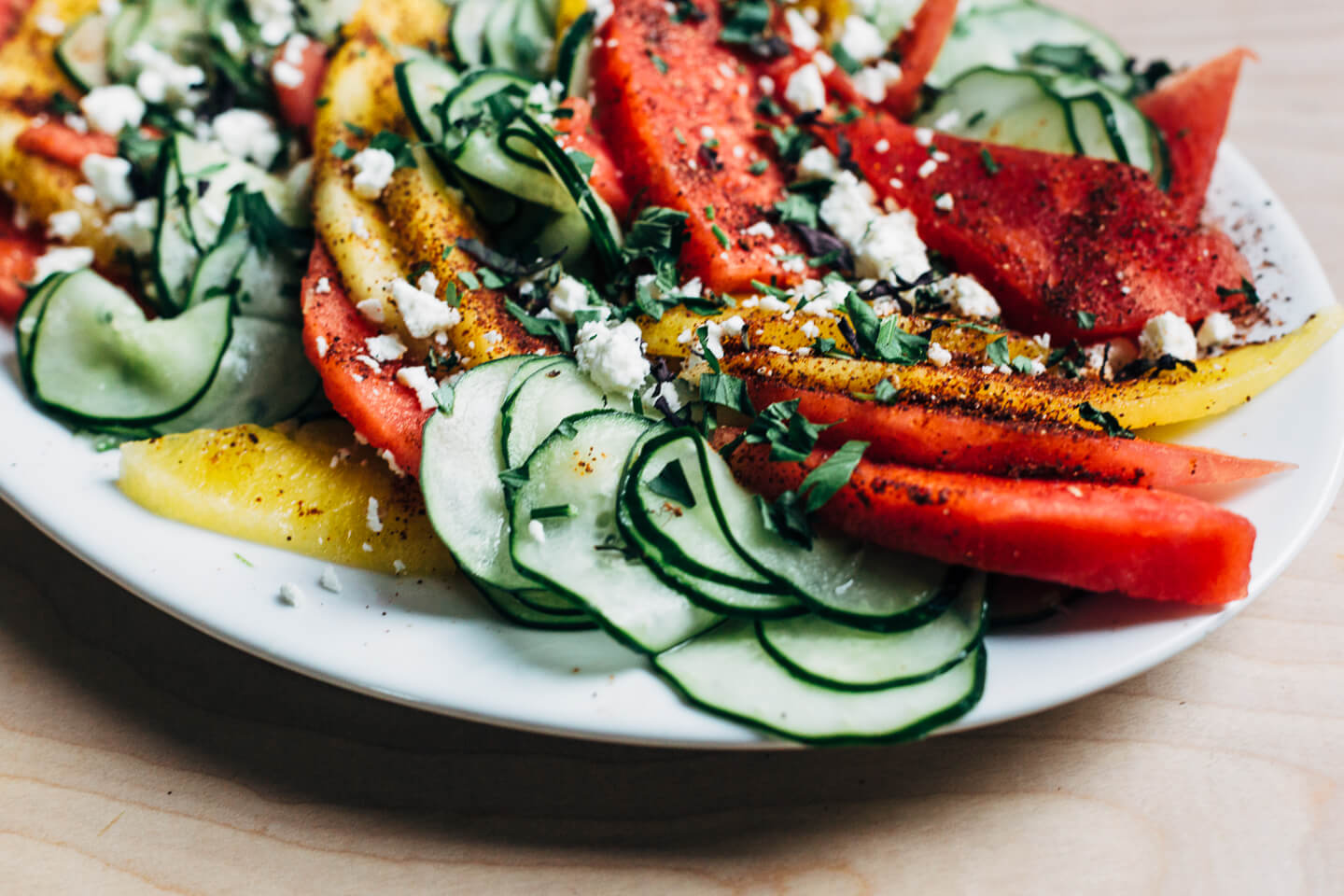 These days, my watermelon benders are slightly more restrained – I feel like a quarter of a watermelon is about right for any day where the temperature tips above 90. And instead of going whole hog on plain old watermelon, I sometimes chop it up into a composed salad that looks very fancy and tastes very good, and then I eat it all.
Whether or not you feel like sharing, this cucumber-watermelon salad is a simple summer knockout. The watermelon is liberally sprinkled with sumac, chipotle chili powder, and sea salt, while the cucumbers are salted and doused with lime juice. The result is a lively salad, at once cool and hot, and very refreshing. An assertive barrel-aged feta and a few handful of fresh herbs round it all out.
Finally, as I relive my own summer pregnancies, I keep thinking of my friend Sarah, who is expecting a new baby very soon. Sending you love and watermelon, Sarah, and all my best as you get ready to welcome your new baby boy.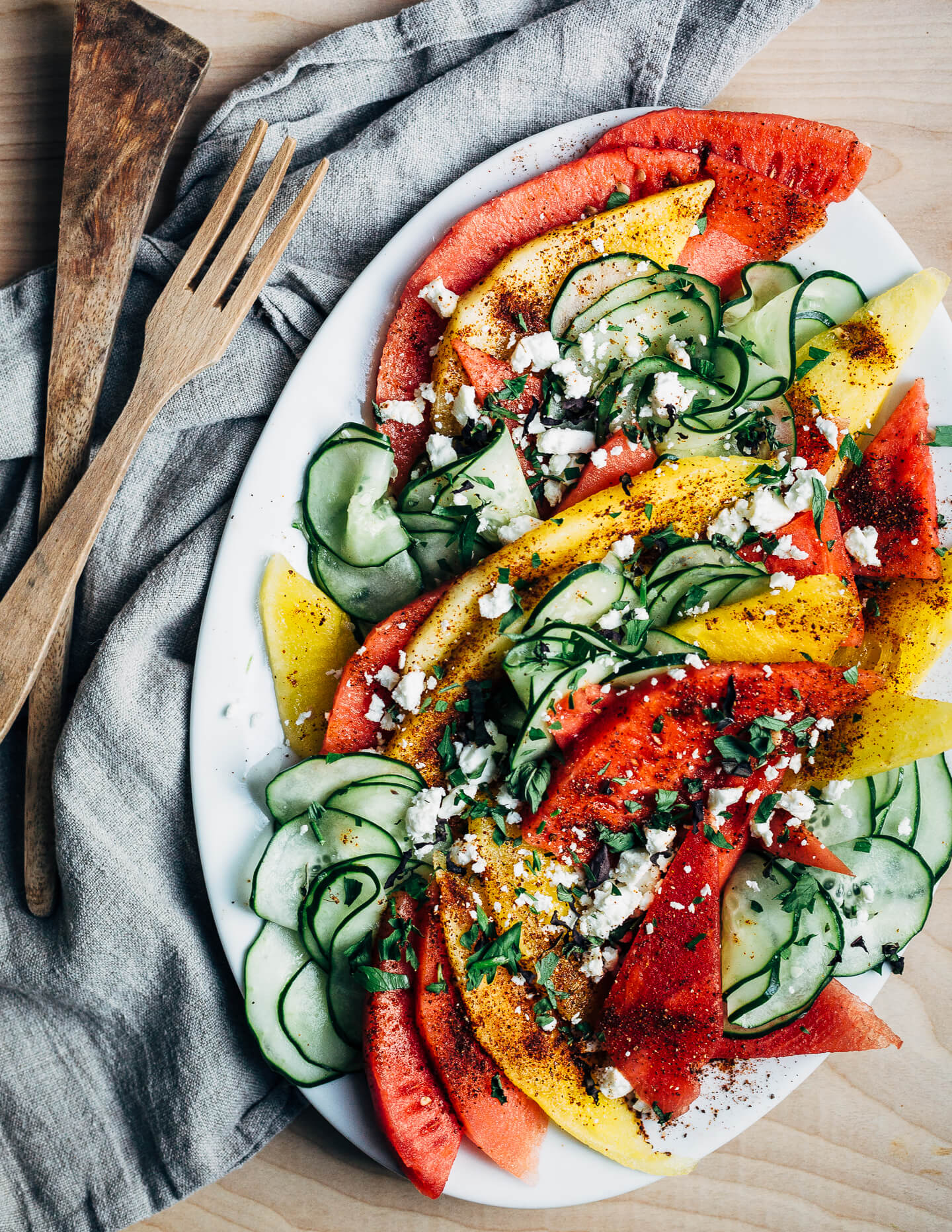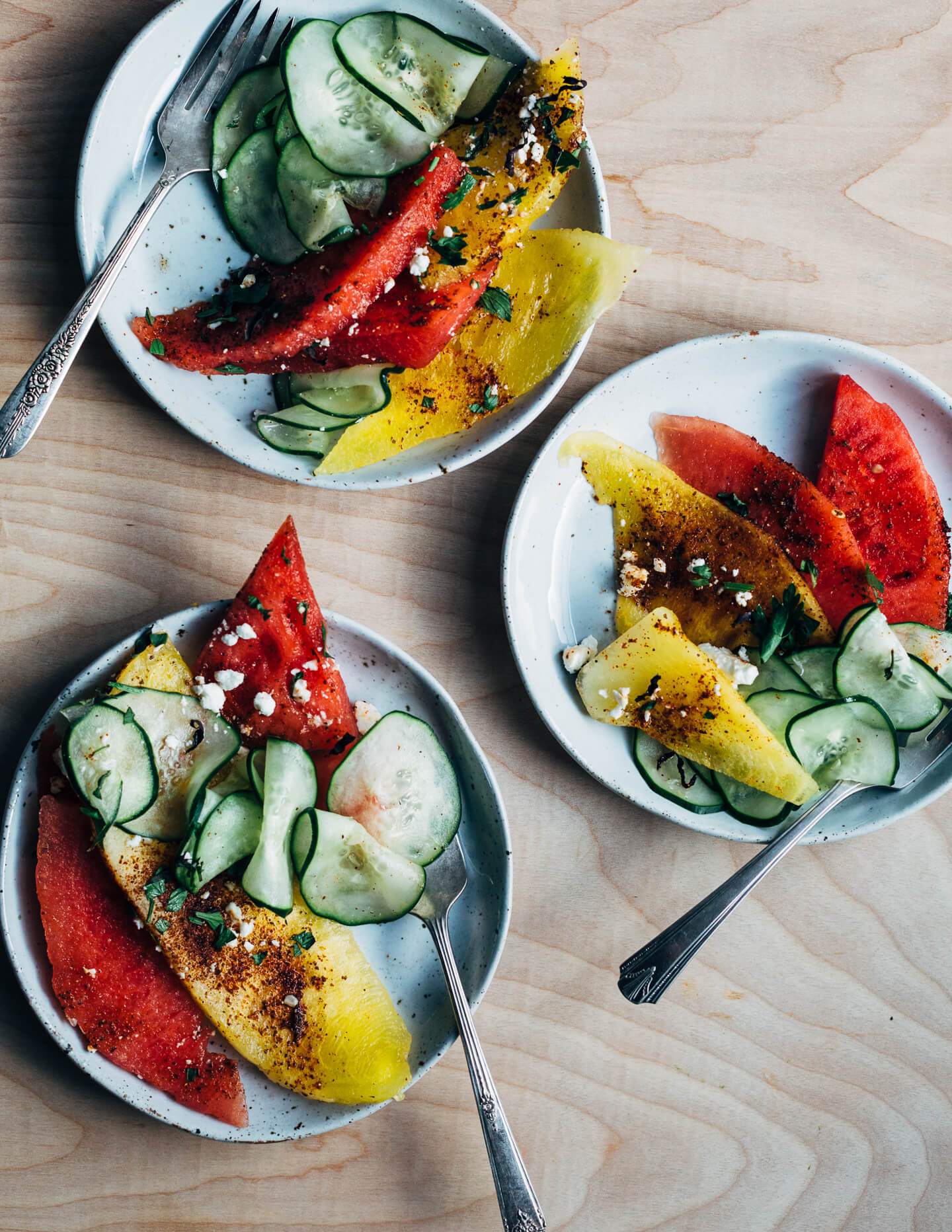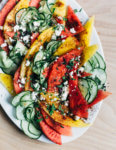 Cucumber-Watermelon Salad with Chipotle and Sumac
A refreshing cucumber-watermelon salad that pairs spicy-sweet watermelon wedges with lime-infused cucumbers. Spicy and cooling, this effortless summer salad is a knockout.
This watermelon salad is best moments after the elements have been joined; the next day, the flavors will meld a bit, but it will still be delicious. If you'd like to make it ahead for a party, keep all the elements separate until just before serving.
A note on spices: while regular chili powder will be ok, chipotle chili powder (that is, chili powder made exclusively from ground up chipotle peppers) is best. The chipotle pops against the watermelon beautifully, while regular chili powder tastes a bit more muddy. Ground sumac is available in the spice aisle of specialty grocery stores and lends savory tang and texture to all kinds of dishes. If you don't have some already, pick up a jar.
Ingredients
1

medium cucumber,

sliced 1/16-inch thick with a mandoline

juice of 1 lime

1

teaspoon

sea salt,

divided

1/2

a small watermelon or 1/4 of both a red and yellow watermelon,

rind removed, seeded, and cut into triangles or half-moon wedges

1/2

teaspoon

ground sumac

1/2

teaspoon

fresh ground white pepper

1 1/2

teaspoons

chipotle chili powder

(see note above)

4

ounces

crumbled feta cheese,

preferably barrel-aged sheep's milk feta

2

tablespoons

each minced basil,

parsley, and mint
Instructions
Place cucumbers in a medium-sized bowl and toss with lime juice and 1/2 teaspoon sea salt. Set aside while you prep the rest of the salad.

In a small bowl, combine remaining 1/2 teaspoon sea salt, sumac, pepper, and chipotle chili powder. Arrange watermelon slices on a platter and sprinkle all over with spice mixture (there will be a bit leftover).

Drain accumulated juices from cucumbers, and tuck in groups all around the watermelon.

Top salad with crumbled feta and minced herbs. Serve immediately.
SaveSave
SaveSave
SaveSave