A simple, spicy roasted cherry tomato marinara that yields a rich tomato sauce after just 30 minutes in the oven. Served over al dente spaghetti and tossed with burrata and fresh herbs, it's an ideal way to enjoy peak tomato season.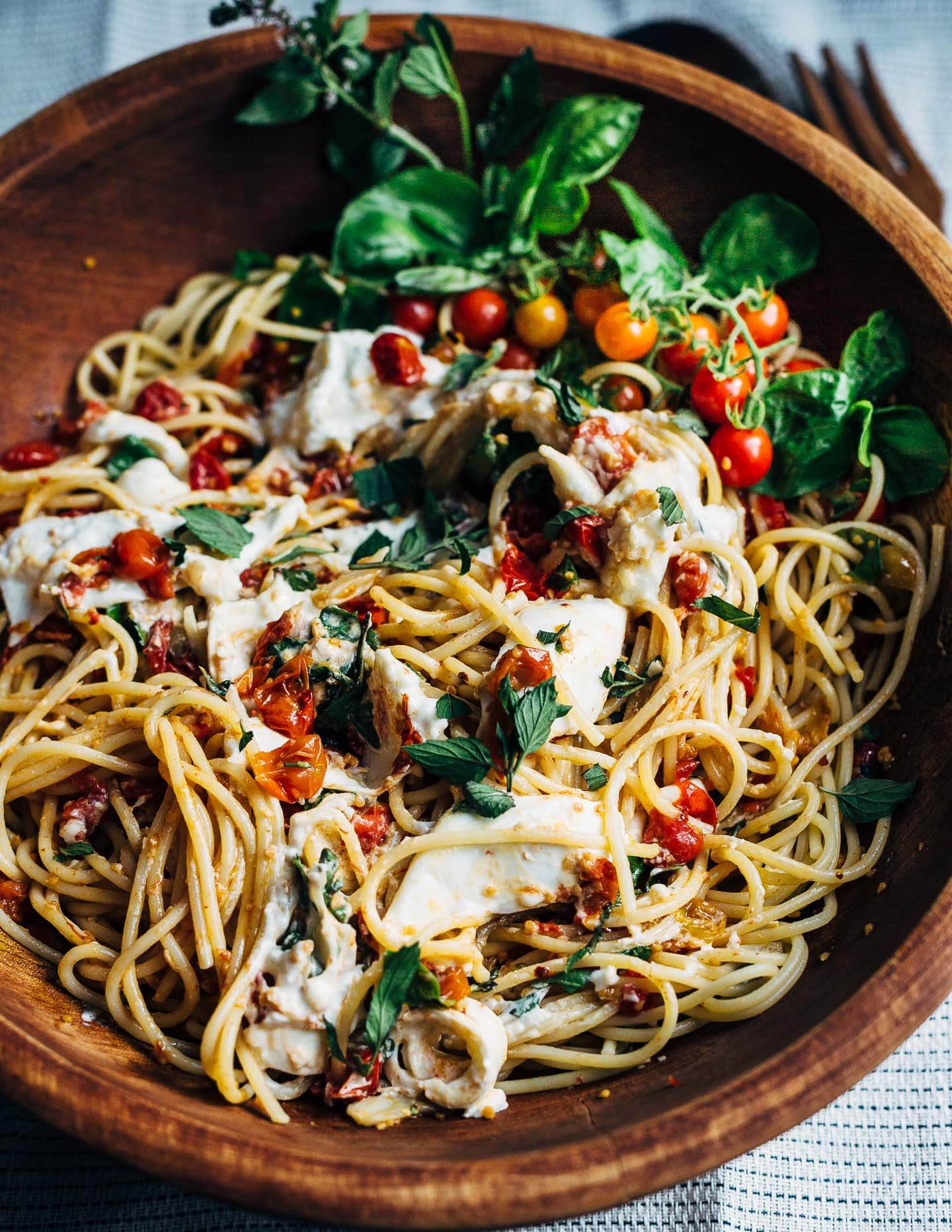 It Starts in the Garden
As many garden-driven recipes do, this roasted cherry tomato marinara started from a place of desperation. I found myself with one million cherry tomatoes and needed a way to eat all of them. This summer, hundreds of Matt's wild cherry volunteers appeared in my garden after two years' dormancy, I culled them down to 10 (or so? It's a cherry tomato tangle out there.) and let them do their thing.
These tiny, sweet cherry tomatoes are delicious as garden snacks or tossed into salads. They're also ideal fodder for a rich roasted cherry tomato marinara (that, as it happens, requires no slicing and very little fussing with the tiny specimens).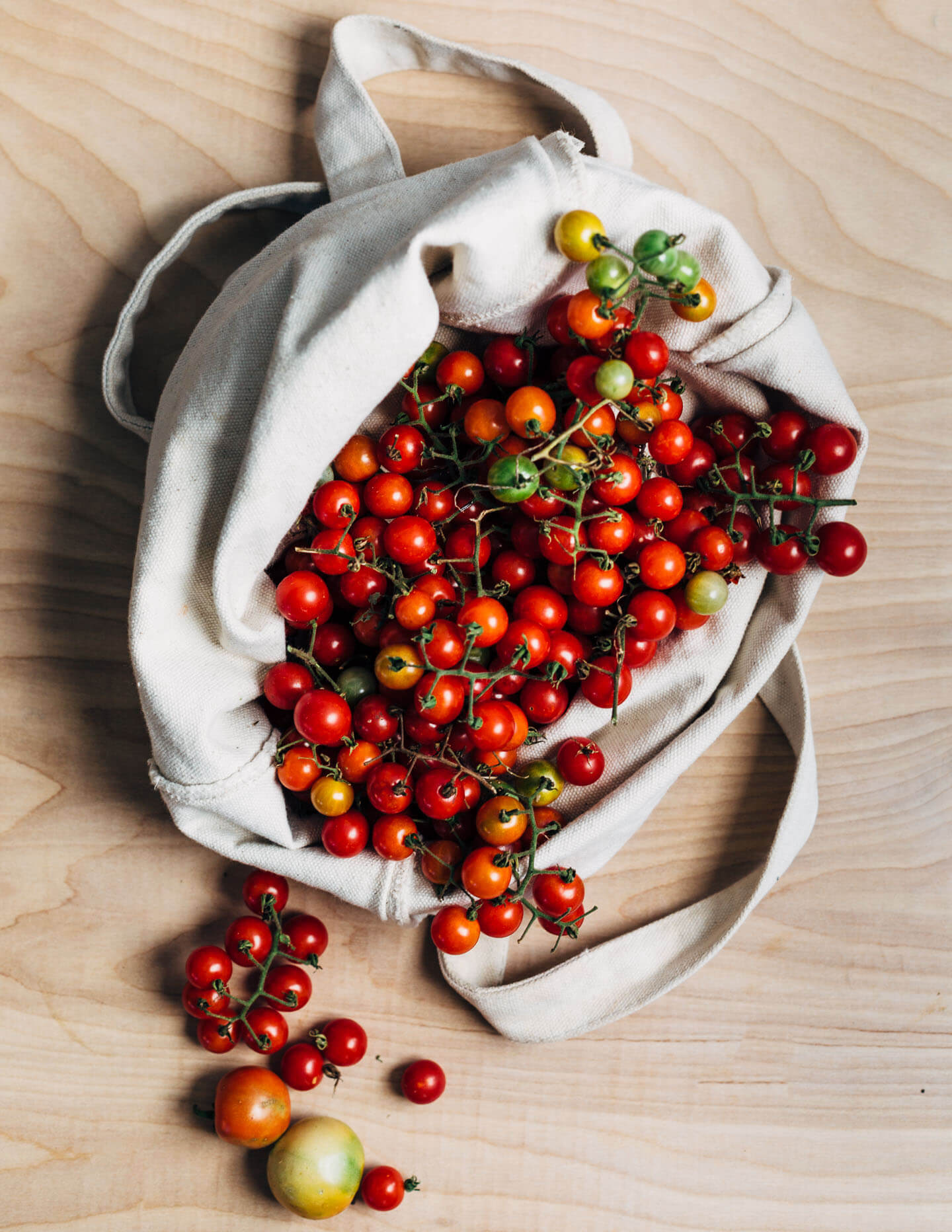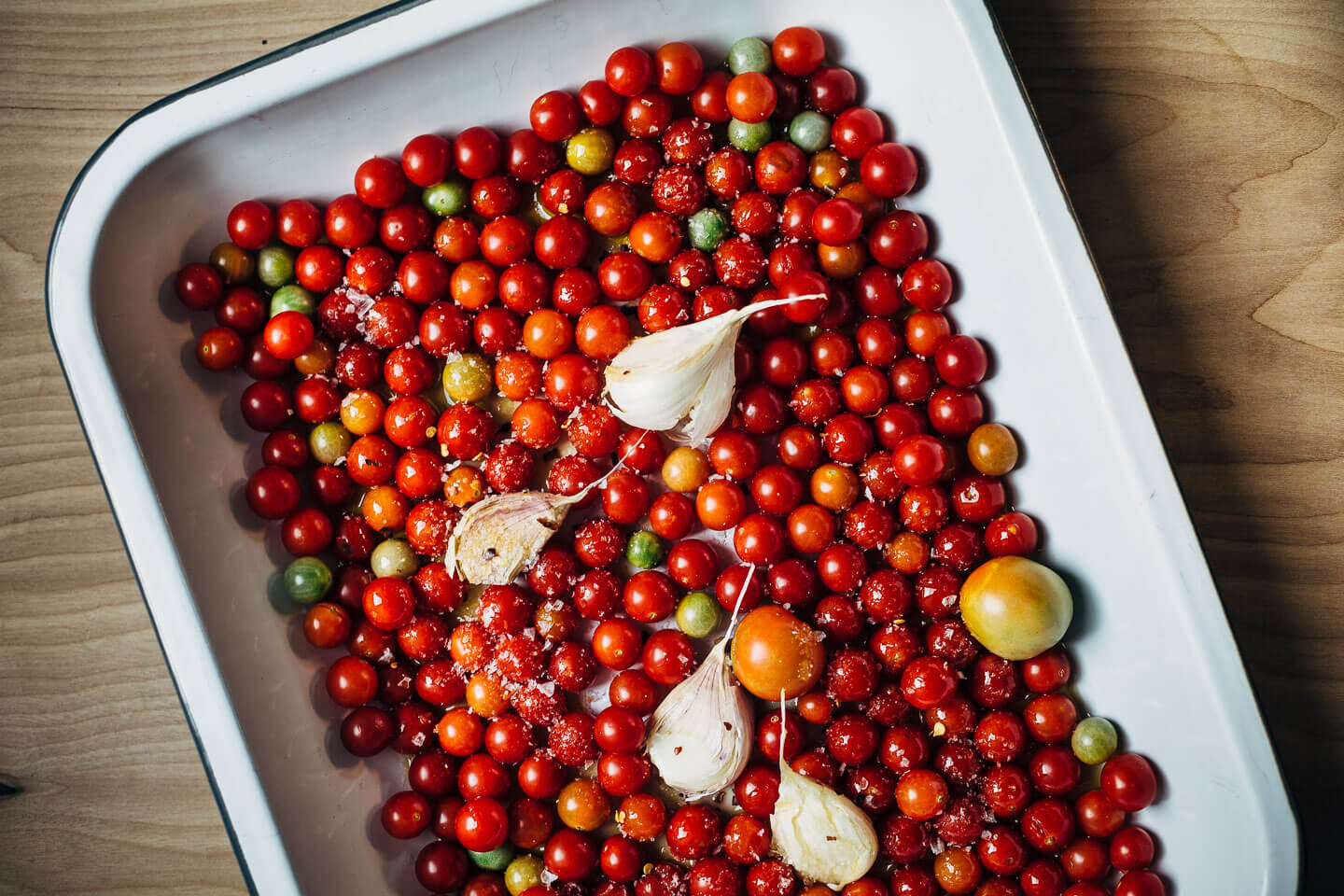 Creating the Perfect Sauce
I felt and tasted my way through as I washed and stemmed my tomato trove; I added lots of good olive oil, a few giant hardneck garlic cloves, red pepper flakes, and sea salt, and then roasted it all until the tomatoes had yielded into a bubbling sauce and the garlic squished easily out of its papery skin.
The next steps are effortless – mash the garlic with a fork, stir it back into the sauce, then toss with al dente spaghetti or the pasta of your choice. Fold in handful of torn herbs – here: oregano, basil, and parsley – and maybe tear up a ball of burrata and toss. I love this dinner for being perfectly summery, simple, and celebratory all at once.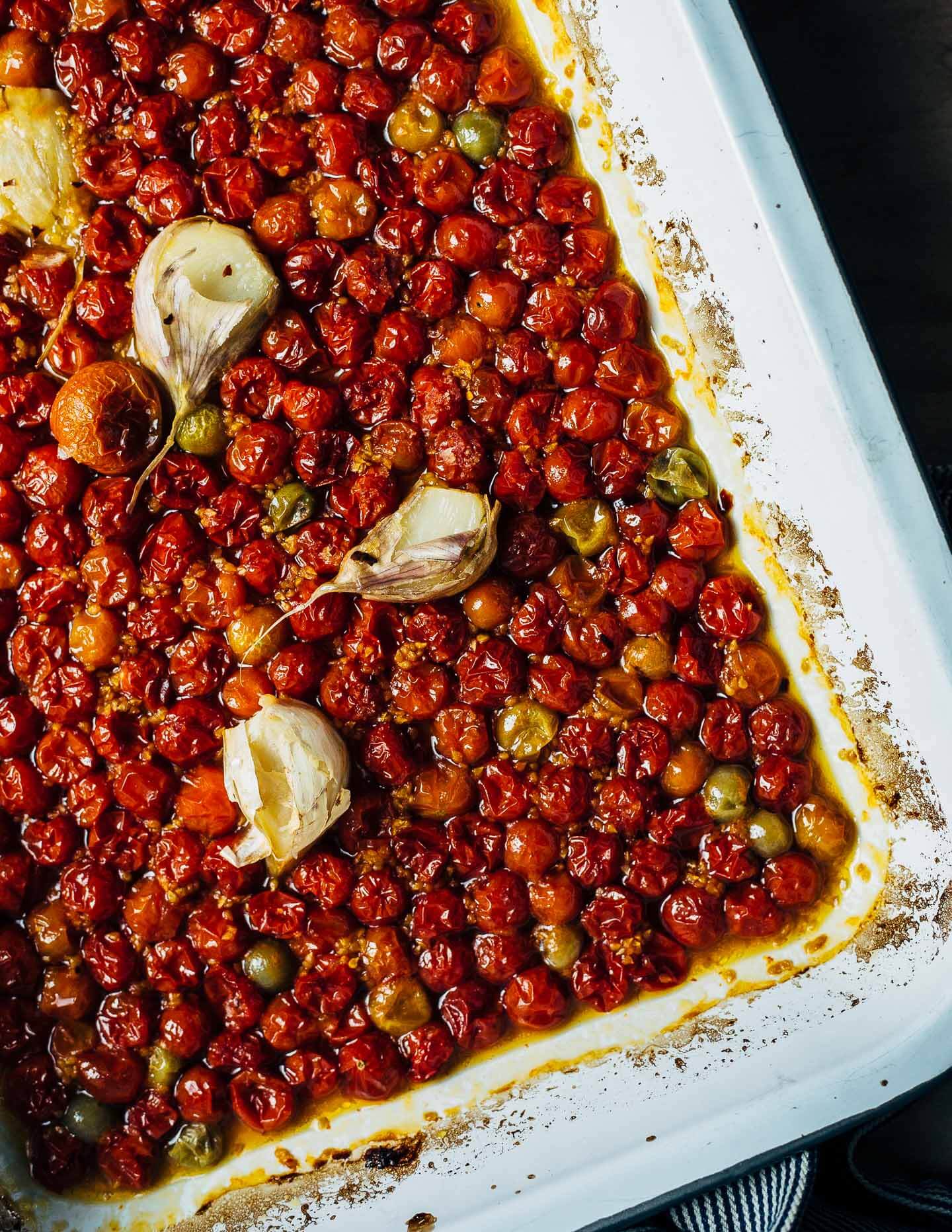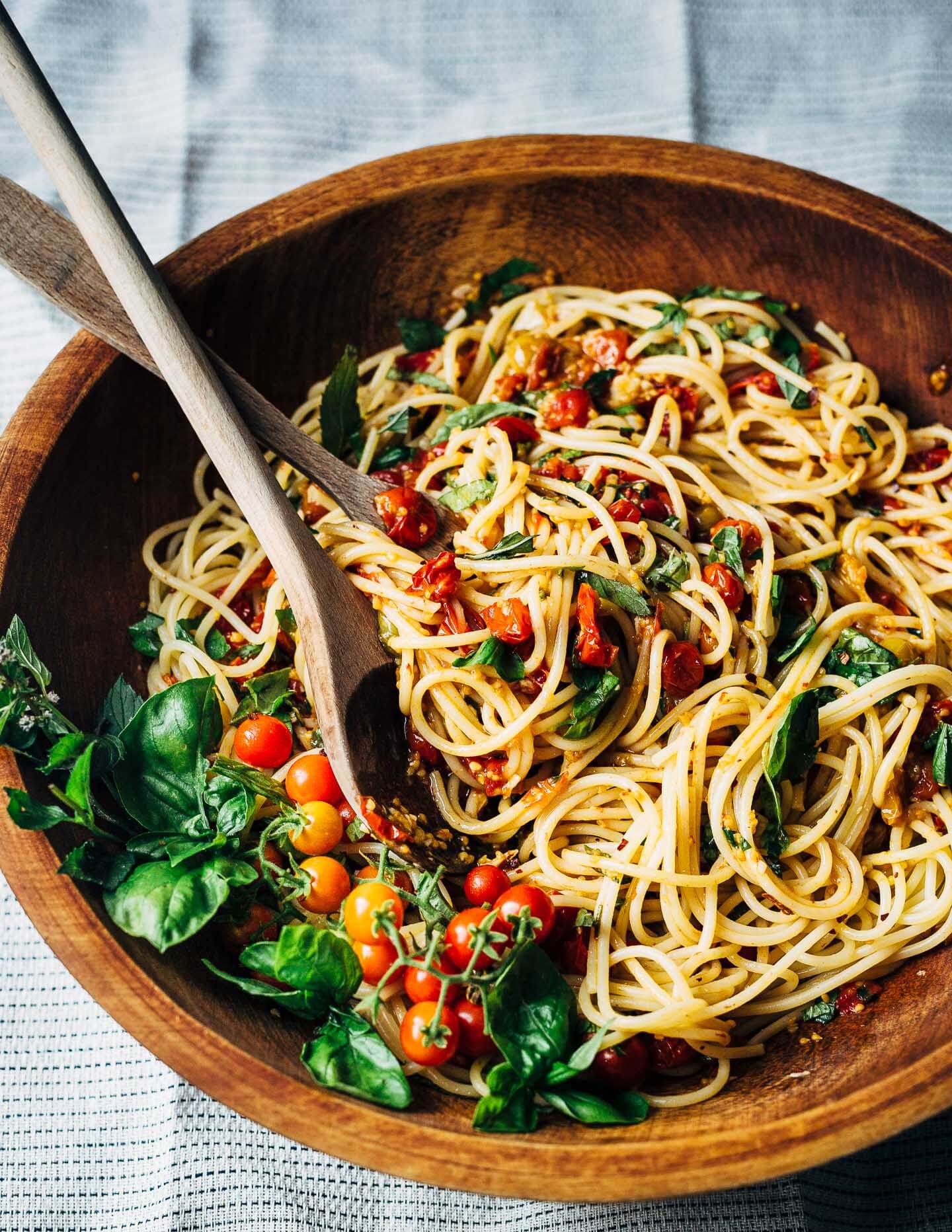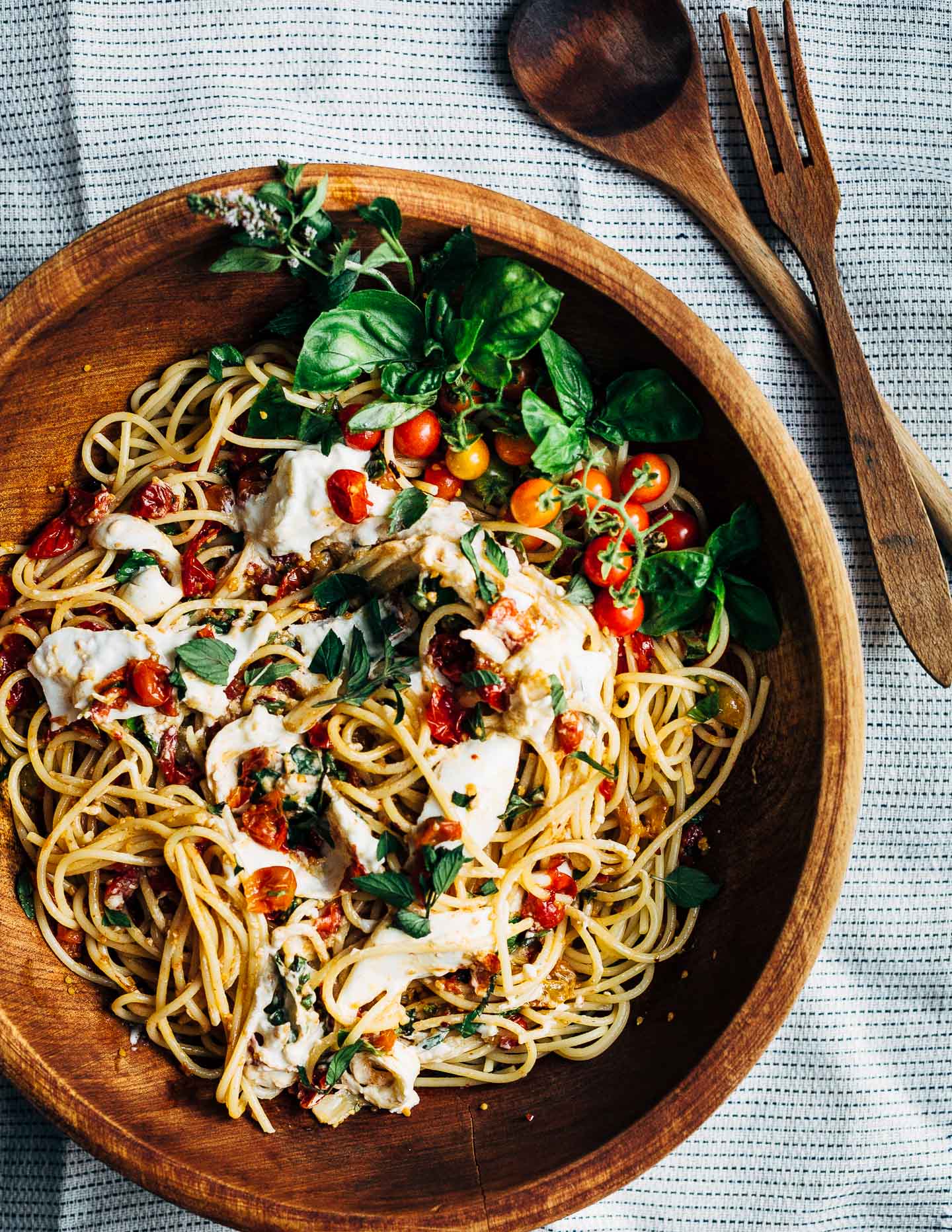 Any Tomatoes Will Do
And if you don't personally also have one million tiny cherry tomatoes, know that this recipe works just as well with any flavorful cherry tomato and even larger, quartered tomatoes.
To better entice my tomato- and spice- averse child to eat this, I kept the heat down. If you're not cooking for little ones, I'd consider making this on the spicier end of things – the heat lends a wonderful pop to the simple roasted cherry tomato marinara.
Finally, if you're swimming in non-cherry tomatoes, here's one of my favorite 2-part recipes: canned crushed heirlooms and tomato water cocktails made from the strained seeds.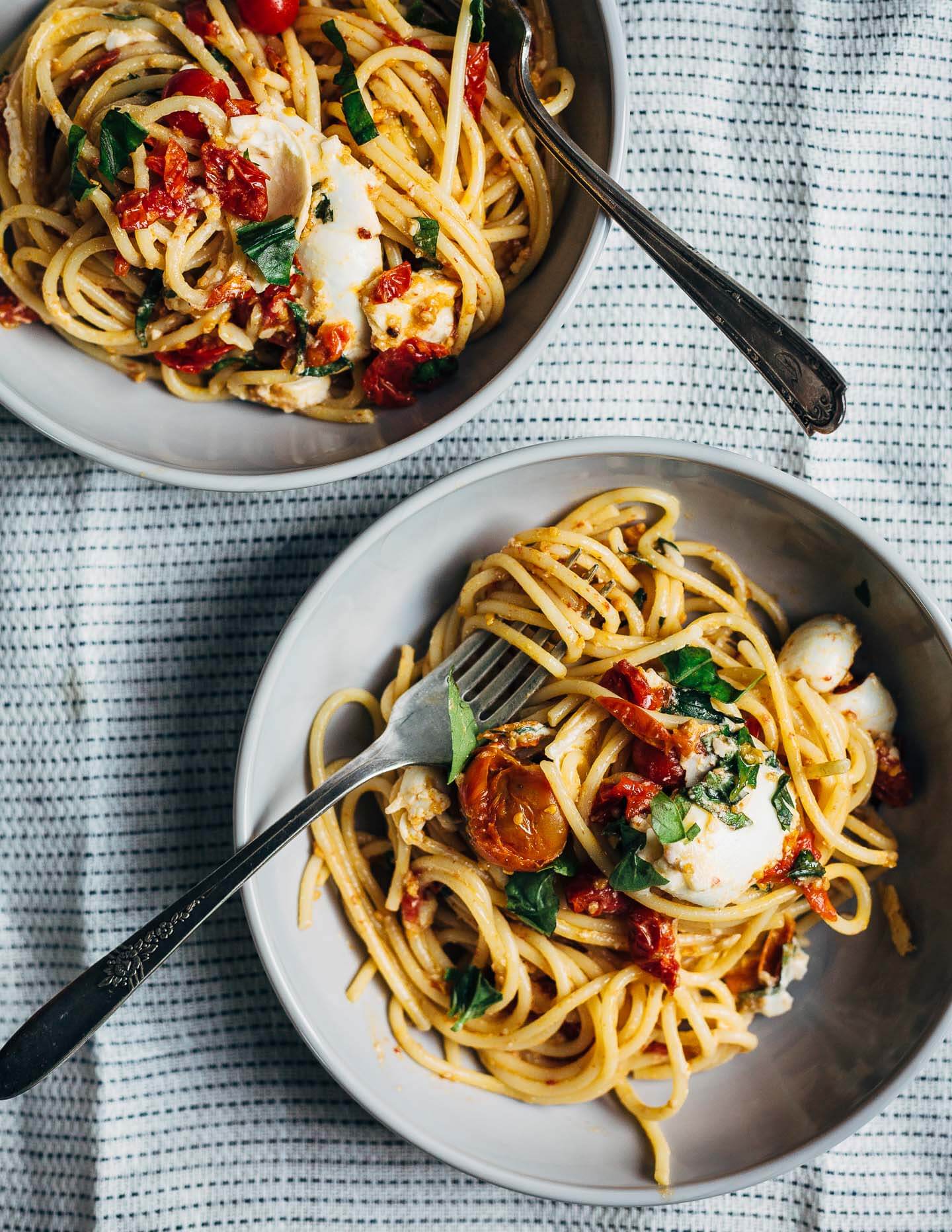 Don't miss a recipe! Follow Brooklyn Supper on Instagram, Facebook, and Pinterest.
Looking for more fresh tomato recipes? Check out this avocado and tomato salad with fresh za'atar, this baked chicken with tomatoes and garlic, and these fried green tomatoes with sautéed shrimp.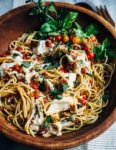 Spaghetti with Spicy Roasted Cherry Tomato Marinara
A simple, wonderfully spicy roasted cherry tomato marinara that yields a rich tomato sauce after just 30 minutes in the oven. Bursting with fresh tomato flavor, it's an ideal way to enjoy peak tomato season.
Keyword:
roasted cherry tomato marinara
Makes
:
6
generous servings
Ingredients
1 1/2

pounds

cherry tomatoes,

stems removed (or regular tomatoes cored and quarters)

4 - 6

cloves

garlic,

woody tip trimmed, but left in papery skin

1

teaspoon

sea salt

1/2

teaspoon

red pepper flakes,

plus more to taste

1/2

cup

extra virgin olive oil

1/3

cup

torn fresh herbs such as basil and parsley,

plus up to 2 tablespoons fresh oregano

8

ounces

burrata or fresh mozzarella

(*optional)
Instructions
Preheat oven to 375 degrees F.

Toss to combine tomatoes, sea salt, red pepper flakes, and olive oil in a 9 x 13-inch baking dish. Tuck garlic cloves (still in their papery skin) into the tomato mixture.

Roast 20 minutes. Press garlic cloves, and if tender and soft to the touch, carefully remove from tomato mixture and set on a cutting board to cool. If using larger cloves, they may need the full 30 minutes to cook through. Return baking dish to the oven and roast 10 minutes more.

When cool, squeeze garlic from papery skin, mash with a fork, and stir into marinara once it's out of the oven.

Meanwhile, cook spaghetti to al dente in a large pot of salted water. Remove pasta from water (or if using a colander, be sure to reserve 2 cups pasta cooking water), and set in a large bowl. Use a silicone spatula to scrape tomato sauce over the spaghetti, and toss. Add several splashes pasta cooking water as needed. Add fresh herbs, torn burrata (if using), and sea salt and red pepper flakes to taste. Garnish with fresh herb sprigs and cherry tomato clusters. Serve immediately.