A simple recipe for one-skillet baked chicken with tomatoes, garlic, and fresh herbs. Chicken thighs are seared until crispy and golden in a cast iron skillet, and then baked up with tomatoes, garlic, greens, and herbs.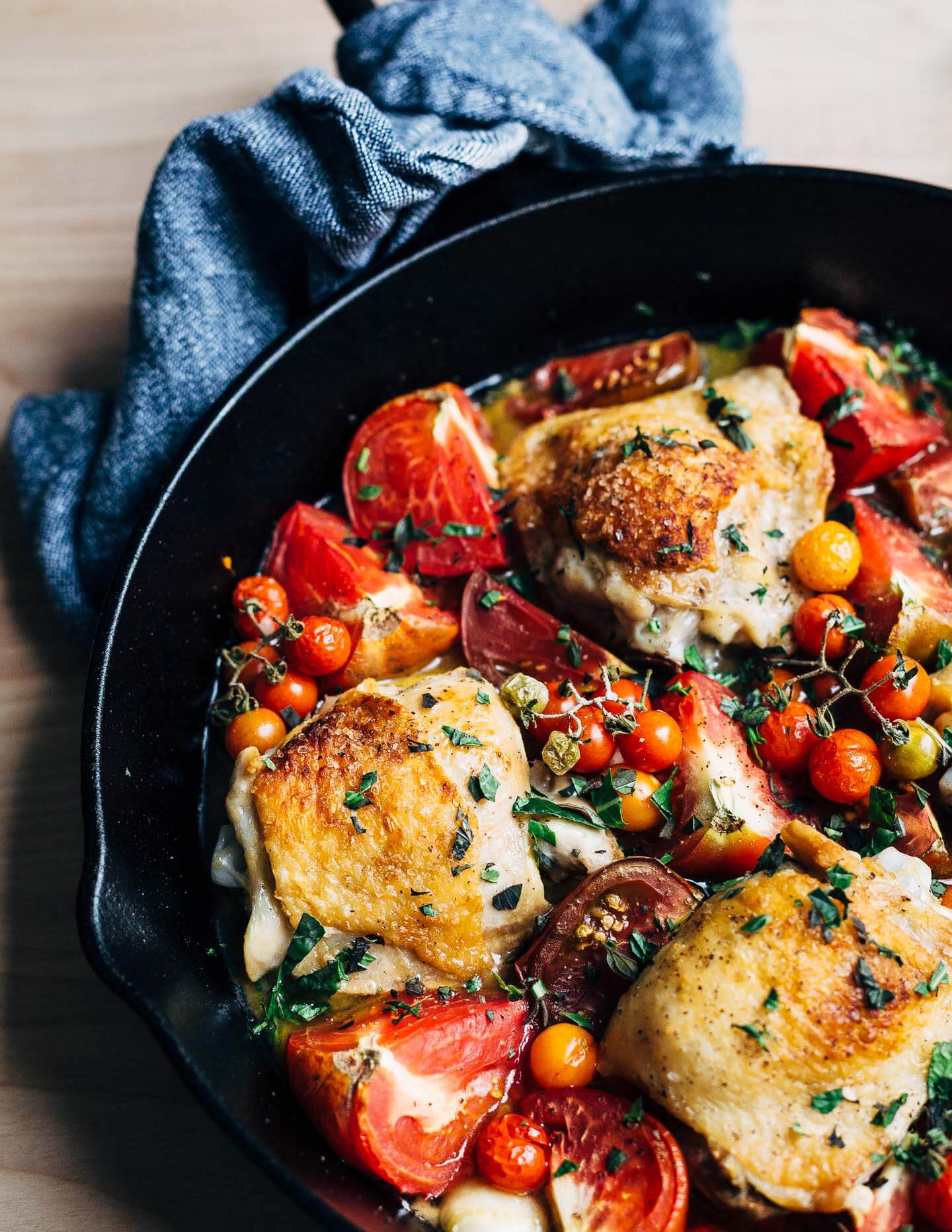 This recipe for baked chicken with tomatoes was originally published in September 2013. Since it's a favorite on the site, I've updated the recipe and photos.
Early Fall Nights

On cool nights in Brooklyn, I loved laying in bed with the windows open. I would drift to sleep and sometimes be startled out of it by the conversational mumbles of the late dinner crowd coming out of the restaurants and planning their next moves, the nightly din-to-shrill crescendo of the bar out back, and the wall of taxis laying on their horns as they came down Havemeyer on weekend nights at twelve thirty, and again at two. When the loudest sounds ebbed, I'd hear bits of conversation, laughing, music floating by, and would sit in bed and love that I could hear all this life happening from right there in my bedroom. And if the moon was also shining in the window, as it did this time of year, well, what else could you want?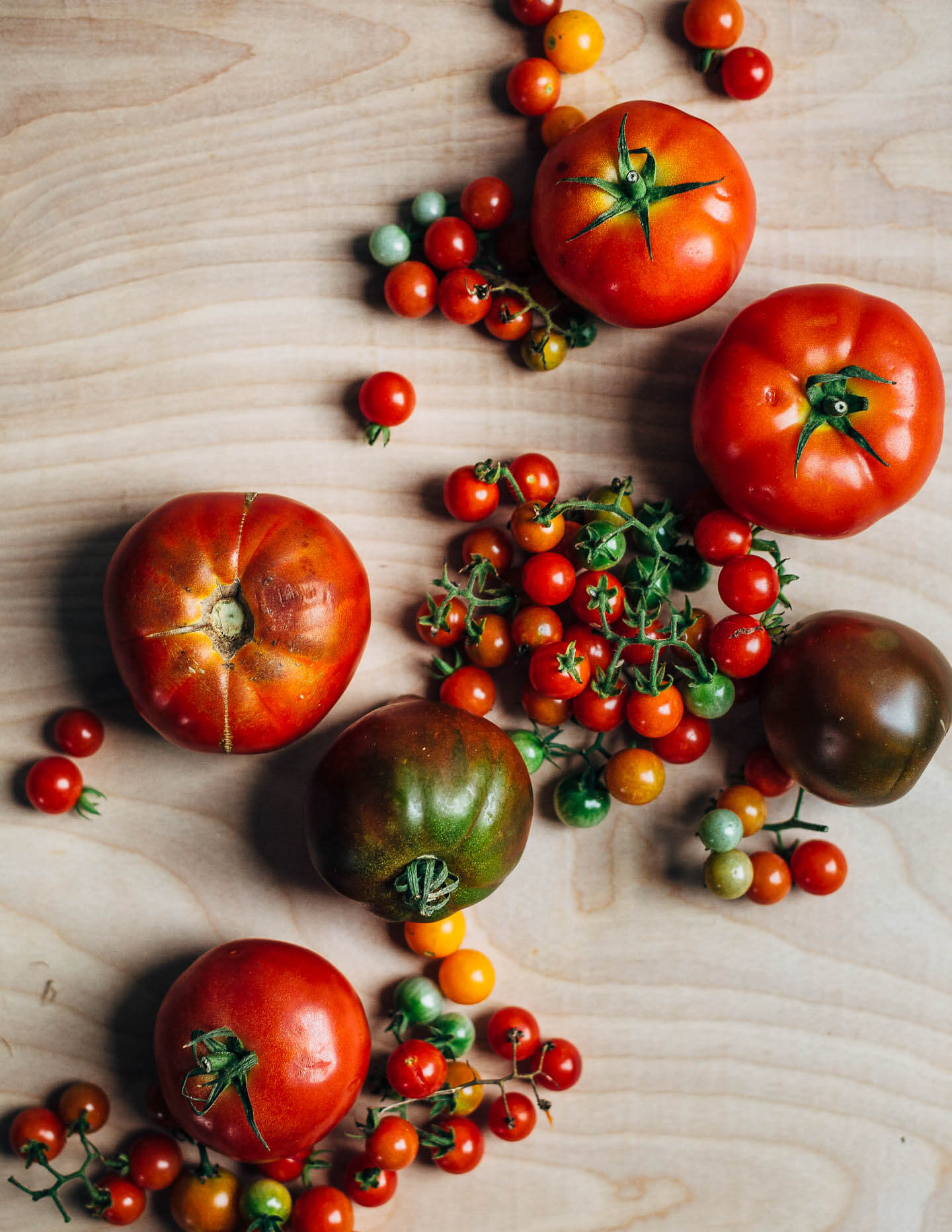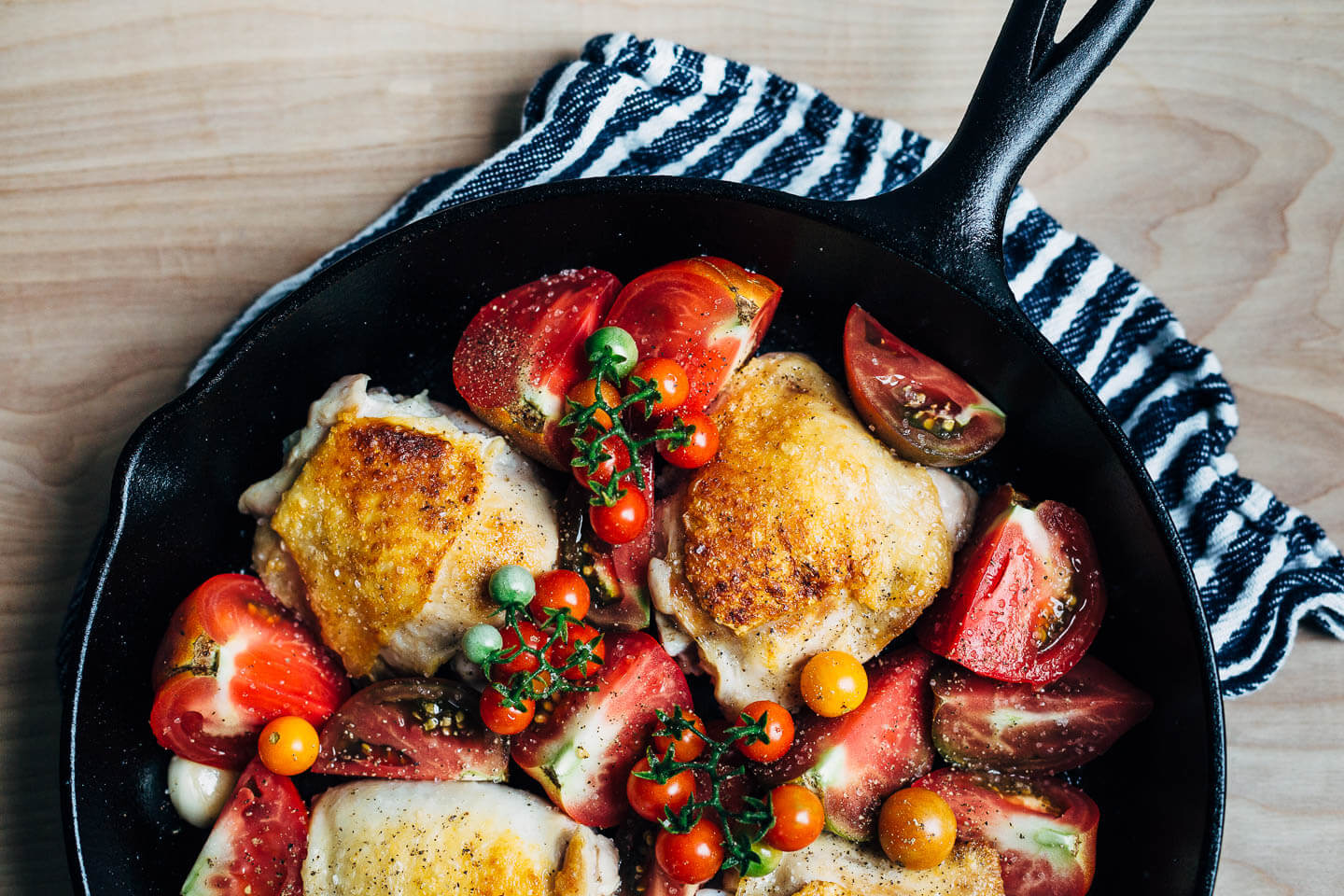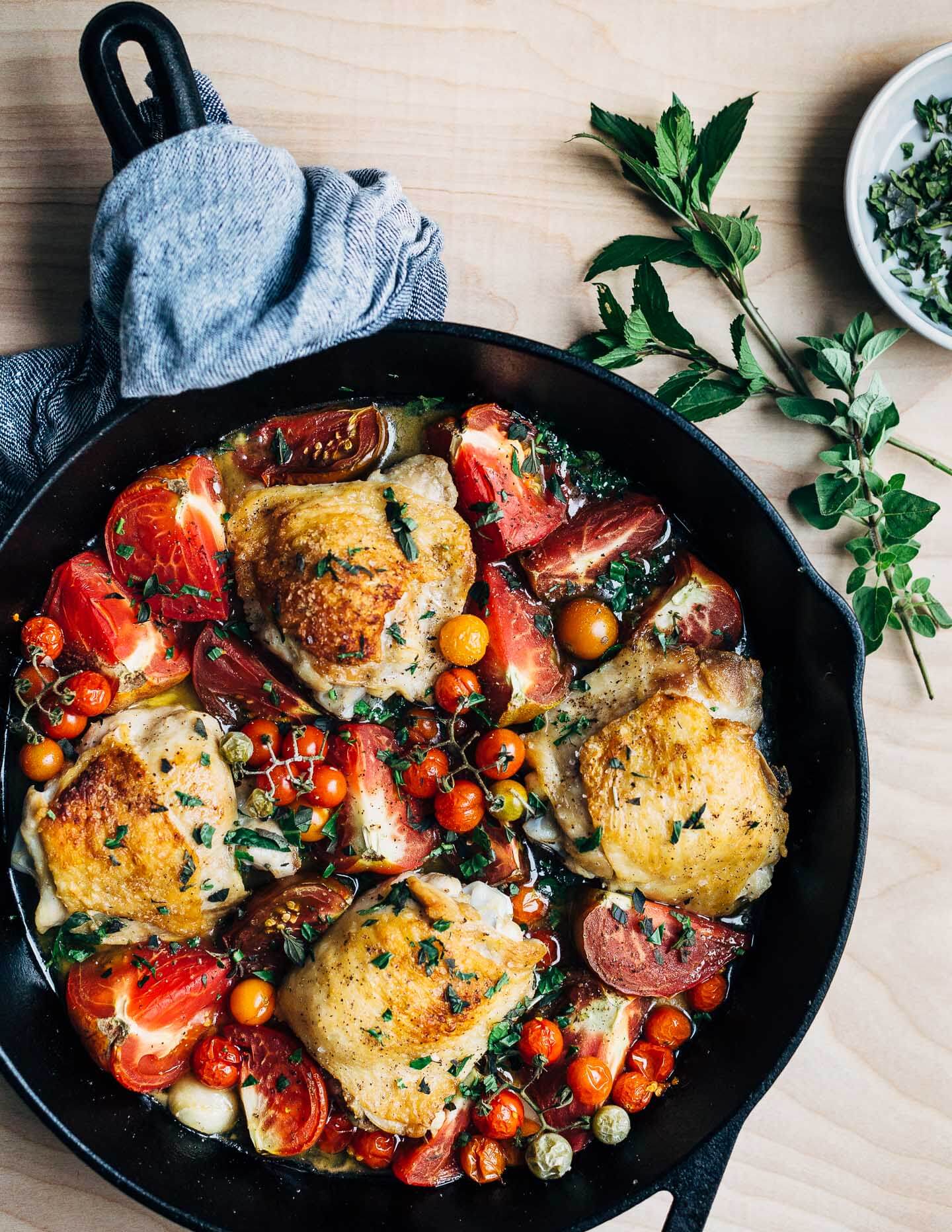 Virginia nights offer a different symphony. Crickets mostly, but also the occasional titter of peepers or the croak of a frog. Leaves rustle and the occasional car snakes down our street. The world and its worries feel distant, and it's pretty perfect. Especially now that the chilly nights have set in. I've been sleeping like a cadaver; the kind of sleep where you don't move once all night and then your neck hurts for days but you don't care because you've just banked the best eight hours of sleep you've had in months.
The Perfect Recipe for Early Fall: Baked Chicken and Tomatoes with Garlic
I'm glad that fall is nearly here. As it turns out, I needed it. And after a morning spent testing recipes and finally braising and roasting and stewing, I turned to a stash of tomatoes and chicken thighs and wondered what to make for dinner. The answer, as clear and bright as these September days, was to turn on the oven and make baked chicken with tomatoes.
So, here it is. A simple, flavorful family dinner with beautifully tender cast iron skillet baked chicken, concentrated tomato, lots of hardneck garlic, and kale ribbons for good measure. Serve atop a bowl of buttery grits, and then ladle on the rich tomato pan sauce with abandon.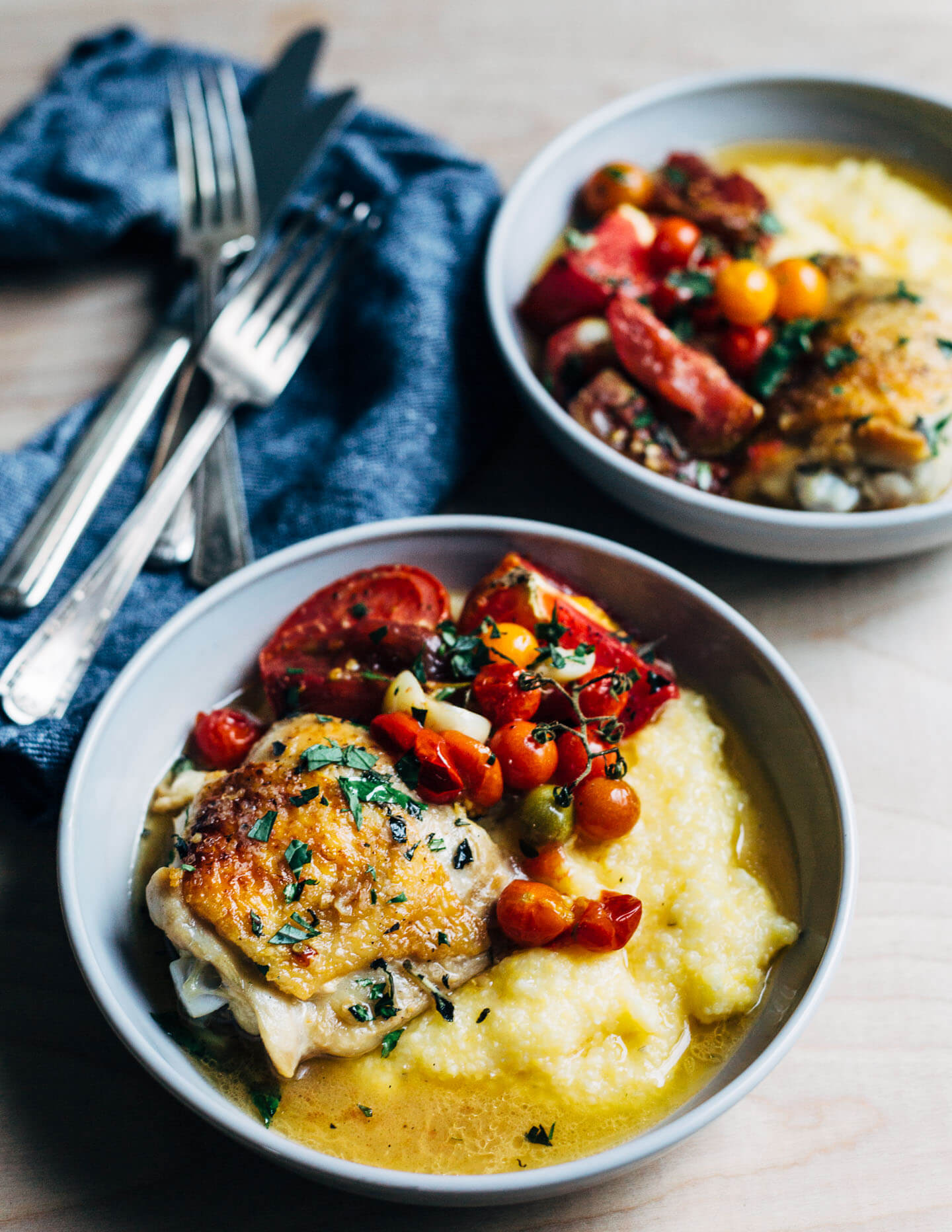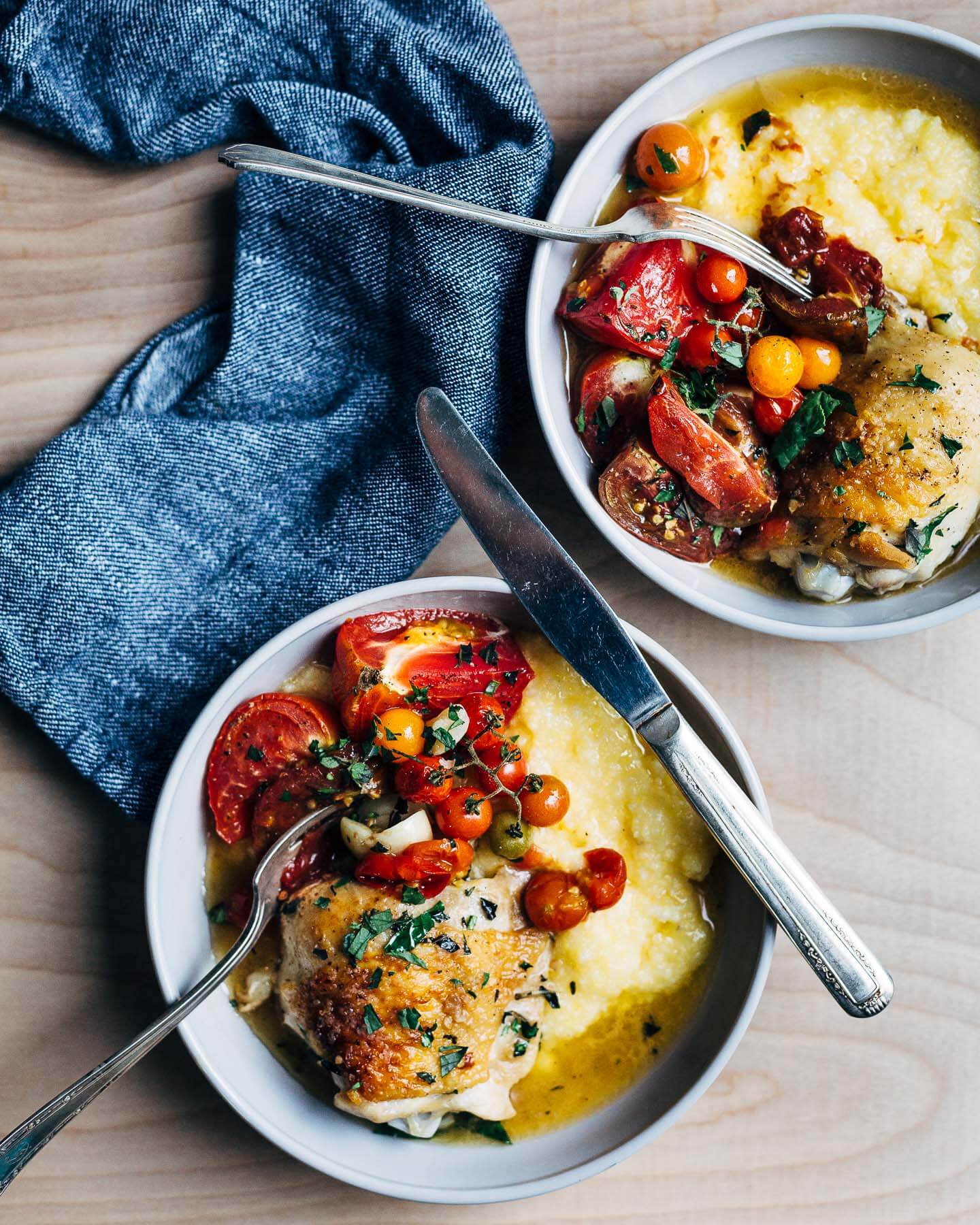 Don't miss a recipe! Follow Brooklyn Supper on Instagram and Pinterest.
Looking for more delicious chicken dinner recipes? Check out this classic chicken piccata, these easy chipotle chicken tacos, or these sesame-crusted chicken tenders with greens and orange-ginger dressing. Or, browse all chicken recipes here.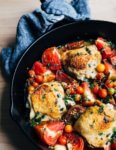 Baked Chicken Thighs with Tomatoes and Garlic
A simple recipe for one-skillet baked chicken with tomatoes, garlic, and fresh herbs. Chicken thighs are seared until crispy and golden in a cast iron skillet, and then baked with tomatoes and garlic. Recipe updated 8/27/19.
Keyword:
chicken with tomatoes
Ingredients
2

tablespoons

extra virgin olive oil

1

teaspoon

sea salt,

plus more for sprinkling

1

pound

bone-in chicken thighs

4

large cloves hardneck garlic,

smashed, peeled, and chopped

1/2

teaspoon

fresh ground pepper

4

cups

quartered fresh tomatoes,

(if using cherry tomatoes, halve them)

3 - 4

large kale leaves,

cut into thin ribbons

2

tablespoons

fresh herbs

(basil, thyme, or oregano)
Instructions
Preheat oven to 375 degrees. Rub 1 teaspoon sea salt all over the chicken.

Heat a large cast iron skillet over medium/medium-high heat. Add olive oil, and once it's hot, add chicken skin-side down. Sear 3 - 4 minutes or until skin is deep golden. Flip, and sear 3 minutes more. Add garlic when there's 1 minute of cook time left. Remove from heat.

In the same skillet, carefully arrange kale ribbons around pan, tucking them under the chicken, and then tuck tomatoes all over so they surround the chicken thighs. Sprinkle generously with sea salt and 1/2 teaspoon pepper. Bake 30 - 40 minutes, until the chicken reaches an internal temperature of 165 degrees F and the tomatoes are bubbling and jammy. Remove from oven and sprinkle chicken with fresh herbs.

Place a generous dollop of buttery grits in a bowl, spoon chicken and tomatoes, and finish with several spoonfuls sauce and an herb sprig.
Recipe Notes
Feel free to play with ingredients. Other kinds of dark leafy greens, a smattering of sweet or spicy peppers, or cauliflower florets would all be delicious additions.