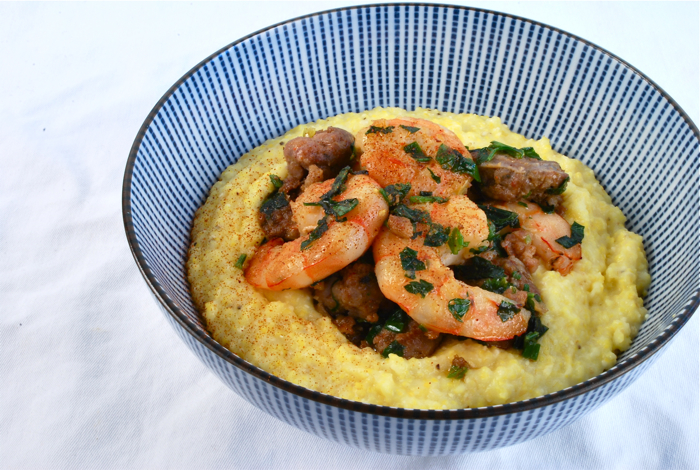 In South Carolina, shrimp and grits was traditionally a fisherman's breakfast dish. Hailing from from North Carolina, I don't usually truck with South Carolina, but even I have to admit that sounds like a pretty good idea. Shrimp and grits sound like a good idea any time of day, really. Although I'm from the South, shrimp and grits is really more of a coastal thing. So, while I've long been obsessed with grits, my obsession with shrimp and grits is more recent, but they're something we've been making lately and I think we've ironed out a pretty good recipe.
We used some andouille in these to give them some heat, which was really nice, but then we also dumped some of the fat that had cooked off the sausage into the grits, which was really, really nice. Otherwise, there's no real secret to this recipe. The grits are straightforward and with the sausage fat and cheddar, and they're really rich. The shrimp just needed a little seasoning and few minutes in the skillet and then you've got a delicious, simple dinner.
Shrimp and Grits
serves 3
for the grits
1 cup stone ground corn grits
4 cups water
1/2 teaspoon salt
3 tablespoons butter
1/2 cup shredded cheddar cheese
reserved sausage fat (optional)
Bring the water and salt to a boil. Whisk in the grits, bring mixture to a boil. Turn heat to low, and, whisking occasionally, cook the grits for 35 – 40 minutes. When the grits are just about tender, add the cheese and butter and cook a few minutes more. Add the reserved sausage fat if desired.
for the shrimp
1 lb. andouille sausage
1 lb. shrimp, deveined and shells removed
2 cloves garlic, crushed and minced
1/3 cup parsley, chopped (plus more for garnish)
1/4 cup scallions, chopped
2 tablespoons lemon juice
1 tablespoon olive oil
1/2 teaspoon paprika
In a large skillet, heat the olive oil over medium-high heat. Add the sausage and cook until browned and the juices have been released. Remove the sausage from the pan, and drain off all but 3 tablespoons of the fat (reserve for later). Cook the shrimp just until it is cooked through, then add the sausage, parsley, scallions, and paprika. Cook for 1 minute more. Serve over grits with a garnish of fresh parsley.