A classic Caesar salad recipe that has it all: perfectly crunchy hand-torn croutons, creamy, unctuous dressing with anchovies and Parmesan, and the wonderful simplicity of crisp, freshly harvested romaine lettuce.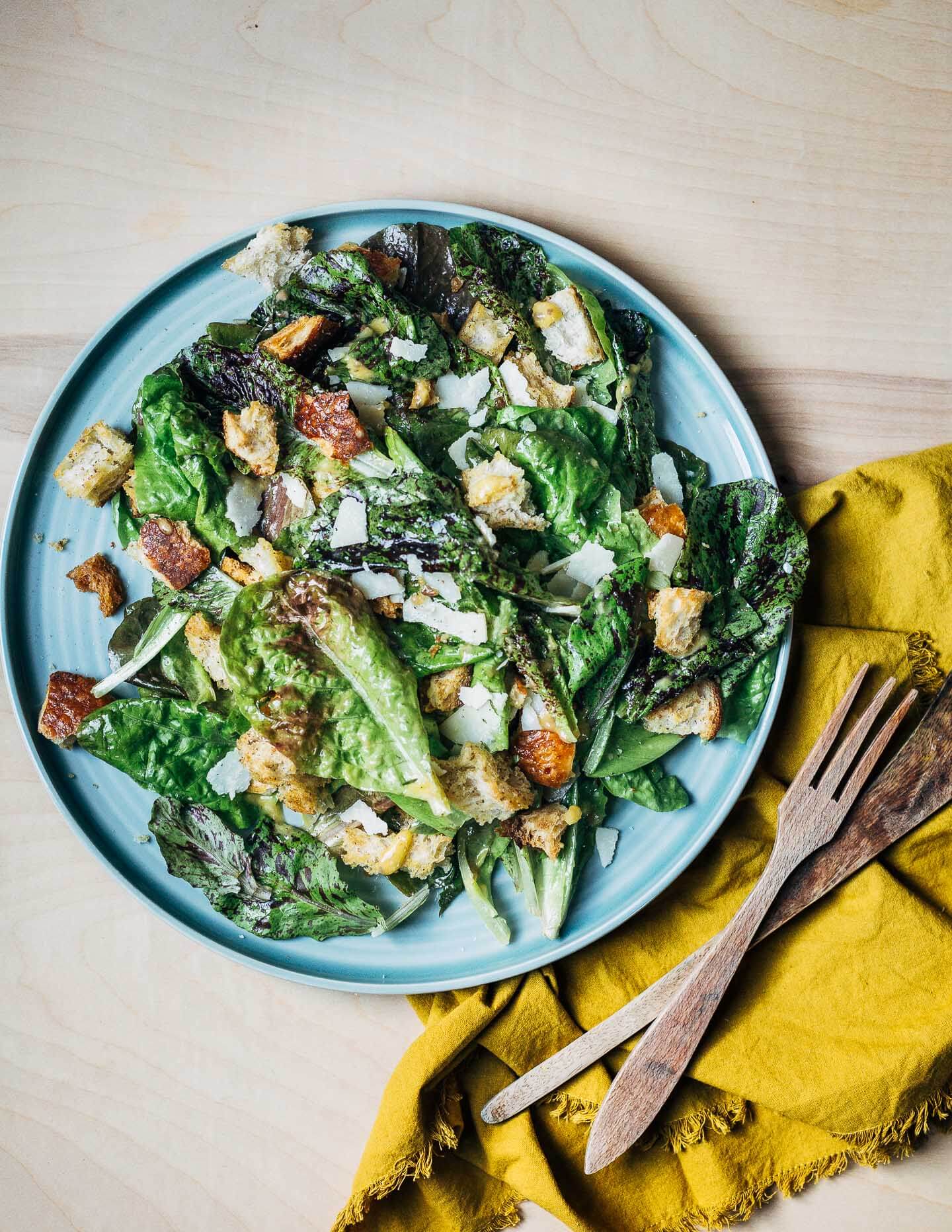 It's easy to complicate simple food. But a truly delicious meal can be as simple as good bread, olive oil, cheese, a head of lettuce from the garden or the market, and ideally, a tin of briny fish. Yes, I'm talking about Caesar salad here. 

Mediocre to downright awful Caesars abound in restaurants, so you may not realize the absolute pleasure and deliciousness of making one from scratch.
Reader, take note: a classic Caesar salad made with care is a thing of beauty.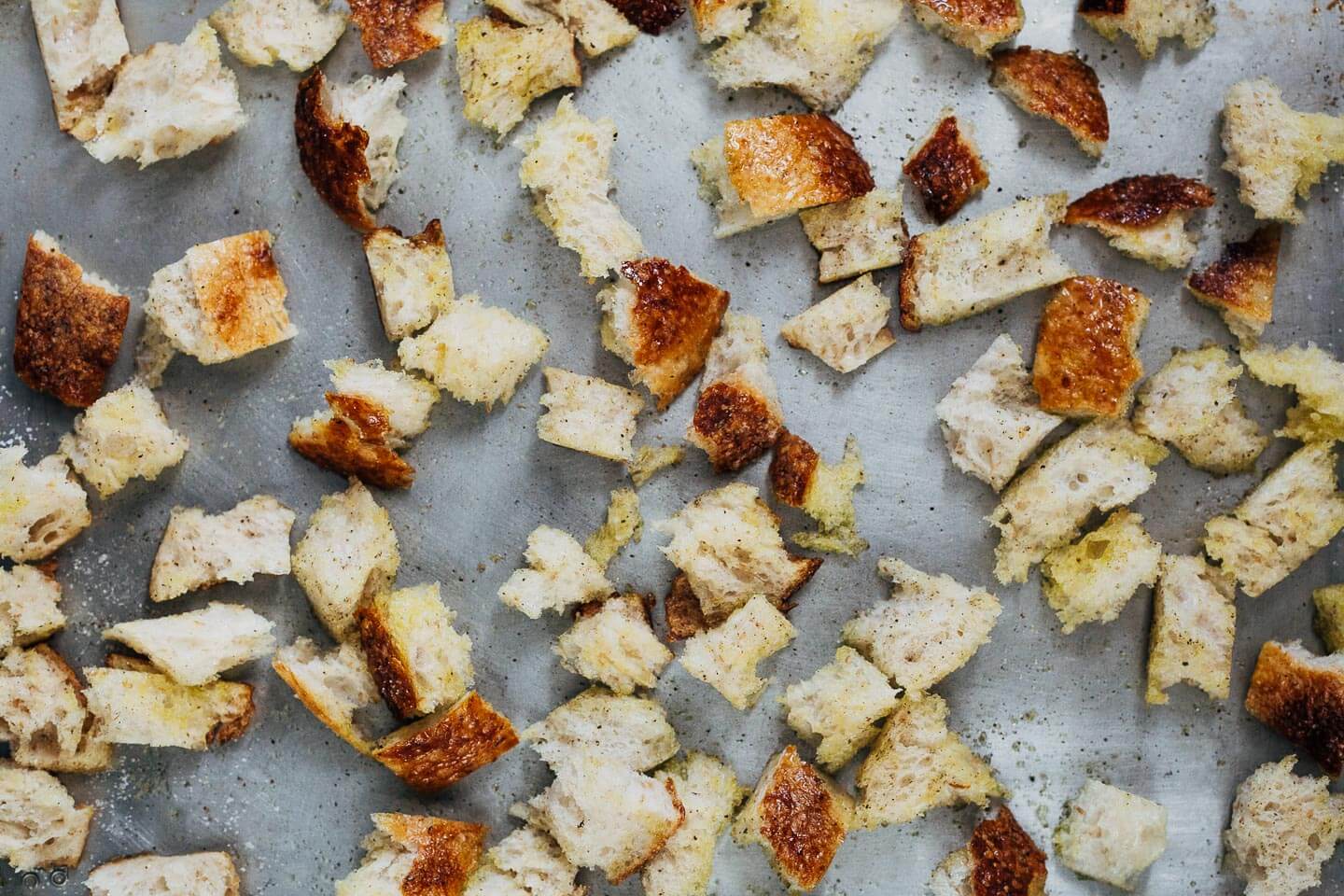 The Best Croutons
A good Caesar starts with great croutons. I like to use sourdough. If you have stale bread on hand, wonderful. If not, use a fresh loaf. Cut the bread into thick slices and then tear those into bite-size pieces. The bread should be kind of wispy with lots of craggy edges.
Classic Caesar Dressing: Don't Skip the Anchovies
While the croutons toast, make the dressing. This creamy, unctuous Caesar dressing is made with egg yolks. They lend richness and depth, so please don't skip them. There are also anchovies – the more the better. If you have some kind of feeling about anchovies, push it aside! Anchovies are nutrient dense, packed with salty, delicious flavor, and are one of the most sustainable kinds of seafood.
To make the dressing, mince the anchovies and garlic into a paste. Then whisk the anchovy-garlic mixture with a bit of Dijon and lemon juice. Next, fold in the egg yolks, slowly whisk in the olive oil, and fold in the Parmesan. This Caesar dressing emulsifies quickly and perfectly. The recipe makes a bit more than you'll need for the salad; leftovers can be kept in the fridge and used like any other dressing.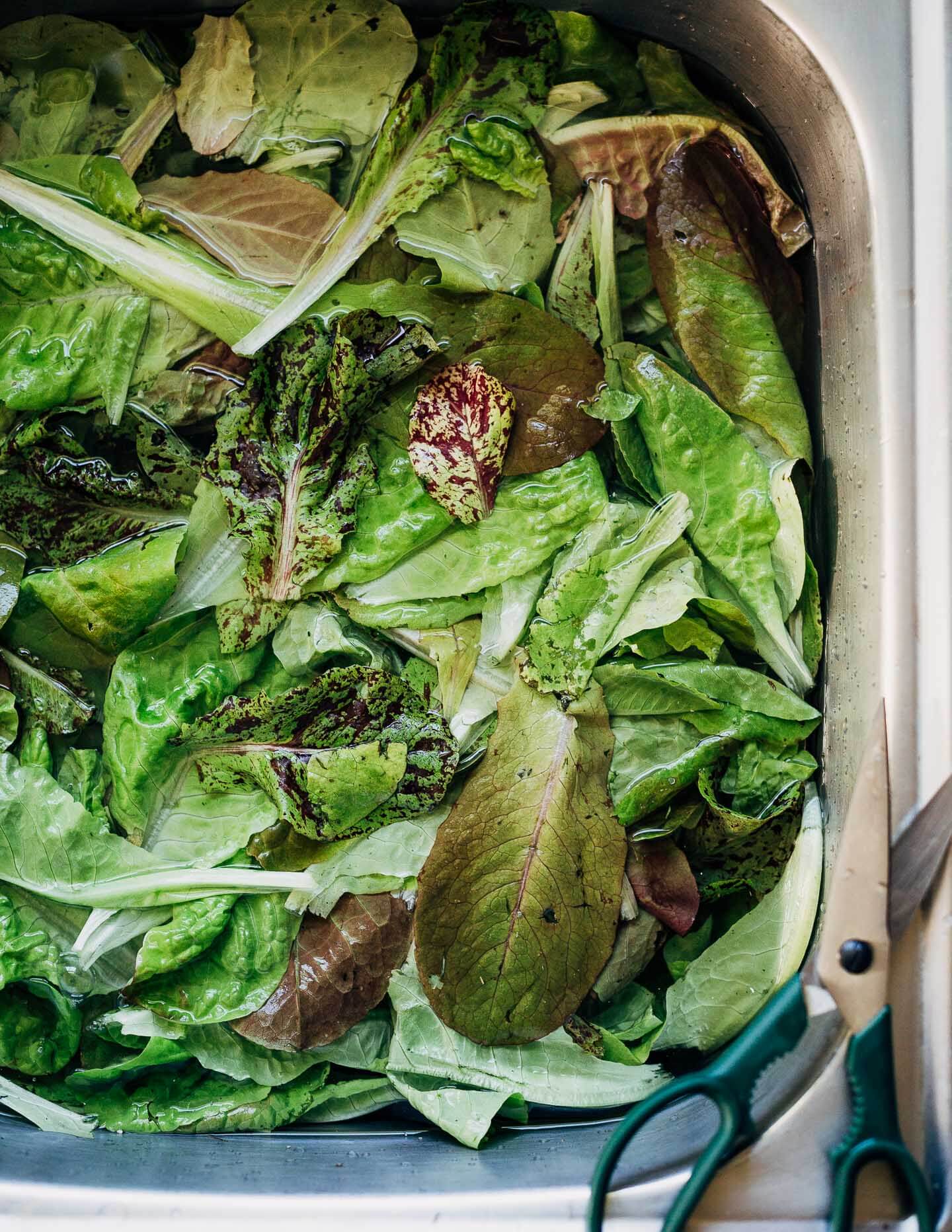 On Greens
And finally, the lettuce. Here in Virginia Piedmont, we're in a bit of a race to eat all the spring lettuce I planted before the weather turns hot and the lettuce bolts. I have a daily ritual of harvesting a big bowl of leaves, letting them soak for a good long while (slugs like lettuce as much as I do!), and then spinning and bagging up my haul. I have a bunch of varieties growing out there, and for this salad, I pulled in a few tiny heads of red and green romaine, along with a spotty romaine called Mayan Jaguar Lettuce.
Romaine is the preferred variety in Caesar salads because the leaves are sturdy enough to stand up to the thick dressing and croutons. But there's also room for substitutions, so use any sturdy lettuce you might have on hand. Kale and other leafy greens can be used too. At that point, I'd say we've veered from "classic" Caesar territory, but that's just fine.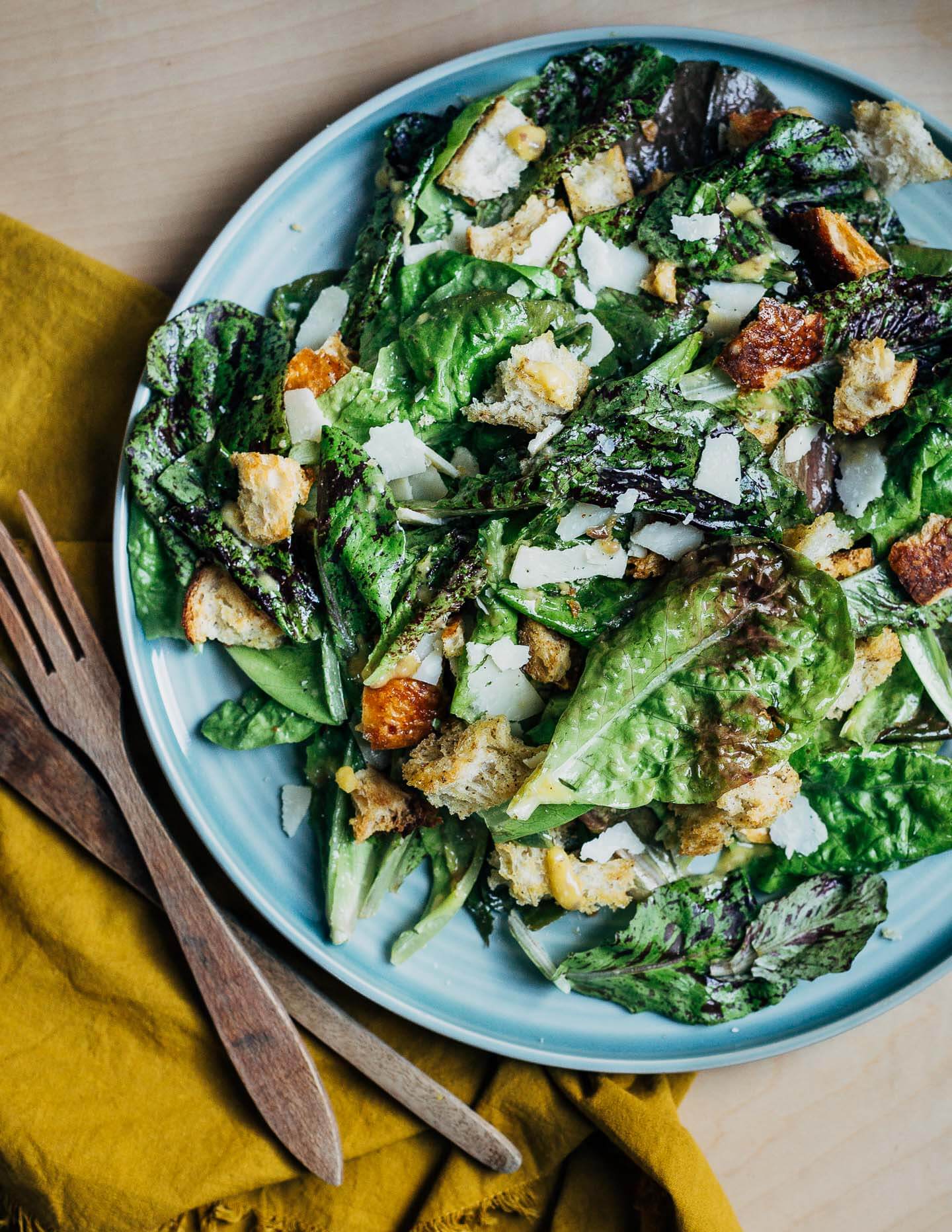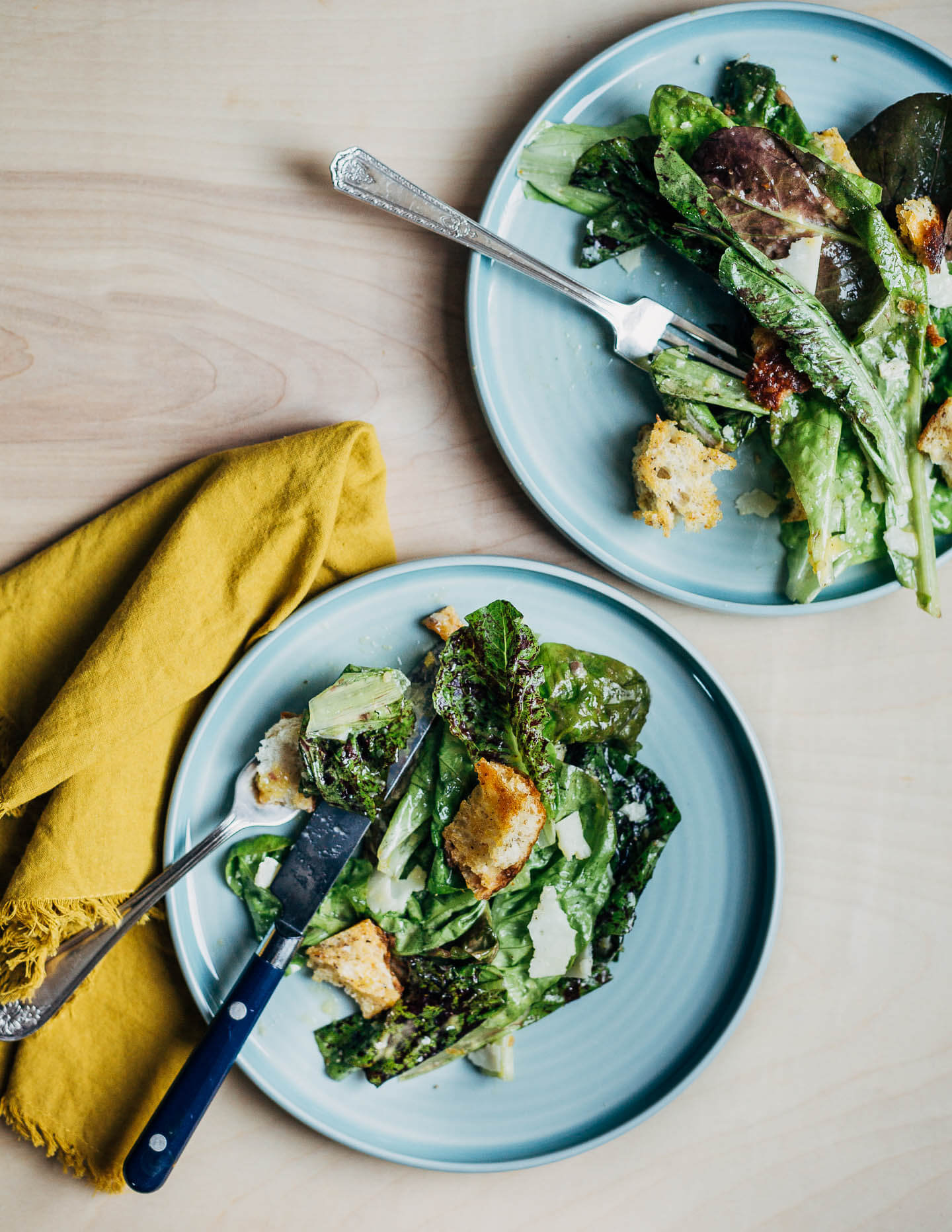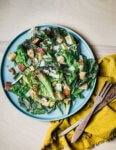 Classic Caesar Salad
A classic Caesar salad recipe that has it all: perfectly crunchy hand-torn croutons, creamy, unctuous dressing with anchovies and Parmesan, and the wonderful simplicity of crisp, freshly harvested romaine lettuce.
Keyword:
classic caesar salad
Ingredients
Croutons
4

cups

rustic bread,

torn into 1-inch pieces

3

tablespoons

olive oil

Sea salt and fresh ground black pepper
Dressing
1

clove

garlic,

smashed and peeled

6

oil-packed anchovies

or to taste

2

tablespoons

freshly squeezed lemon juice

1/2

teaspoon

Dijon

2

egg yolks

1/2

cup

plus 2 tablespoons olive oil

3

tablespoons

finely grated Parmesan

1

teaspoon

Worcestershire sauce
To Assemble
1

large head romaine lettuce,

washed, dried and torn into large pieces

1/4

cup

thinly shaved Parmesan

Fresh ground black pepper
Instructions
Preheat the oven to 350 degrees F. On a rimmed baking sheet, toss the torn bread with olive oil and sprinkle with sea salt and pepper. Toast 20 minutes, stirring once halfway through. Set aside to cool.

Meanwhile, make the dressing. Finely mince the garlic and anchovies until they form a paste. Scrape into a large jar, and whisk in the lemon juice and Dijon. Fold in the eggs yolks. Whisking vigorously, slowly add the oil. Fold in the Parmesan. Let the mixture sit a minute, then taste on a piece of lettuce. Add sea salt if needed (I added just a tiny pinch.)

Make ahead notes: croutons can be stored in an airtight container at room temp and the dressing will keep for 2 days in the fridge.

To assemble the salad, go through the lettuce and remove any huge or fibrous stems. In a big mixing bowl, toss lettuce with 3 - 4 tablespoons dressing. On a platter, layer the dressed lettuce and croutons. Top with shaved Parmesan, lots of black pepper, and a few drizzles more dressing. Serve right away.