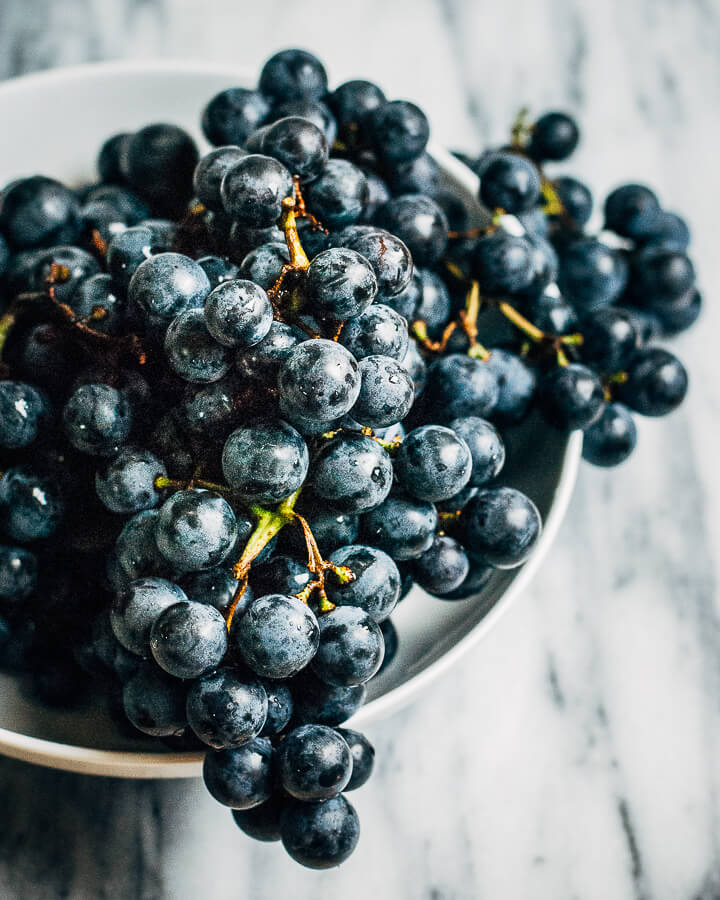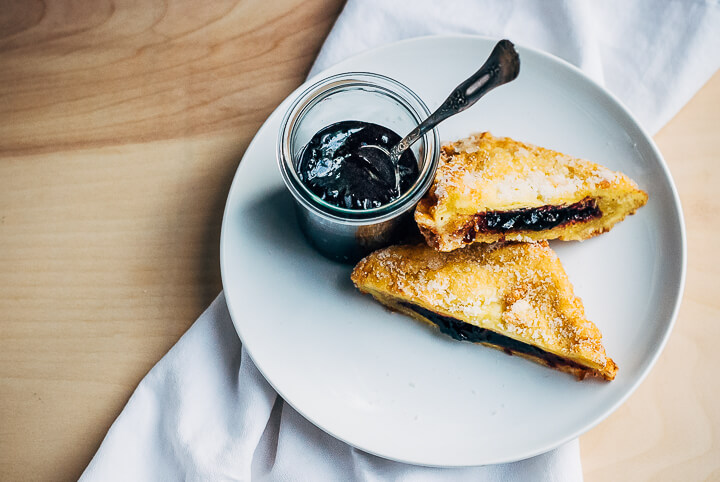 A recipe for decadent brioche sandwich donuts filled with homemade concord jelly. Jump to recipe. 
Sarah Coates is the cool Australian behind The Sugar Hit, one of my favorite food blogs both for its recipes and punchy writing. She also has a cookbook out now that's just as exuberant and funny as I hoped and expected. In a time of Scandi refinement and muted tones, Sarah's bold colors, distinct voice, and unapologetically sweet, gooey, crazy delicious recipes stand out. It's not called The Sugar Hit for nothing, people.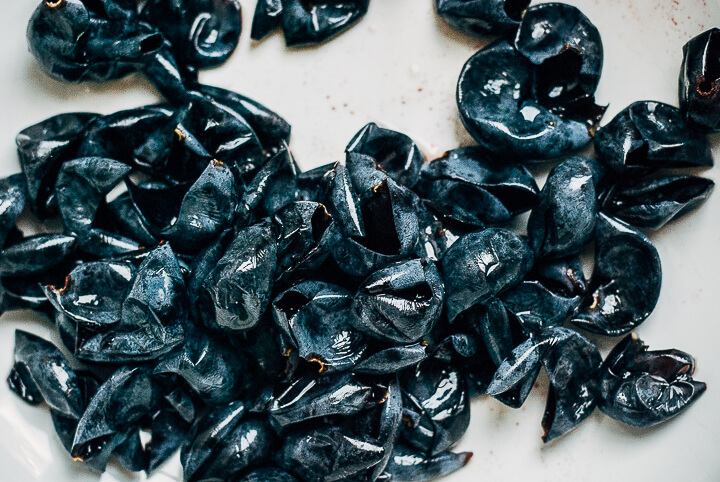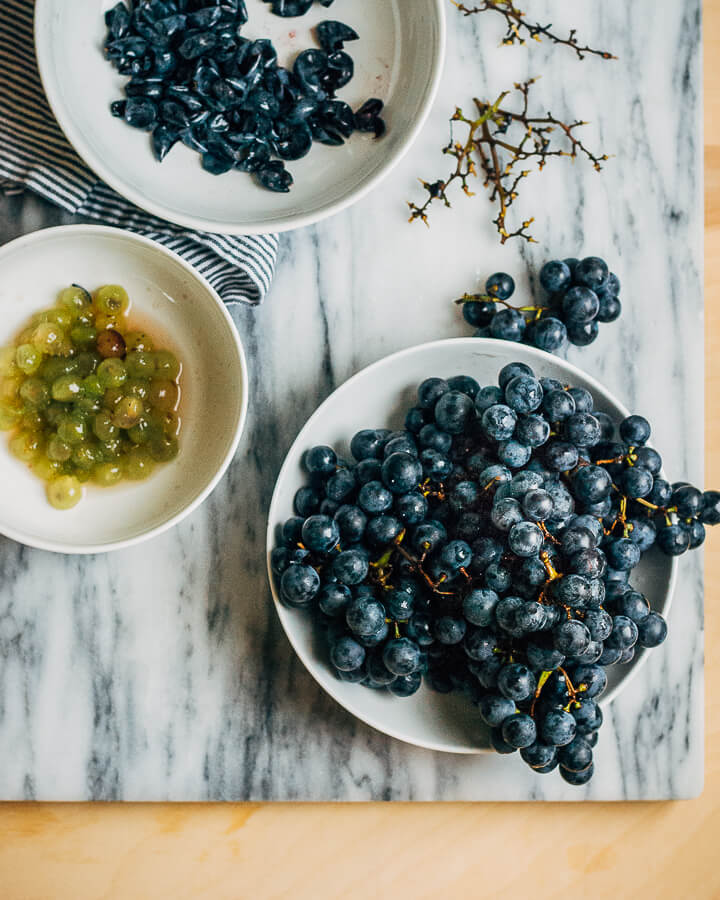 I'd been hoarding a pile of concord grapes for a few days before their purpose became clear to me. That purpose was: becoming the perfect filling for Sarah's Filthy Cheat's Jam Donuts. So, I made a batch of concord grape jelly. This might sound complicated and very Little House on the Prairie of me, but they didn't have grapes in Little House, and anyway the hardest thing about homemade concord grape jelly is slipping the green innards from the grape skins. Which is not really that hard. Sarah's cheater's jelly donut recipe features pillowy brioche sandwiches trimmed up into little squares with a big plop of jam or jelly in the middle. They're dipped in batter and then, these suckers are deep fried. The warm brioche donuts get a final toss on a plate of sugar. If you're doing things right, immediately after, you'll cut them in half with sharp knife and shove them into your face. It's what Sarah would want.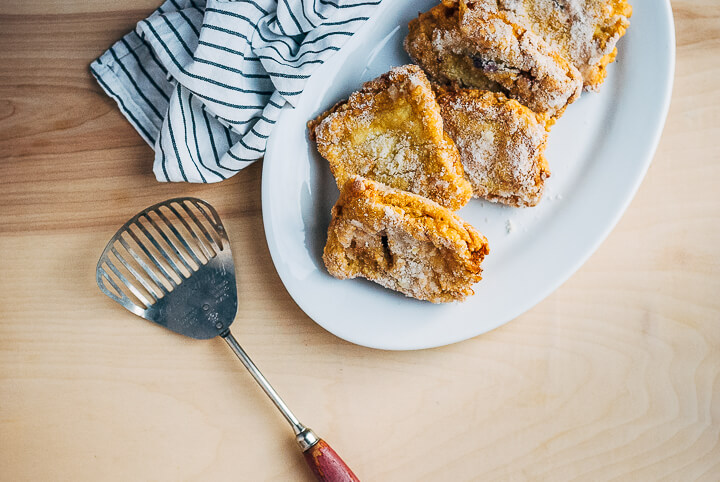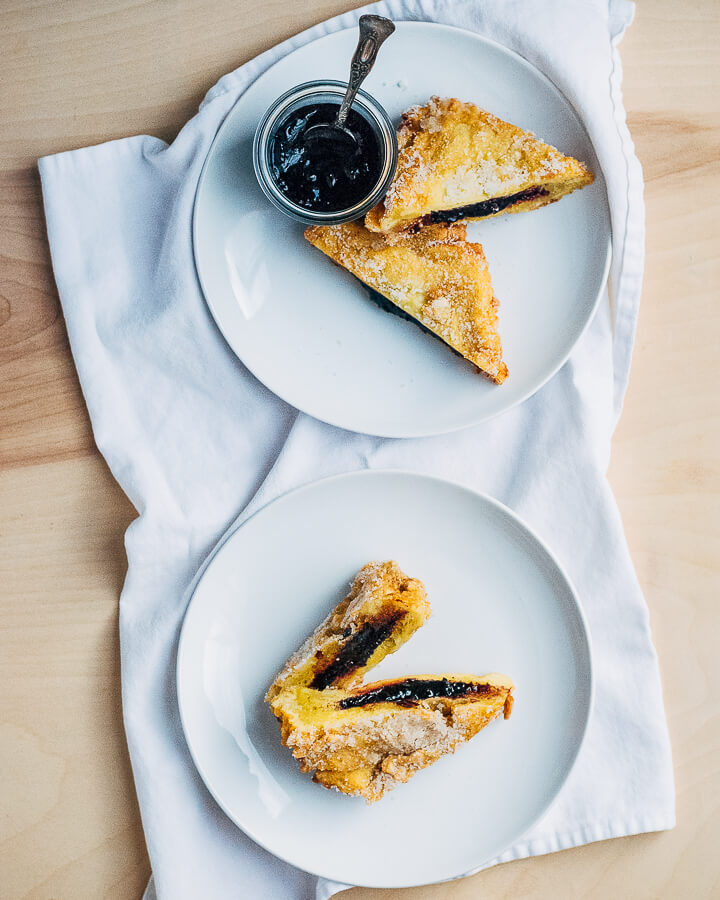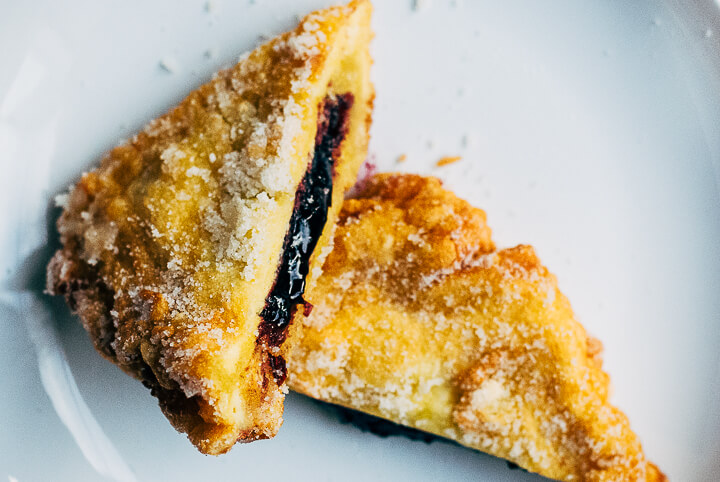 If you're ready to tackle inventive sweets in their myriad forms, get yourself a copy of The Sugar Hit and keep up to date on cookbook happenings on Sarah's site.
A few notes on the recipe: First, you don't have to make your own concord grape jelly, but if you do, I like this recipe. If you're going store-bought, be sure to use something you love. This is no time for bargain jam. Use the good stuff.
Second: these donuts need to be deep fried. Hot oil is super dangerous and should be handled with extreme caution. For best results, use a countertop electric skillet – they maintain a constant temp, taking a lot of the guesswork out of things. If you're going to deep fry on the stovetop, pick up a deep frying thermometer so you can control the heat. Clear the kitchen of kids, pets, drunks, or generally clumsy people before you start. Safety first!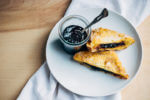 Concord Jelly Sandwich Donuts
From Sarah Coates' new cookbook, The Sugar Hit, a recipe for decadent brioche sandwich donuts filled with homemade Concord grape jelly.
Ingredients
4 1/2-

inch

slices brioche bread

, crusts trimmed

4

tablespoons

concord grape jelly

, or jelly/jam of choice

Neutral

, heat-tolerant oil for deep frying

2

eggs

1/3

cup

all-purpose flour

1/3

cup

milk

pinch sea salt

1/2 - 3/4

cup

turbinado or caster sugar for topping
Instructions
Lay out brioche slices. Add 2 tablespoons jam to the center of 2, then top with remaining slices. Press edges lightly to create a seal.

Fill a deep, wide skillet with 2-inches oil and set over medium-high/high heat until oil reaches 340 degrees F. (Or use a countertop electric skillet.)

While oil heats, whisk to combine eggs, flour, milk, and sea salt. Spread turbinado or caster sugar out in a shallow dish and set aside.

Working quickly, dip sandwich in batter, carefully lift out, letting some of the batter drain off, lower into the hot oil, and fry each side until light golden – 30 seconds to 1 minute per side. Use a slotted fish spatula to lift donut out of oil, letting any excess oil drip off, then set in sugar filled dish and turn to coat. Repeat for second sandwich.

Slice sandwiches in half, and enjoy immediately (watch out for the hot jam!).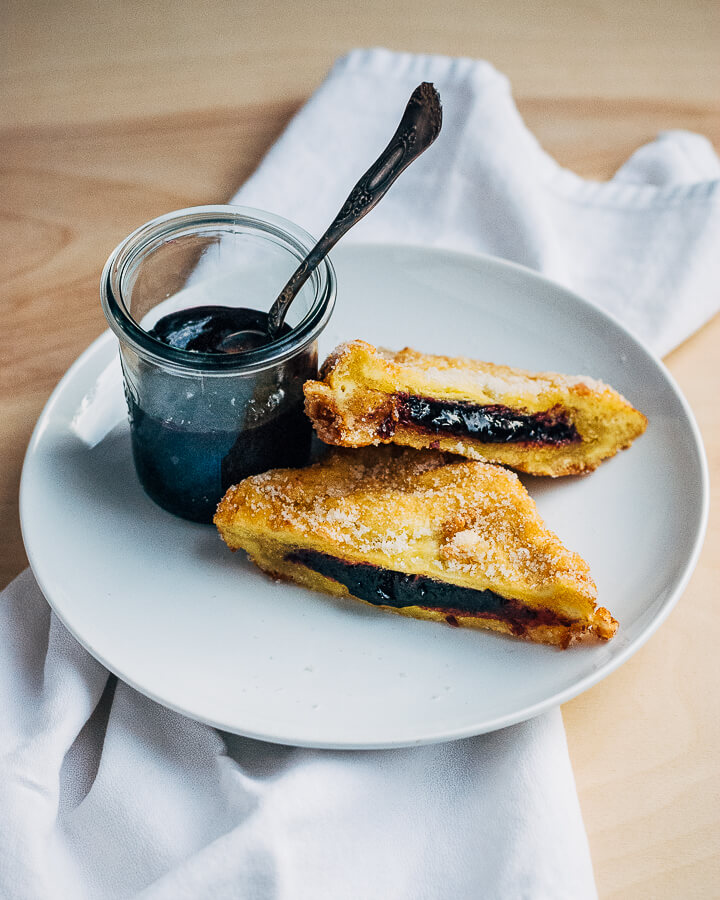 Disclosure: I was given a free copy of The Sugar Hit by the publisher for review. As always, all opinions are my own.