This one is good for everyone, but especially for the parents out there. Chicken soup is a good thing to make if you have a kid for a couple of reasons. First, apparently it's medicine or something because you are supposed to eat it when you are sick. And if you have a kid, you are sick all the time. Before we had a kid, I never got sick and Elizabeth got sick even more never than me. Now, in the past couple years, I've had that cruise ship thing twice (sucks) and swine flu once (all hype) and a bunch of other minor illnesses.
Second, it's pretty easy to make and doesn't take much time. And kids take up a lot of time that you could otherwise devote to making your own phyllo dough or fish sauce or whatever it is people without kids do when. I called this easy weeknight chicken soup, but really I just did that because it would make it come up higher in search results because I think people google easy things a lot. I probably should have called it "Scarlett Johansson hot nude pixxx chicken soup" and really goosed the search engine optimization.
But really, there's not much to chicken soup. Chicken (naturally), your aromatics, broth, some herbs, and you're most of the way there. I also think it's really important to have something acidic in there. This recipe has apple cider vinegar, because that's what we have, but I also really like to use rice wine vinegar (which I only remember we are out of when I go to make something with it). This one also has a splash of madeira, but that is totally optional.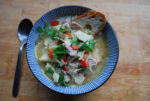 Easy Weeknight Chicken Soup
An easy chicken soup recipe you can make from scratch even on busy weeknights.
Ingredients
1

pound

or so boneless chicken parts

chopped into small pieces

2

tablespoons

butter or olive oil

2

stalks celery

chopped

2

carrots

peeled and diced

1

medium yellow or white onion

diced

1

red pepper

cored, seeded and diced

1

quart

chicken broth

store bought or homemade

a pint or so chopped mushrooms

shiitake

several sprigs fresh thyme

3

tablespoons

apple cider vinegar

maybe more

splash madeira

optional

two big handfuls egg noodles

sea salt and pepper to taste

minced parsley leaves for garnish
Instructions
Put a stock pot over medium heat. Once it heats up, add butter or oil and then the onion, carrot, red pepper, and celery. Cook, stirring often, until everything is tender.

Pour in stock and turn heat to high. Add thyme sprigs, chicken, vinegar, madeira, and sea salt and pepper to taste.

Once broth boils, turn heat down to low and simmer for about 30 minutes.

Taste and adjust with vinegar, sea salt, pepper. (Blow on it first! Don't burn your tongue.)

When you are about 10-12 minutes from being done, add the noodles.

Put in a bowl. Top with parsley.

That's it!