A fortifying mix of rich chicken broth, tender shredded chicken, chewy corn hominy, and tart tomatillos make this chicken pozole verde the ideal dish to see you through the end of winter (and cold season).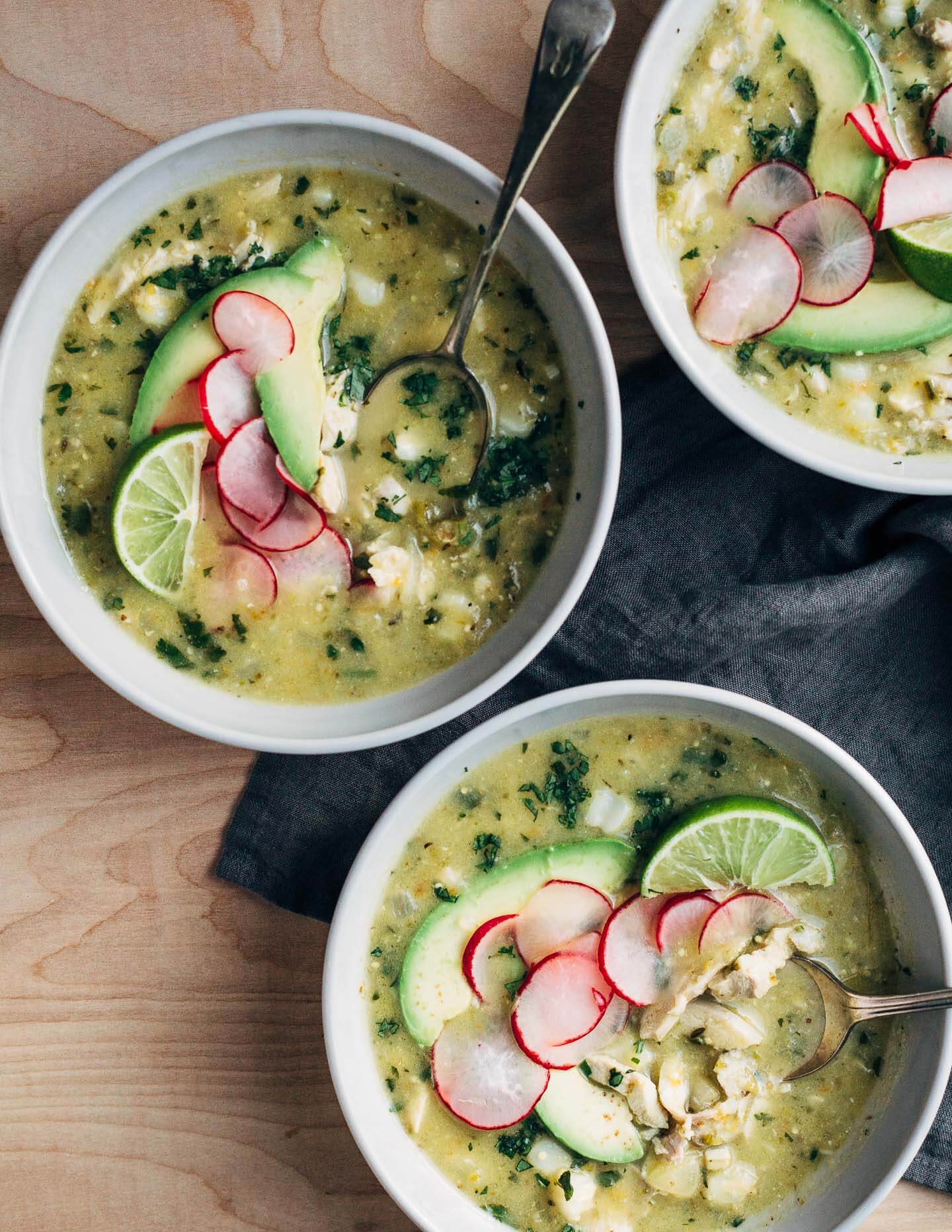 Just as I was feeling triumphant about spring's arrival, the winds shifted, and I find myself suffering through the tail end of a cold as snow swirls outside. It's too warm out for the snow to stick, but even so, it's an ideal backdrop for this warming chicken pozole verde.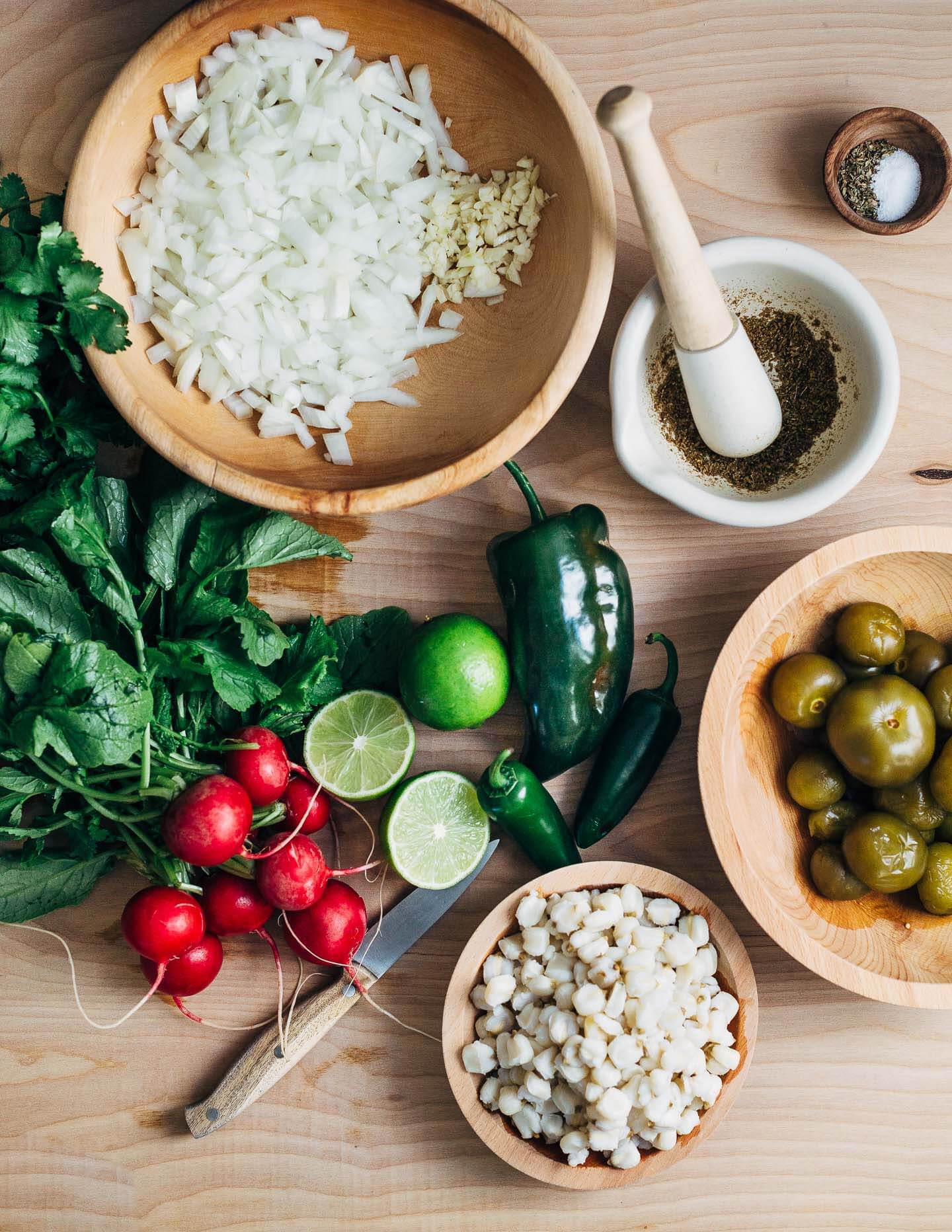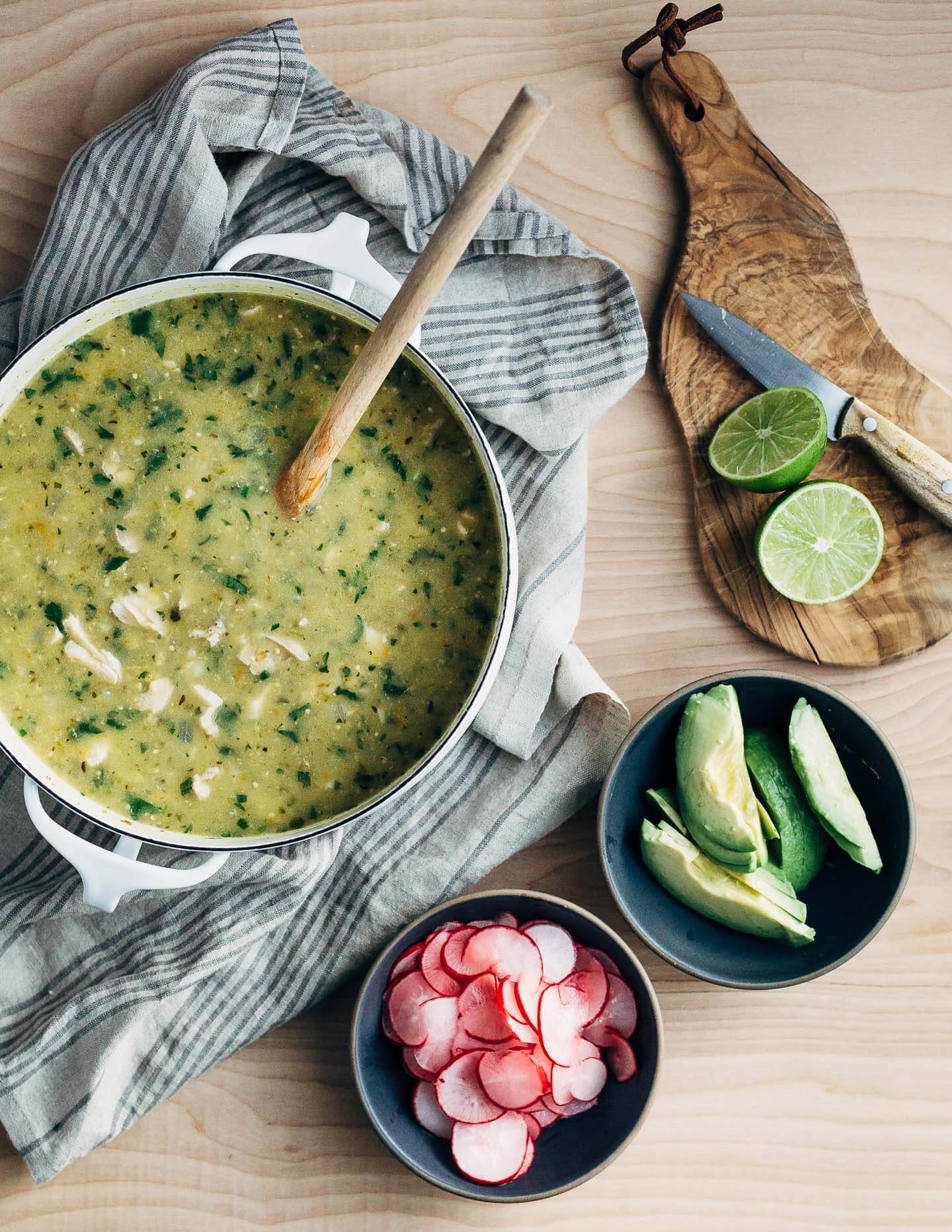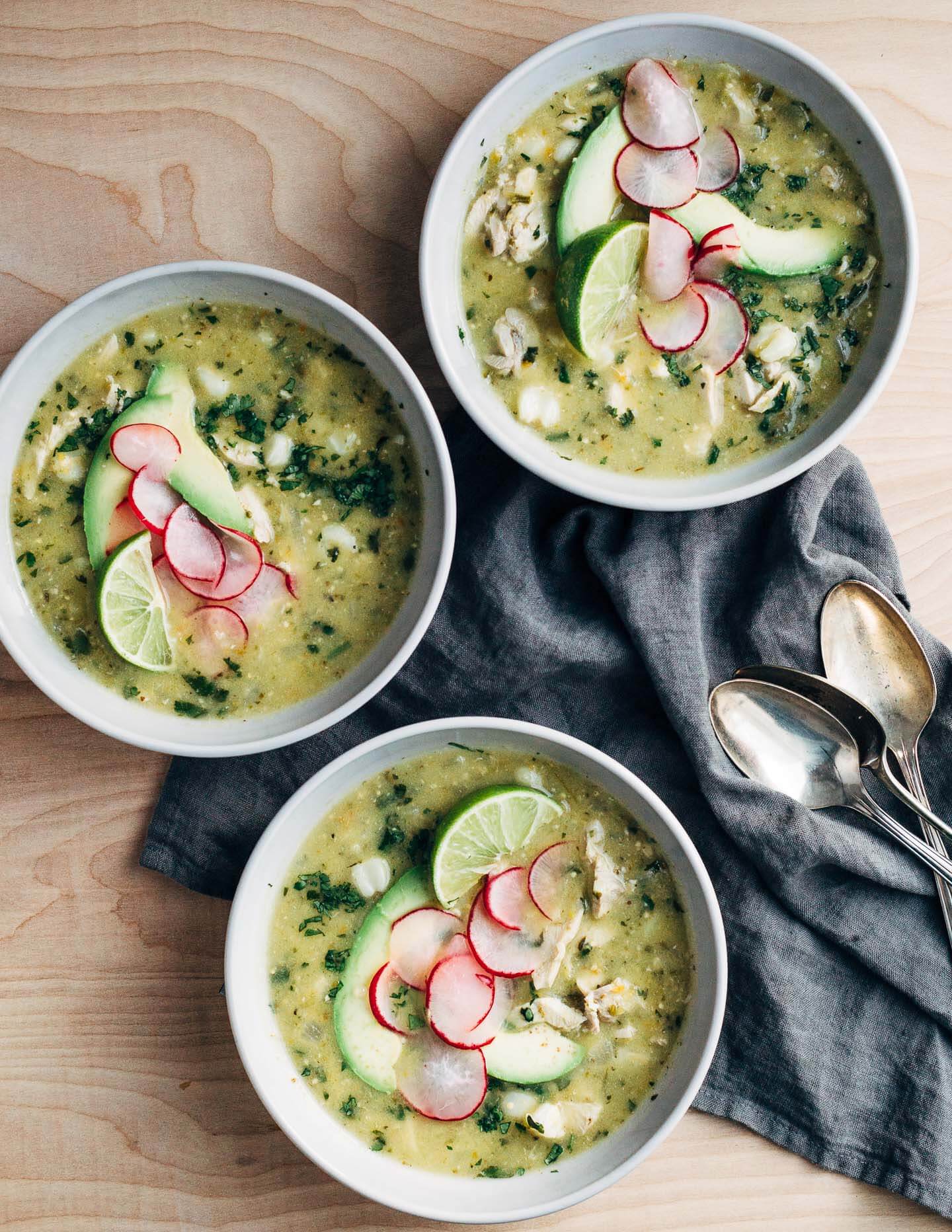 Because they are crazy, my children are not into my homemade chicken noodle soup. My oldest tells me she prefers pureed soups. Changing the menu based on the whims of the girls would be unwise, especially because their tastes seem to vary by the hour, but also because I can't let them think they call the shots. As it happens, though, just as we all came down with colds, I was working the kinks out of this pozole verde, a distant chicken soup cousin that's just as fortifying and much more flavorful anyway.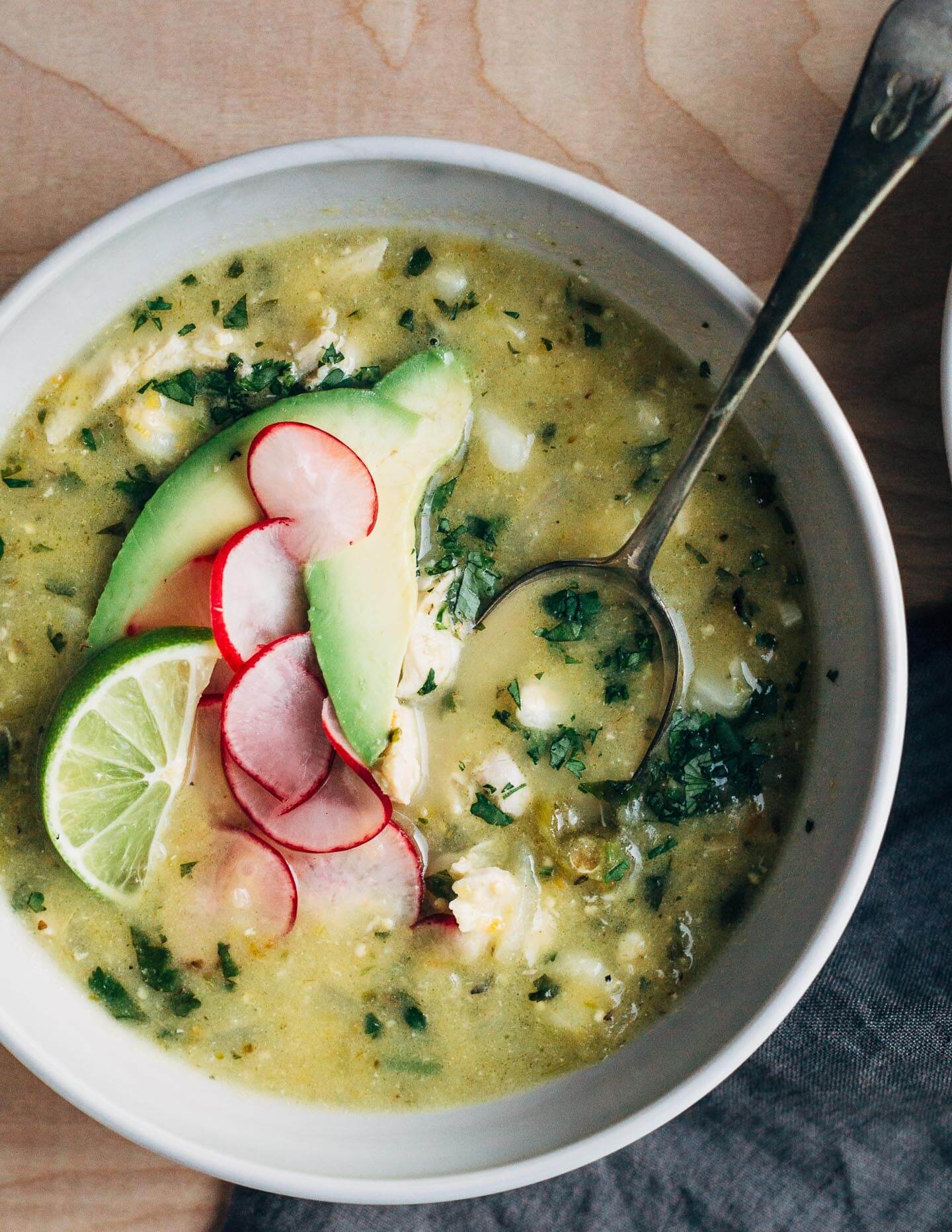 Chicken Pozole Verde: Perfect for Pantry Cooking
The ingredients for this chicken pozole verde come straight out of the pantry (plus a few fresh garnishes), which is ideal for these last days of winter. Pozole can be a good way to make use of leftover chicken, though I prefer the simplicity of poaching fresh chicken in the broth while the rest of the soup comes together. The soup pops with the brightness of tomatillos, plus smoky bits of roasted chilies and sour lime. In every spoonful, you'll find tender shredded chicken and chewy hominy. Feel free to top the soup as elaborately as you'd like; here, I went with a simple mix of cilantro, thinly sliced radishes, avocado, and lime.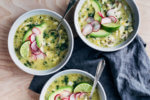 Chicken Pozole Verde
A restorative mix of rich chicken broth, tender shredded chicken, chewy corn hominy, and tart tomatillos make this chicken pozole verde the ideal dish to see you through the end of winter.
Canned corn hominy is available at Mexican grocers, or in the Latin aisle, or near canned chilies at grocery stores. I use
Juanita's Mexican-Style Hominy
.
The spiciness can be downplayed or enhanced depending on how many chilies you use. If you don't have fresh chilies on hand, drained canned jalapeños work well too.
This recipe calls for dark meat chicken gently poached in chicken broth, though leftover or rotisserie chicken can easily be swapped in. Feel free to add the toppings of your choice: tortilla strips, thinly sliced red onions, or sliced jalapeños would all be delicious additions.
Ingredients
Pozole
2

pounds

chicken whole chicken legs

(drumstick and thigh) or thighs, skin-on, bone-in

1

quart

rich chicken broth

(store-bought or homemade)

2

tablespoons

extra virgin olive oil

1

large yellow onion

minced

1 - 2

poblano peppers,

roasted, peeled, seeded, and chopped

1 - 2

jalapeño peppers,

roasted, peeled, seeded, and chopped

4

cloves

garlic,

smashed, peeled, and minced

sea salt

1

teaspoon

cumin seed,

fresh ground

1/2

teaspoon

dried oregano

2

(11-ounce) cans whole tomatillos, water drained

1

(25-ounce) can hominy, water drained

juice of 1 lime

1/4

cup

minced cilantro leaves
Toppings
4

radishes,

sliced thin

1

avocado sliced

1

lime,

cut into wedges

flaky sea salt

2

tablespoons

minced cilantro leaves
Instructions
Set a 3-quart stock pot over medium-high heat. Add broth and chicken. Bring mixture to a gentle boil, then turn heat down to a simmer. Cook 20 - 25 minutes, or until chicken is cooked through and has an internal temperature of 165 degrees F. Set chicken on a cutting board to cool.

When cool enough to handle, remove chicken skin and break chicken up into bite-sized pieces. Discard skin and bones, or reserve for another use.

Meanwhile, heat olive oil in a large stock pot over medium heat. Add onions and chili peppers. Sprinkle with sea salt. Sauté until onions are translucent, 5 - 7 minutes. Add garlic, cumin, and oregano, and sauté 1 minute more. Add tomatillos, breaking them up with a wooden spoon as you go. Simmer 10 minutes. Stir in half the broth, then pulse either an immersion or countertop blender to just break down the soup enough to be smooth but retain a bit of texture.

Return soup to pot, add remaining broth, and heat over medium heat. Stir in chicken pieces and hominy. Lower heat so that mixture simmers gently; cook 15 minutes or until hominy is tender and flavorful. When about 5 minutes are left, fold in the chicken. Taste soup, and add sea salt as needed. When soup is ready, fold in lime juice and cilantro.

Meanwhile, prep toppings. A squeeze of lime will take the spicy edge off the radishes and prevent the avocado from browning. Sprinkle with sea salt.

Ladle soup into bowls, and top with minced cilantro, avocado, radishes, and a lime wedge. If desired, finish with a pinch flaky sea salt (I used smoked sea salt here).

Soup will keep well covered in the fridge for 3 days. Reheat gently to keep chicken from getting rubbery.