This colorful, crisp Belgian endive salad is layered with creamy sliced avocado, segments of orange and grapefruit, and shaved fennel.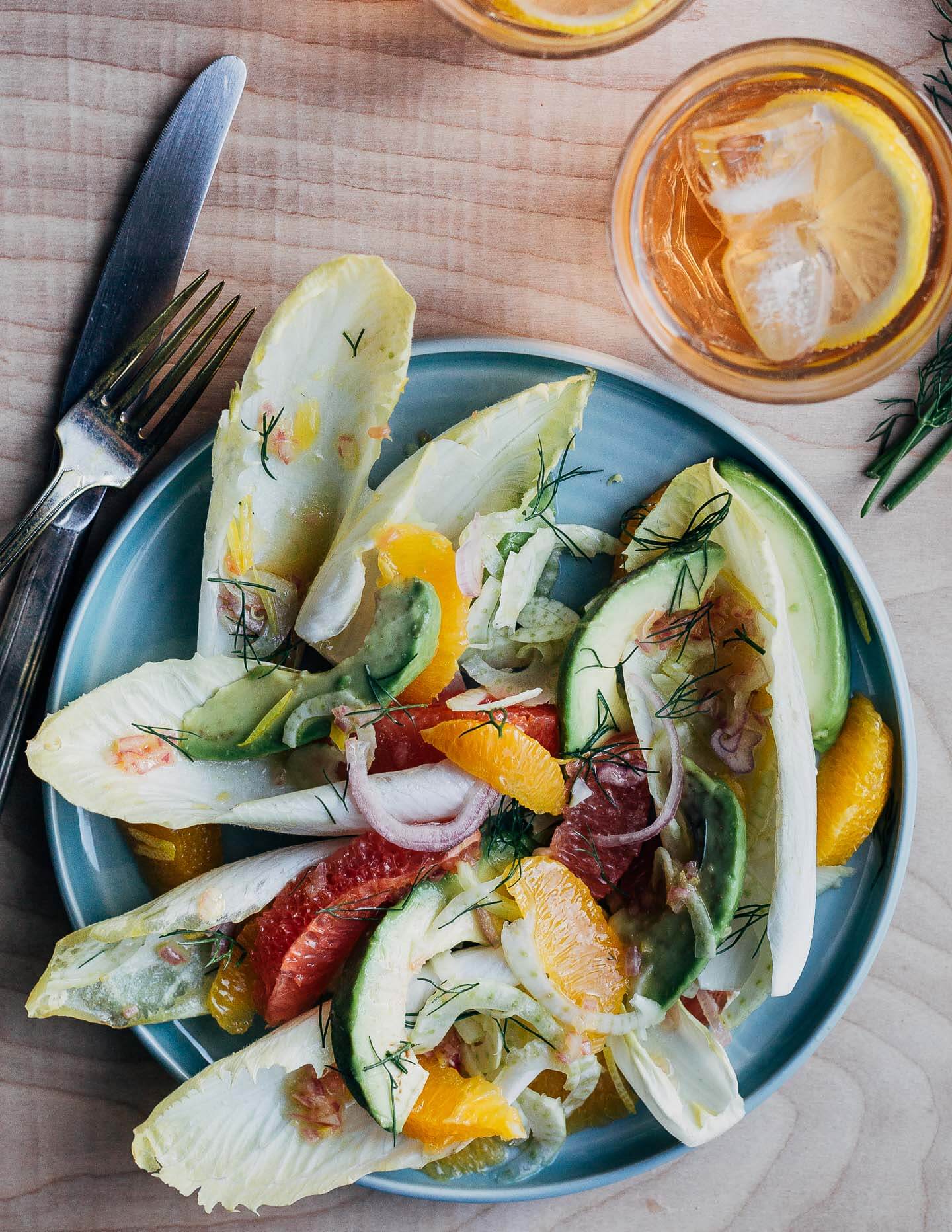 As I write this, the National Weather Service map is colored in the pinks, blues, and purples of winter weather with sections of bright orange blizzard warnings stretching from coast to coast. Even LA! I live for all kinds of weather, especially howling snow storms, and am sad to report that here in the Virginia Piedmont, we are having a mild, cloudy day without a snowflake in sight.
Unable to deny spring's early arrival any longer, I'm shifting my meal planning to embrace lighter dishes and more salads, and letting go of the hearty soups and casseroles that typify winter eating.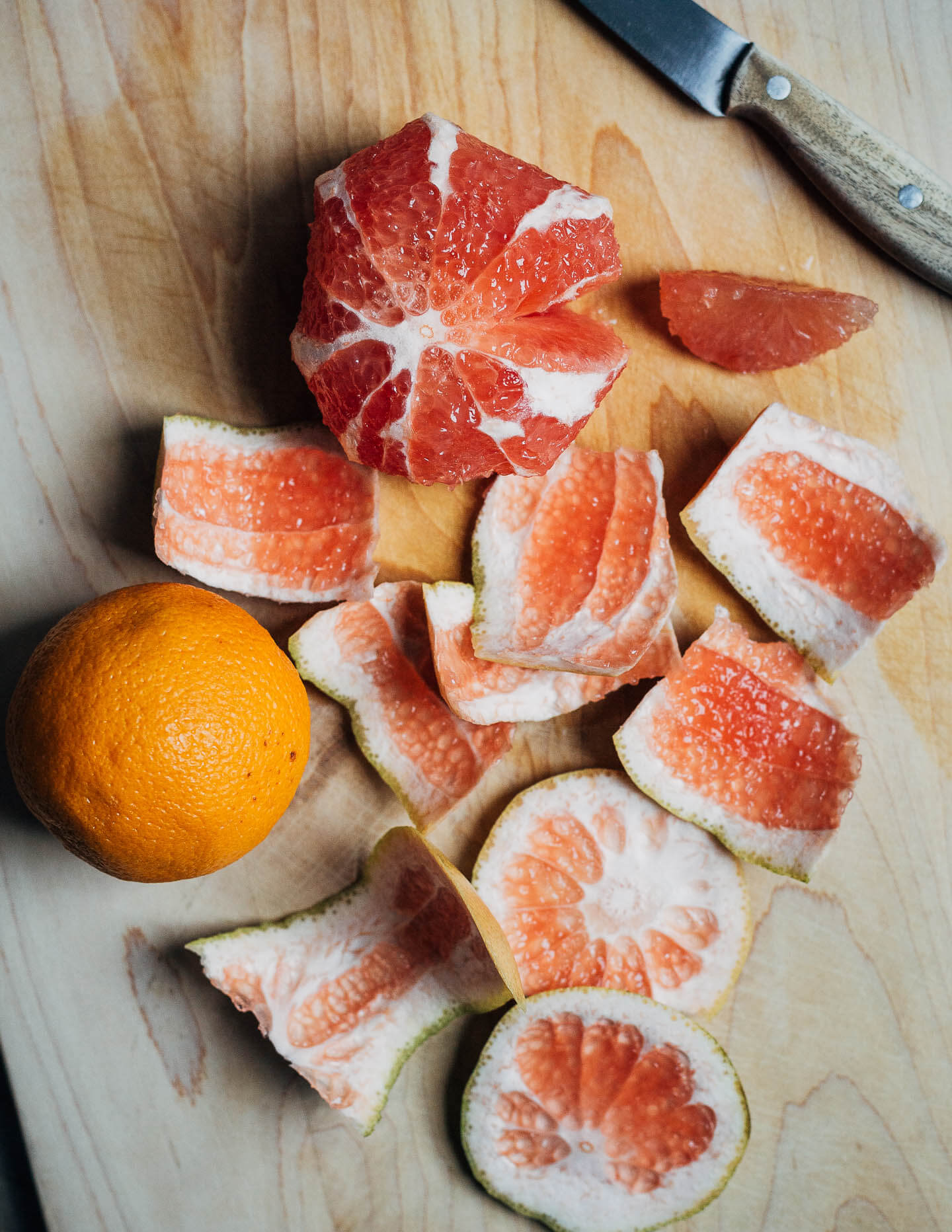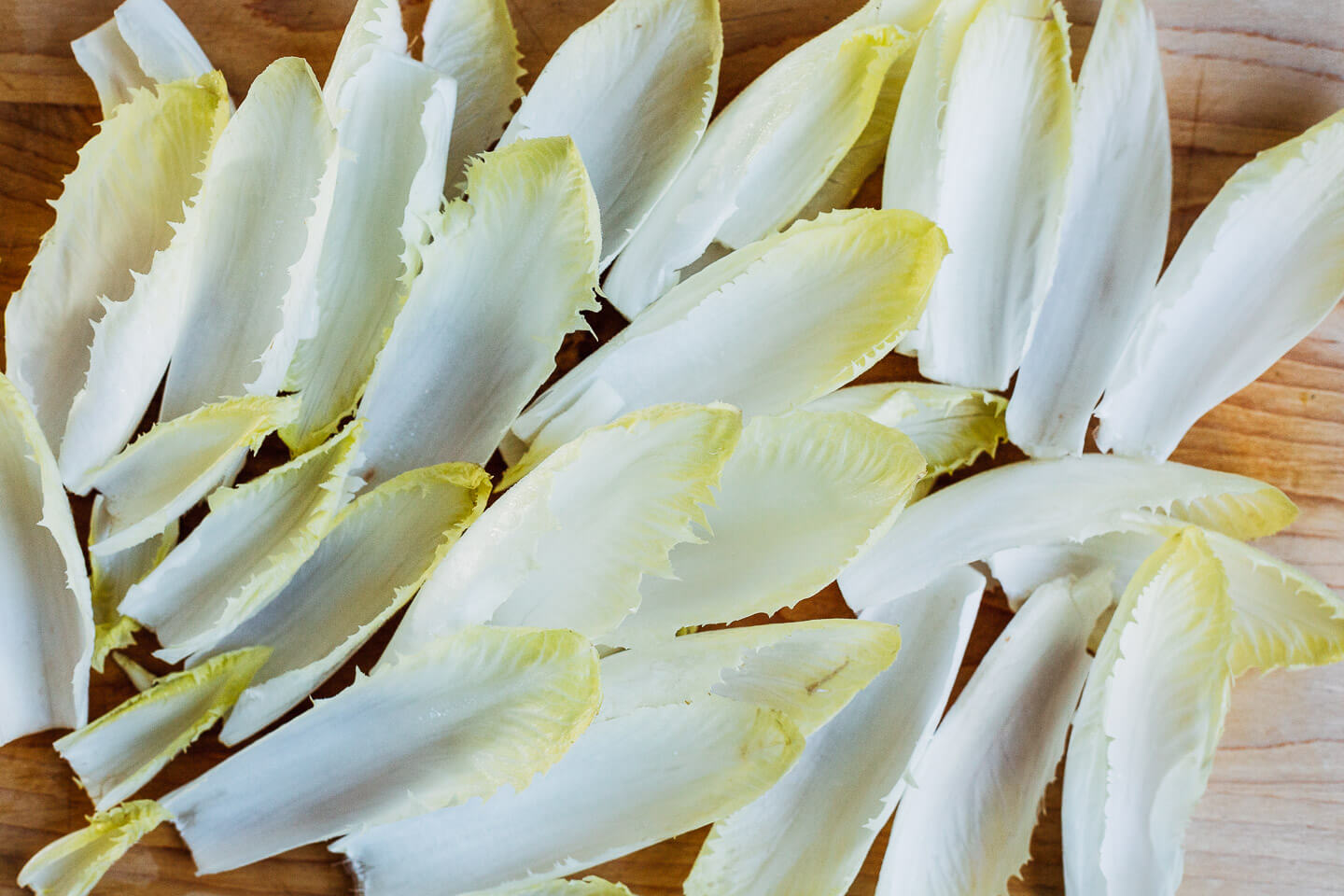 Belgian Endive Salad
This lovely Belgian endive salad is a lighter, brighter spin on early spring/still technically winter eating. Grown in complete darkness, the white leaves are tender with a satisfyingly crisp bite. They can have bitter notes, but delightfully so. A little sweet, a little bitter , and sturdy enough for heavier toppings like avocado and citrus, endive is an excellent salad base.
Endive salads lend themselves to layers and contrasting flavors. Here, sliced avocado lends creaminess and heft, shaved fennel and quick-pickled shallots bring crunch, and navel oranges and red grapefruit segments lend acidity and sweetness.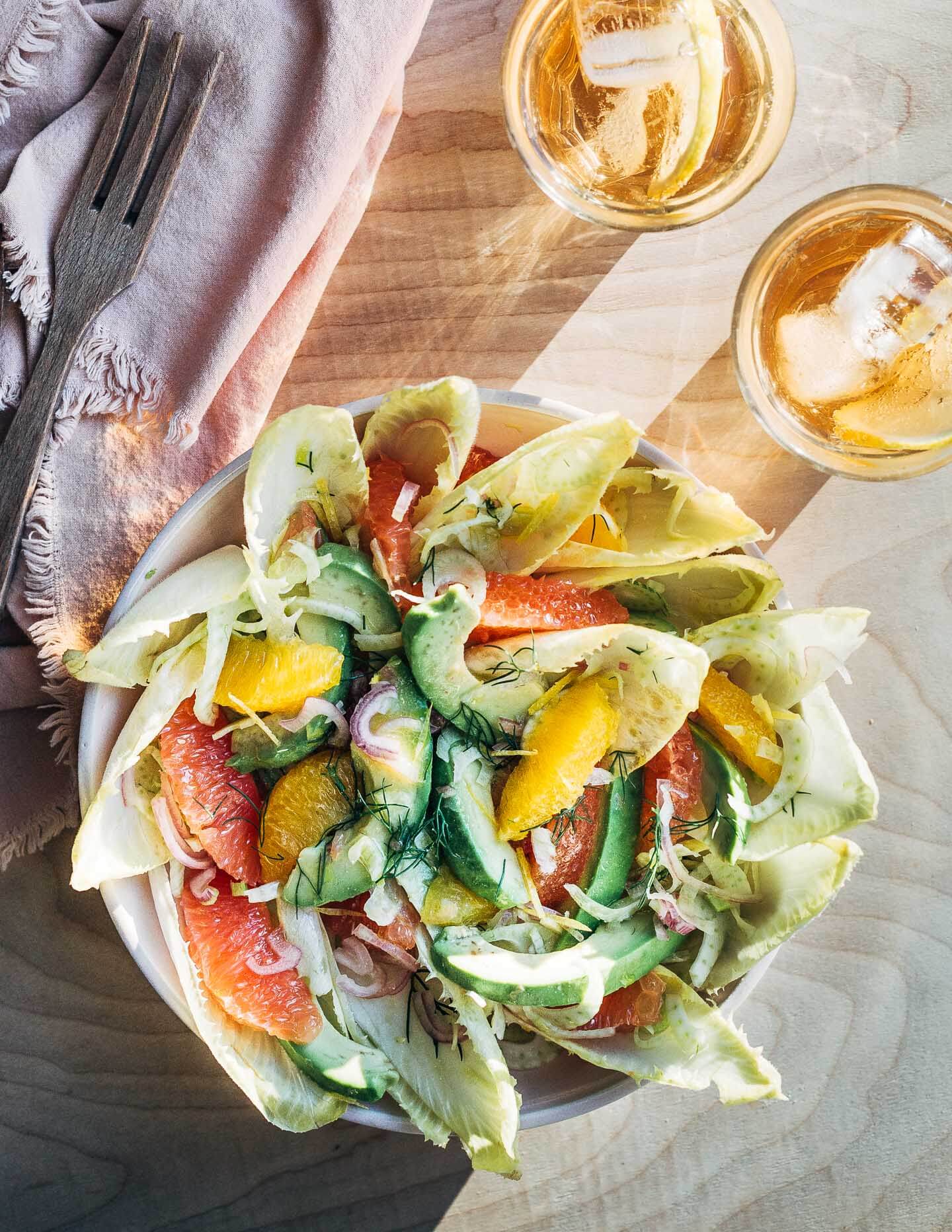 Dress It Up
I'd planned to dress the salad up in some fancy dressing, but found the classic deliciousness of lemon and olive oil was just the thing to heighten the flavors and bring it all together. Adding a generous drizzle of honey gives the dressing a touch of sweetness and ensures a creamy emulsion that helps the dressing cling to the endive.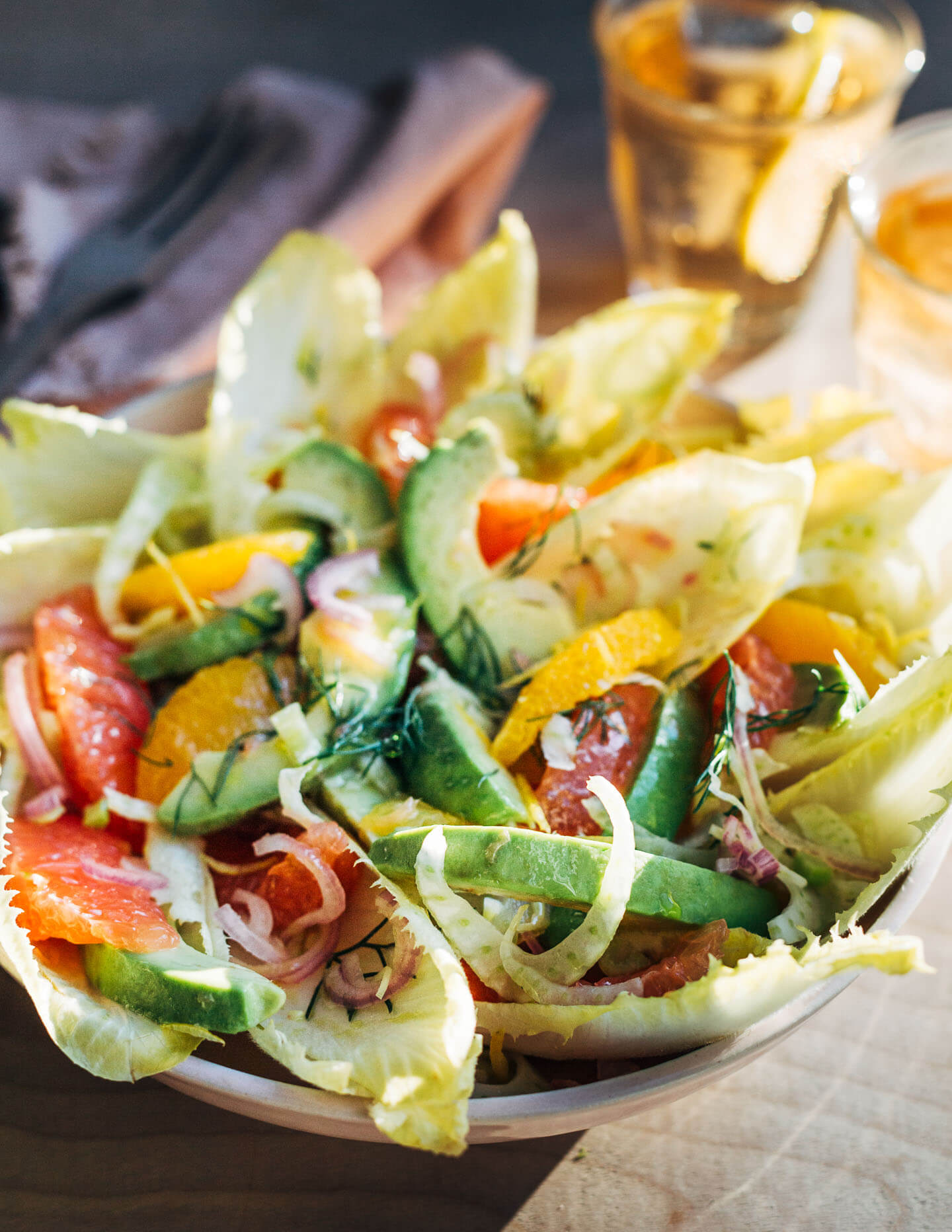 Keep It Simple, or Don't
Other kinds of citrus, more avocado, shaved Asiago or Manchego, red chilies, and fresh herbs can all be layered into the salad. You'll want to keep the balance of bitter and sweet, so make sure you add things that meld well with savory and sweet flavors.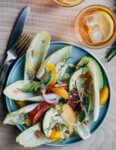 Endive Salad with Avocado and Citrus
This colorful, crisp Belgian endive salad is layered with creamy sliced avocado, segments of orange and grapefruit, and shaved fennel.
Makes
:
4
generous servings
Ingredients
1

medium shallot,

halved lengthwise

Zest of 1/2 a lemon plus 2 tablespoons juice,

from 1 - 2 lemons

Diamond Crystal kosher salt,

halve if using another kind of salt

1

small to medium fennel bulb,

dark stem removed, fronds reserves and sliced ⅛-inch thick

2

small heads Belgian endive,

leaves sliced from core

1

red grapefruit,

peel removed and supremed

1

medium navel or Cara Cara orange,

supremed

1/2

teaspoon

Dijon mustard,

1

teaspoon

honey

1/3

cup

extra virgin olive oil

2

avocados,

sliced 1/2-thick
Instructions
Use a peeler to zest about half a lemon. Slice the strips of zest crosswise into very thin strips. Reserve.

Slice one half of the shallot into thin half moons and finely mince the other half. Put the half moons in a medium bowl, along with the sliced fennel, and toss with 1 tablespoon lemon juice, and a pinch each lemon zest strips and salt. Set aside. (Reserve juiced lemon halves for the avocados.)

Scrape the minced shallots into a 1 - 2 cup jar. Mix with 2 tablespoons lemon juice, a pinch of lemon zest strips, and 1/2 teaspoon salt and set aside for 5 minutes.

Finish the dressing by whisking in 1/2 teaspoon Dijon and 1 teaspoon honey. Whisking all the while, slowly drizzle in the olive oil.

Prep the avocado and drizzle with whatever remaining lemon juice you can squeeze out of the reserved lemon halves

To serve, arrange the endive on a platter. Drizzle with dressing. Layer on the fennel and shallots, citrus segments, and avocado slices. Drizzle with more dressing and gently toss. Garnish with fennel fronds. Serve right away.

Leftover dressing can be stored sealed in the fridge for 3 days.