Embrace fall flavors with a hearty roasted delicata squash salad with farro, apples, and greens.
A Note
Before I share this week's post, I want to thank you for patience as I weather another tough season. My dad died in early June, and last weekend, friends and family gathered to celebrate his long and wonderful life. This summer has been a heavy time filled with impossible tasks like writing a fitting eulogy for the man I loved so, and navigating all the details of the memorial. I'm slowly getting back to my usual schedule, but the road has been a bumpy one, both physically and emotionally.
As always, I'm grateful for this community and all the kindness you've shown me this year. I know things will never be the same, but I do hope to get back to a more regular schedule soon.
The Right Now Newsletter
Did you know that I'm over on Substack? Every week, I share approachable, seasonal recipes that are just right for busy weeknights. I also share a weekly recipe round up focused on an ingredient or the things I'm cooking in the moment. Subscribe here and get Right Now in your inbox twice a week!
Recent exclusive recipes include Parmesan-braised fennel and leeks, velvety cauliflower-leek soup, and a jammy plum cake.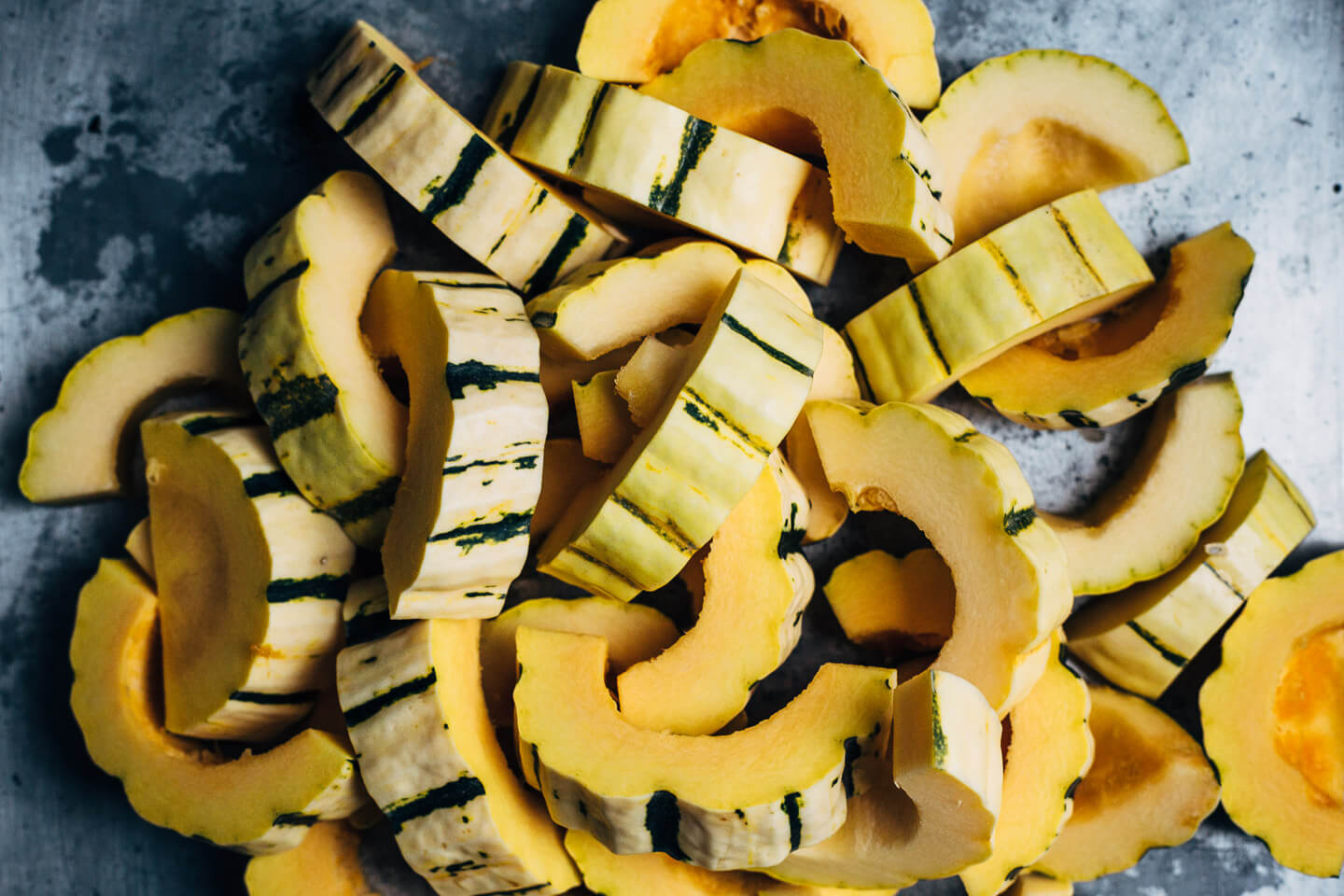 Delicata Squash
This roasted delicata squash salad is one of my fall go-tos. Vegetable-centered with layered flavor and texture, this salad gives me the boost I need to get through these hectic fall days.
Unlike other winter squash varieties, delicata squash has a relatively brief season. It's delicate skin and light texture make it poorly suited to long-term storage. However, that thin skin means there's no need to peel the squash or otherwise avoid the skin. Delicata's light texture roasts up beautifully, with golden edges and a light sweet, silky interior.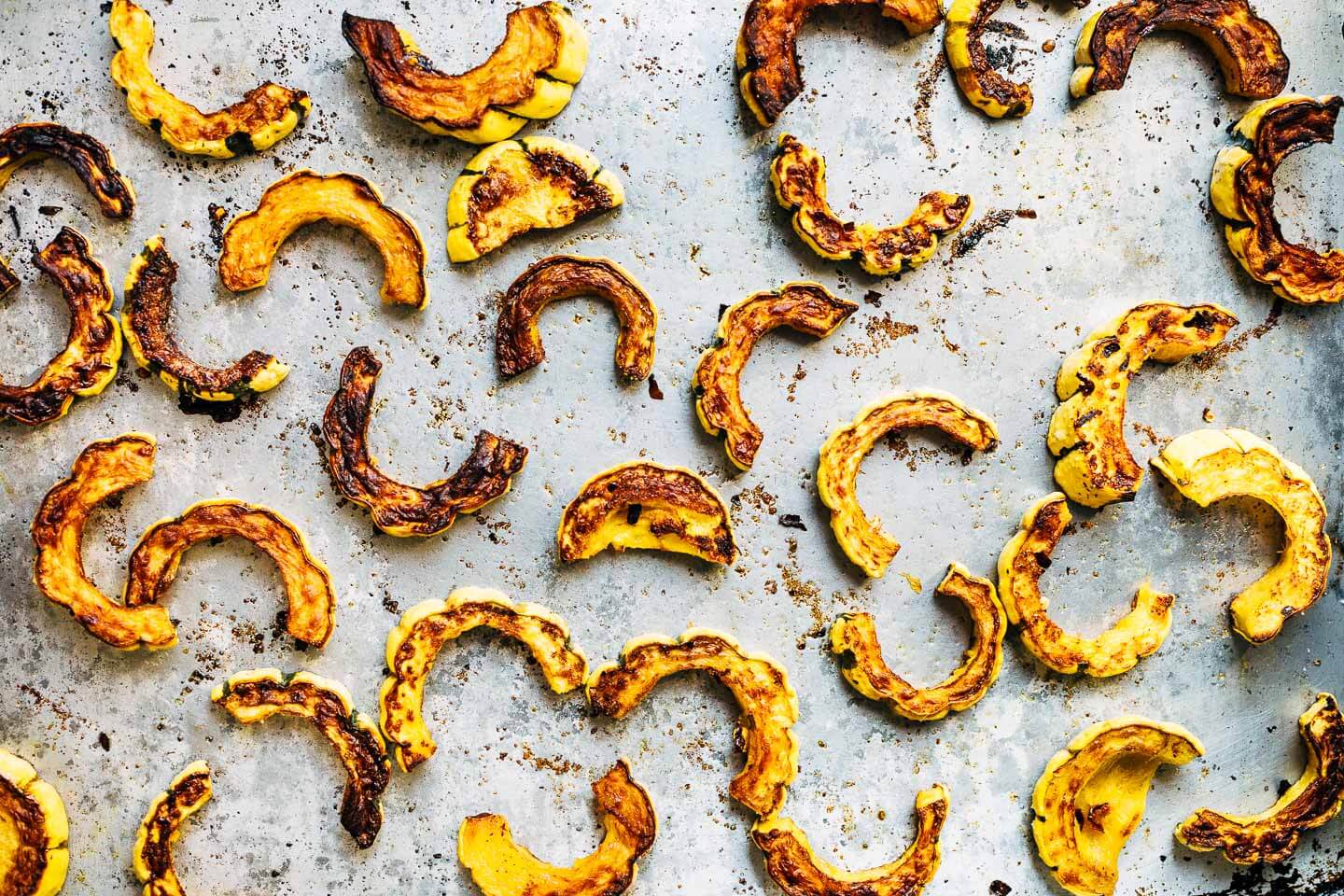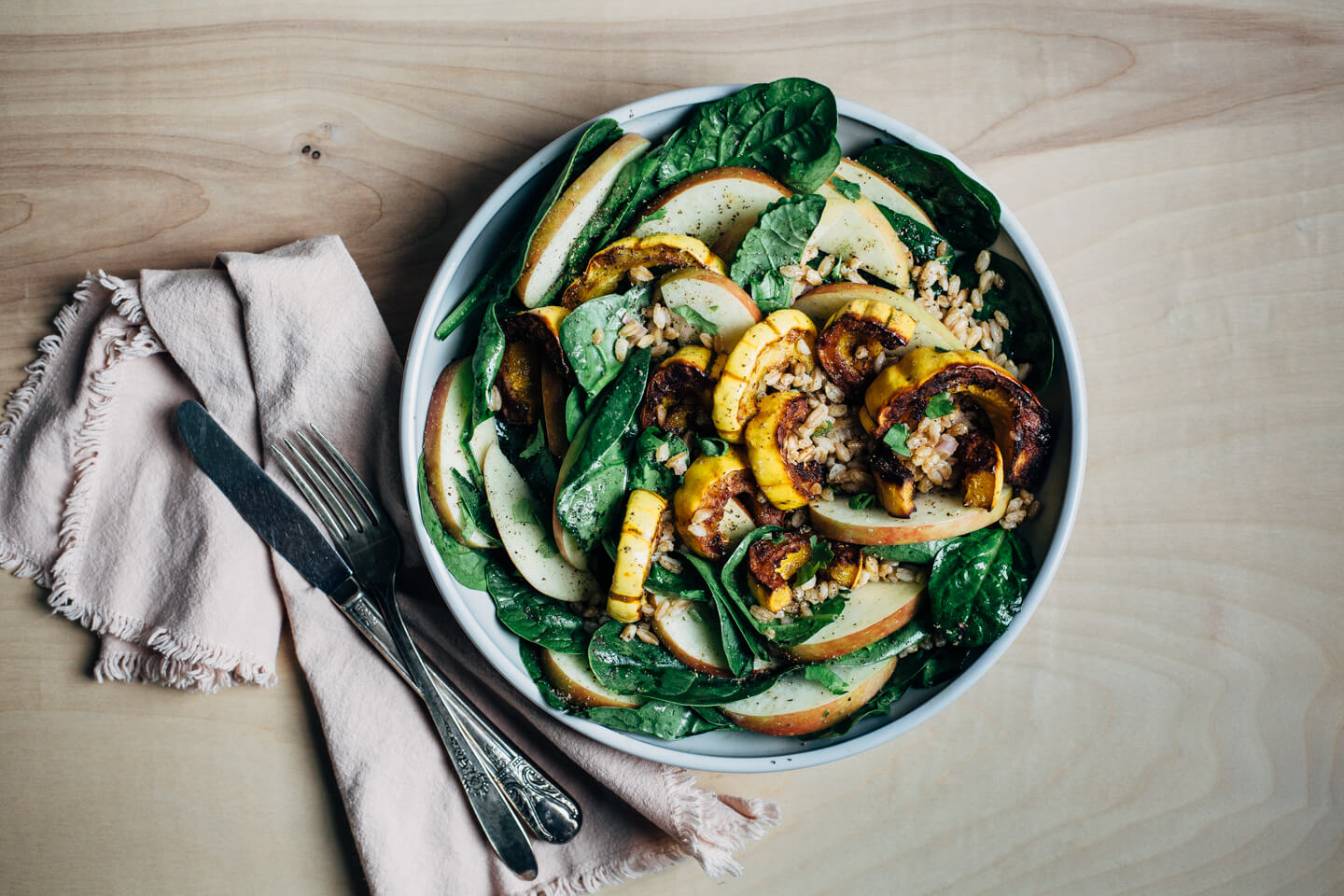 Roasted Delicata Squash Salad with Farro
Roasted delicata squash plays a starring role in this easygoing. adaptable vegan fall salad. Layered with greens, sliced apples, and nutty farro, it's sating and delicious, with on-point fall flavor.
When roasting the delicata squash, be sure to allow plenty of room on the roasting pan. This gives the squash room to crisp and prevents steaming. While the squash roasts, prep the farro, dressing, greens, and apples.
Serve this roasted delicata squash salad as a side or a work lunch, or add protein for a light main.