A hearty, fortifying garlic soup recipe made with roasted and slow-sautéed garlic along with potatoes, shallots, and fresh herbs.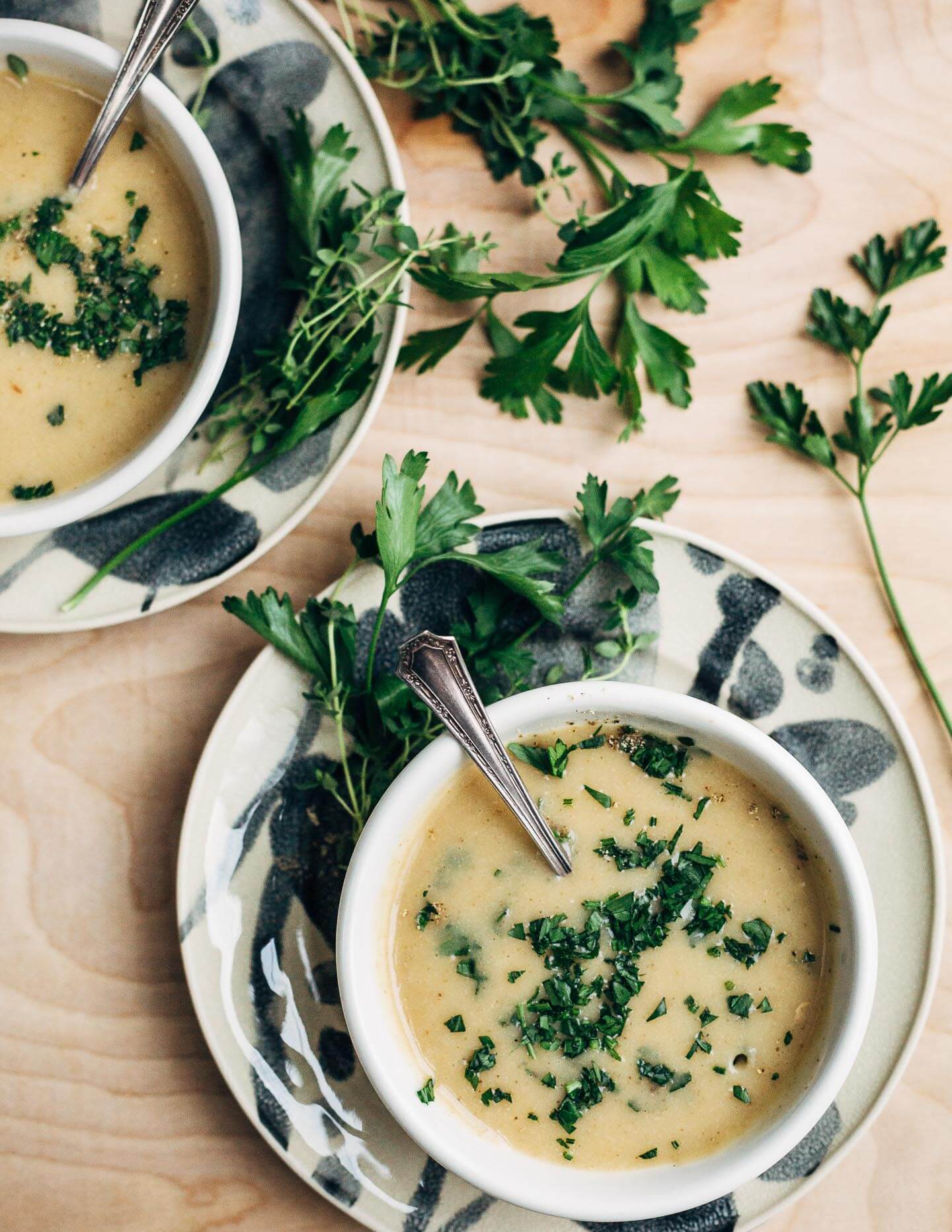 Jump to Recipe
This recipe was originally posted in October 2014; the photos and recipe were updated in September 2019.

Pumpkin Season is Upon Us
Home decor, especially kitchen appliances, can last a long time, so even though I was born after the heyday of burnt orange and pea green, the palette persisted well into my childhood. Even now, overly warm wood stains, yellow undertones, and dimly lit television shows all send me running for aesthetic cleansing. This may be why I have such difficulty embracing the hues of fall. Besides the pervasive orange-ness of the season, to embrace all things squash or pumpkin is an admission of defeat. For me, pumpkin season signals the end of the growing season, meaning everything from now until April is either a storage food or from someplace else.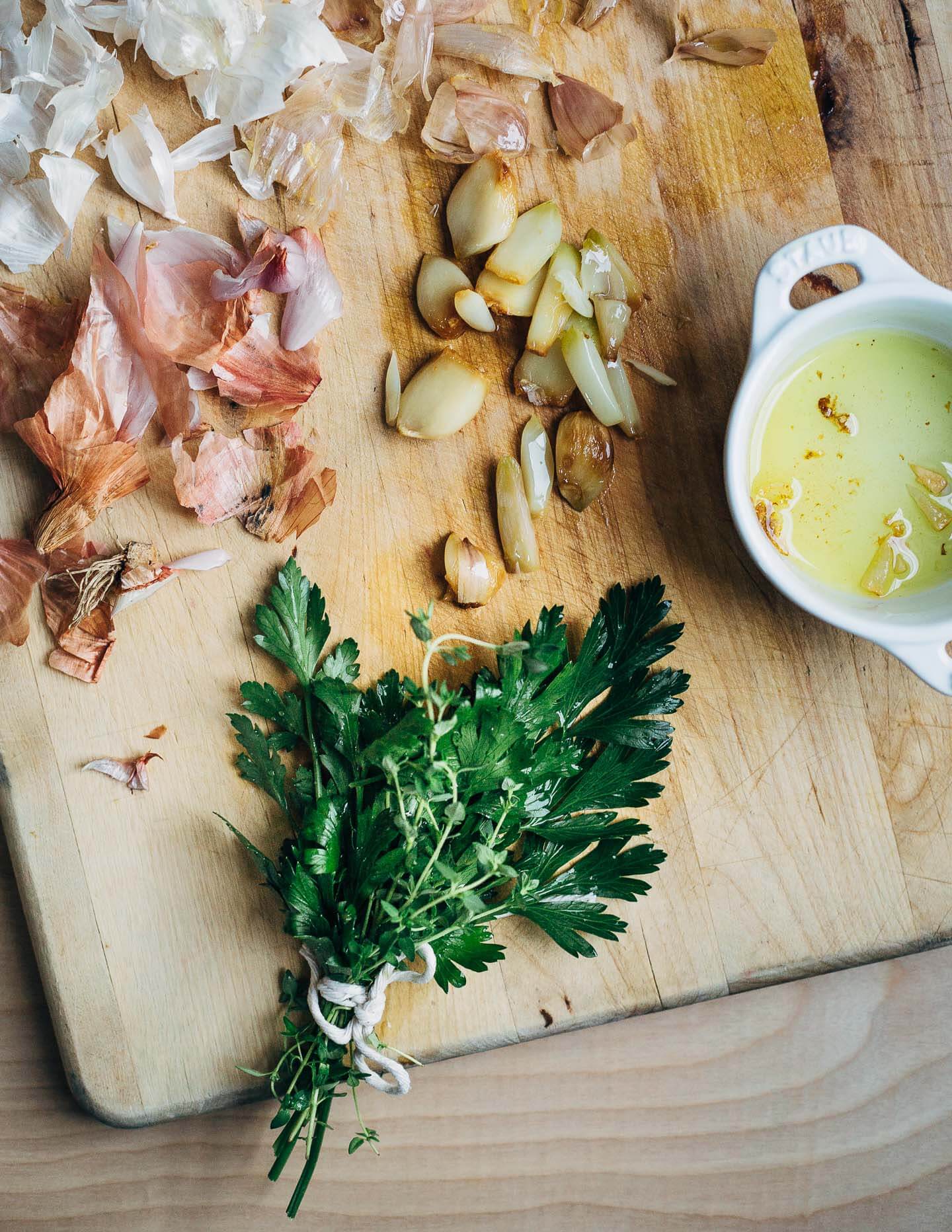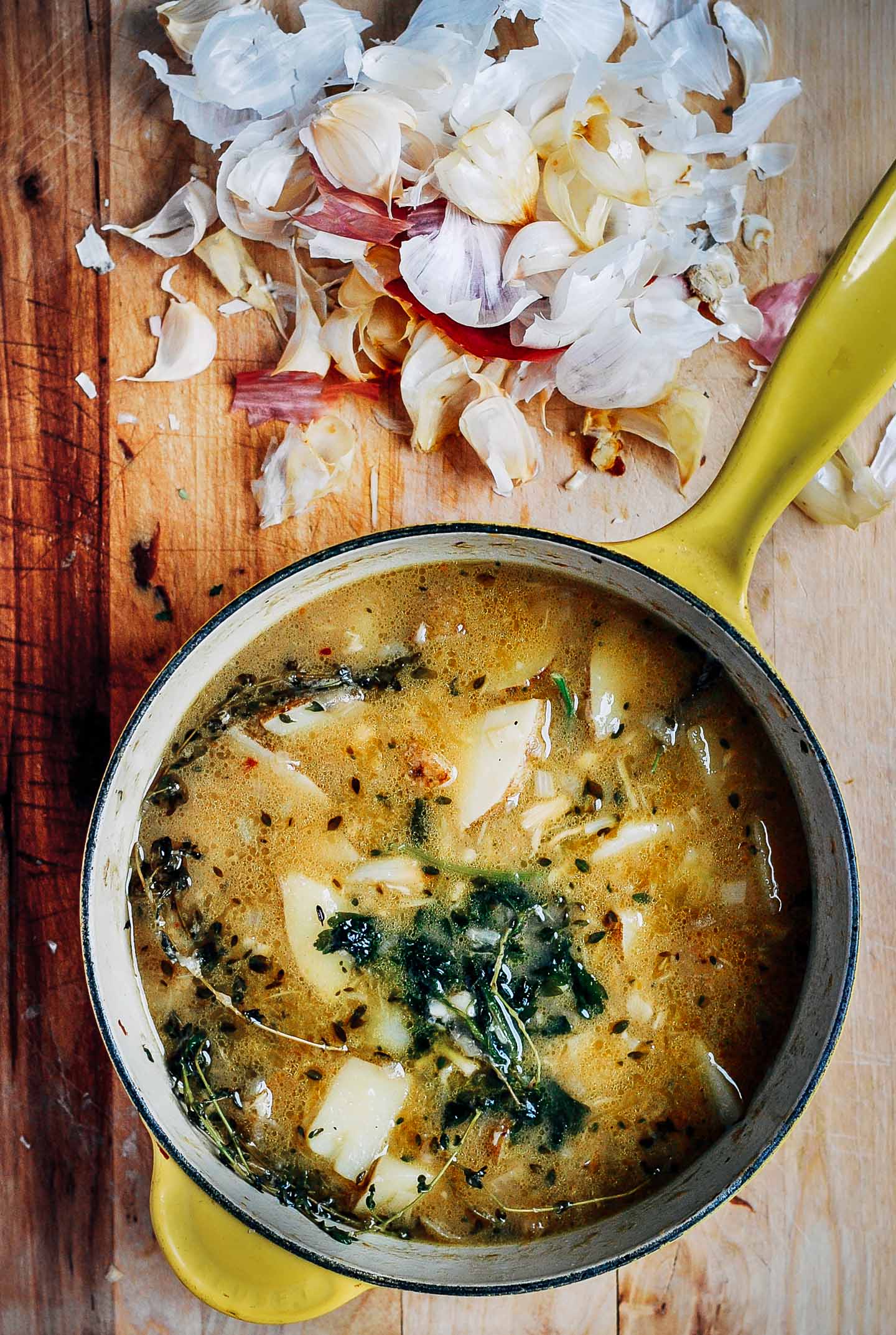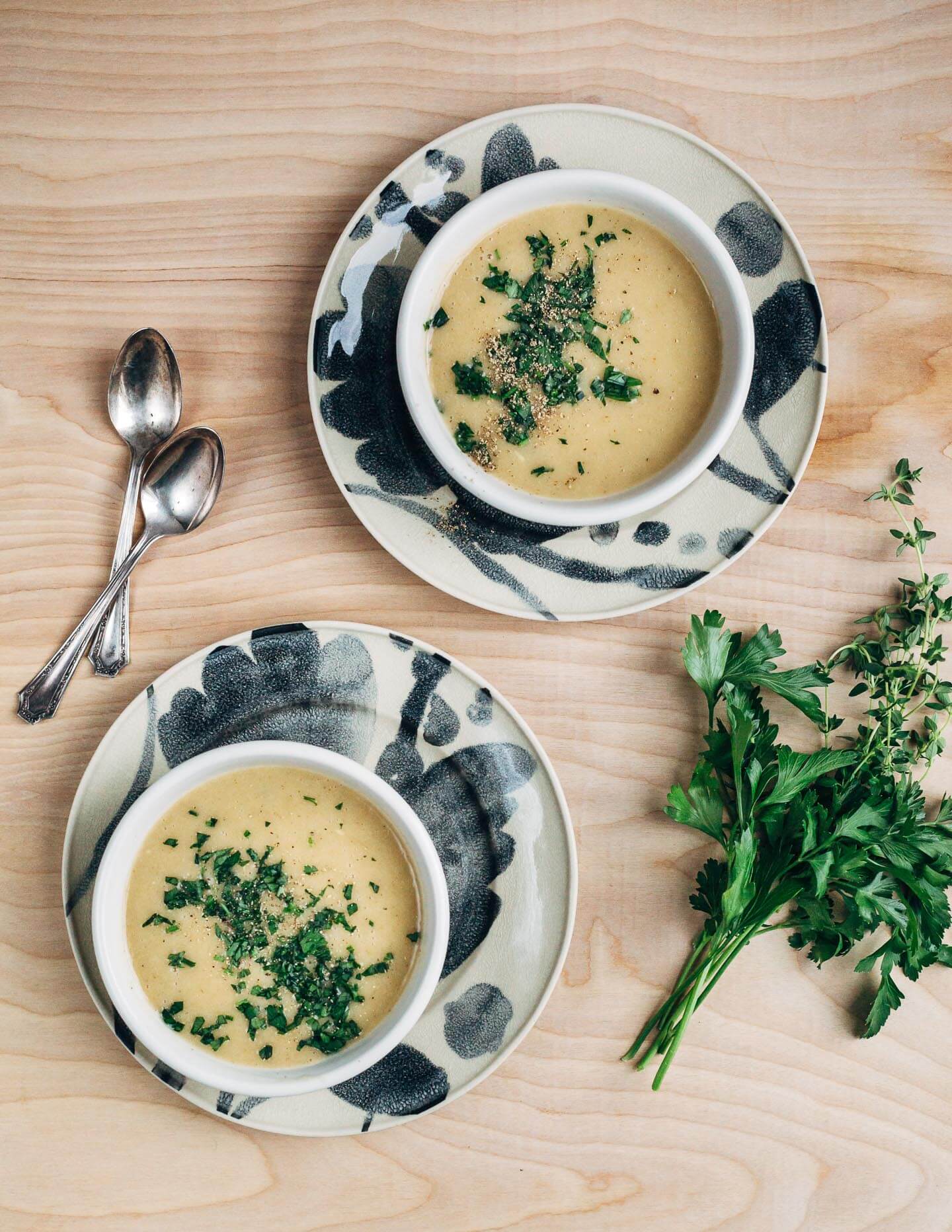 So while the vibrant orange starting to spread across the tops of the neighborhood maples is gorgeous, I'll be holding off on pumpkin season for as long as I can. When the first frosty night hits, when scarves start making sense, then I'll break out the pumpkins. For now, I'm savoring the last of the local produce from our farm share, herbs from my backyard garden, and big bulbs of crisp local hardneck garlic.
Velvety Garlic Roasted Soup
Another seasonal situation, a family-wide fall cold, sent me into the kitchen for something fortifying, and this velvety, robust-but-not-overwhelming garlic soup was spot on. With one head roasted and the other slow-sautéed, this garlic soup is nicely balanced. There's also a shallot and a bouquet garni of herbs at work, making for an incredibly good bowl of fall soup. The garlic soup recipe below serves four, but since the soup is even better the next day and reheats like a dream, consider making a double batch.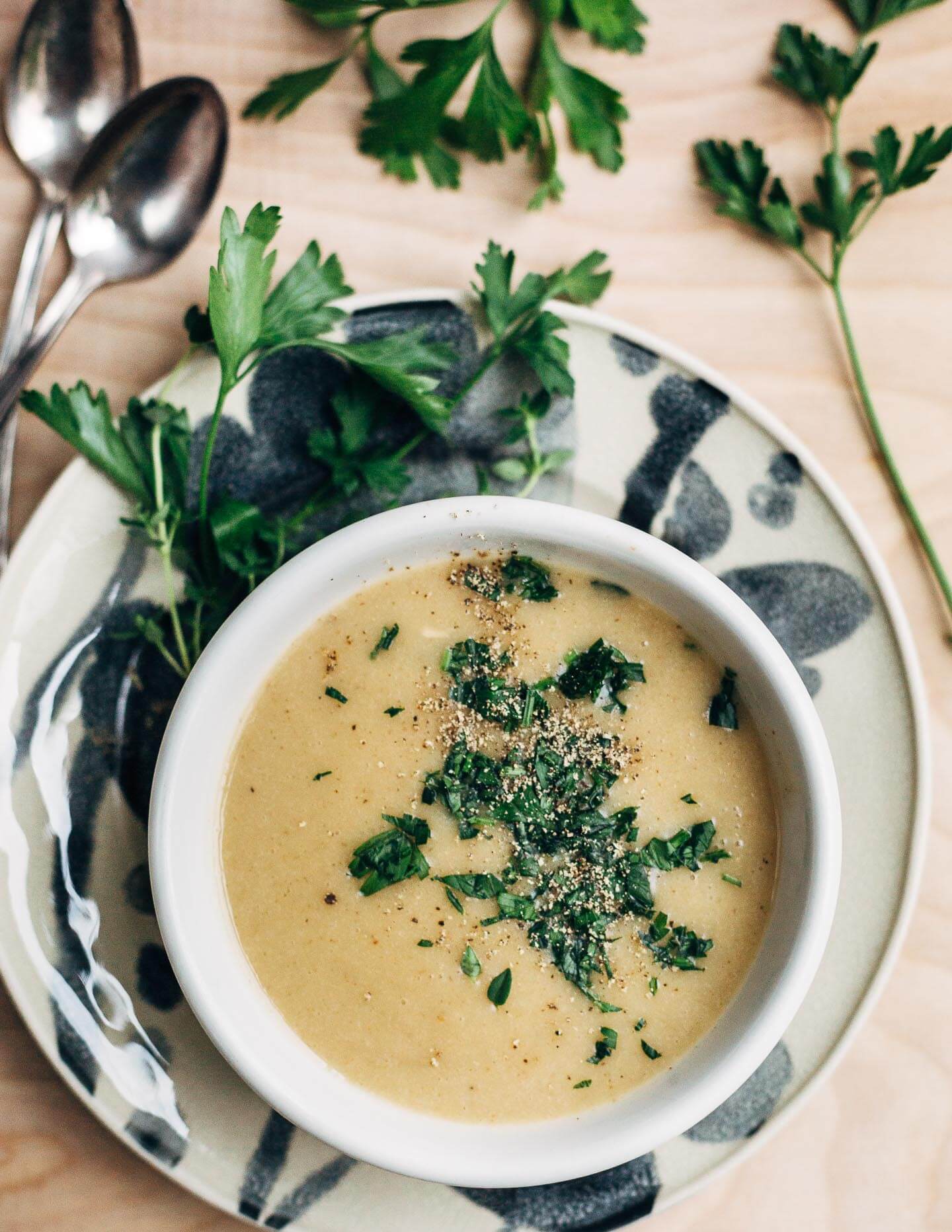 For best flavor, use homemade vegetable or chicken broth.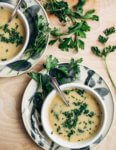 Garlic Soup
A fortifying garlic soup recipe made with roasted and slow-sautéed garlic, along with potatoes, shallots, fresh herbs, and lots of black pepper. This recipe was originally posted in October 2014; it was updated in September 2019.
Ingredients
2

tablespoons

extra virgin olive oil,

divided

2

large heads hardneck garlic

(12 – 15 cloves each), divided

1

large shallot,

peeled and sliced

1/2

sea salt, divided,

plus more as needed

1/4

teaspoon

chili pepper flakes

Black pepper to taste

1

tablespoon

white wine

4 - 5

cups

rich broth

(chicken or vegetable)

4

sprigs each fresh thyme and parsley,

tied with twine

2

medium russet potatoes,

cut into 1-inch cubes
Instructions
Preheat oven to 400 degrees F.

Trim root end off one head of garlic. Set cloves, trimmed side down, in a small, oven-proof ramekin. Add 1 tablespoon olive oil and a pinch sea salt. Cover with foil, set on a rimmed baking sheet, and slide into oven. Roast garlic about 15 minutes, or until garlic is soft, but not at all brown. Once garlic is done, carefully remove foil and set aside to cool. When cool enough to handle, slide cloves out of their skins and reserve. Reseve garlic-infused olive oil.

Meanwhile, trim, smash, and peel remaining head of garlic. In a heavy bottomed 2- or 3-quart pot, 1 tablespoon olive oil over medium heat. Add cloves to pot, along with the sliced shallots, a generous pinch sea salt, chili flakes, and several twists black pepper. Sauté 2 - 3 minutes, then turn heat to low, cover the pot, and cook until garlic and shallots are transluscent and fragrant, about 20 minutes.

Next, turn heat to medium, add white wine, scrape up any brown bits, then pour in 3 cups stock. Add potatoes, reserved roasted garlic cloves and olive oil, and tied herbs (or bouquet garni), along with a 1/2 teaspoon sea salt.

Bring mixture to a boil, and then turn heat down to a bubbling simmer. Cook until potatoes are tender, about 15 minutes.

Remove bouquet garni and carefully puree soup in a blender. Return soup to pot, adding up to 1 - 2 more cups of broth, depending on your preferred texture. Add sea salt to taste, add a splash more white wine if needed, lots and lots of black pepper, and serve topped with minced thyme and parsley leaves.

The flavor will develop further after a day in the fridge. The soup reheats beautifully, but does tend to thicken – keep a 1/2 cup of stock (water will work, too) on hand to thin soup if needed.
SaveSave
SaveSave