A light, velvety ginger pumpkin soup with lemony undertones and a hint of umami, and thoughts on fighting fascism.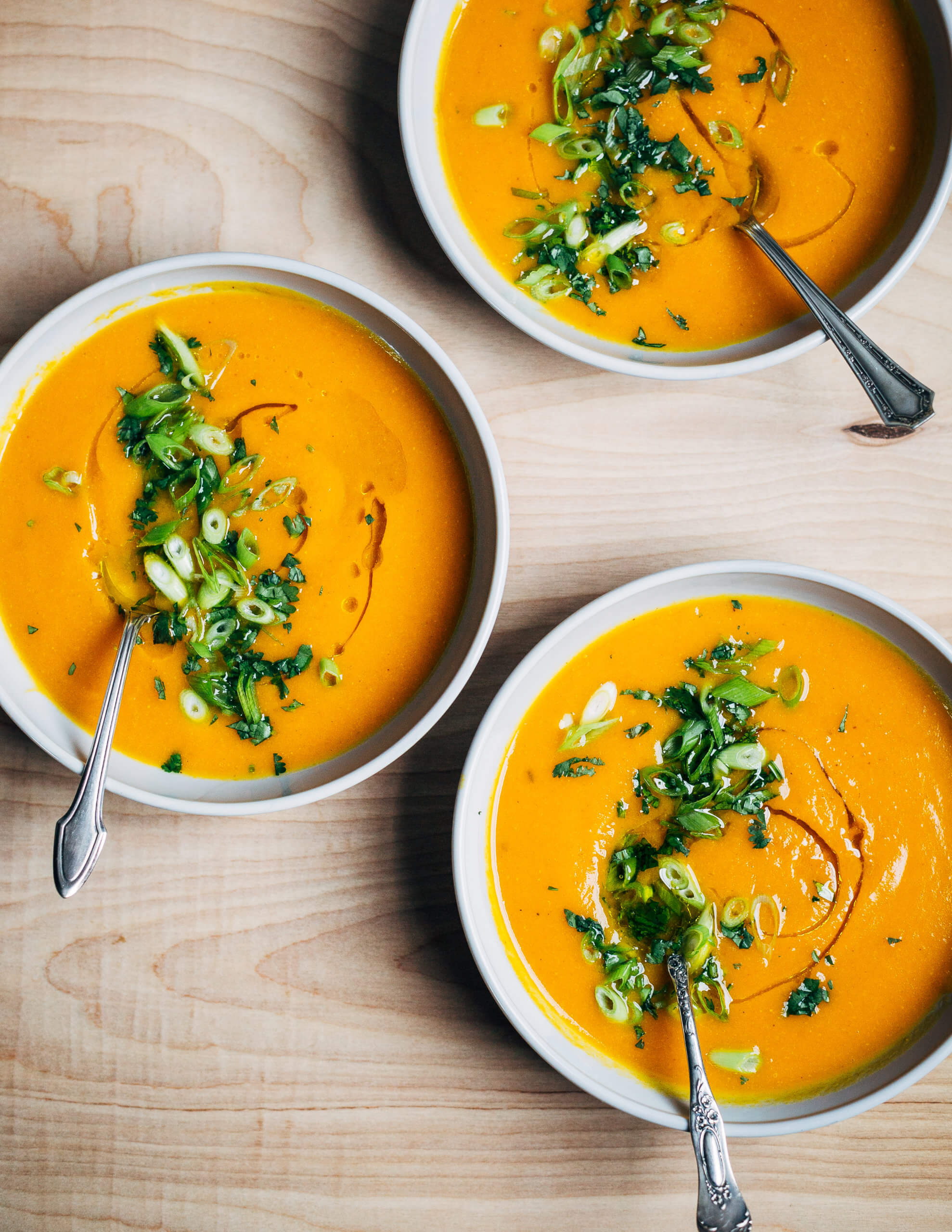 Confronting Fascism
Before I get into the recipe, I want to speak to what happened this week. (CW: neo-Nazis, Unite the Right, violence) On August 12, 2017, during the Unite the Right rally, I saw Neo-Nazis with a giant Nazi flag marching in formation through my town. I have friends whose lives were forever altered on A11 and A12; their wounds, seen and unseen, have not healed. We experienced first-hand the disgusting hatred and bigotry of the white nationalist horde.
Which is to say: We in Charlottesville saw January 6 coming from a mile away. UTR and J6 should teach us that we can't ignore fascism and white supremacy in the hopes that it will fade away. We have to challenge it however we are able. On January 20, we will still be a country where too many are filled with hatred for their fellow humans. There's no simple way to counter this, except maybe leaving your bubble and working in your community to protect and support the vulnerable. And when fascists come to town, do whatever you can to fight back.
Events in DC have disrupted many support networks in vulnerable communities and organizers there have been on the ground attempting to counter multiple days of action by far-right extremists, Neo-Nazis, and white nationalists. If you are able, give generously to support these continued efforts through the inauguration and beyond.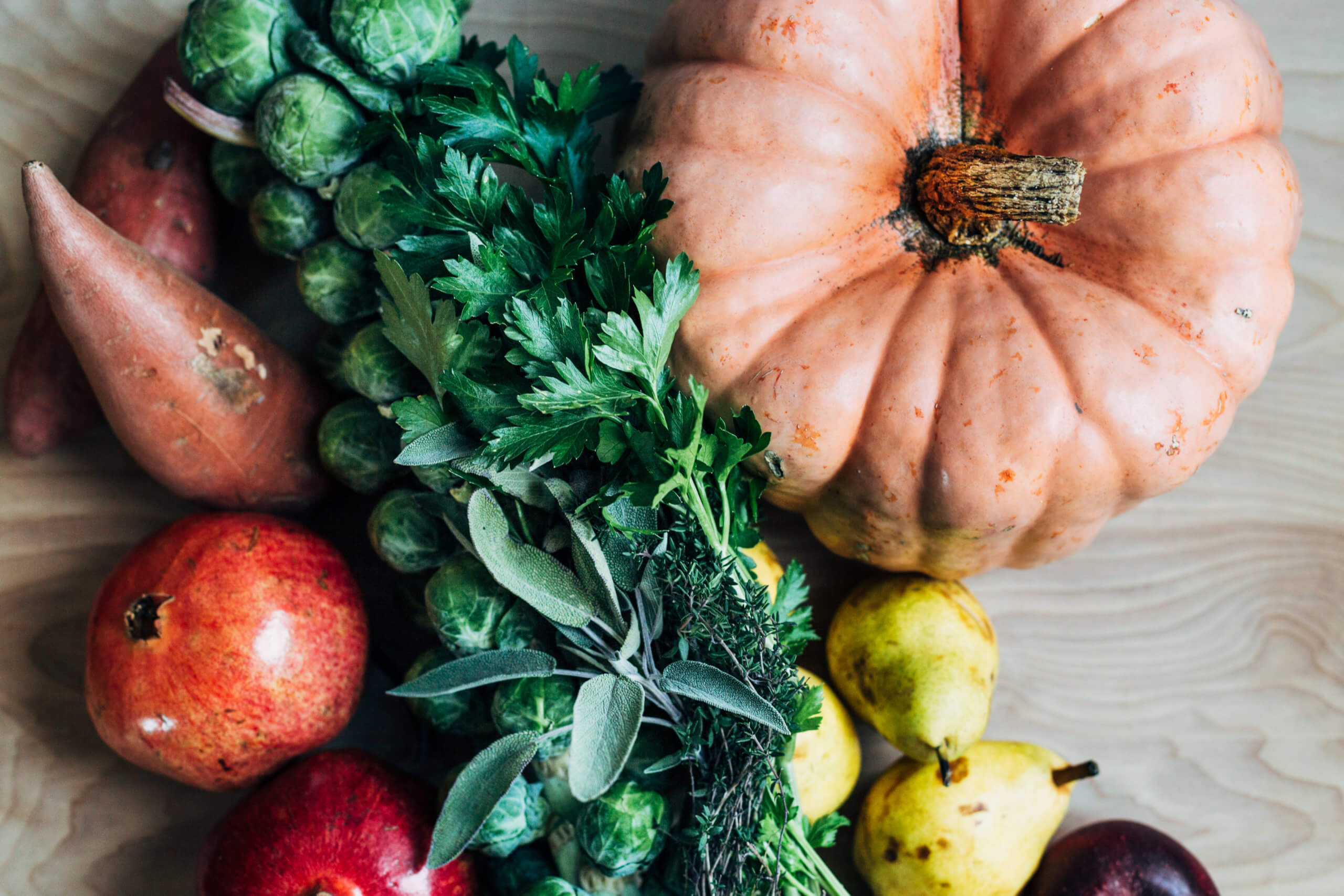 About that Soup
I purchased the Autumn Crown pumpkin featured in this ginger pumpkin soup way back in October. It sat on my porch alongside a host of other pumpkins destined for carving. In November, it stayed on the porch as a solitary signal that decorative gourd season was not, in fact, over. In December, the pumpkin came inside. It was shuffled around throughout the Christmas season, too big to fit on the counter or in the kitchen at all. Eventually, it went under the Christmas tree alongside our presents.
The pumpkin loomed over my holiday break. I was determined to cook all 15? 20? pounds of it, but the days kept slipping away. When I finally did get the chance to break it down, I was astonished by how thick the walls were, how orange the flesh. I practically needed a meat cleaver and a mallet.
And then finally, I roasted the pumpkin and made this ginger pumpkin soup. Pureed with sautéed ginger, shallots, and garlic, this velvety winter soup is light in texture with hints of umami and lemon. I started with the intention of making the recipe vegan, but in the end, I found the flavor improved immensely with a splash of fish sauce and a drizzle of honey. If you want vegan subs, swap in coconut aminos and maple syrup.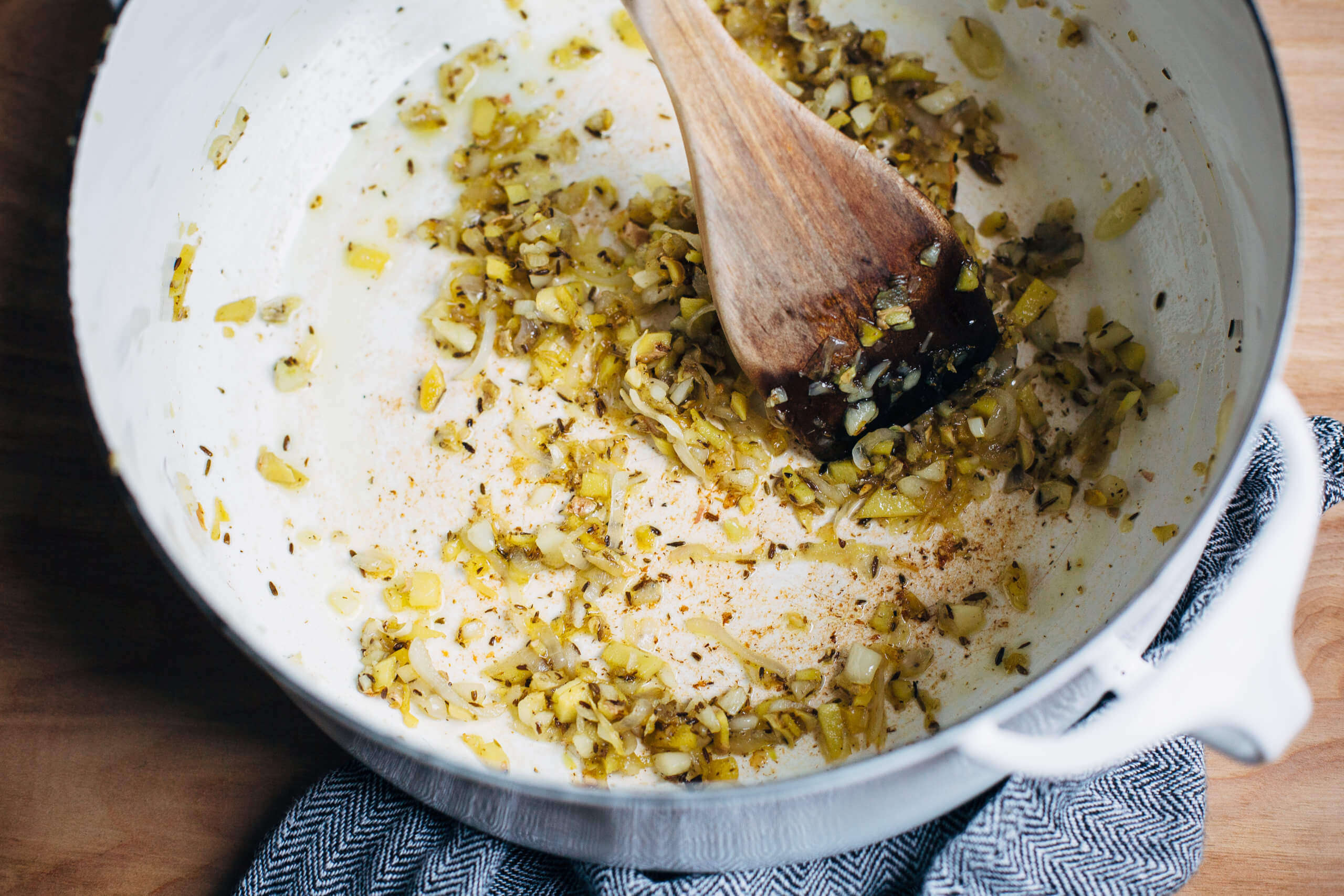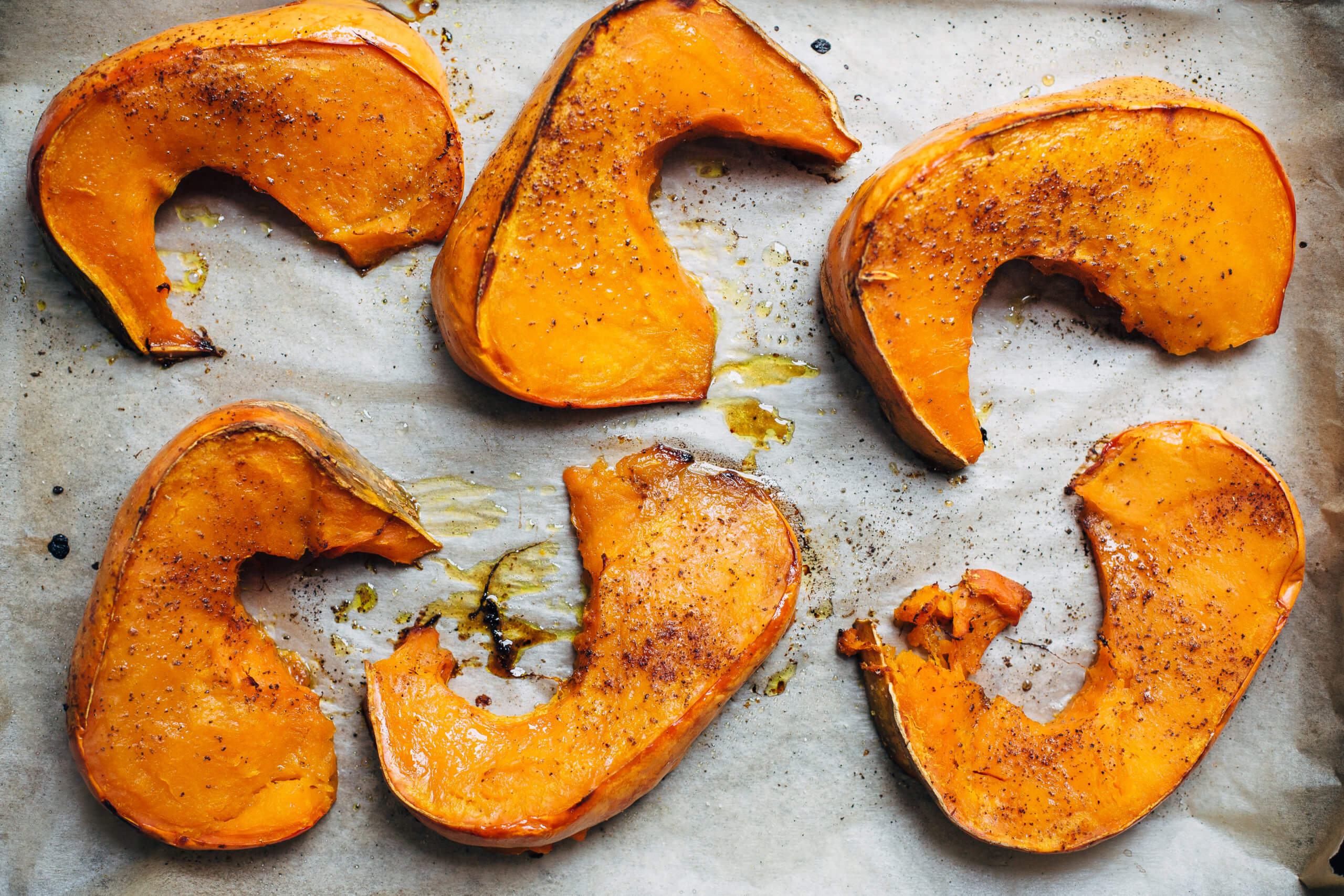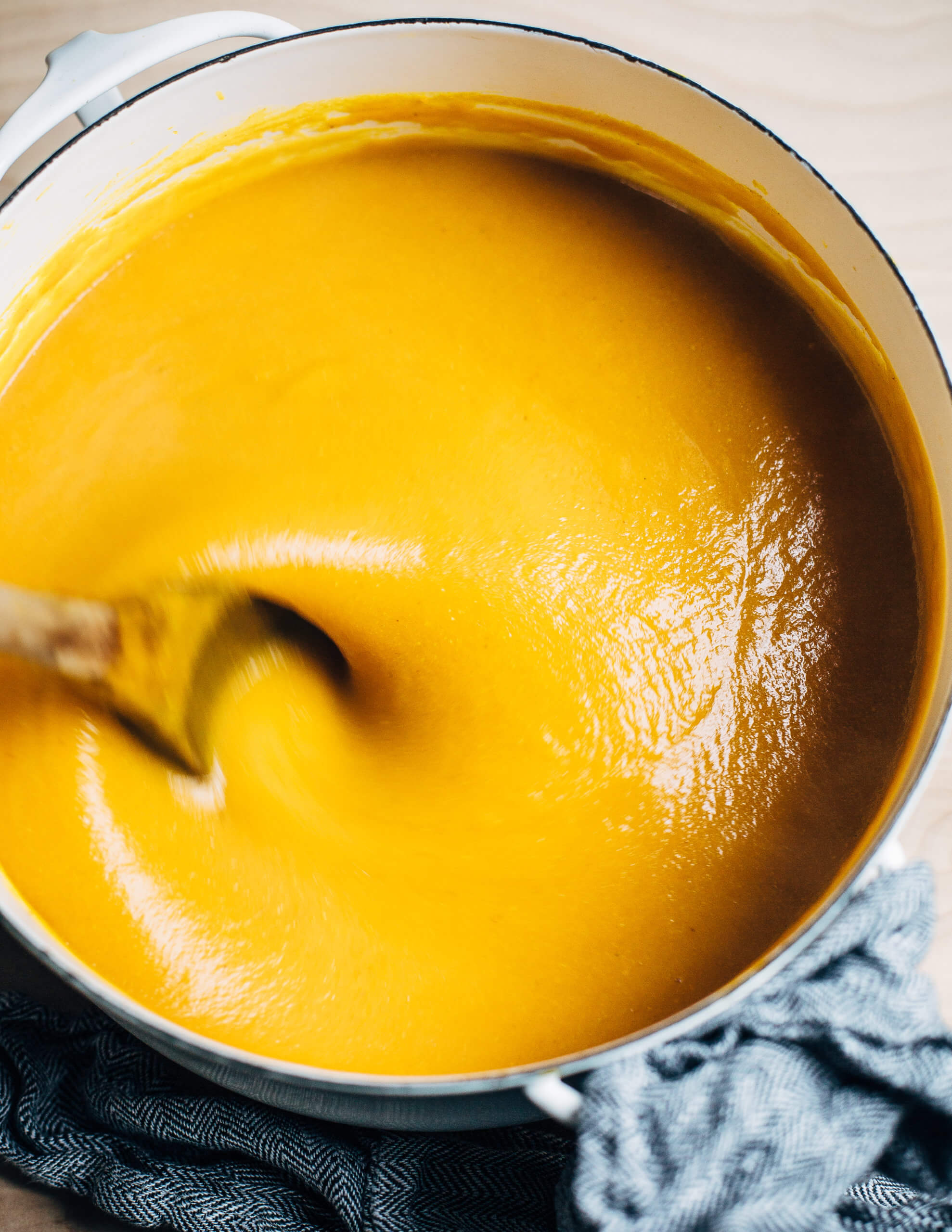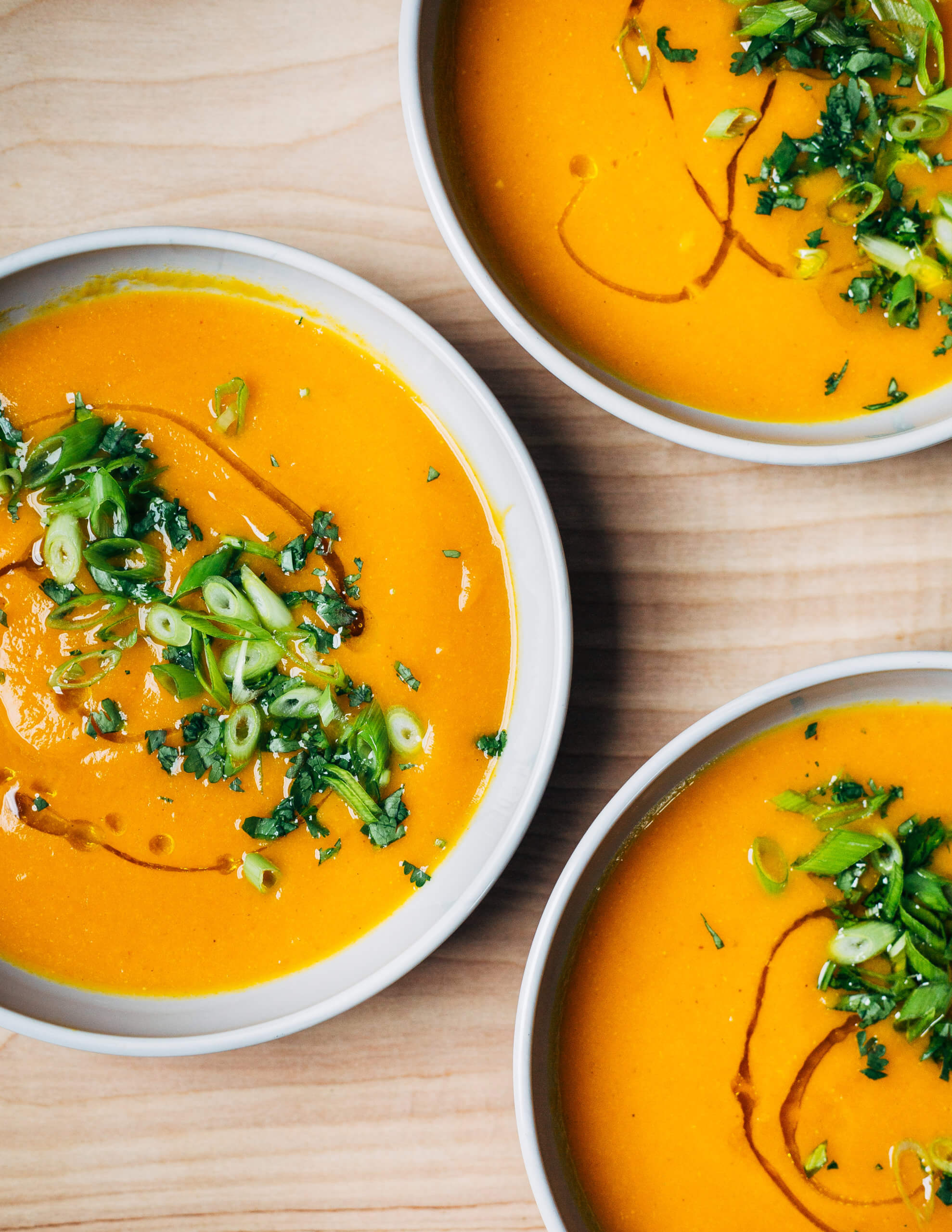 Though this soup is a ginger pumpkin one, you could make this with any roasted squash or pumpkin. Autumn Crown or Fairy Tale pumpkins would both be excellent, as would a Hubbard, Kuri, or Kabocha squash. Butternut squash would work great too, though it doesn't have the same savory notes as the other varieties. Taste the soup just before serving and play with final additions of fish sauce, honey, and lemon a bit. Depending on the variety used, your soup may need more umami and less sweetness, or the other way around.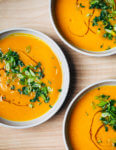 Ginger Pumpkin Soup
A light, velvety ginger pumpkin soup with lemony undertones and a hint of umami.
Keyword:
ginger pumpkin soup
Ingredients
Pumpkin
1

medium-sized pumpkin or winter squash,

seeded and cut into 3 - 4-inch wedges

2

tablespoons

extra virgin olive oil

Sea salt

Chili powder
Soup
3

tablespoons

olive oil

4-

inch

section ginger,

peeled and minced

6

cloves

garlic,

smashed, peeled, and minced

2

medium shallots,

minced

1

teaspoon

cumin seed,

ground

Sea salt

1

teaspoon

garlic powder

1

teaspoon

chili powder

6

cups

roasted squash puree

1

quart

rich vegetable broth

(homemade or store-bought)

2 - 4

tablespoons

lemon juice

1 - 2

teaspoons

fish sauce or coconut aminos

1

teaspoon

honey or maple syrup
To Serve
3

green onions,

sliced thin

2

tablespoons

minced cilantro

Olive oil,

for drizzling
Instructions
Pumpkin
To prep the pumpkin, preheat oven to 350 degrees F. Line a baking sheet or two with parchment.

Use a large, very sharp knife to carefully cut away the woody stem, halve the pumpkin, remove seeds, and cut into 4-inch thick wedges. (If you have extra pumpkin wedges, you can roast everything together and refrigerate or freeze leftovers for future soups or baking.)

Arrange wedges on baking sheet. Drizzle with olive oil, and sprinkle with sea salt and chili powder. Cover with foil. Roast 40 minutes, then remove foil and continue roasting until wedges are fork tender with golden edges, 20 - 30 minutes longer. Set aside to cool, then scoop the flesh from the skins and lightly mash.
Soup
Set a 4-quart dutch oven over medium heat. Add the olive oil, and then add the ginger, garlic, shallot, cumin, and a pinch of sea salt. Sauté until golden and fragrant, 5 - 7 minutes.

Add the garlic and chili powder, along with the roasted squash puree and vegetable stock. Bring mixture to a gentle boil, and then turn heat down to a bubbly simmer and cook 20 minutes.

Working in batches in the blender or with an immersion blender, puree the soup until very smooth. Return to Dutch oven and set over low heat. The soup my bubble and pops at this point, so take care.

Taste the soup, and add sea salt, lemon juice, fish sauce or coconut aminos, and honey or maple syrup to taste; it might take a few passes to get the balance of flavors just right.

Ladle into bowls and serve with green onions, cilantro, and a drizzle of olive oil.