A bright and balanced green bean salad with pickled red onions, sweet cherry tomatoes, crumbled feta, and fresh herbs.
Get the Right Now Newsletter!
Are you signed up for the Right Now newsletter? It hits inboxes twice a week with exclusive recipes and seasonal ingredient inspiration. Subscribe today!
A Simple, Summery Green Bean Salad
This green bean salad is the kind of easy, adaptable salad that typifies summer eating. It's just the thing to bring to a potluck, cookout, or summer picnic.
The green beans are from my garden. Blanched for a minute or two and then immersed in ice water, they're faintly sweet, tender, and have a nice snap when you bite into them. Quick pickled red onions lend crisp bite and a hint of sweetness. The cherry tomatoes – and especially these sun golds – are perfectly sweet and acidic, and the color is just right for the greens and purples of the salad. The salad is topped off with crumbled feta, fresh herbs, freshly cracked pepper, and a big drizzle of olive oil.
Snapping Your Beans (or Not)
For the longest time, I snapped the stem end from my beans by hand. But with a bumper garden crop this year, the knife method has won me over. To trim stems in bulk, gather a handful of green beans, stem side up and relatively flush, and then use a sharp knife to cut the stems from each bundle. Of course, if you enjoy the meditative act of snapping the ends by hand, keep on doing it!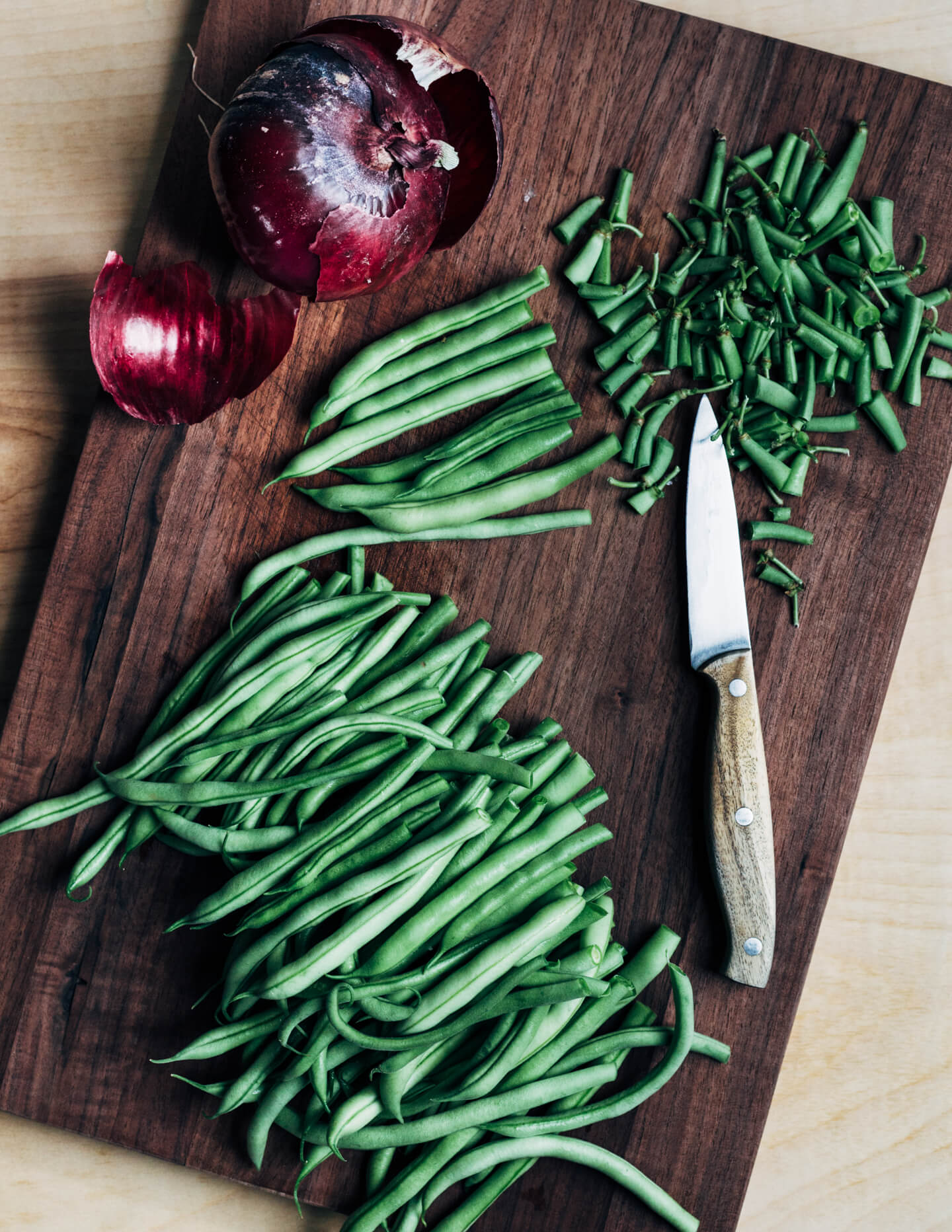 Variations
Like all the best summer salads, this green bean salad lends itself to variation. Additional tomatoes or sweet or spicy peppers would be excellent. Likewise, you're also free to scale things back and stick with the green beans, onions, and feta (or a tangy goat milk cheese). The salad is finished with fresh herbs. I used parsley and dill here, but oregano, basil, or tarragon would also be lovely.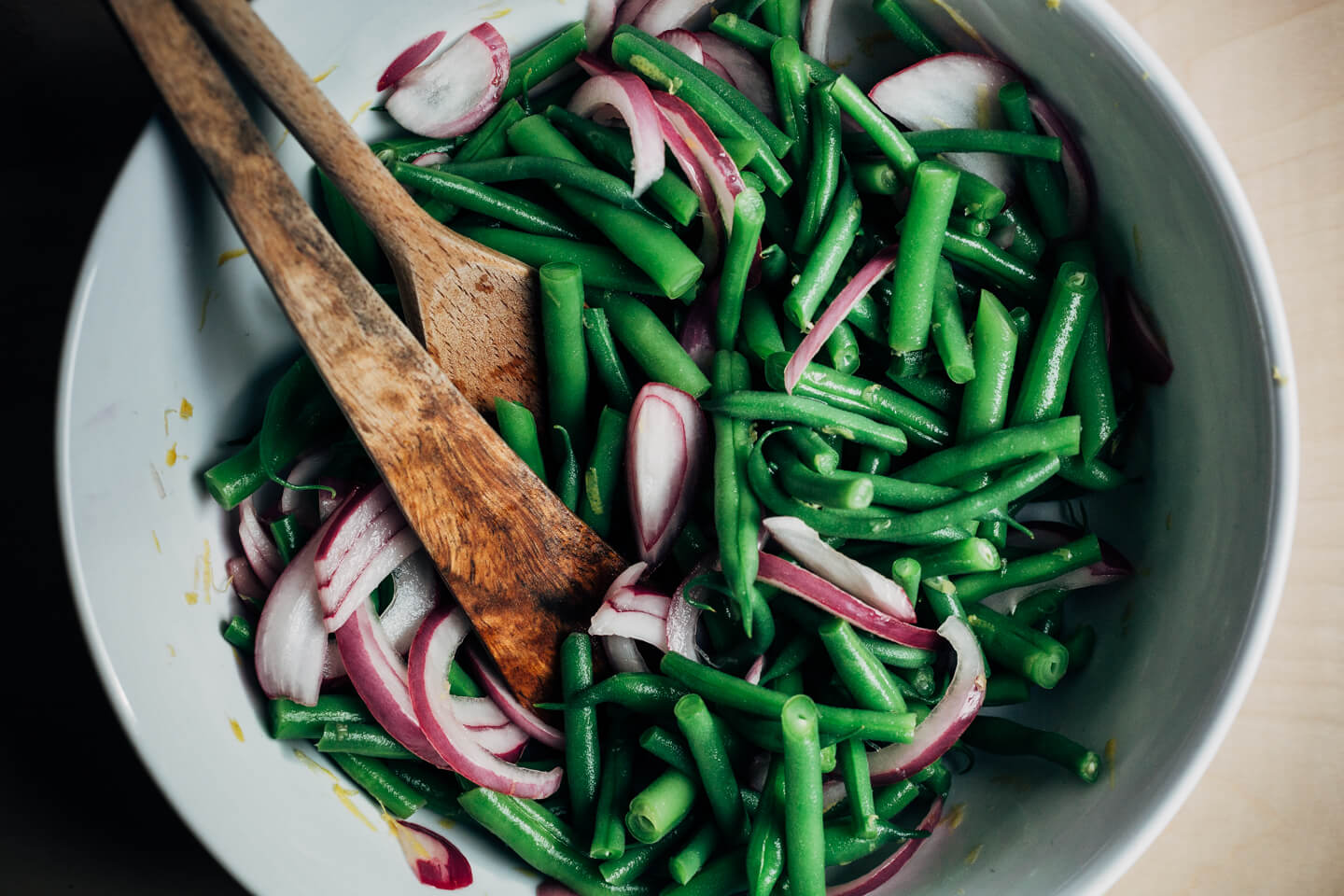 Spice It Up

If you'd like things a little spicier, consider adding a couple cloves of minced garlic to the picking liquid or a 1/2 teaspoon red pepper flakes. They'll lend a gentle heat without overwhelming the delicate flavors.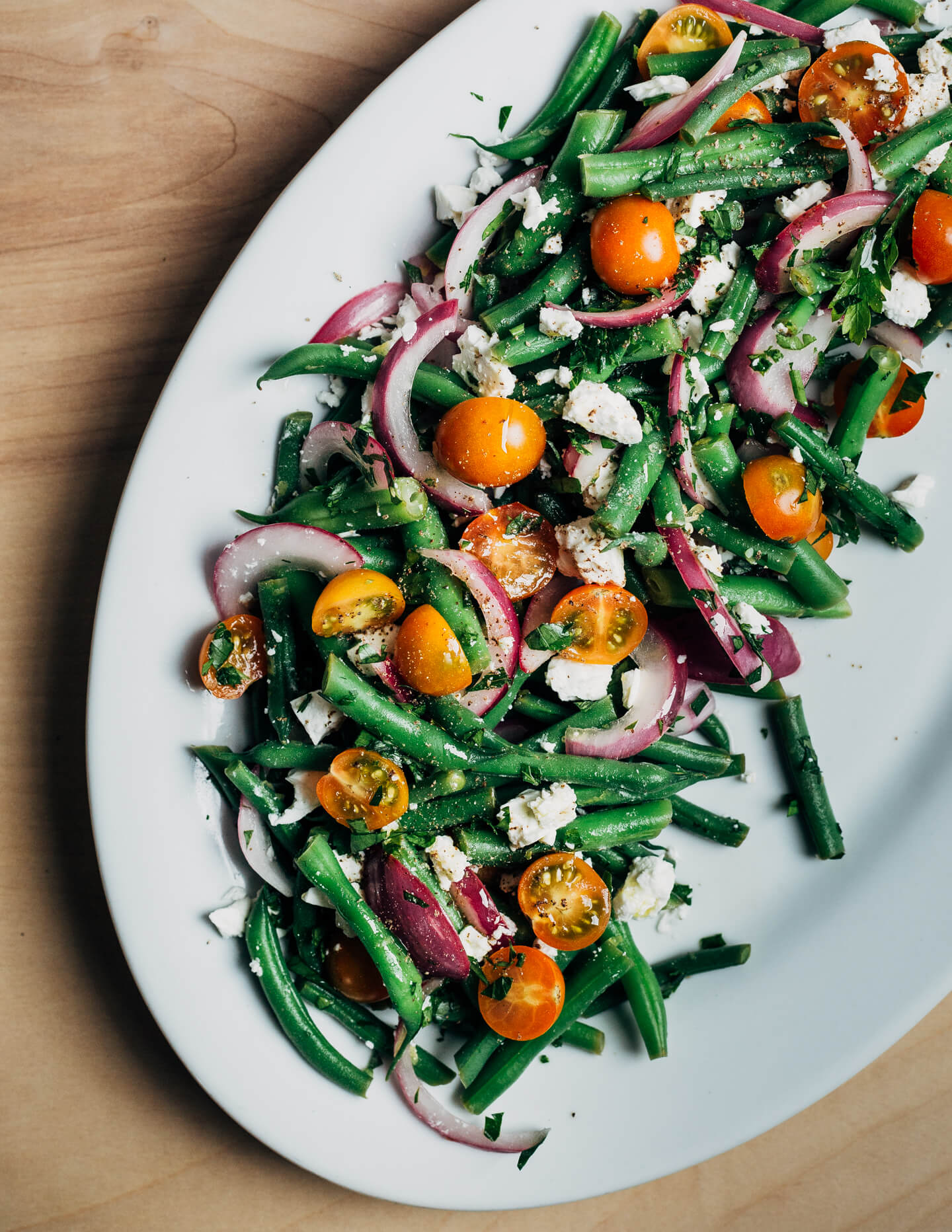 Make Ahead
Let's face it: no matter how vibrant they are to start, green beans have a tendency to turn a gray-ish olive hue with time. If you'd like to make your green bean salad ahead, blanch the green beans for 1 minute, immerse in ice water, and pat completely dry. Make the pickled red onions, and prep the tomatoes, feta, and herbs. Keep each element sealed in the fridge for up to one day. When it's time to serve the salad, toss everything together, add salt or pepper to taste, and serve!
If you do have leftovers, the salad keeps well in the fridge for a day or two. (Just know the beans may lose their vibrant hue.)
Looking for more peak summer recipe inspiration? Check out the July Seasonal Produce Guide!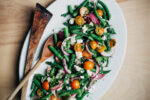 Green Bean Salad with Pickled Red Onions and Feta
A bright and balanced green bean salad with pickled red onions, sweet cherry tomatoes, crumbled feta, and fresh herbs.
Keyword:
green bean salad
Makes
:
4
generous servings
Ingredients
1/2

a medium red onion sliced 1/8-inch thick

Zest of 1 lemon plus 1 tablespoon juice

1

tablespoon

sherry vinegar

1/2

teaspoon

red pepper flakes

(optional)

1/2

teaspoon

salt,

plus more to taste

1

pound

green beans,

stem ends trimmed

1

cup

cherry tomatoes,

halved

1/3

cup

crumbled feta

1/4

cup

minced herbs,

such as parsley, dill, basil, oregano, or tarragon

Black pepper

Extra virgin olive oil,

for drizzling
Instructions
In a large mixing bowl, toss to combine the onion, lemon zest and juice, vinegar, red pepper flakes (if using), and 1/2 teaspoon salt. Set aside while you prep the other ingredients.

Bring a large pot of salted water to a boil. Prepare a bowl of ice water. Blanch the green beans just until vibrant green and tender, 1 - 2 minutes. Remove cooked beans from the water and immerse in ice water for 1 minute. Remove green beans from water, pat dry, and cup into 2-inch segments.

Toss the green beans with the onions and pickling liquid. Fold in the tomatoes, feta, and herbs. If desired, arrange on a platter. Add salt to taste. Top with freshly cracked black pepper and a generous (1 - 2 tablespoon) drizzle of olive oil. Serve right away or keep in the fridge for up to 2 hours

(See above for make-ahead instructions.)