Recipe inspiration and tips for what's in season in July at farmers markets and in CSA shares. The July produce guide features blackberries, blueberries, cherries, peaches, raspberries, cucumbers, green beans, summer squash, tomatoes, and zucchini.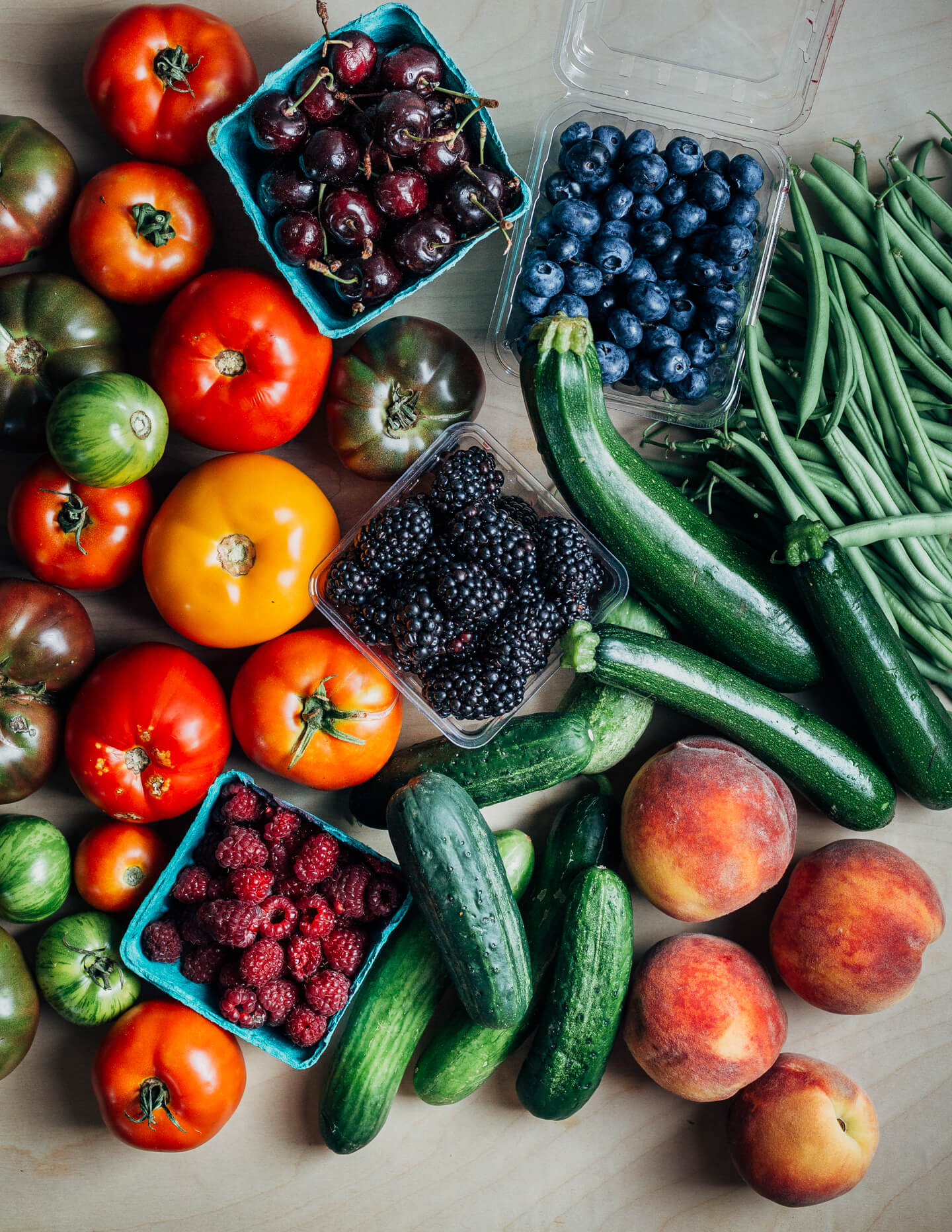 Get the newsletter
Are you signed up for the Right Now newsletter? It hits inboxes twice a week with exclusive recipes and seasonal ingredient inspiration. Subscribe today!
What's in Season in July
What's in season in July? Almost everything. Blackberries, blueberries, and raspberries are all going strong, as are cherries and peaches. On the savory front, we have the first tomatoes of the season (and they are SO good). There are also cucumbers, green beans, summer squash, and zucchini. Toward the end of the month, corn, eggplant, okra, peppers, and tomatillos will start coming in, too. (Look for those late summer faves in the August guide.)
At the Market
At the farmers market, nearly everything is in season and perfect. Here in the Mid-Atlantic, the first really delicious tomatoes have arrived, and cucumbers and summer squash are all tender. Depending on your location and other factors, green beans might be getting a little fibrous. Larger green beans can be pickled, but if they're really tough (ie, you can't really chew a raw one because it's so fibrous), you may want to compost them.
In the Garden
After a slow start, my garden is officially totally out of control. As usual, a maximalist planting approach has yielded a July jungle. I spent the afternoon yesterday tying up wayward green beans and tomatoes and trying to get some order. Right now, I'm bringing in green beans and tomatoes by the pound. My cucumber and summer squash plants are struggling with leaf mold (it's not due to overcrowding, I promise!), so I've just had a handful of each, but I'm hopeful that recent interventions will have them thriving.
Blackberries, Blueberries, and Raspberries
I'm lumping the berries together today, though they are each different with unique flavor. When shopping, looking for robust berries – they shouldn't be slumped or soft looking. Black and blueberries will keep loosely covered in the fridge for a few days, but raspberries should be used as soon as possible. Some folks swear by the vinegar wash method and I've tried it with some success.
Cherries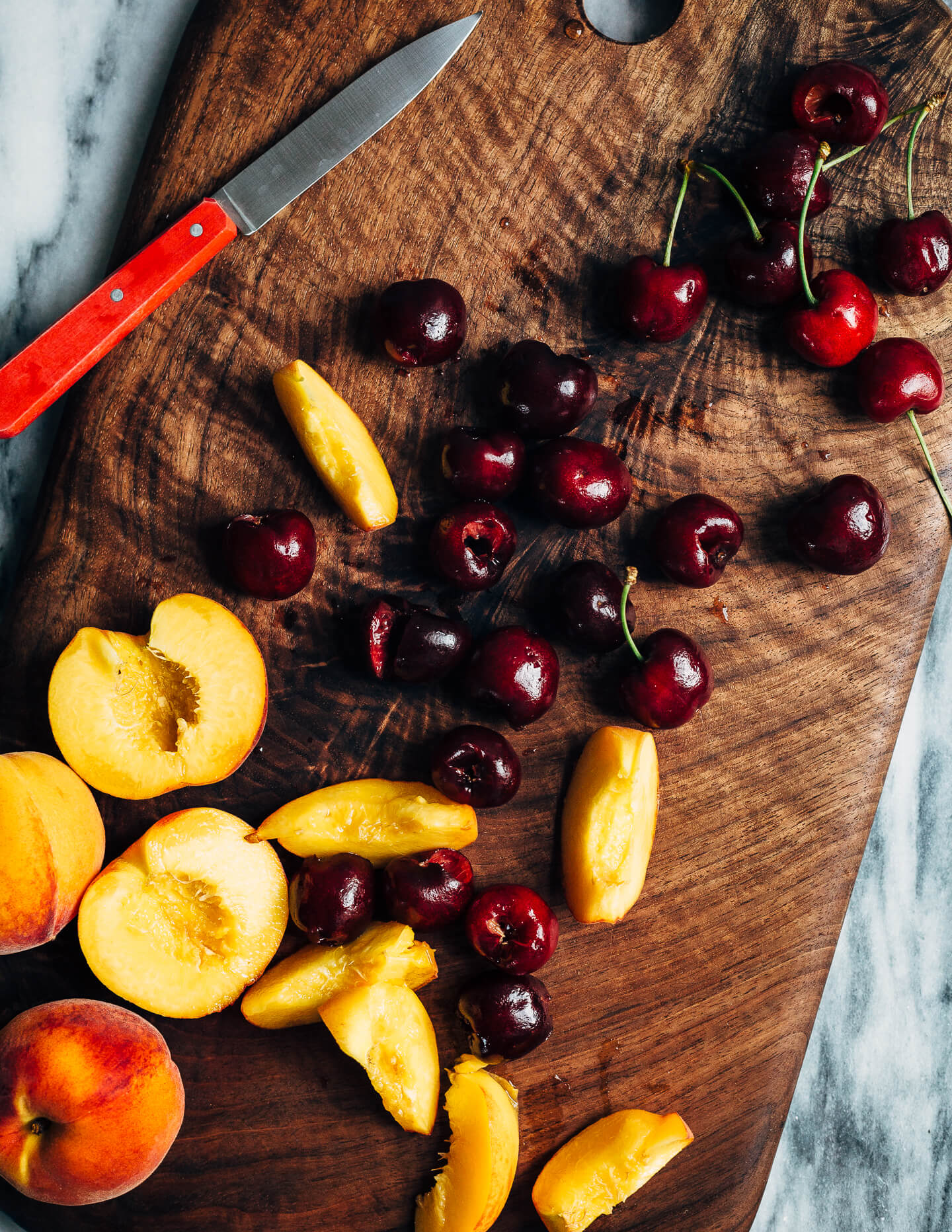 Sweet cherries are still in season and delicious. Check out the June guide for sweet cherry recipe inspiration!
Peaches
Peach season is here! Look for peaches that have just a little give or softness when you hold them. I don't recommend squeezing them unless you want to make the grower wince. They should have a deep red and yellow color – peaches that are pale or green at the top are underripe. Store peaches stem side down at room temperature until they ripen; once ripe, store them loosely wrapped in a single layer in the fridge.
Cucumbers
Depending on the variety, you'll usually want to opt for cucumbers on the smaller side. Look for firm, deeply colored skin. Cukes will keep well loosely wrapped in the fridge for a few days.
Green Beans
The green beans in my garden are coming in fast right now! When shopping for green beans, look for smaller, tender beans. They should be firm-looking with uniform size. Though they can be fibrous, larger beans are good for braises and pickling.
See the June guide for a host of green bean recipes.
Summer Squash and Zucchini
Look for small, deeply-hued summer squash, patty pans, and zucchini. They should be firm and unblemished. What to do with the giant zucchini you overlooked in the garden? Compost it. Huge summer squash and zucchini are tasteless and watery, and I urge you to just let them go.
Tomatoes
I saved the best for last! The first really bright, acidic, delicious tomatoes of the season are coming in and I am ecstatic. When selecting tomatoes, look for vivid color and smell for tomato fragrance. Tomatoes should be firm, but not hard. I keep my tomatoes stem side down on the counter in an array from ripest to least ripe. The method mostly works, until I completely run out of counter space. If needed, you can keep ripe tomatoes loosely wrapped in the fridge for a few days.