This flaky broiled salmon and tomato salad made with quick-pickled red onions, fennel, and herbs makes for a wonderfully simple summer supper.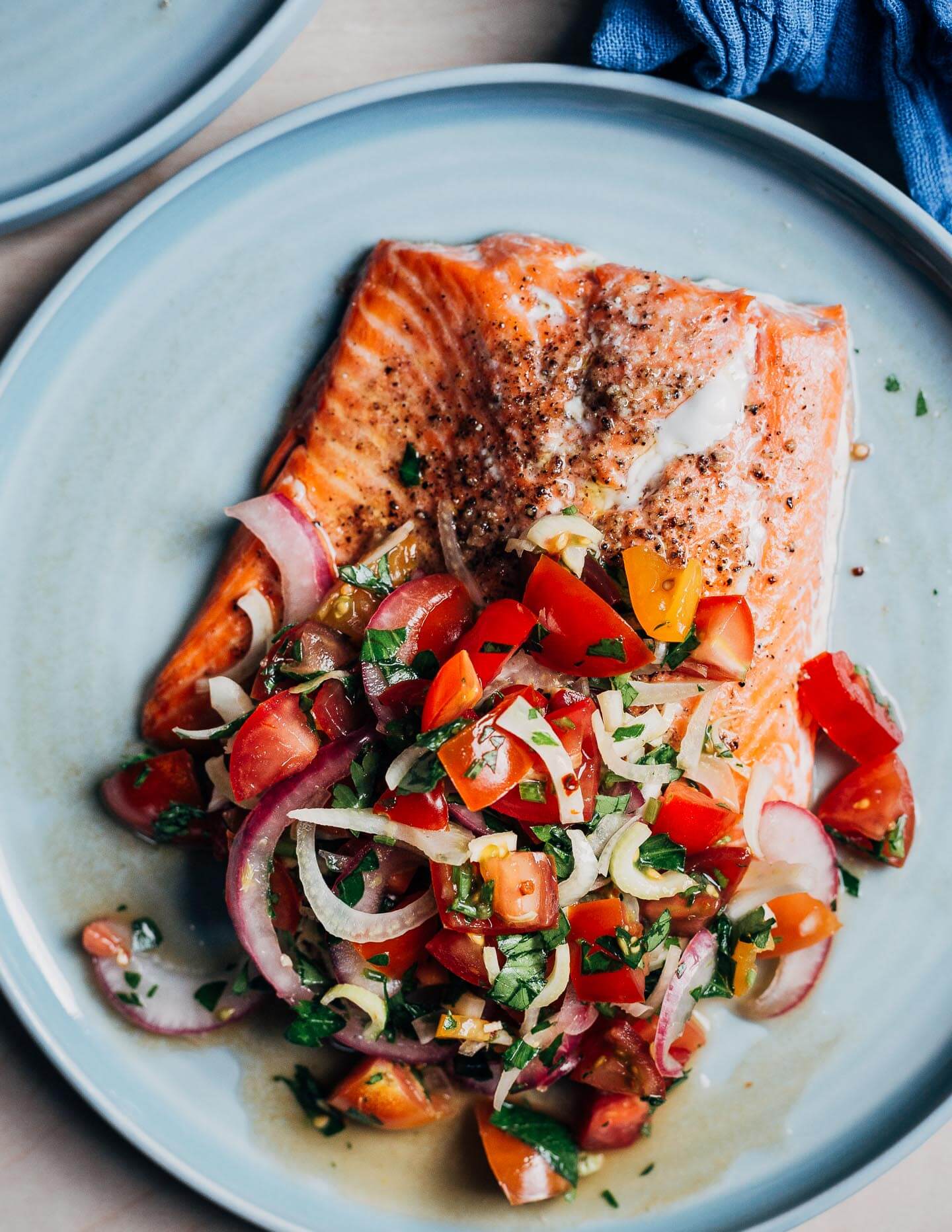 Get the newsletter
Are you signed up for the Right Now newsletter? It hits inboxes twice a week with exclusive recipes and seasonal ingredient inspiration. Subscribe today!
It's the time of year where a really excellent meal can come together with just a few ingredients. Recently, little salads with lots of acid and herbs have held my attention. These salads aren't anything fancy, just the right mix flavors and perfect summer fruits and vegetables.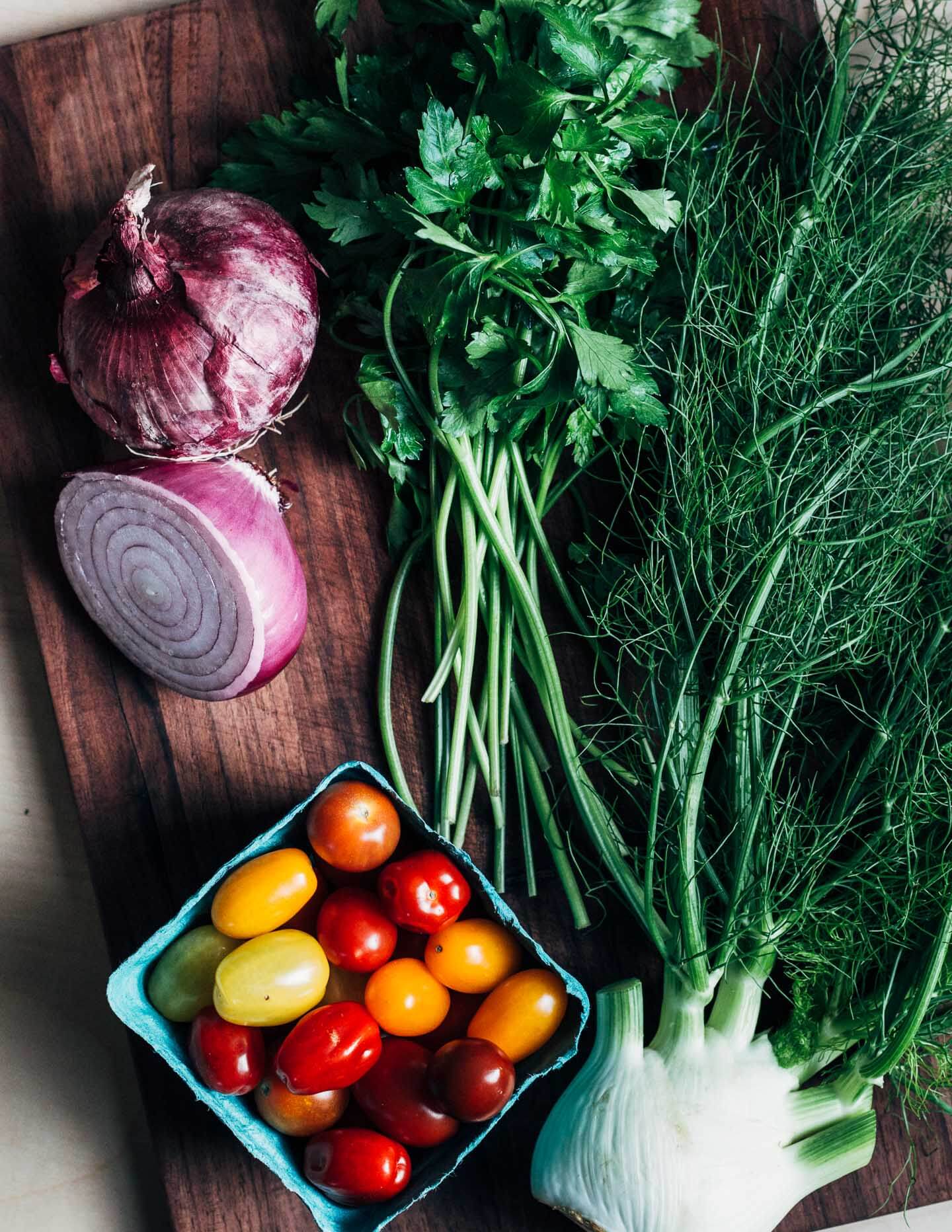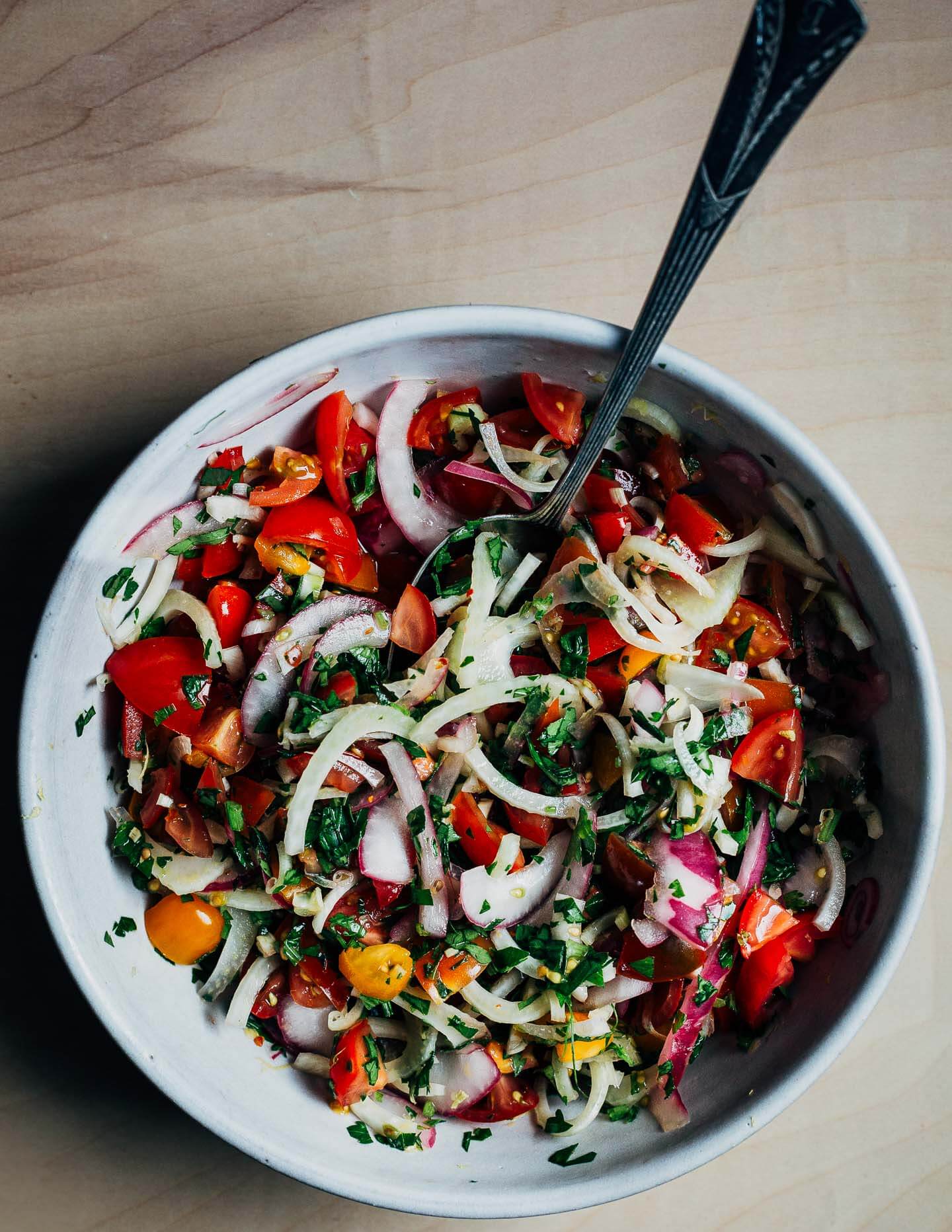 A Simple Summer Salad
This week's recipe features one such salad – tomato and fennel – piled atop a flaky piece of broiled salmon. Served with toast, couscous, or whole grains, it's a perfect, effortless summer meal.
A good summer salad needs a punchy base – I usually opt for shallots, red onions. A hint of garlic is great, too – if you're a garlic lover, feel free to add a clove or four. Once you have your alliums of choice, I like to give them a quick pickle for 5 – 10 minutes. My ideal pickling liquid is a mix of lemon or lime juice and sherry vinegar. Red wine vinegar will do nicely, as will rice wine vinegar – especially for delicate flavors that could use a little sweetness.
Once the bite of the onion is tempered, you can add the other ingredients right into the vinegar base. I like to add the fennel and give it time to soften a bit, and then pile in the tomatoes and herbs. For these salads, it's best to salt as you go, since that gives you the flexibility to add more right up until the end.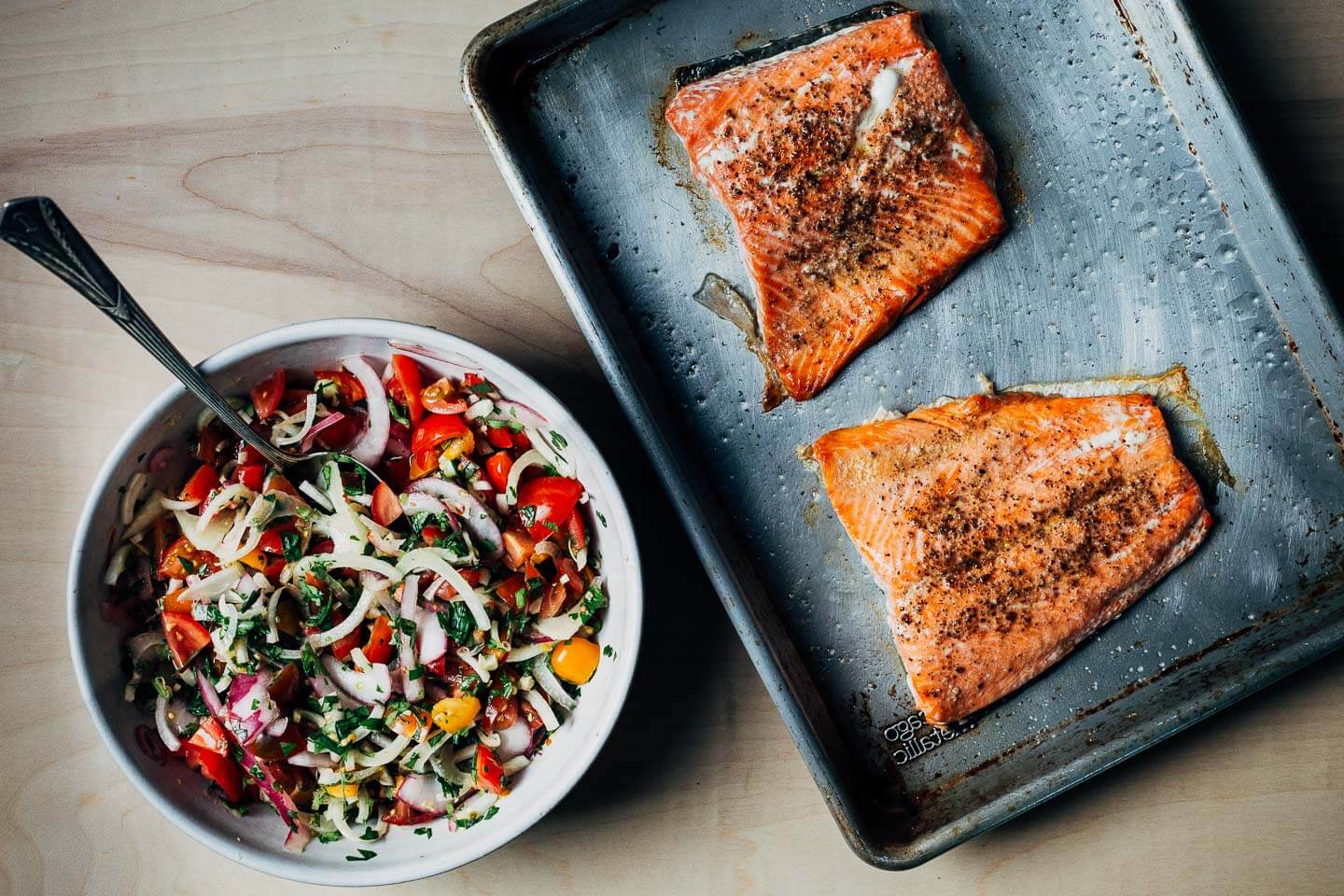 Easy Broiled Salmon
A piece of tender, flaky broiled salmon makes a wonderful base for the punchy tomato and fennel salad.
The salmon cooks up in just a few minutes under a hot broiler, so be sure to prep whatever you'd like to serve alongside ahead of time. Orzo, couscous, spelt, farro, or just toast would all be great here.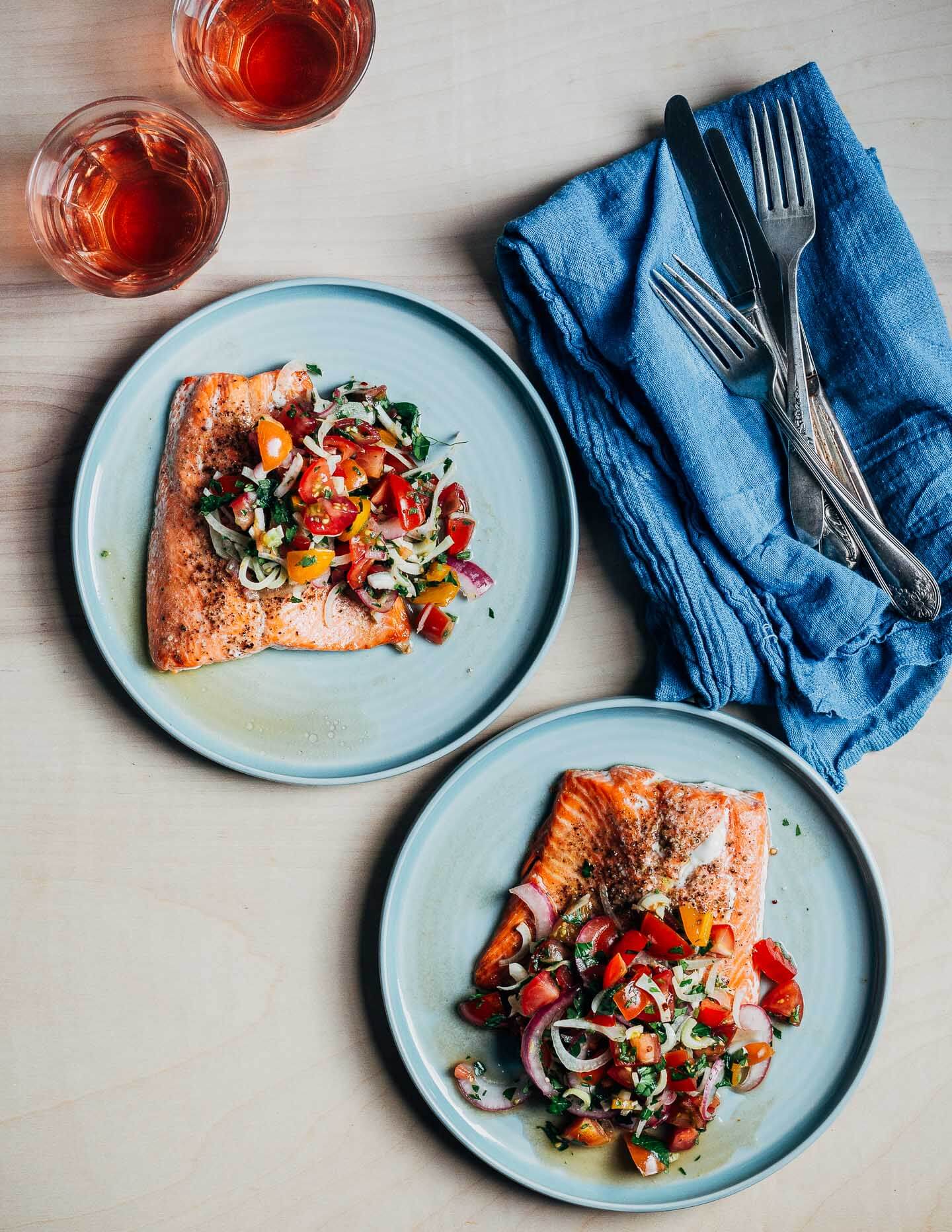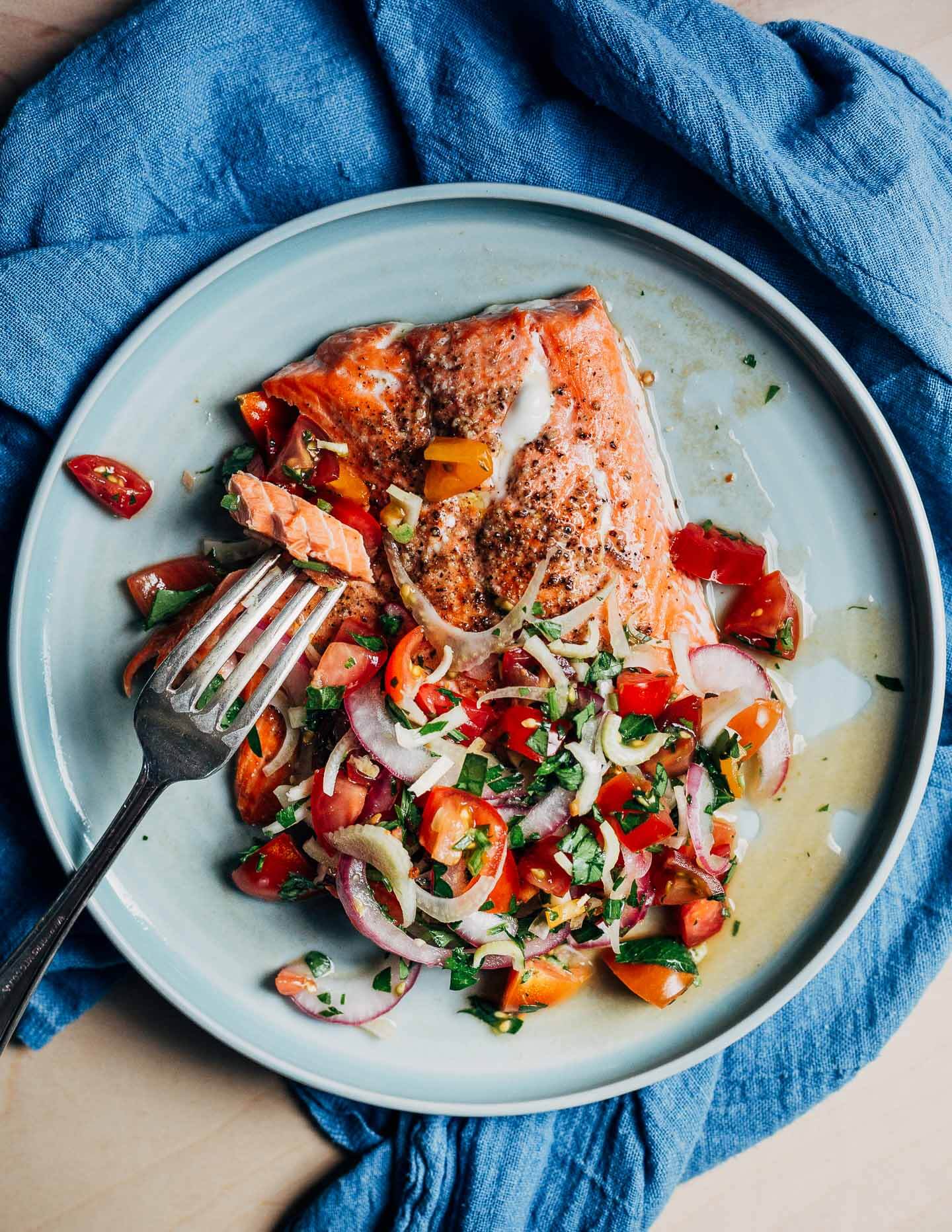 Play with Flavors!
Broiled salmon makes an excellent accompaniment to all kinds of summery salads. Change things up with one of these options: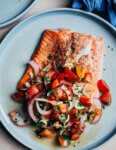 Tomato and Fennel Salad with Broiled Salmon
This punchy tomato and fennel salad with lots of acid, quick-pickled red onions, and fresh herbs served alongside a flaky piece of broiled salmon is a perfect summer supper.
A note on cooking fish in the broiler: broilers are hot and the temperature can vary wildly. Gas broilers should be just fine, while electric broilers can cut on and off. I usually leave the door open a crack to make sure the heat is blasting full force. If in doubt, check the fish after 5 minutes, and every minute after that. Arrange your rack so the fish is about 7-inches from the heat source.
Keyword:
Tomato and Fennel Salad
Ingredients
Salad
1/2

a medium red onion,

sliced into 2-inch slivers

Zest of 1 lemon plus 2 tablespoons juice

1

tablespoon

sherry vinegar,

or use red wine vinegar

Salt

Pinch

of sugar

1

medium fennel bulb

2

cups

chopped tomatoes

½

cup

minced parsley

Pepper
Salmon
4

(6-ounce) skin-on salmon filets

Olive oil

Salt

Pepper
Instructions
In a medium mixing bowl, combine the red onions, lemon zest and juice, vinegar, and a pinch each salt, and pepper. Set aside for 10 minutes while you prep the vegetables.

With a sharp knife, slice the woody end from the fennel, and cut in half lengthwise. Cut out the woody core and slice the light part of the fennel bulb ⅛-inch thick (if desired, use a mandoline slicer). Reserve a few green fronds for serving and discard the fibrous stems. Toss the fennel into the onion mixture and set aside for 5 minutes. Then, gently toss in the tomatoes, parsley, and reserved fennel torn into little bits. Add salt and pepper to taste. Salad can made up to a day ahead and refrigerated (pour off any excess juices before serving).

To make the salmon, heat the broiler on high. If needed, move a rack to the top third of your oven – the fish should be about 7-inches from the broiler. Rinse and pat the filets dry. Arrange salmon skin side down on a baking sheet or broiler pan. Add a drizzle of olive oil, and sprinkle each with salt and pepper. Slide under broiler and roast 5 - 7 minutes for a 3/4 to 1 1/2-inch filet. The fish should look puffed up and a little pale. After 5 minutes, check for doneness by making a small incision with a knife – the flesh should be just opaque.

Plate the salmon, top with several spoonfuls of salad, and serve!