These little savory peach and ricotta tarts are made with flaky puff pastry and drizzled with herbaceous basil olive oil. They come together quickly and capture the flavors of peak summer perfectly.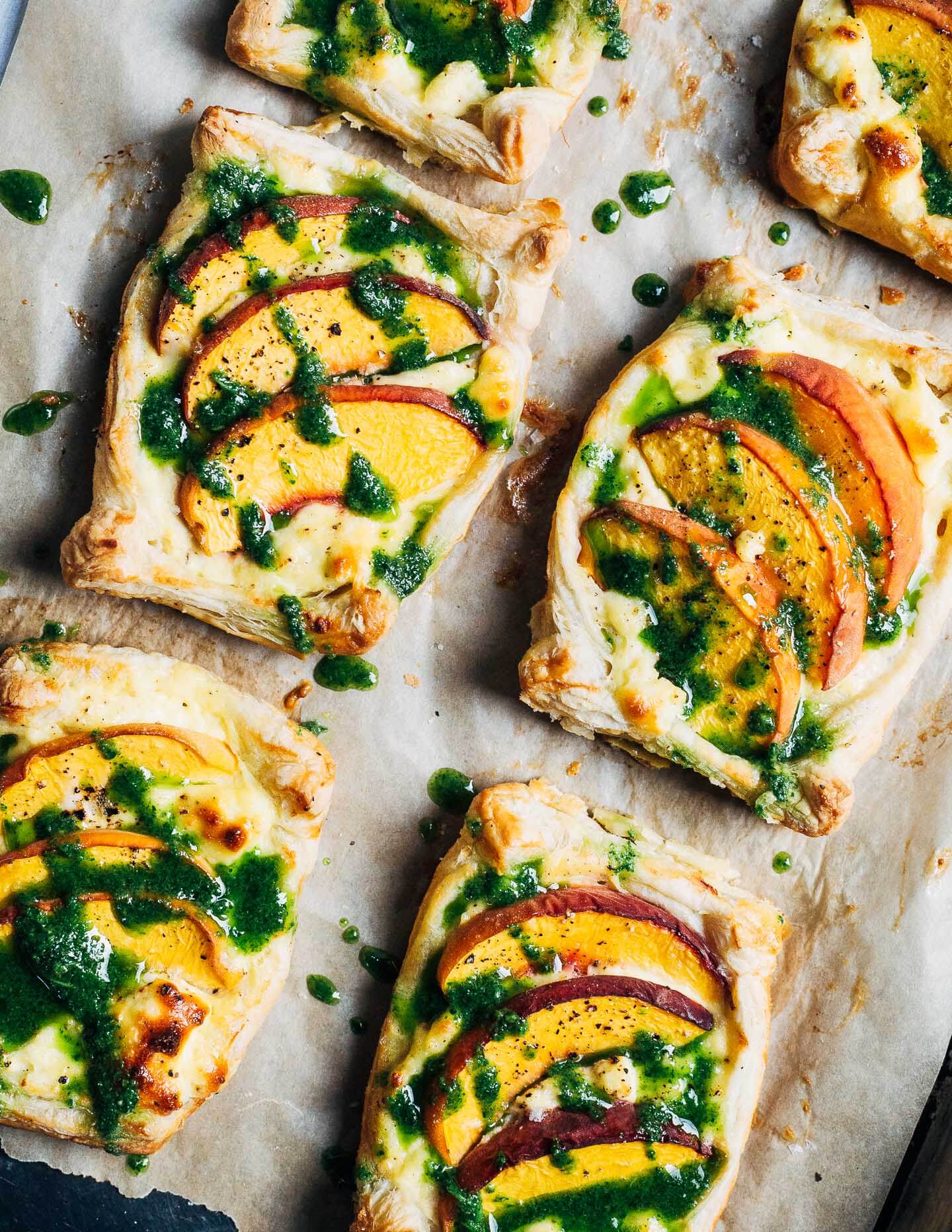 In my imagination, summer is easy, languid even. A relaxing blur of tomato sandwiches, long walks, and dips in the pool. And though I do have my share of tomato sandwiches, this summer also feels like a bit of a slog.
Perhaps I'm just out of practice in what to do when I leave the house, or I've already reached the lifetime limit for doing laundry (an unpleasant aftereffect of all those pool dips), or maybe, this is how it always is. A jumble of dirty feet and wet towels punctuated by the beauty of golden sunsets and perfect peaches.
Whatever the reasons, I'm finding this summer and the return to nearly "normal" life to be overwhelming. So if you've wondered where I was for the past couple of weeks, I was juggling too much and dropping balls all over the place.
But now I'm here, back in my favorite space at my absolute favorite time of year with a recipe for savory peach and ricotta tarts with basil oil – a simple, perfectly of-the-moment summer recipe.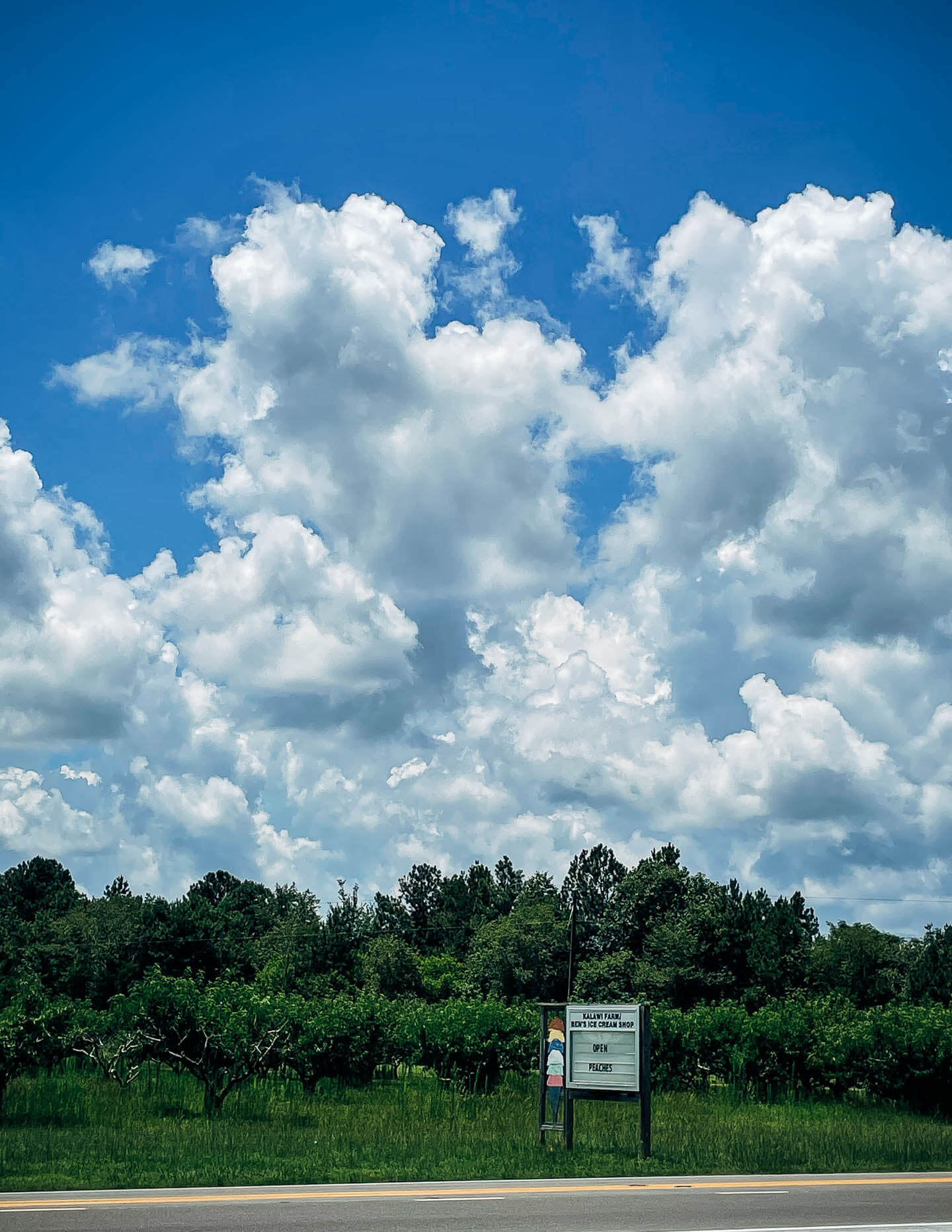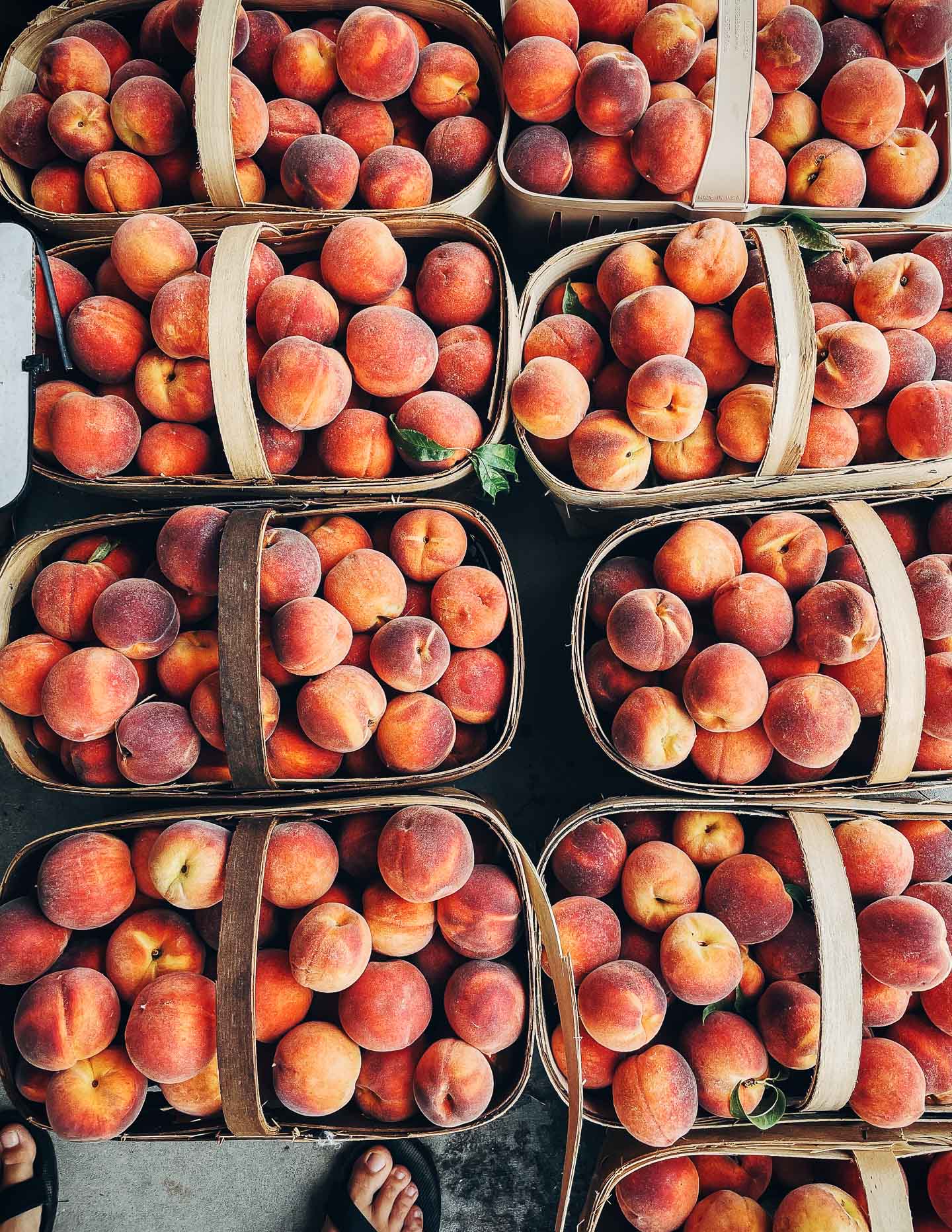 Savory Peach and Ricotta Tarts
Whether you take them in a sweet or savory direction, ricotta and peaches are a lovely combination. Creamy ricotta takes on the sweetness of the peaches nicely. As the ricotta cooks, it puffs up and melds into the flaky phyllo dough beautifully, while the peaches slump just bit as the flavors concentrate and the texture gets nice and jammy.
These little savory peach and ricotta tarts can be assembled on the fly and baked up in minutes, so they're a great option for company or a night when you want something that feels special and summery, but is a breeze to make.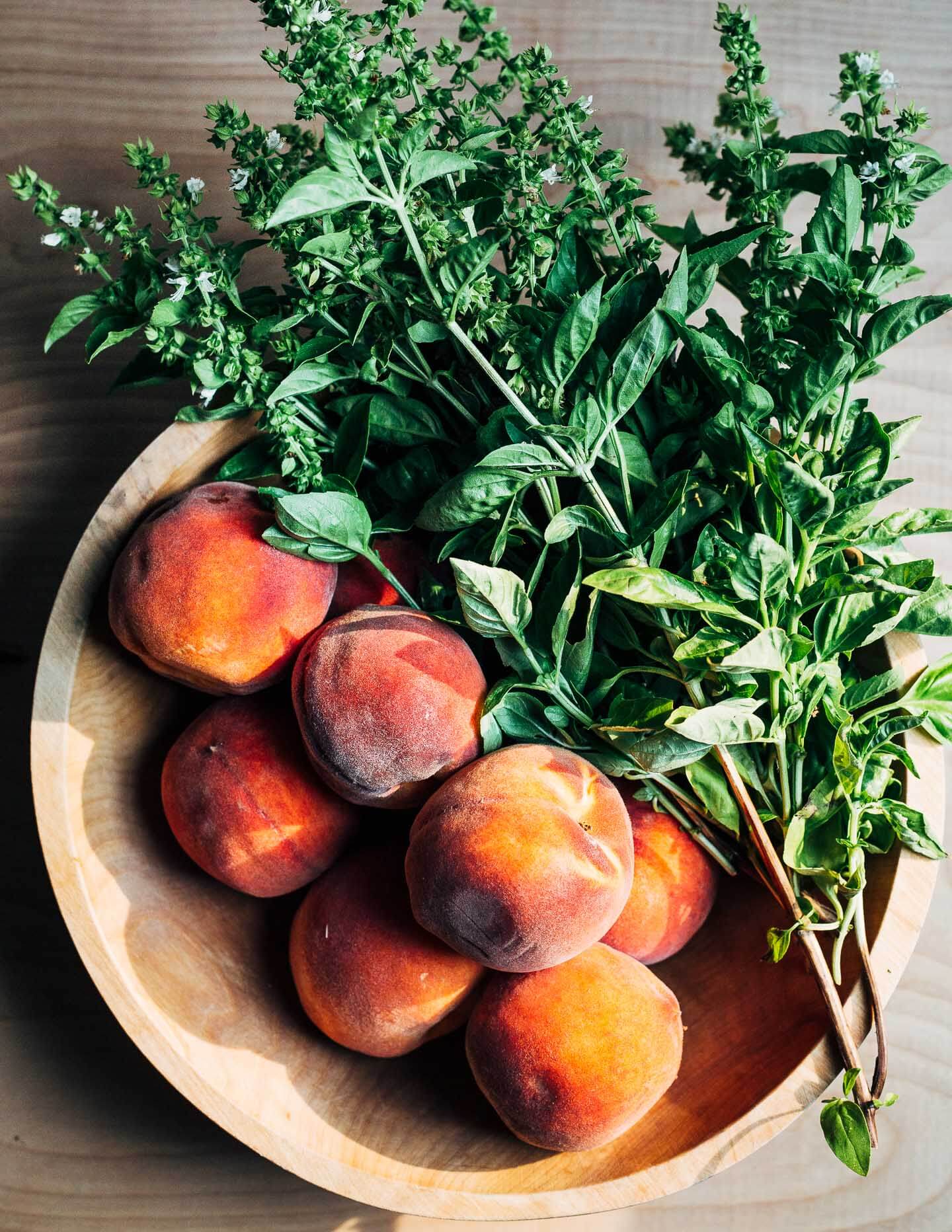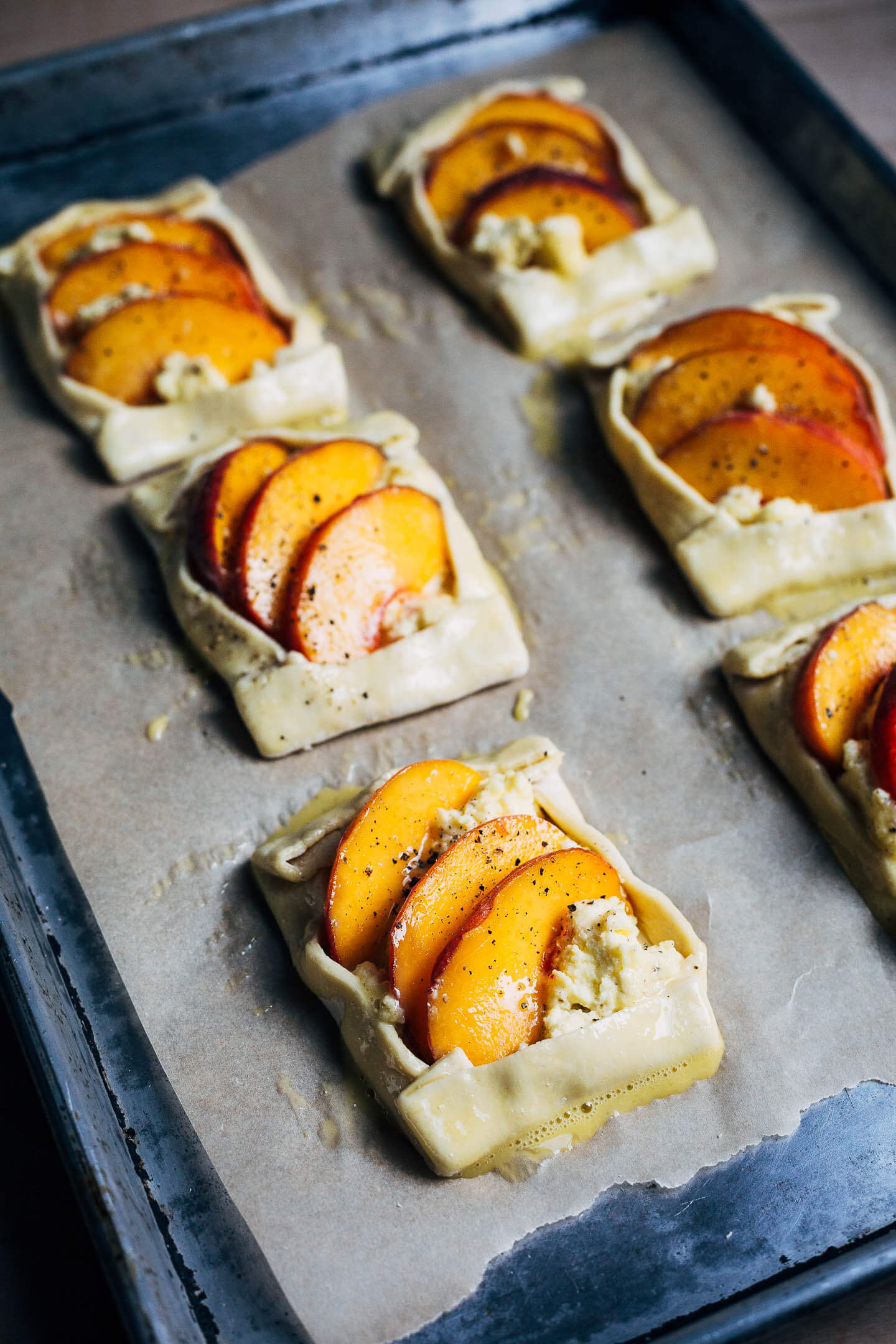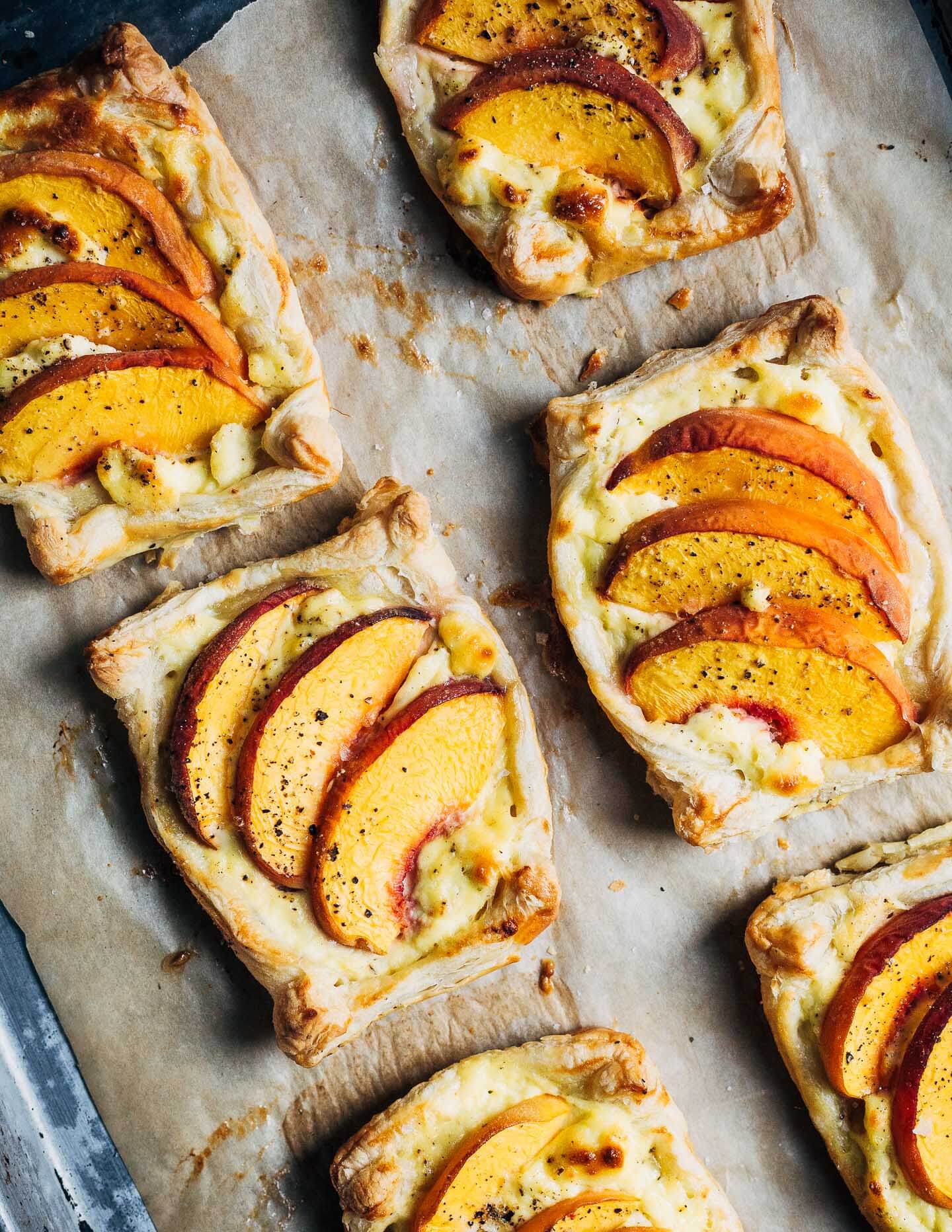 Basil Oil
Fresh made basil oil nicely captures the essence of basil without the hassle of cutting or tearing up fresh leaves. To make basil oil, you do need to blanch and thoroughly dry the basil first. This step can feel fussy, but it's quick and easy, and ensures that the basil is stable and keeps its vibrant green color in the oil. Once you've made the oil, it can be drizzled over tomato sandwiches and caprese salads, or whatever basil-friendly summer creations you have going on.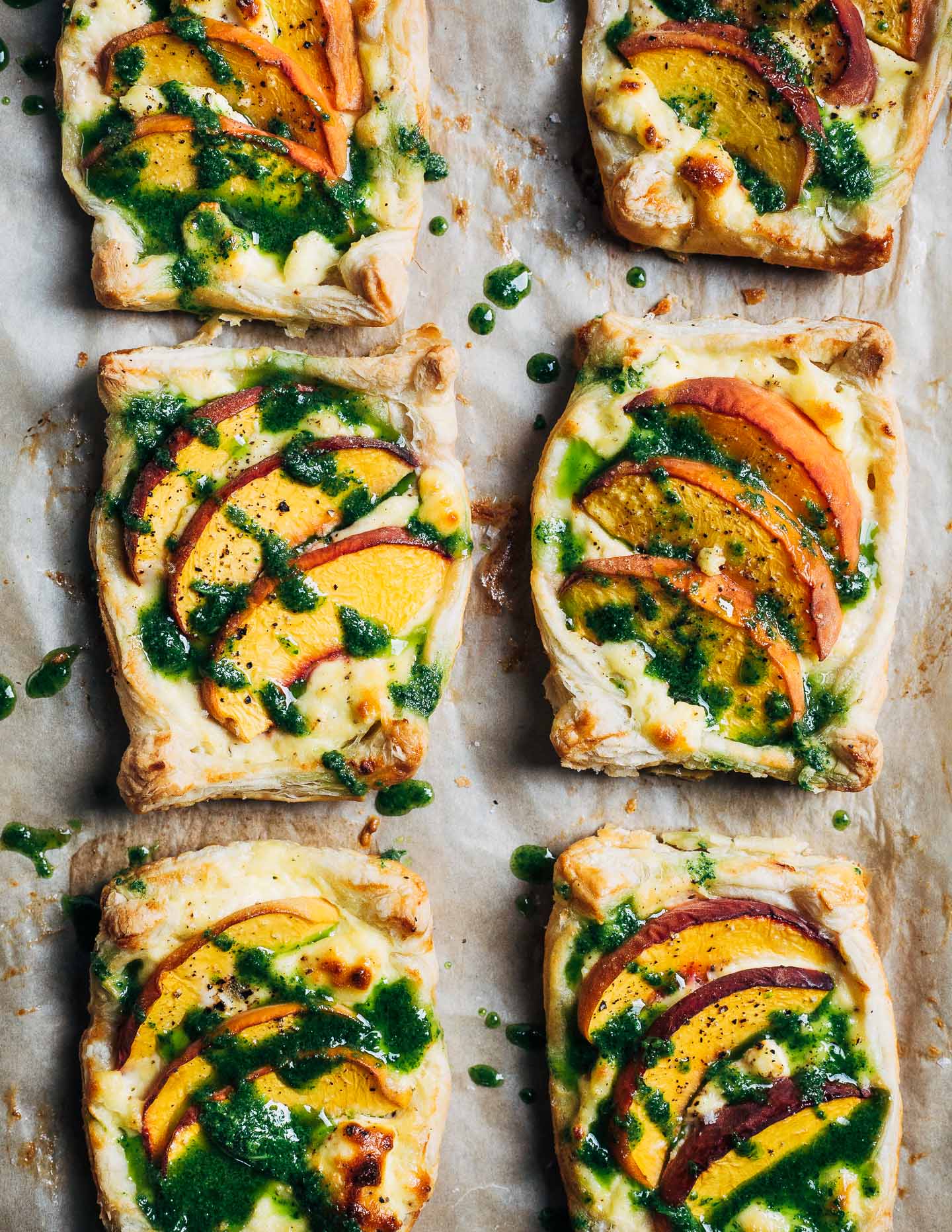 On Sourcing
The peaches for this recipe came from a roadside stand down in North Carolina. As usual, I bought too many, but I have zero regrets. If possible, look for peaches on the sweet side so the delicate flavor stands up to the other savory notes.
I'm proud to say, I made the ricotta fresh! After a long ago disaster, probably resulting from ultra-pasteurized milk, I swore off homemade cheese. But a new attempt, this time with a bit of farm fresh milk that needed to be used, was perfect and so easy. Hands down, this batch was the best ricotta I've ever had.
And finally, the basil came straight from the garden. I don't usually like the flavor of basil once it's bolted, but the flowering basil tasted nice in the basil oil.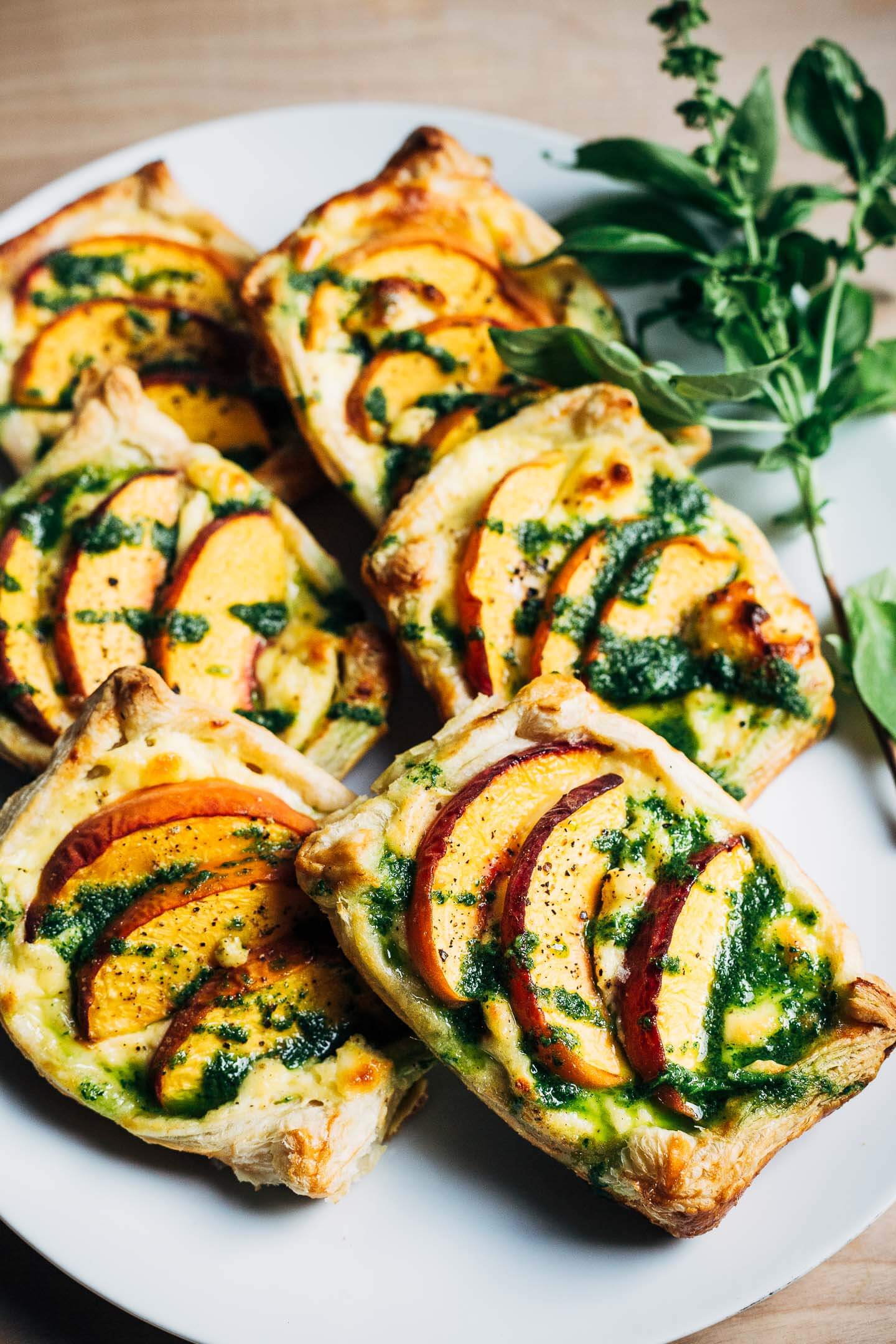 Variations
These tarts would work well with plums, especially European varieties. Salted and very well blotted tomatoes could be subbed in, too. I'd also like to try versions with sautéed zucchini or summer squash.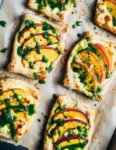 Savory Peach and Ricotta Tarts with Basil Oil
These little savory peach and ricotta tarts are made with flaky puff pastry and drizzled with herbaceous basil olive oil. They come together quickly and capture the flavors of peak summer perfectly.
Keyword:
savory peach and ricotta tart
Ingredients
1

packed cup basil leaves

1/2

cup

good tasting extra virgin olive oil,

plus more as needed to blend

Sea salt

1

sheet puff pastry dough,

thawed

1

cup

fresh whole milk ricotta

1/2

teaspoon

black pepper,

plus more for finishing

2

eggs,

divided

2 - 3

sweet peaches,

sliced 1/2-inch thick
Instructions
Make the basil oil at least 30 minutes ahead of time. Fill a medium pot with water and bring to a boil. Prepare a medium bowl with ice water. Blanch the basil leaves for about 10 - 20 seconds and them immerse in the ice water. Squeeze out the water, and thoroughly pat dry with paper towels.

In the pitcher of a blender, puree the oil, basil leaves, and 1/4 teaspoon fine sea salt until the basil is completely broken up and has melded into the oil. If needed, add a few extra drizzle of olive oil. Pour into a small jar with a lid. Let oil sit for at least 30 minutes. Leftovers can be kept in the fridge and brought to room temperature before using.

Preheat oven to 400 degrees F. Line a baking sheet with parchment paper.

Place ricotta in a small bowl. Taste and add enough sea salt that the ricotta tastes good. Add black pepper. Fold in one egg, mixing until combined, and set aside.

In a small bow, lightly beat the remaining egg and set aside.

On a lightly floured surface, roll the cold sheet of puff pastry into a 10 x 13-inch rectangle and cut into 6 equal rectangles. Add 2 -3 tablespoons ricotta in the center of each rectangle. Nestle 3 or 4 slices of peach into the ricotta. Fold the long sides over, and then the short sides, pressing each corner in.

Working quickly, move the tarts to the prepared baking sheet and brush the sides with the egg wash. Bake 17 - 20 minutes, or until the edges of the pastry and a rich golden hue and the peaches have released some of their juices.

Cool briefly, drizzle with basil oil, add flaky sea salt and black pepper, and serve.

Leftover tarts can be kept in the fridge and briefly reheating before serving.