A richly flavored, wonderfully simple roasted zucchini dip with red pepper flakes, lemon, and garlic. Serve as a dip, spread on toast, or alongside a protein at dinner.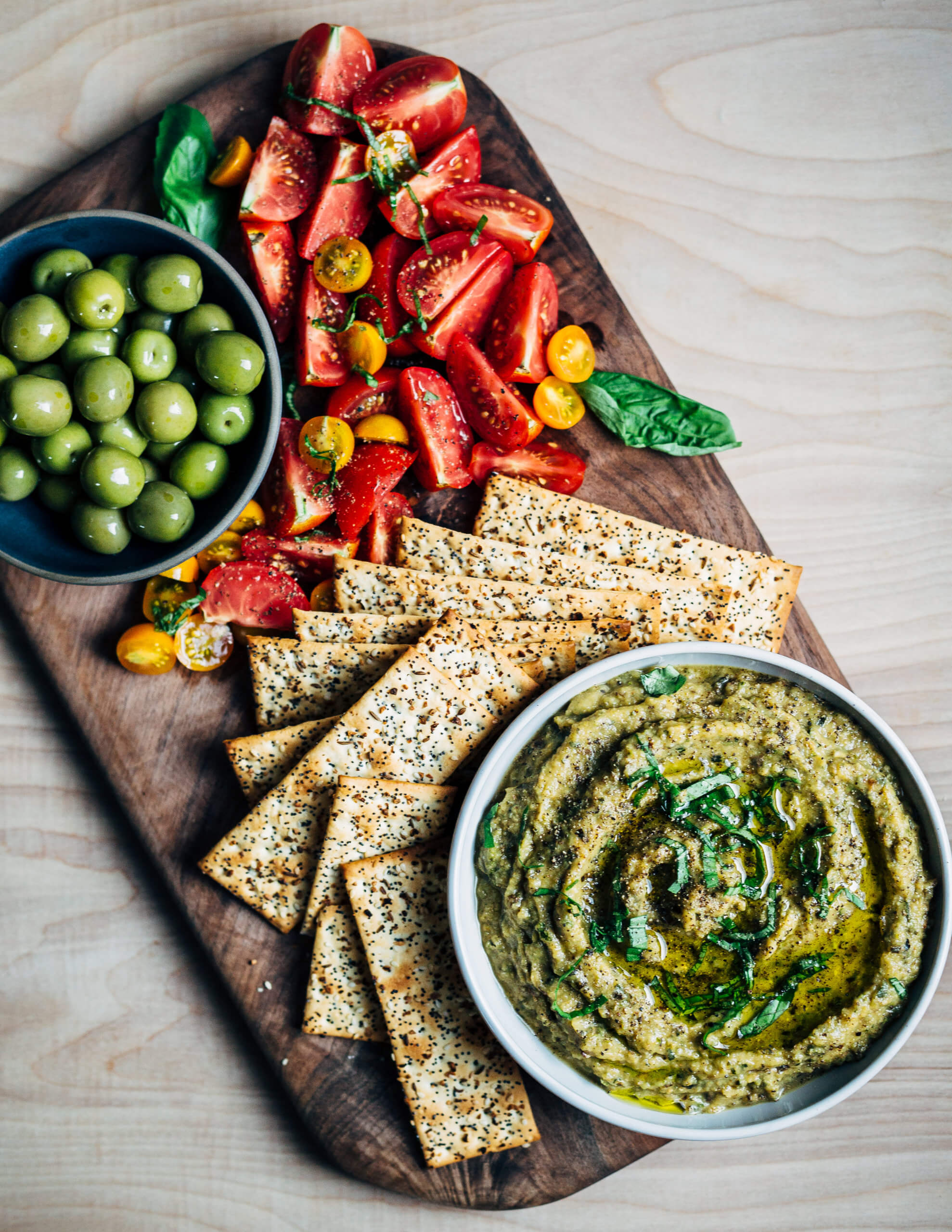 We are all feral now. We shrug off snakes (two sighted in just the past day!) and make friends with toads. Even the girls notice the showy or rare birds – an egret, a pileated woodpecker, the goldfinches near the creek. We ate all the wild blackberries we could find and now we're thinking of ways to harvest wild persimmons out of too-high branches. We know where to find the best pawpaws. The girls are learning the names of all the wildflowers and butterflies. We swim in the river and play among the fish. It all feels a lot like freedom.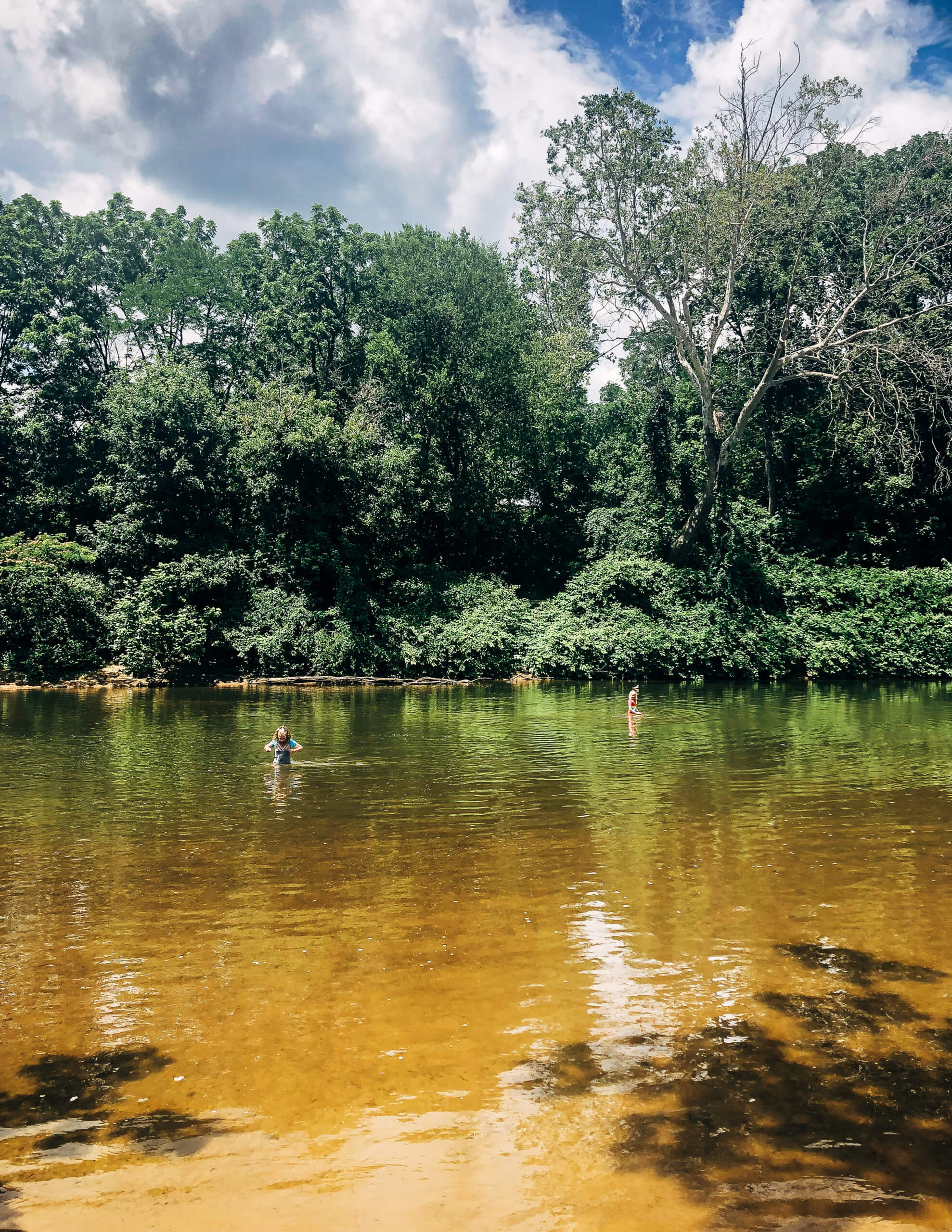 While Brian and I concern ourselves with making it through this deeply unsettling time, my children are having the kind of summer I always imagined when we first left Brooklyn for Charlottesville. They are free and wild and of this place. It's a beautiful thing to watch.
Even the garden holds their attention. My nine year old harvested her own lunch salad yesterday! She loves purslane. Against the odds, I have learned to really love zucchini. And that's good, because it's snaking through the garden, filling unoccupied space wherever it can. Our dinners, too, are just the kind of things I'd imagined when we first moved – fresh from the garden. (No matter that the real and challenging business of actually growing a lot of food took me years to master.)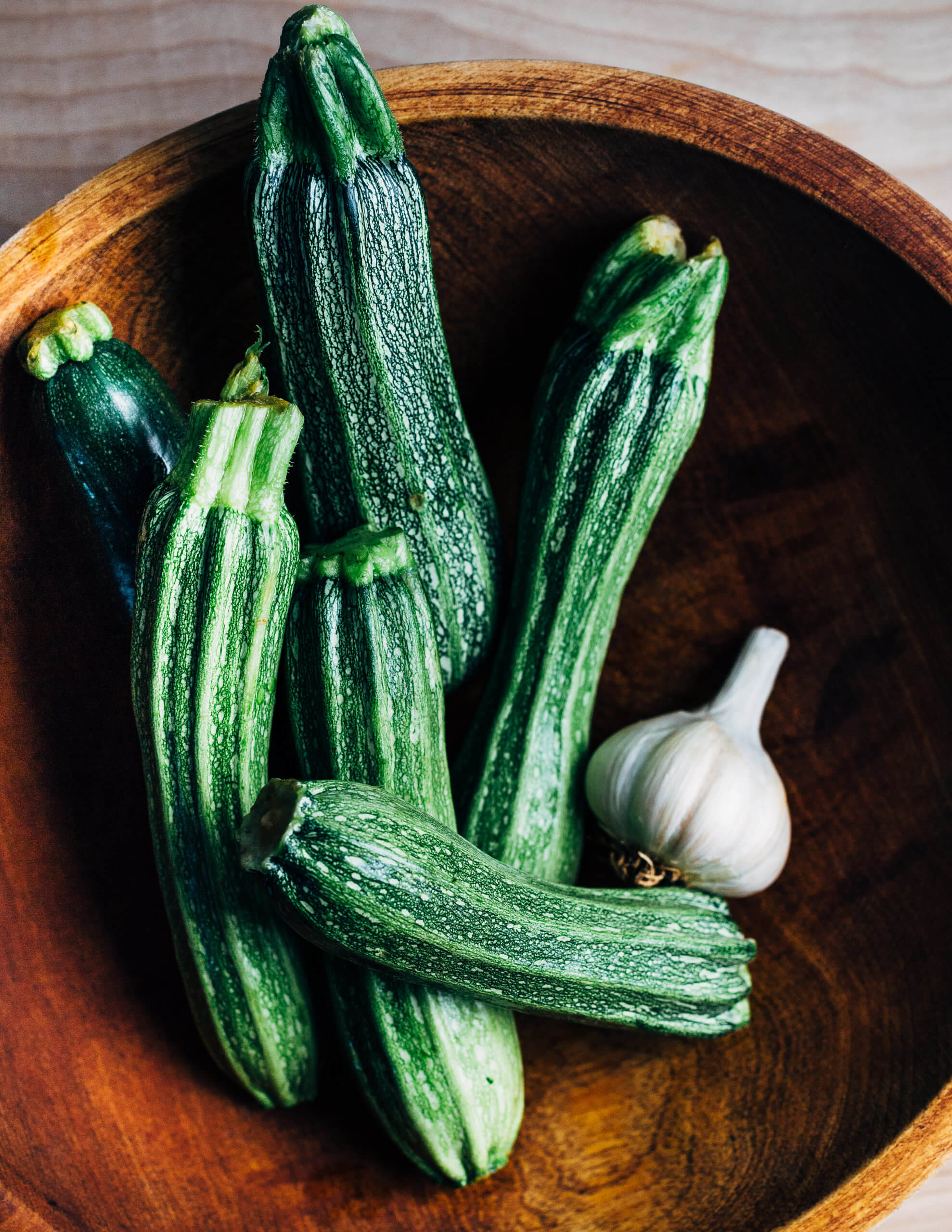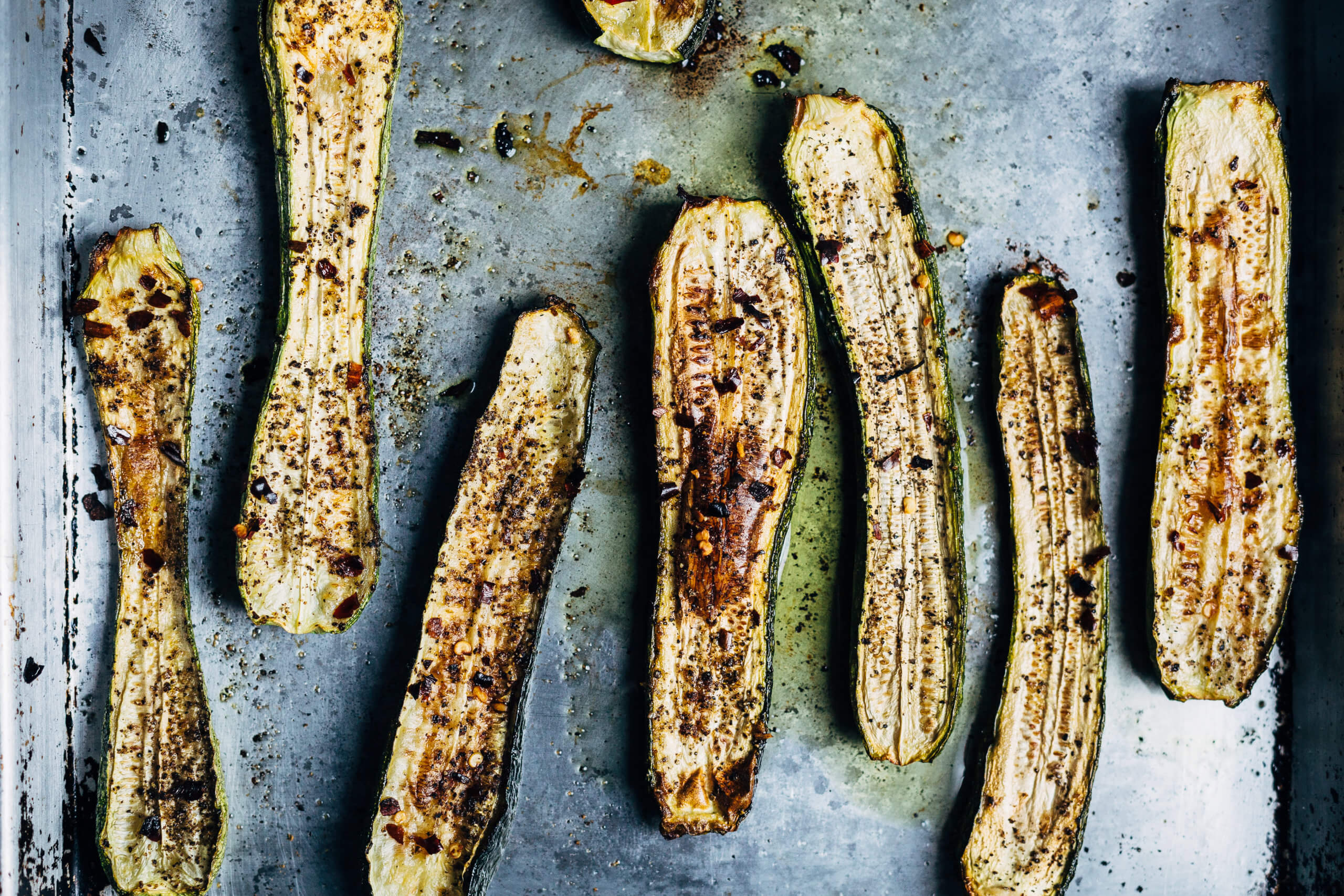 Zucchini, Again
I've been going on about zucchini a lot lately. This incredibly simple zucchini dip is made by roasting zucchini for longer than you'd think would be advisable. The zucchini is drizzled with olive oil, topped with red pepper flakes and black pepper, and roasted a good 45 minutes. Enough for the zucchini to sink down and puff up again with golden edges. There's roasted garlic too, snatched from the oven after just 20 minutes. All that's left is to blend the dip just until it's reduced. Add lemon, plenty of sea salt, and that's it. Something easy and delicious and very summery.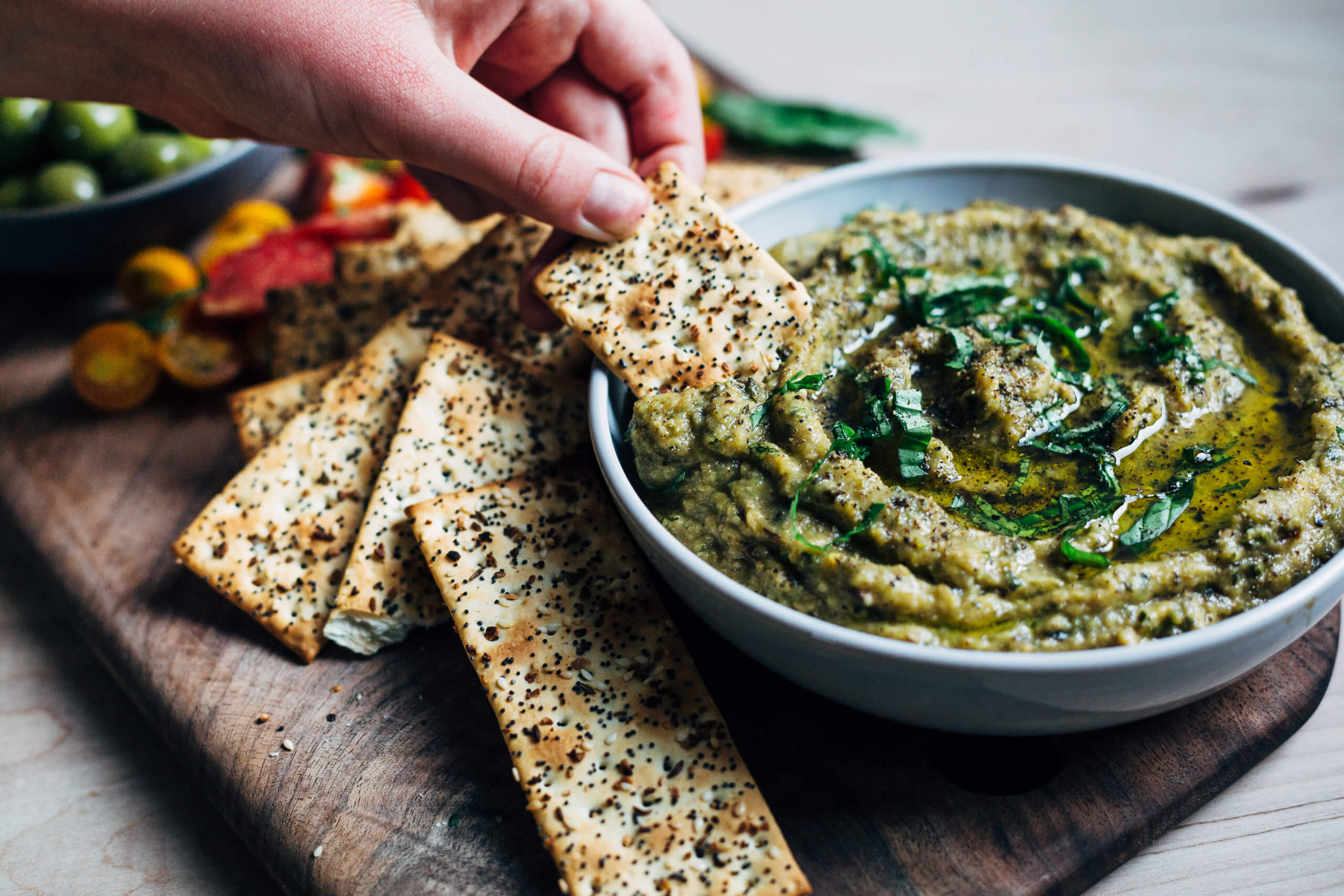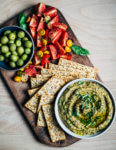 Spicy Roasted Zucchini Dip
A richly flavored, wonderfully simple roasted zucchini dip with red pepper flakes, lemon, and garlic.
Keyword:
roasted zucchini dip
Ingredients
5

small zucchini

(about 2 pounds), trimmed and halved lengthwise

4

cloves

garlic

woody ends trimmed but left in the papery skins

2

tablespoons

plus 1 teaspoon extra virgin olive oil,

divided, plus more for serving

1/2

teaspoon

red pepper flakes

1/2

teaspoon

black pepper

2

tablespoons

lemon juice

1/2

teaspoon

sea salt,

plus more to taste

2

tablespoons

basil leaves, torn or cut chiffonade
Instructions
Preheat oven to 400 degrees F.

On a large rimmed baking sheet, toss zucchini with 2 tablespoons olive oil, and turn to coat. Lay skin side down; sprinkle cut side with red pepper flakes and black pepper. Tuck garlic cloves, cut side down into a little pocket of foil. Drizzle with 1 teaspoon olive oil and wrap tightly. Lay the foil packet on the baking sheet.

Roast zucchini and garlic for 20 minutes. Remove garlic and set aside to cool. Continue roasting zucchini for 20 - 25 minutes more, or until it's puffed and golden. Turn off heat and leave zucchini in the oven for 15 - 30 minutes.

Push the garlic out of its papery skin and into the bowl of a food processor; tip any olive oil in too. Add the zucchini, lemon juice, and sea salt. Pulse to blend, just until mixture is reduced and velvety. Add more lemon or salt to taste.

Spoon into a bowl and serve with basil and a drizzle of olive oil, if desired.
Recipe Notes
Dip can be made up to 3 days ahead of time. Allow it to come to room temperature before serving.