A refreshing savory nectarine and cucumber salad with burrata, green chilies, lemon, and fresh cilantro.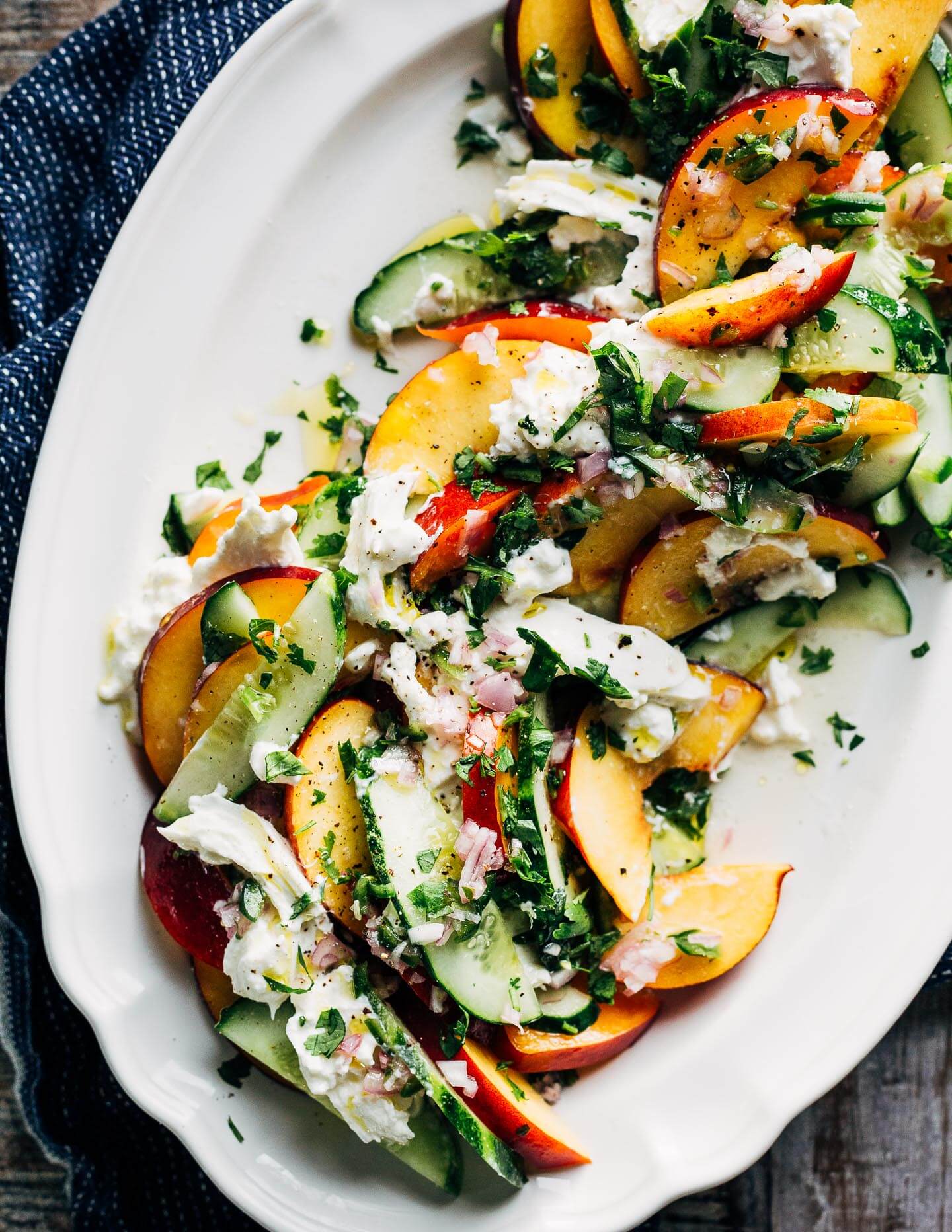 At this point in the summer, making dinner is less about actual cooking and more just combining fresh ingredients (with cheese). There are tried and true flavor combinations – anything with tomatoes, basil, and mozzarella, for instance. Or watermelon and feta. Another favorite is this tomato and avocado salad with chèvre.
This nectarine and cucumber salad is right along those lines, but just a little more complex. The cucumbers and nectarines get a big hit of lemon juice, as well as shallots, greens chilies, and cilantro. It's finished with burrata, a drizzle of olive oil, and lots of black pepper. It's bright and refreshing, with lots of flavor and just a little spicy heat.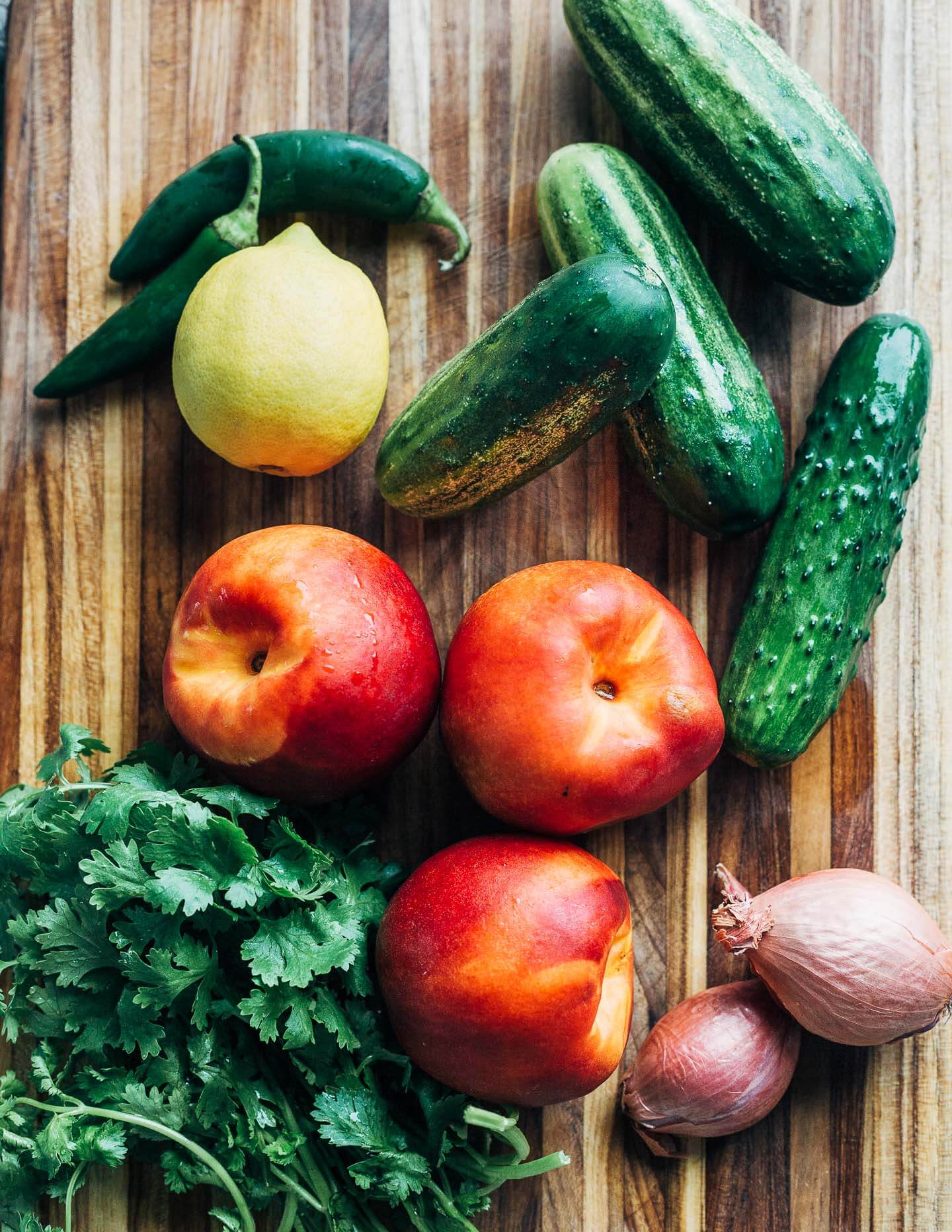 Elements of a Perfect Summer Salad
The formula for a great summer salad is clear – harness the delicious acidity of tomatoes, peaches, or nectarines, or the cooling notes in cucumber and watermelon (or both), add citrus, a creamy cheese, a little heat, and fresh herbs, and you almost certainly have a tasty summer salad. 

Though they're simple, the exact way a good summer salad comes together matters. There's a lot of water and salt in play, especially in cukes and watermelon, meaning things can easily veer from crisp to soggy. To counter this, I use sea salt sparingly in the beginning layers and then finish the salad with sea salt just before serving.
Fresh squeezed lemon or lime juice (plus salt) mellows the bite of alliums and tempers the heat of the chilies.
All that's left is to layer and taste as you go. I find cucumber- or watermelon-based salads can really take up the salt, so it's always a good idea to finish with a pinch of flaky sea salt just before serving.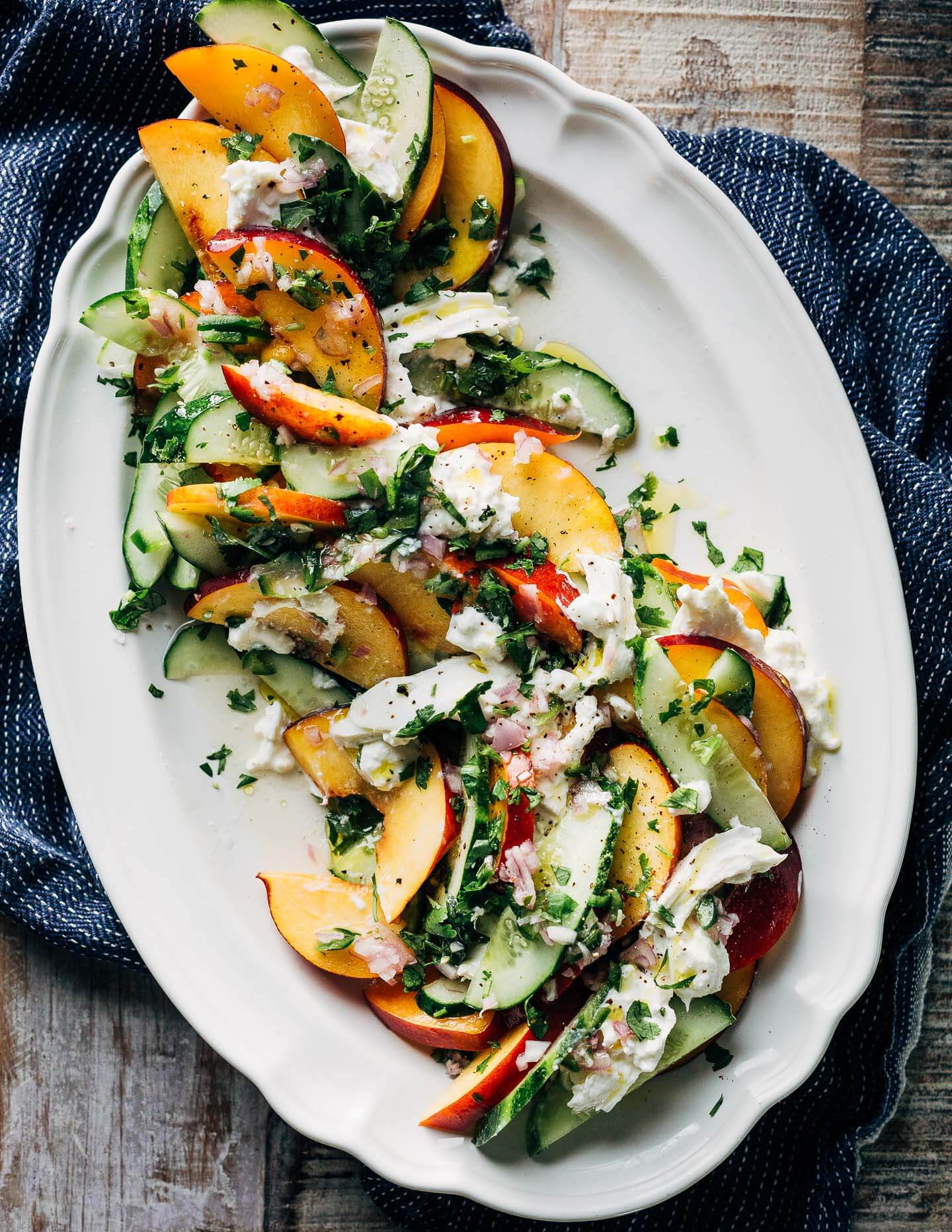 On Ingredients
The salad makes use of cucumbers from my garden. I have two kinds growing out there – both are pickling varieties that are best picked when they're on the smaller side. Persian or English hothouse cucumbers would also be delicious. Whatever kind you use, I'd just make sure that it's a smaller, flavorful variety and not a huge, watery cuke.
I use nectarines and liked the way the smooth skin melded into the salad. But peaches can easily be swapped in if that's what you have on hand.
Cilantro and mild green chilies (like jalapeño, serrano, or poblano) lend a lot of flavor here, so be sure to include them in the salad.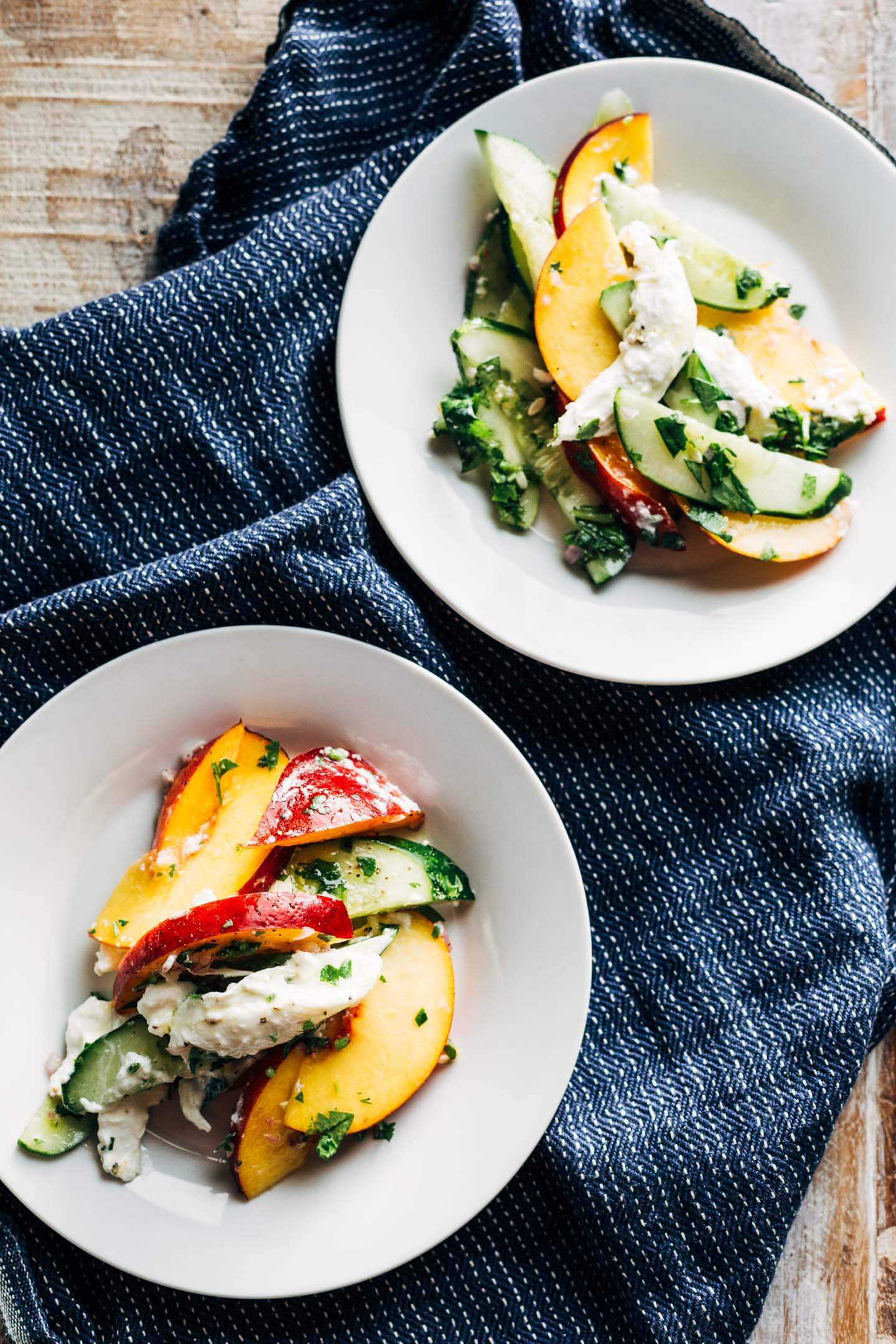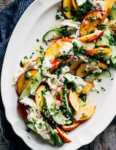 Nectarine and Cucumber Salad with Burrata and Chilies
A refreshing savory nectarine and cucumber salad with burrata, green chilies, lemon, and fresh cilantro.
Keyword:
nectarine and cucumber salad
Ingredients
1

shallot,

finely minced

1 - 2

green chilies,

such as jalapeño, serrano, or poblano, seeded and thinly sliced

3

tablespoons

fresh squeezed lemon juice

1/4

teaspoon

sea salt,

plus more for sprinkling

3 - 4

small to medium pickling cucumbers,

sliced 1/4-inch thick (about 2 cups sliced)

2 - 3

medium yellow nectarines,

sliced 1/4-inch thick

1/4

cup

minced cilantro

Black pepper,

to taste

4

ounces

burrata

2

tablespoons

extra virgin olive oil
Instructions
Toss shallots and chilies with lemon juice and 1/4 teaspoon sea salt, and set aside.

Slice the cucumbers and toss with about 1/4 teaspoon sea salt.

On a large platter, arrange the cucumbers and nectarines. Spoon about a third of the lemon juice mixture over top and sprinkle with half the cilantro. Sprinkle with black pepper. Break burrata into bite-sized pieces with your hands and tuck around the cukes and nectarines.

Top salad with most of the remaining lemon mixture being sure to gather up the bits of shallot and chili (there might be some leftover). Sprinkle salad with remaining cilantro. Finish with a big drizzle of olive oil, flaky sea salt, and lots of black pepper. Serve right away.

Leftovers will keep for up to a day in the fridge, but this salad is best the day it's made.