A rustic savory Gruyere and zucchini tart with a flaky Parmesan and black pepper crust, layers of cheese, tender zucchini, and fresh basil. Served as a main course or appetizer, this tart is delicious.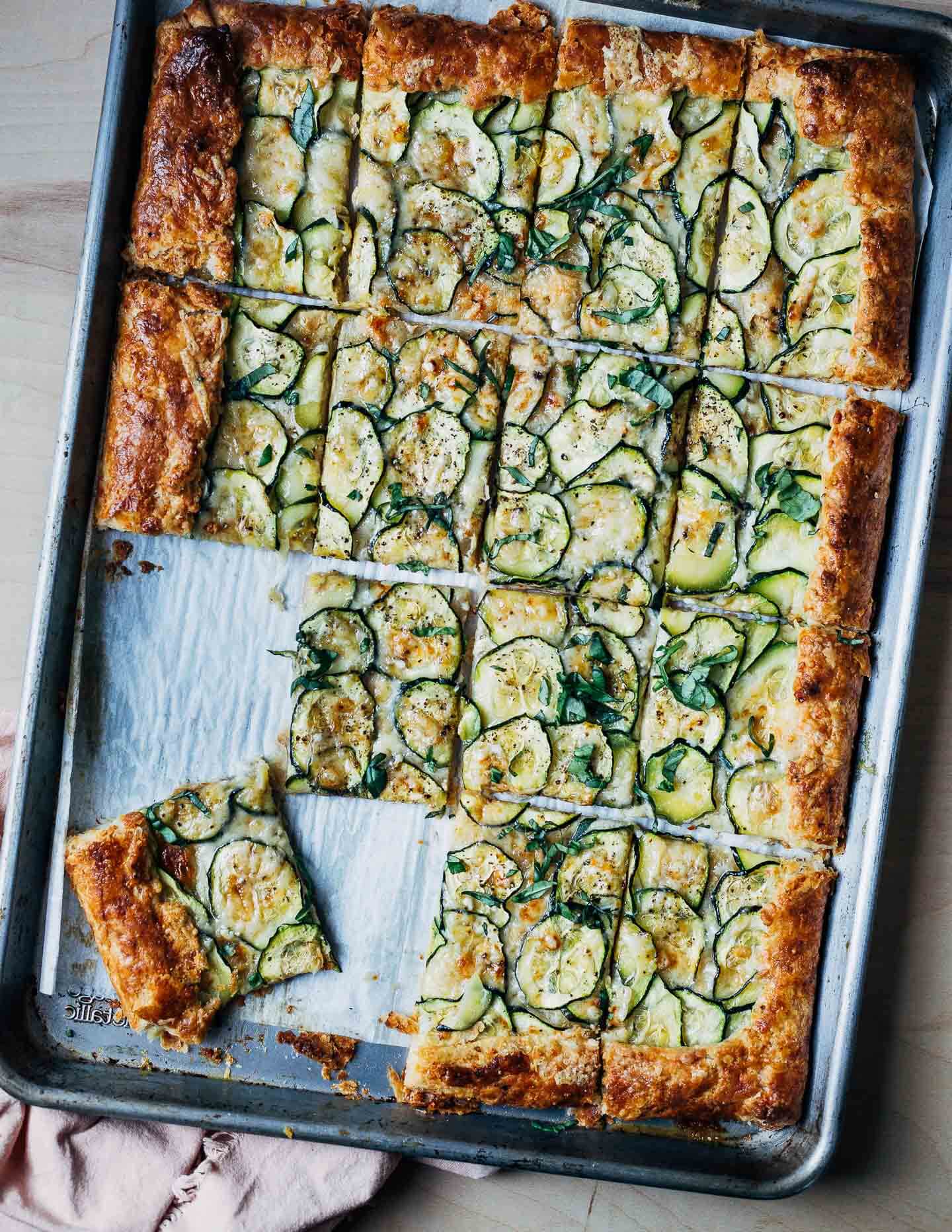 On Monday afternoon, a violent thunderstorm ushered in a stretch of crisp, clear September weather. This sudden shift from summer to early fall has been a reminder to enjoy the last stretch of summer produce as best I can. It's a good time for long-simmered stews, baked goods, and roasted things. This week's recipe, a big Gruyere and zucchini tart, is all about embracing the moment and these first sparkling fall days.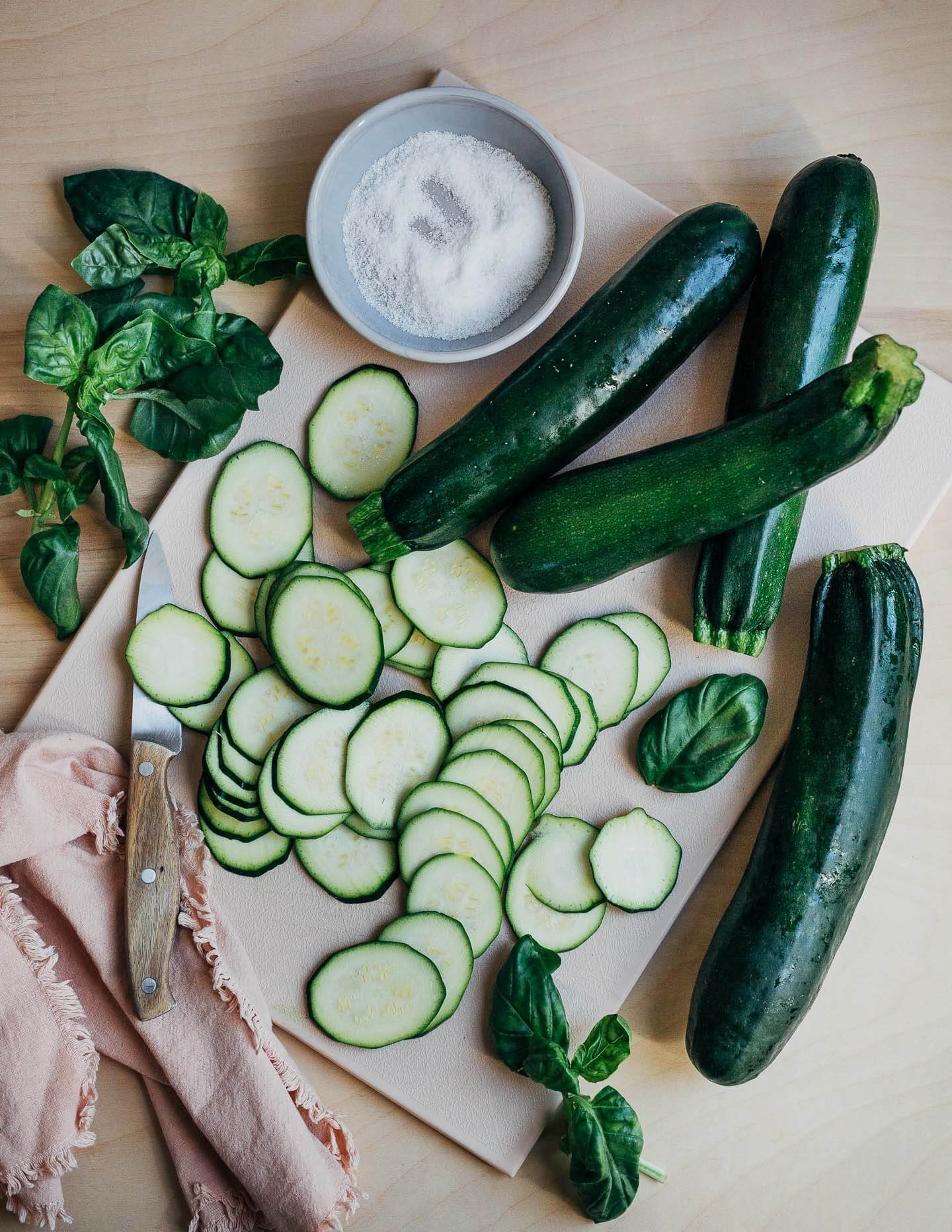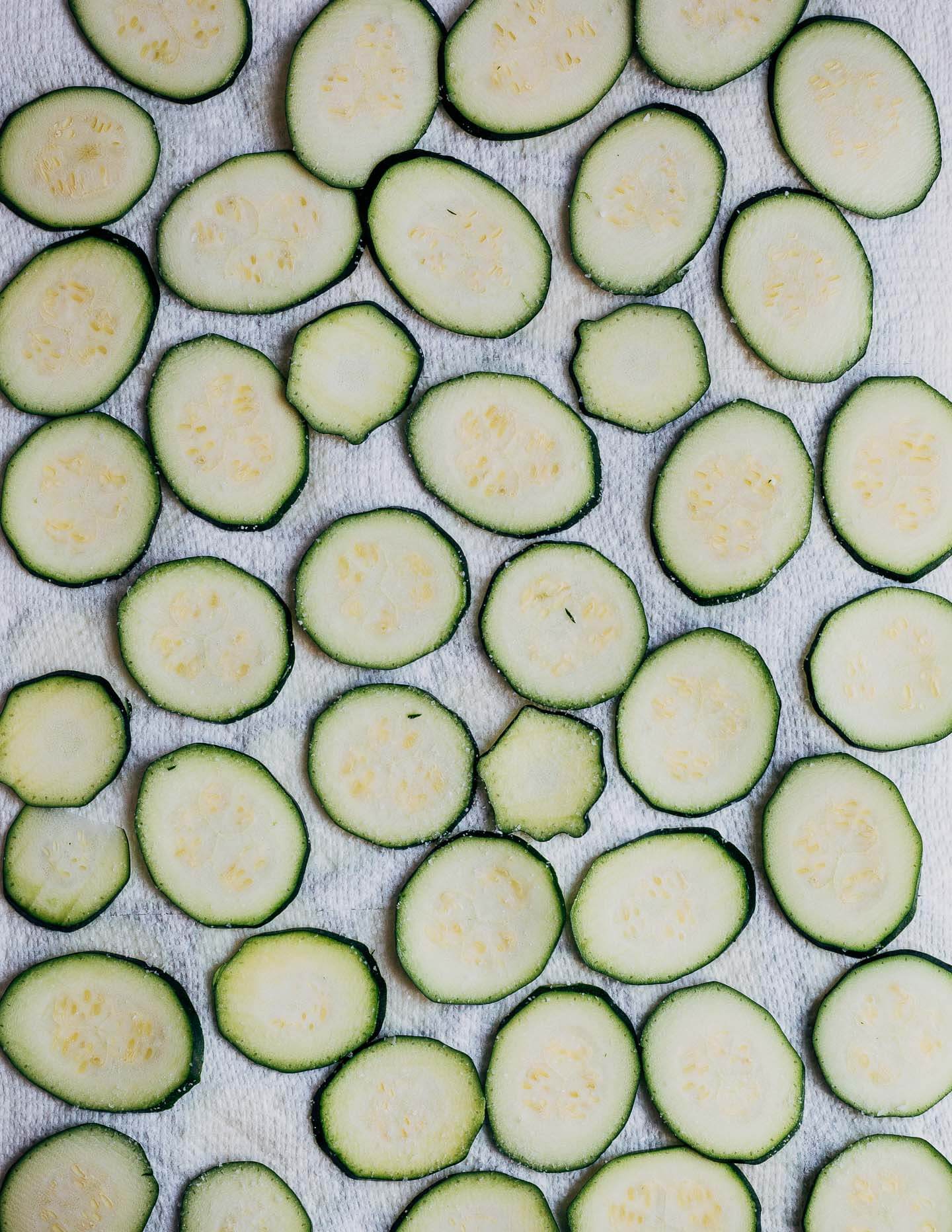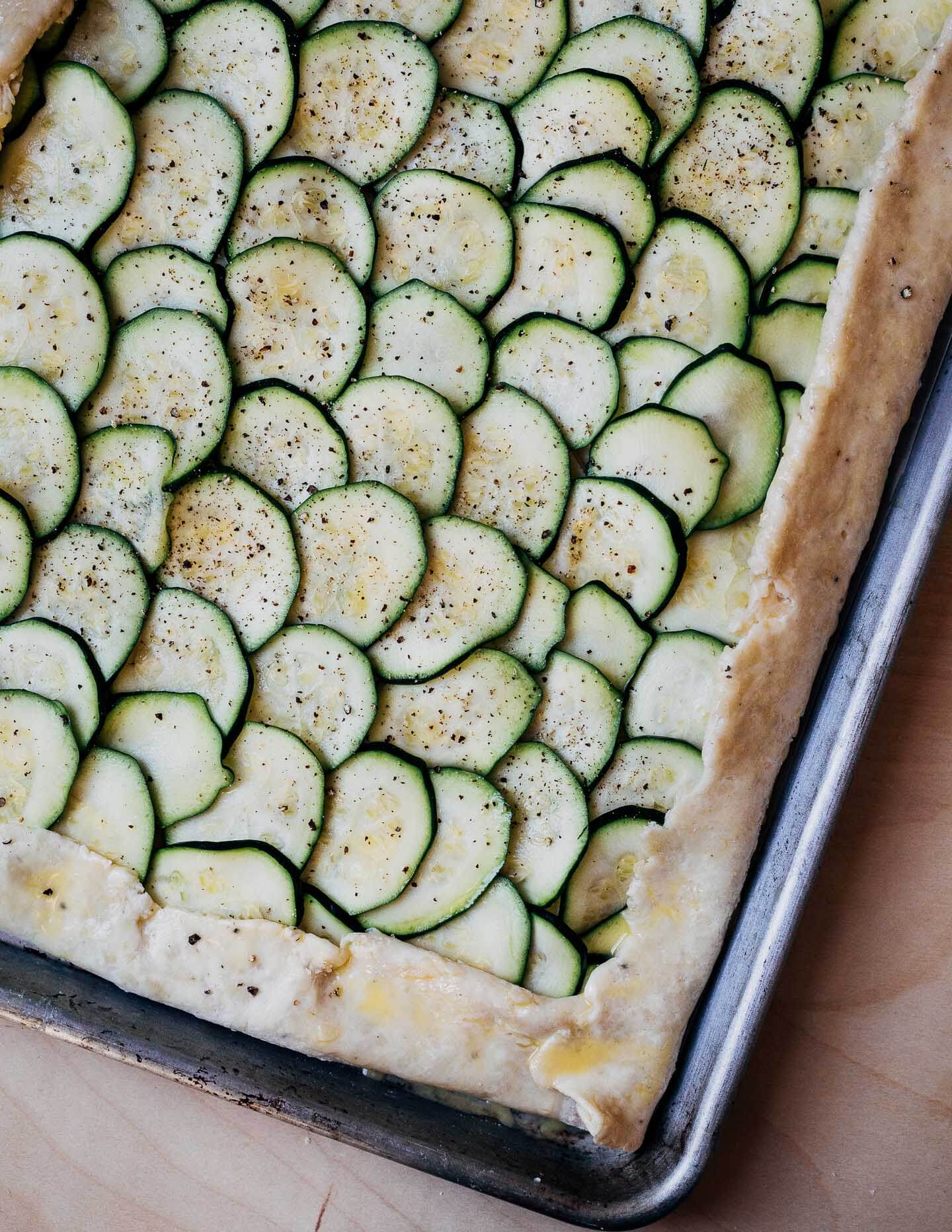 A Savory Zucchini Tart
If we're being honest, this is really just a cheese tart with a little zucchini on top, but the thinly sliced, salted zucchini rounds do impart a depth of flavor and give the tart an air of virtuousness. This savory tart is nice as a main dish or it can be sliced into smaller squares and served as an appetizer.
As we all know, zucchini can cook up rather soggy. To avoid this, you'll want to take some time to pull the moisture out of the zucchini. Cut thin, even slices on a mandoline, and then arrange the zucchini on a layer of towels and sprinkle with salt. The salt and towels wick away much of the moisture, leaving the zucchini tender and ready to cook after 30 minutes or so.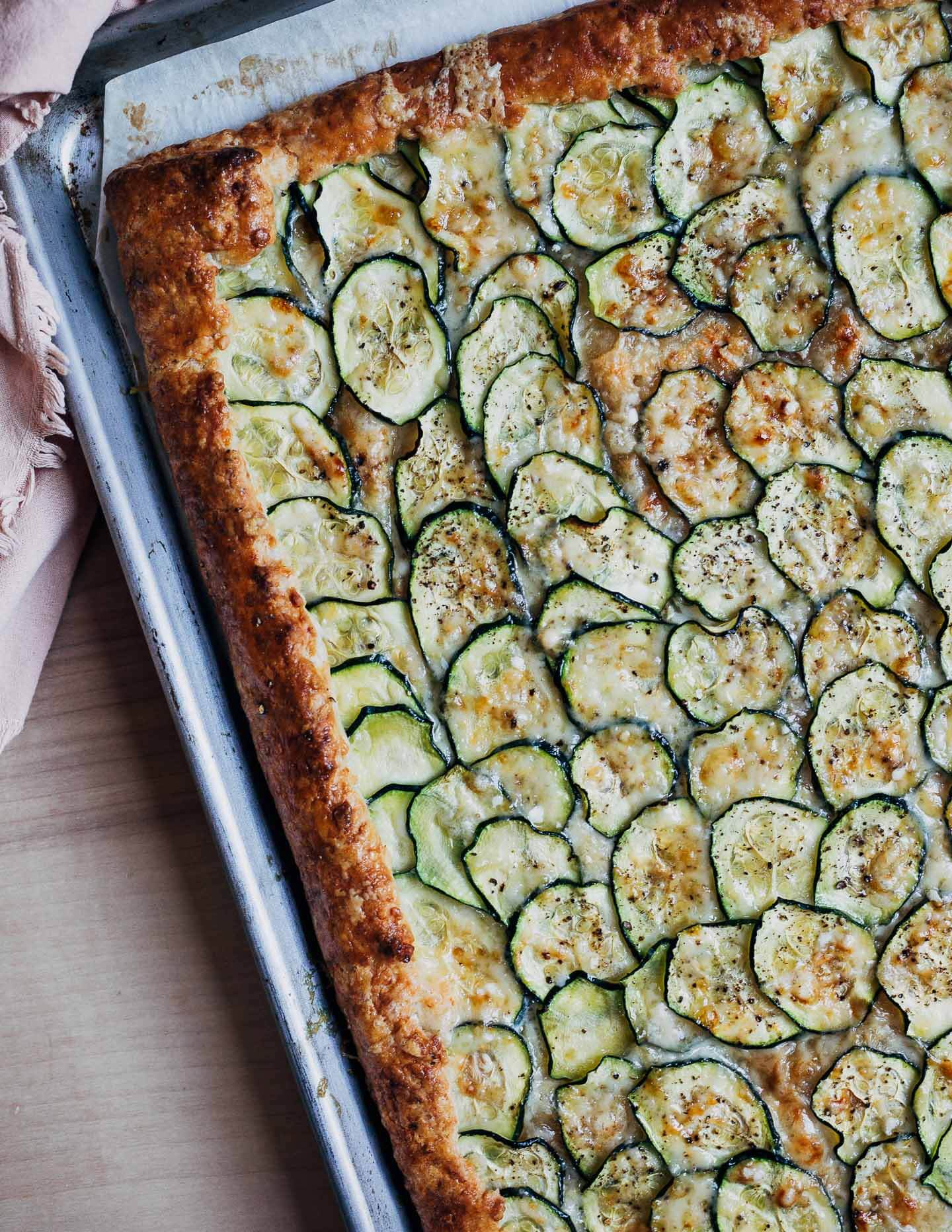 Rough Puff Pastry with Cheese
The rough puff pastry for this recipe is made with a good amount of Parmesan and a little bit of pepper (inspired by this savory sweet tart from the archives) With a characteristic deep golden hue and buttery, cheesy flavor, this flaky crust is quite good. It's versatile, too – feel free to experiment with your favorite hard cheeses and add-ins like paprika, chili flakes, garlic granules, or herbs. 

Once you've rolled the dough out, the tart is layered with a shallot-Dijon mixture, Gruyere, and the prepped zucchini rounds.
This Gruyere and zucchini tart bakes up quickly and can be served warm or at room temperature. The crust has the best texture the day it's made, but the tart will keep at room temp for a day.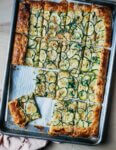 Savory Gruyere and Zucchini Tart
A rustic savory Gruyere and zucchini tart with a flaky Parmesan and black pepper crust, layers of cheese, tender zucchini, and fresh basil. Served as a main course or appetizer, this tart is delicious.
Ingredients
Dough
2 1/2

cups

all-purpose flour

1

tablespoon

sugar

1

teaspoon

sea salt

1/2

teaspoon

fresh ground black pepper

4

ounces

about 1 1/2 cups shredded Parmesan cheese

16

tablespoons

unsalted butter,

cut into 1/2-inch cubes

1/3

cup

ice water,

plus several more tablespoons as needed
Filling
3

small to medium zucchini,

trimmed and cut into even 1/8-inch thick rounds

Sea salt

1

tablespoon

minced shallot

1

tablespoon

extra virgin olive oil

¼

teaspoon

red pepper flakes,

optional

2

tablespoons

Dijon mustard

4

ounces

about 1 1/2 cups shredded Gruyere

Black pepper

1/4

cup

basil leaves,

sliced into thin ribbons

1

egg,

lightly beaten
Instructions
In a large mixing bowl, whisk to combine the flour, sugar, salt, and pepper. Fold in the cheese. Add the butter. Use your fingertips to smash the butter into the flour until you have a shaggy mixture and almost all the butter has been smashed (this will take about 7 minutes). Drizzle in 1/3 cup water. Use a silicone spatula to fold the water into the flour mixture. If needed, add a few more tablespoons, or just enough water for the dough to hold together.

Turn dough out and form into a rough disc. Wrap in plastic wrap – there's a lot of dough here, so you will likely need a few layers of plastic. Set in the fridge and chill 30 minutes.

On a lightly floured surface, roll the dough out into a 3/4-inch rectangle. Square the edges as best you can, and fold into quarters. Re-wrap, and chill 30 minutes more. Continue this process 2 - 3 more times.

When ready to make the tart, prep the zucchini. Layer a cutting board with paper or cloth towels. Arrange the zucchini slices on top, sprinkle lightly with sea salt, and then add another layer of towels. Continue until all the zucchini are salted and covered in towels. Set aside for at least 30 minutes.

Preheat oven to 425 degrees F. Line a 13 x 18-inch baking sheet with parchment.

On a lightly floured surface, roll dough out into a 15 x 20-inch rectangle. Set dough in baking sheet and chill until you're ready to assemble the tart.

Meanwhile, set a small skillet over medium heat. Add the oil and then the shallots and red pepper flakes. Cook just until shallots are toasted, about 3 minutes. In a small bowl, combine the shallot and oil mixture with the Dijon.

To assemble tart, spread a thin layer of the shallot-Dijon mixture over the tart, leaving a 2-inch border on all sides. Sprinkle with all but 2 tablespoons of the cheese. Layer the zucchini so that it is just overlapping (you want lots of room for the steam to escape!) and finish with black pepper. Brush the dough border with egg wash, fold up and crimp the corners closed, and finish with more egg wash.

Bake 20 minutes, sprinkle the remaining cheese over top, and then back 10 - 15 minutes more, or until the zucchini are just golden on the edges and the crust is a deep golden brown.

Set tart aside to cool for 10 minutes, sprinkle with basil, slice and serve.

Tart is best served the day it's made, but will keep well covered at room temperature for a day.