Recipe inspiration and tips for what's in season in June at farmers markets and in CSA shares. The June produce guide features blueberries, sweet and sour cherries, peaches, strawberries, beets, bok choy, and green beans.

Updated: June 14, 2023
Get the newsletter
Are you signed up for the Right Now newsletter? It hits inboxes twice a week with exclusive recipes and seasonal ingredient inspiration. Subscribe today!
What's in Season in June
At the Market
June is all about fresh fruit. Blueberries, cherries, and strawberries are all in-season and delicious. In Virginia, sour cherry season lasts just a week or two, while sweet cherries stretch out a bit more. Weather depending, blueberries should be around for much of June. Strawberries are wrapping up – check out the May Produce Guide for some of my favorite strawberry recipes!. Wild mulberries are ripe for a hot second before all that fruit splats on the sidewalk.
June also sees the first vegetables of summer. Lettuces and greens are abundant early in the month (check out the May guide for recipe inspiration!). Beets, carrots, and green beans are in season in June. Cucumbers are too (but I decided to hold off an include my favorite cucumber recipes in July). Late in the month, squash blossoms and the first summer squash and zucchini come into season.
New York is a couple of weeks behind Virginia fruit-wise. Of course, once ripe, all these fruits enjoy a longer season at the NYC Greenmarkets since the markets draw from farms stretching from southern Jersey to Vermont.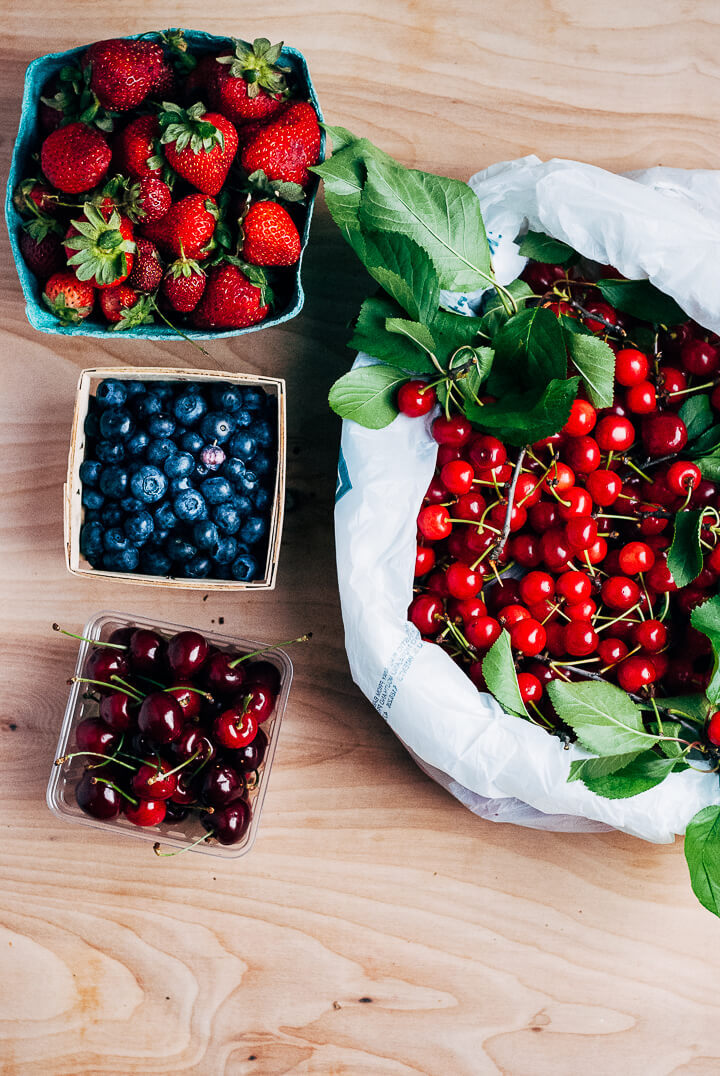 In the Garden
Greens, lettuces, and bok choy are going strong in the first half of June. Depending on the heat, they are likely getting ready to bolt. Up north or in shady spots, greens might be tender and delicious all summer, especially heat-tolerant varieties like Lacinato kale and escarole. The first cucumbers and green beans are coming in. And, if you're lucky, some of the first summer squash and zucchini.
Saving the Season
To stretch the brief season a bit, consider freezing your fruit. Any of these fruits can be rinsed and dried (and pitted, if needed), and arranged in a single layer on a wax paper-lined baking sheet, and frozen. Once the fruit is frozen solid, tip into a labeled zip-top bag and freeze.

Blueberries
Here are a few blueberry recipes to help you make the most of the season. I've found that the deep sweetness of blueberries is complemented beautifully by a tangy note like cream cheese or sourdough. Grocery store blueberries usually come from far away and are bred to withstand the journey. The kind you'll find at the farmers' market are delicate, super sweet, and wonderfully bright. Get them while you can!
Peaches
Local peaches are starting to come in. The early varieties tend to
be clingstone, but a bit of time wrestling a stubborn pit is well worth the buttery sweetness of a perfect summer peach.
Sour Cherries
Longtime readers will know that sour cherries are my absolute favorite. My nana was known for the pies she'd make for church events, and one of my fondest memories is being in her old fashioned kitchen with her while she made stacks of cherry pie. Like lots of cooks of her day, my nana used canned cherries for her pies, but I recommend that you get yourself a good cherry pitter and use fresh sour cherries.
Sour cherries are very fragile, and typically need to be sourced from farmers markets, specialty markets, or a friend's backyard. Once you have the cherries, move quickly to cook them. The can be loosely wrapped in plastic and stored in the fridge for a day or two if needed, but it's best to cook them as soon as possible.
Sweet Cherries
Sweet cherries are in! And while I love baking with sweet cherries, they are just as wonderful in summery salads or as a topping for rich meats. Below, I have a few favorite desserts and salads so you can eat cherries all the time. There's also a quick-pickled cherry recipe. It sounds odd, but they are so good.
Sweet cherries keep fairly well loosely wrapped in the fridge. If you need them to last several days, lay them in a single layer on a baking sheet and wrap loosely with plastic.
Beets
Earthy and sweet, beets are delicious right now. I like to use the beets and their greens whenever possible. Below, the beet soup, pickled beet sandwiches, kraut, and roasted beets and carrots all make use of both. Leftover beet greens can also be sautéed as you would any other greens, eaten in salads, or added to smoothies.
Bok Choy
June is a wonderful time to enjoy bok choy! It's tender and just needs a second in a hot wok to be delicious.
Green Beans
Snapping the ends off of the first green beans of the year is a big summer moment for me. Bigger beans can be tough and fibrous, so look for smaller or medium-sized beans.
Really tender green beans don't require much to be perfect – just blanche, dip in ice water, and toss with lemon, olive oil, and sea salt. If you'd like to do a little more with them, here's a selection of recipes that highlight green beans: